Coach Trent Miles and staff thought they had a winner last season. Krysten Hammon, a Dickinson, Texas, product looked to be the running back of the future for the Panthers. The freshman ran for 74 yards on 13 carries in a 38-37 win over Abilene Christian in week one and followed it up with a 123-yard, two-touchdown game against New Mexico State. It seemed like quarterback Nick Arbuckle would have a reliable running game to balance his passing attack. Wrong. Hammon would get dismissed from the team, but still his total of 197 yards would rank him as Georgia State's third-leading rusher in 2014, highlighting the fact that in his absence the Panthers could not move the ball on the ground.
Hammon was suspended at first, but then was granted his release from his scholarship as he tried to transfer. Eventually Hammon enrolled at Blinn Community College and then at Kansas, but he only took one one-hour class and paid his way. According to Doug Roberson of the AJC, "Despite his absence, he was frequently in contact with coach Trent Miles. Miles had steadfastly refused to allow him to return until a few days ago when he was meeting with everyone involved with the program."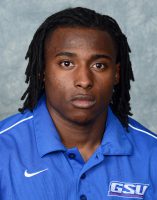 This was August 5 when Hammon apparently re-joined the team. Just three days later, the reunion ended as quickly and as out-of-the-blue as it occurred. Less than a week into camp, the coaching staff had had enough. "We tried to give Krysten a second chance, but he did not live up to the standards necessary to be a part of our program," Miles said. "We wish him the best."
So what is next for Hammon? Clearly he is a talented back but cannot seem to see eye-to-eye with coaches. Even though there is depth at running back, quality always trumps quantity and the Panthers have just lost their best running back yet again.
Hopefully Hammon can find peace at his next stop if he so chooses to continue to play football. College is a time for growing and understanding who one really is. Right now Hammon's reputation is being called into question for his struggles to stick with a school. It will be interesting to see where this mercurial talent resurfaces and when.