The weather is starting to cool down, the air is beginning to get a little crisp. That can mean only one thing: College Football is here and more importantly, a new tradition will begin in Kennesaw, Ga.
Just eight days from now, Kennesaw State University will kick off its first ever football game. What a ride it has been to get here. Founded in October of 1963, the long arduous journey to blossom into something special and gain the respect of neighboring schools and nationally is finally starting to come to fruition.
Kennesaw State is no longer a joke. The ribs and jabs of calling it "High School 2.0" or "13th Grade" is over and has always been a fabricated over exaggeration. Students in the area complain about it being a small school, they whine that it is too close to home, they laugh about the athletics program not having a football team and they scoff at the idea of Kennesaw having a night life.
Sorry, but the worm has turned. Kennesaw State is not some nobody school in the middle of nowhere. It is less than an hour away from the internationally known metropolis of Atlanta. If the city is your thing, you are right there within arm's reach. Heart of the city not your style? Don't worry, you still have that hour cushion and don't have to mess with driving through downtown.
"The school is too small." KSU is closing in on 33,000 students. That's right. I didn't add an extra 3. Kennesaw is knocking on the door of becoming the LARGEST school in the state of Georgia and with football coming, possibly a revitalized basketball program with a former NATIONAL COACH OF THE YEAR and an expanding campus, the sky is the limit for the unknown gem of the south which features a beautiful campus.
And yes, I might have mentioned, Kennesaw State will be fielding a football team. The memories that will be made here will be countless and the students and alumni will be visiting Fifth Third Bank Stadium in droves. Myself, a May 2015 graduate, will just have missed out on all the fun. Will I be able to attend some games? Who knows. A busy work schedule which often leaks into the weekend will most likely prevent me from going to games and also the growing distance between myself and friends in the area will play a factor.
But for those who live in the area or go to school still, this is a golden era of Kennesaw State. Every time I drive past campus, there are new buildings being constructed and new projects in the works. New exits are being built to bring you directly into the heart of Kennesaw. Who would have thought that 20 years ago?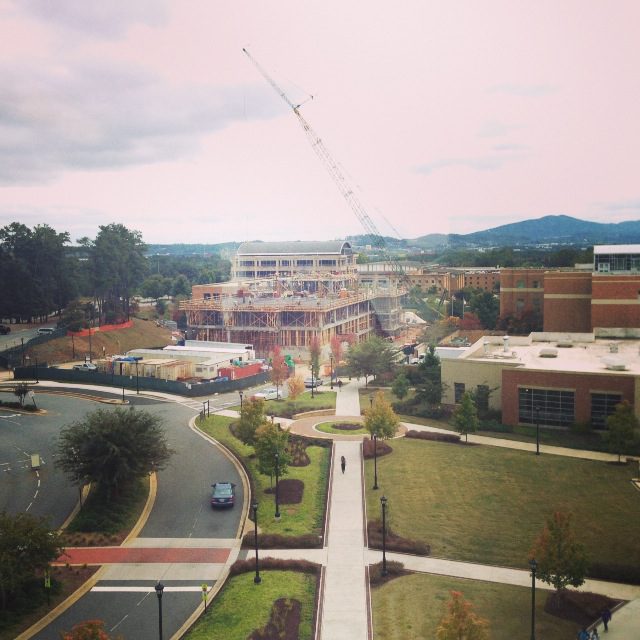 Football brings a feeling of hope and optimism in the air. Major sports can do that. Sports are not just players lining up playing a game. They are student-athletes doing something they have strived to do for years and realizing the achievement of playing college ball, a goal they have had since they were three and four years old, is something they can never have taken away from them.
Sports bring people, cultures and communities together. It is a rallying point. In war torn countries, groups visit and bring soccer balls or footballs or anything with them to get the youth and even adults involved. It is an escape from the real world which sometimes can be scary. All this competition and involvement helps keep kids off the streets and gives them something to look forward to. Sports can heal and sports can advance.
As Kennesaw State ushers in this new era, think about the big picture. Don't count wins and losses the first year. This is a program under strong and passionate leadership of Brian Bohannon. He understands what this is. This is not just football and recording wins and stats, this is a process of building men and building everyone involved with the program.
It is a chance to connect with the community and raise morale. The baseball team did this two years ago, but it was too late in the season and the fan base wasn't aware of the chance to jump onto the bandwagon. It was short-lived, making it to the College World Series, but again, it is sports bringing the community together to rally behind something.
With football on the horizon, the area will continue to grow. Tailgating on Saturday mornings and a sense of pride will run rampant in Kennesaw. No longer will students have to wear garb of other schools. No more wasted trips to Athens, no more bandwagon hopping of whoever the No. 1 team in the nation is. This area will now have a team they can call their own, through thick and thin. The football program has people excited and ready to buy into what this school can now sell.
For those still in college, cherish the moments that are soon forgotten and overlooked. That random Saturday day game vs. Point University may not seem significant at the time, but the excitement, preparation, trials and tribulations of getting ready to go to a game in Kennesaw's inaugural season is something you can tell your kids forever. The importance of living in the moment is something we lose as a society. Heads buried in phones, noses stuck in social media in a rat race to get the most likes; sometimes it really is better to stop and smell the roses and take life day-by-day and try not to take for granted all the little things in life.
A beautiful campus, a top ranked cafeteria in the Commons, a continually growing Greek Life system, an athletics program that finally looks to be on the right track, this looks like the perfect time to buy stock in Kennesaw State and see what happens. These next five years will be crucial for the development of Kennesaw, but the sky is the limit for this once over looked University.