No. 3 Seminole County 71, No. 1 Thomasville 65
No.1 Thomasville ready! @THSDOG pic.twitter.com/XJ4XnvYEQs

— Kyle Sandy (@KyleSandy355) January 10, 2016
Jordan Harris heading to UGA. The crowd erupts. @15reneGAdes40 pic.twitter.com/dxok1u2ISq

— Kyle Sandy (@KyleSandy355) January 10, 2016
The four hour trip was worth it. Defending AA state champs No. 3 Seminole County (12-3, 5-1) never trailed in the second half and held off No. 1 Thomasville (16-1, 4-1) 71-65 to hand the Bulldogs their first loss of the season.
Thomasville's balance of four players in double figures was not enough on the road against the Batman and Robin duo of UGA signee Jordan Harris and Anfernee King in front of a raucous sold out crowd. The Bulldogs jumped out to a quick 4-0 lead and looked like their size consisting of 6-foot-8 brothers senior Alex and sophomore Reggie Perry and 6-foot-8 freshman Titus Wright, would overwhelm the much smaller Indians, topped by 6-foot-4 senior center Justin Washington, but the Jordan Harris show began.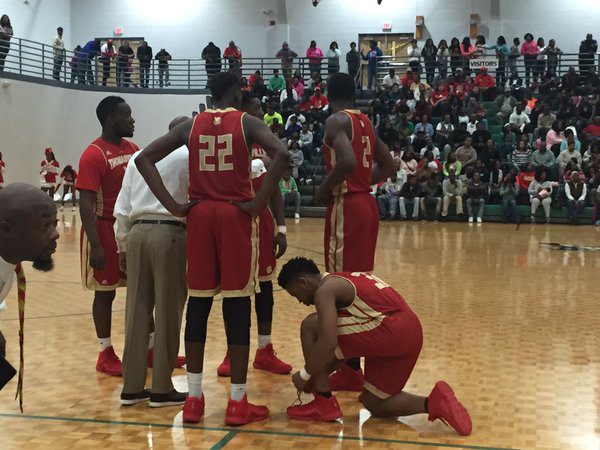 Harris connected on two deep balls and scored 10 of his game-high 28 points in the first quarter to enter the second period tied at 16. Senior Jordan Willis, Thomasville's offensive catalyst at point guard, did not start and didn't play in the first quarter for disciplinary reasons. As he was trying to find his flow in the game, Coach Benjamin Tillman relied on Shedric Cooper and Reggie Perry to get buckets. Perry, who finished with 12 points and eight rebounds, scored six points in the first half while Cooper netted seven of his 10.
Sophomore Reggie Perry cleans up for @THSDOG pic.twitter.com/UygpIMRjqZ

— Kyle Sandy (@KyleSandy355) January 10, 2016
Harris continued his onslaught in the second quarter hunting his own shot while still getting everyone involved. He entered the half with 18 points, swooping to the rim and cutting into Thomasville's paint protectors. At the half the Indians held a 33-27 lead.
To open the third quarter, Thomasville slowed the track meet down and began looking to exploit their size advantage by dumping high-low looks to the Perry brothers. Three early attempts didn't work with Harris coming away with a steal in Seminole County's zone which was used to pack it in and not let the Perrys or Wright get point-blank looks.
Down 38-33 with five minute left in the third, Willis came away with a runout and tried to hammer in a dunk, but his attempt clanged off the back rim and landed in Tyreke Daniels' hands. Daniels pushed the ball up and hit King in transition, who proceeded to bury a three-pointer to make it 41-33; a five-point swing.
Jordan Willis misses the hammer. Anfernee King turns it into 3 pic.twitter.com/3vJ2ZukktV

— Kyle Sandy (@KyleSandy355) January 10, 2016
Alex Perry quickly answered back inside with a sweeping hook shot that resulted in an And-1, but Harris was not to be out done. In the highlight of the night, better than his alley oop dunk from the hands of King and numerous Perry slams, Harris went between his defender's legs, re-controlled his dribble and hit a step back fade away from just inside the arc. He pulled off the nutmeg so quickly, that most fans didn't even realize what he had just done.
At the 1:40 mark, Harris picked up his fourth foul up 45-38 but King and Washington were able to carry the Indians into the fourth quarter leading 47-39. The Indians extended their lead to 49-39, their largest of the game with just under seven minutes to play, but the Bulldogs would show their bite and began clawing back, using a 8-0 run to make it 49-47.
Thomasville was in the double-bonus early in the fourth and began to pound away at the hoop, taking 16 fourth quarter free throws and sinking 12.  Willis led the charge and scored 11 of his team-high 16 points in the fourth quarter and helped the Bulldogs draw even at 51, but it was short lived as King hit a layup to regain the lead. The senior guard poured in 13 fourth quarter points to finish with 21, hitting 9-of-12 free throws in the fourth quarter to help the Indians upset the Bulldogs.
Seminole County is going to defeat undefeated Thomasville 71-65 pic.twitter.com/pOWDrKAAIb

— Kyle Sandy (@KyleSandy355) January 10, 2016
My Take: 217 miles? I could have traveled 400 miles and it would have been worth it. The hospitality at Seminole County was outstanding and a shoutout needs to go Juwan Hopkins, who helped me find my way to the gym after getting lost on some darks roads. As far as the game goes, the first thing I noticed was Thomasville's size. My jaw dropped to think this was an AA team and that Reggie Perry and Titus Wright are only a sophomore and freshman respectively. The storyline for tonight's game was whether Seminole County's two-man show of Jordan Harris and Anfernee King could keep up with Thomasville's balance and size. Jordan Willis didn't even start tonight for the Bulldogs and their starting lineup still looked like it could play with anyone in the state. The Perry brothers are big and long. Reggie is a high-major prospect and moves well for his size. Wright played a little out of position and wasn't anchored on the block like I felt he should have been. He is a big barrel-chested post that can move people out of his way. He isn't as athletic or explosive as the Perrys, but if he works on his quickness and post moves, he will be a nightmare for the next four years. Shedric Cooper and Gregory Hobbs played well in the backcourt, but Willis is the go-to guy. He put the team on his back in the fourth quarter and scored by slashing to the basket, hitting threes and adding points from the foul line. The Bulldogs will be a major player in the state tournament and were well deserving of their No. 1 ranking and undefeated record.
What is there to say about Seminole County? Harris and King are winners. They take a ton of shots, but it is their team and they have the green-light on every possession. Harris needs to be face-guarded or bracketed by two men every time he plays. The only recipe to beating the Indians is getting him in foul trouble or praying for an off night. But if he does have a rare rough game, King has more than enough goods to carry the load. King has an excellent pullup jumper and good elevation to get his shot off. He showed off his playmaking skills along with Harris as the two helped get Justin Washington involved. The senior big man played possibly the best game of his career according to Coach Kevin Godwin. Not blessed with his teammates' athleticism, Washington was unafraid to battle inside and showed nifty footwork when around the basket. He finished with 10 points, four rebounds and two steals, doing the dirty work inside while putting a body on three players that were four inches taller than him. It looks as if there is a very strong possibility that the Class AA state championship will run through South Georgia again, with Region 1 having three legitimate horses in the race including No.6 Early County.
Top Performers
Seminole County
Jordan Harris – 28 points, 12 rebounds, 3 assists, 2 steals
Anfernee King – 21 points, 4 rebounds, 4 assists, 2 steals
Justin Washington – 10 points, 4 rebounds, 2 steals, 1 block
Thomasville
Jordan Willis – 16 points, 3 rebounds, 1 assist, 2 steals
Reggie Perry – 12 points, 8 rebounds, 1 assist, 2 steals
Shedric Cooper – 10 points, 6 rebounds, 2 assists
Titus Wright – 10 points, 3 rebounds
Alex Perry – 8 points, 10 rebounds, 1 assist, 2 steals, 3 blocks