Class AA

(G) Laney 85, Rabun County 76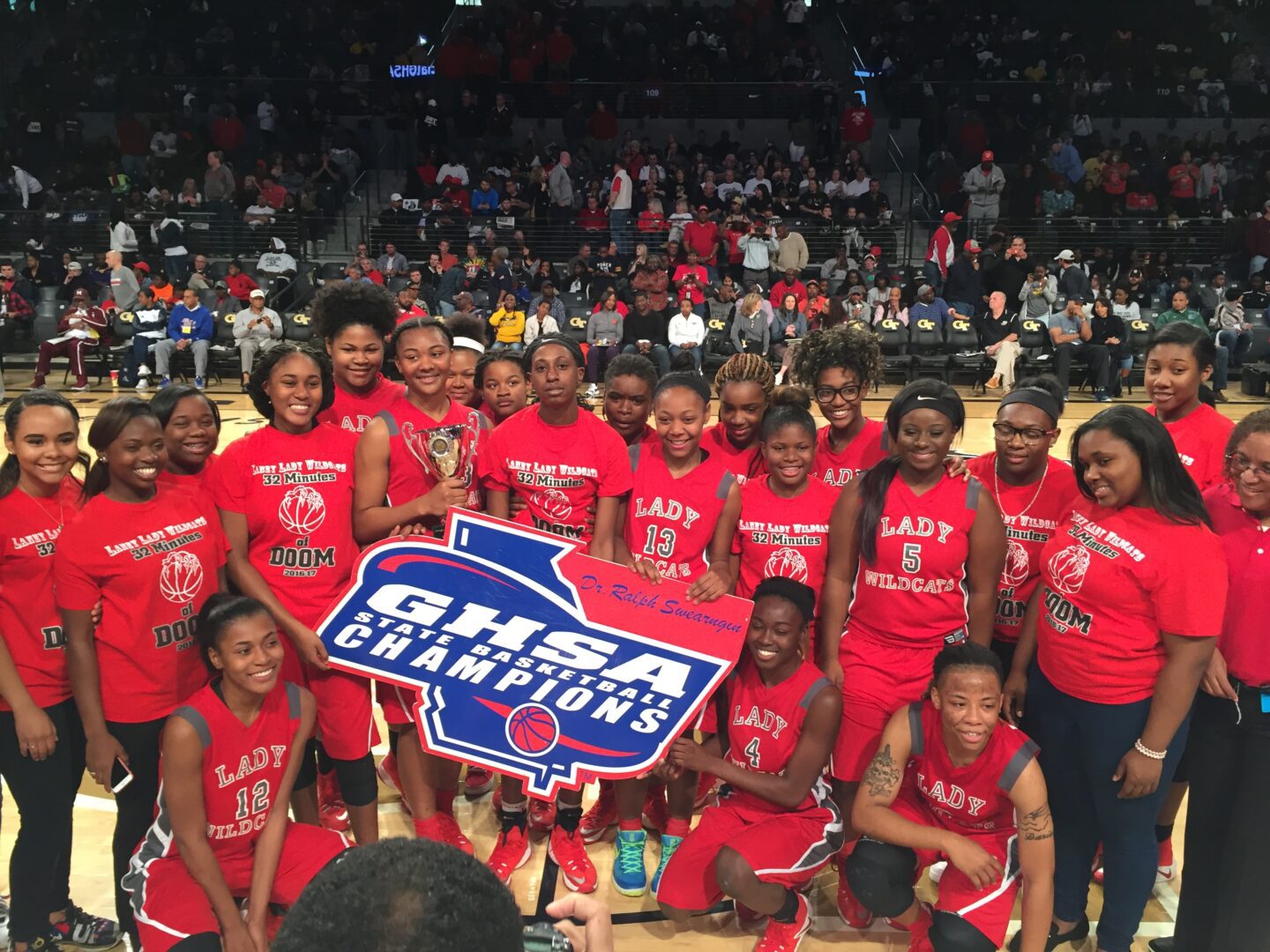 In a war of Wildcats, No.1 Laney (31-1) hung on against a persistent No. 5 Rabun County (29-2) behind a defensive onslaught in a fast paced game, 85-76. Both teams known for their press, Laney donning "32 minutes of doom" t-shirts to warm up in, opened the game with a frantic pace trapping each other and using pressure defense the entire 94-feet of the floor. Rabun County trailed 24-18 after the first period but De'sha Benjamin and company quickly wore down the LadyCats to take a commanding lead. Benjamin, Aubriana Bonner and Jaiden Hamilton all poured in double figures in the first half, as the Wildcats built a 46-30 halftime lead. Getting out in transition, Laney did its damage on fastbreaks. In the third quarter, Rabun County turned the tables on Laney as their outside shots finally started to fall after going 0-of-8 from three in the first half. The LadyCats sparked a 17-5 run and cut the Laney lead to 51-47 after Savanna Scott, Hallie Reeves and Brooke Henricks got hot. Rabun buried their first threes of the game as Henricks and Reeves went back-to-back-to-back, Henricks nailing two threes in the span. After going 0-of-6 in the first half, Scott scored seven points in the frame and helped the LadyCats enter the fourth down 60-54, now in striking distance after going 4-of-5 from beyond the arc. Laney quickly extended the lead to 67-58 with 5:52 remaining but the LadyCats trimmed the lead to 68-63. Once again, Benjamin helped Laney grow its lead, this time to 76-63 with 2:44 remaining, but again, Rabun County wouldn't go away going on a 7-0 run to make it 76-70 as Reeves continued to bomb from deep. Laney was able to put the game away from the line going 11-of-19 in the fourth quarter. The Wildcats outscored Rabun 58-32 in the paint and outrebounded the LadyCats 53-33 led by Benjamin's monstrous 25 points, 11 rebounds, 5 assists, 2 steals and 5 blocks. Bonner added 16 points, 10 rebounds and 5 assists while Hamilton was the third Wildcat to double-double going for 22 points, 13 rebounds and 4 assists. Rabun County used a balanced attack of their own to challenge Laney. Sophomores Brooke Henricks and Georgia Stockton scored 17 and 11 points apiece. Senior Hallie Reeves scored a team-high 20 points followed by Scott's 10 points, 7 rebounds and 5 assists. Freshman Laken Stiles netted 10.
(B) South Atlanta 68, Swainsboro 33

The No. 1 Hornets (29-1) used a dominant third quarter to crush an overmatched Swainsboro team that took a magical run to the state championship. South Atlanta outscored the Tigers (21-11) to the tune of 22-2 in the third to turn a 36-22 halftime lead into an insurmountable 58-24 advantage which resulted in a shortened 6-minute final quarter.  South Atlanta held Swainsboro, a group which uses only a six-man rotation, to just 12-of-65 (18.5%) shooting and outrebounded the smaller Tigers 64 to 44. Devonta Pullins, one of seven seniors which the majority of had been playing together since age 4, paced the Hornets with 20 points. Junior Jalen Stegall had 15 points, 7 rebounds and 4 assists. Senior Tyler Thornton, 6-foot-7, posted 11 points, 14 rebounds and 4 blocks while Demontay Roberts, another senior, added 6 points, 14 rebounds and 2 rejections. Swainsboro's leading scorer, 5-foot-7 junior Jaylan McKinney, was 6-of-21 from the field for 15 points, 4 rebounds, 2 assists and 3 steals. His supporting cast struggled as well with senior Justin Harris going 0-of-12 with zero points and sophomore Jamil Watkins shooting 2-of-15 for 6 points. Big man Eddie Roberts, 6-foot-5, battled valiantly on the glass totaling 14 rebounds to go with his 5 points.
Class AAAAAAA
(G) McEachern 75, Norcross 68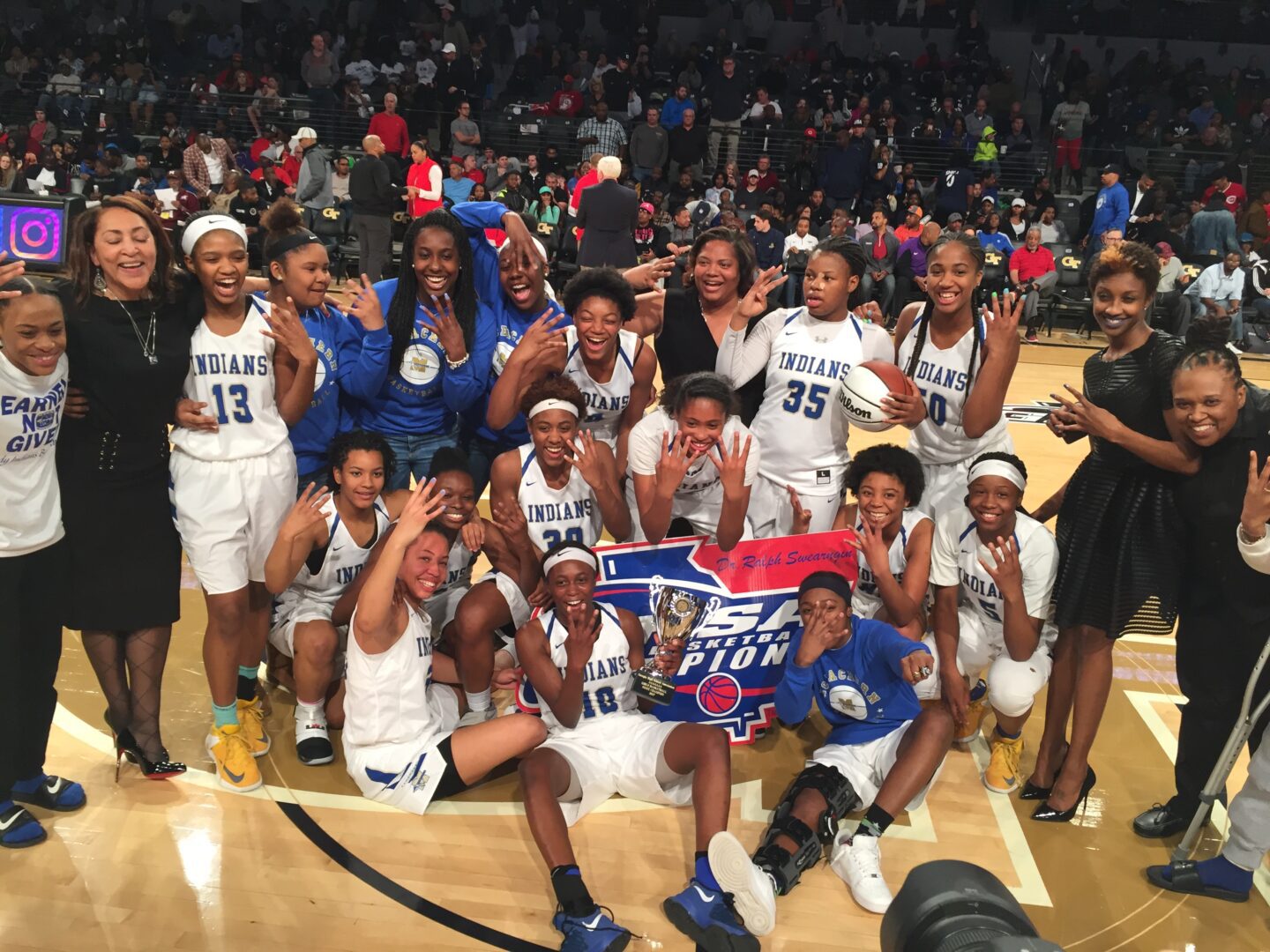 Victoria Agyin scored all 13 of her points in the fourth quarter to help No. 2 McEachern (26-6) four-peat as state champions, avenging a 57-53 season opening loss to No. 1 Norcross (29-3), 75-68. Georgia-signee Que Morrison poured in 22 of her game-high 24 points in the first half but Norcross still maintained a 38-37 lead. In the second half, Norcross honed in on Morrison as stingy defense and foul trouble hampered the standout. South Florida-signee Vanessa Blagmon scored 12 of her team-high 23 points in the second half, carrying the scoring burden for Norcross. Miami-signee added 17 points and 8 rebounds for Norcross on the night but McEachern captured a 58-55 lead at the end of three and was able to hang on late. Agyin scored 13 of McEachern's 17 fourth quarter points. Lyndsey Whilby, heading to Texas Tech, had 13 points and 6 rebounds. Jewel Smalls had 13 points and 6 rebounds.  The Indians shot 62.5% in the fourth while holding Norcross to 28.6%.