Day 1 — March 10
Class A-Private
R5 #1 No. 1 Hebron Christian 51, R6 #1 No. 4 St. Francis 46 OT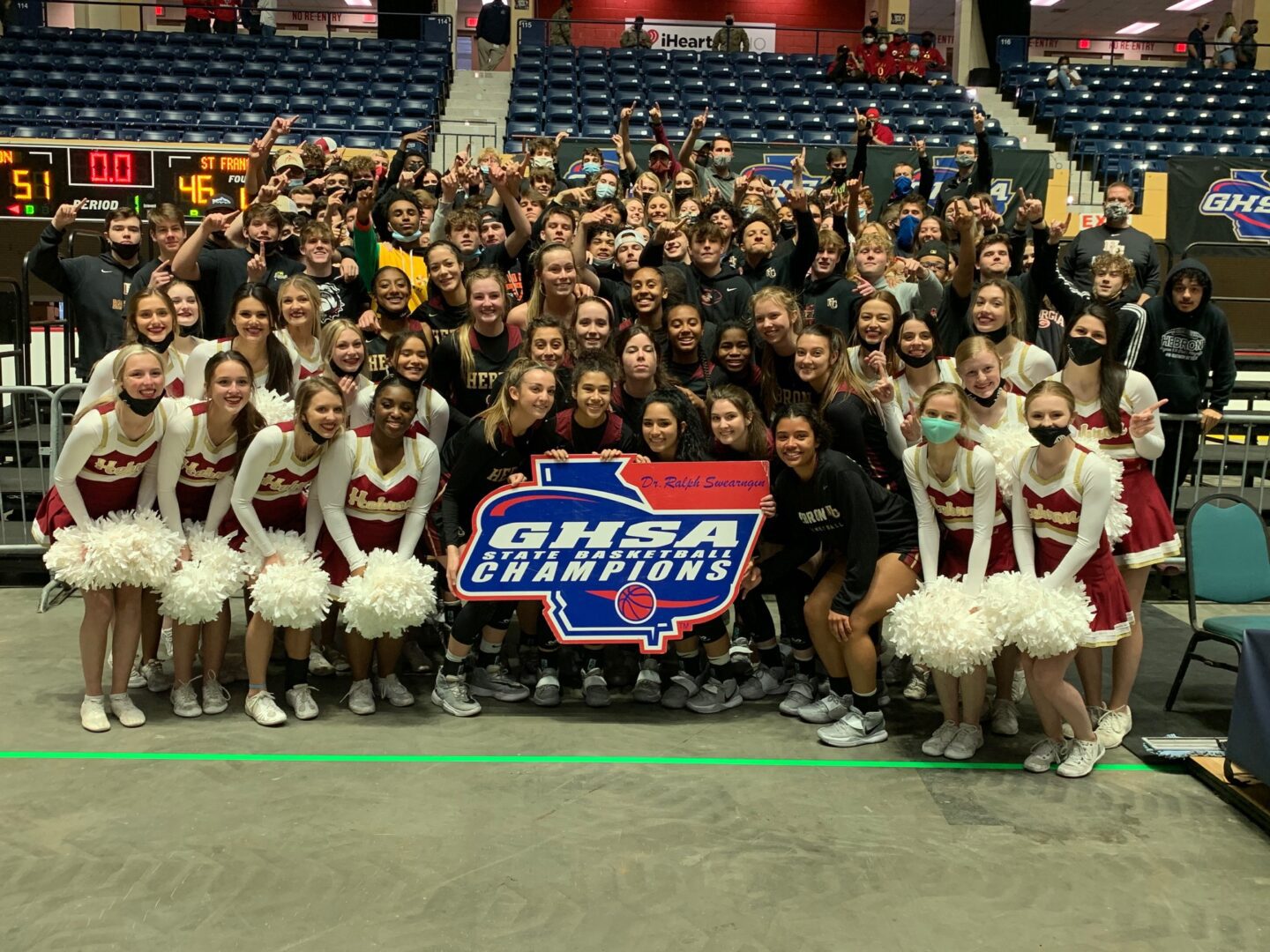 Coach Jan Azar won her 14th state title and Hebron Christian's first as the Lions (29-2) held off No. 4 St. Francis (23-5) in overtime. No. 1 Hebron Christian trailed 6-5 after one quarter in a defensive slugfest that saw the Lions go 0-8 from the field and 0-7 from three. Trynce Taylor scored all six of her points in the opening frame to give the Knights an advantage. In the second quarter, Nicole Azar hit a pair of threes as the Lions shot 7-12 from the floor. St. Francis closed the quarter strong with a 6-0 run to narrow the gap to 22-18 heading into the half in favor of Hebron. In the third quarter, Mississippi State-signee Mia Moore and sophomore Erica Moon scored five points apiece to keep the Knights within striking distance as they entered the fourth down 34-32. St. Francis captured their first lead since the 7:18 mark of the second quarter when Moon hit a jumper to make it 37-36, but the lead was short-lived as Rice-signee Malia Fisher scored on a drive, two of her game-high 18 points to go along with 11 rebounds and 2 blocks.  Fisher scored 10 points in the fourth quarter but the tandem of Moon and Moore wouldn't let the Knights fall too far behind. Down 42-39, Moon converted an And-1 to knot the game with 58.5 seconds remaining. Fisher gave Hebron the lead with 9.4 seconds to play on a layup, but Moore drew a foul with 0.4 seconds and went to the line where she coolly sank both free throws to send the game to overtime. The Lions took the lead for good at the 2:12 mark when Samford-signee Carly Heidger inbounded to Fisher underneath St. Francis' basket. Fisher, in a crowd, tipped the lob pass back to Heidger who scored a layup to go ahead 48-46. The Knights nearly gathered a steal with 40 seconds left at half court when a cross court pass to Azar was nearly stolen when she stepped on the ball and lost her balance but was able to recover on the floor and dish to a teammate. Heidger was sent to the line for the frontend of a one-and-one with 31.1 seconds left and split a pair to make it 49-46. Moore got a clean look with less than 10 seconds to play to tie it, but her shot was off the mark and Fisher cleared the board and Heidger outletted to Azar for a layup at the buzzer to put the exclamation point. Azar, a Samford-signee, finished with 11 points while Heidger and Jessie Parish scored 9 apiece. Moore led St. Francis with 18 points and 7 rebounds. Moon finished with 14 points, 6 rebounds, 4 assists and 5 steals.
Class A-Private State Championship
F/OT
R5 #1 No. 1 @HebronGBB 51
R6 #1 No. 4 @StFrancishoops1 46 pic.twitter.com/ivWXamG0Uw

— Kyle Sandy (@KyleSandy355) March 10, 2021
R6 #1 No. 1 Mt. Pisgah 43, R5 #1 No. 5 Holy Innocents' 41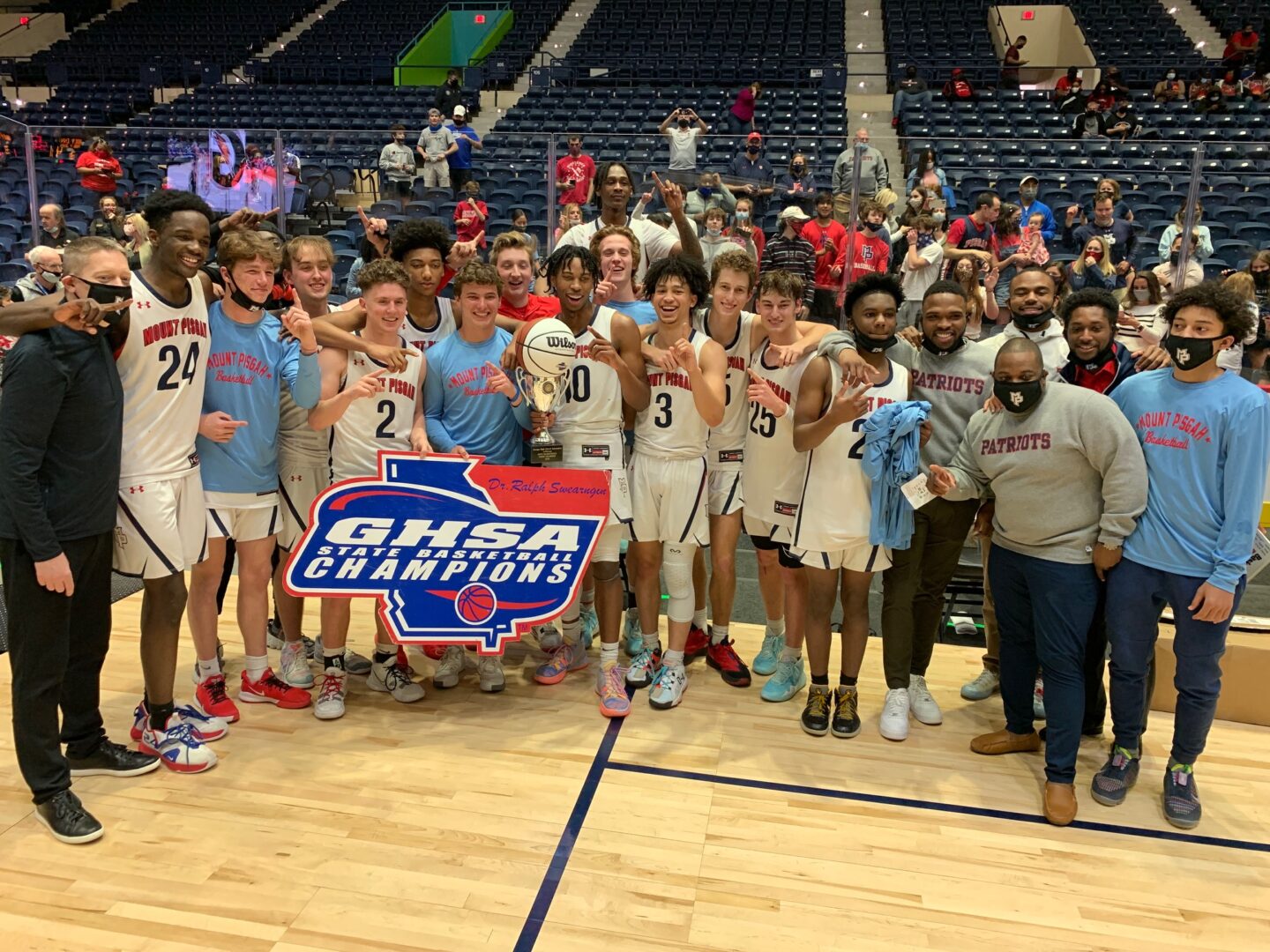 No. 1 Mt. Pisgah (27-6) stunned No. 5 Holy Innocents' (16-4) as Kasheem Grady came away with a steal and a game-winning jumper at the buzzer as the Patriots closed on a 10-0 run to rally past Holy Innocents' in improbable fashion. With 3:19 remaining in the game, the Patriots trailed 39-33 and were 0-5 from the field and shooting 28.6% for the game. From that point on, Mt. Pisgah stormed past the Golden Bears hitting four of their final seven shots to erase what looked like was going to be an ugly loss. Nate Gordon scored six of his team-high 14 points in the fourth quarter to go with his 10 rebounds and 3 blocks. He scored on a baby hook in the lane with 27 seconds left to draw the Patriots even after IPFW-signee JoJo Peterson got a steal and a layup with 49.1 seconds left to make it a 41-39 deficit. The Patriots hadn't led since 4:40 of the third quarter when they were up 29-28. Mt. Pisgah shot just 32.1% from the field and 3-18 from three for the game while foul issues piled up but their full court pressure defense and resiliency finally cracked Holy Innocents' who took their largest lead of the game at 41-33 with just 1:47 to play.  The Patriots received 11 points, 6 rebounds and 3 assists from Peterson and 8 points including the game-winner from Grady. Landon Kardian powered Holy Innocents' with 14 points and 2 blocks. Walker Wolf scored 9 points and Garrison Powell finished his career with 7 points, 13 rebounds, 2 assists and 3 steals.
?A-Private?
No. 1 @PisgahBoysBBall 43
No. 5 @hiesbasketball 41@PisgahAthletics closes on a 10-0 run. @GradyKasheem with the GAME WINNER! @OfficialGHSA pic.twitter.com/3fdFHhn4uD

— Kyle Sandy (@KyleSandy355) March 10, 2021
Class 4A
R2 #1 No. 4 Carver-Columbus 70, R1 #1 Cairo  54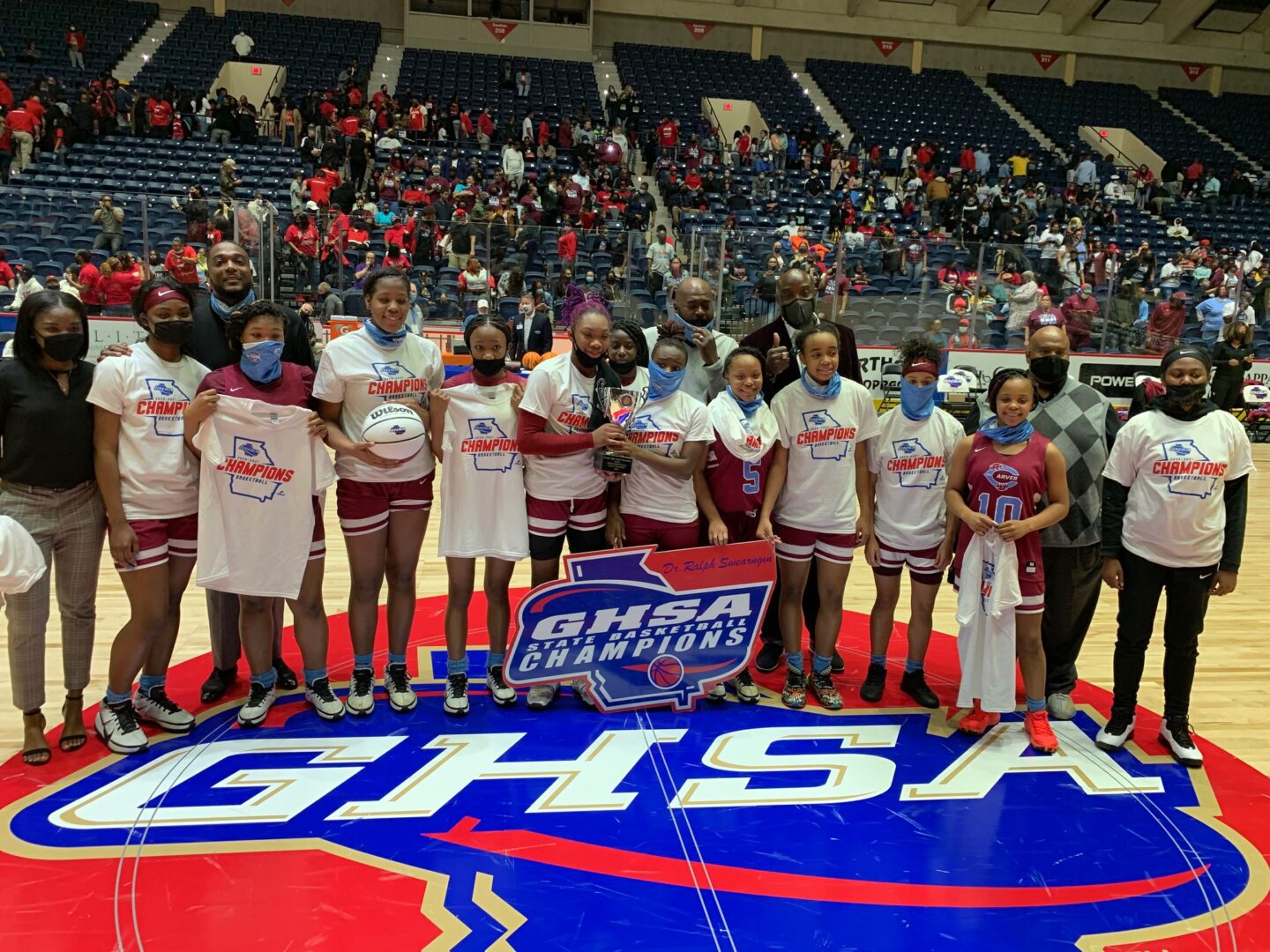 Runs of 16-0 and 9-0 helped No. 4 Carver-Columbus (16-2) collect their second title in three years. After a spirited first quarter saw Cairo (18-2) lead 23-20, Carver's full court pressure and non-stop attack wore on the Syrupmaids. Clemson-signee Kionna Gaines paced the Tigers with 24 points, 9 rebounds, 1 assist and 4 steals. Carver held Cairo scoreless for 4:44 as they raced ahead 39-27 to gain control. Up 41-32 at the half, a 9-0 run for the Tigers that made it 50-32 proved to be the deathblow. Cairo answered later in the third with an 11-0 run to trim the deficit to 50-43 at the 2:27 mark but Gaines and company proved too strong around the rim scoring 40 points in the paint and going 25-34 from the line. D'Miya Beacham scored 16 points while Enyshaun Jones added 10 points, 8 rebounds, 3 steals and 4 blocks. The Tigers forced 31 turnovers. Cairo was led by Ambria Vicks' 19 points and 14 rebounds while Chambria Vicks contributed 9 points and 6 rebounds.
R4 #1 No. 1 Baldwin 54, R5 #1 No. 5 Fayette County 53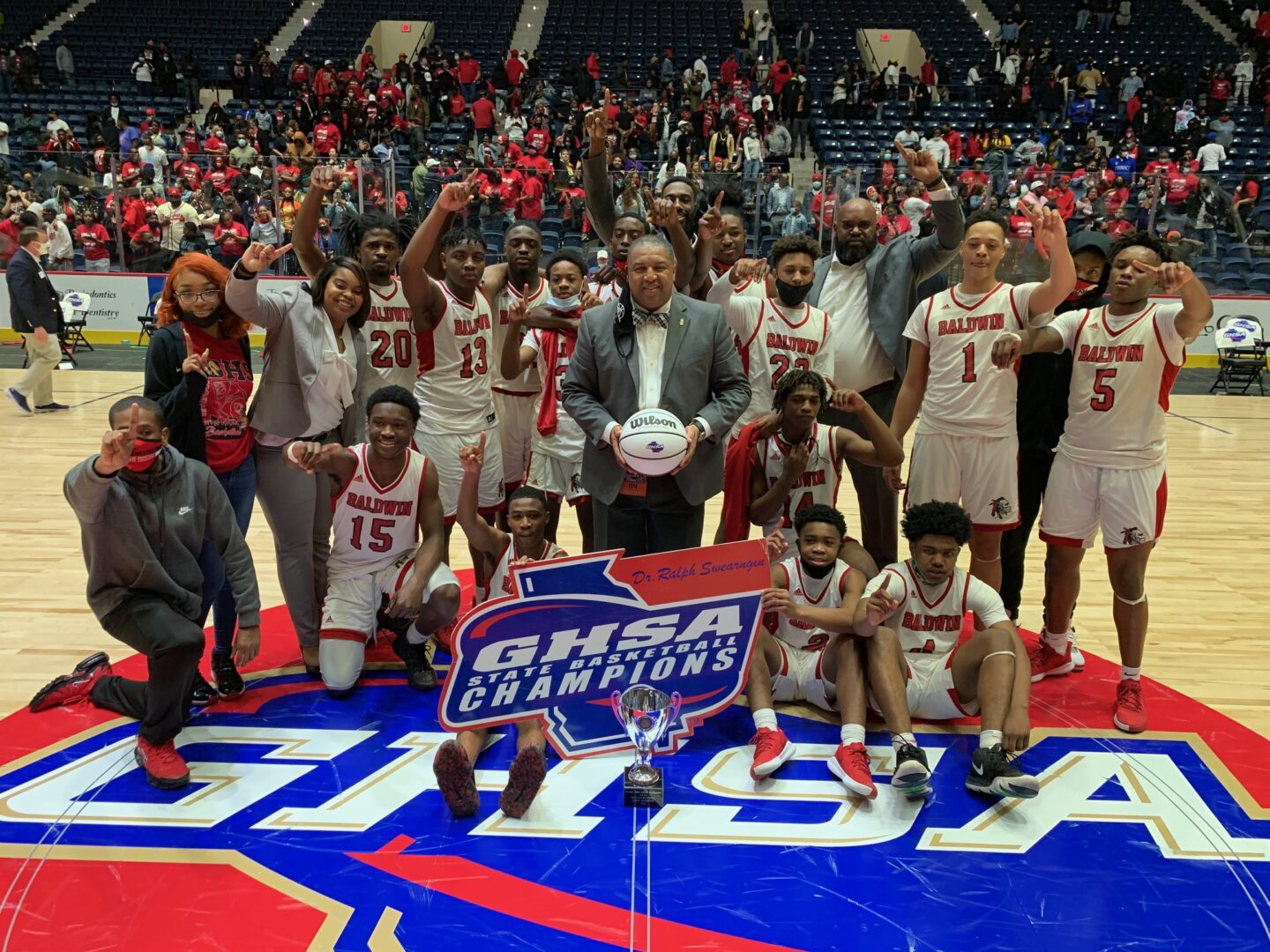 Will Freeman's mid-range jumper with 3.8 seconds left propelled No. 1 Baldwin (17-0) to a perfect season and more importantly their first state title since 1981. Up 28-25 at the half, the Braves used a swarming defense to frustrate the Tigers. Fayette County was without star wing Kaleb Banks, who got hit above the eye and played just three minutes until returning in the second half. With Banks never able to get into a flow, the persistent and pesky Braves continued to attack, forcing 19 turnovers and outshooting the Tigers 58 to 41. A balanced effort led the Braves throughout as they held a 43-40 lead heading into the fourth, playing in front of a home crowd that made the 35-minute trip to Macon. Terry Brown finished with 14 points, 8 rebounds, 5 assists and 2 steals to lead Fayette County. The Tigers surged ahead with a 7-0 start to the fourth quarter, grabbing a 47-43 lead after threes from Tariq Mumphery and Cardell Bailey with 6:36 to play. Baldwin didn't get flustered however and battled back. Banks, who finished with 8 points and 7 rebounds, split a pair of free throws to give Fayette County a 53-52 lead. The Tigers had a chance to extend the lead out of a timeout but Banks couldn't convert a shot from point blank. The Braves attacked the basket on the ensuing possession but Brown stepped in and drew a charge, what looked like could be poetic justice after the Tigers saw a block/charge call go against them late vs. Buford in the state championship two years ago, but free throws came back to haunt the Tigers. Fayette County would go 13-21 from the line and 5-10 in the quarter. RJ Kennedy had a chance to ice the game at the line with 21.3 seconds remaining but couldn't convert. Coach Anthony Webb turned to Freeman out of a timeout and the senior delivered with 3.8 seconds left as his shot hit the front of the rim and bounced in. Fayette County tried to push the ball to Banks at halfcourt, but his shot was after the horn and off the mark as Baldwin stormed the floor. The undersized Braves lost the rebounding battle 35-31 but scored 16 second chance points and outscored the Tigers 26-22 in the paint. Freeman and Rudolph Satcher scored 12 apiece to power the Braves wile Lataeveon Roach netted 11 and Jermyus Simmons scored 8 points. Mumphery scored 11 for the Tigers in the loss, hitting three three-pointers.
4Q; 1.6
No. 1 @bhsbraves 54
No. 5 @FayetteBball 53@WillTheDeal24!@Baldwin_Cty_BOE is seconds away from an undefeated season and first title since 1981 pic.twitter.com/9v7P32Y1Ew

— Kyle Sandy (@KyleSandy355) March 11, 2021
?Class 4A State Championship?
F
R4 #1 No. 1 @bhsbraves 54
R5 #1 No. 5 @FayetteBball53 53@Baldwin_Cty_BOE is perfect@WillTheDeal24 12p GW @RudolphSatcher1 12p
Lataeveon Roach 11p@TeeBeenPaiid 14p 8r 5a 2s@TariqMumphery 11p@Kalebb_3 8p 7r

RECAP: https://t.co/thaJzcqm5L pic.twitter.com/Wd33T8Rwyc

— Kyle Sandy (@KyleSandy355) March 11, 2021
Day 2 — March 11
Class 2A
R4 #2 No. 10 Josey 47, R7 #1 No. 8 Fannin County 42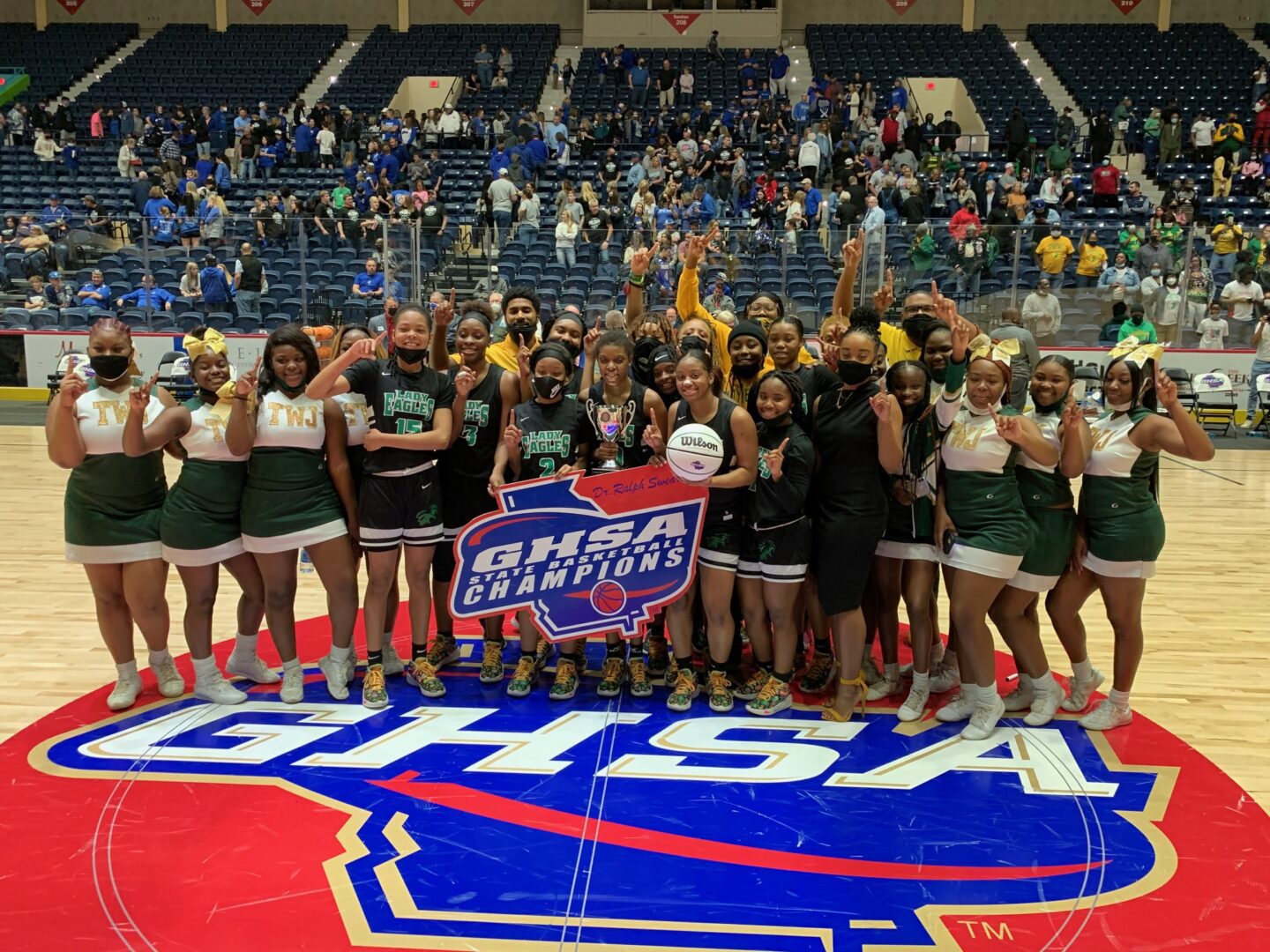 Trailing 35-21 at the 3:32 mark of the third quarter, No. 10 Josey (20-6) could have easily folded against No. 8 Fannin County (23-5), but instead the Eagles dug deep and used their athleticism and defensive pressure to heat up the Rebels, stunning the crowd favorites with a 17-4 fourth quarter for their first state title since 1998. Down 38-30 heading into the fourth quarter, Coach Jawan Bailey turned to a suffocating 2-2-1 press and held Fannin County scoreless for over eight minutes as Josey inched closer and closer in the fourth quarter but saw dreadful free throw shooting nearly put a damper on their comeback. With just five points heading into the final stanza, High Major recruit Ky'Shonna Brown finally found a groove on her 17th birthday scoring six of her 11 points in the final quarter. As Fannin County's offense sputtered, going 1-10 in the fourth quarter and turning the ball over 9 times in the second half, Josey started to claw back led by Brown, Aqoyas Cody and Jamirah Mitchell. Cody tied the game at 38-38 with 2:19 left but missed free throws continued to help Fannin County as the Eagles went 2-9 from the line to start the fourth. Ending the lengthy drought, freshman Courtney Davis scored a layup to give Fannin County a 40-38 lead at the 1:52 mark. The Rebels extended the lead to four points after a pair of Becca Ledford free throws with 1:22 left, but Mitchell hit a corner three to draw Josey to within 42-41 with 68 seconds remaining. Cody, who led Josey with 15 points and 10 rebounds, came away with a steal and assisted to Deajah Houck for a layup to go ahead 43-42 with 51 ticks to play. From there, Josey would hit their final four free throws as Brown and Laura Jarrett hit a pair to complete the wild comeback. Josey finished with 22 points off 17 Rebel turnovers. Fannin County led for 28:07 behind the play of Ledford who finished with 14 points, 7 rebounds and 3 assists. Davis and Abby Ledford added 9 apiece. In a game which featured nine lead changes, Josey led for just 3:03.
?Class 2A?
F
R4 #2 No. 10 @JoseyGBB 47
R7 #1 No. 8 @FanninWBB 42

Incredible. @CoachJaBailey holds Fannin scoreless for over 8 minutes and wins the 4Q 17-4 to stun the Rebels.@AqoyasCody 15p 10r@youngbull_ky1 11p@LedfordBecca 14p 7r 3a

RECAP: https://t.co/thaJzcqm5L pic.twitter.com/lifcBzivLf

— Kyle Sandy (@KyleSandy355) March 11, 2021
R6 #1 No. 1 Pace Academy 73,  R6 #3 No. 4 Columbia 42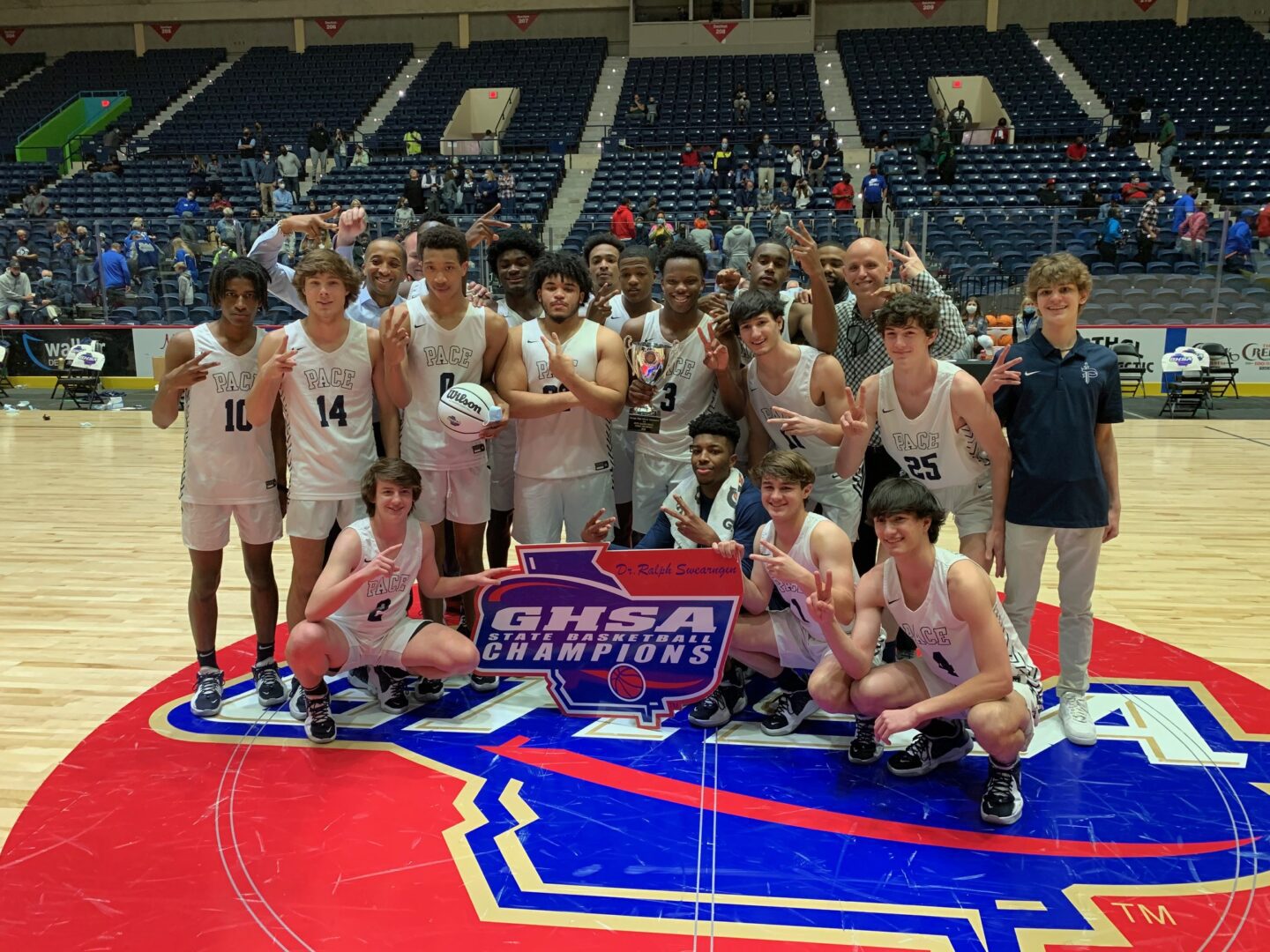 An 18-1 run to start the second half proved to be the knockout blow as No. 1 Pace Academy (28-1) repeated as state champions, defeating No. 4 Columbia (21-7) for the second time this season. Pace Academy raced out to a 16-9 lead after the first quarter as their length inside affected any looks near the basket, blocking 5 shots and 8 for the game. Down 27-13 at the 3:17 mark of the second quarter, Columbia got momentum as fouls piled up on Pace Academy. The Eagles would finish the half on an 8-2 run to head into the half down 29-21 but as they have all postseason, Pace Academy stepped on the gas to open the third and put away Columbia quickly. The Knights led 49-24 following a dominant stretch that harassed Columbia relentlessly with a suffocating full court press. The Knights forced 19 turnovers and held Columbia to 34% shooting while converting 60.5% of their own shots.  The Eagles went 0-12 from three. Florida State-signee Matthew Cleveland finished his career with 24 points, 7 rebounds, 4 assists, 3 steals and 5 blocks. Madison Durr tallied 15 points, 4 rebounds and 5 assists while Josh Reed added14 points and Cleveland State-signee Cole Middleton scored 9 points. Mason Lockhart led Columbia with 9 points and 5 rebounds.
Class 5A
R3 #1 No. 1 Woodward Academy 62, R3 #2 No. 2 Forest Park 59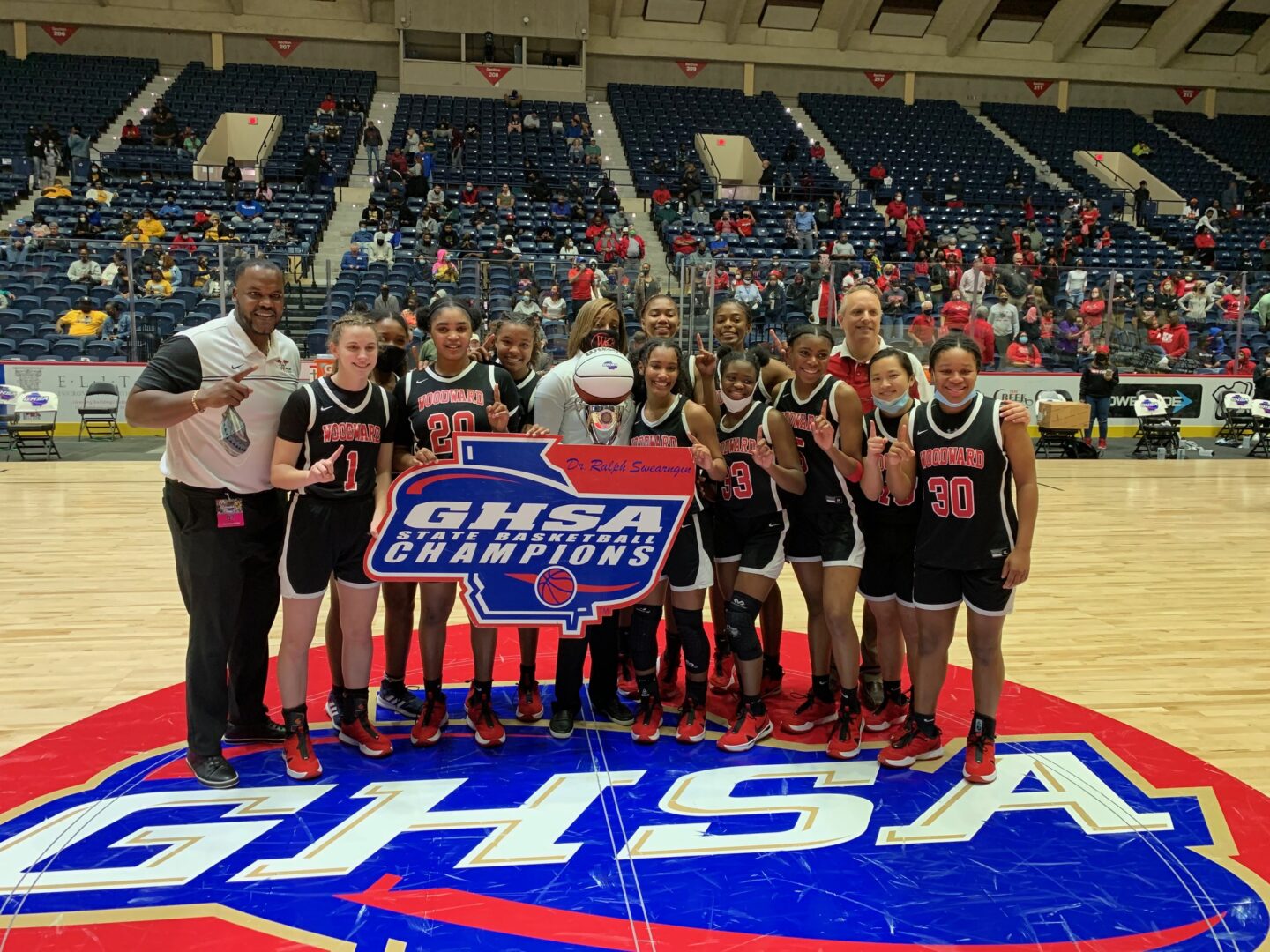 After claiming a state championship in 1999 as a player, Coach Kim Lawrence brought back Woodward Academy's first title in 22 years as No. 1 Woodward Academy (22-1) used a key 16-4 run with All-American Sania Feagin on the bench with four fouls in the third quarter to gain control and hold off No. 2 Forest Park (23-6) for the third time this season. Trailing 23-21 at the half, Woodward Academy struggled to eliminate second chance points as the defending Class 6A champs attacked the glass and scored nine points off offensive rebounds in the first half but just four in the second.  Forest Park led by as many as nine points at 19-10, but a near five-minute drought helped the War Eagles get back in it.  At the 5:29 mark of the third quarter, Feagin picked up her fourth foul on a charge with the Panthers leading 25-23.  The War Eagles would outscore the Panthers 20-12 to close the quarter with Feagin out, a 16-4 run igniting Woodward Academy as Sara Lewis found a groove after an 0-8 first half. Lewis would finish with 13 points, 9 rebounds, 3 assists and 3 steals. The trio of Lewis, Sydney Bowles (22) and Kai Lanier (14) would combine for 49 points. Woodward Academy held a 43-37 lead after three quarters and led 52-45 at the 4:27 mark when Feagin, the reigning Gatorade Player of the Year and South Carolina-signee, fouled out with 10 points, 8 rebounds, 2 assists, 2 steals and 4 blocks to end her illustrious career. But even with Feagin out, the Panthers battled till the final buzzer. Lanier, 5-foot-4, collected 10 rebounds including a putback with 1:19 left  that extended the Woodward lead to 60-52 and seemingly put the game out of reach, but Forest Park would storm back. Albany State-commit Ghylissa Knowles drilled a three with 15 seconds left to cut the lead to 60-59 after UT-Arlington-signee Olympia Chaney hit a pair of free throws and Jayda Brown scored a layup. Bowles, who scored 12 of her game-high 22 points in the second half, calmly sank two free throws to push the lead to 62-59 with 10.9 seconds remaining. Bowles missed a pair of free throws with 2.4 seconds left with the score the same, but Forest Park's Hail Mary heave was short and after the buzzer. Presbyterian-signee Jasmine Stevens paced Forest Park with 16 points, 10 rebounds and 3 assists. Knowles scored 13 points, 9 in the second half.
?Class 5A?
F
R3 #1 No. 1 @WoodwardBBall 62
R3 #2 No. 2 @FphsWbb 59@WAWarEagles survive a furious late rally from @FPHSPanthers who saw Sania Feagin foul out early in 4Q.

Sydney Bowles 22p
Kai Lanier 14p 10r 4s@SaraLewisElite1 13p 9r 3a 3s@JStevens1123 16p 10r pic.twitter.com/cW9OQlicyT

— Kyle Sandy (@KyleSandy355) March 11, 2021
R4 #1 No. 2 Eagle's Landing 81,

R3 #1 No. 1 Tri-Cities 69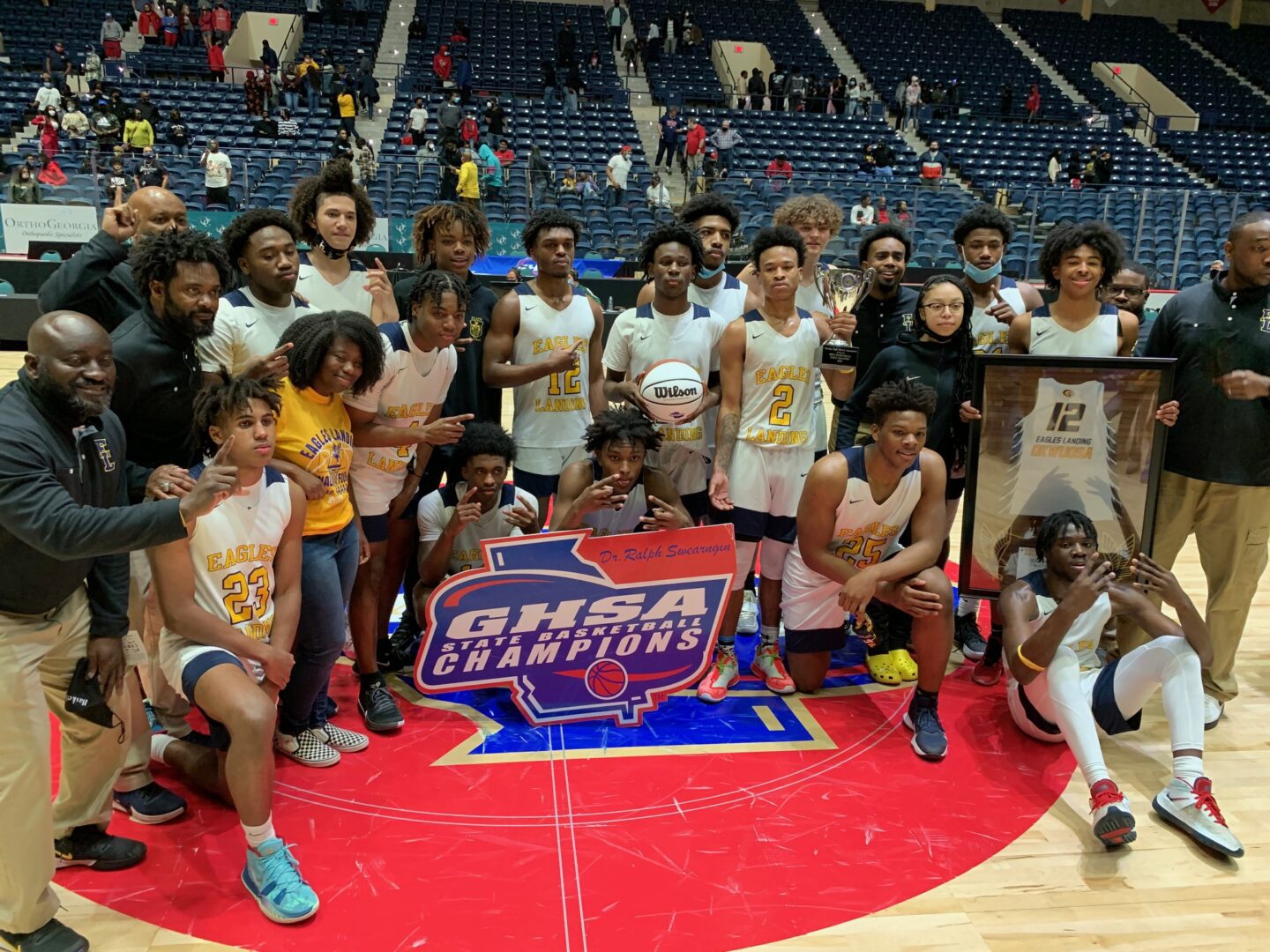 Since 2013 when they last won the state title, No. 2 Eagle's Landing (29-1) hadn't been able to advance past the Sweet 16. After exorcising their demons with an 84-43 win over Forest Park weeks ago, the Eagles made things look easy in the postseason. An electric 27-11 first quarter set the tone as the Eagles won a fast pace battle with No. 1 Tri-Cities (23-5). The Eagles used an 11-0 run to race ahead 19-7 and never looked back, building as large as a 33-14 lead at the 6:05 mark of the second quarter. Region 4 Player of the Year AJ Barnes scored 12 of his team-high 21 points in the first quarter and added 11 rebounds, 4 assists and 3 steals while going 11-14 from the line. Tri-Cities entered the half down 49-37 as Vanderbilt-signee Peyton Daniels and Simeon Cottle scored 11 apiece. The Bulldogs cut the lead to 51-45 at the 6:12 mark of the third quarter after hitting six of their last eight three-point attempts, but Eagle's Landing would not be deterred. The Eagles led nearly wire-to-wire, ahead for 29:59 out of the full 32 minutes, Tri-Cities' last lead coming at the 6:35 mark of the first quarter when they were up 2-1. Though they led almost the entire game, there were moments where Eagle's Landing was tested. David Thomas, who finished with 19 points, 4 rebounds and 3 assists, picked up his fourth foul with 3:56 to play in the third quarter with the Eagles holding a 58-51 advantage. With Thomas on the bench, others stepped up. Jordan Fordyce scored all 15 of his points in the second half while Jaylon Hand netted 15 as well. After three quarters the Eagles clung onto a 64-58 lead. Fordyce scored eight points in the final frame and helped the Eagles stay ahead until Thomas checked back in with 4:01 remaining and Eagle's Landing in front 68-63. The Bulldogs hung around and cut the deficit to 71-67 with 2:16 left but wouldn't get any closer as the Eagles closed on a 10-2 run. Eagle's Landing went 18-25 from the foul line on the night while Tri-Cities converted 9-13. Daniels finished his Tri-Cities career with 25 points, 5 rebounds, 3 assists, 4 steals and 1 block.
?Class 5A?
R4 #1 No. 2 @ELHSHoops 81
R3 #1 No. 1 @BasketballTCHS 69@Realajbarnes 21p 11r 4a 3s@_daveo23 19p 4r 3a@MoneyyJay1 15p 4r 3a@lilpeyday 25p 5r 3a 4s 1b@_simeon5 13p 5a 4s@CottleDavon 12p pic.twitter.com/nA2OLXW8Sr

— Kyle Sandy (@KyleSandy355) March 12, 2021
Day 3 — March 12
Class 3A
R4 #1 No. 4 Cross Creek 56, R5 #1 No. 6 GAC 44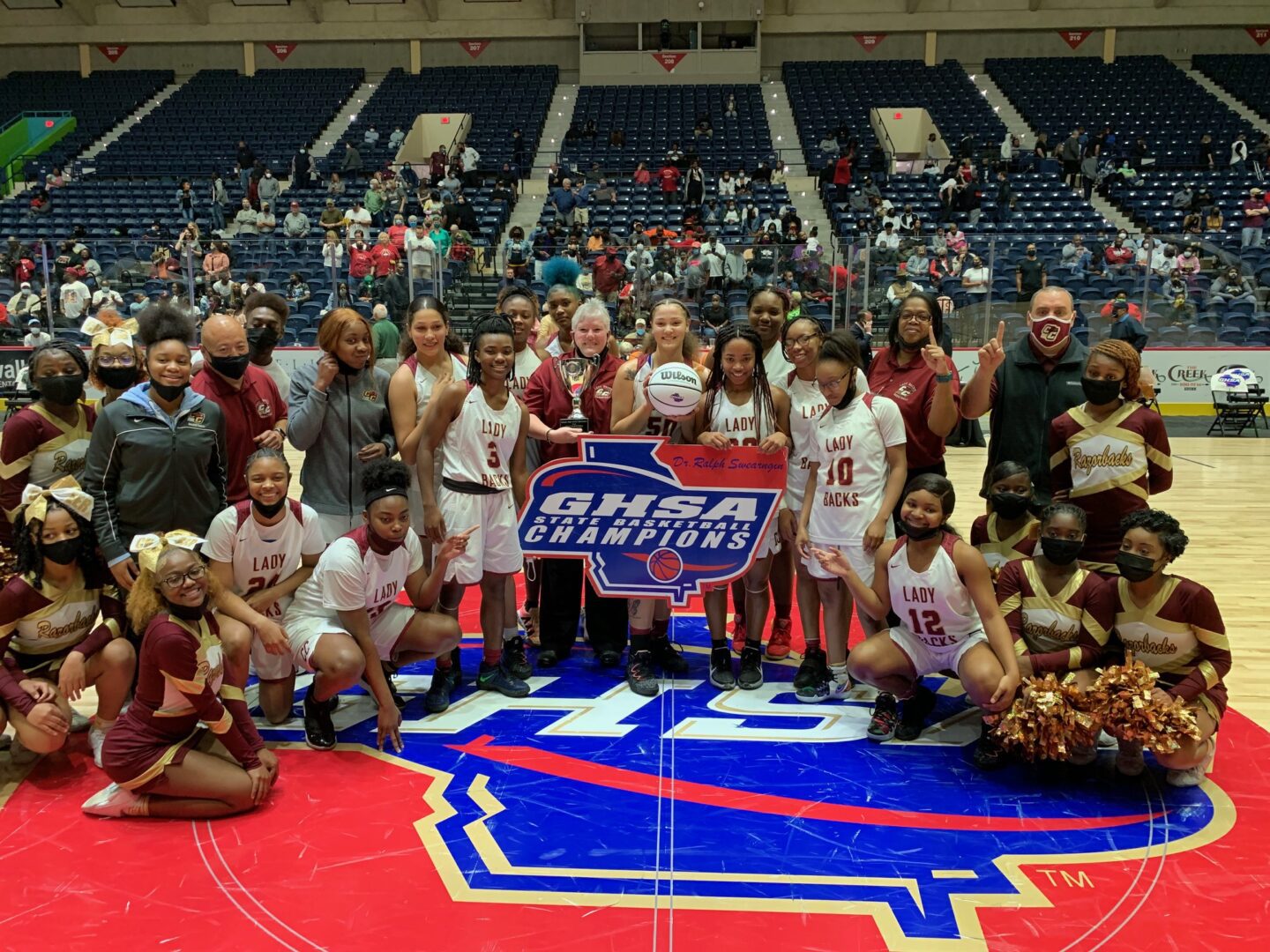 The efficient play of North Carolina A&T-signee Jordyn Dorsey and stingy defense that held No. 6 GAC (15-8) to 0-8 shooting to start the fourth quarter lifted No. 4 Cross Creek (23-2) to their first ever title. Playing just five players nearly the entire game, stamina and foul issues were never a problem for the Razorbacks. Cross Creek led 10-8 after the first quarter and took the lead for good when the Razorbacks closed the half on a 6-0 run to lead 25-21 heading into the break. Dorsey scored 15 of her game-high 30 points in the opening 16 minutes and added 6 rebounds. Dorsey scored six more points in the third as Cross Creek extended their lead to 42-34 heading into the fourth.  The Spartans went cold in the fourth quarter and went nearly six minutes without scoring as the Razorbacks pulled ahead. Cross Creek held GAC to 29.6% from the field  while Kaleigh Addie (18) and Jaci Bolden (14) combined for 32 points on 11-35 shooting.  Cross Creek outscored GAC on second chance points 14 to 3 and outrebounded the Spartans 44-24. The Razorbacks closed out the game going 9-11 from the line in the fourth quarter and 20-25 for the game. Erin Martin had 8 points and 8 rebounds before fouling out. Jasiiyah Holmes finished with 7 points and 12 rebounds while freshman Micheala Bogans tallied 7 points, 6 rebounds, 4 assists and 2 steals.
?@OfficialGHSA Class 3A?
F
R4 #1 No. 4 @CrossCreekBBall 56
R5 #1 No. 6 @GACS_GBB 44@Schlein_Time captures Cross Creek's first title@jaydorsey2x 30p 6r
Erin Martin 8p 8r
Micheala Bogans 7p 6r 4a 2s
Jasiiyah Holmes@10Kay31 18p@BoldenJaci 14p

RECAP: https://t.co/thaJzcqm5L pic.twitter.com/UdREMPVbPA

— Kyle Sandy (@KyleSandy355) March 12, 2021
R4 #1 No. 5 Cross Creek 57,

R5 #1 No. 1 Sandy Creek 49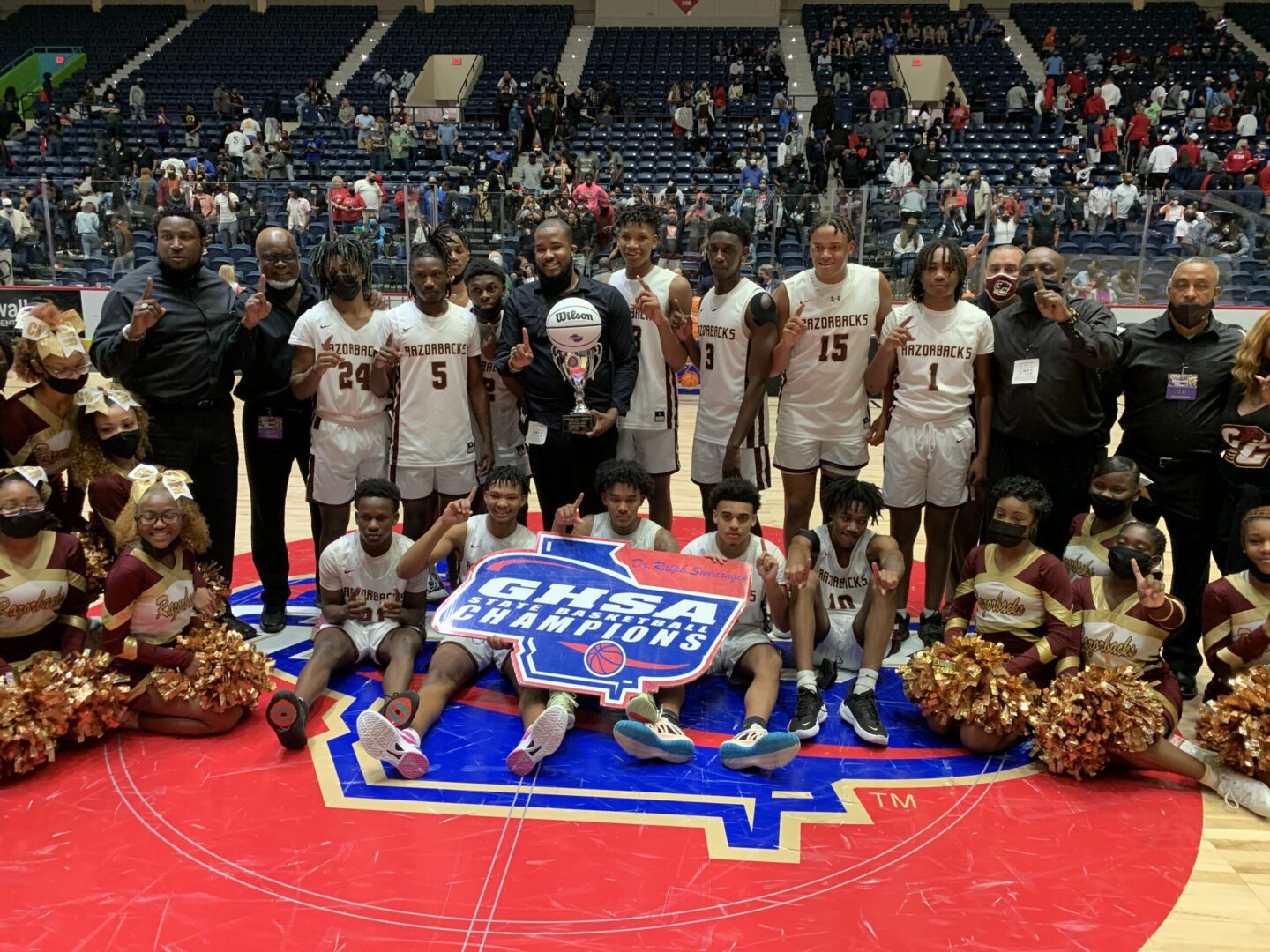 No. 5 Cross Creek (25-4) shocked the country as the Razorbacks swept Class 3A, stunning No. 1 Sandy Creek (28-5) with a 13-0 run before a late Micah Smith bucket to charge past the heavily favored Patriots. After losing on the big stage a season ago to Woodward Academy, the bright lights of the Macon Centreplex didn't seem to affect the underdog Razorbacks one bit. Cross Creek jumped out to an 8-0 lead and carried a 15-10 advantage into the second quarter as Sandy's Creek 2-2-1 press was unable to rattle the Razorbacks. A four-point play from Richard Vistacion pushed the lead to 22-12 at the 5:25 mark of the second quarter, but Sandy Creek answered with a 12-2 jolt to knot the game up at 24. Cross Creek entered the half up 28-26 as Visitacion scored all 11 of his points to pace the Backs and would finish with 7 assists as well. Auburn-signee and All-American Jabari Smith, who finished with 19 points, 17 rebounds, 2 assists, 1 steal and 4 blocks,  carried Sandy Creek with 14 points in the first half but the star was unable to get consistent help elsewhere. Sophomore Antoine Lorick harassed Smith into 7-25 shooting, settling for outside shots and hitting 3-11 from deep. The length, speed and shooting of Cross Creek caught Sandy Creek off guard. The Razorbacks would hit five first half threes and shoot 8-19 for the game. Sophomore Vic Newsom stepped up for the Patriots the best he could, scoring 10 points and dishing out 4 assists but Sandy Creek entered the fourth quarter down 44-38. With 6:07 left, Houston Baptist-signee Deshon Proctor scored a putback to push Sandy Creek ahead 45-44, their first lead of the second half and first lead since 26-25 with 50 seconds to play in the first half. Sandy Creek scored the first nine points of the fourth quarter and took their biggest lead of the game at 47-44 with 5:23 remaining, but from there Cross Creek would close with 13 unanswered points. Miles College-signee Corey Trotter ignited the championship surge with a three, followed by a Lorick free throw and later a layup to make 50-47 with 3:31 left. Jaquez Ellison hit a short baseline jumper to extend the lead to 52-47 with 1:15 remaining to break Sandy Creek's spirit. Cross Creek had just two turnovers in the second half and only nine for the game compared to Sandy Creek's 12. Washington State-signee Myles Rice was shut down by Josh Dorsey whose sister won a state championship herself earlier in the day. Rice finished 4-14 from the field with 8 points and 4 turnovers, struggling to finish inside against Cross Creek's length. Proctor contributed 6 points, 6 rebounds and 3 blocks in the loss. Devin Pope led Cross Creek with 14 points while Lorick added 12 points and 9 rebounds. Trotter double-doubled with 10 points, 10 rebounds and 3 blocks. Dorsey netted 8. Cross Creek led for 26:34 out of the game's 32 minutes.
Class 6A
R4 #1 No. 1 Westlake 64,  R5 #1 No. 2 Carrollton 46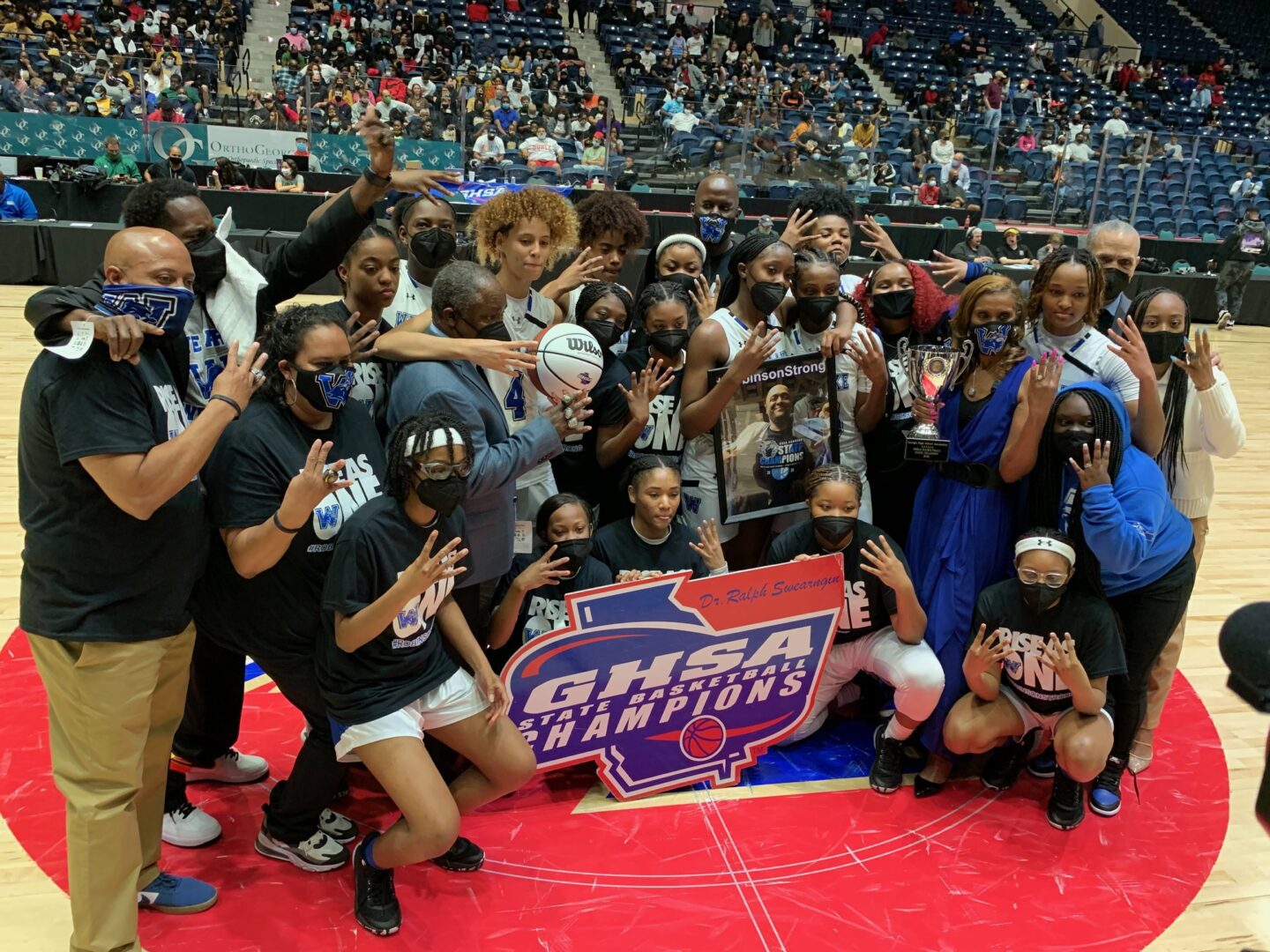 The four-peat is complete. The senior class of No. 1 Westlake (20-0) finished their careers 98-0 vs. in-state opponents as the Lions roared past No. 2 Carrollton (30-2) after leading scorer at the time Kehinde Obasuyi dislocated her shoulder at the 1:13 mark of the third quarter with the Trojans down just 40-36. It would take over seven minutes for Carrollton to score again as a 10-0 run would put to rest the upset-minded Trojans. Westlake dominated the paint, outscoring Carrollton 34 to 12 and scoring 16 second chance points. The Trojans connected on 7-14 from deep led by three apiece from Kehinde and Eghosa Obasuyi. Vanderbilt-signee De'Mauri Flournoy finished with 15 points, 4 rebounds and 6 assists. Westlake was led by Taniya Latson's 24 points and Camerah Langston's 12 points and 7 rebounds. Virginia Tech-commit Brianna Turnage collected 11 points and 9 rebounds. All-American and South Carolina-signee Raven Johnson finished her historic career with 10 points, 6 rebounds and 4 assists.
?Class 6A?
F
R4 #1 No. 1 @GirlsWestlake 64
R5 #1 No. 2 @HoopsTrojan 46

4-Peat ✔️
98-0 vs. GHSA ✔️

The greatest dynasty in @OfficialGHSA history? pic.twitter.com/LcDvVSsaGt

— Kyle Sandy (@KyleSandy355) March 12, 2021
R6 #2 No. 1 Wheeler 71, R6 #1 No. 2 Kell  61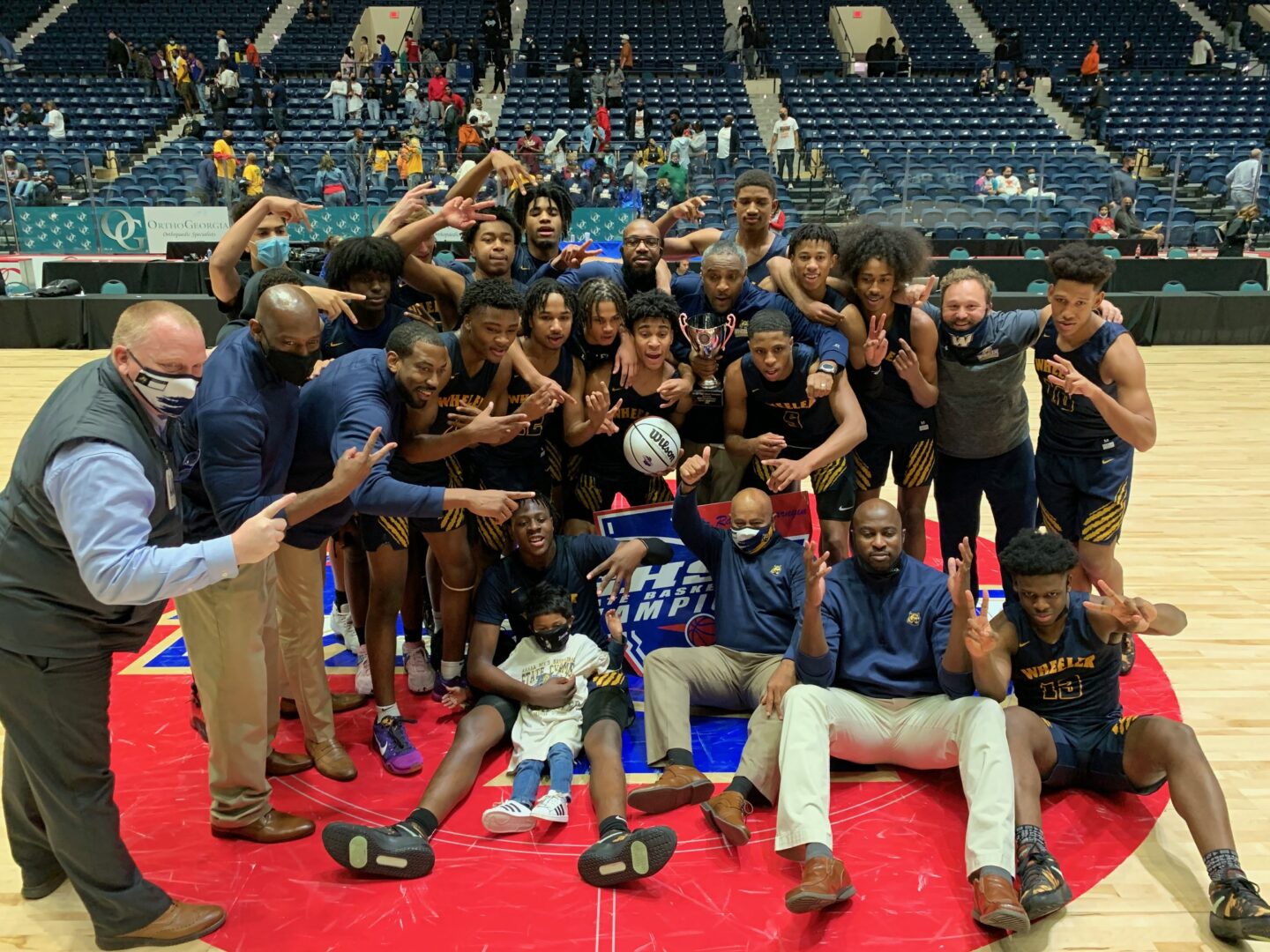 In the much anticipated Round 4 bout between heavyweights No. 1 Wheeler (27-5) and No. 2 Kell (21-7), the Wildcats won for the third time, avenging a 78-71 double overtime Region 6 Championship loss and in the process, repeating as state champs. A high scoring first quarter saw Wheeler lead 22-17 as both teams hit three three-pointers, but the second quarter saw just 15 total points scored with the Wildcats ahead 31-23 while holding star guard Scoot Henderson in check with six points. Henderson poured in 13 points in the third quarter and finished with 29 points, 10 rebounds and 3 assists, but Kell's outside shooting mixed with Wheeler's dominant paint scoring hindered the Horns from ever grabbing a second half lead. Following a 3-4 start from behind the arc, Kell missed 12 of their next 13 attempts and finished 5-21 for the game after Jaylen Harris, who scored 11 points, netted a long-ball with 2:30 left to cut the Wheeler lead to 60-53. Trailing 60-48 with 2:55 left, their largest deficit of the game, the Longhorns snapped off a 7-0 run to close to 60-55 at the 1:51 mark but a Max Harris corner three off an inbound proved to be the dagger. The larger Wildcats pounded the paint, outscoring Kell 34 to 24 inside. Isaiah Collier finished with 16 points while Dayton-signee Kaleb Washington added 12 and FGCU-signee Ja'Heim Hudson had 12 points and 12 rebounds. Harris finished with 12 points, 5 rebounds and 3 assists.
Day 4 — March 13
Class A-Public
R1 #1 No. 5 Calhoun County 49, R2 #1 No. 2 Clinch County 45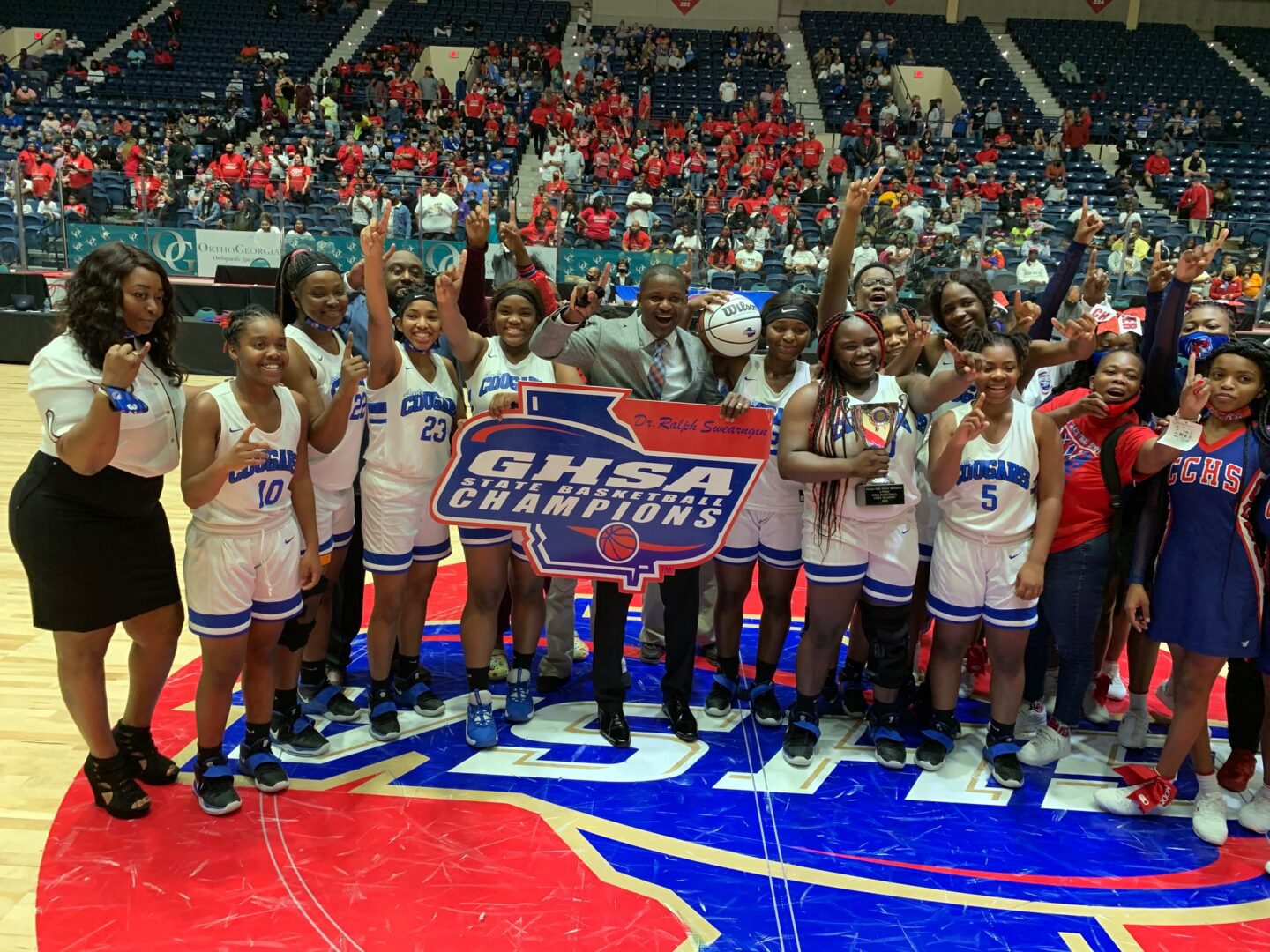 The length of 6-foot-2 USC-Upstate-signee Takia Davis was too much inside for No. 2 Clinch County (22-2) as the Pantherettes were held to a woeful 18-84 (21%) shooting from the field, taking a whopping 47 more shots than the Cougars but No. 5 Calhoun County (14-1) captured their first ever state title after dealing with COVID postponements and cancelations nearly all season long. Davis hung 9 points, 20 rebounds and 12 blocks. The Cougars led 10-9 at the end of one, but struggled to contain the speedy Zyhia Johnson, who led the Pantherettes with a game-high 27 points, 6 rebounds and 5 steals. Clinch County coughed it up 21 times while Calhoun County also struggled mightily with 30 turnovers on the day. The Pantherettes did themselves no favors, going 5-16 from the line for the game compared to Calhoun County's 18-35, but still found themselves in striking distance at the half down 20-19. The offense ran dry in the third quarter as Clinch County shot 3-23, Davis swatting away six shots. Destiny Hightower finished with 10 points, 10 rebounds and 3 assists while Carmen Cannon netted 10 points and Maya Wims scored 7. Angel McRae struggled to produce against Davis inside, finishing with 7 points and 13 rebounds going 3-25 from the floor.
R8 #1 No. 4 Towns County 64, R7 #1 No. 5 Hancock Central 60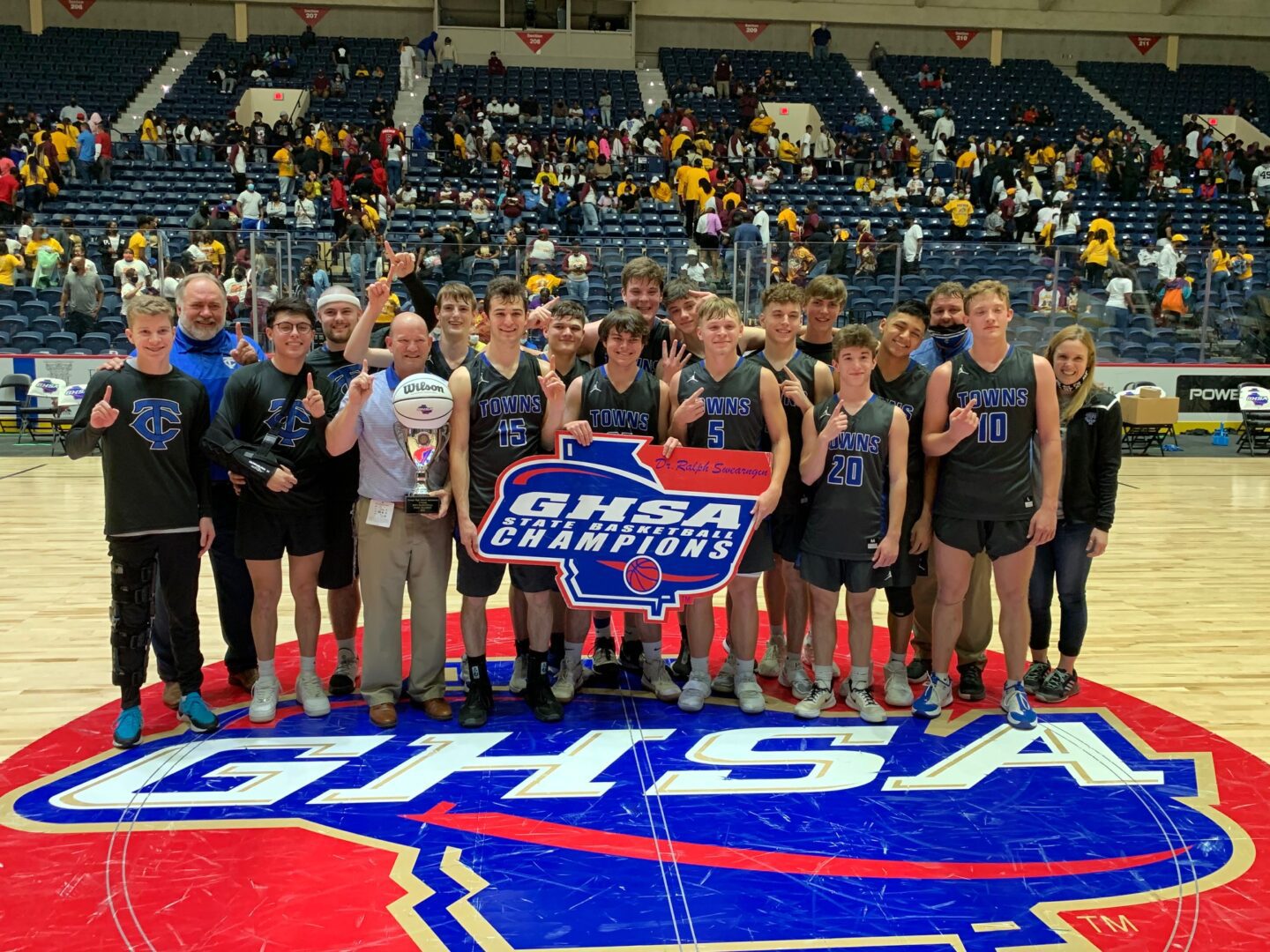 In an age where outside shooting is championed, No. 4 Towns County (25-3) turned back the clock and pounded the ball inside while defending state champion No. 5 Hancock Central (15-2) heaved from the three-point line against the Indian 2-3 zone as Towns County captured their first-ever state title. The Indians rode 6-foot-7 junior forward Jake McTaggart to 22 points and 12 rebounds, pacing Towns County who outscored the Bulldogs 44-18 in the paint. Hancock Central shot 33% compared to Towns' 49%, large in part of the Bulldogs going 2-20 from three in the first half and 9-40 for the game. Hancock Central led 16-14 after one quarter of play but it would be their last lead of the game as an 8-2 run sparked the Indians as McTaggart and Kolby Moss took turns getting points up close.  6-foot center Marquavious Lawrence kept Hancock Central afloat with his sharp-shooting from the mid-range in the middle of the zone. Lawrence scored 10 of his 18 points in the first half and grabbed 7 rebounds in total as the Bulldogs trailed 31-24 at the break as Towns County used a 7-0 run to pull ahead for good. Nearly six minutes into the third, Leroy Wilson broke off a personal 7-0 run ignited by a three which broke a stretch of missing 15 of their last 16 attempts. Wilson, who led Hancock with 18 points and 10 rebounds, closed the gap to 39-37 but the Indians still maintained control heading into the decisive final quarter with Moss pulling up to score at the buzzer with Towns County leading 45-40. The defending champs threatened multiple times in the fourth quarter but Towns County always had an answer. Taylor, who finished with 16 points, 8 rebounds and 7 assists — 13 points in the second half — scored seven straight for the Bulldogs to make it 54-50 at the 4:29 mark but Collin Crowder and McTaggart would score inside and push the lead back to eight points at 60-52 with 2:28 left. Moss fouled out with 14 points and 14 rebounds with 1:56 remaining but 54 seconds later so did Wilson with Hancock down 62-57. Towns County went 0-7 from three for the game and 3-6 from the line in the fourth quarter but it was enough to hold off Hancock. Crowder contributed 12 points and 9 rebounds in the win while Aidan Berrong and Kyle Oakes scored 8 apiece to help replace the loss of Kabe Ellis who separated his shoulder in the Region 8 Championship.
?A-Public?
F
R8 #1 No. 4 Towns County 64
R7 #1 No. 5 Hancock Central 60

Indians claim their first title & knock off the defending champs. @mctaggart_jake 22p 12r@kolbymoss15 14p 14r 2a@CrowderCollin 12p 9r@sniperpookie30 18p 10r
Marquavious Lawrence 18p 7r pic.twitter.com/z4CBmp5Lgm

— Kyle Sandy (@KyleSandy355) March 13, 2021
Class 7A
R3 #1 No. 4 Marietta 52, R5 #2 Woodstock 47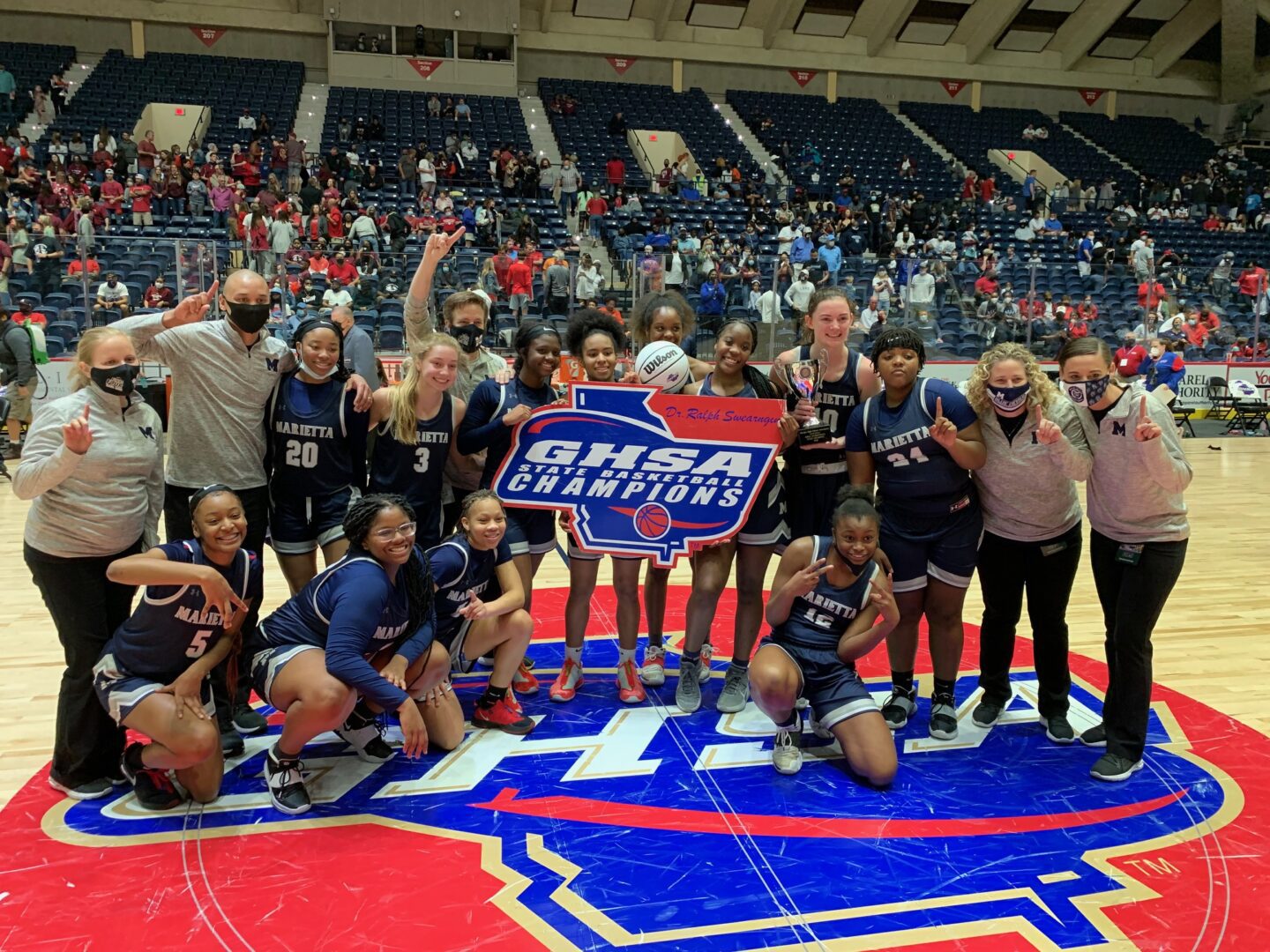 Behind Michigan State-signee Lauren Walker and Chloe Sterling, No. 4 Marietta (21-5) won their first state title since 1951, withstanding a Bridget Utberg barrage to knockoff a red-hot Woodstock (22-9) team.  The Wolverines led 11-4 after the first quarter, holding Marietta to 2-17 shooting but the Blue Devils quickly turned the tables as Walker scored 11 of her team-high 19 points in the first half and finished with 12 rebounds and 2 blocks as the Blue Devils took a 22-15 lead into the half. In the third quarter, Marietta got an unexpected offensive lift from freshman Kayla Day, netting 5 of her 9 points in the quarter. Two Walker free throws pushed the Marietta lead to 35-27 at the 2:51 mark of the third but Woodstock responded behind an Utberg layup and a Karson Martin transition bucket to make it 37-33. Utberg dumped in 12 of her game-high 26 points in the third and collected 4 rebounds and 5 steals. Up 39-34 heading into the fourth, a 7-0 run to open the final stanza built a 46-34 advantage with 4:22 to play. Utberg wouldn't let Woodstock go quietly into the night however. The Wolverines trimmed the lead to 48-41 with 2:05 left on an Utberg three, part of a 7-0 spurt that closed the lead to 48-45 with 32.4 seconds left after a pair of Martin free throws. Woodstock had their opportunities late when Loren Nelson banked a free throw and missed the second, but Sterling flew in for an offensive rebound and also split a pair to make it 50-45 with 22.8 seconds remaining. Walker helped ice the game from the line hitting a pair of free throws with 11.1 seconds left to make it 52-47, rising to the occasion after the Blue Devils struggled from the charity stripe going 13-26 for the game. Sterling, the hero of much of Marietta's postseason run, finished with 10 points, 15 rebounds, 3 assists and 5 steals while facing early double teams. Makayah Harris and Loren Nelson scored 7 apiece. Woodstock received 12 points, 7 rebounds and 3 steals from Martin and 7 points and 13 rebounds from Casey Miller.
?Class 7A?
R3 #1 No. 4 @MariettaHSHoops 52
R5 #2 @woodstockgbb 47@HoopCoachDeWitt withstands a late rally@Laurenw_924 19p 12r 1a 1s 2b@ChloeSterling22 10p 15r 3a 5s
Kayla Day 9p 4r
Loren Nelson 7p @Bridget_U 26p 4r 5s@Karson_M1015 12p 7r

RECAP: https://t.co/thaJzcqm5L pic.twitter.com/MBUmLOXNUb

— Kyle Sandy (@KyleSandy355) March 13, 2021
R5 #1 No. 1 Milton 52, R7 #1 No. 5 Berkmar 47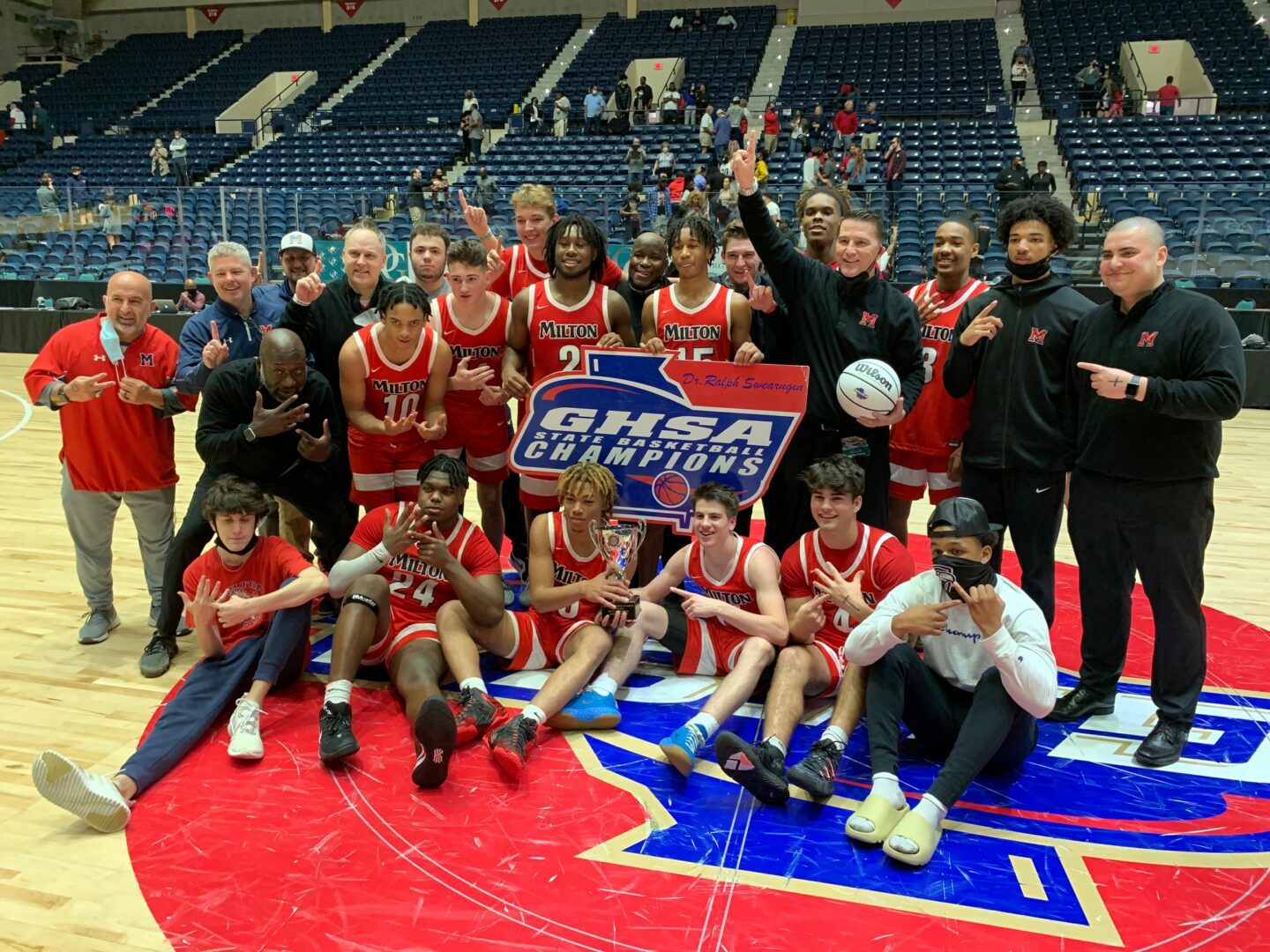 Possibly the hardest thing to do in the entire nation is to win a GHSA Class 7A state championship as the favorite, but that didn't stop No. 1 Milton (28-2) from winning a rock fight with No. 5 Berkmar (25-6) in a game that wasn't decided until the final buzzer. The first half was as even as it could get. The Patriots and Eagles were deadlocked at 16 after one and went into the half with Berkmar leading 29-27, Destin Logan scoring 8 of his 11 points in the first half to lead the way. The first 16 minutes featured 10 lead changes with Berkmar in front for 5:30 while Milton held an advantage for 5:26. With the game hanging in the balance heading into the third quarter, Ohio State-commit Bruce Thornton started to assert himself. Following a  three-point first half, Thornton scored nine of his 12 points in the third and finished with 5 rebounds and 4 assists. Milton needed every point they could get. Even with Thornton starting to warm up, Berkmar started to pull away grabbing their largest lead of the game at the 1:37 mark up 41-34 after Jameel Rideout, who finished with 9 points and 4 rebounds, sank two  free throws. A mini 4-0 spurt trimmed the Patriot lead to 41-38 heading into the fourth quarter. From there, the Berkmar offense sputtered as Milton clamped down. A lengthy 9-0 run pushed the Eagles ahead for good as sophomores Kanaan Carlyle (8) and LT Overton (6) combined for all 14 points in the period. It took Berkmar nearly six minutes to stop the bleeding, when Jermahri Hill converted a layup with just 40.9 seconds remaining and the Patriots now down 46-45. Carlyle finished with a game-high 15 points, 5 rebounds and 2 assists. With Berkmar fouling, Carlyle went 8-10 from the line down the stretch to seal Milton's first title since 2012. After Carlyle sank his first four attempts, Malique Ewin scored on a putback with cut the lead to 48-47 with 18.8 seconds to play. After two more Carlyle makes from the line, Campbell-signee Broc Bidwell made his biggest play of the night stripping Logan as he loaded up for a shot. Carlyle was sent back to the line where he split a pair of foul shots to extend Milton's advantage to 51-47 with 7.2 seconds left. A late travel on Rideout sent the ball back to Milton where Carlyle would go 1-2 to close the game, igniting the celebration. As a team the Eagles went 16-23 from the foul line.