WEDNESDAY, MARCH 8
CLASS A D-II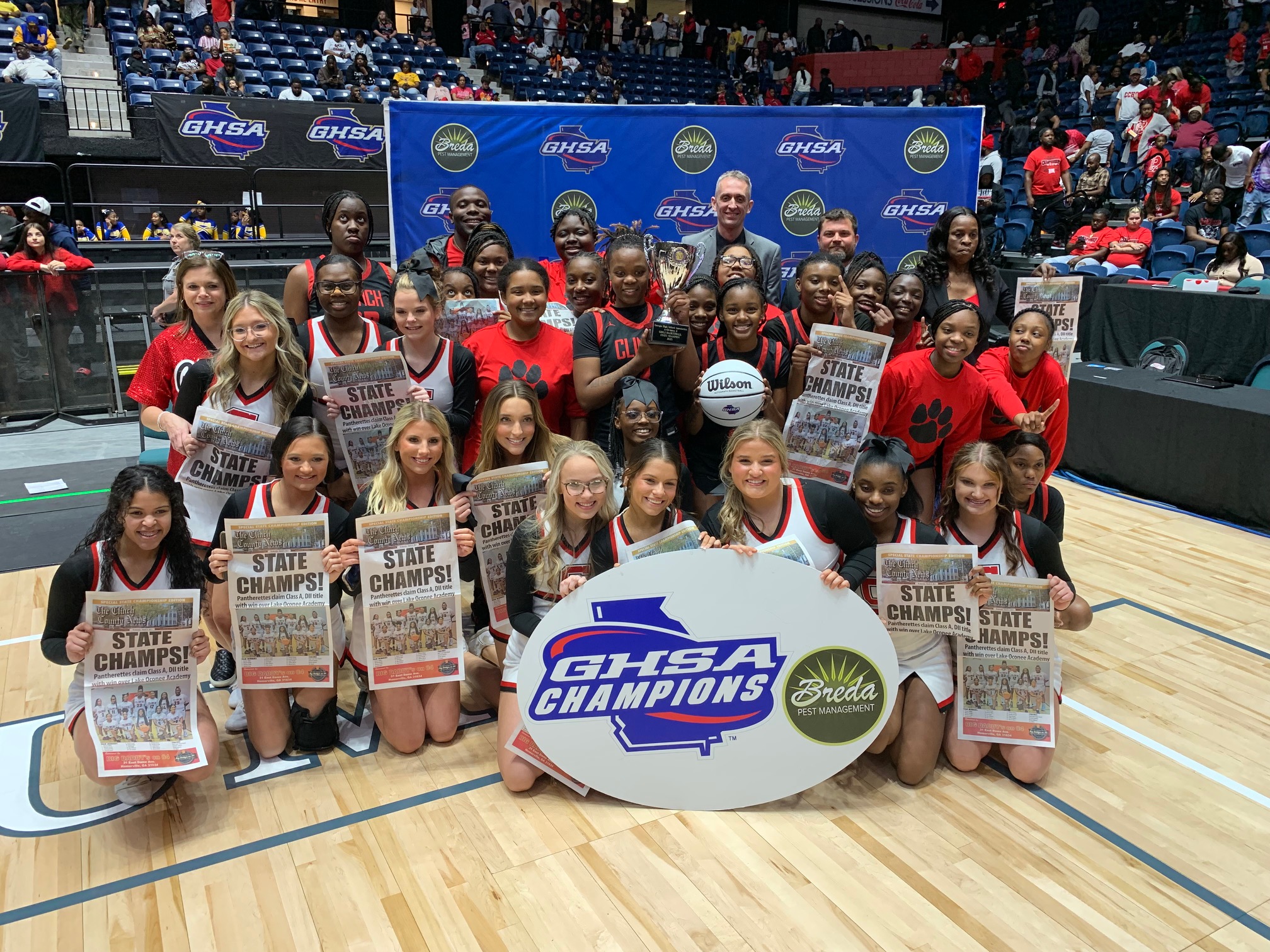 R2 #2 No. 5 Clinch County 45, R8 #1 No. 1 Lake Oconee Academy 42: The Pantherettes (27-4) held the defending state champs and wire-to-wire number one-ranked team scoreless over the final 3:38 to capture their first title since 1993.  Clinch County led Lake Oconee Academy (28-3) the entire first half until the Titans surged ahead on an 8-2 run to start the third quarter to move ahead 28-22. Lake Oconee Academy led 36-30 after three quarters, but struggled to contain Clinch County's size. Tyana Dorsey finished with 19 points and 20 rebounds, leading the Pantherettes' charge on the glass, winning the boards 43-31. Freshman Amariah Dean did the vast majority of her damage in the first half, finishing with 9 points, 10 rebounds and 5 steals. Lake Oconee Academy was powered by Jada Williams' 16 points, 4 rebounds, 2 assists and 3 steals. A 5-0 flurry from Williams gave the Titans' their last lead of the game at the 3:38 mark, 42-41. Amyieon Grady, the Pantherettes' leading scorer, came to life in the second half and provided 11 points. Lake Oconee Academy had a final look with 4.2 seconds coming out of a timeout, but Hannah Heinen, who tallied 10 points, 7 rebounds and 5 steals, saw her shot fall short. Clinch County outscored the Titans 15-6 in the final frame and dominated the interior outscoring Lake Oconee Academy 36-8 in the paint.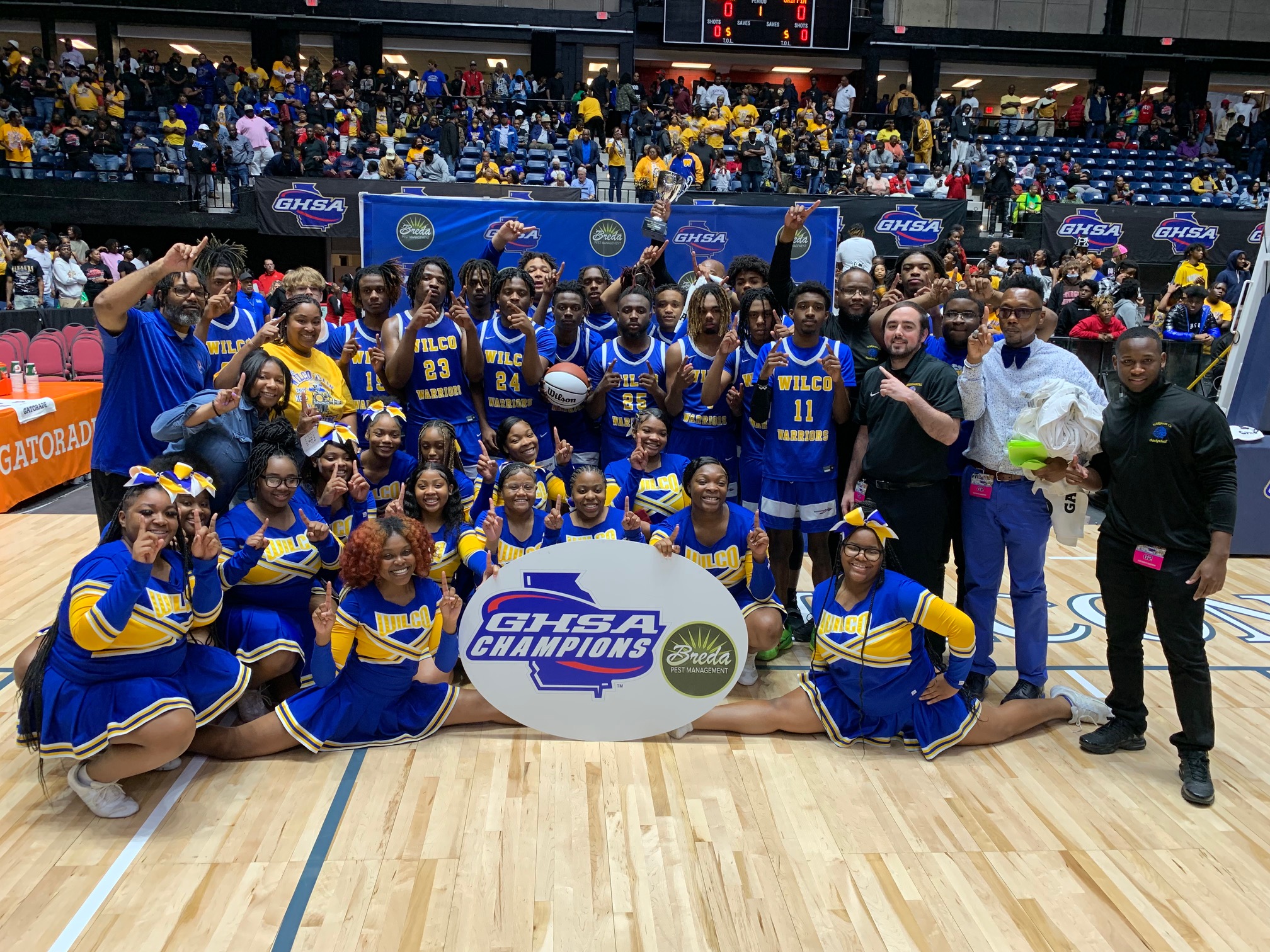 R5 #1 No. 4 Wilkinson County 40, R2 #1 No. 9 Charlton County 36: It took until the 1:56 mark of the fourth quarter to take their first lead of the game, but Wilkinson County (26-6) found a way to outlast Charlton County (29-3) after fouling out 6-foot-8 sophomore Elyiss Williams to capture their 11th state title and move to a remarkable 11-0 in the big game. Wilkinson County trailed 11-6 after one and 19-16 at the half as Charlton County's zone stymied the Blue Storm. After three quarters of play, the Indians maintained a 25-20 advantage, but foul trouble continued to pile up. After hitting an important corner three, Jaylen King fouled out following a Justin Stanley answer at the 4:13 mark with the score 32-29 in favor of Charlton County. A Kwaveon Hill turnaround jumper gave the Blue Storm their first lead at 33-32 before just over a minute later Williams fouled out for the Indians with 10 points, 20 rebounds and 6 blocks. Charlton County would not score with Williams on the bench, a 5-0 finish from the Warriors as Stanley scored seven of his 11 points in the quarter. Hill finished with 12 points and 6 rebounds. The Indians had chances to extend the lead and draw closer late after trailing, but shot 2-5 from the foul line in the period and just 8-16 for the game.  Jarvis Wright netted 10 points and collected 5 steals in the loss.
CLASS 4A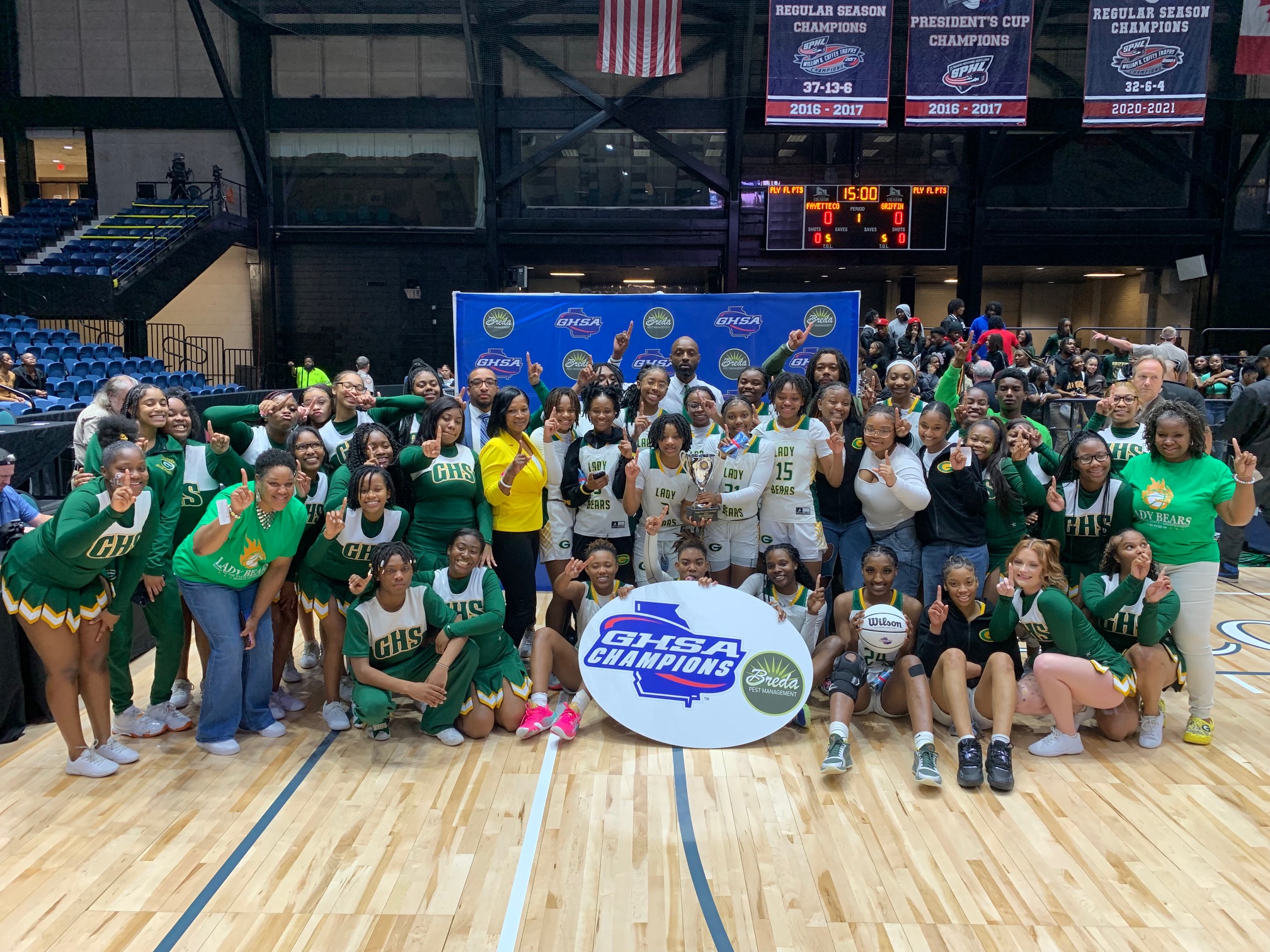 R2 #1 No. 2 Griffin 51, R2 #2 No. 3 Baldwin 47: Griffin (27-4) claimed their first-ever state title, outlasting severe foul trouble the entire game. Zy Thompson and Samiah Puckett logged just 17 and 7 minutes, respectively as Janaye Walker chewed up the interior for the Bravettes (23-9). The sophomore finished with 21 points, 19 rebounds and 3 assists battling Griffin's long front line, fouling out Puckett, an East Tennessee State-commit in the process.  The Bravettes led 25-20 at the half and could have been more, but Baldwin shot just 5-14 from the line and 11-21 for the game. Following a scoreless first half, Mississippi Valley State-signee Leah Turner found her groove, scoring all 17 of her points in the second half, five buckets coming via the three-point line where the Bears shot 9-22.  Griffin was in trouble early in the fourth as fellow MVSU-signee Aaliyah Duranham, who finished with a team-high 20 points and 7 rebounds, picked up her fourth foul at the 5:45 mark with Baldwin in front 43-38. Baldwin's final bucket came on an And-1 basket from Kassidy Neal to make it 47-43 with 85 seconds remaining, but the sophomore who had 12 points on the night missed the free throw. Griffin then got a three from Zamiyah Hosley, her first hoop of the game, to make it a one-point game with 1:05 left. From there, Turner cashed in her fifth three of the night and on the ensuing possession got a steal and threw the ball off a Bravette to give possession back to the Bears all of a sudden with a 49-47 advantage with only 23.4 seconds left. Griffin closed on an 8-0 run as Turner scored eight points in the final frame. The win marked the Bears' third in four games against Region 2 rival Baldwin. The Bravettes won the paint, outrebounding the Bears 40-26 and outscoring them 26-18 inside, but Griffin was plus-27 from the three-point line while Baldwin was 0-9 from deep.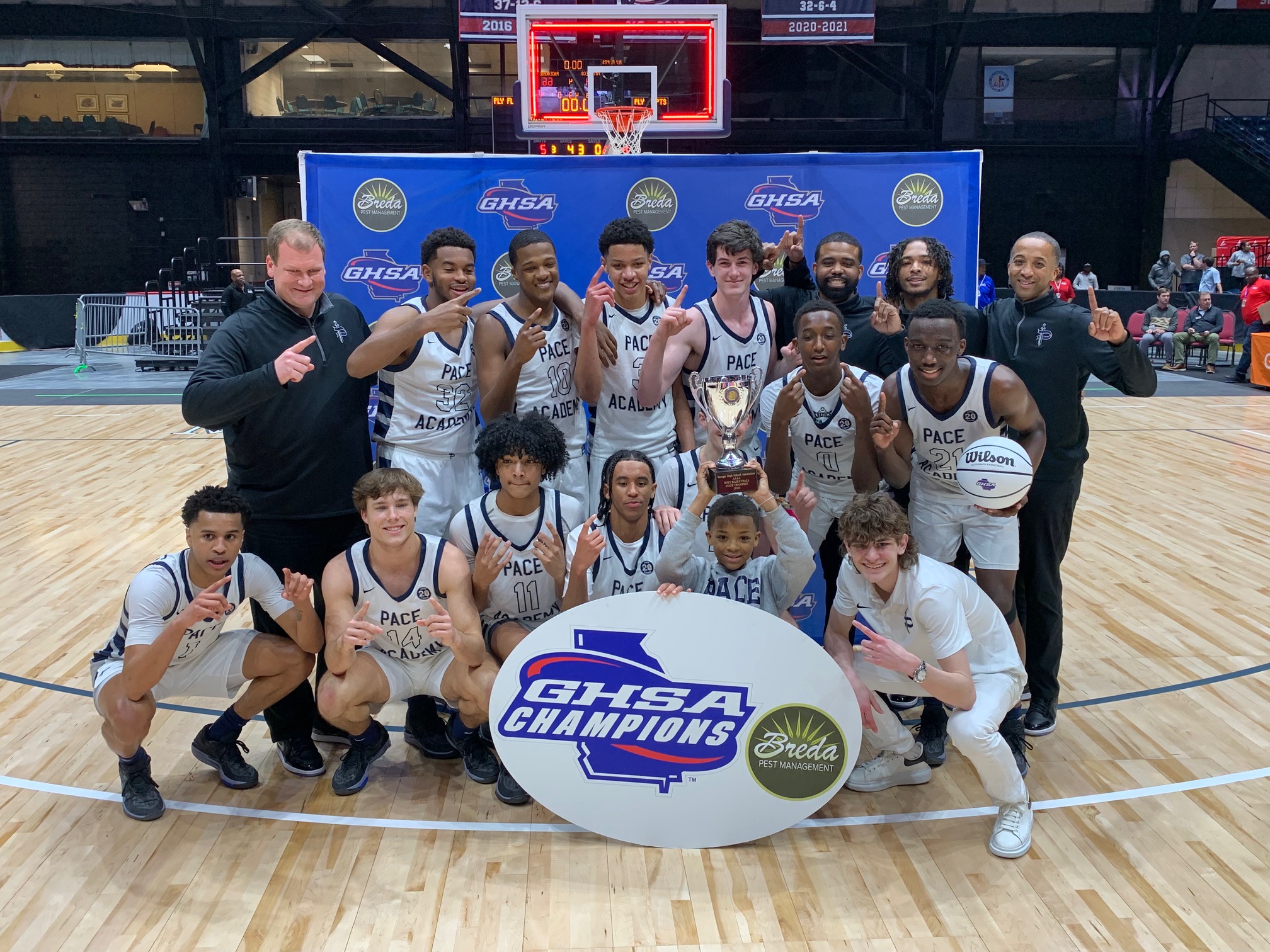 R5 #2 No. 2 Pace Academy 66, R4 #1 No. 5 Fayette County 54: An 8-0 start to the third quarter pushed the Pace Academy (25-7) lead to 47-32, a lead the Knights would never lose as they won their fifth state title in school history.  A high scoring first half saw the Knights hold a 39-32 lead at the break after being tied with Fayette County (26-6) after one period. The tandem of LJ Moore and Kyle Greene scored 30 of Pace Academy's first 32 points and finished with 42 combined for the night. The Knights punished the Tigers inside, outscoring Fayette County 52-22 in the paint and outrebounding them 41-19. Moore, who finished with 23 points and 7 rebounds, shot 10-16 from the field. Pace Academy led 55-42 after three quarters after winning the frame 16-10. Fayette County was led by Robert Hurst's 12 points and Tobi Ijiwoye's 10. 
THURSDAY, MARCH 9
CLASS 2A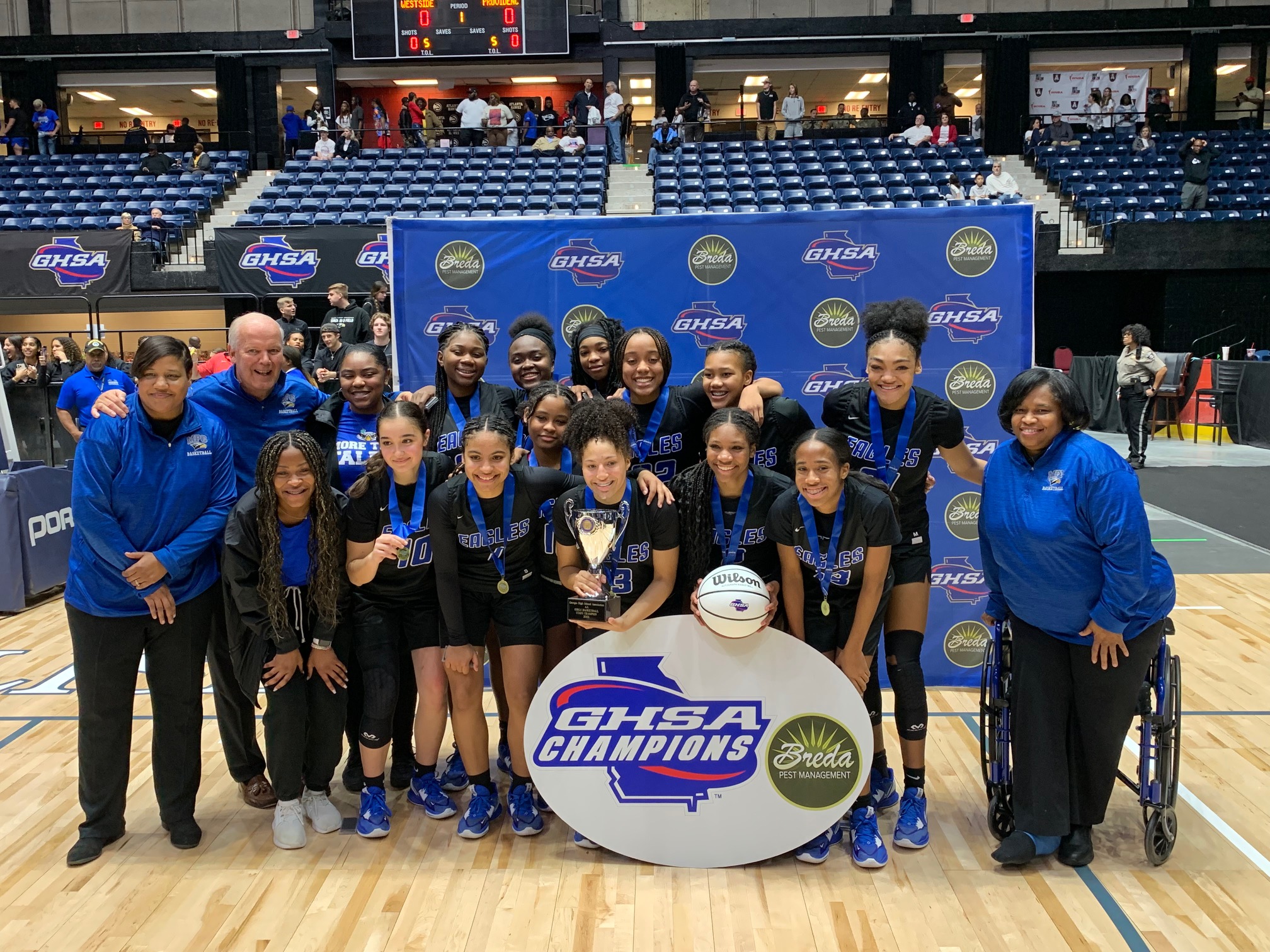 R6 #1 No. 1 Mt. Paran 67, R8 #1 No. 3 Banks County 44: Banks County's game plan of attacking Jessica Fields early worked in terms of taking the star sophomore off the court, but the Leopards (28-4) were unable to take advantage of just six minutes of Fields in the first half as Mt. Paran (31-1) led 18-8 after one period and 31-22 at the half en route to repeating as state champs. Fields picked up her third foul at the 2:16 mark of the first quarter with the Eagles up 9-4. Mt. Paran pushed their lead to 12 points before Banks County closed the gap at 26-20, but the Eagles finished the half on a 5-2 run as Ciara Alexander scored 16 first half points. The junior would finish with 26 points, 8 rebounds, 4 assists, 2 steals and 4 blocks while shooting 12-16 from the field. A 21-11 third quarter gave the Eagles all the separation they would need to hold off Banks County.  Fields quickly made an impact upon returning to the floor, tallying 15 points, 3 rebounds and 1 block in the third quarter. She would finish with 23 points, 9 rebounds, 3 assists, 4 steals and 3 blocks. Banks County was led by Ryleigh Murphy's 14 points, Addison Hoard's 10 points and Emmanuel-signee Kamryn Grier and Carley Segars' 8 points apiece.  The Eagles shot 59% compared to Banks County's 37% while outrebounding the Leopards 32-21 and outscoring them in the paint 40-28. The Eagles outscored Banks County 36-22 in the second half.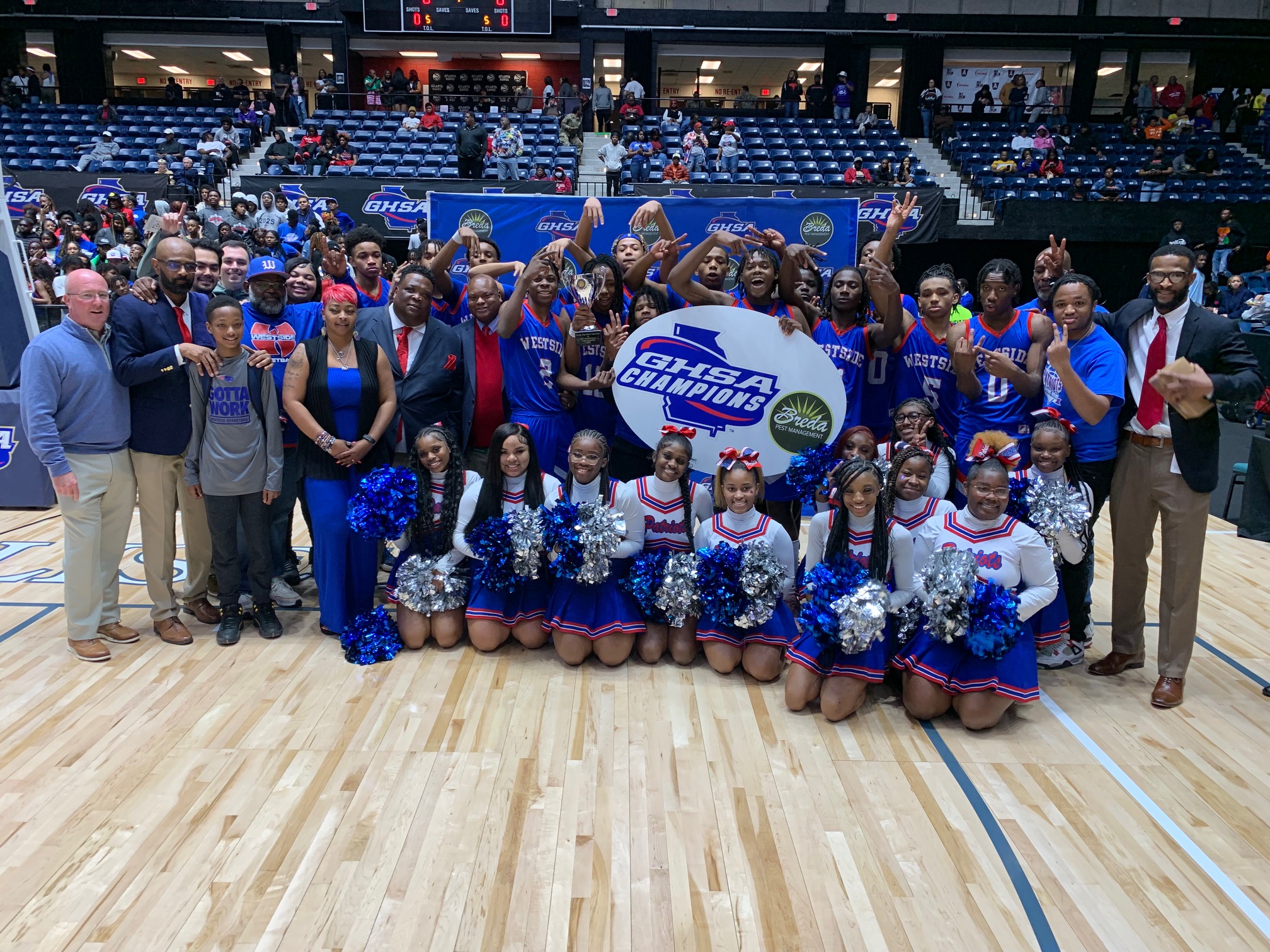 R4 #1 No. 1 Westside-Augusta 89, R8 #1 No. 7 Providence Christian 81 OT: In what was an all-time classic, somehow, someway, Westside-Augusta (25-7) was able to repeat as state champs, withstanding a 17 three-pointer barrage from the high-octane Storm (27-5). The Patriots found themselves down 36-32 at the half as Providence Christian went 7-15 from deep and would finish a blistering 17-34 from beyond the arc. In the third quarter the Storm grew their lead to 50-39 midway through the period but AuMauri Tillman would refuse to let go of the rope. The senior poured in 25 of his game-high 36 points in the second half including 11 in the third quarter but Providence Christian continued to trade twos for threes as Devin McClain scored 10 of his 21 points to match Tillman in the quarter. After three, Westside still had work to do down 58-54. With 3:47 to play, Jalexs Ewing drove to the basket to give the Patriots their first lead since the 6:57 mark of the third quarter as Westside inched ahead 63-61. It looked like McClain may have landed a dagger in the corner off a Thomas Malcolm assist in transition to make it 71-69 with 36 seconds left but Westside-Augusta saw Khalon Hudson snatch an offensive rebound  underneath the basket with 14 seconds to play and from a tough angle, some how spin the ball up and in without using the glass to tie the game at 71 and eventually send it to overtime. Malcolm opened with a three for Providence Christian but Westside surged ahead 79-76. Xavier Goss fouled out for Westside after they got a loose ball and were fouled. Goss was whistled for a technical foul but before he left the game got a chance to extend the lead with a pair of free throws but missed both. Samuel Thacker, who had team-high 22 points off 7-12 three-point shooting split his pair of technical foul shots, leaving the Storm down 79-77 with 58.6 seconds remaining. The Patriots pushed the lead out to four points on a DeMarco Middleton transition finish, but the Storm immediately rushed the ball down and found McClain for his fifth three to make it 81-80 with 38.7 seconds left. Up 83-80 with 27.7 seconds to play, the Patriots saw Dontrell Jackson, who played just eight minutes, rip away a steal from Thacker, giving the ball back to the Patriots. From there, Jackson missed a pair of free throws but got a crucial offensive rebound, the Patriots collecting 20 on the day and outrebounding the Storm 42-27 overall. Jackson would split a pair but then it was Ewing's turn to sneak in for another offensive rebound to help put the game away has he went 1/2 from the stripe. Westside-Augusta would outscore the Storm 44-20 in the paint, net 23 points off turnovers and score 28 second chance points to survive the Storm's unbelievable three-point shooting. Hudson posted 21 points and 13 rebounds for the Patriots while Ewing (18) and Middleton (11) both reached double figures as well. Before fouling out, Kamron Carryl provided the Storm with 16 points, 4 rebounds, 6 assists and 2 steals. Malcolm finished with 12 points, 5 rebounds and 5 assists.
4Q; 2.8
No. 1 @WestsideHS 71
No. 7 @Prov_Hoops 71

MAYHEM!

2023 6-5 F @KhalonHudson makes a near impossible shot and now it's back to the Pats pic.twitter.com/fmVpGaA4wR

— Kyle Sandy (@KyleSandy355) March 9, 2023
COED THREE-POINT CONTEST
First Place: Bella Brick & Landon Mealor – Flowery Branch
Second Place: Camiya Starks & Damaris Lewis – Griffin
Third Place: Ellie Southards & Cooper Welch – Rabun County

CLASS 5A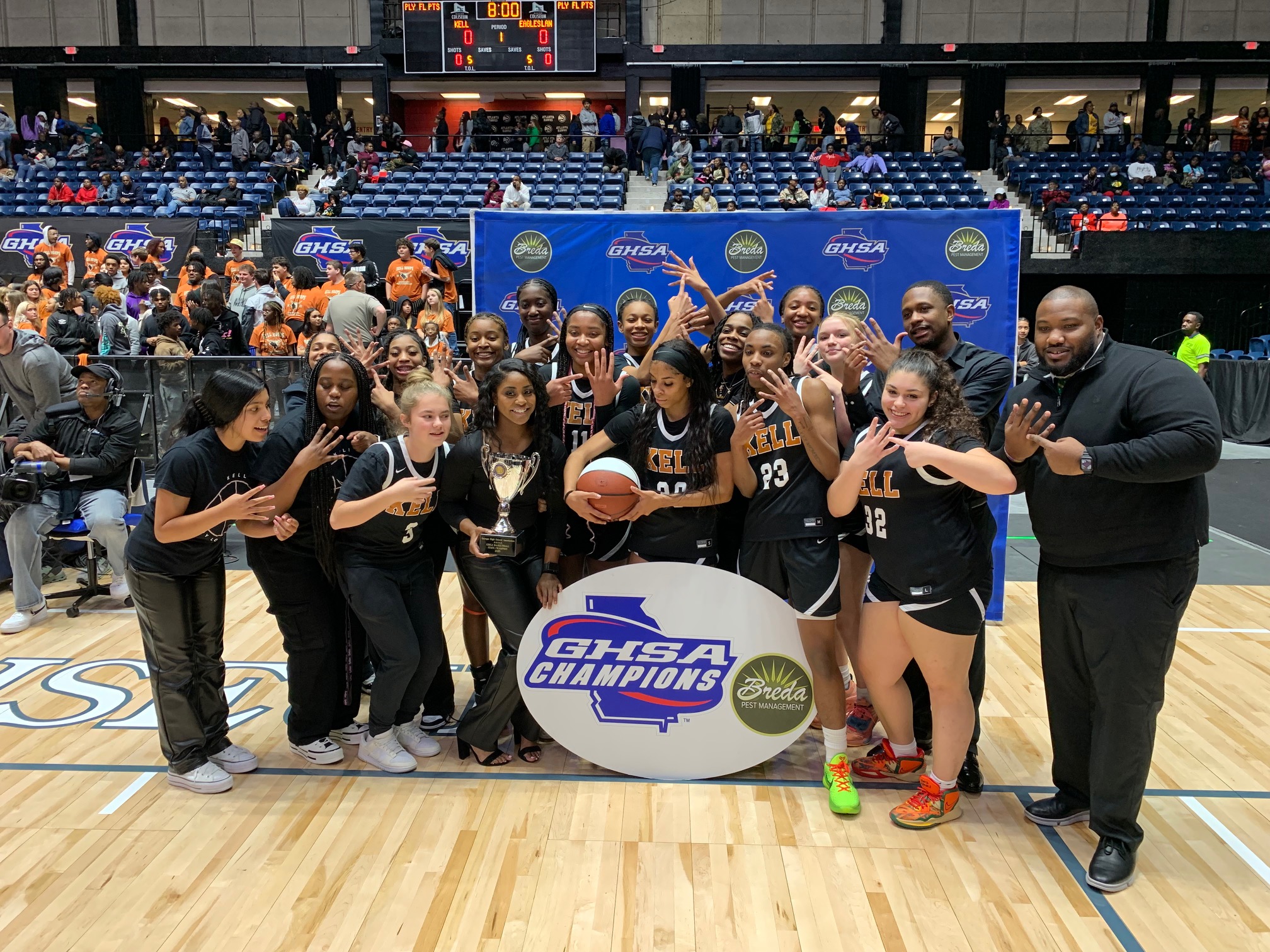 R6 #1 No. 1 Kell 57,  R2 #1 No. 2 Warner Robins 36: A 12-3 run to open the second half ballooned the lead to 36-16 and was enough to propel Kell (26-5) to their first-ever state title. The Longhorns led 21-5 early as Warner Robins (28-4) started the game 1-14 from the field with 12 turnovers. The Demonettes got back into it, holding Kell without a field goal over the final 4:43 but still trailed 24-13 at the half. Georgia State-commit Crystal Henderson finished her illustrious career with 29 points, 8 rebounds, 6 assists and 7 steals. Jamiah Gregory contributed 15 points while MaKayah Harris had 8. Warner Robins was led by South Carolina State-signee Jada Morgan and Tori Davis' 8 points apiece.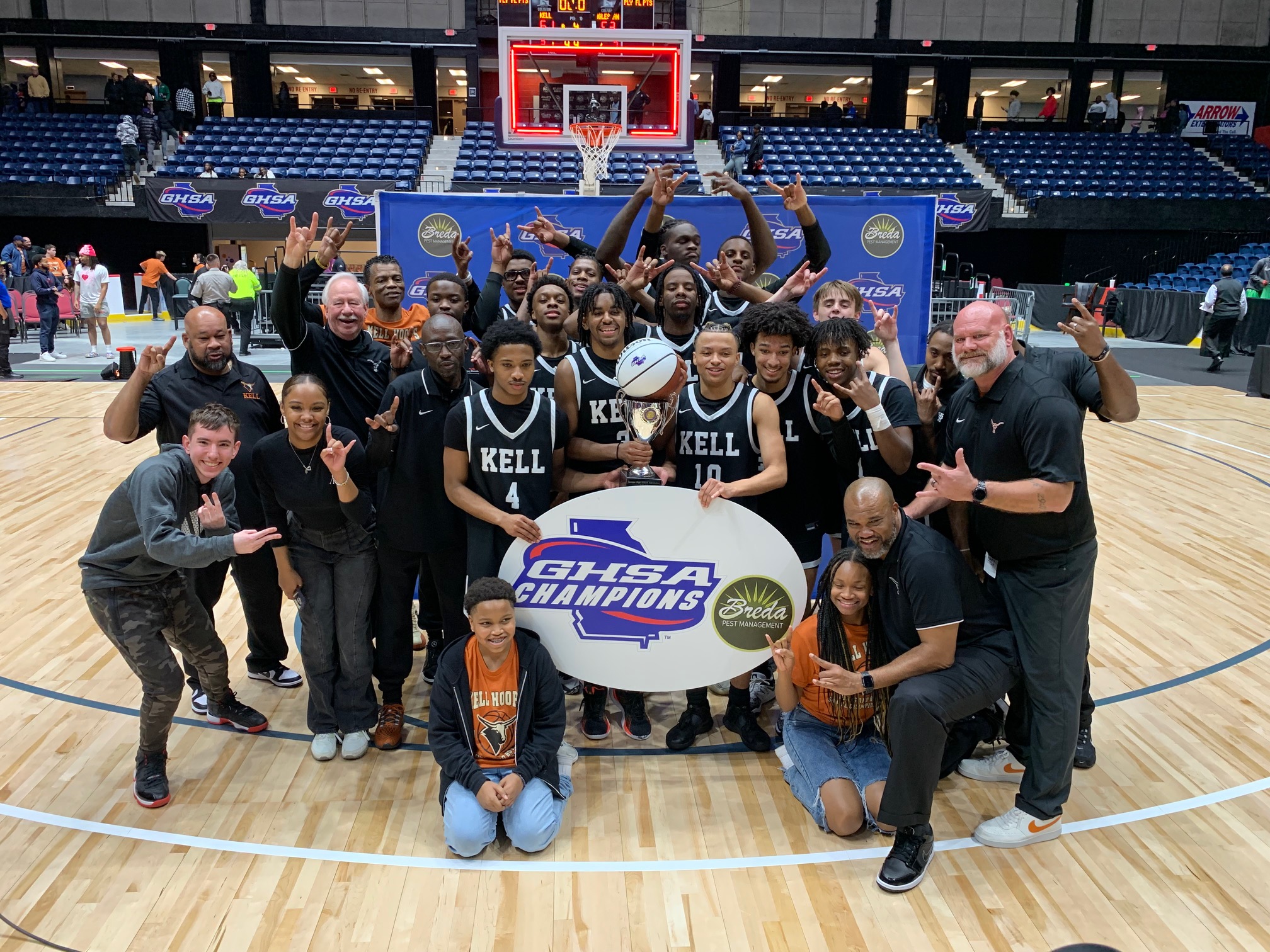 R6 #1 No. 1 Kell 61, R2 #1 No. 2 Eagle's Landing 53: Kell (28-2) climbed the mountain top to their first state title, using an 18-6 fourth quarter to erase a tough 24-10 third quarter in which Eagle's Landing (29-2) rallied to take as large as a six-point lead after trailing the entire first half. Kell was in good shape early, limiting Eagle's Landing's chances at transition offense and ripping off an 11-0 run to seize control at 18-6 and eventually finish the first quarter up 18-10. At the half, the Longhorns led 33-23 and controlled the glass 19-9 even with Auburn-commit Peyton Marshall held to just four minutes of action after picking up two fouls. As soon as Marshall got back on the floor to start the third quarter he converted two slam dunks to give the Longhorns' their largest lead of the game at 37-23 at the 6:48 mark. From there, Eagle's Landing picked themselves off the mat however behind Mercer-signee David Thomas who finished with a game-high 23 points, 7 rebounds, 3 assists and 3 steals. Thomas netted 10 points in the quarter and helped spark a 16-2 run that tied the game at 39. Moments later with 1:32 on the clock, Eagle's Landing took their first lead of the game on a pair of Thomas free throws, making it 43-41. The Eagle's largest lead of the game was six points and settled for a 47-43 advantage after three quarters. Kell responded with a 7-2 spurt to open the fourth quarter, moving ahead 50-49. With 3:40 to play, Marshall checked back in with four fouls and went to work, going on a personal 5-0 run to give the Longhorns the lead for good at 55-51 with 2:01 remaining. Upon Marshall's return, Kell closed the game on an 11-2 run. CJ Brown led the Longhorns with 22 point, 6 rebounds, 5 assists, 2 steals and 2 blocks while Cannon Richards provided 11 points, 6 rebounds, 1 assist, 1 steal and 2 timely blocks. Kenneth Brayboy gave Eagle's Landing 12 points, 6 rebounds and 5 blocks including back-to-back alley oop dunks during the Eagles' 16-2 stretch.
FRIDAY, MARCH 10
CLASS 3A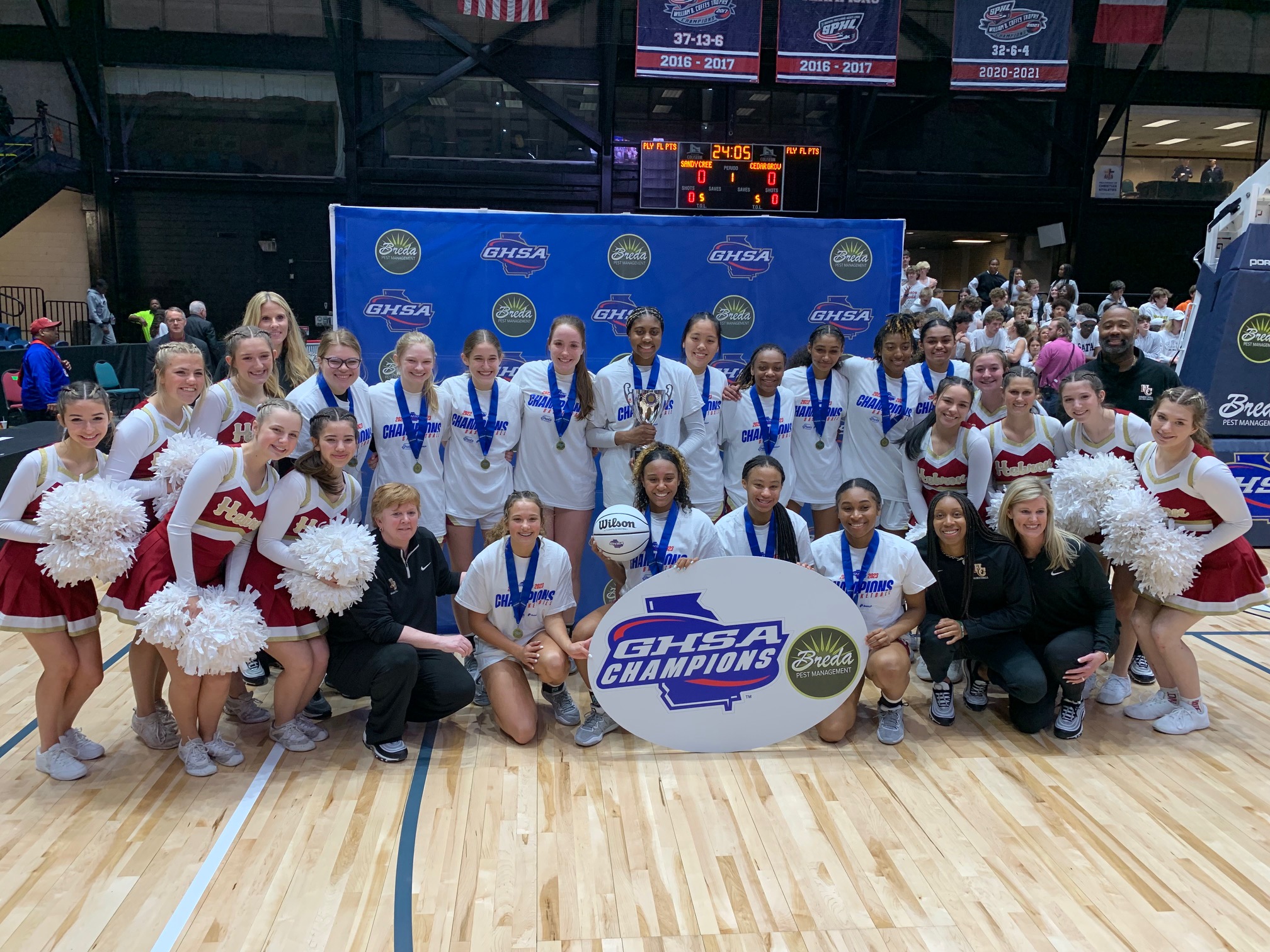 R8 #1 No. 1 Hebron Christian 68,  R7 #2 No. 3 Lumpkin County 36: Cold shooting doomed Lumpkin County (26-5) as Hebron Christian (32-0) completed a perfect season. The Indians shot just 23% from the field while the Lions connected at a 53% rate including 7-16 from beyond the arc. Hebron Christian outrebounded the Indians 37-26, outscored them in the paint 32-14 and and forced 18 turnovers. The Lions never trailed, holding a 15-7 lead after one, 30-19 at the half and used a 16-6 third quarter to extend the lead to 46-25 heading into the fourth quarter. Aubrey Beckham led the Lions with 16 points, 6 rebounds and 6 assists while Ja'Kerra Butler added 16 points, 13 rebounds and 2 blocks. Amiya Porter added 12 points and Nickyia Daniel had 11. Averie Jones powered the Indians with 20 points, 14 which came in the first half.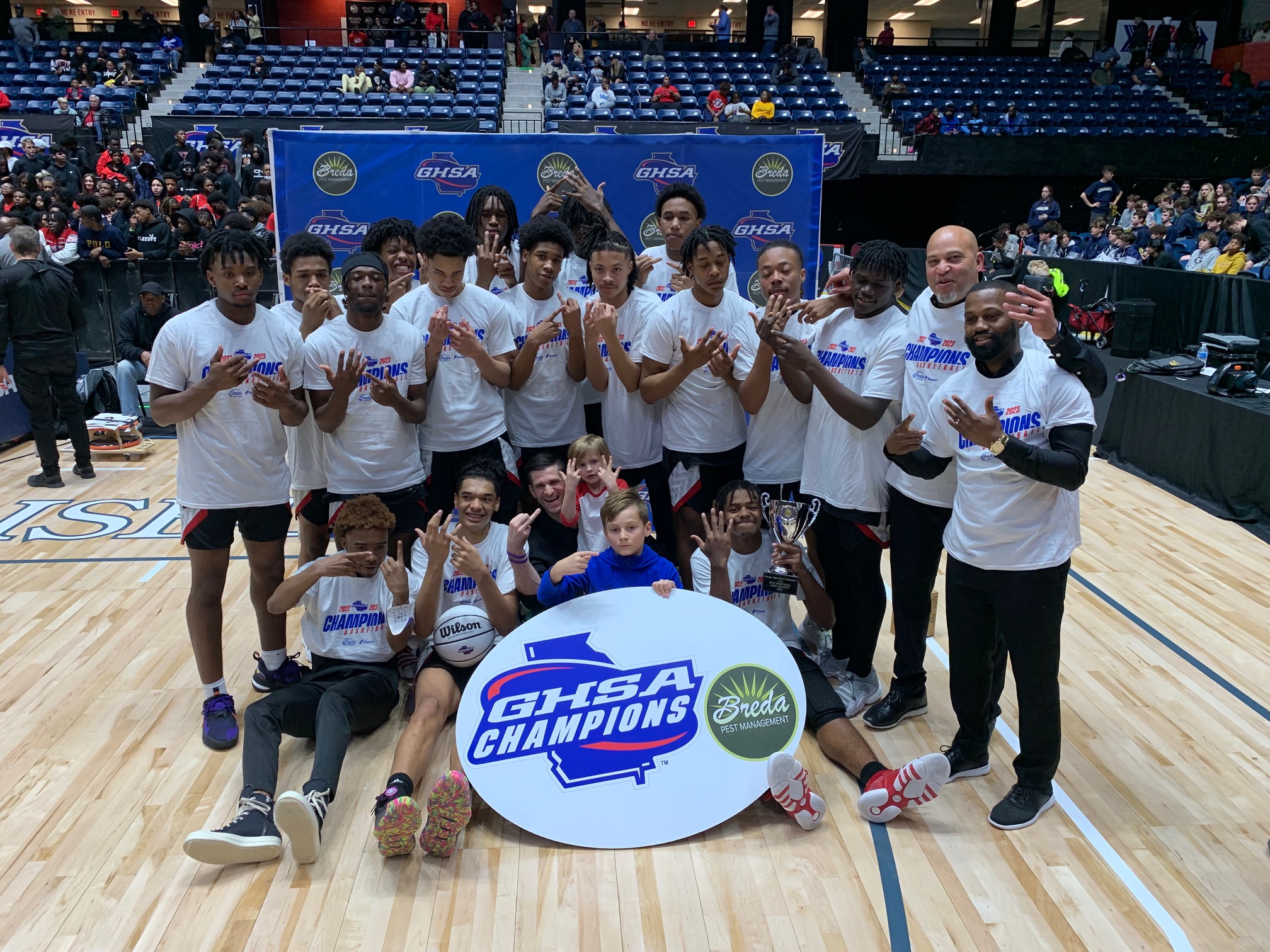 R5 #1 No. 2 Sandy Creek 66, R5 #2 No. 7 Cedar Grove 38: Finally after close calls and heartbreak, Sandy Creek (26-6) captured their elusive state title for the first time in school history using an 18-0 second quarter to turn a one-point deficit after eight minutes into a commanding 17-point halftime lead. Cedar Grove (20-10) had a woeful second period, shooting 0-8 with six turnovers as they lost pace with the Patriots. In the third quarter, senior Vic Newsome scored 10 of his 14 points to power the Patriots. A balanced attack saw Micah Smith (17), PJ Green (16) and Amari Brown (10) all reach double figures, Smith adding 7 rebounds and Brown 8 boards. Cedar Grove was led by freshman Manny Green's 11 points, 8 rebounds and 3 blocks while Darius Reynolds collected 10 points and 8 rebounds.
GIRLS THREE-POINT CONTEST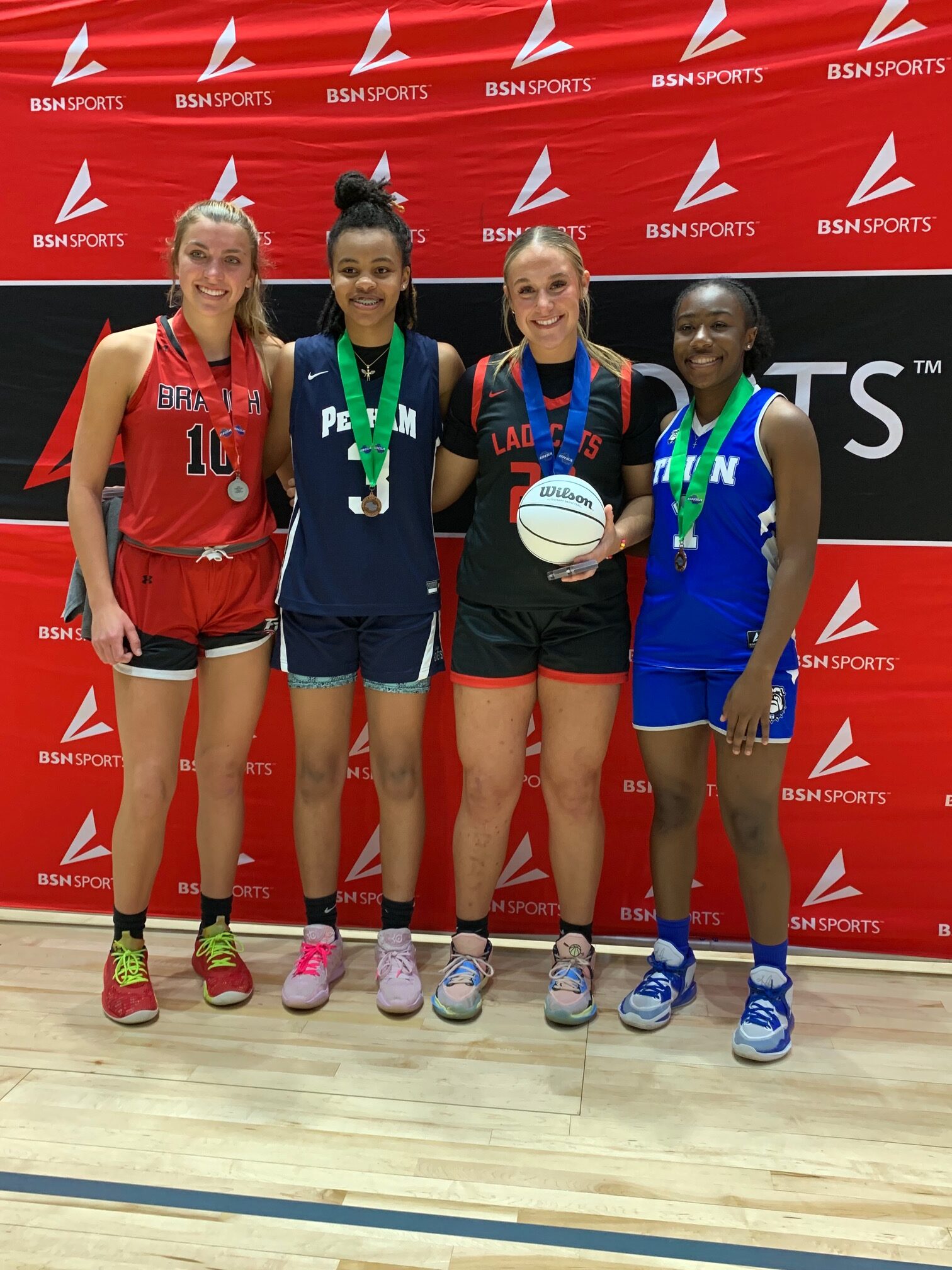 First Place: Ellie Southards – Rabun County
Second Place: Bella Brick – Flowery Branch
Third Place: I'ziah McCutchins – Trion
Fourth Place: Sariyah Chester – Pelham
CLASS 6A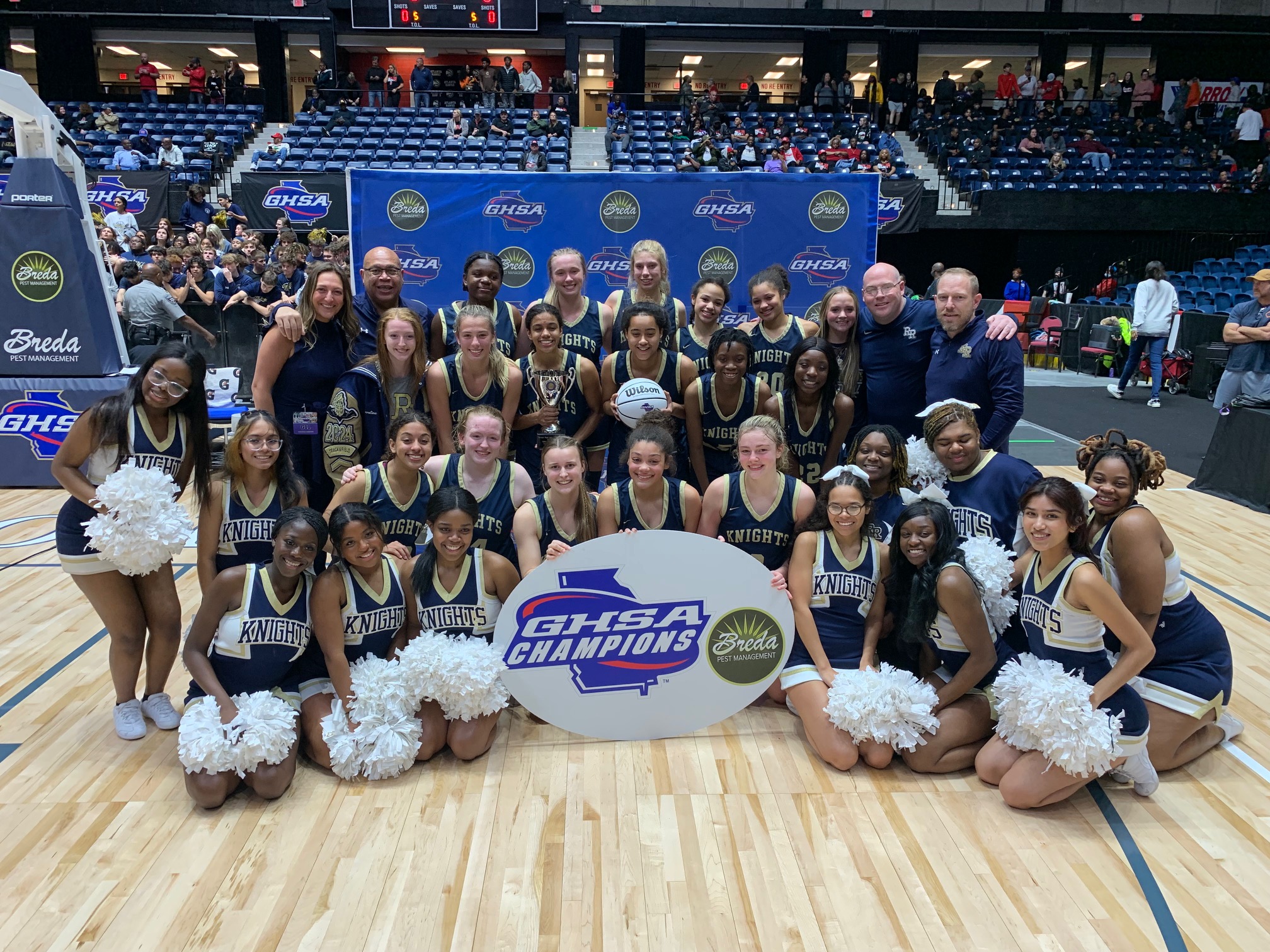 R6 #1 No. 1 River Ridge 68, R3 #3 No. 3 Lovejoy 50:  The Knights finally landed a knockout blow in the fourth quarter, ripping off a 10-0 run and holding Lovejoy (26-6) scoreless for the final six minutes of the game to claim the first state title in River Ridge (27-5) history. The Knights led 16-15 after one quarter and 24-17 at the 5:14 mark when Bryanna Preston picked up her third foul. River Ridge extended their lead to 32-19 as Preston was banished to the bench with her fourth foul but Austin Peay-signee La'Nya Foster would sink back-to-back threes to draw the Wildcats closer and would head into the break down 36-29, finishing on a 10-4 run. The Knights sparked a 7-0 spurt to move ahead 43-31 behind Penn-signee Mataya Gayle's five-straight points and would balloon the lead to 48-34 on a Kayla Cleaveland layup at the 4:35 mark. The defending state champs would claw back however, slashing into the lead with a 7-0 run of their own to make it 48-41, but the Knights would close the quarter up 55-45 as Gayle nailed a shot at the buzzer to extend the lead. Disaster struck for the short-benched Wildcats with 6:25 to play as Preston would foul out with Lovejoy down 58-48. River Ridge would close on a 10-0 run and hold the Wildcats scoreless the rest of the way after a Camiah Muldrow jumper. The Knights forced 19 turnovers converting them into 25 points. River Ridge outscored Lovejoy 26-14 in the paint and outrebounded the Wildcats 38-29. Gayle finished her career with 25 points, 2,015 over her four years , 9 rebounds, 5 assists and 1 steal, followed by Kayla Cleaveland's 15 points, 3 rebounds and 2 steals before fouling out and missing some time with an ankle injury. River Ridge's deep attack saw Sophia Pearl provide 11 points, 4 rebounds, 3 assists and 5 steals while Makayla Roberson netted 7 points and Allie Sweet collected 5 points, 7 rebounds, 3 assists, 5 steals and 1 block. Lovejoy was powered by Foster's 16 points, 12 rebounds, 5 assists, 4 steals and 3 blocks. Preston tallied 13 points (10-15 FT), 3 assists and 2 steals before fouling out. Morgan Bone (9) and India McIntosh (8) both stepped up offensively.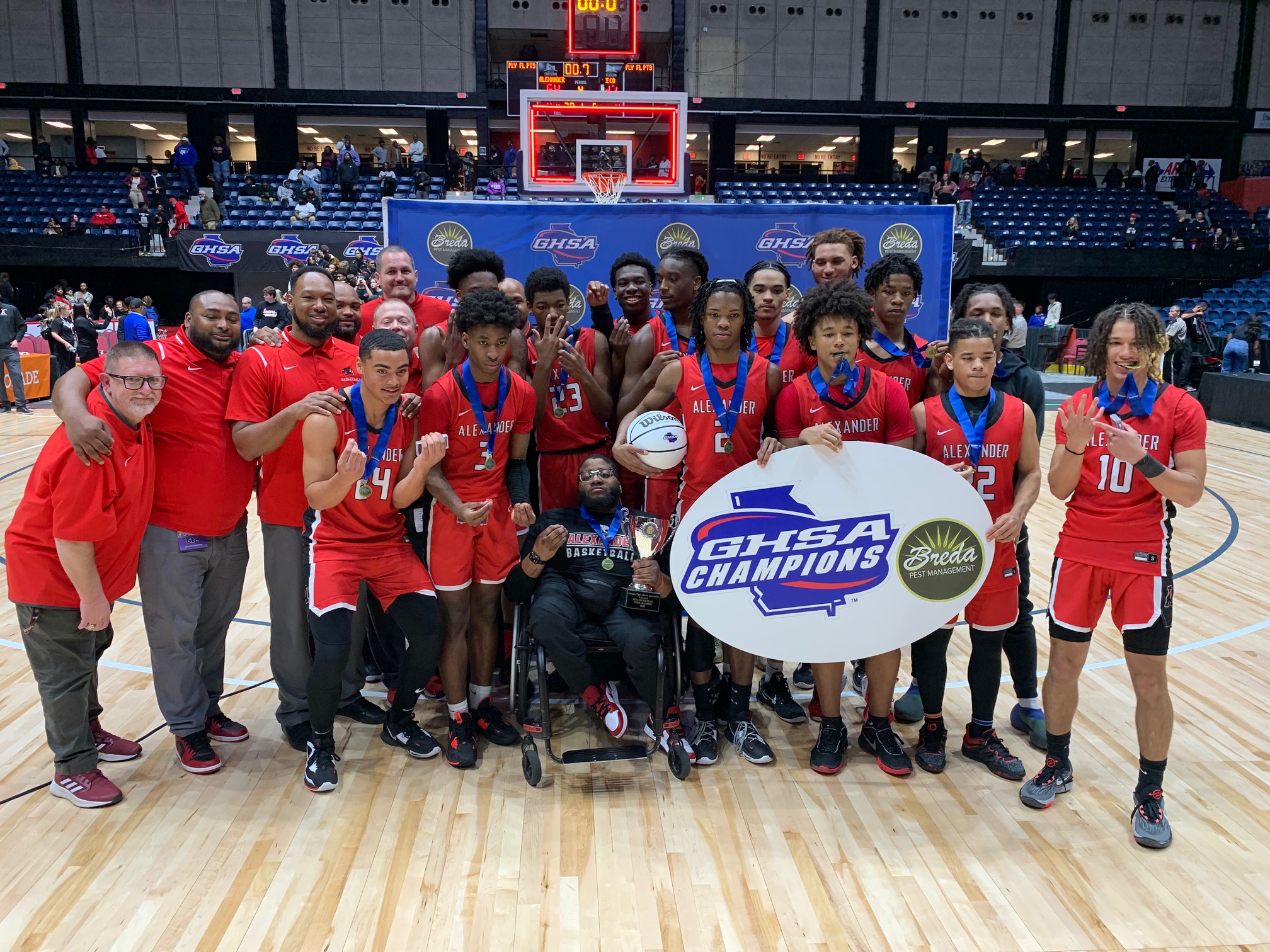 R5 #2 No. 2 Alexander 64, R1 #1 No. 10 Lee County 42:  A 13-0 run to close the third quarter propelled Alexander (27-5) to their first state title. Down 14-11 at the half and up 26-24 at the break, the Cougars rode Braedan Lue to 11 third quarter points to gain separation. The junior would finish with 26 points, 12 rebounds, 2 assists, 1 steal and 2 blocks. Following an Ousmane Kromah And-1 putback to tie the game at 33, Alexander seized control with Lue, Chattanooga-signee Noah Melson and JayQuan Nelson powering the charge. Two monster slams by Marvin McGhee and Lue put the exclamation point on the win early in the fourth quarter pushing the lead to 56-38. Melson ended his night with 15 points, 6 rebounds and 3 assists while Nelson provided 11 points.  Kromah paced Lee County (28-4) with 14 points and 9 rebounds. Caden King chipped in 8 points and 10 rebounds.
SATURDAY MARCH 11
CLASS A D-I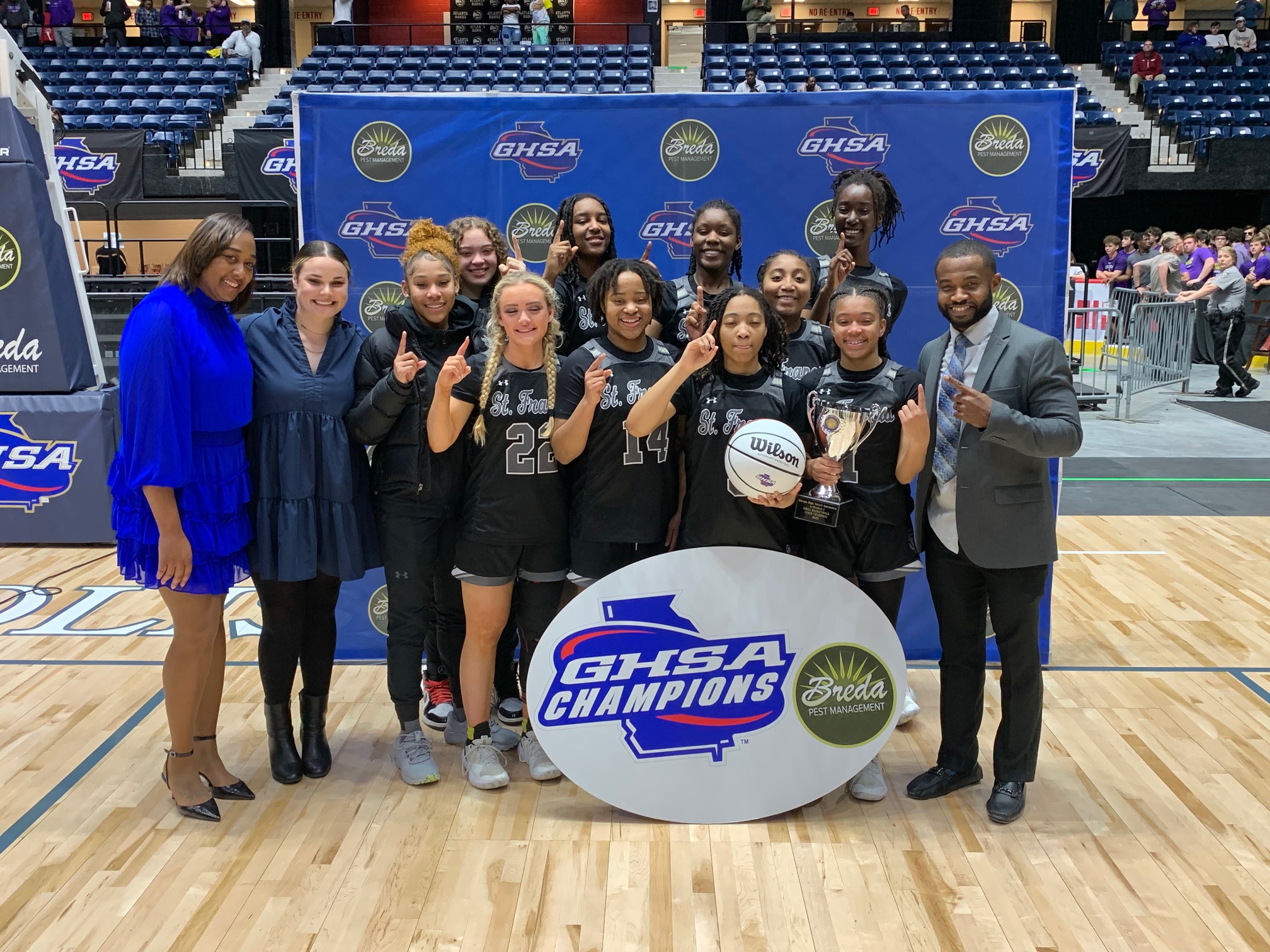 R6 #1 No. 1 St. Francis 76, R6 #2 No. 3 Galloway 74 OT:  St. Francis (27-6) overcame 30 turnovers, foul trouble and an 11-point deficit heading into the fourth quarter to win their fourth state title and first since 2016. The Knights, who beat Galloway (27-6) twice prior this season, leapt out to a 9-2 lead before the Scots rebounded and ripped off a 21-4 run to take control in a high scoring first quarter and head into the second period up 25-18. At the half, the two teams were deadlocked at 35. Both teams shot well from the field but the Knights especially struggled with the Galloway press, turning the ball over 15 times and eight more times in the third quarter where Galloway pulled ahead, North Florida-signee Kyla Cain scoring nine points in the frame after a scoreless first half. The Scots led 58-47 heading into the fourth quarter before the Knights responded with a 9-0 run to make it 58-56 as Sa'Mya Wyatt began to dominate inside. Wyatt would score 13 of her game-high 27 points in the fourth quarter while finishing with 10 rebounds and shooting 11-17 from the field. The Scots led 66-64 briefly with 37 seconds left in regulation but Wyatt would quickly answer with a short jumper and the game would head to overtime knotted at 66. In overtime, the Scots had chance to gain separation with Kennesaw State-signee Kailyn Fields at the line with Galloway leading 74-72 with 1:04 on the clock, but Fields, who finished with 4 points, 7 assists and 8 steals, missed the front end of the one-and-one and Wyatt sank a pair of free throws with 51.7 seconds left. Wyatt found herself at the line once again with 7.6 seconds left and buried a pair to gain the lead for good and finish her night 5-5 from the stripe. Galloway had a last opportunity at the buzzer as Tianna Thompson caught a post entry pass and took a short fadeaway on the block but Anaja Hall, who played a large bulk of the game with four fouls, used her 6-foot-4 reach to alter the shot. Nya Young had 21 points and 4 assists for St. Francis while Desi Taylor tallied 9 points, 5 rebounds, and 5 assists before fouling out. Kennesaw State-signee Trynce Taylor finished with 8 points, 10 rebounds, 2 steals and 2 blocks. Galloway was led by Tianna Thompson's 23 points (13-15 FT), 4 rebounds, 3 assists and 2 steals. Cain posted 15 points, 5 rebounds and 3 assists while freshman Taryn Thompson came off the bench to provide 14 points. Danaya Stokes had 12 points, 8 rebounds, 2 assists, 4 steals and 2 blocks before fouling out late.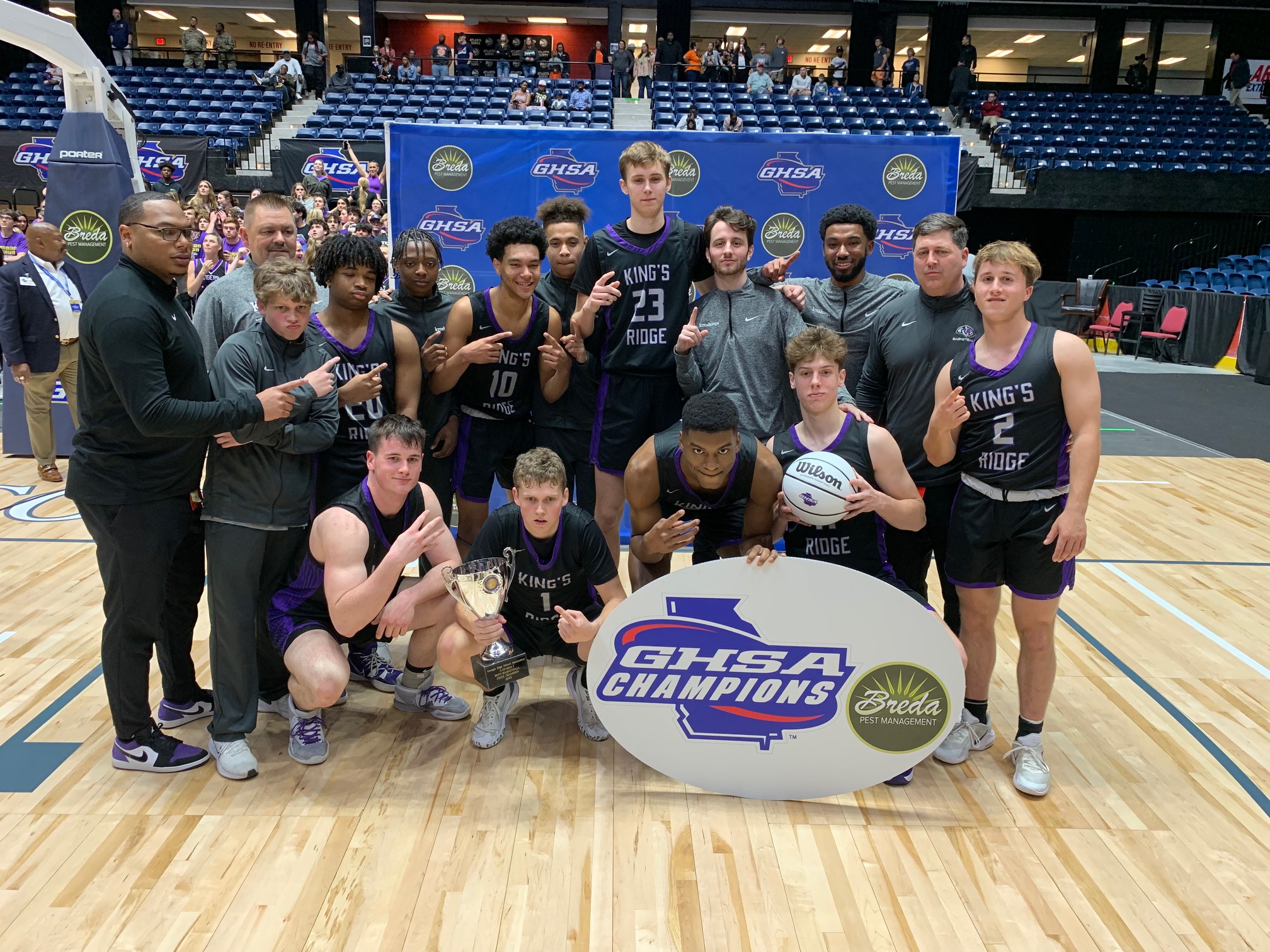 R6 #4 No. 4 King's Ridge 68, R6 #2 No. 2 Mt. Pisgah 58: Blistering shooting from King's Ridge (23-10) landed the Tigers their first-ever state title, doing it the hard way as a four-seed through the state playoffs. King's Ridge lost to region foe Mt. Pisgah (23-9) in their only prior meeting 74-65 in early December, but much had changed in three months as King's Ridge led 21-9 after one quarter and 40-21 at the half. The Tigers shot 60.9% from the field in the first half and finished the game at 54%. Micah Hoover poured in 21 of his 25 points in the first half and snatched 8 rebounds while Zak Thomas netted 14 of his 24 points in the second half as King's Ridge held a 54-38 advantage heading into the fourth quarter. Micah Tucker wouldn't let the Patriots go quietly into the night. The star sophomore scored seven points in the third quarter and helped trim the Tiger lead to 57-51 at the 4:19 mark of the fourth quarter after trailing by as many as 22 points, but would foul out with 3:45 remaining and the Patriots down 59-51, finishing his night with 19 points, 4 rebounds and 4 assists.  The Patriots got 11 points from Cedric Haynes and 10 from Tyson Pittman but it wasn't enough for Mt. Pisgah whose only lead of the game came on the opening bucket.
SLAM DUNK CONTEST
First Place: Jalen Hilliard – McEachern
Second Place: Evan Montgomery – North Oconee
Third Place: Robert Skaggs – Prince Avenue Christian
Fourth Place: Caden Hinton – Trion
CLASS 7A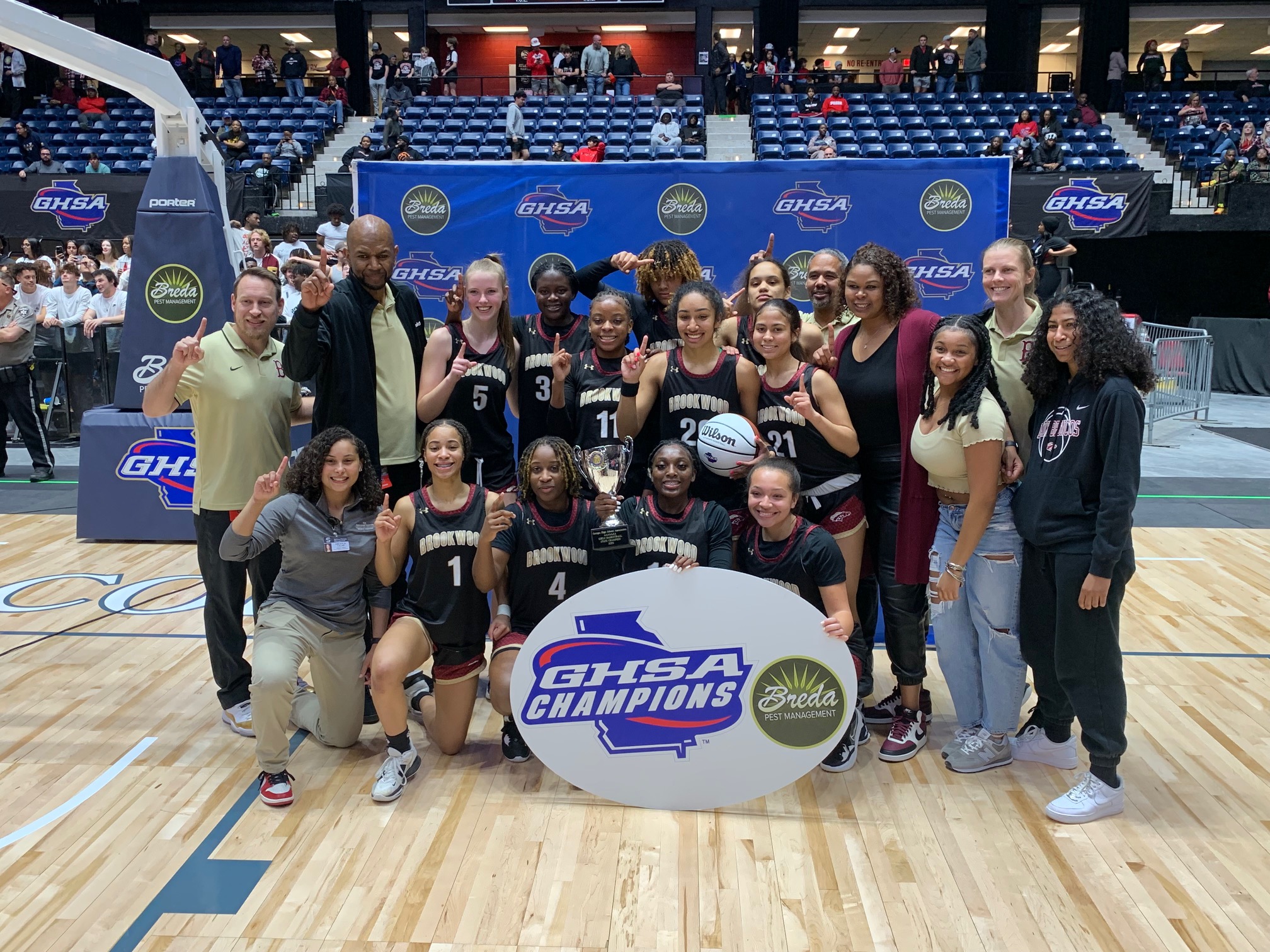 R4 #1 No. 1 Brookwood 43, R7 #1 No. 2 Norcross 39: Brookwood (31-1) was outrebounded by the smaller Lady Blue 40-29 and saw Norcross (29-3) a plus-18 in the three-point column but what the defending champs didn't have was Diana Collins, the Ohio State-signee making all the plays late to guide the Broncos to their first ever title. Norcross jumped out to an early 16-9 lead after one period and held a slim 19-17 advantage heading into the half as they struggled to score. Norcross shot just 25.4% on the night, largely anchored down by a 8:37 scoreless span that wasn't broken until a Veronaye Charlton layup at the 4:56 mark of the third quarter, the Lady Blue only down 23-21 at the time. Brookwood pushed the lead to 31-26 and would take a 31-28 advantage into the fourth quarter winning the frame 14-9. A quick 5-0 spurt from Charlton, who finished with a team-high 17 points and 8 rebounds, brought the Lady Blue even at 33 all. The Broncos saw Collins pick up her fourth foul at the 3:13 mark leading 35-33 but the Brookwood great would never foul out. She would finish with nine points in the quarter, 15 in the second half and go 5-6 from the line over the final 1:09 to help ice the game with a steal with six seconds to play up three the championship-clincher. Collins ended her illustrious career with 21 points, 6 rebounds, 2 assists, 2 steals and 1 block. Danielle Osho had 10 points and 8 rebounds while UAB-signee Jade Weathersby collected 9 points, 12 rebounds, 2 assists, 1 steal and 2 blocks.  Jania Akins provided Norcross with 13 points, 5 rebounds, 2 assists and 1 steal, nine points coming in the first half. Kayla Lindsey snatched 16 rebounds.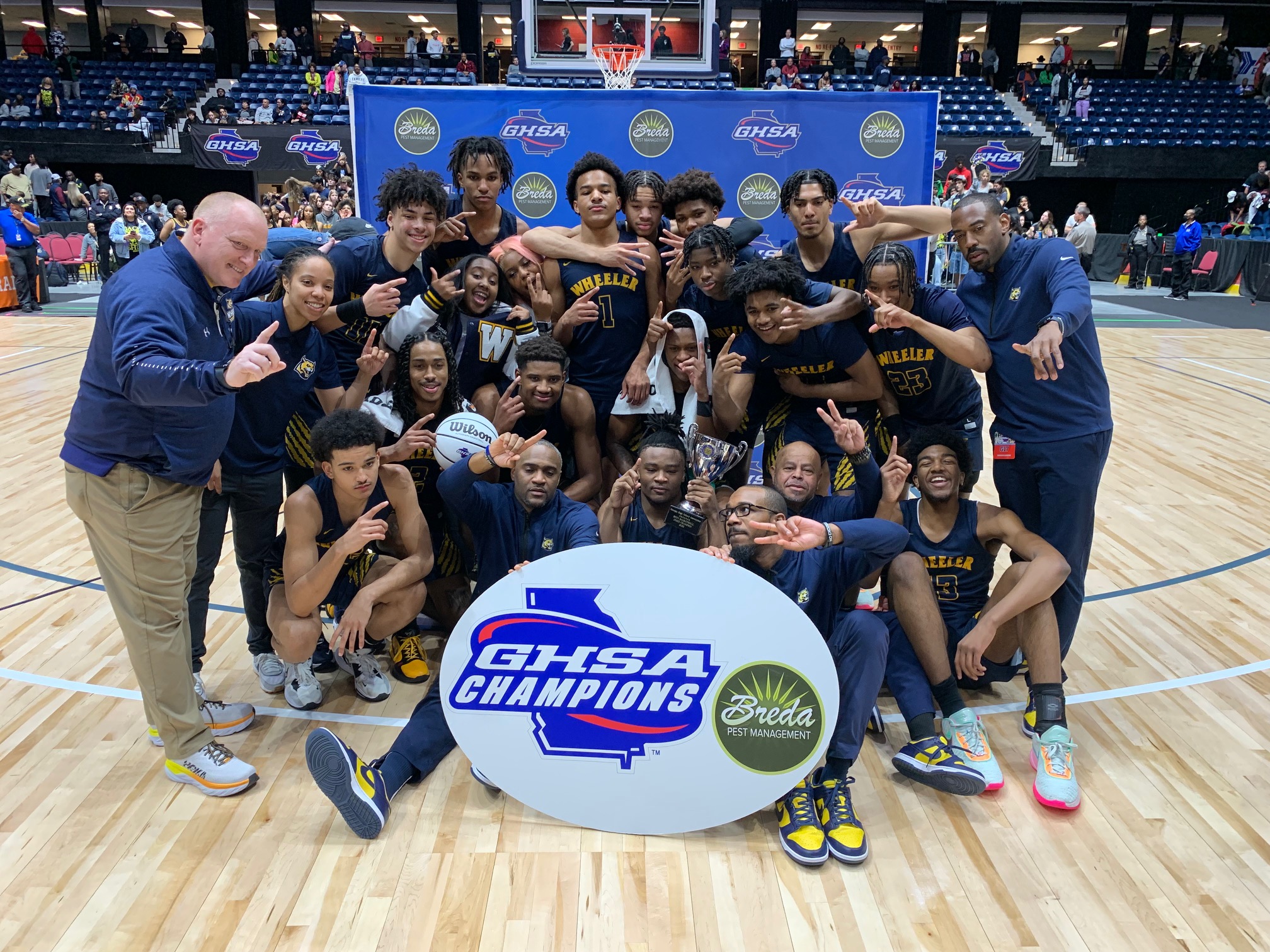 R5 #1 No. 1 Wheeler 78, R5 #2 No. 8 Cherokee 58: Blistering hot shooting in the first half from Wheeler (26-6) got the Wildcats off to a 22-12 first quarter lead and 39-28 halftime advantage that they would grow throughout the second half en route to their ninth state title and their fourth win over the Warriors this season. Wheeler shot 71.4% from the field in the first half including 7-10 from deep and finished 66% on the night. Cherokee (25-7) scrapped with Wheeler for as long as they could, outshooting the Wildcats 57 attempts to 47 and grabbing 13 offensive rebounds to Wheeler's 2,  but it wasn't enough to keep pace.  Wheeler rode a 19-12 third quarter to extend the lead to 58-40 entering the fourth, proving to be the knockout punch. McDonald's All-American Isaiah Collier scored nine of his 22 points in the third quarter and finished with 3 rebounds and 7 assists. Fellow USC-signee Arrinten Page posted 15 points, 8 rebounds and 4 blocks. Iowa State-signee Jelani Hamilton netted 11 points and 8 rebounds while Ricky McKenzie had 11 points, nine coming in the first half via the three-ball. Cherokee got a balanced attack as well led by Braylin Giddens (17) and Cameron Pope (12). Tayden Owens pitched in 11 points while Dastin Hart battled for 10 points and 9 rebounds. Cherokee shot just 30% and were outscored in the paint 36-18. Wheeler finished the year unbeaten in the state of Georgia.