17U
AJ Bouye Elite
2020 6-5 W Keith Lamar (Eagle's Landing): Blessed with a college-ready body, Keith Lamar put his strength to work in a 65-58 loss to Powerhouse Elite, finishing with 17 points, 8 rebounds, 1 assist and 1 steal. Lamar is an offensive threat that can score at all three levels but buttered his bread on Sunday by getting into the lane and finishing up close. When he makes up his mind to get to the rim, there aren't many defenders that can deter his decision making.  Expect Lamar to draw some D-I attention over the next few months.
2020 5-10 PG Kameron Hobbs (Dutchtown): Coming in off the bench, Hobbs immediately changed the pace of the game with his sparkplug style of play. Hobbs tallied 9 points, 6 rebounds, 4 assists and 7 steals in a stat sheet stuffing effort. Hobbs' energy makes him a pest on both sides of the ball, playing the passing lanes on defense while getting into the teeth of the defense offensively creating for teammates. Hobbs plays longer than his 5-foot-10 build suggests.6
Powerhouse Elite
2020 6-1 W James Little (Shiloh): A physically strong guard, James Little played above the rim in an 18-point outing against AJ Bouye Elite. Little could stand to tighten up his ball skills, but his effort on the glass and his athleticism help make up for any deficiencies.
2020 5-8 PG D'vonja Frett (ML King): The feisty little playmaker hit some tough shots in a win over AJ Bouye Elite. D'vonja Frett's quickness opens up opportunities to score the ball which Frett cashed in on with tough finishes in traffic.
Atlanta Celtics
2020 6-1 PG Dwon Odom (St. Francis): The Xavier-commit impacted the game in every phase as he always does, finishing with 17 points, 6 rebounds, 6 assists and 4 steals in a 67-45 win over Team T Gand. Odom was impossible to stop once he got downhill and drew numerous hand check fouls. He didn't knock down any threes but hand some momentum building slams.
2020 6-0 PG Deivon Smith (Grayson): Deivon Smith has to be the best shot blocker in the nation that's 6-foot or under. After averaging just under two blocks per game during the high school season, Smith climbed the latter to ferociously swat away two shots on Sunday. He had 16 points, 3 rebounds, 4 assists and 2 steals to round out an electric outing.
2020 6-5 W Toneari Lane (Shiloh): With Dwon Odom and Deivon Smith running wild in the backcourt, Toneari Lane was the beneficiary of some open looks as he cashed in two three-pointers and finished with 12 points on the day. Lane is one of the best wings available in Georgia's 2020 class due to his mixture of toughness and skill. He can shoot the three but is punishing when getting to the basket.
Reach Higher Kings ATL
2020 5-10 PG Cody Gaynes (Marist): Cody Gaynes made winning plays down the stretch in RHK ATL's 49-41 win over Team Florida. The floor general controlled the tempo and did the little things to help the Kings close out a signature victory. Gaynes had 14 points to lead RHK and won 50/50 balls that helped decide the game.
2020 6-6 F Sola Adebisi (Cambridge): Sola Adebisi had the highlight of the weekend with a posterizing one-handed jam over a 6-foot-6 defender. The springy big man is still more of an effort guy than a polished scorer offensively but his activity and athleticism make him a must-mark man to keep off the glass. Adebisi can knock down the jumper when called upon and will have plenty of opportunities this upcoming season at Cambridge to really boost his stock as an all-around player.
Game Elite Blue
2020 6-7 W Chase McKey (Johns Creek): Looking for a late-blooming sleeper that's right under your nose in Metro Atlanta? Look no further than Chase McKey. The long combo forward doesn't have much fan fare but there should be some intrigue around his game. McKey can score inside and out and has a nice jump shot to go along with his length that helps him finish around the basket. Getting stronger and tightening up his handle will help him slash to the rim and finish through contact. He can alter shots on defense and is a capable rebounder. McKey should be a name that D-II and D-III schools circle and should check in on periodically throughout his senior season. He hasn't had a ton of notable success on the varsity level, so its now or never for McKey to piece together all his god given tools.
16U
D-Favors Celtics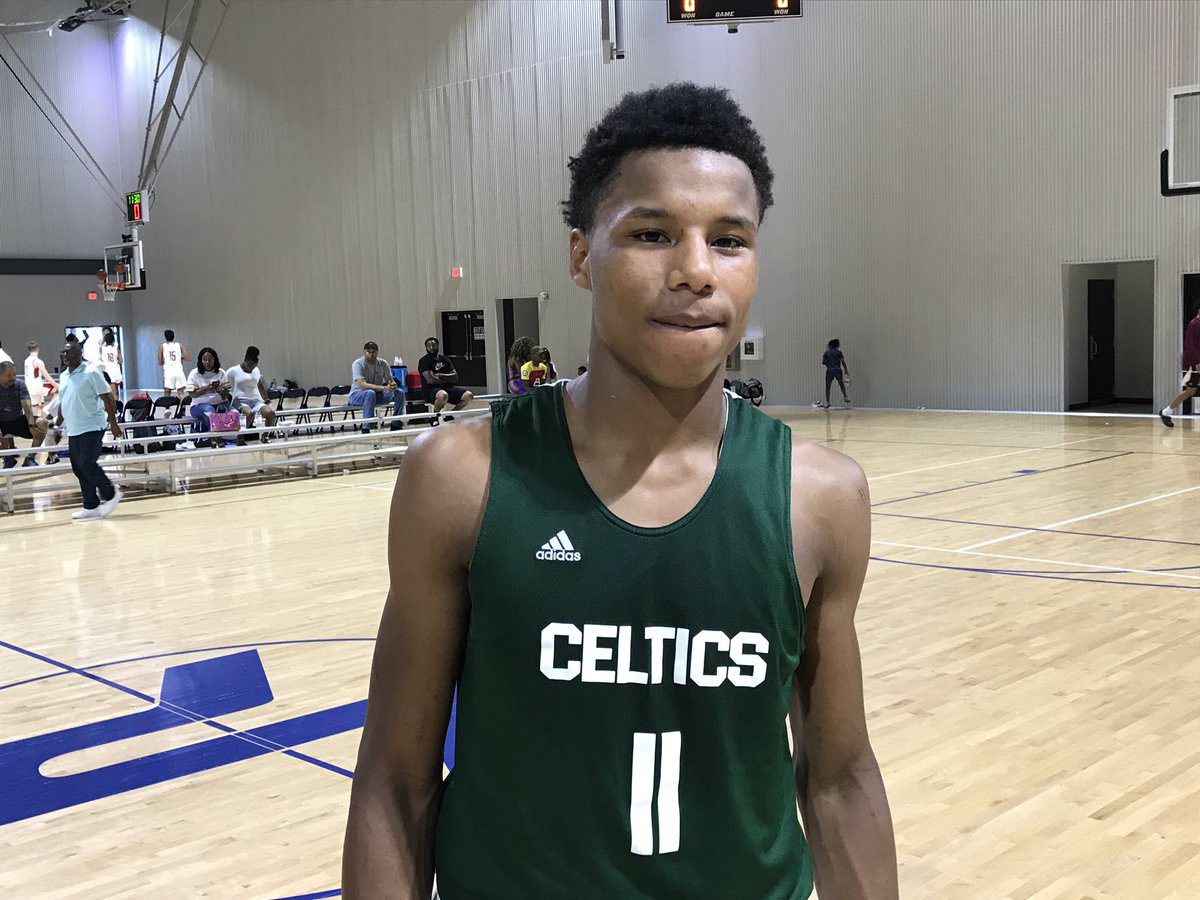 2021 6-6 F Jamichael Stillwell (South Atlanta): Transferring from Douglass to South Atlanta for the 2019-2020 season, Jamichael Stillwell showed what type of promise he holds in the Hornets' frontcourt in D-Favors' 59-25 rout of MS Hawks Elite. Stillwell double-doubled with 15 points, 11 rebounds and 1 steal. Admittedly still a little raw offensively, Stillwell got a majority of his points in the paint off the glass. He missed a handful of close up bunnies, but often times he atoned for his mistakes and finished on his second and third chances. Stillwell is long and eager to rebound the ball. His footwork with his back to the basket needs some work but he does have the ability to shoot from the outside, knocking down a smooth looking three on Sunday. Stillwell should be a name that folks across Georgia will need to familiarize themselves with over the next two years, especially in Class 2A.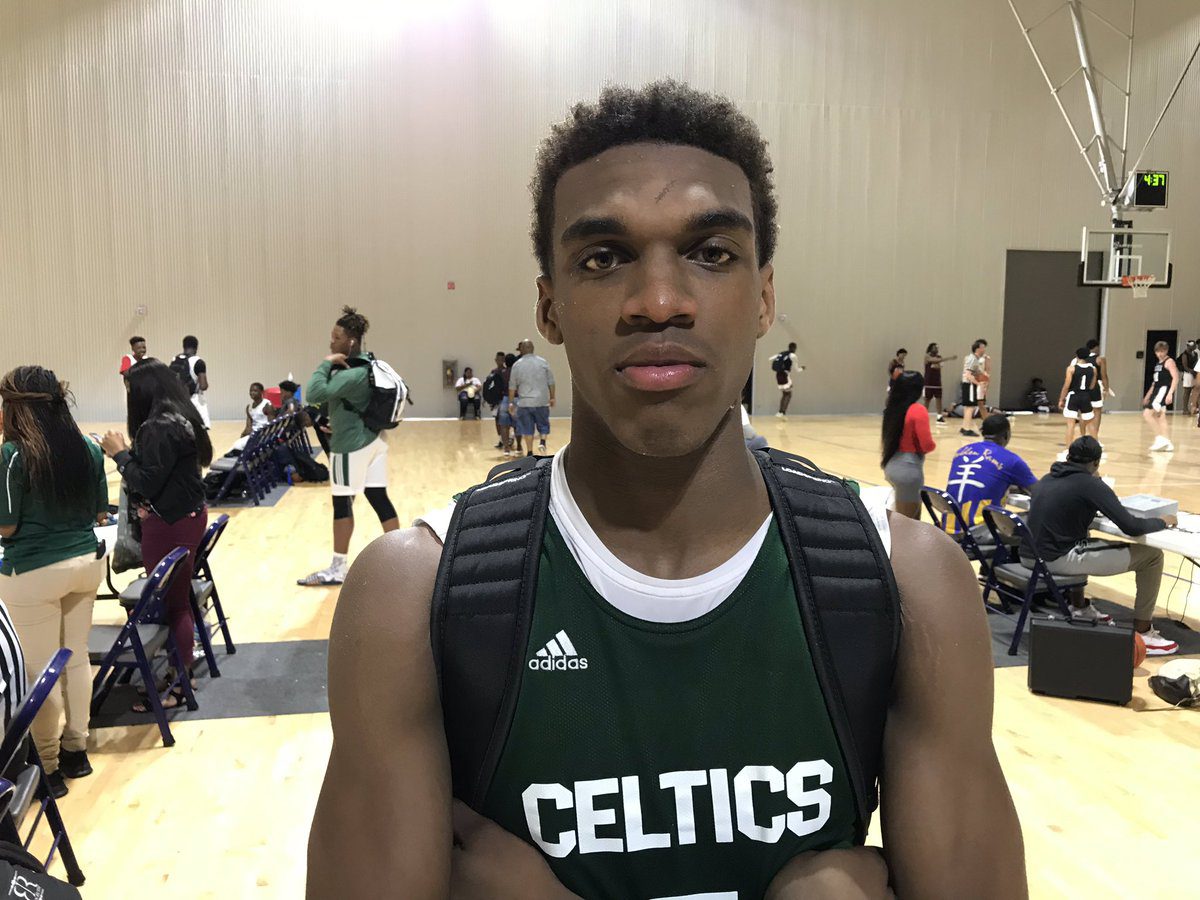 2021 6-6 F Julius Lymon (South Atlanta): Enjoying his new found durability, all of Julius Lymon's early career injury setbacks are now hopefully behind him. Lymon showed flashes on Sunday of what he could develop into one day. Lymon posted 8 points, 8 rebounds, 2 assists and 2 blocks. He moves exceptionally well and is working on improving his ball-handling, apparent as he had a few nice strong drives to the basket. Once Lymon develops a go-to move on offense, he will force his way onto college radars. His defense is ahead of his offense but his motor makes him a handful from 10-feet and in.
Atlanta Celtics
2022 6-1 G Chase Cormier (St. Pius X): Cormier scorched the nets again in a 62-30 win over Chattanooga Elite. The three-point marksman drilled four trifectas en route to a team-high 17 points. Cormier finds a way to impress each and every weekend. He's earned the right for a neon greenlight but even with that trust, he still hardly ever takes any bad shots. Cormier knows his range and is expected to connect whenever he gets a clean look.
2021 6-3 SG JoJo Peterson (Mt. Pisgah): An off-guard with good size, JoJo Peterson has the makings of becoming one of the 2021 Class' top guards when all is said and done. Possessing all the tools, Peterson can score the ball at all three levels but he is also a talented playmaker that gets his teammates involved. He had 7 points, 5 rebounds, 3 assists, 3 steals and 1 block on Sunday. With Quinn Richey off to James Madison, the young Mt. Pisgah Patriots will be looking for a go-to guy and a leader this upcoming season. If Peterson can hone in on an alpha dog mentality, he could step up and become one of the state's most improved players in 2019-20 for new Head Coach Matt Hixenbaugh.
Team Forrest
2021 6-9 C Ryan Mutombo (Lovett): Ryan Mutombo controlled the paint in Team Forrest's 58-41 win over South Florida Steel. With 10 points, 9 rebounds and 4 blocks, Mutombo showed a nice variety of skills. He defended on the perimeter and blocked jump shots while on the offensive end knocked down an easy 15-footer without hesitation. Inside, he had a solid drop step and finished through defenders. Mutombo had some great moments at Lovett this past year but expect his junior season to be when he really takes off and garners some national attention.
2021 5-6 PG Khi Cook (Greenforest): The smallest man on the court by far, Khi Cook didn't let his size stop him from playing big. The jitterbug point guard facilitated beautifully with 8 assists to pair with his 6 points and 3 steals. Cook whipped in tight passes and displayed an advanced court vision on multiple occasions. The speedster even showed off some crafty body control as he finished two And-1s. Cook knows how to run an offense and has experience being undersized, so much so that it feels like the height disadvantage doesn't affect him all that much.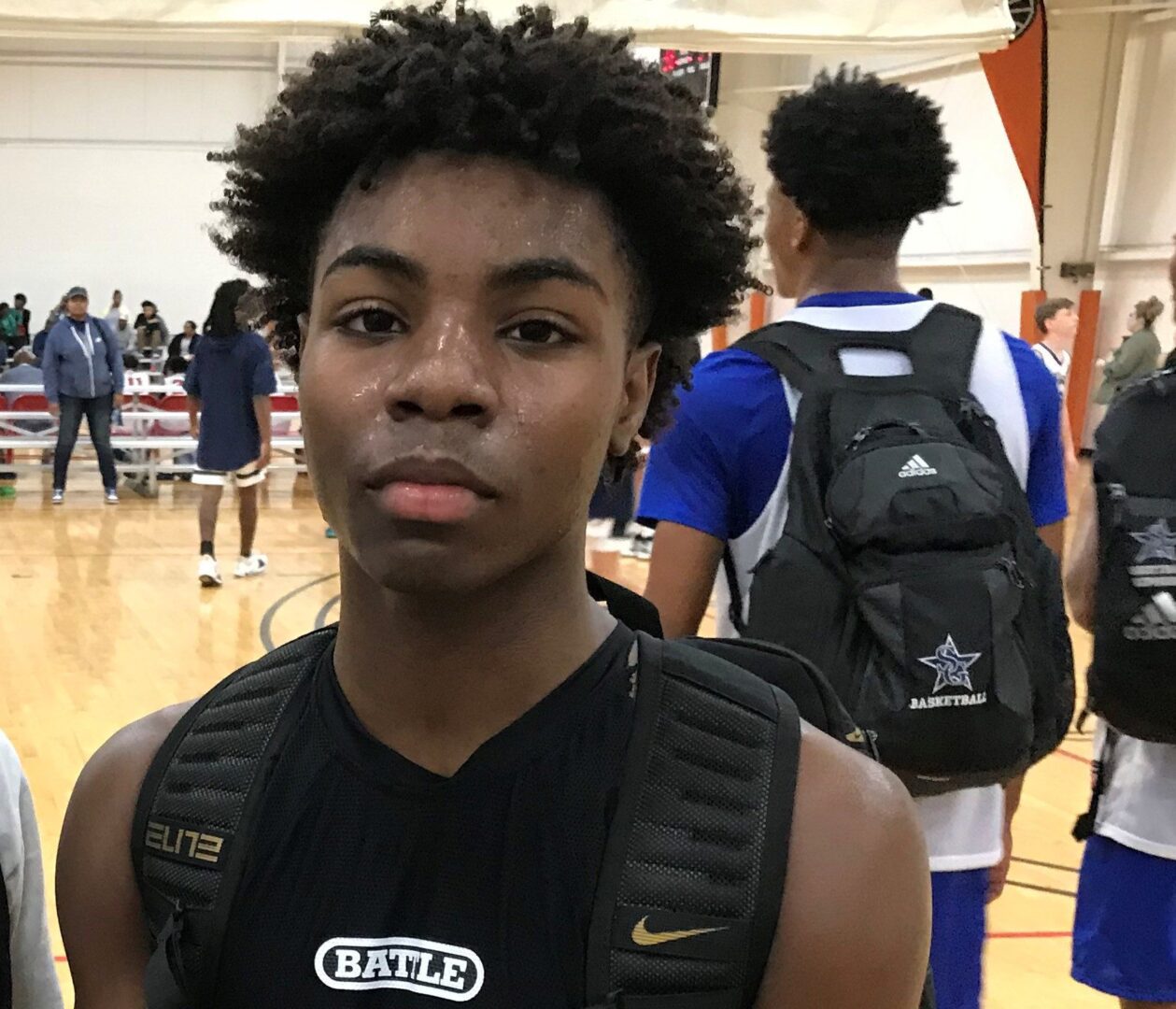 2021 5-10 PG Jason Edwards (Grayson): Wired to score, Jason Edwards is instant offense at the guard position. Much like older brother Nick, Edwards just has a knack for putting the ball in the basket. He came off the bench against South Florida Steel and immediately drained two three-pointers before finishing with 14 points, 2 assists and 2 steals. Edwards has some wiggle and knows how to get to his spots. Creating more opportunities for his teammates will be the next step in his development as a lead guard.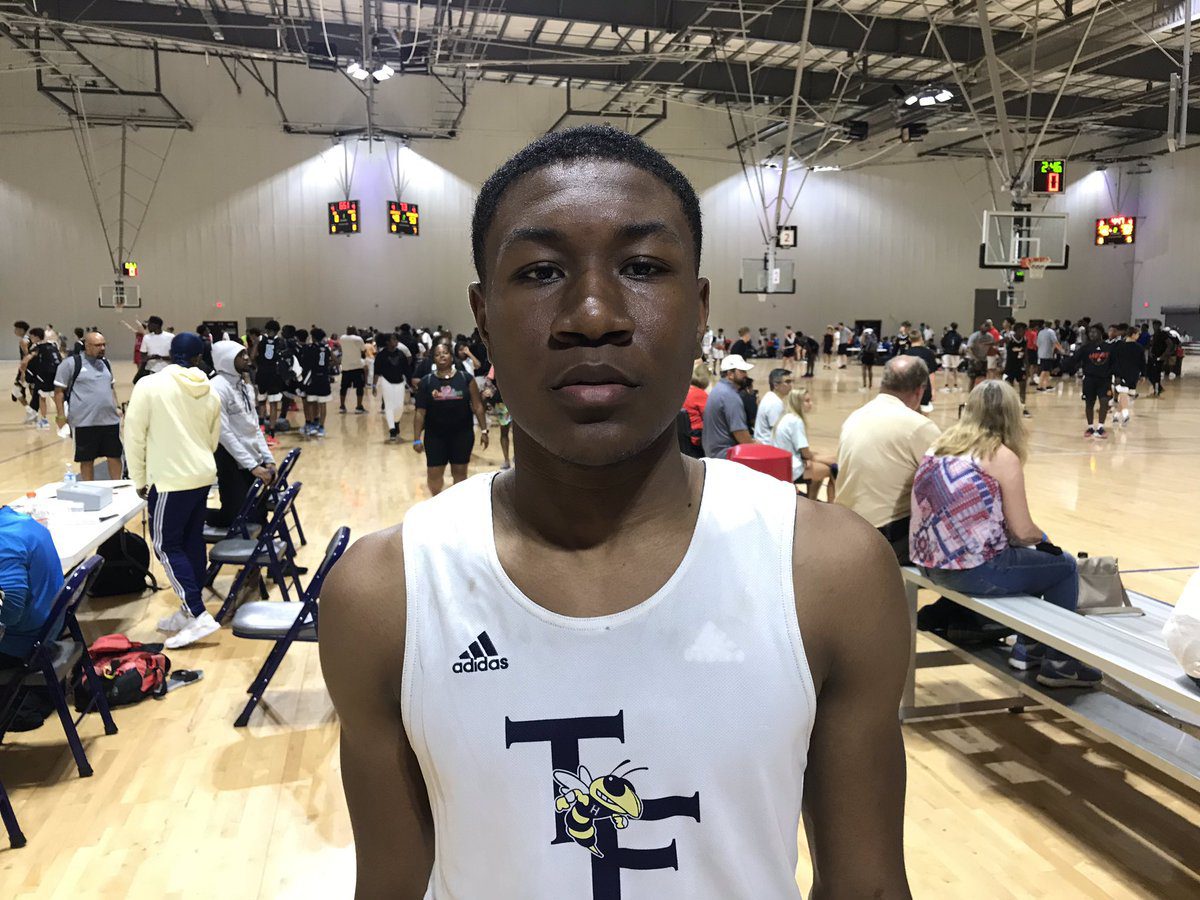 2021 6-4 W Jaylen Jackson (Douglas County): No one turned more heads than high-flyer Jaylen Jackson. The Westlake transfer will join an already athletic frontcourt in Douglasville. Jackson finished with 18 loud points, 3 rebounds and 2 assists. He scored three straight baskets in a span of less than a minute with two dunks that ignited the crowd. Jackson is more than just a highlight reel dunker however. He hit a few shots off the dribble including draining a step back three from the left wing. If Sunday's performance was more than just a flash in the pan, Jackson might be the latest sleeper out of West Georgia that could garner some college interest.
15U
Atlanta All-Stars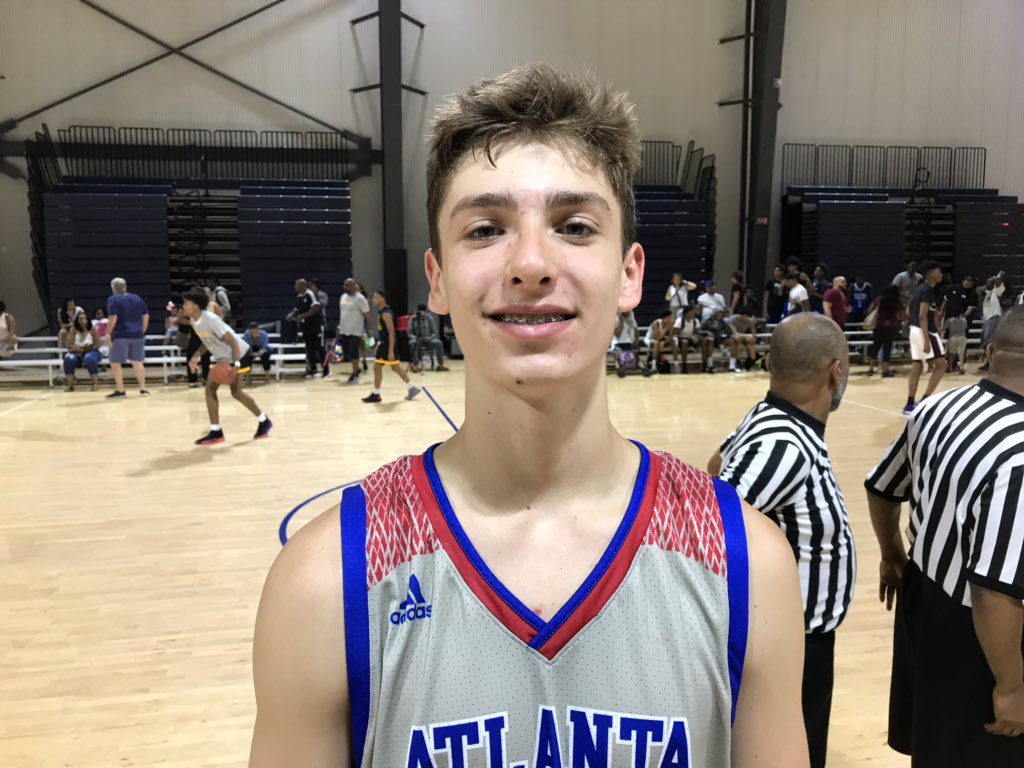 2022 6-7 F Jared Russo (River Ridge): In a rare 65-61 loss to GME 2022, Jared Russo was excellent inside with 22 points, 13 rebounds, 3 assists and 5 blocks. Since seeing him last summer, Russo has matured by adding on some muscle and more noticeably, growing three inches into a true game-changing post presence. In fact, Russo is a program-changing big man. River Ridge finished 3-23 last year but Russo managed to earn All-Region Honorable Mention. Not many 3-win programs would be all that attractive but first-year Head Coach Aaron Darling is inheriting a workhorse anchor in the paint. Russo has a soft touch inside and patient footwork. He high points rebounds and can rebound out of area, covering ground with his long strides and longer arms. Russo might not look like an overly physical interior player, but he has functional strength and can handle some banging. Defensively, Russo is an excellent help-side defender that erases shots at the rim. Offensively, he is an underrated passer that knows where he is going with the ball before he even catches it, leading to quick dump offs to open teammates. Russo is also a quality athlete that uses all 6-foot-7 of his frame to play above the rim. In a state that recently has seen itself starved for true quality big men, Russo is well ahead of the curve and looks like the best post prospect the 2022 class has to offer right now. If Russo continues to progress along the rate that he is improving, he should be a no-brainer D-I recruit.
2022 6-3 G Chance Thacker (Providence Christian): Expected to follow his father to Providence Christian after landing the head coaching gig, Chance Thacker will instantly make the 3-win program a better team. Coming from Lambert, Thacker is wise beyond his years and knows how to compete at a high level. Thacker can impact games without scoring, using his IQ and hustle to make everyone around him better. Thacker had a quiet offensive game with 6 points, but added 6 rebounds, 2 assists and 3 steals. He is a glue guy that will do what's best for the team. Thacker has a Jaxon Etter-like feel to his game.
2022 6-1 CG Jordan Brown (St. Francis): The state champion guard is a shot creator but shined in his newfound role of point guard, finishing with 12 points, 3 rebounds, 7 assists and 2 steals. Playing at St. Francis along with Xavier-commit Dwon Odom, Brown won't handle any point guard duties until his junior season, but playing with the Atlanta All-Stars has thrusted him into a role that can only help his development. Brown got into the lane and dropped off a handful of assists to Jared Russo down low, showing the ability to spoon feed in tight quarters. On the perimeter Brown likes to wheel and deal before finding a mid-range shot he likes. Brown sometimes found himself torn between playing the role of facilitator vs. scorer, but overall he did a very nice job of balancing his duties.