The GA Elite Ballers and the D-Favors Celtics locked horns at the adidas Gauntlet Regional Qualifier. The Celtics won 64-56 behind the sweet shooting of their 2019 backcourt.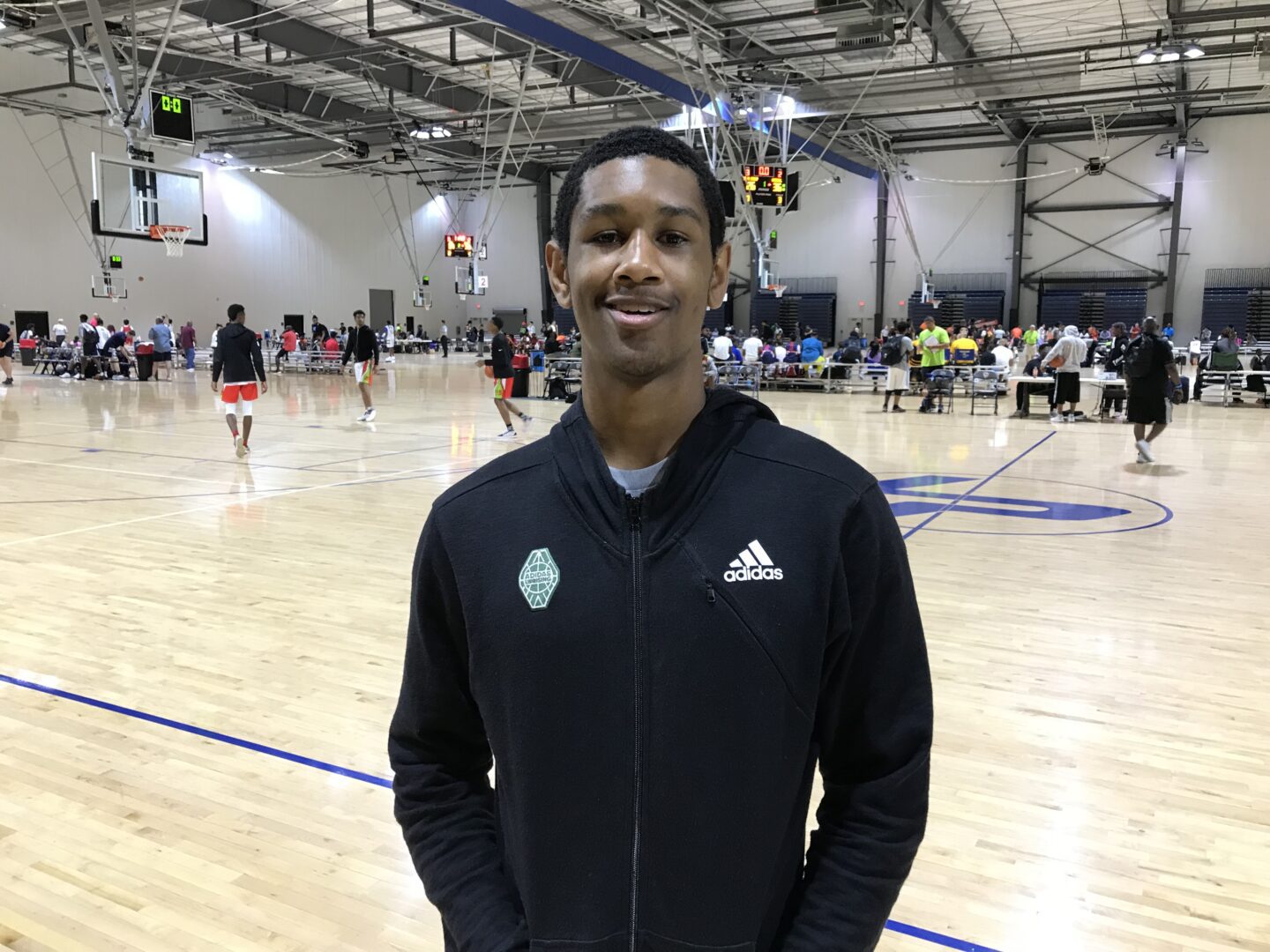 6-2 PG Hunter McIntosh (GAC) was lights out. The state champion guard with a 4.57 GPA and only a FGCU offer reveled in the head-to-head matchup with fellow elite guard, Mitch Ganote. McIntosh drilled 4 threes on his way to 22 points, 4 rebounds, 4 assists and 1 steal. Though he might not have the same fanfare and the offers that other lead guards have, McIntosh is firmly entrenched in the discussion for best point guard in Georgia. He averaged 20 points, 4.8 rebounds, 2.5 assists and 1.8 steals this season. His ability to control a game and score from all over the court makes him the ideal floor general. Expect Ivy League schools to start pulling the trigger soon. D-I schools will want to move quickly before they get left behind.
With older brother and current Auburn Tiger Jared Harper in attendance, 6-0 PG Jalen Harper (Pebblebrook) shined. Just like the Harper family tradition, Jalen was instant offense from beyond the arc, drilling 3 threes and finishing with 21 points, 3 rebounds and 2 steals. It was a great first impression for a player who hasn't been asked to carry the load during the high school season. Harper has played rotational minutes and will try to follow in the footsteps of 2018 PG Dwight Murray, who patiently waited and eventually cashed in on an Incarnate Word scholarship.
2018 6-9 C Brandon Favors (Westlake) anchored the paint for D-Favors. The big man says he will reclassify to 2019 and head to The-Skill-Factory. Favors is a strong lean athlete that moves very well. He can face up in the low post and attack the rim. He posted 7 points, 8 rebounds, 1 assist and 3 blocks. Favors is a bit of a lit bloomer production wise. His senior season at Westlake he averaged 6.2 points, 6.3 rebounds and 1.6 blocks. He has the natural tools to become a quality college player with the right work.
Even though they were outshot from deep, unable to withstand eight D-Favors threes, the GA Elite Ballers still had a good showing.
2019 6-1 PG Mitch Ganote (Lambert) brought his toughness in a showcase matchup. A slick competitor, Ganote was up to his old tricks, probing defenses until he found what he liked. Ganote uses his body well to shield defenders, backing down his man before making a decision. He crafts his way to the basket and can finish through contact and is a great passer when he drives and kicks. He finished with 17 points, 5 rebounds, 2 assists and 3 steals before suffering a possible concussion after a collision.
2019 6-6 F Brandon Deravine (Campbell) did damage inside and out. The combo forward can bang down low and has a few nice post moves. His quickness inside makes him a mismatch problem while against bigger defenders, he can pull them out and attack from 15-feet. Deravine finished with 15 points, 7 rebounds and 2 steals. He averaged 12.1 points, 9.9 rebounds, 1.9 assists, 1 steal and 2 blocks at Campbell. With the Spartans set to return a bulk of their Elite Eight team, expect Deravine to have plenty of opportunities to impress college coaches.
2019 6-4 SF D'Antaye Page (Westlake) brought his utility belt, doing a little bit of everything. He had 9 points, 6 rebounds, 2 assists, 1 steal and 1 block. Page averaged 5.2 points and 4.2 rebounds at Westlake, but it seems like his confidence is growing and he can provide even more production his senior season. Against Ball4Lyfe, Page erupted for 37 points hitting 3 threes in a 76-75 win. Page put himself on the radar as a player to track heading into his final season.
Team Power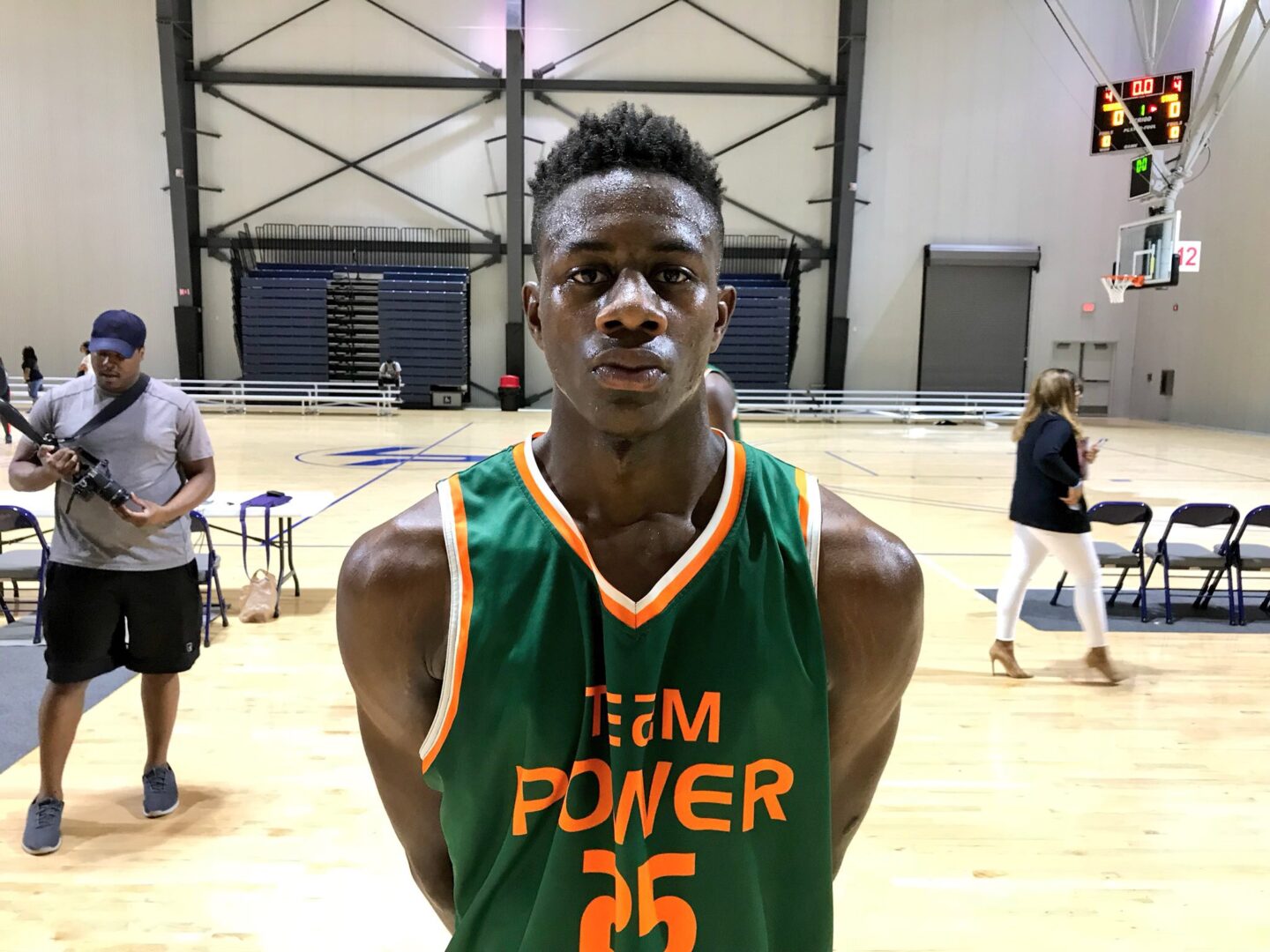 When I saw 2019 6-7 F Mackenzie McFatten (Coffee) earlier this year on Senior Night against Tift County, I knew I had to see him again. Fast forward four months later and the relatively unknown eye-catcher is now a legit D-I prospect with a North Alabama offer. The long lefty averaged 11.8 points, 8.3 rebounds, 2 assists, 1 steal and 2.3 blocks down south. Now playing with Team Power, the rest of the state can see his potential. He is a menace on defense, not only protecting the rim but using his wingspan to key the top of the press, gobbling up guards. Offensively, McFatten can knock down the outside jumper and plays with a toughness inside, finishing through contact on the low block. McFatten should end up being one of the top 2019 big men in the state of Georgia.
2019 6-5 F Stanley Eze (Mt. Bethel) is a lengthy defensive-minded wing. He shows some good instincts and uses his wingspan to guard multiple positions. Offensively, Eze is a slasher but also has a trusty mid-range jump shot at the foul line.