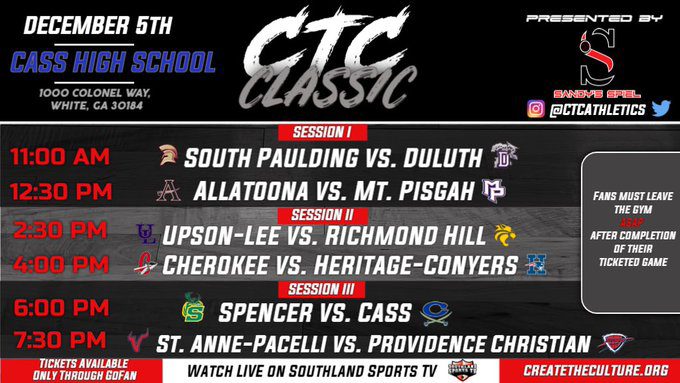 Cass High School will be host to the CTC Classic on December 5th.
The boys only event is presented by Sandy's Spiel under the Create The Culture branch. CTC hosts fall leagues, showcase camps and men's leagues throughout the year.
Saturday's event features nine ranked teams with multiple D-I prospects.
Masks are highly encouraged and fans must leave immediately after the completion of their ticketed game. The gym will be cleared after each session. Maximum capacity is 1,000. There will be 800 tickets available for each game. All-Day passes are $30.
SESSION I
11 AM – South Paulding vs. Duluth
Notable Prospects
South Paulding
2023 6-4 W Gio Thomas 
2023 6-1 G Jeremiah Taylor 
2021 6-6 F Carrieun Mathis
Duluth
2021 6-3 SG Will Peaks 
2021 6-4 F Tristan Johnson
2021 6-0 G John Durden
2022 5-10 PG Zailan Blue
12:30 PM – Allatoona vs. A-PrivateNo. 3 Mt. Pisgah

Notable Prospects
Allatoona
2021 6-5 W Kevin Taylor
2021 6-6 F Cameron Baldwin
2021 6-5 F Marshall Willingham
2021 6-0 PG Isaiah Logan
Mt. Pisgah
2021 6-4 PG JoJo Peterson (IPFW)
2021 6-7 C Nate Gordon
2021 6-2 CG Chase Tucker 
2022 6-1 CG MJ Winter
2022 6-5 W Kasheem Grady
SESSION II
2:30 PM – Upson-Lee vs. 6ANo. 10 Richmond Hill
Notable Prospects
Upson-Lee
2021 6-2 SG Jykevious Searcy
2021 6-5 F Jareden Kelly
2021 6-3 W Milique Smith
2023 6-5 F TJ Searcy
Richmond Hill
2021 6-3 CG Jaeden Marshall
2021 6-0 G Nijajuan Youmans
2021 6-4 W Liam Markgraf
2022 6-5 SG Brayden Baker
2022 6-4 F Leighton Finley
4:00 PM – 7ANo. 8 Cherokee vs. 6ANo. 5 Heritage-Conyers
Notable Prospects
Cherokee
3-star 2021 6-7 F Elijah Tucker (Xavier)
3-star 2021 6-5 CG Taihland Owens
2021 6-4 G Ethan Pickett
2021 6-4 SG Bennett Ulm
2022 6-3 SG DJ Potts-Heard
2023 5-9 PG Tayden Owens
Heritage
4-star 2021 6-5 SG James White (Ole Miss)
3-star 2021 6-4 PG RJ Noord (Elon)
2021 6-3 F Courtney McBride (FAU Football)
2021 6-5 F Dash Boston
SESSION III
6:00 PM – 4ANo. 2 Spencer vs. 5ANo. 8 Cass
Notable Prospects
Spencer
2021 6-0 PG Jaquez Holt
2021 6-1 G Jhalil Parker
2021 5-9 PG Quran Hoskins
2023 6-6 W Tycen McDaniels
2022 6-4 F James Smyre
Cass
2021 6-1 CG Braxton Benham
2021 6-0 G CJ Pipkin
2021 6-3 SG Andrew Glaze
2022 6-6 F Zaylan Chaney
2023 6-2 SG Jelani Hames
7:30 PM – A-PrivateNo. 6 St. Anne-Pacelli vs. A-PrivateNo. 4 Providence Christian
Notable Prospects
St. Anne-Pacelli
2021 6-5 W Travis Harper II
2021 6-3 W Keyshawn Fleetion
2021 5-7 PG Joshua Douglas
2021 6-5 F Ian Mathews
2023 5-7 PG Da'shaun Kates
Providence Christian
2021 6-6 W Elijah Williams
2022 6-4 SG Chance Thacker
2022 6-8 PF Tony Carpio