Unsigned Seniors Update
6-8 F Devin Evans (Duluth/Atlanta All-Stars): Evans garnered some fanfare heading into his senior season after moving back to Georgia following time at Richard Hardy Memorial School in Tennessee. Evans was unable to duplicate his 22-15-4-1 average at Richard Hardy but managed a respectable 10.4 points and 9.5 rebounds per game at Duluth. Evans is a mobile combo forward that can work on the block all the way out to the wing. Evans is a strong rebounder that likes to start his own fast breaks and push the ball in transition. He is a toolsy player that has learned under two of the most well-respected head coaches in the southeast in Cabral Huff and Ben Miller. Although he struggled to score in a 52-49 loss to the Tennessee Tigers, what stood out most about Evans' performance was his vocal leadership, cheering his team from the sideline and always talking when in the game. Evans will be a coveted late sign. If he can bring some more assertiveness and consistency to the offensive end Evans could turn into a key piece at the right school.
6-6 F Colin Kahl (Centennial/Atlanta Timberwolves): Colin Kahl impressed in a 76-70 loss to the Middle Georgia Bucks, tallying 14 points, 9 rebounds, 1 steal and 1 block. Kahl was a double-double machine at Centennial this past season, flourishing with the loss of Rodney Howard. Kahl profiles as a tough-nosed forward that can play above the rim and finishes well in traffic. He has a sneaky quick first step that he uses to blow by bigger defenders or those he catches flatfooted. Kahl isn't afraid to go up and try to finish with authority. His knack for rebounding and his scoring touch around the rim should translate to the next level.
6-6 W Nate Dunlop (Augusta Christian/Atlanta Timberwolves): Hidden away in Augusta in the SCISA, prolific scorer Nate Dunlop brought his unstoppable demeanor to Atlanta Jam scoring the ball in a variety of ways. Dunlop finished with 20 points, 6 rebounds, 1 assist, 2 steals and 1 block against the Middle Georgia Bucks. Dunlop drilled three three-pointers and showed the ability to create his own shot off the dribble, using his bulky build to shield off defenders, allowing him to get to his spots. Dunlop had some hard drives to the basket and played above the rim on numerous occasions. One can only imagine what his recruitment would look like if he played in the GHSA his entire career, but its better late than never – Dunlop has already cashed in with offers from VMI, Navy and Lincoln Memorial and has plenty of good ball ahead of him.
17U Middle Georgia Bucks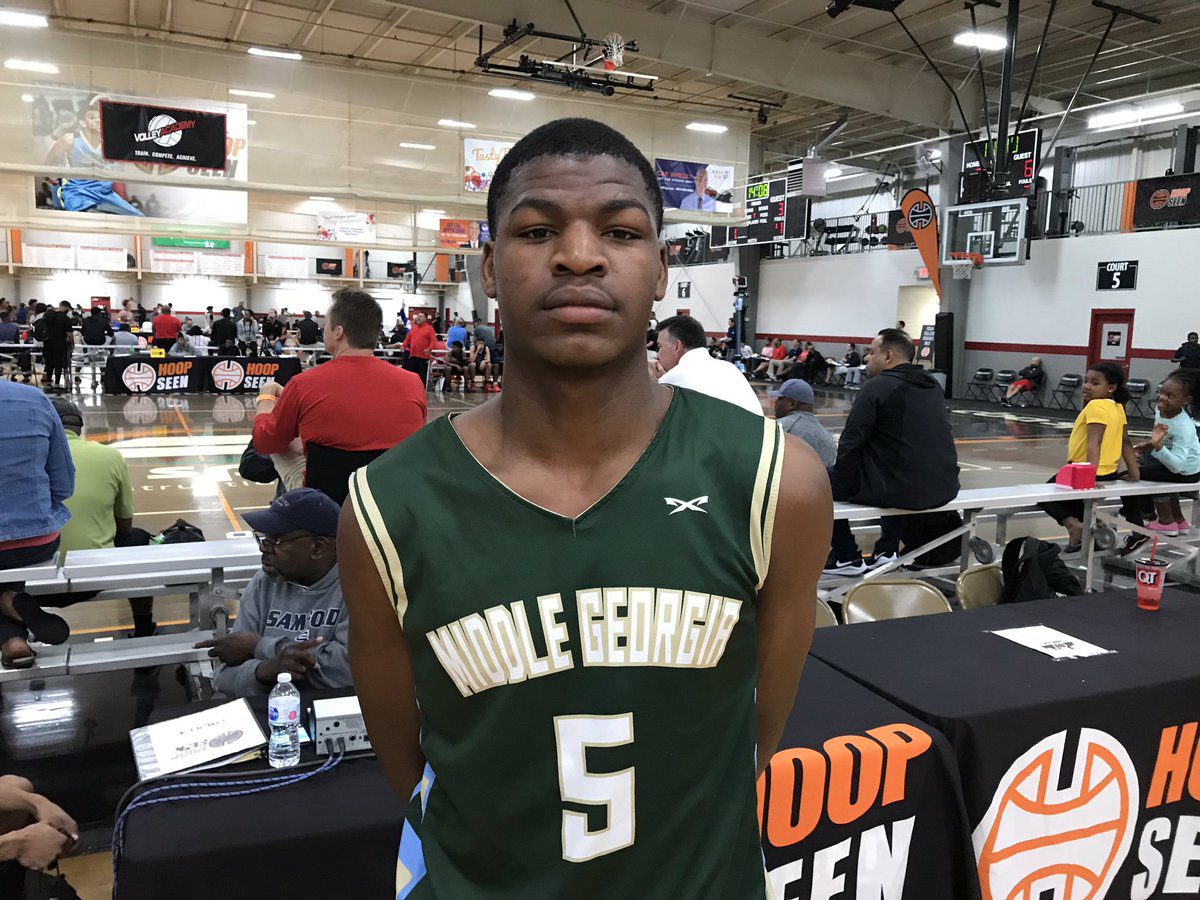 2020 6-4 CG Camrone Cherry (Northeast-Macon): The Middle Georgia Bucks showed up late in their game against the Atlanta Timberwolves both literally and figuratively as the game was nearly ruled a forfeit. Down almost 20 points at one point and losing 43-28 at the half, the Bucks staged a furious comeback behind Cam Cherry to win 76-70. Cherry scored 18 of his game-high 21 points in the second half and added 5 rebounds, 4 assists, 1 steal and 3 blocks. In the first half Cherry was in cruise control. He had a nonchalant demeanor about him, just floating around on the floor. The second half was a different story. Cherry decided to play and when he decides to play, he can takeover games which is exactly what he did. The set-shooting lefty bombed in two deep threes to get his scoring barrage rolling and hit a total of three in the second half. Cherry is a physically imposing guard with a great frame complete with strong wide shoulders. Once he put his head down and got his shoulders past his defenders there was nothing they could do to stop him. Cherry also created open looks for his teammates and had a nice two-man game with running mate Jarden Maze. Second half performances like Sunday afternoon are why many people are so high on Cherry and the immense talent he possesses but the first half is the other side of the coin that has to be completely wiped away for him to reach his potential. If Cherry is engaged for the full 32 minutes he steps on the floor every time out, he has a chance to the be the best player in Middle Georgia this season and a Mid-Major level recruit if not higher. Cherry's altitude will be determined by his attitude on the court.
2020 6-1 CG Jarden Maze (Washington County): The slinky guard from Sandersville put up 21 points and 4 rebounds in the Bucks' comeback win over the Atlanta Timberwolves. Maze scored 16 points in the second half to help lead the rally. He is a wiry guard that can slither his way into the paint to cause havoc for defenses but he also showed the ability to knock down the deep ball, hitting three of them in the win. Maze has the type of length that can make him a talented on-ball defender along with his lateral quickness. With a large senior class headed out the door, expect Maze to put his stamp on the Washington County program in his final season and start to attract college coaches.
2020 6-5 F Chavis Mathis (Jones County): Chavis Mathis had his hard hat on against the Atlanta Timberwolves. The strong forward posted 17 points and 9 rebounds, bullying his way on the glass and finishing strong inside. Mathis knows his role as the garbage man and the enforcer down low and doesn't stray away from it. Hard-playing players like Mathis win a ton of games at the high school level.