HoopSeen's Atlanta Jam provided the stage for unsigned seniors to make their final impression on college coaches and for rising high school standouts to emblazon a name for themselves. 
Unsigned Seniors Update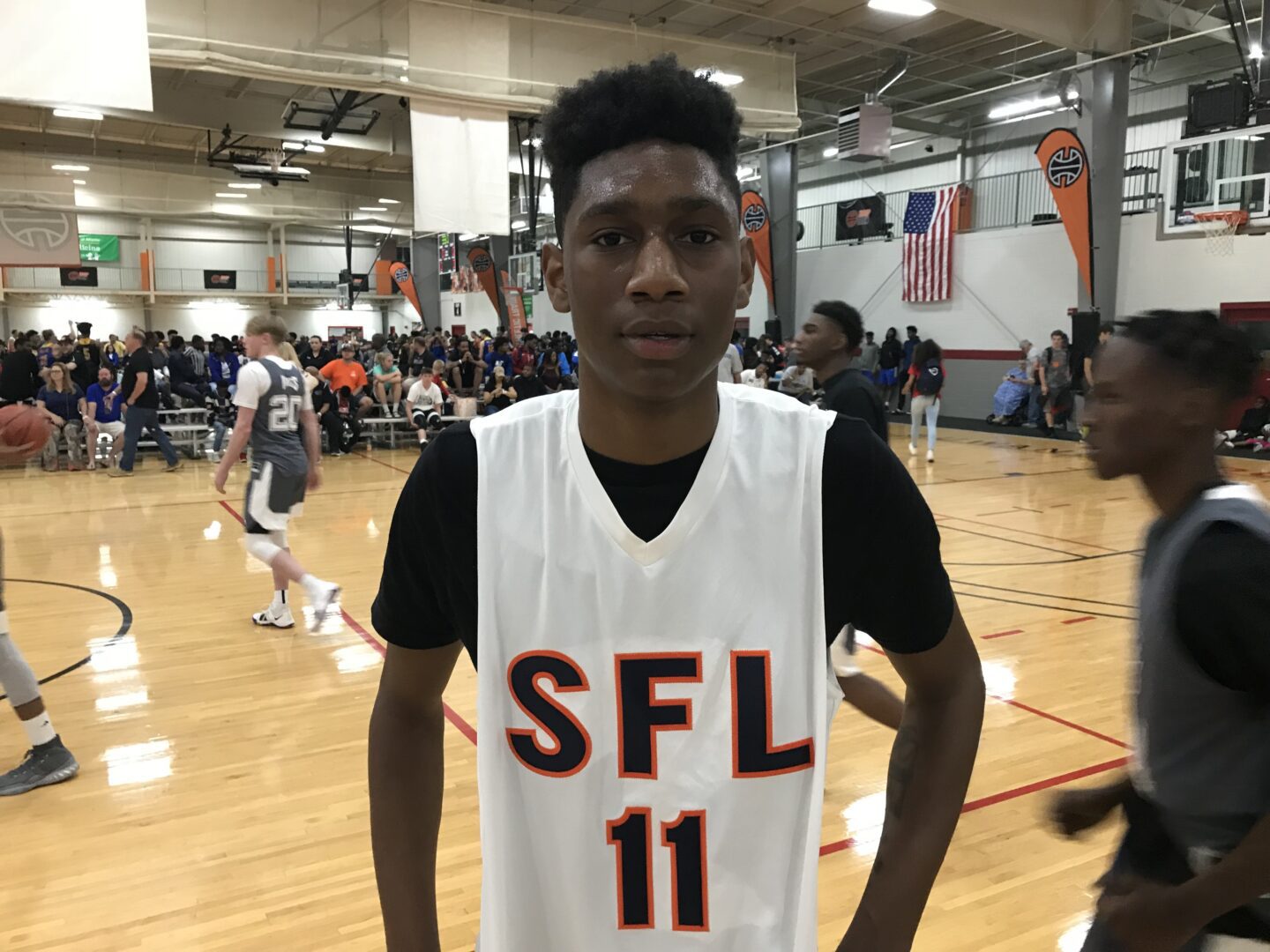 I'm not sure what the delay is, but colleges are still moving slowly on recruiting Class 6A First Team All-State selection 6-foot-5 SG Eli Lawrence (Tri-Cities). Running with the 17U South Fulton Lions, Lawrence continued to show why he is the best available wing in the state (outside of Tye Fagan who announces on Monday) and should be a priority for Low Majors/D-II. Lawrence finished with 15 points, 5 rebounds and 3 steals in a 63-59 win over Chattanooga Elite. Lawrence is an above-average athlete with a knack for rebounding. He averaged 21.9 points, 9.7 rebounds, 2.6 assists and 3.1 steals playing in the Classification's toughest region, where he saw the likes of Virginia Tech-signee Landers Nolley. Lawrence can knock down the deep ball and glides to the basket. The southpaw reminds me of a taller version of Fagan, but not quite as polished with his all-around game. Nonetheless, Lawrence is a D-I level player, but the clock is ticking and time is running out for programs to realize it.
A long time favorite of mine, Kam Miller (Sandy Creek) strapped them up this weekend. Standing only 5-foot-7, Miller brings so much more to the table than the typical little man. Of course, he does exactly what you want from a diminutive guard: acting as a pest all over the floor and priding himself on his defense. Knowing that he is overmatched in size each time he steps on the floor, Miller makes it a point to outwork his competition with his tenacity and water bug quickness. What you don't see from most guards his size, is his ability to rebound. Miller uses his small frame to sneak through cracks of the defense to earn his team second-chance opportunities on the glass. He put up 10 points, 5 rebounds and 2 steals in a win with the 17U South Fulton Lions. Miller will provide effort and energy wherever he ends up.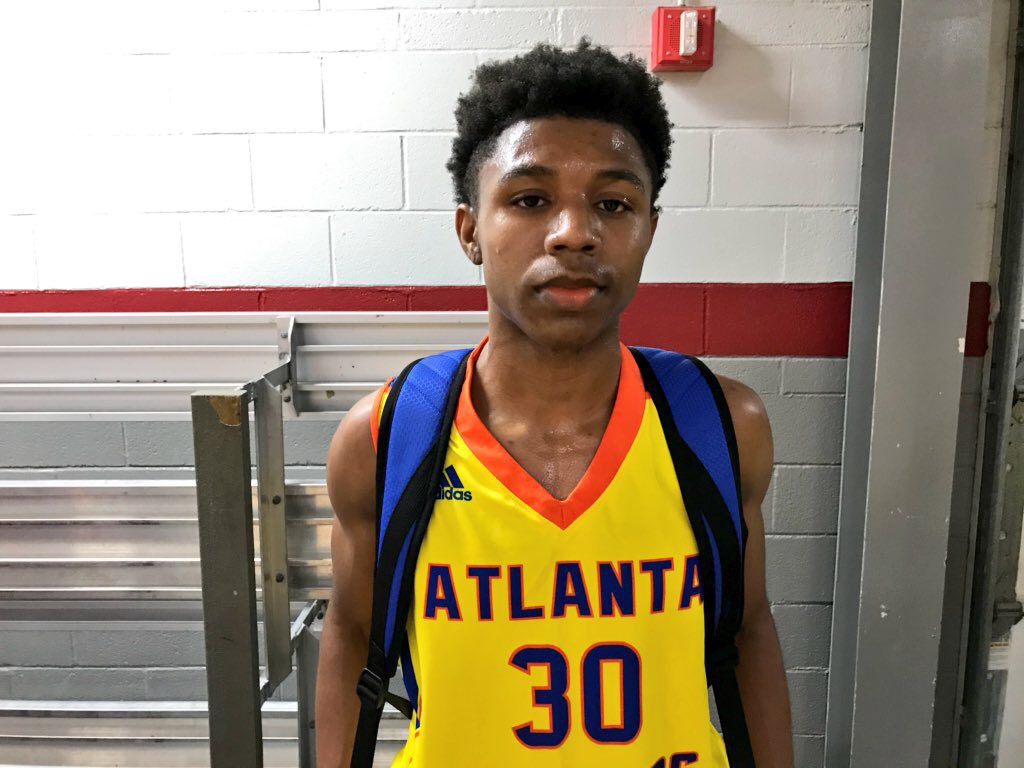 17U Atlanta All-Stars 6-foot PG Nick Edwards (Grayson) took full advantage of the Atlanta Jam stage with one of Georgia's best non-shoe company programs. Graded as one of the better lead guards still available, Big Game Nick put up 10 points, 2 rebounds, 4 assists and 2 steals in a romp of the Carolina Wolves and picked up his second offer, this time from Andrew College. Edwards truly flourished his senior season, stepping out of the shadow of Travis Anderson (Charleston Southern) and shining, averaging 14.7 points, 3 assists and 2 steals per game as the Rams returned to the Class 7A Final Four. While Anderson battled injuries his senior year, Edwards picked up the slack and turned in big performances in big spots, highlighted by Edwards' orchestration of an 18-point comeback to beat Langston Hughes 65-64, Edwards scoring 24 points including the game-winner with one second left at the BCB Showcase. Edwards isn't overly flashy or the most elite shooter or the most electric athlete, but he is a player that knows how to produce.
Stock Risers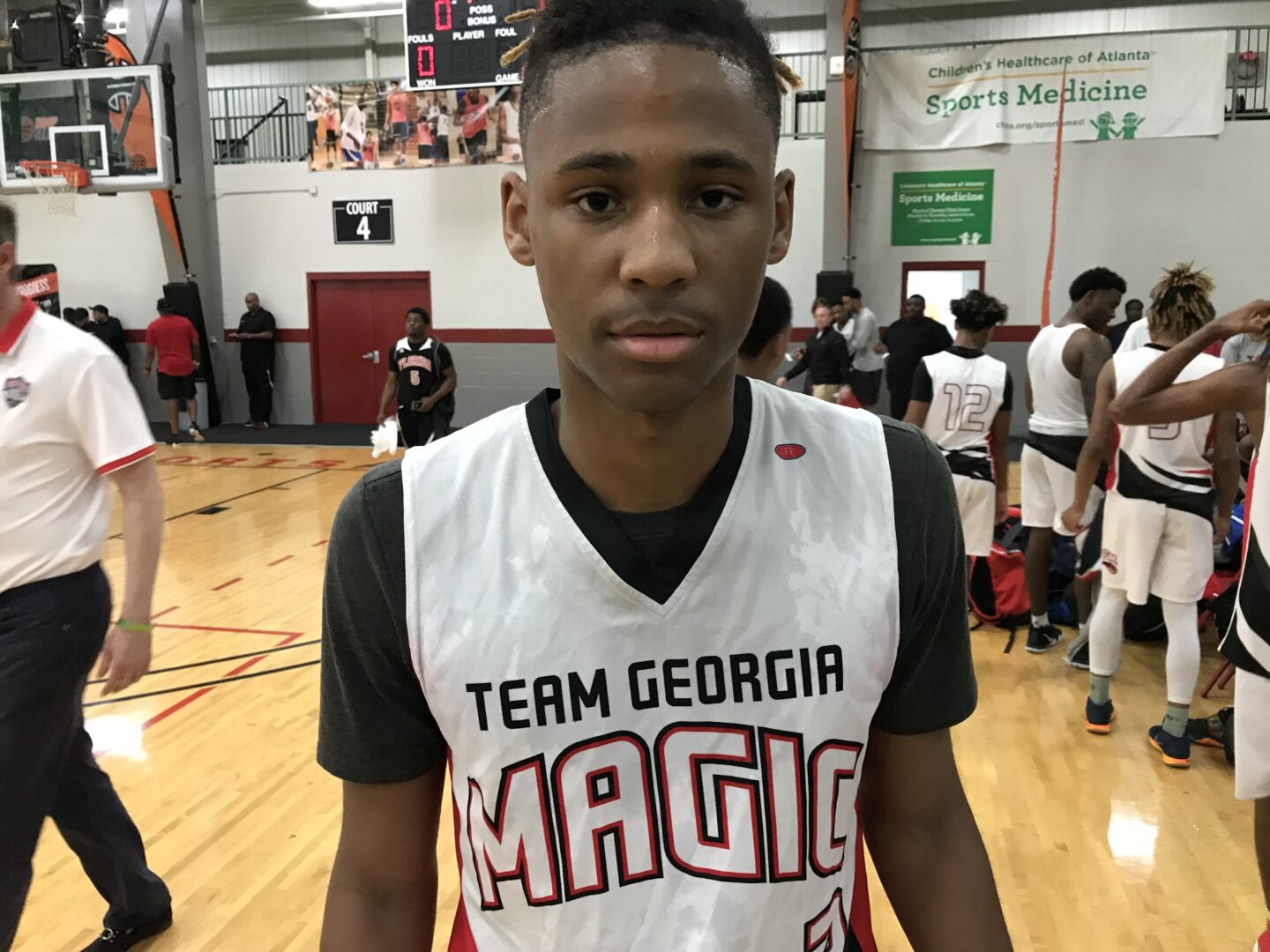 Word on the street this spring has been about the emergence of 17U Team Georgia Magic 2019 6-foot-5 CG Devin Butts. I got my first look at him since last summer and boy did he not disappoint. The Stratford Academy guard buried seven three-pointers en route to a smooth 27 points, tickling the bottom of the net with misses few and far between. Colleges like knock down shooters. Knock down shooters with size and handles? That's something schools love. Butts showed the ability to drive and convert tough finishes, proving he's more than just a one-trick pony. Heading into a 2018-19 season with many unknowns as to who will assert themselves among the state's best, Butts has an early claim to being in the discussion of becoming one of Georgia's elite 2019 players.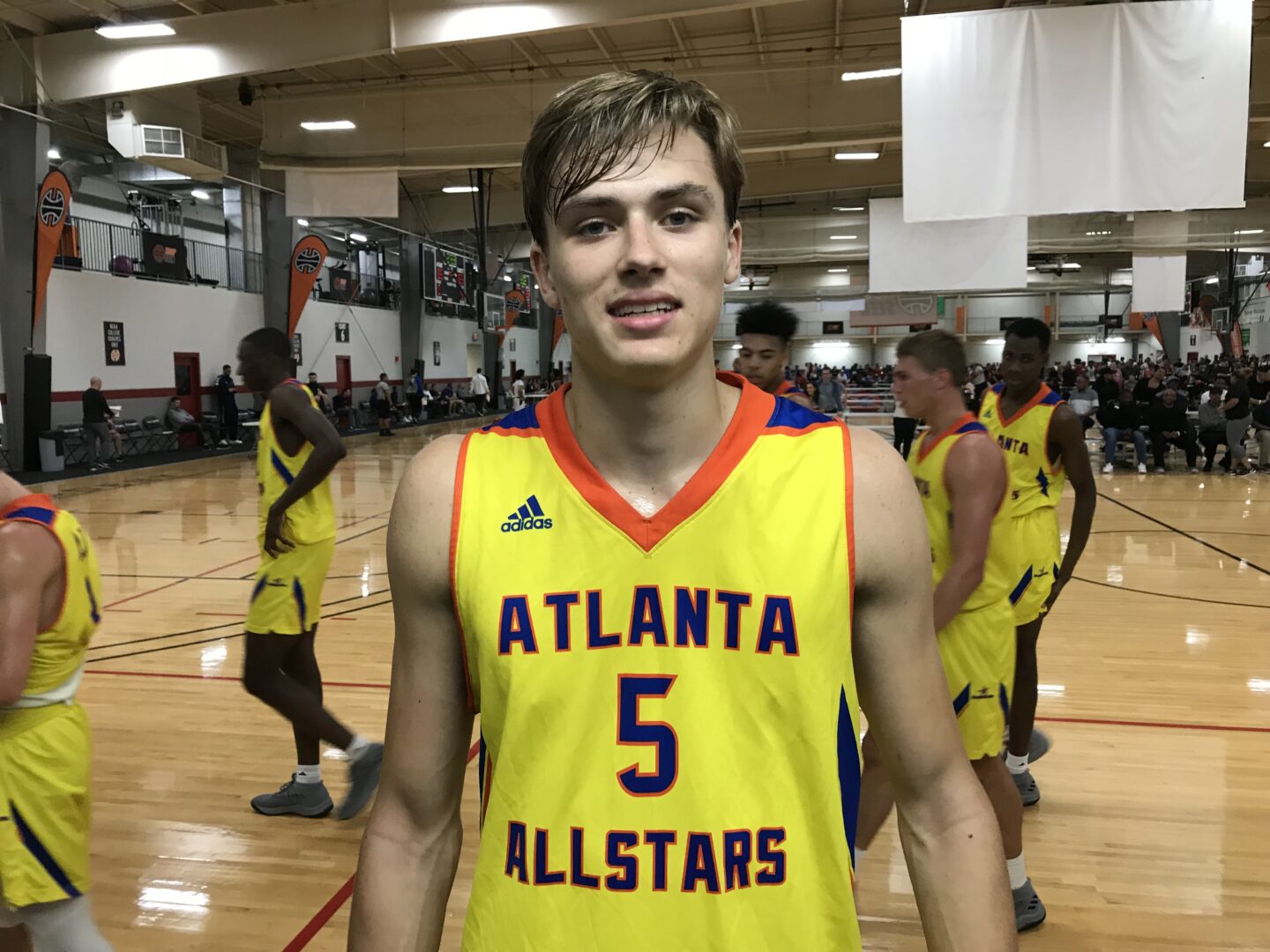 2019 6-foot-8 C Brady Spence (Alexander) controlled the paint for 17U Atlanta All-Stars. I have tracked the growth of Spence from his freshman year to now likely his final season of travel basketball, and the thought process of "big men develop later" has never been truer. Spence was a gangly youngster still filling into his body when I first saw him. He learned how to alter shots around the rim without fouling as a sophomore, but his hands still weren't where they needed to be. His junior season he needed to get stronger, but the production was starting to become apparent and hard to deny. Fast forward to present day, and the pieces are getting closer and closer to assembling a finished product. Spence scored 7 points, grabbed 15 rebounds, handed out 2 assists and blocked 2 shots in a win over the Carolina Wolves. Spence continues to trend in the right direction and is picking up steam with D-I schools. He does a nice job of keeping rebounds high and with more time in the weight room, his rebounding and defensive dominance at the high school level will convert more easily to the college ranks. Spence can score around the rim with some spins to the baseline and some drop steps, but he is still more of a defensive anchor than a back-to-the-basket go-to-guy on offense. Playing against elite competition week-in and week-out, Spence should have major momentum heading into his senior season.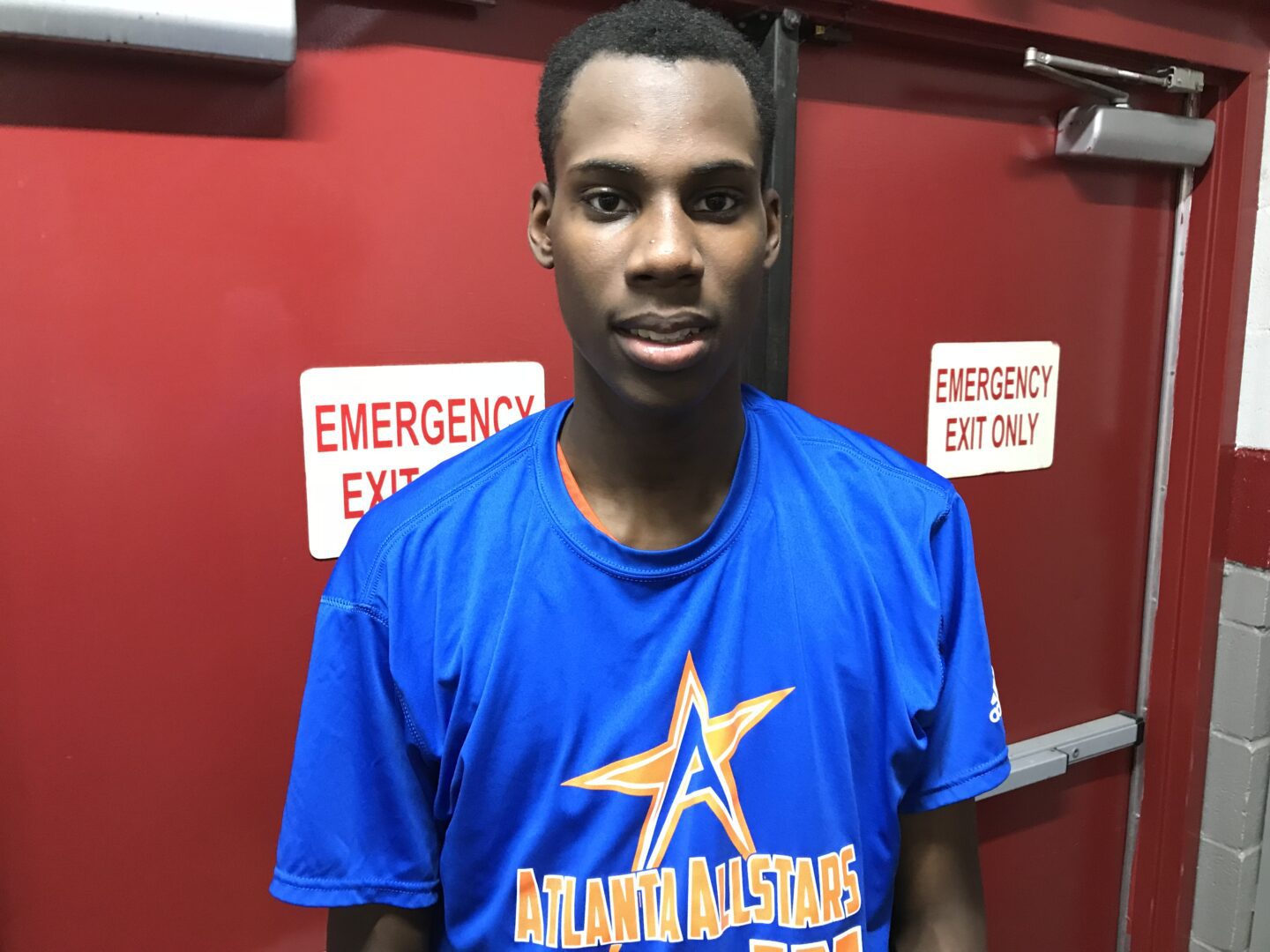 17U Atlanta All-Stars always have bevy of high academic D-I/D-II recruits with a few late blooming sleepers along the way. This year's "who's that?" guy looks to be 2019 6-foot-6 F Jayvion Rucker. Out of East Hall, Rucker is a name that the entire state will have to be cognizant of come Fall. All arms and legs, "lanky" probably doesn't do Rucker justice. He can cover ground like a gazelle offensively and defensively. He had 9 points, 4 rebounds and 2 blocks in a win. He drilled three corner threes. With his ability to knock down the open long ball coupled with his length and athleticism, Rucker looks like a stretch-four. If he improves his ball-handling and playmaking, he could provide quality minutes at the three as well. His progress will be interesting to track as he heads back into the high school season with plenty of experience under his belt.
2019 6-foot-8 F Sammy Mike (Northside-Warner Robins) played well for 17U AC Georgia. Mike was a name we heard about a few years ago, but never really saw him blossom into a big-time high school player. It's now or never heading into his senior season and he took a big step on Saturday in becoming a name that sticks. The svelte stretch-big collected 14 points, 8 rebounds, 1 steal and 2 blocks against the Tennessee Bobcats. Mike knocked down two 15-footers and drilled a three. He is very mobile and moves well, even putting the ball on the deck. There is a lot to be intrigued about with his skill set, now it's up to him to bring it all to fruition.
Bucket Getters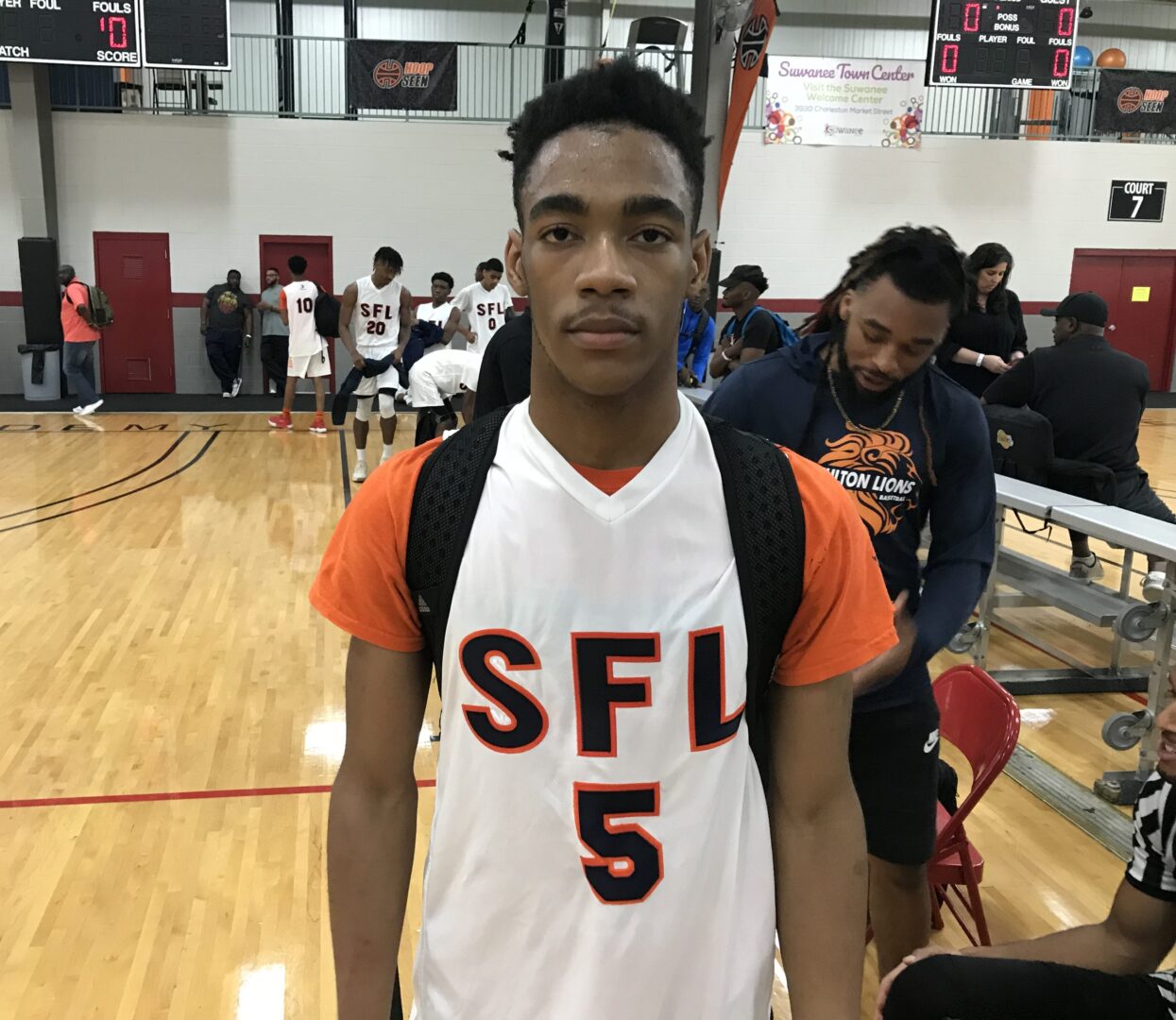 Two human microwaves did what they do best on Saturday: score. In Class 6A, two 2019 guards are instant offense in 6-foot-2 Kalen Williams (Lakeside-Evans) and 6-foot Da'Marcus Johnson (Tri-Cities). With 17U Team Power, Williams dumped in 17 points, 3 rebounds, 7 assists, 1 steal and 1 block. Williams has grown his game each year since first bursting onto the scene with the Georgia Bulls. He has a knack for scoring the ball and a mean-streak on the floor. He has a little bit of a funky release, but Williams can burn you from deep. He is continuing to improve as a passer and someone who makes his teammates better. He has some deceptive bounce that helps him play above the rim and earn some chase down blocks. At Lakeside-Evans, Williams averaged 22.8 points, 6 rebounds and 3.8 assists.
Johnson is a pure shooter that can get in the lane as well. He provides strong on-ball defense, bringing effort on both sides of the floor. Johnson finished with 19 points (3 threes), 5 rebounds, 4 assists and 5 steals for 17U South Fulton Lions. The lefty has played against the best of the best at Tri-Cities and averaged 15 points, 4.2 rebounds, 4.3 assists and 2.5 steals.  It will be interesting to see how he plays now that Eli Lawrence has graduated. He will now garner the lion's share of the attention that defenses throw at the Bulldogs.