No. 13 Miller Grove (30-2) vs. No. 5 Findlay Prep, NV (28-1)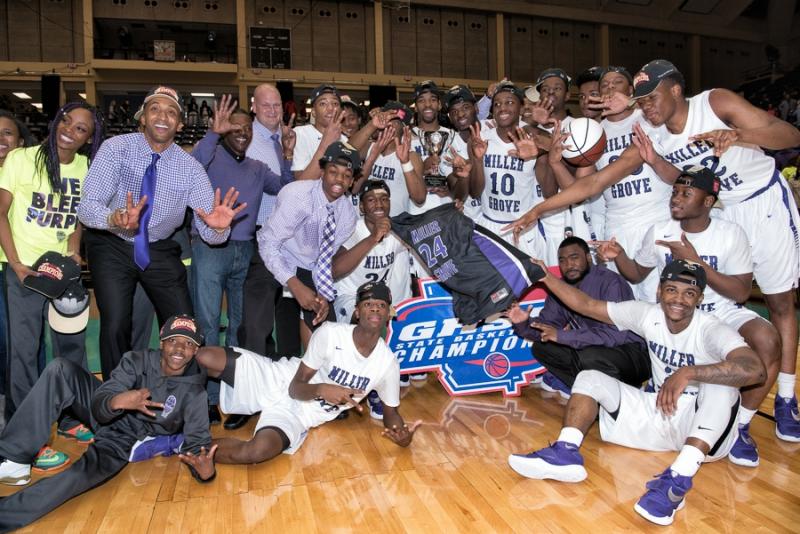 Since Wheeler protested and broke the evil spell cast over high school basketball by the GHSA last year which prevented teams from playing in national tournaments at the conclusion of their GHSA sanctioned season, Class AAAAA state champion Miller Grove becomes the second Peach State team ever to play for the mythical national title.1 The Wolverines are no stranger to the big stage, winning seven state championships in the past eight years and becoming a staple on the national circuit. Miller Grove went 4-2 against out-of-state competition, their only losses coming to No. 7 Chaminade, Mo. 86-77 and Lone Peak, Ut. 73-71, both teams headlined by McDonald's All-Americans and Duke signees Jayson Tatum and Frank Jackson, respectively.
The Wolverines have an ace up their sleeve as they meet Findlay Prep, the three-time DICK's National Champion hailing from Nevada. Alterique Gilbert keys the Miller Grove attack. The UConn signee racked up the awards this year being named Mr. Basketball and Gatorade Player of the Year for the state of Georgia while garnering a Sandy's Spiel First-Team All-State selection. Gilbert was a stat-sheet stuffer averaging 20.4 points, 5.6 rebounds, 5.9 assists and 4.1 steals his senior season. Findlay Prep Head Coach Andy Johnson is well aware of Gilbert's explosiveness and will counter with a slew of D-I guards that will try to slow down the Wolverines' catalyst. Skylar Mays (4-star LSU) and Carlos Johnson (2-star UNLV) will try to use their size against Gilbert if they get matched up. Gilbert stands 5-11 while Mays and Johnson are a pair of physical 6-4 guards.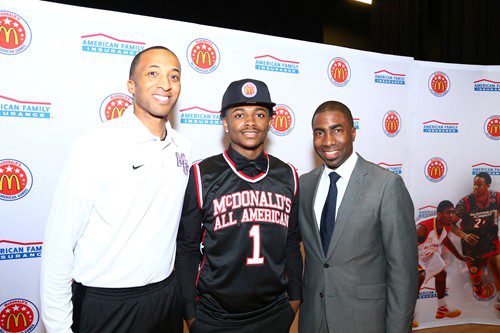 Luckily for Miller Grove, they are more than just a one man team. Aaron Augustin averaged 9.9 points and 8.0 assists as the team's lead guard when the ball wasn't in Gilbert's hands. The ETSU de-commit is still deciding on where he will play next year. Augustin's strong build allows him to rush past defenders and make plays in the lane whether he is kicking out to the corners to deadly shooters Tae Hardy and Colin Young, or finishing at the rim. Everyone Coach Sharman White puts on the floor can spread out the defense and cause matchup problems for the bigger Pilots.
Findlay Prep will have just that however: a massive size advantage. In the state championship Allatoona exploited its size inside with Randy Legros, a raw 6-7 big man, who scored eight points in their 50-48 loss. The Pilots' post players and much bigger and much more polished with six players standing over 6-7. Tristan Clark (4-star Baylor), PJ Washington (5-star) and O'Shae Brissett (4-star) lead the charge for the basketball power plant.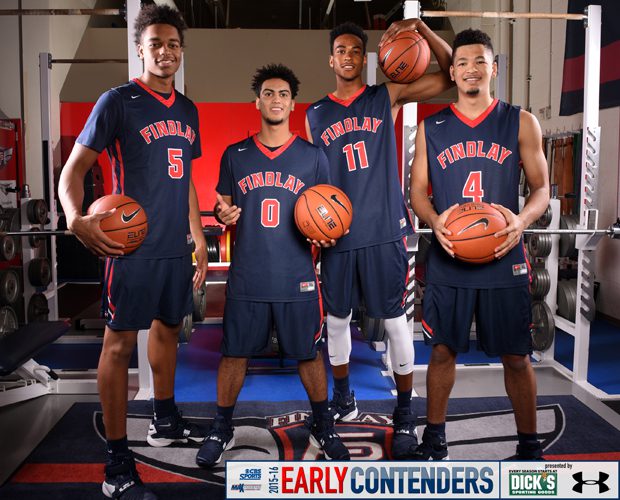 Washington, a junior, averages 16.9 points, 9.1 rebounds and 4.1 assists. Both Brissett and Clark average close to 10 points while it is point guard Markus Howard (4-star) who leads the team in scoring at 18.6 per. Findlay averages 99.9 points per game, but the competition does have the right to be put into question playing "Academies" such as Planet Athlete, Impact and Elite One, teams the Pilots beat up on a combined 12 times according to MaxPreps, winning by an average of 56.5 points. Findlay's lone loss came to Bishop Gorman, Nv. 77-71, a team that GHSA Class AAAA runner up Jonesboro defeated 65-64 at the MaxPreps Holiday Classic.
On paper it seems like Findlay Prep is the heavy favorite, but if you delve deeper into the numbers Miller Grove has a puncher's chance. UAB football signee 6-6 Raylon Richardson must play better than he did against Allatoona (5 points, 3 rebounds) and more like he did against Wofford signee Dishon Lowery and Chase Walter of McIntosh when he posted 17 points, 12 rebounds and 3 blocks as an X-factor in Miller Grove's semifinal rout.
The one advantage the Wolverines have that can't be disputed will be on the bench in the form of Coach White. White has coached in the USA Basketball program and is a master in-game decision maker. He will put his pack of Wolverines in the best spot to succeed as they look to make history for the state of Georgia in their march to the DICK's National Championship.

1  MaxPreps Xcellent 25 and USA Today Super 25 [rankings used for tournament] No. 1 Chino Hills & No. 4 St. Anthony, both undefeated, are ineligible to participate in the tournament due to state rules like the GHSA had in place for years.