Alexander
2020 6-1 PG Jaylon Brown: The quick floor general nearly led the Cougars to a come from behind win against Berkmar before falling by two points. Jaylon Brown, known for his playmaking, showed leadership and a scoring touch in his 11-point, 4-rebound, 3-assist performance. Brown is a trusty high school guard that plays fast. Schools looking for a true point guard need to monitor Brown's final season. If he can score the ball consistently his senior season, his stock will continue to rise.
2020 6-8 PF Bryce Robinson: After seeing his role grow over three seasons, learning behind The Citadel's Brady Spence, Bryce Robinson is now fully ready to be Alexander's bell cow big man. Robinson might not be quite as long as Spence was but he's got a solid body and a fundamental skillset behind it.  Robinson had 8 points, 8 rebounds, 1 assist, 1 steal and 4 blocks against Berkmar.  The big red head has a nice back-to-the-basket repertoire highlighted by a baby hook. Robinson battled Berkmar's bigs exceptionally well, rebounding the ball with both hands in traffic. Robinson should follow in Spence's foot steps and garner some D-I looks.
Berkmar
2022 6-9 F Malique Ewin: Berkmar hit the transfer market hard this offseason and scored a true gem in Malique Ewin. The Rockdale-native had 9 points, 5 rebounds, 2 steals and 4 blocks in a 37-35 win over Alexander. Ewin is a load inside at 238 pounds, but the skilled big handles like a guard. He moves great in transition and can catch and finish on the run. On the low block, he has good footwork and doesn't get rushed. Ewin has a soft touch that extends to the three-point line as well. Big men usually take some time to develop but Ewin is the complete package already. Depending on how he fits into Berkmar's style of play, Ewin could end up being the cornerstone to the Patriots' success. I need to see more of him but in his limited sample size, Ewin looks like a High Major forward with a skyscraper's ceiling. I'd be shocked if he isn't in the discussion for being the top player in Georgia's 2022 class three years from now.
Buford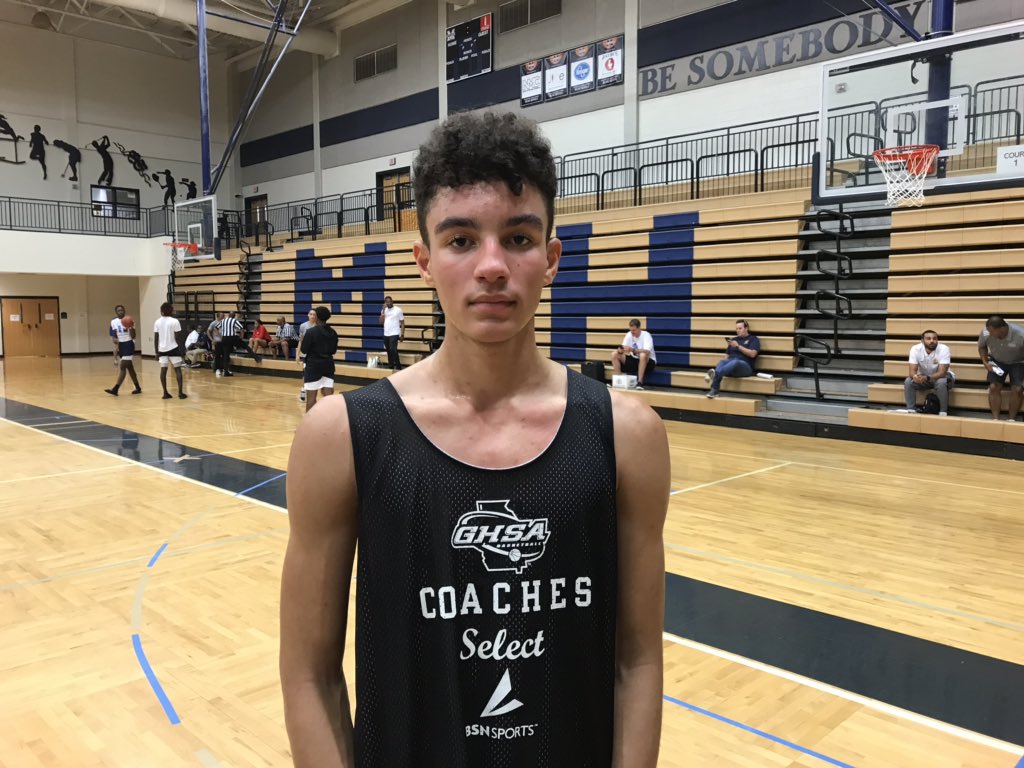 2022 6-6 W Jaylon Taylor: The young long-armed wing made a good first impression in a win over St. Pius X, putting up 12 points, 11 rebounds and 3 blocks. Taylor showed range on him jump shot, hitting two threes while defensively, he guarded multiple positions. With plenty of opportunities now up for the taking at Buford, Taylor is on the right track.
Cherokee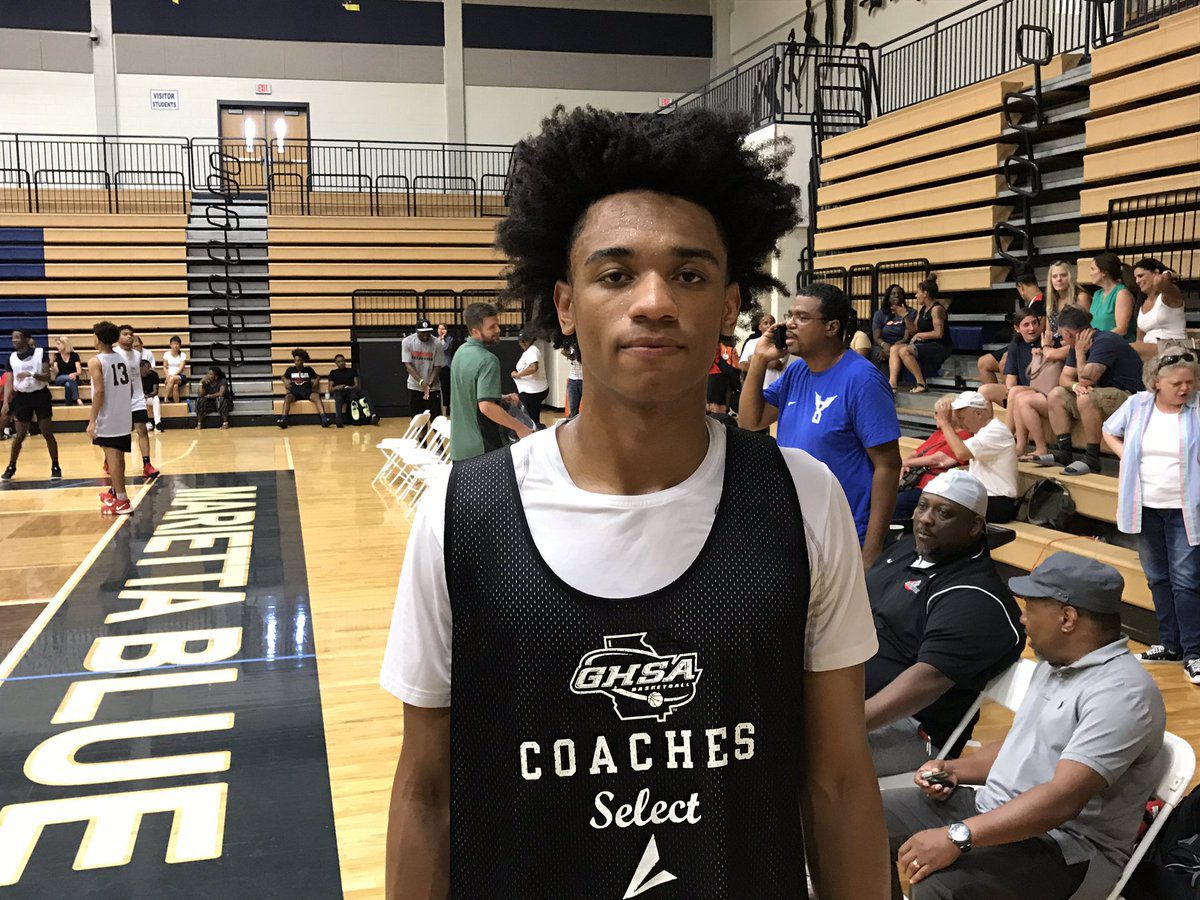 2021 6-5 CG Taihland Owens: Cherokee County's next big thing is starting to round into form. After piling in the points as a sophomore, its now time for the wins to follow. Up against Caleb Byrd of Rome, Owens posted 20 points, 4 rebounds, 2 assists, 2 steals and 1 block in a 54-42 win in convincing fashion. Owens is a talented scorer that gets his points from all three levels. As he continues to grow his point guard skills and stays locked in on defense, more offers will pour in. Owens is a High Major player and one I've had my eye on since eighth grade.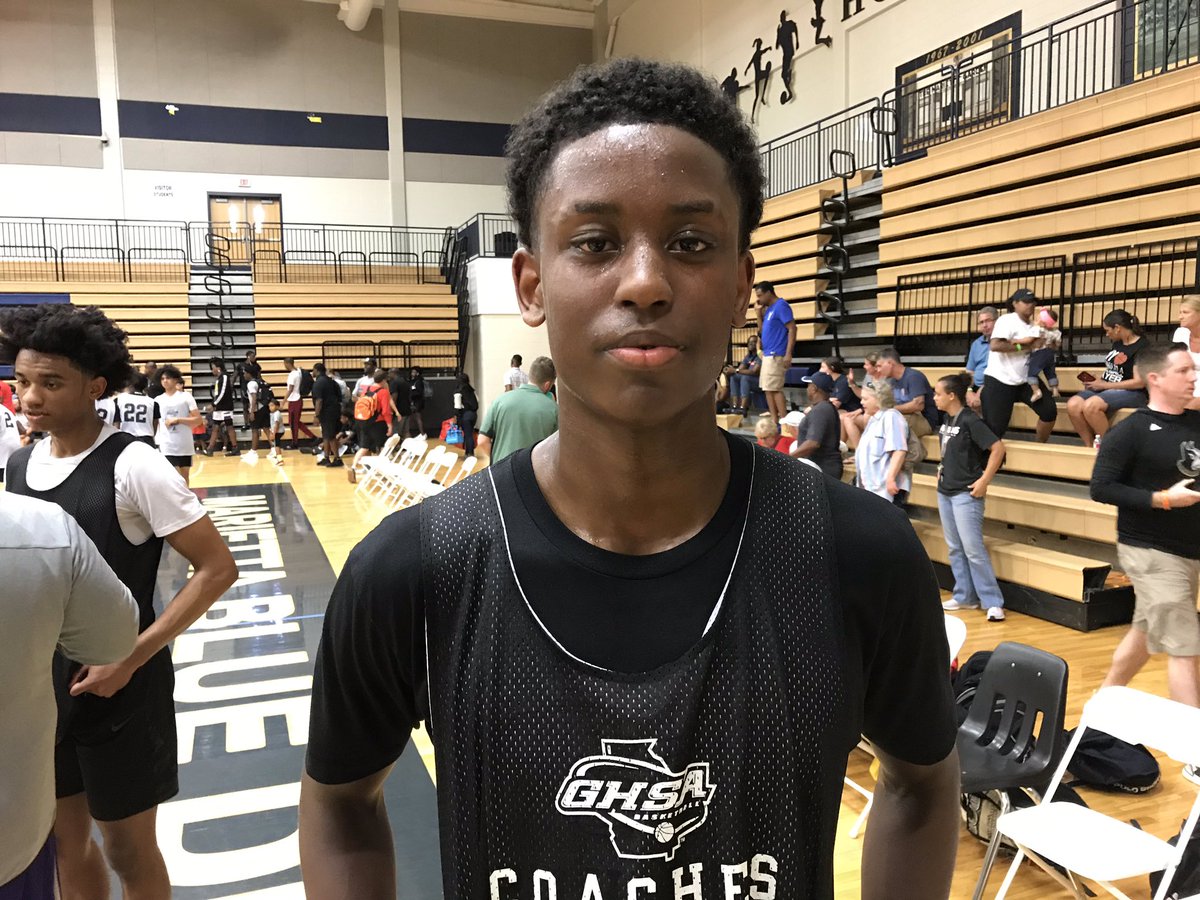 2021 6-7 F Elijah Tucker: I will admit that Elijah Tucker did not make a great first impression last season in the only game I watched him: 4 points, 3 rebounds and 2 assists in a loss to Drew Charter, but the emerging combo forward has been making strides with his game ever since. Instead of floating away to the perimeter like he did in my first evaluation, Tucker was active and got his work done around the basket on Sunday. He had 18 points, 10 rebounds and 1 assist, never relenting on the glass and forcing defenders to hack away at him. He went 12-of-15 from the foul line. Tucker is still just scratching the surface of what he can become but with great blood lines (son of former Tennessee post player LaShonda Stephens Tucker), colleges have taken notice of his upside. St. Johns, Iowa, Northwestern and Middle Tennessee State all offered after camp.
Cherokee Bluff
2021 6-7 F Corey Thomas: The younger brother of former WNBA player Christi Thomas, Corey has some untapped potential that might come to fruition soon. He had 10 points and 8 rebounds in a loss to Evans. Thomas' skills are still developing as he had some raw moments on the floor. Defensively he needs to wall up better and not get tempted to swat down at any shots. Offensively, he is still putting together go-to moves and an identity. Check back on him this time next year to see his progress.
Creekview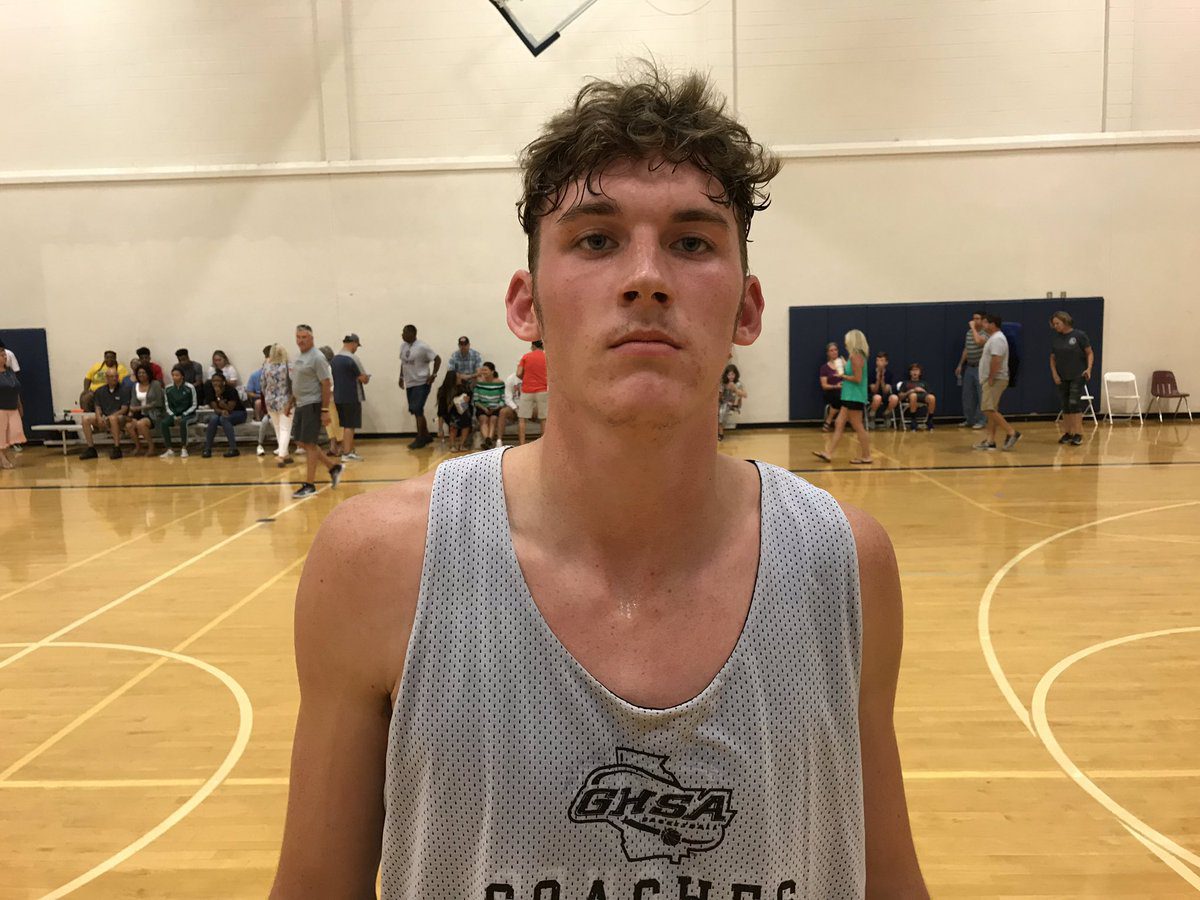 2020 6-6 F Spencer McDonald: Watching Spencer McDonald for the first time in years left me extremely impressed. Possessing a strong rugged frame, McDonald assaulted Lithia Springs' frontline with 18 points and 6 rebounds. McDonald was aggressive, scoring with his back to the basket and when facing up from 15-feet out. He had nice footwork out of both areas and finished above the rim a handful of times. If McDonald can consistently play like he did on Sunday, he should be a late blooming option for small colleges.
Denmark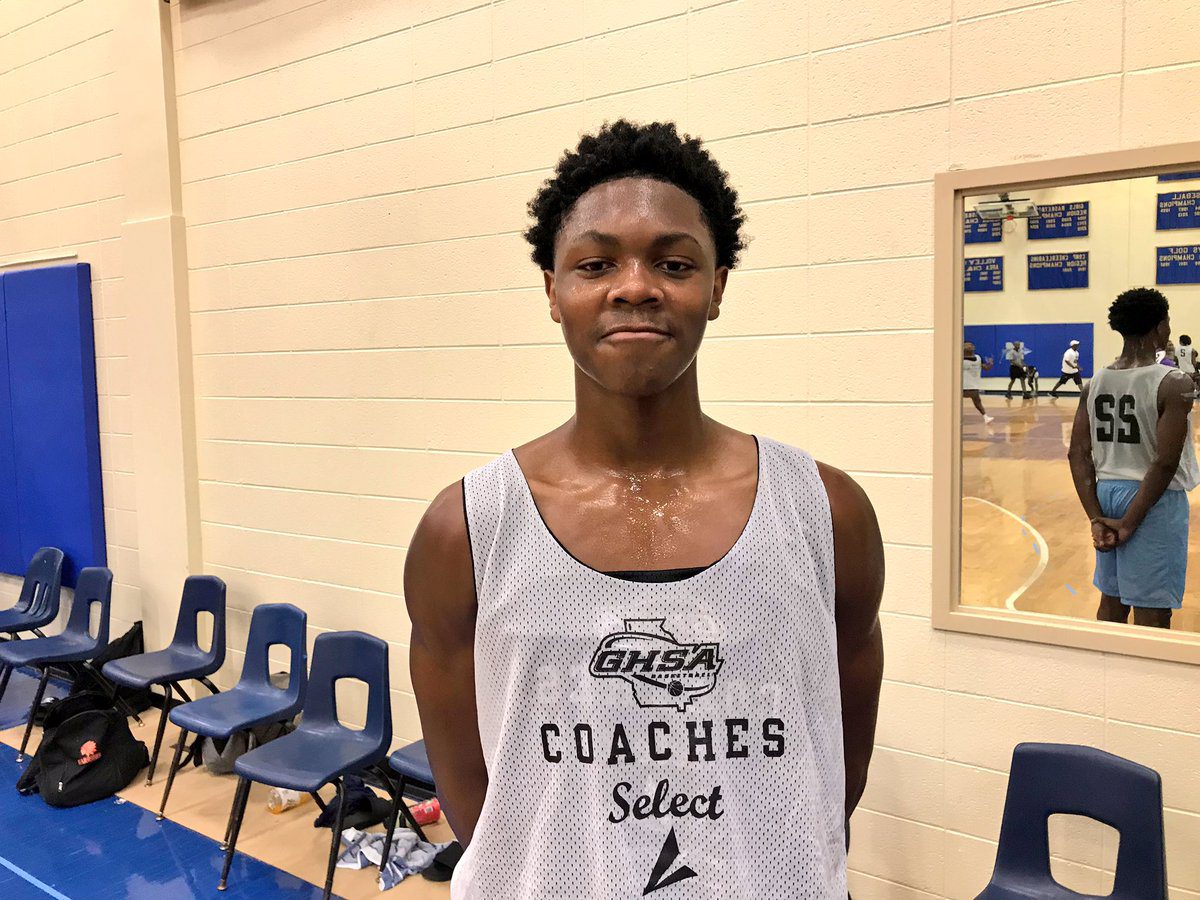 2020 6-6 PF Adonnis Tolbert: Coaches were buzzing about Tolbert's performance against Hart County. A standout football player as well, the chiseled 205-pound wide receiver played above the rim like he does every game. Tolbert is one of Georgia's most explosively powerful players, a true rim-rocker that rattles the backboard. He posterized one defender with a breathtaking jam. Tolbert is more than just an athlete however. He's got a nice jumper out to 15-feet and elevates over defenders inside for turnaround jumpers and hooks in the lane. He had 14 points, 7 rebounds, 2 assists, 1 steal and 2 blocks.
Douglas County
2021 6-3 CG Omari Fonteno: I liked Fonteno's mindset and aggressiveness in Douglas County's 50-49 OT win over Lithonia. The active guard scored the ball in a variety of ways including hitting two threes. Fonteno's energy extended to the hustle stats as well, posting 10 rebounds to go along with his 2 assists.
Evans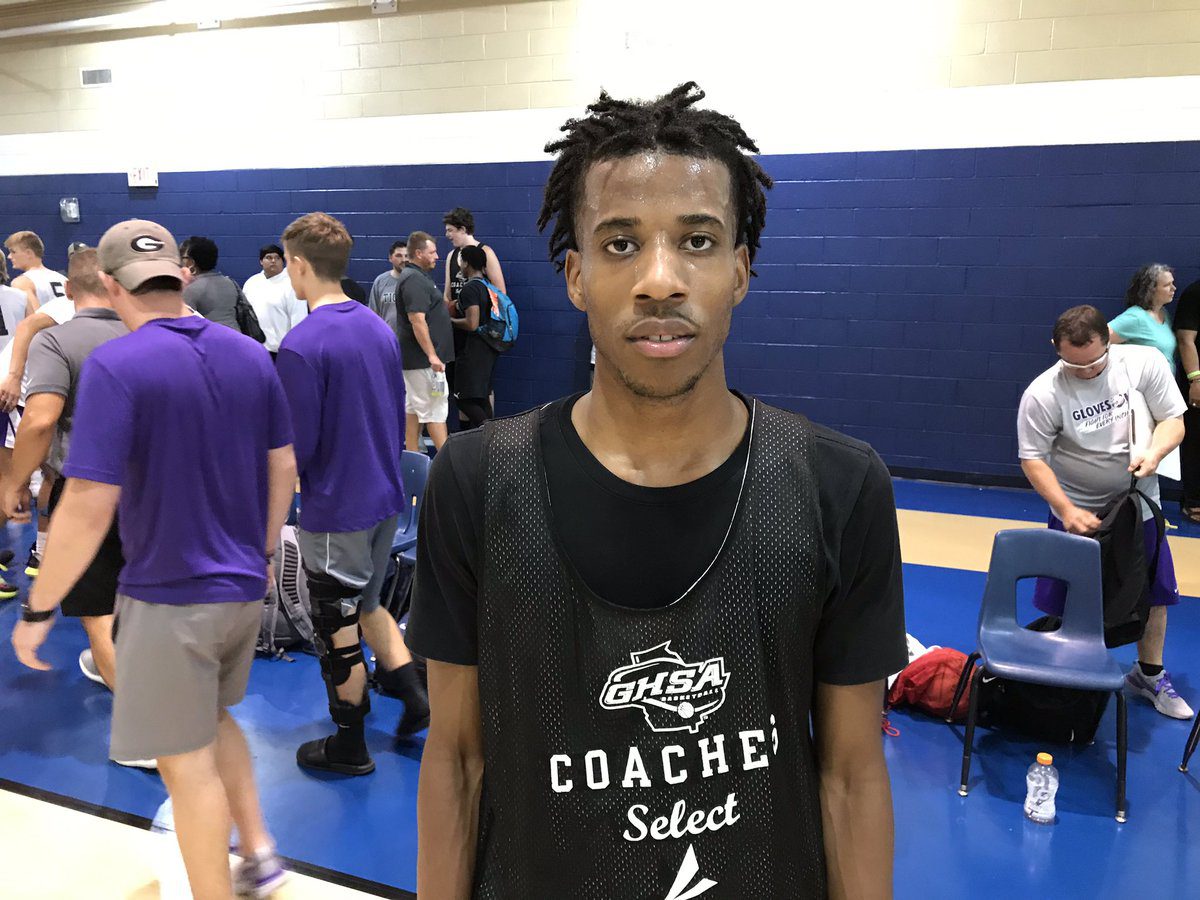 2020 6-2 G Christian Chambers: Out of the Augusta area, Christian Chambers is one of the better guards in the state of Georgia that doesn't get as much attention statewide as he probably deserves.  The southpaw can score the ball at all three levels and has nice length on the perimeter. He had 18 points, 2 rebounds and 1 steal in a 45-43 win over Cherokee Bluff. Chambers loves getting to his left hand but needs to get a little more confidence in his right to fully round out his offensive attack. Chambers at the very least should be on D-II radars and with a strong senior season could see some Low Major D-I schools offer.
Fayette County
2020 6-1 G JeKobe Coleman: Widely regarded as one of the best shooters in the state of Georgia, Coleman did not disappoint against Holy Innocents', dropping in four threes en route to 16 points, 3 rebounds, 2 assists and 1 steal. Coleman is a bit undersized for the shooting guard position at the next level and currently does much of his damage off the ball. Improving his point guard skills will help him prepare for college.
Greenforest
2020 6-11 F Christian Fussell: After an unstable first few seasons of transferring around the state, Christian Fussell has found stability and success at Greenforest as he has come into his own. Fussell has been one of the hottest big men prospects in the Southeast, picking up offers at a rapid rate due to his ability to shoot the ball. Fussell had 9 points, 10 rebounds, 2 assists, 1 steal and 1 block in a win over Woodville-Tompkins. He has toughened up his game over the past three seasons and rebounded well at camp. Playing at Greenforest he seems more comfortable being able to spend time on the perimeter instead of solely playing inside. With other 7-footers now in the mix, Fussell has the chance to showcase his soft touch throughout his senior season. He is the definition of a stretch big.
2021 5-11 PG Kedrick Green: One of the state's best table setters, Kedrick Green will have to do a lot for Greenforest after moving in from Meadowcreek. The Eagles run out a line up of three forwards 6-foot-8 or bigger and 6-foot-6 Lamar Oden on the wing. While Oden can handle some of the ball handling and playmaking abilities from time to time, it is Green's responsibility for the full 32 to make sure everyone is where they need to be. He has to put Greenforest's bigs in position to do the most damage possible, making his ability to spoon feed them for assists a key to their success. Green had 2 points, 5 rebounds and 5 assists against Woodville-Tompkins. He is never asked to score much but can tack on some points when needed. Greenforest has the biggest front court in the state and possibly the nation, but one of the smallest backcourts with Khi Cook and Juwell Wilson both well under 6-feet. If Green's passing wasn't already highlighted during his time at Meadowcreek, it will surely draw praise this year as Green quite possibly may be the most important piece to the Greenforest puzzle.
Hart County
2022 6-3 W JC Curry: With three key cogs out of the lineup, JC Curry had to step up. The frizzy-haired swingman buried three threes and completed an alley-oop layup before slamming his head in the second half. When Curry plays with confidence, his skill level exudes. He had 11 points.
Holy Innocents'
2021 6-4 G Garrison Powell: Garrison Powell played free and flowing in 4-point loss to Fayette County. He collected 14 points, 9 rebounds, 1 assist and 2 steals. Powell has a smooth game on the perimeter and a confident stroke. His rebounding stood out as an added plus.
2021 5-11 PG Justin Wilson: Justin Wilson has a good feel for the game from the point guard position. He's compactly built and has strength when getting in the paint. He has good court vision and passes the ball well in traffic. He finished with 10 points, 3 rebounds, 2 assists, 4 steals and 1 block against Fayette County. With Chance Moore and Garrison Powell the obvious top two scoring options, Wilson is in a good position to rack up the assists and find his own open looks on ball reversals. I really enjoyed his style of play.
2021 6-4 F Landon Kardian: Rugged, relentless and fearless are three phrases that accurately describe Landon Kardian's mentality on the court. The football wide receiver brings his toughness to a somewhat undersized group that desperately needs someone to play big. Kardian contributed 11 points, 11 rebounds, 3 steals and 1 block. The lefty seeks contact and powers his way through it. His can-do attitude on the floor left a lasting impression.
Jeff Davis
2020 6-6 W Ja'Queze Kirby: If you aren't on the Ja'Queze Kirby bandwagon yet, you better hop on. Kirby had some jaw-dropping moments throughout camp but his drop-step splitting two defenders and finishing with a one-handed jam in traffic was something to behold. Kirby is a High Major recruit and one of Georgia's most complete players. He had 19 points, 7 rebounds, 3 assists, 1 steal and 2 blocks in a loss to West Forsyth, hitting three three-pointers along the way. Kirby is a tremendous playmaker that makes everyone around him so much better. His motor when gassed up is as good as it gets. Mercer and Old Dominion offered after camp but I would be stunned if he doesn't end up at a Power 5 school.
2022 6-0 SG CJ Parker: With college coaches lined up to watch Ja'Queze Kirby, CJ Parker made a nice impression with his shot-making ability. He had 14 points, 5 rebounds and 2 assists. Parker is a sharpshooter with a quick trigger, hitting two threes. Parker showed some toughness when getting to the basket. I've said it once and I'll say it again: Parker has a sneaky good future in Hazlehurst.
Kennesaw Mountain
2020 6-7 F Perry Robinson: Schools looking for a bit of a sleeper with high upside should look no further than Perry Robinson. Robinson is a tweener combo-forward that can provide quality minutes at the wing but also thrive as a stretch-four. Robinson has some fast-twitch fibers that makes him quick and shifty with the ball when getting downhill. He likes to attack the basket but has a quality jump shot as well. He nailed two threes vs. Woodstock in an effort of 17 points, 5 rebounds and 1 steal. I'd like to see more of Robinson. He looks like one of the better forwards in the state of Georgia. Strong D-II programs and Low Majors should put Robinson on their watch list.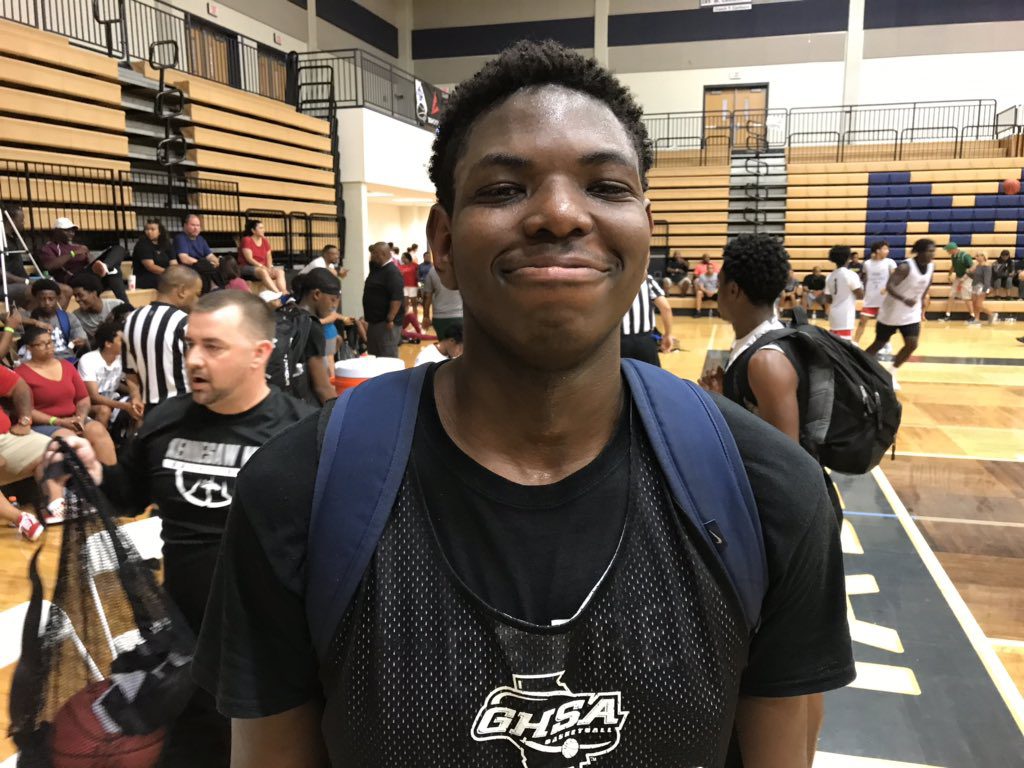 2020 6-8 C Zyon Gaddis: A big space-eater, Gaddis showed a nice touch at camp and a hunger for rebounding the ball. He had 14 points, 14 rebounds and 2 blocks against Woodstock. Not much of an above the rim player, Gaddis used his strong frame to position himself for caroms. He had soft hands around the rim scoring the ball with baby hooks. He can stand to trim up his body some more which will help his athleticism, but Gaddis looks like a useful piece at the collegiate level.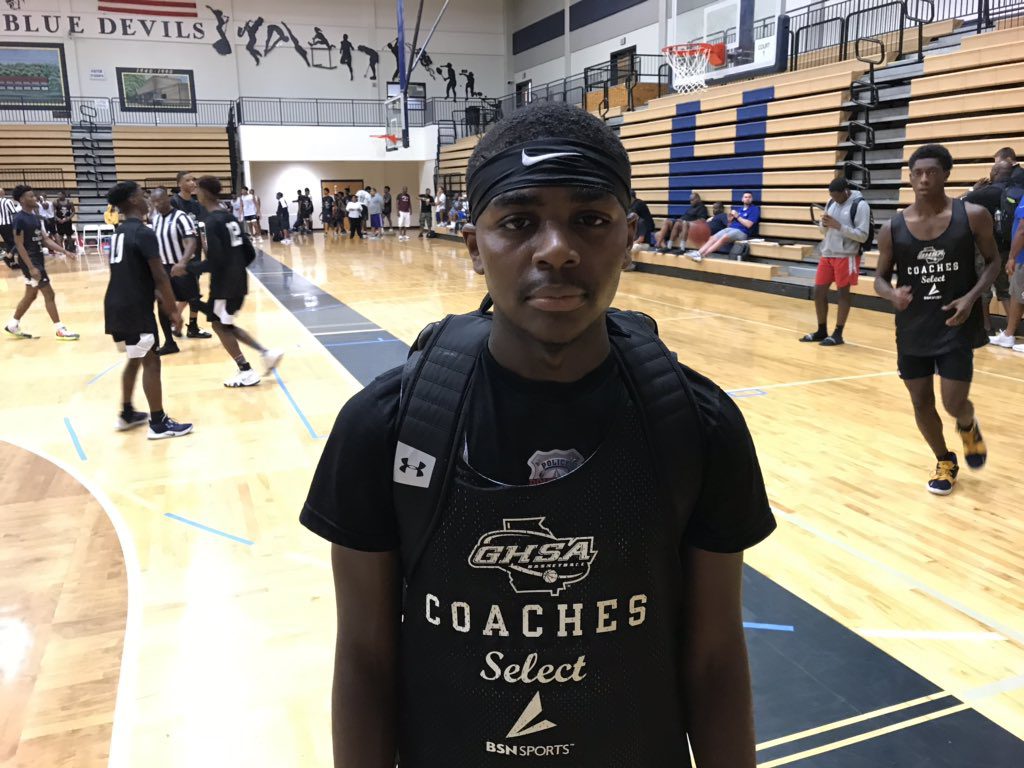 2022 6-0 PG MJ Matthews: Flying under the radar in the 2022 class is MJ Matthews. The tough point guard has a mature feel to his game. He gets two feet in the paint and either finishes strong at the rim or kicks out to open shooters. I liked his court vision and his overall competitiveness. He had 9 points, 9 rebounds, 4 assists and 1 block. He is willing to mix it up on both ends of the floor. Developing a jump shot will be key over the next three seasons.
Langston Hughes
2022 6-4 W Elijah Walden: With PJ Carter struggling with his shot against Tift County, Elijah Walden provided value as a slasher and active rebounder. Blessed with a mature body already close to being college ready, Walden attacked on offense and gave Langston Hughes some much needed aggression on the perimeter. He had 9 points (1 three), 7 rebounds, 1 assist and 2 steals in a 1-point loss. While Kobe Davis has drawn more attention from colleges thus far, I think Walden has a chance to become one of Georgia's better prospects.
Lithia Springs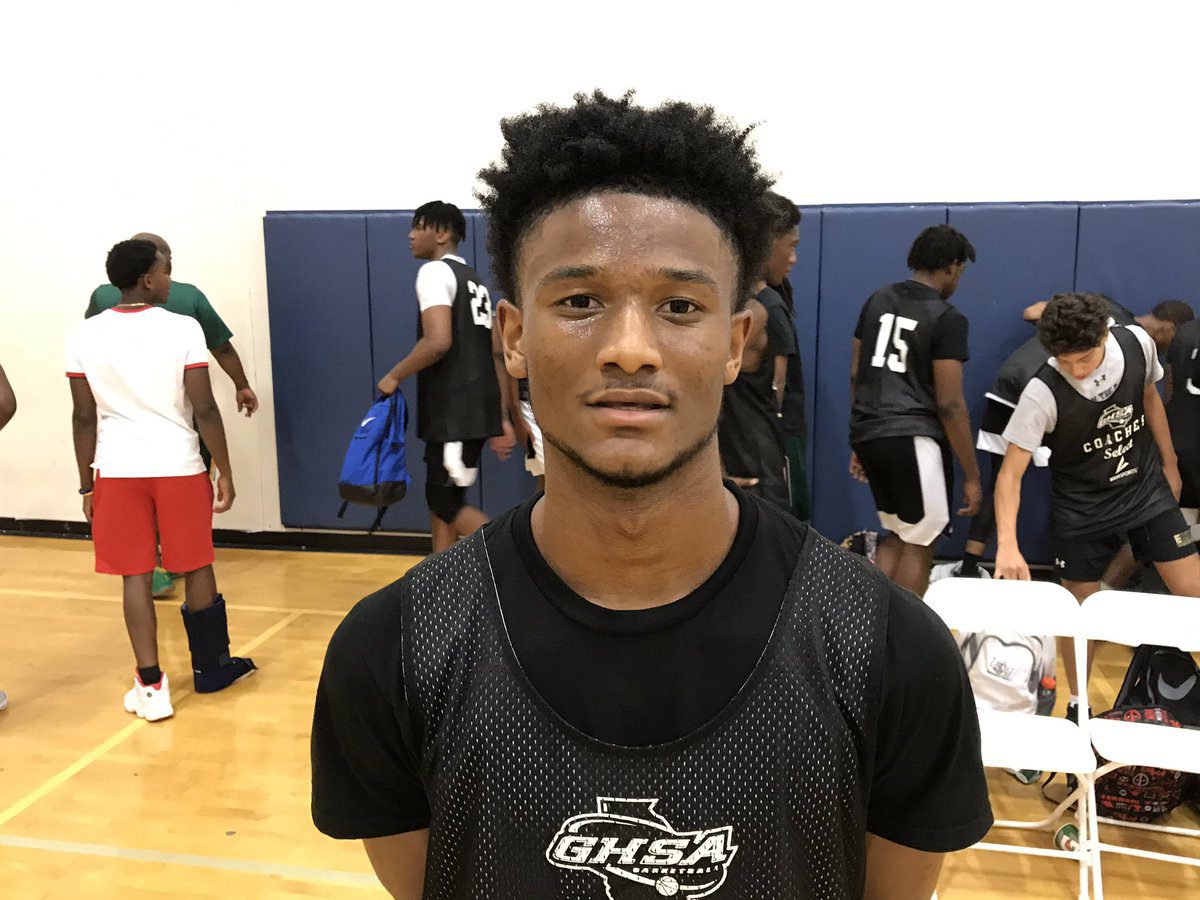 2020 6-1 G Anthony Hardy: The scoring dynamo didn't disappoint against Creekview albeit a slow first half. Hardy ran wild in transition in the second half, scoring 16 of his game-high 20 points to go along with his 7 rebounds, 4 assists and 2 steals. Hardy isn't the best athlete in Georgia, the most physically imposing or the top three-point shooter, but he is a wired-to-score bucket getter, something that can't be overlooked or taught.  He thrived off turnovers and turned his defense into easy offense.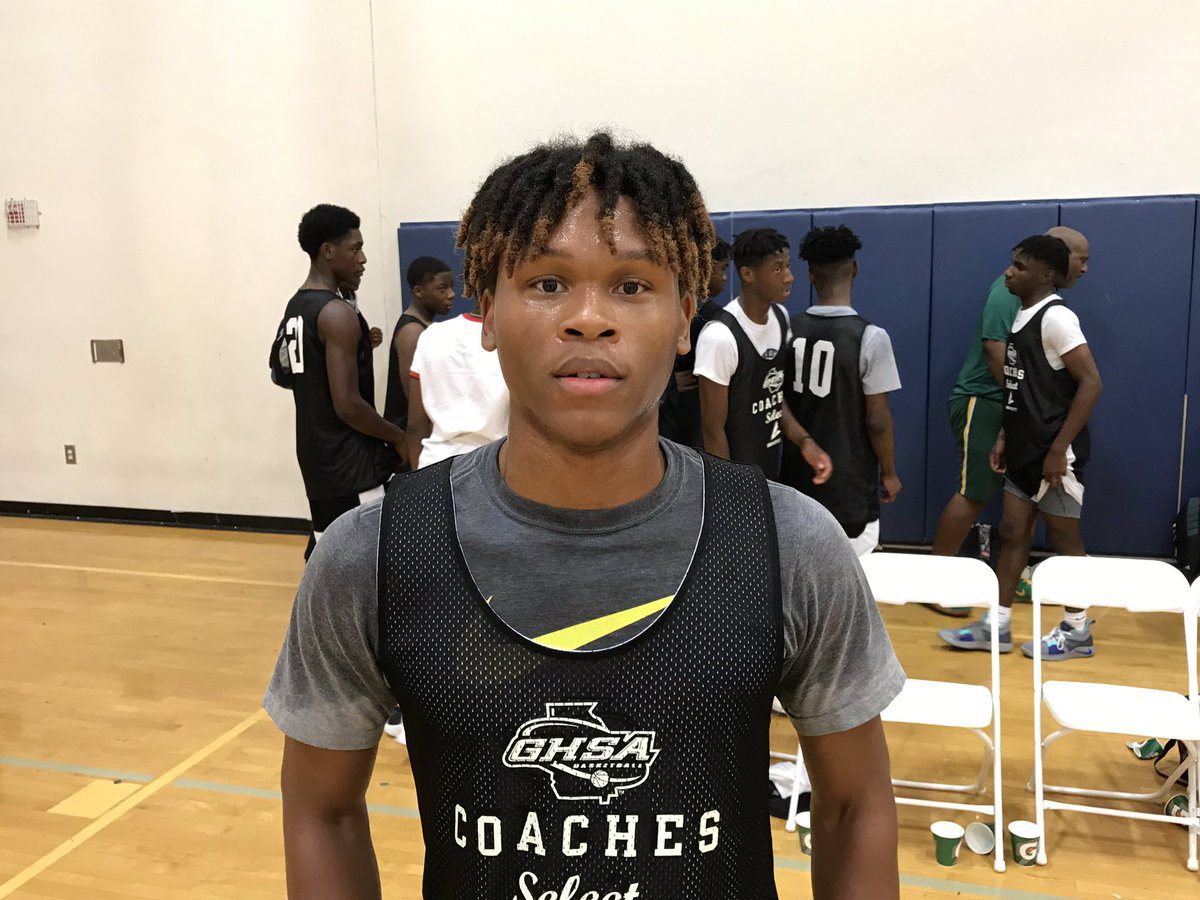 2020 6-1 G Antonio Lewis: While Anthony Hardy got the majority of his points in run outs and hard drives to the basket, Antonio Lewis sniped away from distance, hitting three threes and multiple jumpers en route to 17 points, 6 rebounds, 3 assists and 2 steals. Lewis' ability to stroke the ball gives him value at the next level. He and Hardy make up a great 1-2 punch in West Georgia and a must-see backcourt for colleges looking for scorers.
Lithonia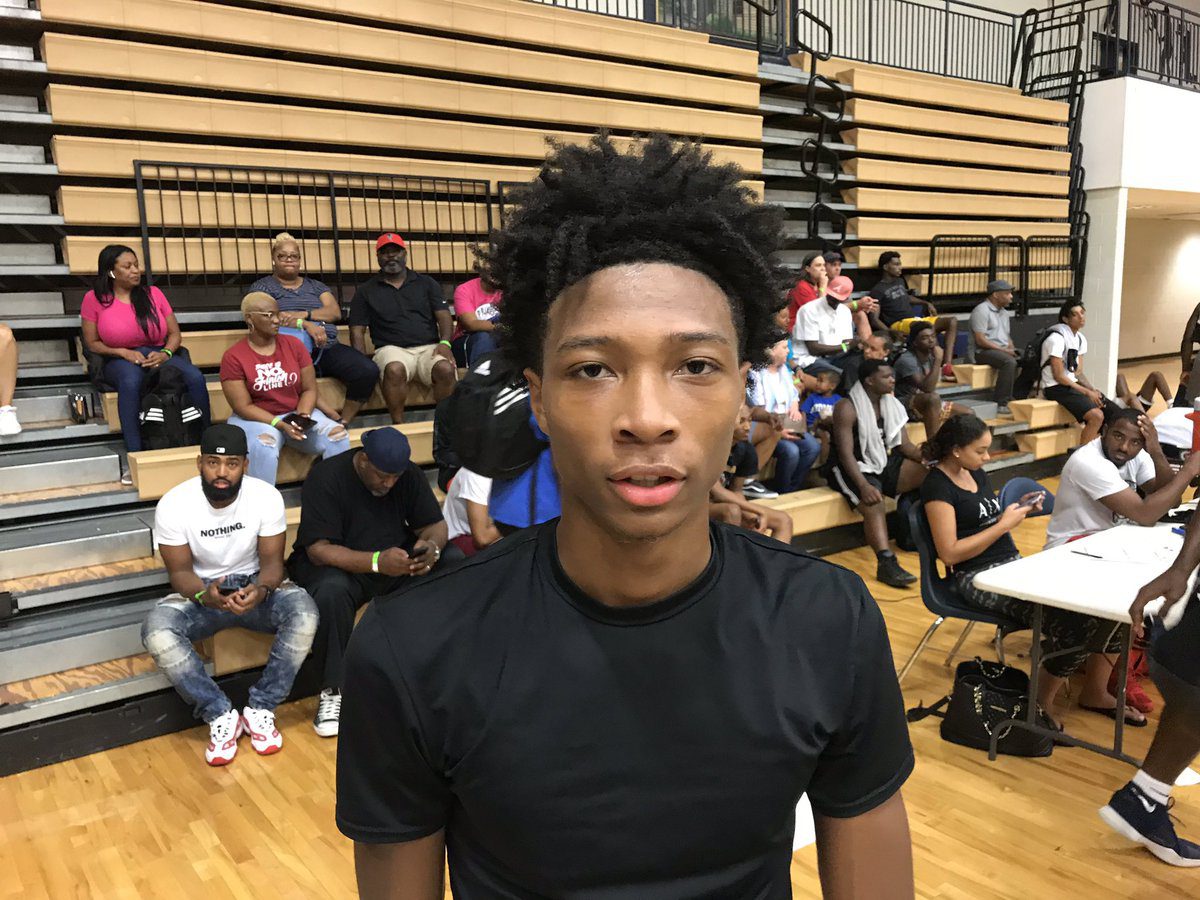 2020 6-2 PG Eric Gaines: The uber-athletic string bean stuffed the stat sheet with 12 points, 6 rebounds, 5 assists, 3 steals and 2 blocks against Douglas County. Gaines plays with panache, a human highlight whether streaking to the rim for an electrifying dunk or dishing off a flashy assist. Gaines hasn't popped with colleges or national recruiting services yet but make no mistake, he is one of the best in Georgia's deep 2020 class at the lead guard position and a valid D-I level prospect.
2020 5-6 PG Javontae Jackson: The Chapel Hill transfer is a speed merchant with the ball. He had 7 points, 2 rebounds, 3 assists and 2 steals. Jackson is a pest on defense, able to get up under ball handlers and apply pressure.
Monroe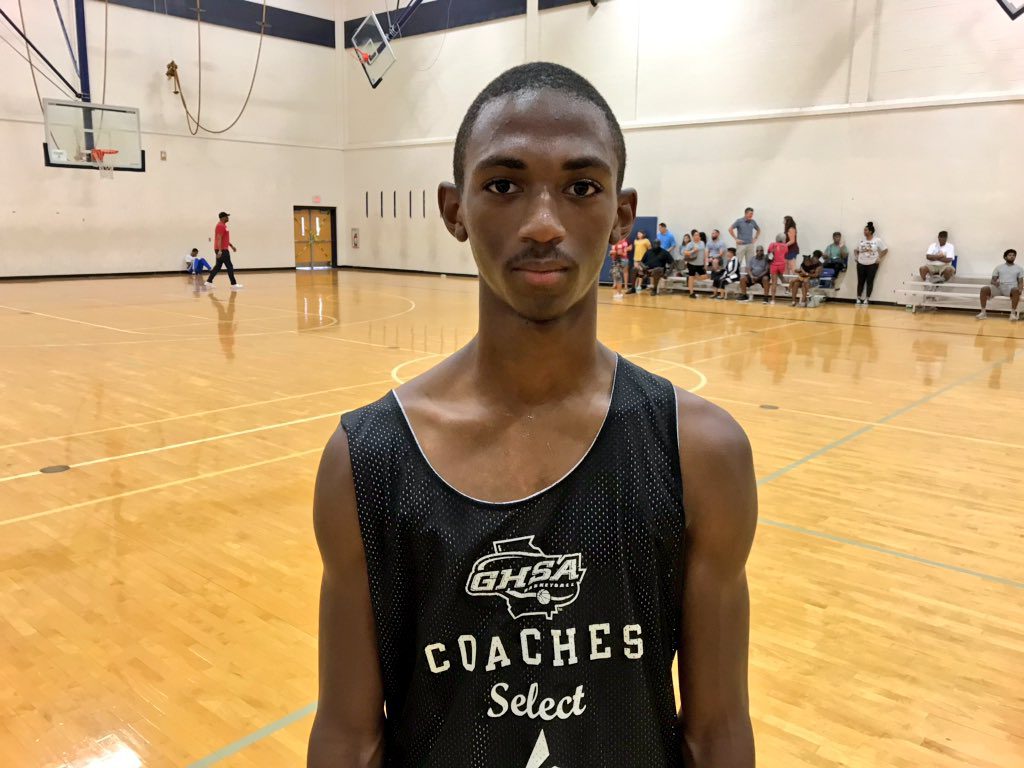 2022 6-2 G Domonik Henderson: The reigning Class 3A Freshman of the Year turned heads at camp. An elite athlete with a motor to boot, Henderson was constantly involved in every play in a 48-32 win over Johnson-Gainesville. Henderson is tenacious on-ball defender with the upside of being truly elite. His hunger to play defense separates him from most players his age. Offensively his three-point shot is still coming along and he's more of a slasher. He had 6 points, 4 rebounds, 1 assist, 3 steals and 1 block. Under the new tutelage of Coach Michael Hoffpauir, Henderson has a chance to turn into something special.
North Clayton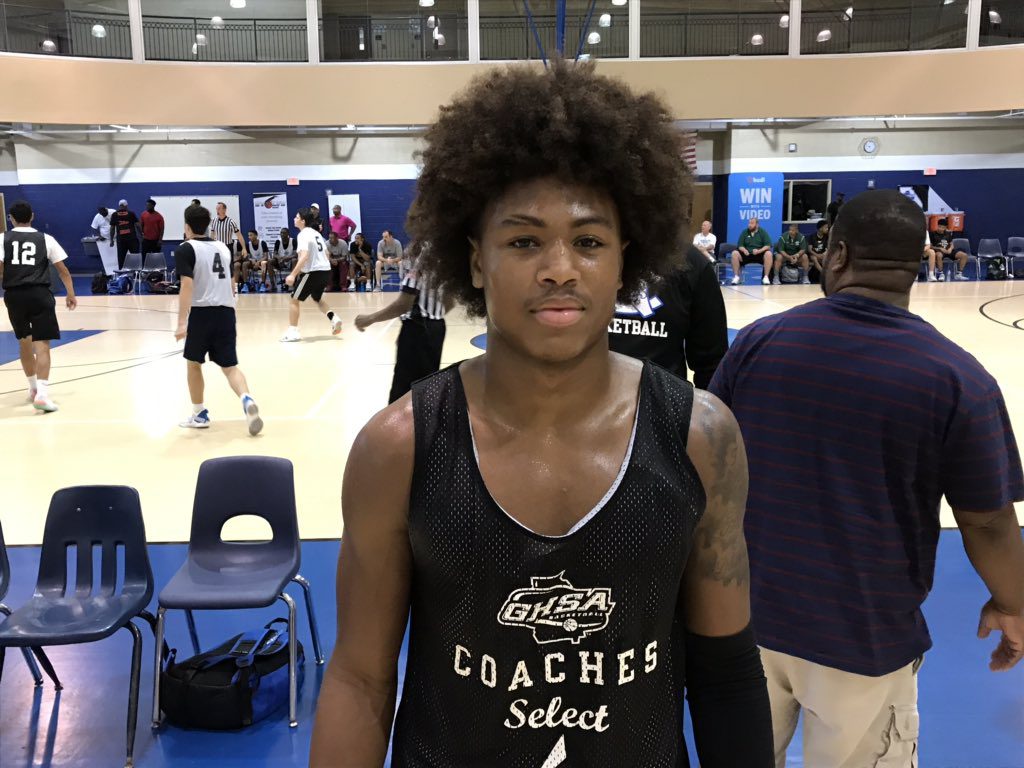 2021 5-11 PG Derrius Martin: 19 points, 6 rebounds, 4 assists and 2 steals against Northeast-Macon, Derrius Martin continued with his strong summer impressing me yet again. Martin is tough with the ball and makes good reads. He's got a knack for getting into the paint and finishing through contact. Martin is quickly becoming a favorite of mine.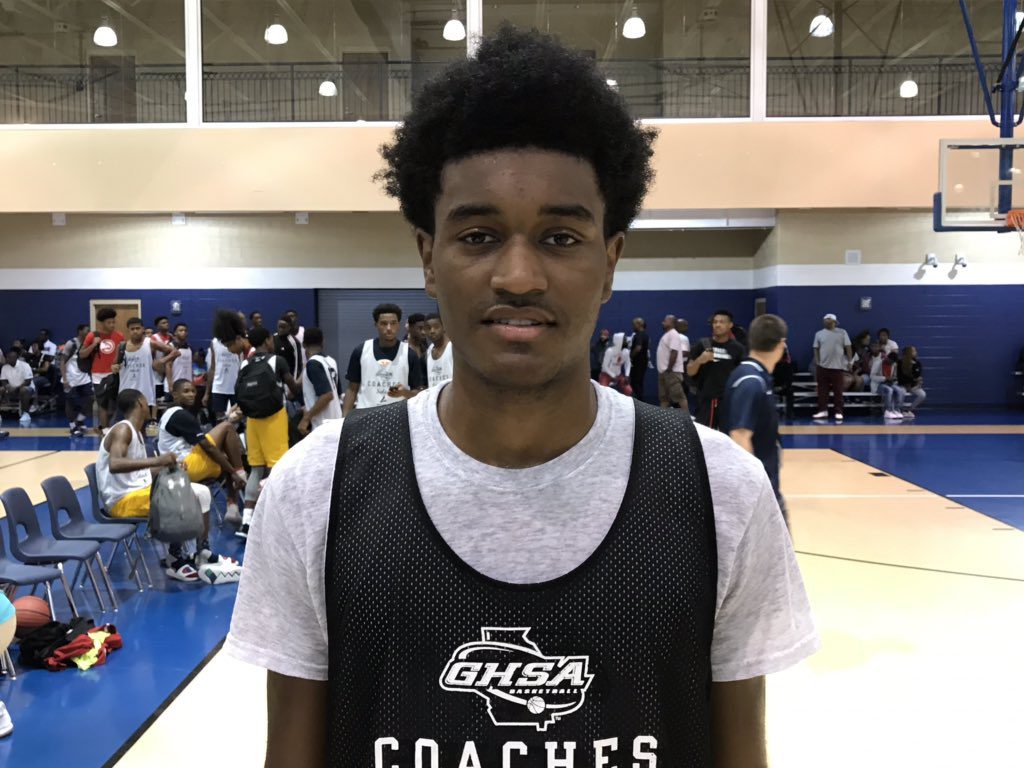 2020 6-8 W Xavier Valley: Xavier Valley is a streaky shooter at times but he's got the ability to score in bunches. He hit five threes and finished with 17 points, 7 rebounds, 1 assist, 2 steals and 1 block. Missouri State offered him at camp. He's got the tools to solidify himself as a premier wing in Georgia. Boston College, UConn, Memphis, VCU and Georgia already have offered.
Pace Academy
2021 6-6 W Matt Cleveland: In a loss to Sequoyah, Cleveland had some "wow" moments. To start the game he had an emphatic block and then swooped in for a dunk on the other end – illuminating his skill on both sides of the ball. Cleveland finished with 23 points, 12 rebounds, 1 steal and 1 block. His play over camp has led to offers from Kansas State, Miami, Maryland, Florida and Iowa State.
Pebblebrook
2021 6-7 F Blake Hadley: Out of all of Pebblebrook's talented wings and forwards in the 2021 class, I had heard the least about Blake Hadley. Listed at 220 pounds, Hadley is a strong well-built forward that is tough to keep off the glass. He had a solid game against Woodville-Tompkins with 11 points, 7 rebounds, 1 assist, 2 steals and 3 blocks. With a James Madison offer already in hand, I expect more offers to come for the rugged post presence.
2021 6-0 PG Danny Stubbs Jr.: With a stable of talented wings and forwards, Danny Stubbs Jr. has a plethora of weapons at his disposal. Stubbs is tough in transition but even in the half court, his smooth approach to the game is apparent. Stubbs has a sweet jump shot and enough quickness to get inside the paint. His passing and on-ball defense are underrated aspects of his game. He had 10 points (2 threes) and 4 assists in a win over Woodville-Tompkins.
Rome
2020 6-2 G Caleb Byrd: A great athlete, Caleb Byrd plays bigger than his size thanks to his bounce and his scoring prowess. He had 18 points, 3 rebounds, 1 assist and 1 steal in a loss to Cherokee. He didn't hit any threes against the Warriors but when he's locked in, its easy to see why he averaged over 25 points per game last season. Mercer, Appalachian State, South Alabama and Murray State all offered after camp.
Sequoyah
2020 6-3 W Jacksen Greco: Not many players rose their stock quite like Jacksen Greco did. The unorthodoxed sharpshooting lefty lit it up all weekend, especially against Pace Academy when he hit four threes and finished with 23 points, 4 rebounds, 1 steal and 1 block. Formerly just a three-point specialist, Greco has evolved his game into becoming a well-rounded scoring threat, complete with floaters in the lane and the ability to draw contact when driving to the rim. He scored at all three levels and colleges took notice as Mercer became the first school to offer the southpaw. Greco still has a unique look about him, an Adam Morrison-esque flow and a similar scoring prowess. He probably doesn't get as much credit as he deserves, but Greco is a greatly improved athlete which shines through most when he comes flying in for rebounds.
St. Pius X
2022 6-1 G Chase Cormier: Cormier picked up a Kennesaw State offer and had SEC schools in attendance regularly at his games. He averaged close to 20 points per game on the weekend, drilling a handful of threes each game. He netted three in a 15-point outing against Buford and impressed with his ball-handling and court vision over the weekend. Cormier will be the focal point of the St. Pius offense and will have a lot on his plate his sophomore season.
Statesboro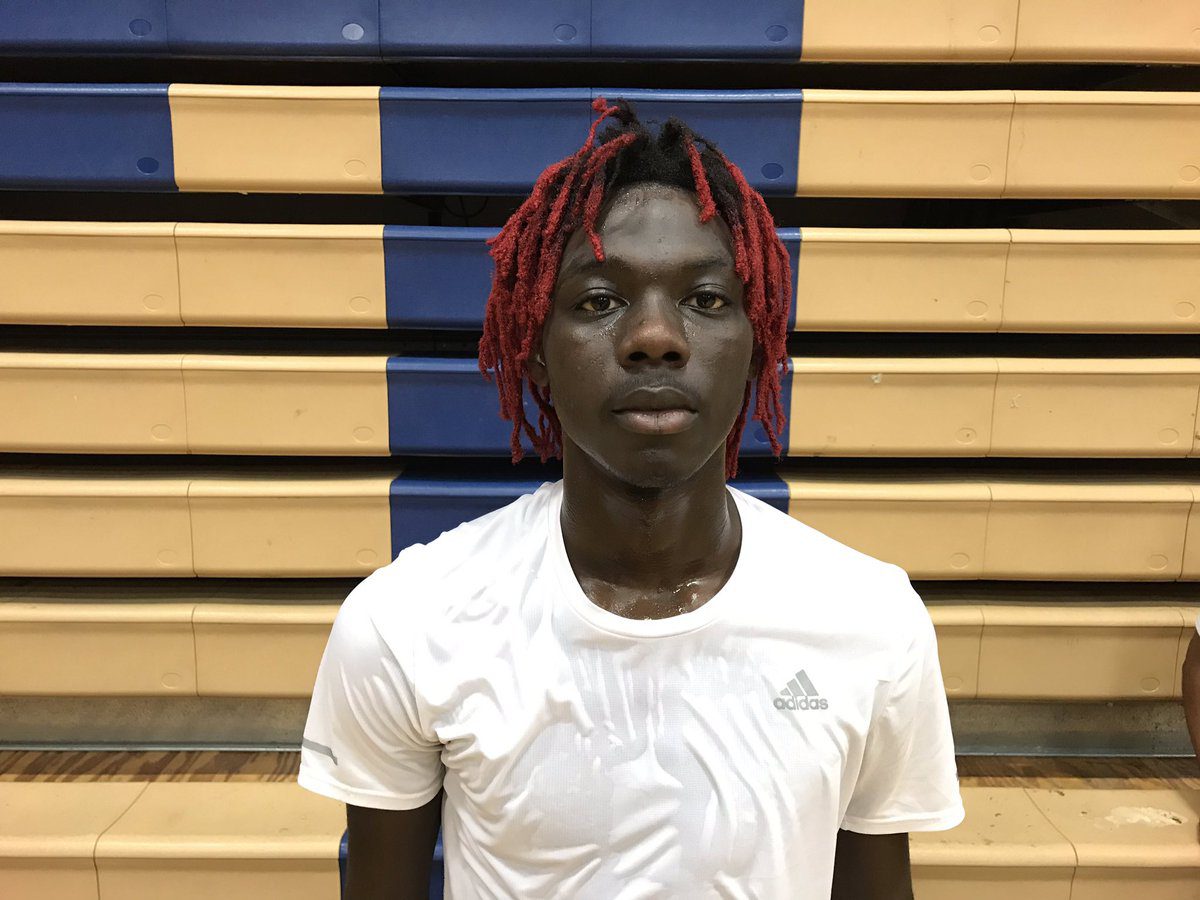 2020 6-3 G Zarion Griffin: Zarion Griffin shot the ball well in a 41-26 loss to Washington County. He scored 14 points and hit three threes. Griffin has nice size on the perimeter and a scorer's mentality. He didn't have enough help to keep pace with Washington County but challenged their defense with his shot-making. Griffin holds a 2.4 GPA and claims interest from Georgia Southern.
Tift County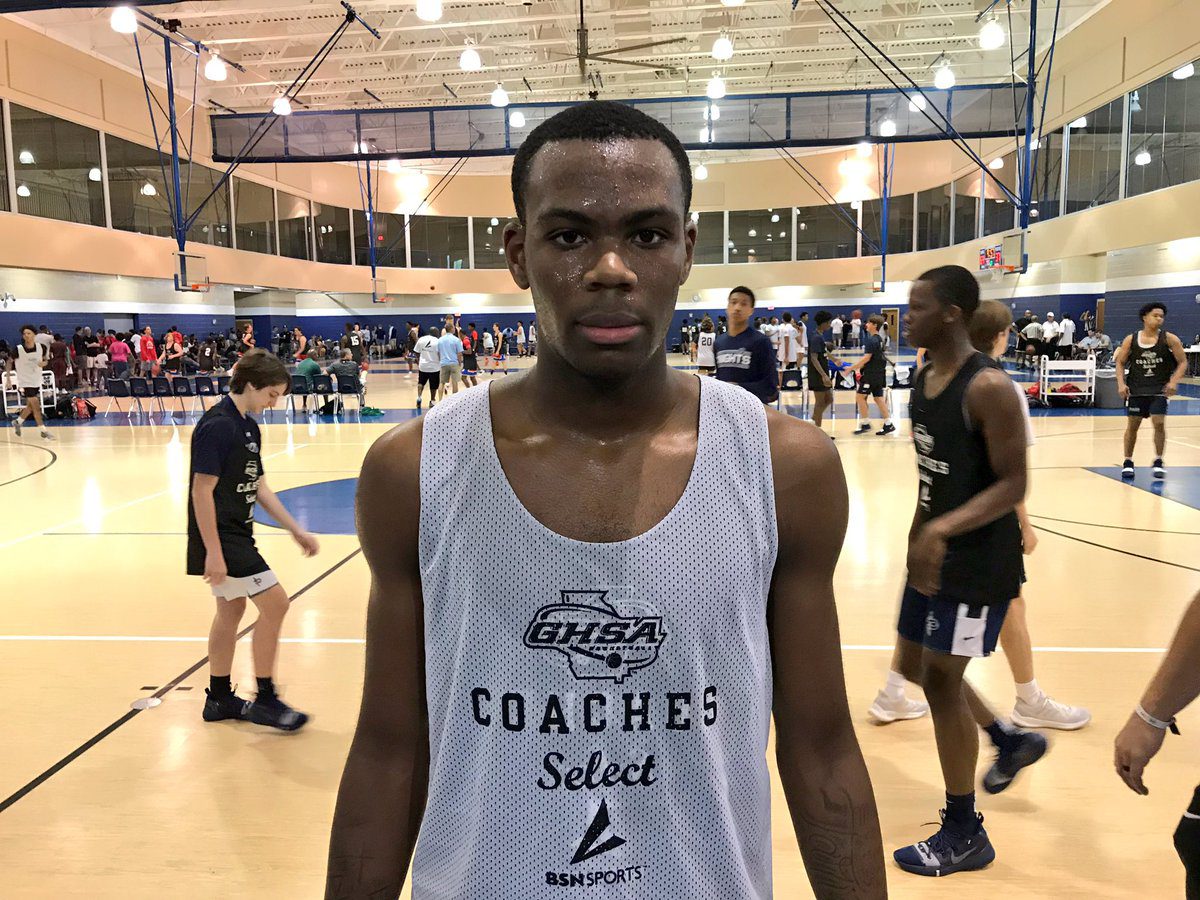 2021 6-6 F Jatarion Warren: One of South Georgia's hottest prospects, Jatarion Warren made the most of his time in Metro Atlanta, leading Tift County to a 43-42 win over Langston Hughes to kick off camp on Saturday. Warren had 14 points, 9 rebounds, 1 assist, 2 blocks and the game-winning free throw in sudden death overtime. Warren was all over the floor on both ends of the court, flying in for rebounds and swatting away shots to protect the rim. Offensively, Warren hit jumpers with his high release including a three-pointer and scored efficiently around the basket. As far as wing skills go, it looked like Warren's outside shooting might be a little ahead of his perimeter ball handling, but his motor on the glass and defensively make him one of South Georgia's most impactful players.
Washington County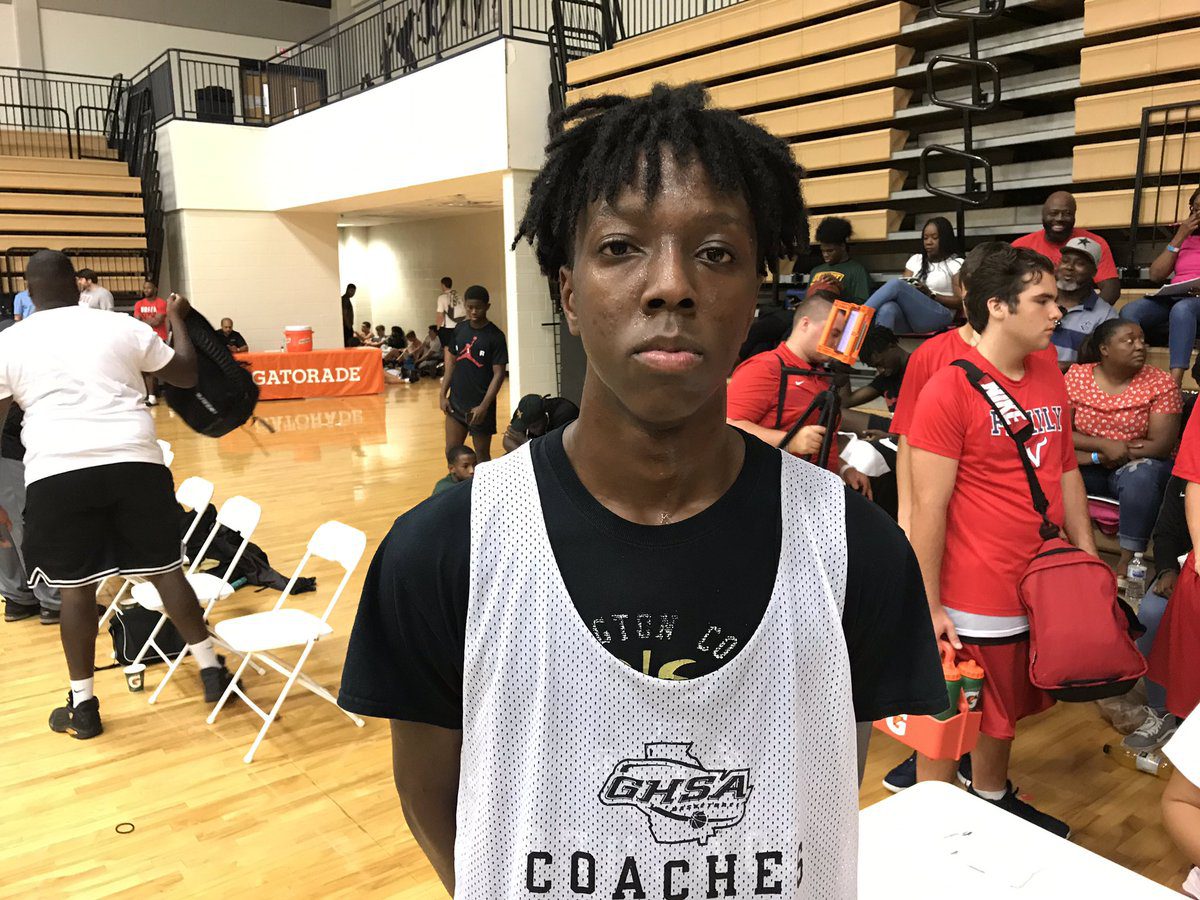 2020 6-2 PG Jarden Maze: Maze owned the stage in a South Georgia showcase game vs. Statesboro. His playmaking ability shined as he split defenders and got to the rim on multiple occasions. Maze has a slippery way about him, making him a tough cover. He had some nice finishes at the basket but more impressive was his passing. He is able to find open teammates in tough spots and makes everyone around him better. Maze had 16 points, 6 rebounds, 3 assists and 2 steals. He is a capable three-point shooter, making him a threat at all three levels. Maze looks like a breakout candidate that will be known statewide if he isn't already. He maintains a 3.7 GPA and has interest from Furman.
West Forsyth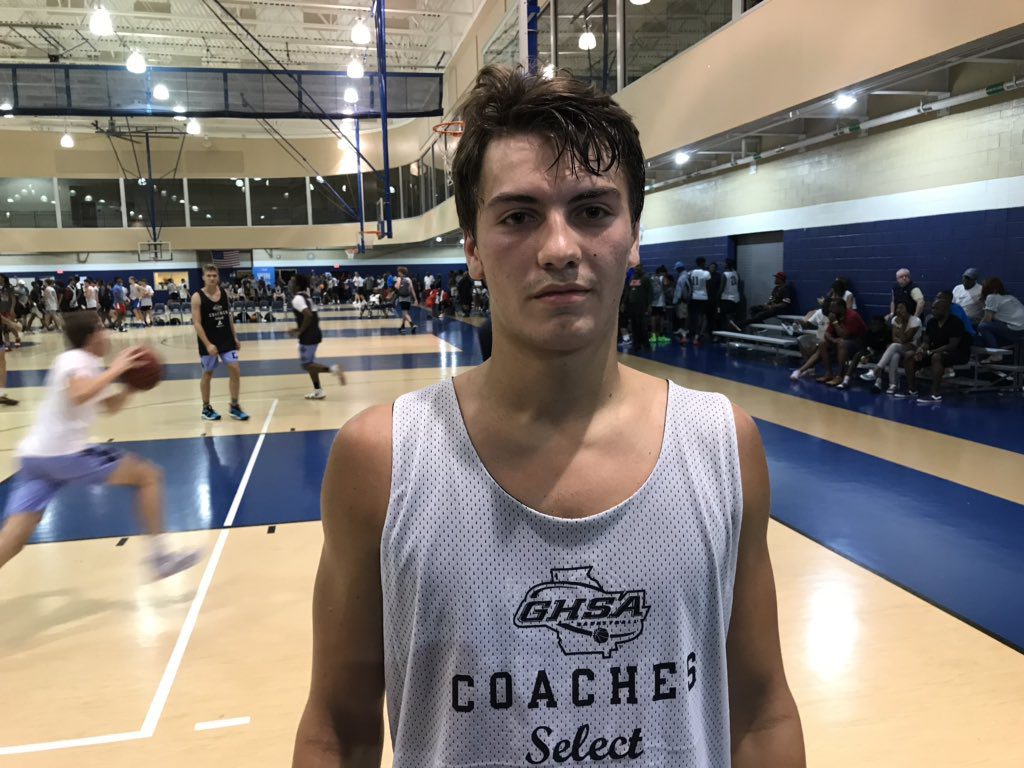 2020 6-4 W Joseph Staiti: Cousin of current UGA post player Jenna Staiti, Joseph was outstanding against Ja'Queze Kirby and the Jeff Davis Yellowjackets. Staiti is a true inside-out threat from the wing position. He's a grinder that can play both forward spots. He had 18 points, 5 rebounds, 1 steal and 2 blocks. Staiti's jumper was honed in, nailing four threes. Small schools need to keep an eye on his progress and make sure he doesn't slip through their fingers.
Woodstock
2021 6-4 F Ezekiel Pettway: A live body on both ends of the court, Pettway applied pressure on opponents with his steady motor. He had 9 points, 5 rebounds and 1 assist in a loss to Kennesaw Mountain. Pettway has a good-looking stroke and an inside-out feel to his game.
Woodville-Tompkins
2020 6-7 F Bernard Pelote: Pelote garnered a lot of attention last weekend from college coaches and national media alike. To be honest, he did not have his best offensive game with him but it was his motor and effort that carried him through rough shooting stretches. Pelote had some big matchups against some of Georgia's longest teams. Against Pebblebrook's highly touted junior class filled with 6-foot-7 wings, Pelote pounded away with 18 points, 14 rebounds and 1 block. Later in the weekend, he had 9 points, 5 rebounds, 2 assists and 1 block vs. Greenforest before getting hurt early in the second half. Pelote handled the ball well for his size throughout camp. He will have to carry more of the offensive burden now that the 2019 class is gone which will help him develop confidence and refine his skillset from the wing. His shot was off, especially against Pebblebrook as he left nearly everything short, but like a good player should, he was able to find his points by attacking the glass for second chance opportunities and by slashing to the basket. Pelote has a nice-looking jumper but it's still a little inconsistent at this point. He projects to be a wing and is more of a combo-forward right now. I think his defense and rebounding ability is what sets him apart from other wing/forwards in the 2020 class.
2020 6-2 W Omar Starr: There was nothing flashy about Omar Starr's game but it got the job done. Starr stuck his nose in every 50/50 ball and seemingly had an influence in every play. Starr impressed me with his toughness and his overall effort. He's a fearless slasher that gets into the heart of the defense and challenges shot blockers.  He had 6 points, 4 rebounds and 2 blocks vs. Pebblebrook and had his best game against Greenforest, going for 11 points and 7 rebounds while giving up close to a foot to almost every player that the Eagles dispatched. Tough-nosed guys like Starr might not get the headlines but they are the type of players that help win a lot of games.