2022 5-10 CG Cayla Cowart – West Forsyth
Cayla Cowart shined again, this time leading the Wolverines to a 49-43 victory over a shorthanded Archer team. Cowart's blow-up season continued, pouring in 24 points, 11 rebounds, 3 assists, 6 steals and 1 block. She has been one of the most consistent guards in the state and it's her ability to impact games aside from scoring that makes her special. Cowart plays with tremendous energy and has an uncanny nose for the ball. Couple those traits with her athleticism and she's able to crash the glass effectively and wreak havoc with her quick hands on defense.  Cowart is a premier slasher that finishes with both hands. Her outside shot still needs work. She tends to push the ball flat instead of getting under it and shooting the ball up, but it is fixable and she has been taking 500 shots a day to shore up her one perceived weakness. Off the dribble, Cowart is a playmaker. She sees the floor well and can fit in tough passes to open teammates. When she gets all the way to the basket, all defenders can do is foul her. She struggled from the line going 6-15, but her relentless attack keeps pressure on the defense and opens up clean looks for perimeter shooters. She is shaping up to be a D-I player. D-II schools should stop waiting and offer her as quickly as possible before the rest of the state takes notice of her high-level skill.
3Q; 1:44@WFGirlsHoops 34@ArcherWBB 31

And-1 opportunity for @CaylaCowart @QwikCutClassic pic.twitter.com/KzN1fIkHzZ

— Kyle Sandy (@KyleSandy355) January 17, 2021
4Q; 3:02@WFGirlsHoops 43@ArcherWBB 33@WFHS_HS has outscored the Tigers 7-0 in the quarter. @caliethrower connects with @CaylaCowart @QwikCutClassic pic.twitter.com/Yz3IPgR44c

— Kyle Sandy (@KyleSandy355) January 17, 2021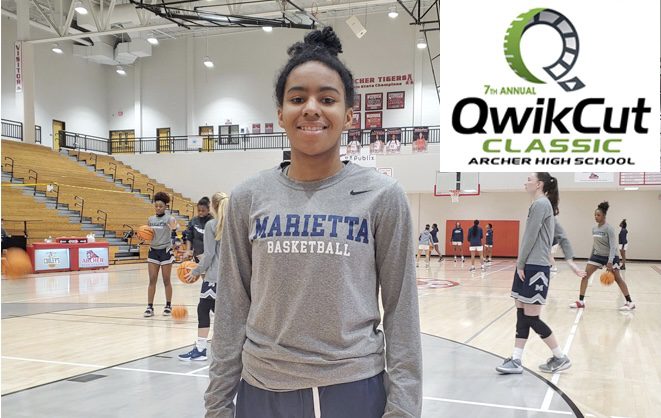 2022 5-7 PG Chloe Sterling – Marietta
The effortless ability of how Chloe Sterling can control games has taken Marietta to another level. Back in Georgia after living on a military base in Japan, Sterling is a dynamic playmaker with a smooth feel. The lefty is a nightmare in transition. Not only can she rush the ball down the floor and go coast-to-coast, but she can ignite fast breaks without a single dribble, using her elite outlet passing as she drills teammates in stride down the floor. Sterling snaps off accurate passes in the blink of an eye before defenders know what hit them. When the ball is in her hands, Chloe is shifty getting downhill. She can eurostep through the defense and finish in a variety of ways. Her three-point shot was locked-in against Dacula, casually draining 5 threes, hardly ever touching the rim. Her easy release off the dribble is pretty to watch. She tallied 21 points, 5 rebounds, 2 assists and 4 steals in a 79-48 rout. Sterling should be on Mid-Major radars ASAP.
1Q; :26
No. 6 @MariettaHSHoops 18@dhsladyfalcons 14@chloesterling22 hits her third three. @QwikCutClassic pic.twitter.com/ccwxYH9IXN

— Kyle Sandy (@KyleSandy355) January 16, 2021
2Q; 2:42
No. 6 @MariettaHSHoops 34@dhsladyfalcons 24@ChloeSterling22 gets the steal and goes coast-to-coast with the euro.@QwikCutClassic pic.twitter.com/mhIIQxtKwn

— Kyle Sandy (@KyleSandy355) January 16, 2021
2021 6-1 F Janae Charles – Loganville
A blend of skill, size, IQ and mobility, Janae Charles is among the best post players left in the 2021 class. She doesn't need to dominate scoring the ball to affect games. Charles is a smart passer and can handle the ball when needed. When teammates cut without the ball, Charles can see overtop the defense and deliver assists with pinpoint accuracy. Rockmart had no answer for her inside. Charles posted up hard and helped get Keyarah Berry in foul trouble. Janae converted every opportunity she had in the paint and used her length to rebound in traffic. She finished with 18 points, 10 rebounds, 2 assists, 1 steal and 1 block. Gardner-Webb has shown interest.
1Q; 4:36
No. 5 @LHSGbb 10@RockGBasketball 7@JanaeCharles23 dumps to @Rose_bone3 @QwikCutClassic pic.twitter.com/0AlEhKm6h8

— Kyle Sandy (@KyleSandy355) January 16, 2021
2021 5-11 W Keyarah Berry – Rockmart
On the verge of being the all-time leading scorer in the state of Georgia, the Indiana-signee had her usual "wow" moments in a loss against Loganville. Keyarah Berry has overwhelmed opponents at the 2A and 3A level over the course of her career. She is unstoppable in transition, able to beat everyone down the floor and elevate for easy layups. Berry has developed her game into being more than just a freak athlete however. She has the deepest range in the state, able to pull up from 30-feet when needed. With her tremendous strength, she can fire away from well beyond the arc without losing much accuracy. Becoming a better playmaker will be an area of growth at the next level. Facing double and triple teams with a supporting cast that doesn't have much firepower, Berry has had a heavy burden to carry her entire career. Playing with fellow D-I players will make life easier for her on the offensive side of the ball in college. She buried 4 threes and finished with 27 points, 7 rebounds, 4 steals and 1 block in a 62-39 loss to Loganville, Berry scoring the first 17 points of the second half for the Yellowjackets.
3Q; 2:56
No. 5 @LHSGbb 41@RockGBasketball 28@IndianaWBB signee @BerryKeyarah is heating up. @QwikCutClassic pic.twitter.com/S6e8WdwQa1

— Kyle Sandy (@KyleSandy355) January 16, 2021
4Q; 4:00
No. 5 @LHSGbb 52@RockGBasketball 34

Another deep bomb from @IndianaWBB's @BerryKeyarah. No one has better range in Georgia. @QwikCutClassic pic.twitter.com/vhKCIU7DU9

— Kyle Sandy (@KyleSandy355) January 16, 2021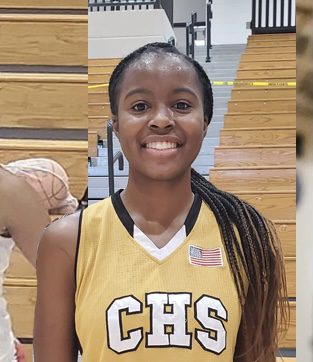 2021 5-8 PG De'Mauri Flournoy – Carrollton
It was a dazzling display for De'Mauri Flournoy in Carrollton's convincing 62-41 win over Newton. The Vanderbilt-signee can do it all. She's not the most physically imposing guard in the state but aside from Raven Johnson and Kayla McPherson, she may be the most well-rounded and maybe most skilled. Flournoy is an elite three-point shooter that uses her range to help open up driving lanes. She has the ball on a string as she manipulates defenders before getting exactly what she wants. Flournoy is a complete player on offense. She can get into the lane and finish with floaters or tough layups. Flournoy is a playmaker that breaks down defenses and sets up teammates. She moves well without the ball and teamed up with Kehinde Obasuyi for a handful of backdoor cuts. De'Mauri's quickness to every ball stood out. She snatched every long pass that was tried against Carrollton's defense, playing a gold glove centerfield. Flournoy tallied 18 points, 7 rebounds, 2 assists and 6 steals.
2Q; 3:08
No. 2 @HoopsTrojan 26@LadyRamzHoops 16@VandyWBB signee @demauri99 is starting to play make. @QwikCutClassic pic.twitter.com/cHUlLjpp92

— Kyle Sandy (@KyleSandy355) January 16, 2021
4Q; 5:59
No. 2 @HoopsTrojan 54@LadyRamzHoops 32@demauri99 turns the corner. @QwikCutClassic pic.twitter.com/hP0EmntmHN

— Kyle Sandy (@KyleSandy355) January 16, 2021
2024 5-8 PG Sanaa Tripp – Newton
The future – and even the present – is Sanaa Tripp. She's a blue-chip guard that has a chance to be the best player in Georgia and one of the best in the nation. Tripp blends terrific athleticism with eyepopping skill. She's great in transition, bursting out of the pack and using in-and-out dribbles and more to leave defenders in the dust. Tripp is a dangerous shooter as well. She stops and pops on a dime and has three-point range off the bounce. She knocked down 4 threes as she finished with 22 points, 5 rebounds, 1 assist and 4 steals. Her lateral quickness makes her an above average defender that could cement herself as a lockdown guard. Tripp has the makings of becoming a High Major point guard.
End 1Q
No. 2 @HoopsTrojan 19@LadyRamzHoops 9

2024 5-8 PG Sanaa Tripp beats the buzzer. All 9 Ram points have come via threes.@demauri99 6p 3s
JeNee Edwards 5p@kehinde_obasuyi 4p 3a@SanaaTripp 6p@QwikCutClassic pic.twitter.com/jJqHfYZzsH

— Kyle Sandy (@KyleSandy355) January 16, 2021
2024 5-9 PG Danielle Carnegie – Rockdale County
An Essence Xtreme teammate of Sanaa Tripp, freshman Danielle Carnegie might not have the athleticism or flash of Tripp, but Carnegie's skill and mature approach to the game has been invaluable for the Bulldogs. Carnegie always stays under control and is a true point guard that knows how to set the table for others while still finding the time to put up points. She does a nice job attacking the basket and keeping the defense off balance. She's got a nice pull-up jumper and can float in buckets over shot blockers. Carnegie is active. Her well-rounded floor game led to 13 points, 5 rebounds, 6 assists and 2 steals in a 72-66 loss to Grayson. With Danielle on the floor, Rockdale will always have a chance to win any game.