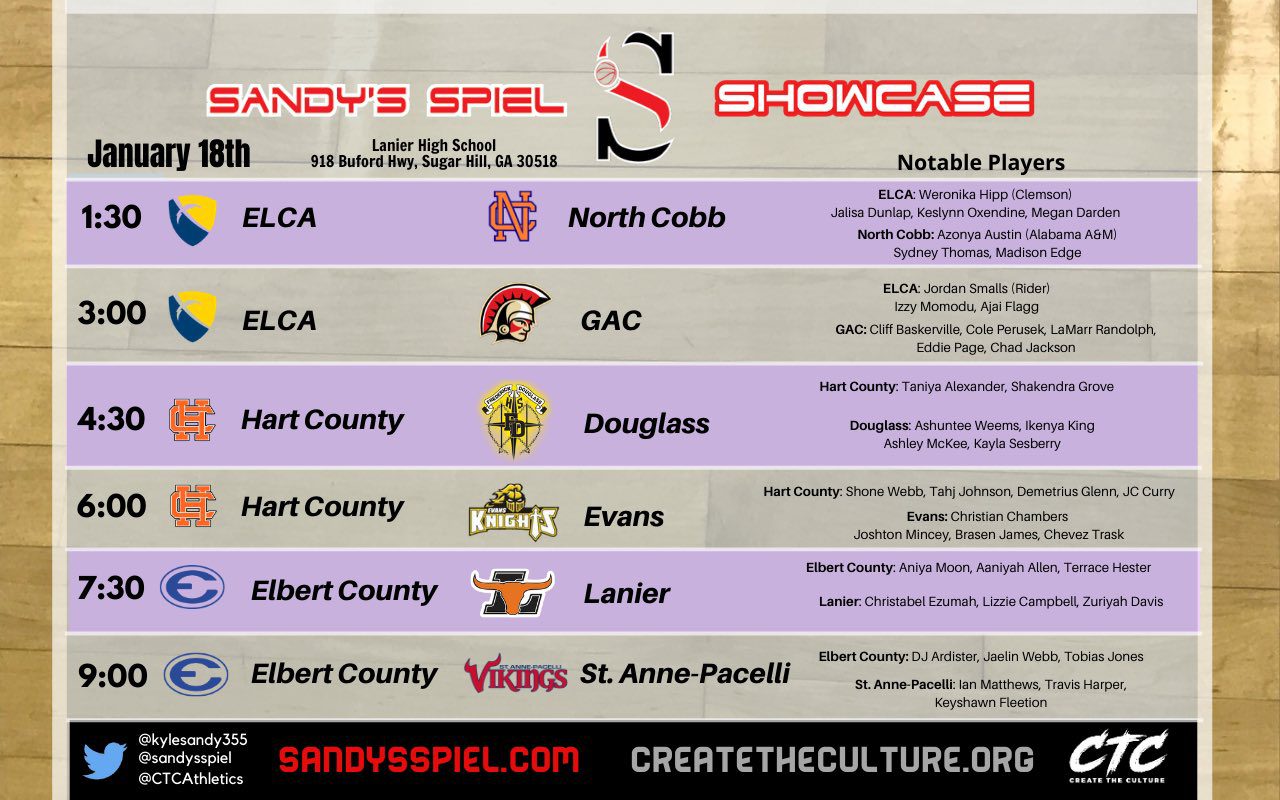 1:30: 

No. 8 ELCA (11-2) vs. North Cobb (13-6)
After dealing with players being in and out of the line early in the season, No. 8 ELCA has hit a groove, winning 7-straight heading into the Sandy's Spiel Showcase. Clemson-signee Weronika Hipp remains one of Georgia's top guards averaging 17.2 points and 4.2 assists while Eagle's Landing transfer Jalisa Dunlap has provided scoring at 18.9 points per game. The 5-foot-10 guard has received interest from MTSU and Mercer. 5-foot-8 junior Keslynn Oxendine is working her way back from an ACL injury and is a third scoring threat. Much like ELCA, North Cobb is finding its stride as well. All six of their losses have come against ranked opponents. Lacking size, the Warriors rely on an experienced backcourt led by Alabama A&M-signee Azonya Austin (14 ppg, 5.3 rpg, 5.1 apg, 2.6 spg). Sharpshooting 5-foot-7 senior Sydney Thomas leads the Warriors in scoring at 16 points per game to go with her 4 rebounds and 2.5 steals. 5-foot-7 senior Madison Edge averages 11.8 points and 6.5 rebounds while 5-foot-8 sophomore Dayuna Colvin chips in 7.5 points a night.
3:00:

ELCA (6-8) vs. No. 8 GAC (12-6)
After being state title contenders a year ago, ELCA losing in the Class A-Private title game while GAC was bounced by rival and eventual state champion Morgan County in the Class 3A Sweet 16, both programs were decimated by graduation but have found ways to still compete at a high level. ELCA has turned to 6-foot-7 Rider-signee Jordan Smalls and blossoming 6-foot-8 big man Izzy Momodu to carry the load from the frontcourt while the Spartans use guards 6-foot-2 senior Cliff Baskerville (18 ppg) and 6-foot-2 junior LaMarr Randolph (15 ppg) to pace the offense. 6-foot-5 sophomore Josh Fulton averages 20 points per game but has missed six weeks due to injury. Veteran 6-foot-5 wing Cole Perusek has offers from Oglethorpe and Sewanee.
4:30:

Hart County (9-9) vs. No. 1 Douglass (12-5)
The recipe for success last season in Douglass' march to a Class 2A state title was playing a brutal non-region schedule to prepare them for the rigors of the state tournament. Coach Alana Allen has followed the same blueprint this year and after a challenging start to the year, finds themselves atop the poll in Class 2A and undefeated in region play. 6-foot-3 senior Ikenya King anchors the Astros inside averaging 16 points, 13 rebounds, 2 assists and 3 blocks. She just earned offers from Tallahassee CC and South Georgia Tech. 5-foot-5 senior Kayla Sesberry has had a breakout year averaging 14 points, 5 rebounds, 5 assists and 4 steals while shooting 40% from deep. 5-foot-10 junior Ashuntee Weems is a high-upside guard averaging 10 points, 6 rebounds, 4 assists and 3 steals. Ashley McKee rounds out the offense, a 5-foot-9 senior that chips in 8 points per game. Like how Douglass lost star Nekiyah Thompson (Jacksonville State), Hart County graduated Class 3A Player of the Year Torrion Starks. It will be a must-see matchup in the low post as 6-foot junior Taniya Alexander, already part of the 1,000-point & 1,000-rebound club, will battle with King inside. Alexander averages 17 points and 15 rebounds per game and has had D-I interest. 5-foot-7 senior Shakendra Grove will be important for Coach Mike Edwards. The long-range sniper is averaging 14 points per game, hitting 33% from deep.
6:00:

No. 6 Hart County (17-1) vs. No. 8 Evans (13-3)
Both programs come off their best seasons in years as Hart County fell in the Class 3A title game following a 24-8 campaign while Evans ripped off a 24-5 record in Class 6A, their best in over a decade before losing to state runner-up Tucker in double overtime in the Sweet 16. All eyes will be on the matchup between 6-foot-4 junior Shone "Spud" Webb of Hart County and 6-foot-2 senior Christian Chambers. Webb has blossomed into the go-to guy for Hart County, posting 18.5 points, 4.6 rebounds and 3.2 assists while doubling as a defensive stopper. Chambers is one of the CSRA's best players and a top unsigned senior in Georgia, averaging 22.1 points, 4.5 rebounds and 2.3 steals with offers from Fort Valley State, Columbus State, Maryville and Chattahoochee Valley CC. Evans will have to slow down burgeoning star 6-foot-7 freshman Tahj Johnson who pitches in 12.8 points, 5.2 rebounds and 1.4 blocks. 6-foot-1 senior Demetrius Glenn is a deep-threat that averages 9.5 points to space out the Hart County offense. Evans has blue-collar guards in 5-foot-10 junior Joshton Mincey (12.5 ppg, 4.2 apg, 2.8 spg), 6-foot-1 sophomore Brasen James (9 ppg, 6.2 rpg) and Alaska move-in 6-foot-3 junior Rashad King (8.6 ppg, 5.4 rpg, 2.3 apg).
7:30:

Elbert County (12-6) vs. Lanier (10-9)
The defending Class 6A state champion Lanier Longhorns were derailed by graduation and injuries this offseason but are starting to click at the right time and are a legitimate threat to win Region 8 again after losing to No. 4 Dacula twice in heartbreaking fashion, 51-47 and 45-42. One of the hottest prospects in the southeast before her injury, 6-foot-3 high-academic senior center Christabel Ezumah, is back averaging 5.1 points, 7.6 rebounds and 2.9 blocks with a host of D-I/II offers. Twin tower 6-foot-1 Lizzie Campbell, who also dealt with injuries in the offseason, holds offers from Shorter, Truett McConnell, Johnson and Lincoln Memorial. She averages 5.5 points, 9 rebounds and 1.6 blocks. 5-foot-8 senior Morgan Manley (8.6 ppg, 4.3 rpg) has stepped up in a big way while 5-foot-6 senior Zuriyah Davis has shouldered the load offensively, posting 15.6 points, 3.3 rebounds and 2.7 assists per game. Elbert County's lone college-signee Maggie Campbell is headed to Anderson but re-tore her ACL. A young group of freshmen have had Elbert County playing exceptional basketball, making the future in Elberton extremely bright for Coach Josh Jones. Freshman Aaniyah Allen leads the way with 13.8 points, 5.2 rebounds and 3.7 steals. Freshman Niya Moon averages 11.1 points and 4.4 rebounds while third-leading scorer, also a freshman, Terrace Hester scores 9.1 points on average.
9:00: 

Elbert County (6-12) vs. St. Anne-Pacelli (10-7)
The graduation of eight seniors off last year's Class 2A 28-4 semifinalist has Coach Don Hurlburt playing a young and inexperienced team that will rely on energy and toughness to win games. Senior DJ Ardister, junior Jaelin Webb and sophomore Jamil Burton are three players to watch for. St. Anne-Pacelli, much like Elbert County has since Hurlburt took over, has improved every season under Coach Corry Black. After a humbling 0-22 season in 2016-17, the Vikings have clawed their way back to relevancy with a 5-21 mark in 2017-18 before finishing 13-14 a year ago. Sitting at 6-5 in Region 4-A, the next step isn't just finishing above .500 but making the state playoffs. A large 2021 class has the Vikings set up for the future led by bouncy 6-foot-5 wing Travis Harper (19.5 ppg, 5.5 rpg) and skilled 6-foot-5 forward Ian Mathews (17.6 ppg, 7.8 rpg). The addition of equally explosive highlight-maker 6-foot-3 junior Keyshawn Fleetion makes St. Anne-Pacelli must-see tv.