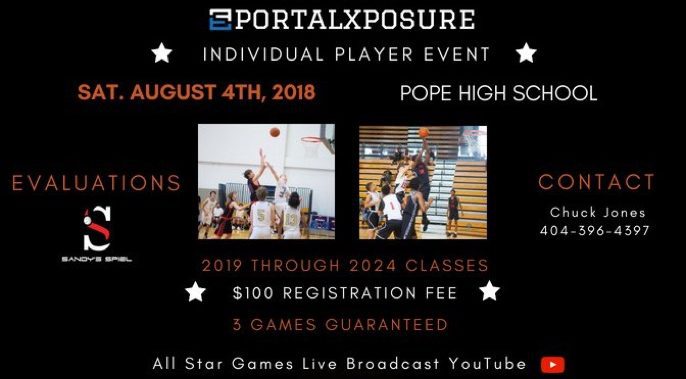 Game Elite Gold (Champions)
6-8 F Jaylin Williams (Brantley County) was instrumental in Game Elite Gold capturing the Battle For Georgia 17U Championship. He and Louisville-commit Josh Nickelberry composed a devastating inside-outside punch. Williams averaged 16.6 points, 10.6 rebounds, 1.3 assists and 1.6 blocks over the event and put up 12 points, 8 rebounds and 3 assists in a thrilling title game victory over Atlanta Xpress, 68-67. Game Elite wouldn't have made it there if it wasn't for a late Williams And-1 that beat the Atlanta Celtics, 79-78. Williams is a smooth elite athlete that ignites his own fastbreaks and glides to the basket. He displayed very good court vision and found open men in tight spaces. His overall consistency was impressive against Georgia's elite. Continuing to develop his outside shot will be an area of focus.
6-2 PG Hunter McIntosh (GAC) came off the bench and supplied Game Elite Gold with exactly what they needed: a true point guard. With Ashton Hagans gone, McIntosh's impact was apparent. While he didn't play the same scoring role in the offense, McIntosh did what a great point guard does – he organized the troops, got his teammates in the right position both offensively and defensively and distributed the ball. McIntosh supplied a spark in Game Elite Gold's tournament opening win over Team AJ Bouye, finishing with 10 points, 3 rebounds and 2 assists. In the title game, McIntosh chipped in 6 points, 2 rebounds and 2 assists.
Atlanta Xpress (Runner-Up)
6-5 SG Anthony Edwards (Holy Spirit Prep) looked every bit of the next NBA Lottery pick from Georgia before he landed hard on his wrist after a thunderous dunk and had to miss the championship game. Edwards had a modest beginning to the Xpress' 65-55 win over Game Elite Black, scoring just 3 points in the first quarter, but he exploded for 27 over the next three periods for a game-high 30 points to go with his 3 rebounds, 2 assists, 1 steal and 1 block. Edwards is a wrecking ball when getting to the basket, combining power and grace with his smooth and at times unstoppable eurostep. He knocked down 2 threes and got buckets whenever his team needed him the most, especially in the fourth quarter as he played closer with 13 points.
6-7 F Jordan Smalls (ELCA) didn't make a major dent in the box score, but the growing junior playing up an age group provided key minutes throughout the tournament off the bench. Smalls was wet behind the ears last year at ELCA, at times looking out of place. But with the Atlanta Xpress there was no pressure on Smalls to provide anything more than energy and a quality breather for the starters. His rebounding stood out the most, finishing with 4 points and 7 rebounds against Game Elite Black and in the title game, hitting a three and collecting 6 rebounds, 1 assist and 1 block.
Team AJ Bouye
6-4 W Asher McGee (Drew Charter) has made me a fan with his play this summer. McGee is a steady scorer and a good overall player. He can score off the dribble, hit open threes and finish at the rim. He had 9 points in a 72-55 loss to Game Elite Gold. McGee has enough size to help on the glass and rotate quickly on defense. He is a nice player with good small school value.
6-7 F Nate Ogbu (Tucker) supplied Team AJ Bouye with 7 points, 5 rebounds and 1 steal. He hit a nice three-pointer creating for himself. Ogbu has a really nice touch as a stretch-4 that can pound the glass and score inside. He's not quite quick enough to stay on the perimeter as a swingman, but he can certainly space the floor. He has a well-rounded skillset and never forces up bad shots.
6-5 W Devin Gordon (McEachern) was extremely impressive with his effort, knowledge of the game and his ability to be in the right place at the right time. The thick combo forward dropped in 18 points (4 threes), 7 rebounds, 2 assists and 1 steal. His play was paramount in Team AJ Bouye's early success against Game Elite Gold.
6-6 F Kendall Lewis (Shiloh) is a bouncy combo forward with a good motor. He hangs his hat on the defensive side of the floor and sparks his team with his battling mindset on the boards. He had 5 points, 6 rebounds, 3 steals and 3 blocks. Lewis needs some refinement offensively and with his three-point shot.
Game Elite Black
6-5 SG Charles Smith IV (Wheeler) has a sweet jump shot that he hunts from the mid-range out to the three-point line. The Cal-commit can attack the rim and finish through contact. He needs to remain aggressive and be a little selfish at times when it betters his team. He had a nice 13-point, 3-steal performance against the Atlanta Xpress.