Alpharetta 58, Kell 44
With a handful of important football players not in attendance, Alpharetta led wire-to-wire against Kell. 6-foot-4 senior Garrett Davis got the Raiders off to a quick start, scoring all six of his points in the first half. Davis, a dirty-work type of player, not only found baskets in the paint, but helped defend Florida Gulf Coast-commit Brian Thomas while giving up nearly four inches and 30+ pounds.
Davis along with 6-foot-3 junior forward Ryan Jenei kept a body on the 6-foot-8 big man throughout the game and didn't give him any easy looks. Thomas was held to six points, 11 rebounds and four blocks as the Raiders forced the Kell guards to try and beat them.
Alpharetta held a 14-6 lead and took off once Westlake transfer Brandon Barron was inserted into the game. The 5-foot-10 sophomore point guard took over in the first half scoring 12 of his game-high 15 points.
Barron created off the dribble, showing a quick first step to get past defenders.
2019 PG Brandon Barron (@hoopstar_2019) made plays off the bounce last night for @ahsraidersbball pic.twitter.com/bdTnLe0av3

— Kyle Sandy (@KyleSandy355) October 4, 2016
Barron got to the basket, stopped on a dime from the mid-range and even floated a teardrop over the elite shot blocker Thomas. Once Barron came in off the bench, the Alpharetta offense really started to click as he got open looks for Jenei, who hit two threes in the first half and finished with 10 points.
The Raiders held a 34-22 lead at the half and never let Kell back into the game. Junior point guard Jahwan Smith totaled seven points and three assists and Caelon Ball got hot down the stretch, hitting two late threes and finishing with 10 points and four rebounds but it wasn't enough. Alpharetta's guards protected the ball and won their individual battles on defense as the Raiders came away with 10 steals led by senior guard Jaylen Young's five. Young also added six points and five rebounds. Senior David Swillum netted nine points and battled on the glass with seven rebounds.
Junior RJ Pass provided steady guard play and senior Tariq Latchison gave Alpharetta a boost with his hustle off the bench.
Kell could not establish Thomas inside, but it wasn't all his fault. Too many entry passes were thrown away errantly either too high or too low. Whenever Thomas did get a clean ball, Alpharetta crashed down and physically put a body on him. For the Longhorns to build on their 16-win season, working on getting the ball to Thomas on the low block will be a priority. Feeding Thomas will help loosen up the perimeter defense to give players like Ball, Smith and Demetris Page open looks.
 Lovett 69, Woodstock 59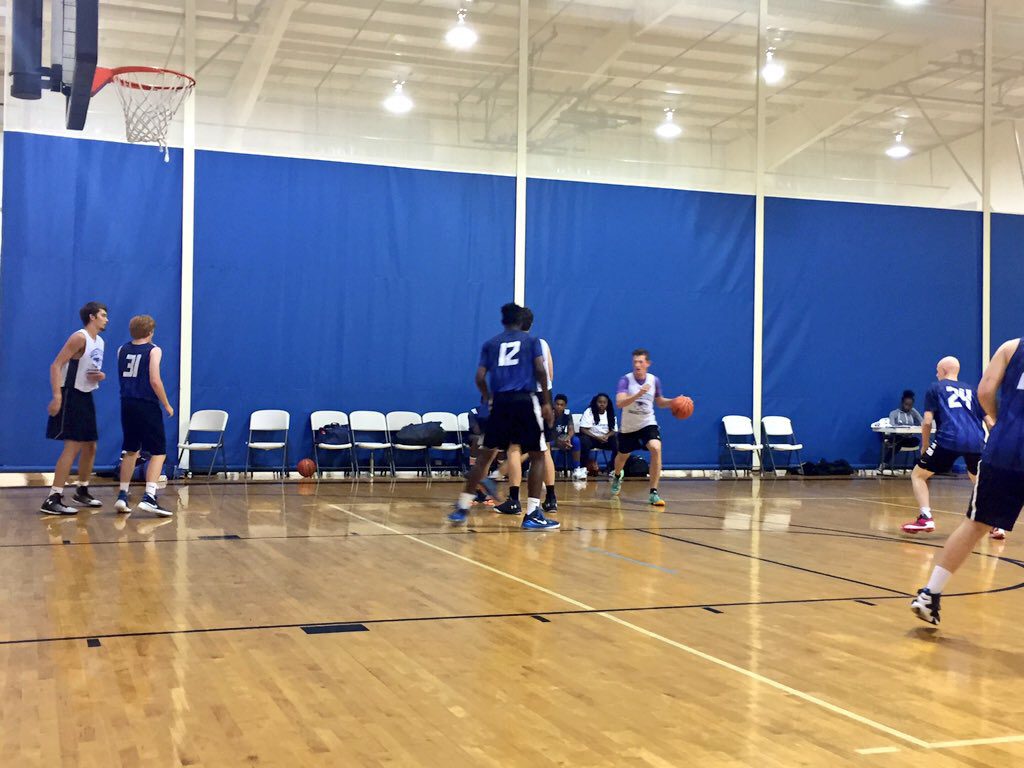 Both Lovett and Woodstock were far from full strength thanks to football season with the Wolverines missing juniors Dominic Hewitt, Noah Frith and Sid Mesumbe while 6-foot-4 D-I hopeful guard senior Tyreke Johnson and junior Quentin Doby were not there as well. Lovett was missing a handful of football players too, highlighted by sharpshooter Crawford Schwieger, Nick Jackson, Peyton Ringer and Evan McKown out, meaning only sophomore point guard Ryan Greer was on the floor with any significant varsity experience.
Greer proved to be more than enough for the Lions.
The super sophomore tormented Woodstock with a silky touch and a red-hot motor that saw him collect eight rebounds in the first five minutes of the game alone. Greer finished with 32 points (20 in the second half), 10 rebounds, three assists, three steals and two blocks. His poise with the ball and all-around winning mentality consumed the game.
Greer scored from all over the floor, but he's at his best attacking the basket. He's not afraid to mix it up with the bigs inside and has crafty finishes around the hoop. While his mid-range game was on point all night, Woodstock hung around and never let in.
Georgia Tech baseball-commit 6-foot-6 left-handed senior Brant Hurter came out firing. He scored nine points in the first half with his soft touch from the block and the high post and finished with 16 points and 11 rebounds.
The Lions held a 27-22 advantage at the half before Greer and senior Ryan Pate turned on the afterburners. Pate, a seldom used guard last year, put on a shooting display in Schwieger's absence, playing Greer's right-hand man knocking down three first half threes and finishing with five on the night en route to 20 points, five rebounds and three steals. The two combined for 31 points in the second half.
At the 9:50 mark it looked like the Lions were going to race away from the Wolverines but instead Woodstock's role players took aim. Sophomore Chris Carroll bombed a three followed by a Nate Garner triple, making it 51-45 with nine minutes to play. Greer pushed the Lions ahead 56-45 with 7:23 to play and managed to hold off Woodstock.
Both teams have used the Fall League to build depth and it shows.
Pate looks like a valuable piece from the perimeter when he's on target, giving Greer another option next to Schwieger from deep. Woodstock received 11 points apiece from Carroll and Garner, a junior. Cameron Crowe struggled early, but came on strong late, the 6-foot-6 forward finishing with nine points and five rebounds. Dylin Hardeman wasn't hunting his shot in Johnson's absence and instead helped out in other ways with a team-high five assists.