Well the simple answer to what to expect from Kennesaw State basketball this year is: I don't know.
The men and women's programs have made waves since the end of last season and mostly for the wrong reasons, but that is a can of worms that has been opened and hopefully shut by now. The bright side of things has to lie with the men's team landing former National Coach of the Year, Al Skinner, to lead to downtrodden program.
Kennesaw State's roster – coaching staff as well — has been a revolving door since Tony Ingle left the school. This year will be no different with a new staff in place and five newcomers joining just six players from last year's team. Official practice began last Friday and back is senior point guard Yonel Brown who exploded onto the scene after two pedestrian years. Brown finished third in the A-Sun and led the Owls in scoring with 15.2 points per game. Six-foot-seven forward Nigel Pruitt also blossomed into a reliable player and returns for his senior year as well after scoring 12.2 points a night, good for second-best on the team.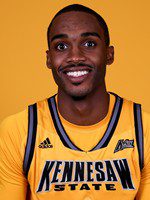 New Faces
Metro Atlanta hasn't exactly been pounded for recruiting yet, but Skinner did land a potential gem in Tracy Hector. The 6-foot-4, 212-pound swingman won back-to-back state championships at Jonesboro High School. As a senior, Hector averaged over 12 points and six rebounds a game, but he made a name for himself with his tenacious defense.
He is a strong athlete that can lock down ball handlers with his 'in-your-face' defense while offensively; he attacks the bucket and goes after every loose ball.
Kyle Clarke is another new addition to the backcourt, standing 6-foot-5 as a combo guard. Clarke hails from Florida and has shown a knack for getting into the lane on offense.
Skinner went overseas to land Josh Burnett, another guard that can play forward, from Hawaii. Kosta Jankovic and Aubrey Williams round out the new faces on the roster while Quinnipiac transfer Kendrick Ray is finally eligible to play after having to sit out a season.
Better Times On The Horizon?
So with a new coaching staff and turned over roster, can we expect KSU to take the next step in becoming a respectable program and not just another cupcake on everyone's schedule? We will know right away. After a home tilt with Middle Georgia, Kennesaw hits the road to play Alabama, LSU and Arizona State. West Virginia, Louisville and Indiana all loom on the schedule as well. The Owls will definitely take some lumps, but coach Skinner needs to see what kind of mettle his team has when facing adversity to be able to find out if his group improves from game to game or if they take beatings and not learn anything from them like they haven't in the past.
The one positive for KSU is that the A-Sun continues to get weaker and weaker each season with the top programs getting plucked by bigger conferences seemingly every year. This time it is Northern Kentucky, who has only been a D-1 program for three seasons going on four now, that was added to the Horizon League. Meanwhile, Kennesaw State has sat and stewed in the A-Sun since 2005-06 and has yet to make it out of the annual cellar.
NJIT joins the conference, coming off its best record in school history since joining D-1 the same year as KSU, winning 21 games in 2014.
Under coach Skinner, Kennesaw should at least be a competitive team. Losses to conference foes by 36 points should be a thing of the past by now. When watching the Owls play these power conference teams early in the season, losses to annual juggernauts Indiana and Louisville are acceptable. But if KSU lays an egg against an average power conference team like Alabama like they did against Syracuse (89-42), Cal (93-59) and Illinois (93-45) last year, then there is reason to be concerned.
Is there reason to be optimistic this year? Yes there is, but if the team can't stay competitive with the big schools early on (L by < 30), don't expect much come conference play.