Friday night of the 2018 Bob Gibbons Tournament of Champions supplied a look at some of Georgia's top players. Though the majority of the games were blowouts in the first round of bracket play, there was still valuable intel collected at Suwanee Sports Academy.
Atlanta Celtics 82, Palm Beach Bulls 30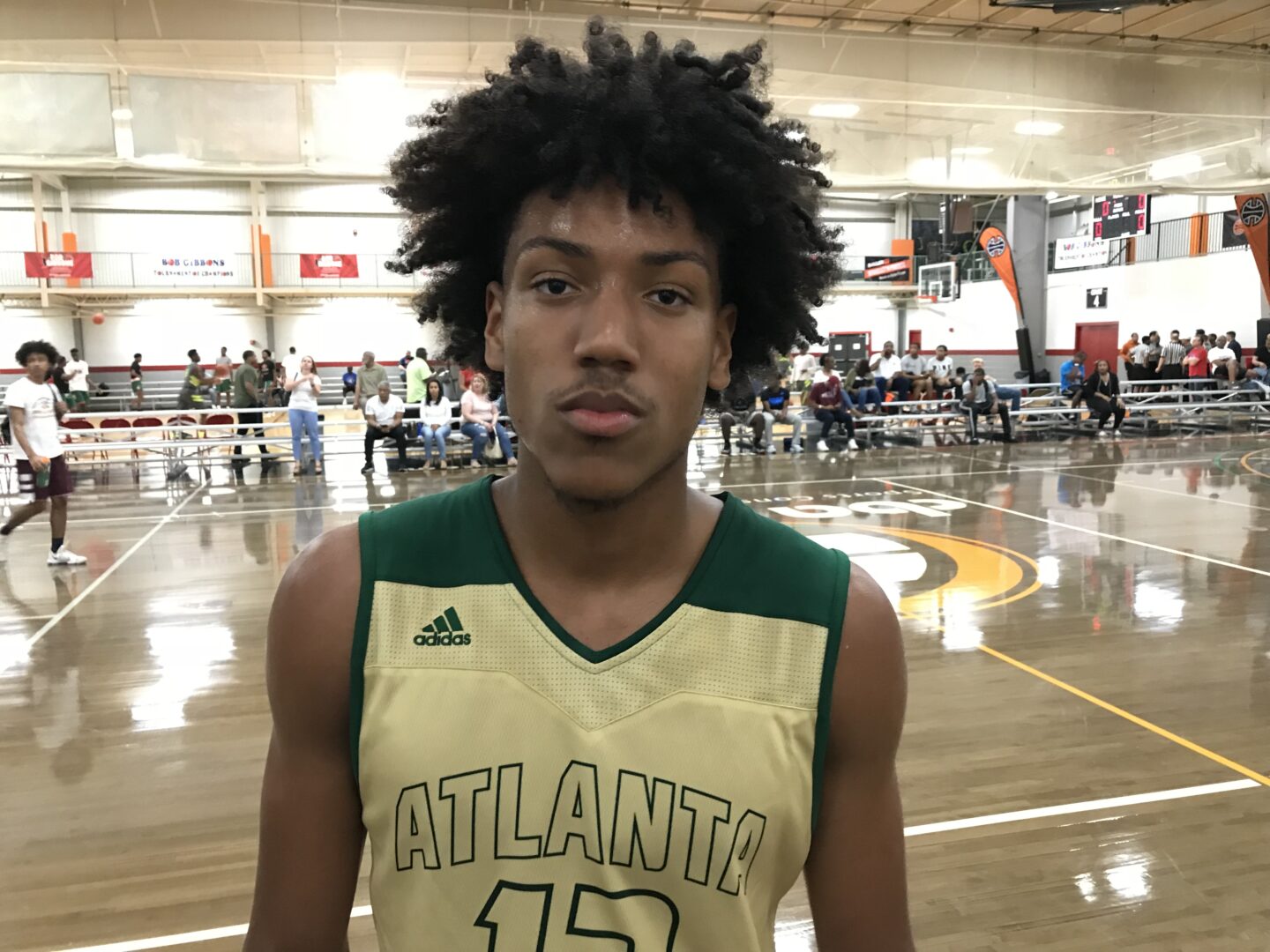 The Atlanta Celtics overwhelmed a smaller Palm Beach Bulls team. The Celtics were sparked off the bench by Morgan County 2019 standouts 6-foot-3 Alec Woodard and 6-foot-4 Tyrin Lawrence. Woodard played centerfielder in the Celtics' full court press and nearly posted a triple-double thanks to his quick instincts. The three-point marksman showed his entire skill set finishing with 11 points, 4 rebounds, 8 assists and 9 steals.  Lawrence, who holds offers from College of Charleston and Robert Morris, collected 9 points, 5 rebounds, 4 steals and 1 block.
2019 6-foot-7 forward Armani Harris (Newton) played well inside. He provided physical play with some nice offensive footwork, able to attack from the foul line and spin his way to the cup. He had 9 points and 8 rebounds.
Ole Miss-commit 6-foot-10 Rodney Howard (Centennial) continues to improve. He did the majority of his damage on rim runs, finding and sealing his defender deep underneath the basket for easy finishes. He used his size to his advantage and was unstoppable against the smaller Bulls when he got good position. Howard is still a little mechanical and stiff in his movements however. He has a high arcing release on his jump shot and a nice touch on it, but it can be a slow developing stroke that might not be as effective against taller defenders. Overall, Howard dominated like an SEC big man should against a small 6-foot-4 front line, finishing with 17 points, 5 rebounds and 1 block.
Brenden Tucker (Dacula; 15), Kamar Robertson (Cambridge; 12) and Reco Hallmon (Grayson; 9) combined for 36 points in the lopsided blowout. Tucker had three breakaway dunks. Hallmon added 4 rebounds, 4 assists and 3 steals.
Atlanta Xpress 80, HESE Wolverines 20
No Anthony Edwards, no problem for the Xpress on Friday night. 2019 6-foot-3 CG Chase Hunter (Westlake) was electric with his trademark tenacity. Hunter is the epitome of a two-way player, a guy who will hound you on one end and dunk on you on the other. Hunter is much more than just a YouTube sensation with his aerial assaults on the rim. He has deep range, knocking down two threes with a handful of pull-up jumpers from the mid-range as well. Couple that with his quick first step that lets him get to the basket and its easy to see why High Major offers have been pouring in this spring. He had 22 points, 5 steals and 1 block.
6-foot-8, 215-pound 2019 PF Ibrahima Jarjou tallied 13 points, 7 rebounds, 1 assist, 4 steals and 3 blocks. The Greenforest big man follows in the school's tradition of finding mature built forwards. He is an active rebounder that is rounding into form offensively. He knocked down a jumper and showed the ability to put the ball on the floor on some straight-line drives to the rim.
2019 6-foot-8 F Ahmir Langlais (Parkview) picked up 7 points, 12 rebounds, 2 steals and 3 blocks. Langlais is very young and very skilled for his age. Reclassifying is not completely out of the realm of possibility. With that being said, Langlais can sometimes fall in love with his finesse side. He can tend to do a little too much and be too flashy with the ball when showing his ball-handling and passing. In a closer, more structured game I think Langlais is a tough cover on the block with his lefty hook and spins inside. He just has to bring that same focus and toughness whether it's a blowout or a close game and avoid drifting too far away from the paint.
Game Elite 77, ALLBALL 56
Before he even played a varsity game, I tagged 2019 6-foot-7 F Jalyn McCreary (Kennesaw Mountain) as a potential big-time difference maker in the state of Georgia. So far, McCreary has lived up to the billing and is getting even more traction with nine offers in hand. The lefty can score from all three levels. He plays above the rim, rebounds, handles the ball and can block shots. McCreary is a one-man fast break when he gets the ball off the backboard. He posted 20 points, 10 rebounds, 3 assists and 1 steal. With his size and versatility, McCreary should be destined to become a High Major signee when all is said and done. As long as he stays focused and doesn't get too high or too low during the flow of the game, McCreary should be the best player on the floor in almost every game he plays his senior season.
2019 5-foot-9 Jaire Eastmond (Wheeler) hooked up with McCreary for three alley-oops. Eastmond has a nice touch on his lob passes. He finished with 7 assists. He must improve defensively and make up for his small stature. He was able to come away with three steals and does good work in transition.
Georgia South 59, Manzer Black 54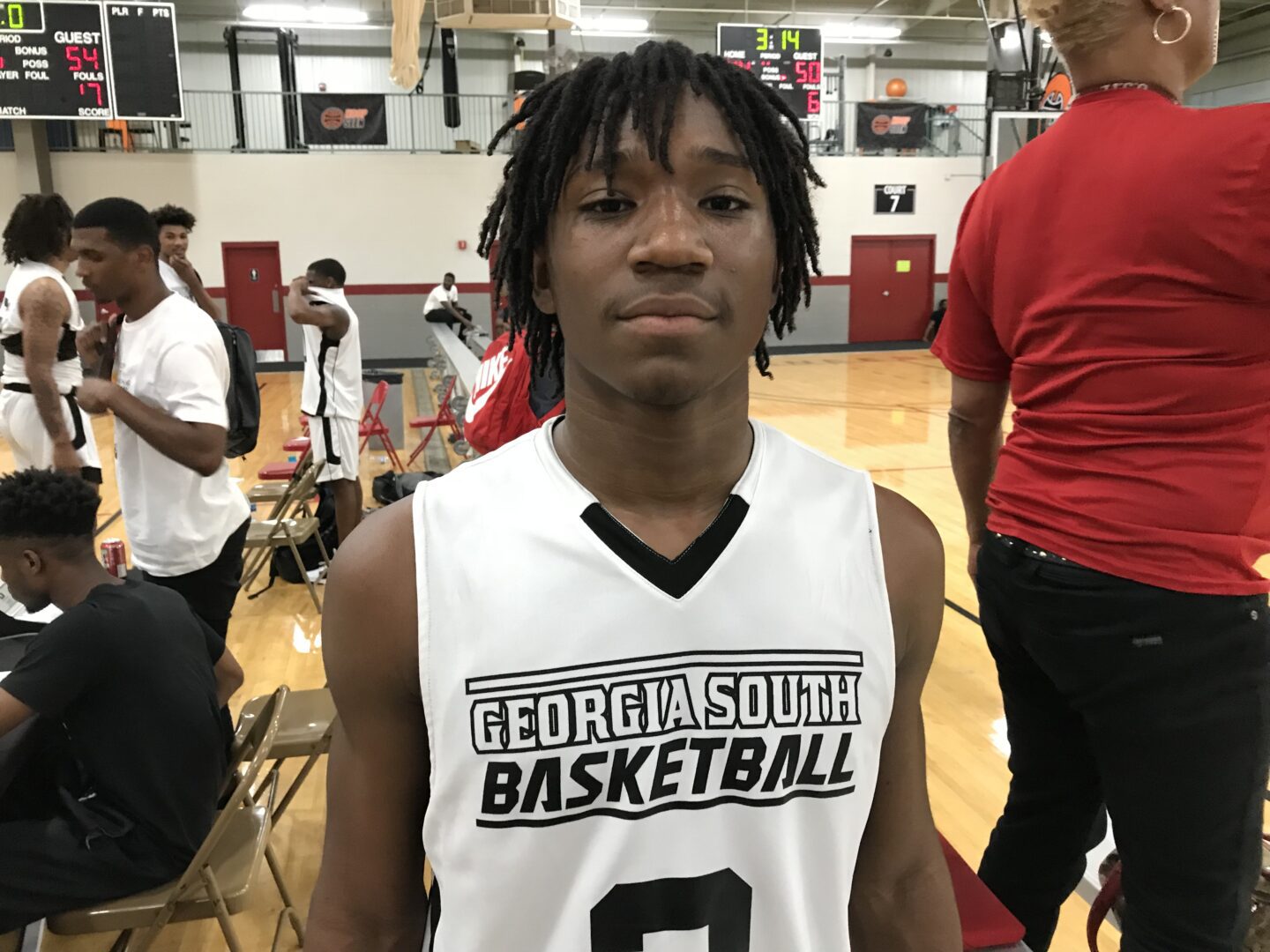 5-foot-10 scoring dynamo AJ Watts (Carver-Columbus) netted nine of his 11 points in the first half. The 2019 guard is a competitor. He uses a nice crossover to get free and attack the paint. Defensively, Watts has active hands, swiping at the ball-handler. He produced 5 rebounds, 3 assists and 1 block.
Westover's 2019 trio of Jordan Brown, AJ Jackson and Mike Todd Isler combined for 28 points, doing it in different ways. Brown, 5-foot-9, struggled with his outside shot, going 2-of-8 from three. He finished with 7 points. Like all great shooters, Brown must ask himself how can he positively affect the game if his shots not falling? He had one nice finish at the rim in transition. I think getting into the paint should be a priority for him when his shot isn't on.
Jackson, fresh from Father Lopez, FL, is an absolute jumping jack at 6-foot-2. He is an explosive athlete that will supply plenty of highlights. His downhill attack should couple nicely with Brown's outside shooting. Jackson had 9 points, 5 rebounds, 3 assists and 2 steals.
Isler is might be the least skilled out of the trio but brings maximum effort to cover up for any shortcomings. He is a 6-foot-4 combo forward that is a garbage guy. The lefty finished with 12 points, 7 rebounds, 3 assists, 3 steals and 3 blocks. You will never have to worry about asking Isler to play hard from what I saw on Friday.