After battling the traffic on 285 for two hours, I arrived at the Miller Grove Shot Clock Summer League on Wednesday. The League plays on Mondays and Wednesdays throughout June. The prestigious event showcases 14 teams throughout the summer. Miller Grove, Hiram, Mays, North Clayton, Jonesboro, Lithonia, Tucker, Sandy Creek, Shiloh, Cedar Shoals and Statesboro all made state tournament runs while Brookwood (17-9), Henry County (15-11) and Druid Hills (14-12) didn't earn a berth but are as dangerous as any group in the 14-team field.
Cedar Shoals 78, Henry County 63
Cedar Shoals remained undefeated for the summer and scored another impressive win, this time ousting Henry County by 15 in a game that featured high level athletes with true D-I aspirations. Coming off of a 29-3 season with a Final Four run in Class AAAAA where they fell to Allatoona 48-46, Cedar Shoals faces the unenviable task of replacing sparkplug point guard and Sandy's Spiel Most Underrated award winner, Jerrick Mitchell (Columbia State).
The Jags had no problem with Henry County using a wide open floor to pick apart the Warhawks. Cedar Shoals buried seven first half threes and finished with 10 on the day to gain and maintain their separation. Phlan Fleming was as good as advertised. The long 6-foot-5 senior guard poured in a game-high 29 points and nailed three triples. Fleming also collected 10 rebounds and won his personal matchup with the explosive Damion Rosser. The two even got a double technical in the second half. It did not feel like a preseason game with the amount of intensity in the building.
Snipe Hall, a 6-foot-2 senior shooting guard, was lethal from beyond the arc to open the game. He finished with 23 points and banged in three of his four three-pointers in the first half. He added on three rebounds and three assists as well. Hall was more than just a one-trick pony, scoring in the lane off pull-ups and tallying six points from the line.
AJ Jones, a 5-foot-9 scrappy guard, canned three long balls and finished with 12 points and four assists. Inside, workhorse tight end on the football field Stavion Stevenson chipped in six points and six rebounds.
The common theme for Cedar Shoals on Wednesday? Sharing the ball. The Jaguars collected 17 assists to Henry County's seven. The engine that made Cedar Shoals go wasn't Jerrick Mitchell anymore but instead senior Damarrea Lowe.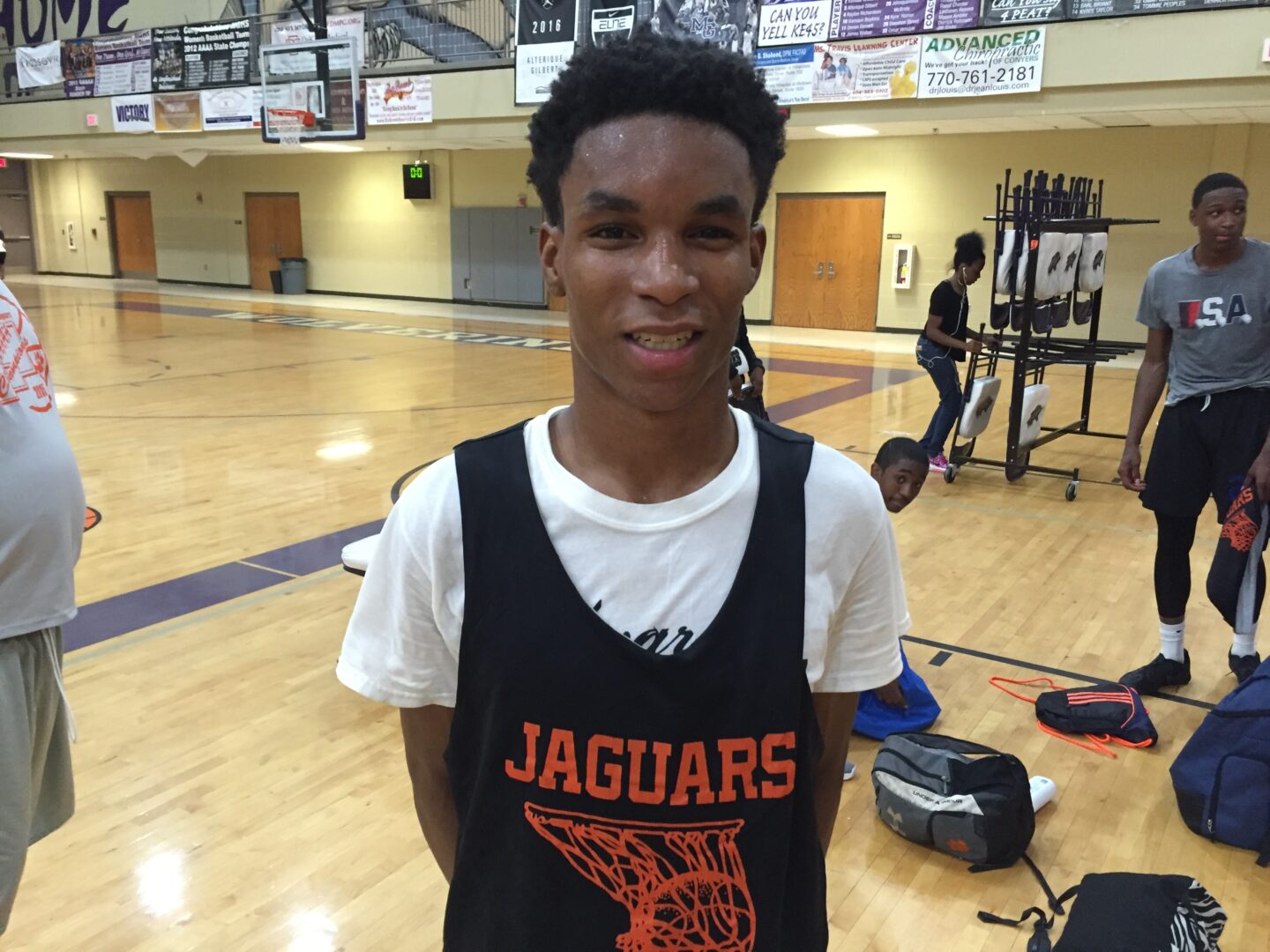 With Fleming and Hall already as known commodities, 'D-Lowe', a rail thin point guard listed at 5-foot-10, 130 pounds, might play just as important of a role in the Jags' success in 2016-17. Lowe was inserted into the starting lineup and had the Jaguar offense clicking like it was in mid-season form. Lowe didn't show the flashy burst of speed like Mitchell or the daringness to knock down pull-up jumpers like his predecessor did when he was on, but Lowe did exactly what Coach L'Dreco Thomas needed of him: make smart decisions with the ball.
He finished with four points, eight rebounds, seven assists and three steals. Every time I looked up, Lowe was affecting the action on the court in a positive way. If he can contribute the way he did yesterday, finding open shooters on the perimeter and limiting turnovers, this Cedar Shoals offense will be tough to slow down, especially if they can knock down their threes.
Even in the loss for Henry County, positives were taken away. Coach Vincent Rosser often told me last season, they could be a special team if they learned how to defend consistently. Against top level competition like Cedar Shoals who can shoot you out of the gym in a heartbeat, the Warhawks were tested and received a good measuring stick of how much further they need to improve to become a state title contender.
The Warhawks, down double-digits for nearly the entire game, never gave in. Coach Rosser stayed on his group and had them playing hard till the final buzzer, a very welcomed sign. Henry County has one of the best backcourts in Class AAAA, the tandem of seniors Damion Rosser and Javon Greene is good enough to hang with anyone. The 6-foot-4 Rosser plays above the rim and is constantly looking to attack. He scored 15 points and chipped in four rebounds, two steals and a block. Rosser is great at getting to the hole, but he mustn't forget to keep the defense honest with his jump shot. He knocked down one three yesterday and if he can consistently knock them down, that will open up even more driving lines.
One player who wasn't shy to let it rip was 6-foot-2 senior Javon Greene. Greene netted a team-high 22 points and ripped off 16 points in the second half. Henry County was in too big of a hole for it to make a difference, but Greene caught fire in the second half. The unconscious Greene was in ultimate heat check mode, drilling four threes in a row, pulling up on a dime and letting them fly. Along with his scoring outburst, he collected three rebounds, three assists, three steals and two blocks.
Both eligible to play this year, Kovi Tate and Seth Brown should be big difference makers for the Warhawks. The quartet of Rosser, Greene, Tate and Brown have been playing together in the summer with the Atlanta All-Stars and have been building a cohesion towards an exciting senior season. Tate, a stout 6-foot-5, brings power inside and an ability to convert easy buckets. Like seemingly all of his peers, he is also an above the rim finisher that can change games. He finished with a modest six points, six rebounds and one block. Brown was quiet last night with four points and three rebounds, but once he finds his footing, he will round out a very dangerous starting five with senior Sadonta Lindley heading up the point guard position.
Tucker Transfers
The Tucker Tigers breezed past Lithonia after an impressive second half, coasting to a 59-44 victory. Tucker is without last year's leading scorer, Kenton Eskridge, as he is now at Columbia playing for Dr. Phil McCrary. Eskridge leaves one living legend (James Hartry) for another, but the Tigers will find a way to have some bite as always. Coach Hartry, who has amassed a 317-149 record over his 16 seasons at the helm of Tucker, won't have a barren cupboard.
Transferring over for his senior season is 6-foot-3 guard Joshua Cammon. Cammon was overshadowed by 25-point-per-game scorer Isaiah Miller at Eastside, but the former team captain can fill it up himself. He averaged 13.6 points, 4.7 rebounds, 2.3 assists and 3.4 steals per game as a junior. Cammon looked good yesterday, showcasing tight handles in traffic and the ability to get and create his own shot. He is a strong athlete with a muscular frame that will help him attack the hoop. Cammon attempted 92 free throws last year and knocked down 51 threes. He will have to raise his shooting percentage on both (64% & 27%), but Cammon looks like he can provide some instant offense for the Tigers, a team looking for a new go-to guy for the second straight year.
Jackmon on the Mend
Miller Grove senior Joshua Jackmon was on-hand at the summer league. Jackmon suffered a torn ACL on the adidas Uprising circuit and is eager to get back on the court. He expects teammate Tae Hardy and himself to have big senior seasons under new head coach Rasul Chester.