Sleeper Alert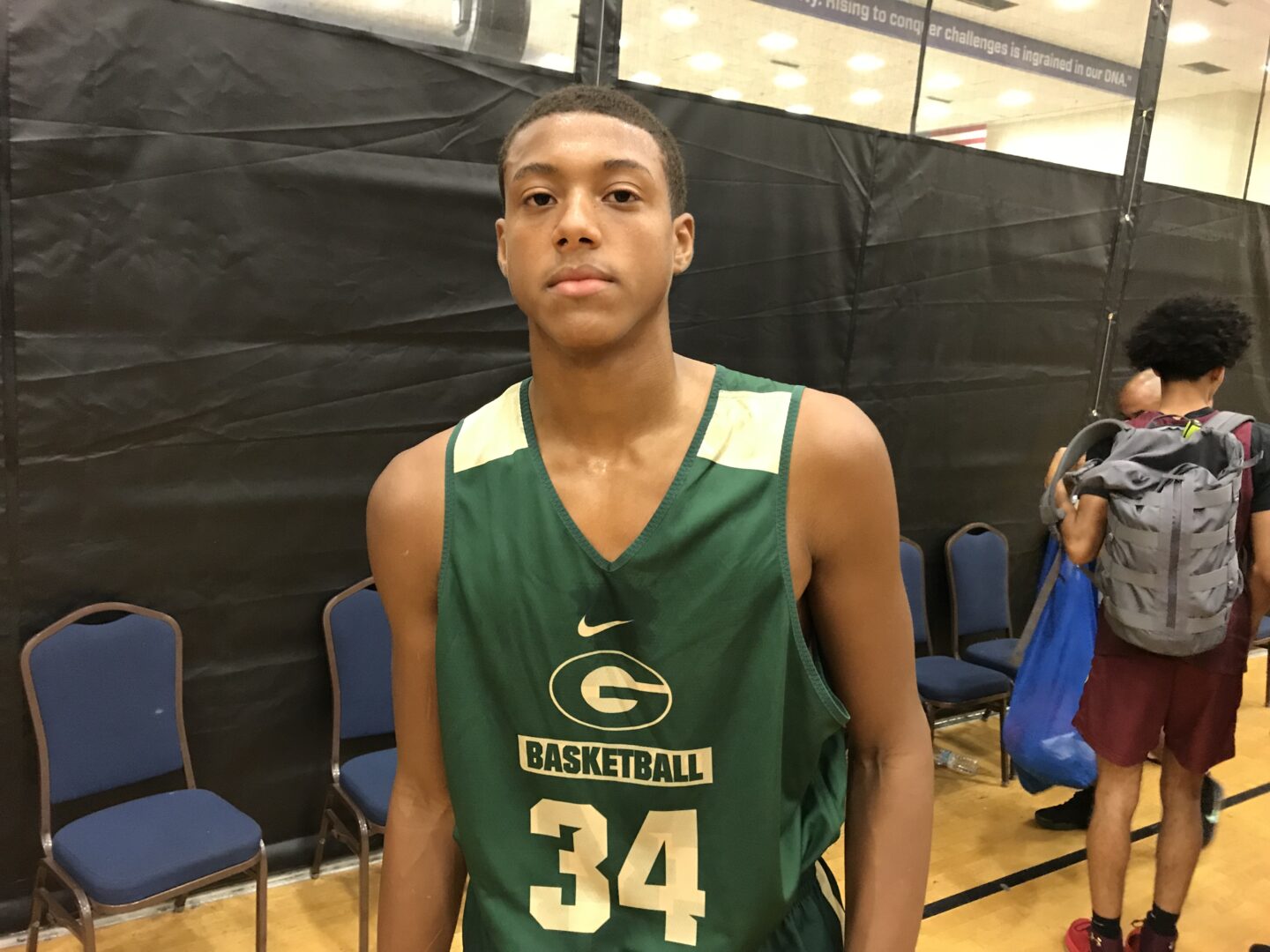 No one turned more heads than 2019 6-8 C Solomon Ray of Grayson. Still new to the game of basketball, Ray played JV last season. This year, Ray could be the state's best late blooming big man. He is an elite shot blocker and a good rebounder that attacks each carom with two hands. Offensively, he is still raw and does all of his damage on the offensive glass, but his defensive presence is game-altering. Only playing the game for a few years according to his coaching staff, Ray does a good job of not biting on too many pump fakes. He keeps his arms straight up and can block shots with both hands. Ray had games of 8, 2 and 5 blocks in the three games attended. With some more player development and a good low post teacher, Ray could end up sneaking onto some D-I radars. Western Illinois already showed interest on Sunday.
Another block inside for @SolomonRay14 pic.twitter.com/SeWSBBiOlc

— Kyle Sandy (@KyleSandy355) June 30, 2018
Stock Risers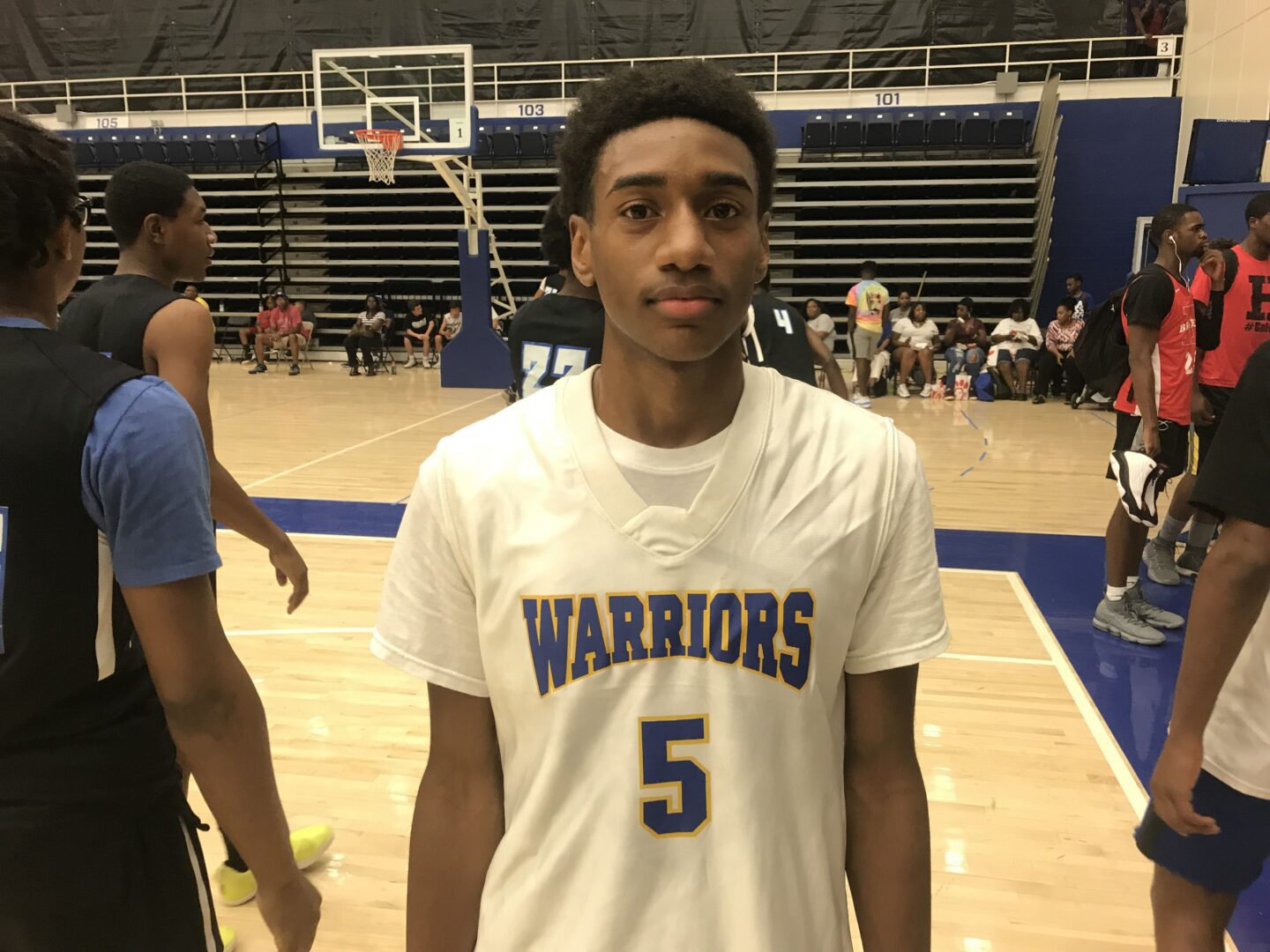 2019 6-2 SG Jalen Lamar is a three-time state champion at Class A-Public Wilkinson County. He shined on the big stage back in March, scoring a team-high 22 points on 9-of-14 shooting to clinch the Warriors' third-straight title and 10th in school history. Lamar stood out at the HypeSouth30 Camp and did so again at Georgia State as he poured in 21 points and 6 rebounds against Liberty County. Lamar has a quick release on his jump shot and accuracy to boot, nailing 4 threes. He should be regarded as one of the top seniors in Class A-Public and is firmly entrenched in the discussion as a Top 20 SG.
2019 6-4 SG CJ Hood (Eagle's Landing) has long been a steady producer, but the Region 4-AAAAA Honorable Mention selection has been in the shadows at times behind Brandon Thomas (Mercer), Tee Evans, Jacob Durmveil and Jordan Lewis in a crowded backcourt over his first three seasons. However, in 2019 it looks like Eagle's Landing should officially be his team. Hood was the go-to guy in wins over New Manchester and Class AAA state champion GAC. Hood pumped in 24 points against the Jaguars and finished with 22 vs. the Spartans. Hood is a strong shooter that can hit the three but also utilizes the mid-range.
2020 6-5 W Terrence Edwards (Miller Grove) came on strong down the stretch for the Wolverines last year as they fell on a buzzer beater in the Class AAAAA state championship to Warner Robins. Edwards dropped in 11 points in the loss but has continued his upward trend. With a lot of inexperienced faces in the Miller Grove lineup outside of Region 5-AAAAA Player of the Year Maurice Harvey, Edwards' usage should explode this year. His versatility was on full display in a 58-44 win over Holy Innocents' as he posted 15 points, 10 rebounds, 1 assist, 1 steal and 2 blocks.  Edwards hit the outside shot and crashed the glass as the Wolverines' biggest player.
2020/2021 Guards
The top of the 2020 class is littered with star guards. Sharife Cooper, Dwon Odom, Christian Wright, KD Johnson, the list goes on and on. But there are some more great guards that get nowhere near the publicity of the big four who all lead the charge on elite shoe teams and strong high school programs.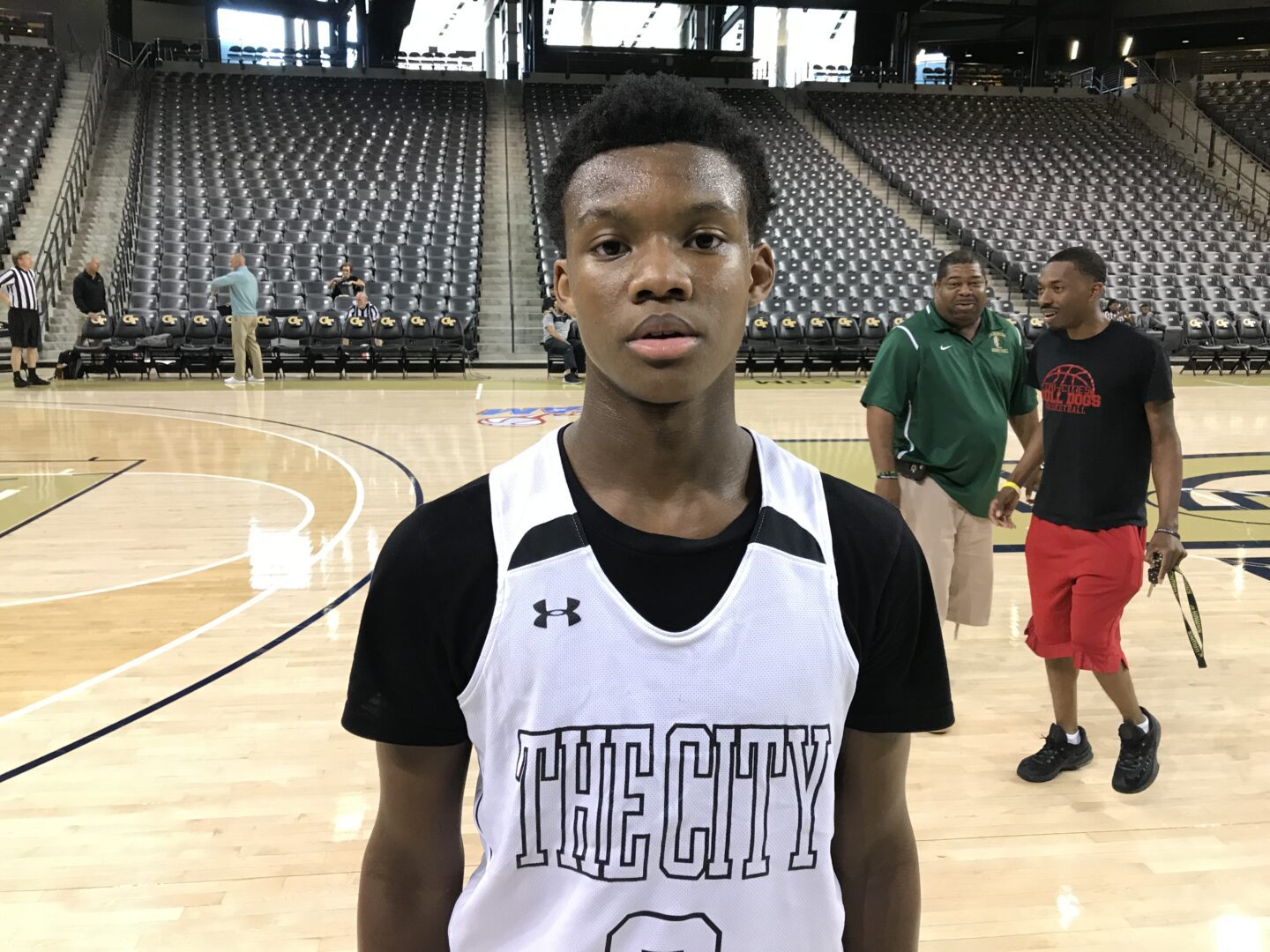 6-0 CG Peyton Daniels (Tri-Cities) is proving to be one of the better shooters in the class of 2021. He outplayed a great 2020 point guard in Deivon Smith (Grayson), filling it up with 19 points, 4 rebounds, 2 assists, 2 steals and 1 block in a 57-49 win over the Rams. Daniels nailed 3 threes and created his shot on an island, freeing himself with crossovers to knock down jumper after jumper.
2021 6-0 CG @therealpeyton10 is proving to be one of the best shooters in his class. He's been hot today.

The duo of he and DaMarcus Johnson has the potential to be one of the top shooting backcourts in 6A pic.twitter.com/td4wy7fSc2

— sportalspace (@sportalspace) June 30, 2018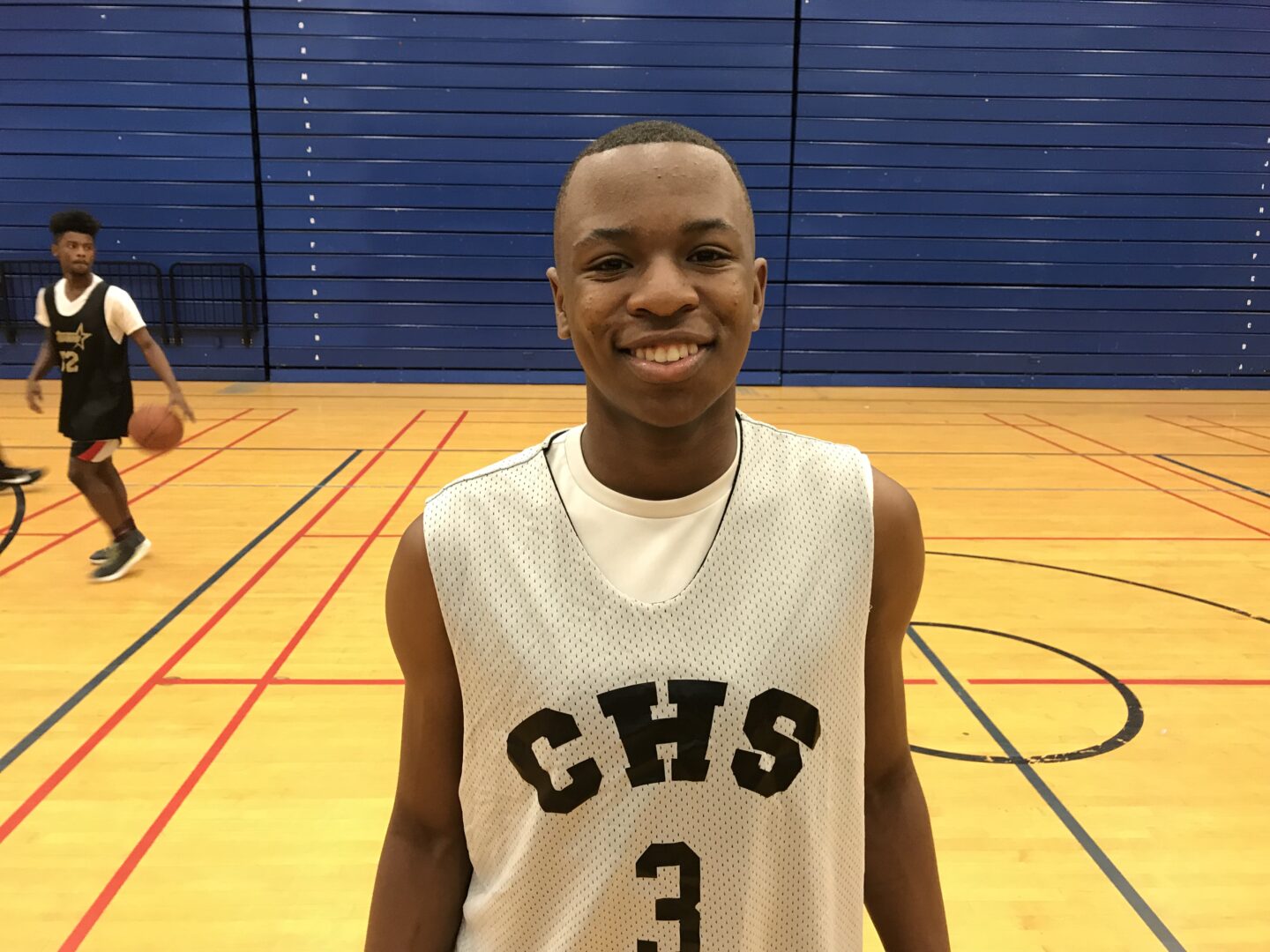 5-7 PG DJ Wright (Greene County) is a name you don't know if you're a casual fan from Metro Atlanta. The spunky guard from Greensboro plays in Class A-Public, the smallest classification in Georgia, but his game is big. Wright is quick with the ball in his hands and can score from all three levels. He made opponents pay for going under screens but also got in the lane and finished with a variety of acrobatic layups. Wright might not ever be able to carry Greene County to a deep playoff run, but he still has to be considered one of the best point guards in the classification. The edge he plays with makes up for his diminutive size. He had 21 points (3 threes) and 3 assists in a 48-46 win over Jones County and 2020 CG Bryson Wooten.
DJ Wright creating pic.twitter.com/cZDnyMEr8x

— Kyle Sandy (@KyleSandy355) June 30, 2018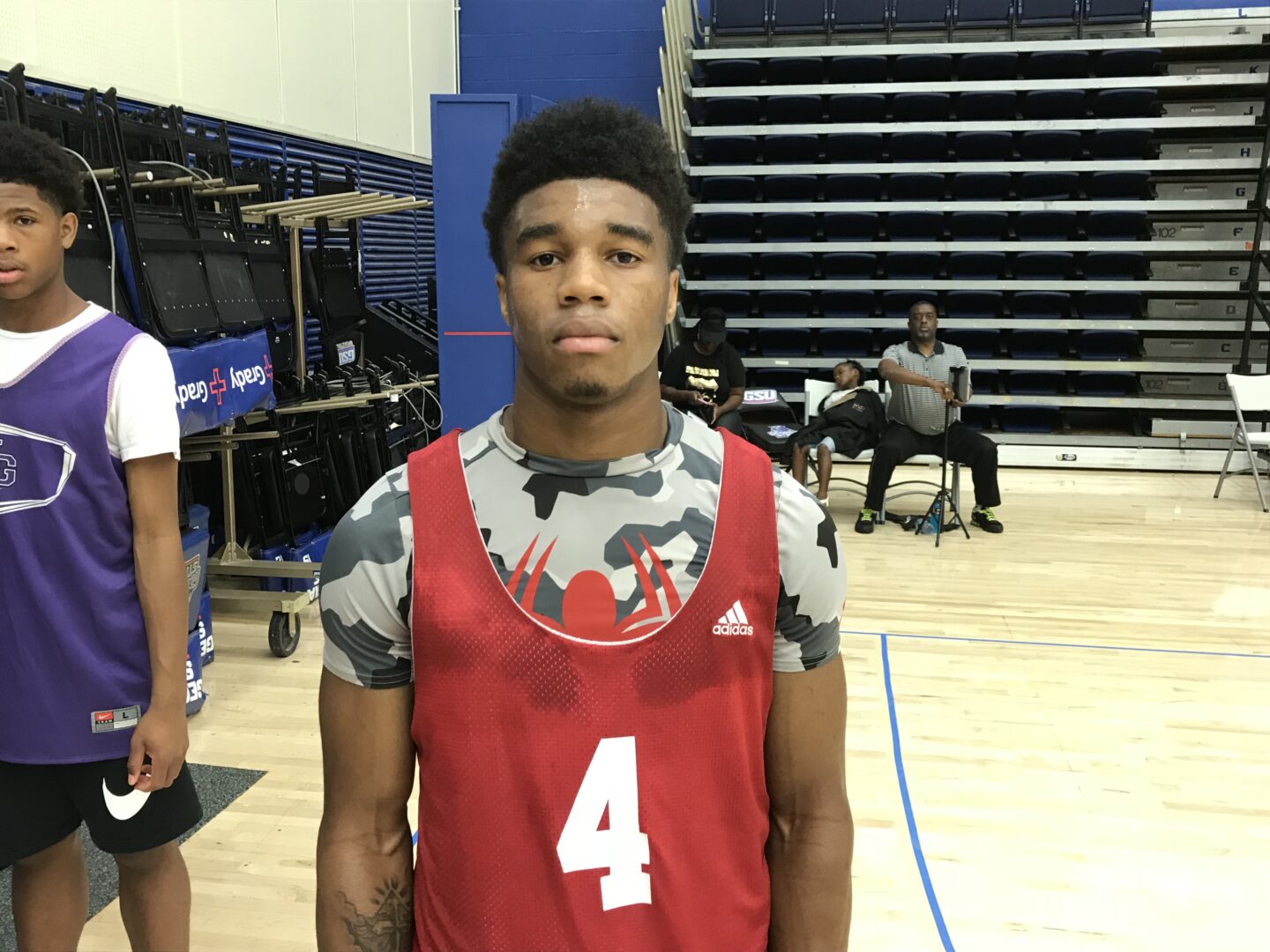 5-10 PG Demajion Topps has people thinking twice about New Manchester. The explosive lead guard orchestrates a relentless Jaguar attack which also features 2019 5-11 CG Jordan Bragg and 2019 6-5 F Niyon Ashley. Bragg is a knockdown shooter that sprays threes. The southpaw drilled four in a 14-point showing against Eagle's Landing before burying 6 threes en route to 24 points against Collins Hill. Ashley is the bouncy combo forward that provides scoring inside. He had 18 points vs. Eagle's Landing and 14 against Collins Hill. But make no mistake, its Topps that creates the action. He flourishes in transition, often pitching ahead to shooters running to their spots. Topps has a burst that lets him get to the basket, but also has a solid three-point stroke. Against Eagle's Landing he had 16 points, 4 rebounds, 3 assists, 2 steals and 1 block. In a win over Collins Hill, Topps tallied 15 points, 4 rebounds, 8 assists, 2 steal and 1 block.
Liberty County Big 3
27-year old Head Coach Julian Stokes had an up-and-down season with an inexperienced group last year, finishing 12-13 without the star power and leadership of Will Richardson who left for Oak Hill Academy.  This year, Coach Stokes is optimistic about the Panthers' chances of bouncing back and for good reason. Liberty County has a tough backcourt trio consisting of rising seniors Jaden Young, Arieus Taylor and Keannon Taylor. The triumvirate combined for 38 points in Liberty County's 50-44 win over Wilkinson County. Young was the engine, finishing with 12 points, 11 rebounds, 4 assists, 1 steal and 1 block while Arieus Taylor led with a team-high 17 points. Keannon Taylor supplied 9 points, 6 rebounds and 3 steals. The triad's versatility will be key in the Panthers returning to statewide prominence.
Dawson County Ready to Contend
The mass exodus of Dawson Christian Academy to Dawson County has changed the landscape of Class AAA. While the Tigers might not be a favorite to win a state title, Dawson County looks like they will definitely be a fixture in the Top 10 all season long. A 59-56 win over Grayson will be a distant memory once the season tips in November, but for now it will serve as a small confidence booster and a proof of concept that there can be a winner in Dawsonville.
The offense will run through 2019 6-5 W Luke Chism. The former GICAA star will be a handful for North Georgia teams to slow down. He had 20 points in their win over Grayson, relentlessly attacking the rim. Chism has great body control going to the basket and is able to absorb contact and finish through the chest and arms of defenders. Continuing to round out his three-point shot will help him diversify his offensive game.
Nice block by @chism_luke32 of @Dawson_Hoops pic.twitter.com/lenjrBS52G

— sportalspace (@sportalspace) June 29, 2018
Chism will be a part of maybe North Georgia's best 1-2 punch with Jefferson move-in 2020 6-2 PG Jasper Gibson. While he didn't have a great offensive game against Grayson, Gibson scored five big points late and did a nice job handling pressure. His shots weren't falling, but he crafted his way into the lane and found clear looks at the basket thanks to good footwork and ball fakes. 2019 6-0 G/F Ahmad Kamara and 2020 6-5 SF Eli Burruss are both huge pieces from Dawson Christian Academy. Kamara is a positionless bowling ball of effort that helps out in anyway possible while Burruss brings size and energy as a multidimensional option.
Chattooga Impresses
The Chattooga Indians from Summerville came to Georgia State with something to prove after a 23-4 season ended with a first round loss to Monticello at home in the Class AA state playoffs. The senior-laden Indians lost (or won according to who you ask thanks to multiple scoring miscues by the table) to Cedar Grove 54-50 but played with their traditional scrappiness and grit.
The Indian starting five has starters fluctuate with height anywhere from 5-foot-11 to 6-foot-2 on a good day, but it was the smallest man on the floor, 2019 5-6 PG Jundraius "Nuk Nuk" Adams, who stole the show in the first half. Adams was fearless with the ball and was locked in from beyond the three-point line. The pesky jitterbug drilled 4 threes on the day to finish with a game-high 19 points to go with his 4 assists and 4 steals. He frustrated known commodity Devon Barnes at times with his ability to slice into the defense, hang in mid-air and find open teammates at the very last second.
More from 2019 5-6 PG Jundraius "Nuk Nuk" Adams (@ChattoogaHoops).

He's cookin with 16 points in the first half to go with 3 assists and 3 steals.@AllOnChattooga pic.twitter.com/PyTkFX6VLr

— Kyle Sandy (@KyleSandy355) June 29, 2018
Adams is probably the most skilled player on the Indians while the rest provide constant effort matched with athleticism that wears down every team they see in North Georgia.
2019 6-1 F Devin Price found himself in the right place at the right time on numerous occasions as he finished with 6 points, 5 rebounds, 3 steals and 1 block. 2019 6-2 W Glenn Walker has a funky shot, but the lefty was able to sink 2 threes as he finished with 8 points, 3 rebounds, 3 assists and 2 steals.
Nice block at the buzzer for @ChattoogaHoops' Devin Price. pic.twitter.com/9u03Ix1Gb0

— sportalspace (@sportalspace) June 29, 2018
Chattooga's defensive-minded style of play will muck up most games and the fact that they play so hard will lead to a ton of wins, a program that has notched an 86-17 over the past four seasons. Their December 8th showdown with burgeoning South Georgia power Woodville-Tompkins at the sportalShowcase presented by Sandy's Spiel could be a state playoff preview.