5ASequoyah 78,  6ALangston Hughes 69
Two teams on the precipice of cracking the top ten in their respective classifications met in the War Lodge in a preseason scrimmage. Missed opportunities and runs were the story of the game. Coach Rory Welsh's 94-feet of pressure defense had the Sequoyah Chiefs on their heels early on, as the Panthers jumped out to an 11-3 lead. Jordan Usher of Sequoyah started out slowly, but found his first points of the game at the 1:41 mark of the first quarter. From that point on, it was all Chiefs.
Sequoyah would go on a 21-2 run to open up a 28-17 advantage mid-way through the second quarter before Khalil Cuffee would quiet the storm and score 11 of his game-high 27 points in the first half. At the break Sequoyah led 36-30 thanks to big second quarters from Cameron Cox, who announced before tip-off he would play his college ball at Navy, and Usher. At the half Cox led all scorers with 13 points while Usher added 8.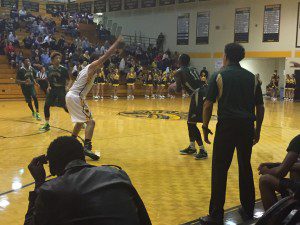 After trading offensive fouls to start the second half, Cuffee canned three straight three-pointers to take a 39-38 lead. Hunter Gaddis of Sequoyah fought for an offensive rebound and scored a contested putback at the buzzer to give the home-standing Chiefs a 54-51 advantage heading into the decisive final quarter.
Free throws crushed the Panthers' hopes of winning as Langston Hughes shot just 6-of-14 from the line in the fourth, featuring key misses from Cuffee and Derrick Cook, who combined to go 3-of-10. Sequoyah converted 12-of-17 free throws in the final frame to stem the tide and hold off the Panthers.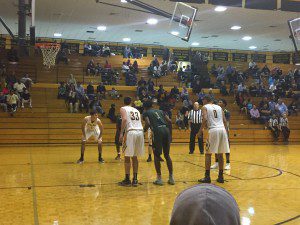 Turning Point: Langston Hughes fought back from a 66-57 deficit and had a chance to make it 66-63 with just over 2:30 remaining in regulation, but a blown opportunity at a point-blank look turned into a Chiefs fastbreak layup, making it 68-61 with 2:39 to play.
Highlight of the Night: Jordan Usher and Hunter Gaddis punched in back-to-back slams on the fastbreak to give Sequoyah a 64-56 advantage.
My Take: The guard play did not disappoint. Khalil Cuffee looked extremely smooth and should have Division-I colleges knocking at his door. Cameron Cox stole the show in what was an emotional night, committing to Navy. Cox, like Jordan Usher, rebounded from a slow start and scored his first points of the night on a baseline jam. Role players Levi Biddy and Hunter Gaddis get a lot of credit for the W. Derrick Cook did a little bit of everything for the Panthers. I think the early setback will be a good wakeup call for the Panthers as they enter a gauntlet of a regular season schedule. Coach Welsh's team showed good discipline, they just could not convert from in close or at the line. Give credit to Sequoyah for not folding after a slow first few minutes and bouncing back to give the Panthers a punch in the mouth and take momentum.
Top Performers:
Sequoyah
Cameron Cox – 26 points, 4 assists, 3 rebounds, 2 steals
Jordan Usher – 18 points, 8 rebounds, 2 steals, 1 block
Levi Biddy – 12 points, 6 rebounds, 2 steals
Hunter Gaddis – 10 points, 5 rebounds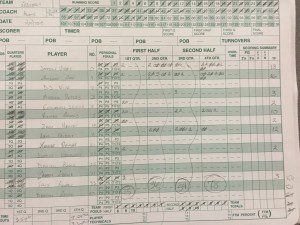 Langston Hughes
Khalil Cuffee – 27 points, 3 rebounds
Derrick Cook – 13 points, 7 rebounds, 6 assists, 2 steals
Justin Jones – 13 points, 3 rebounds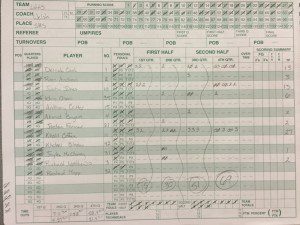 Cameron Cox announces he is heading Navy pic.twitter.com/NM41K52xKI

— Kyle Sandy (@KyleSandy355) November 11, 2015
Girls
Sequoyah 61, Langston Hughes 43
Two crucial spurts put the Lady Panthers away. Sequoyah led 22-15 at the half and used a 22-to-8 run to gain a 44-23 advantage heading into the fourth. Langston Hughes fought back and cut the Lady Chiefs lead to 49-38 with 3:14 remaining, but a 9-0 run ballooned the lead to 58-38 with 48.8 seconds left ending the comeback bid. Kelley Hartman and the rest of the Sequoyah length hurt the Panthers inside, while Megan Garcia's three-point shooting and super sophomore Alyssa Cagle's all-around ball handling and shooting powered the She-Chiefs attack.