No. 6 GAC 75, No. 5 Holy Innocents' 67 OT
The power struggle for control of Region 6-AA officially began Thursday night as No. 6 GAC (4-3) found a way to knock off host No. 5 Holy Innocents' (3-2) in overtime, 75-67. The Spartans entered the game on a two-game losing streak, but more importantly, without leading scorer, junior point guard Brian Coffey Jr. and 6-foot-8 center, Charlie O'Briant. With two big pieces out, Garrett Covington and Jacob Hoffman were expected to shoulder the load, but it was a level-headed freshman that made possibly the biggest impact of the game.
To open up the night, both teams traded baskets with Hoffman knocking down a three. The senior would roll an ankle however, soon after and would gingerly walk off with the game tied at 7. While on the bench, Cole Smith of Holy Innocents' caught fire. He scored nine of the Golden Bears' 13 points in the first quarter and would score 19 of his game-high 29 points in the first half.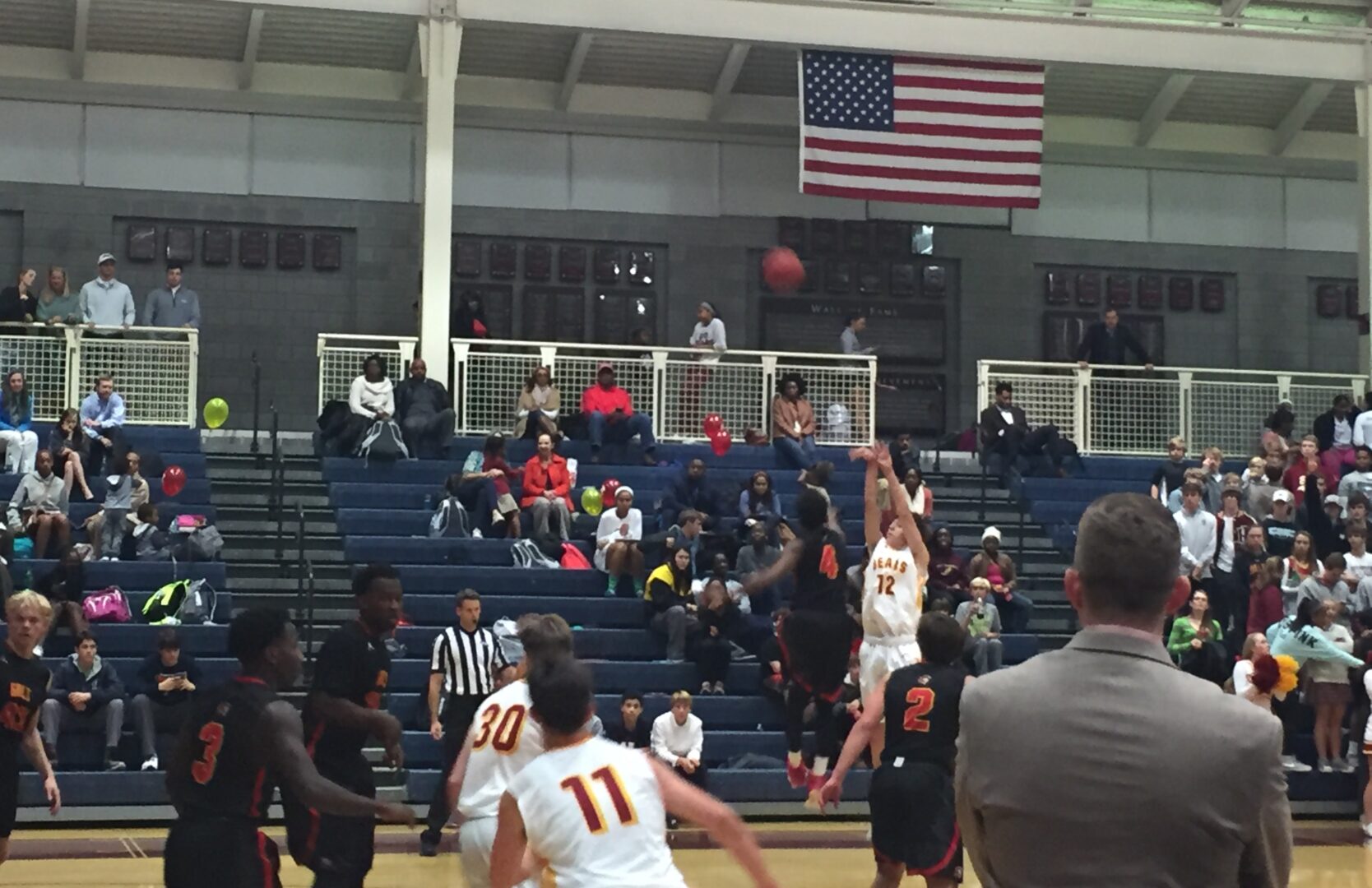 Hoffman returned to action later in the first quarter and finished with eight points on the day. The Spartans trailed 13-11 at the end of one. With Holy Innocents' committing six first quarter fouls, the Spartans seemed destined to live at the line in quarter two, but the Golden Bears didn't pick up foul number seven until under two minutes to play in the half. GAC pushed ahead 24-19, but Holy Innocents' used a 14-4 run capped by a Jules Erving putback dunk and a layup to enter the half leading 33-28.
With Coffey sidelined and Hoffman gimpy, someone needed to step up for the Spartans. That someone was freshman point guard Hunter McIntosh. The cool youngster scored half of GAC's points in the first half with 14 and finished with a team-high 27.
Smith bombed his fifth three-pointer of the night with 46.3 seconds left in the third quarter to extend Holy Innocents' lead to 48-41, and would take a six-point 50-44 lead into the final period of play…or so we thought.
The Spartans continued to chip away and stay within striking distance while the Golden Bears tried to push ahead with a student section dressed in tacky Christmas sweaters roaring them on. Coach David Eaton implemented a press at the 7:17 mark of the fourth quarter, trailing by four. While GAC was able to disrupt the Bears offense somewhat, Brent Duncan started to go to work inside. The high-flying big man scored 12 of his 14 points in the second half to try and stave off the Spartan charge, but it was not enough.
As GAC continued to inch closer and closer, the play on the court got wilder and wilder with more and more whistles. Just under the three minute mark, the craziness which got the Spartans officially back in the game and over the hump occurred. Big man Chris Hinton, all 6-foot-5, 240 pounds of him, drew an and-one bucket, but missed the free throw. His miss was kept alive by Covington, resulting in the ball bouncing back to Hinton who laid it in to make it a four-point possession and draw the Spartans within one at 60-59.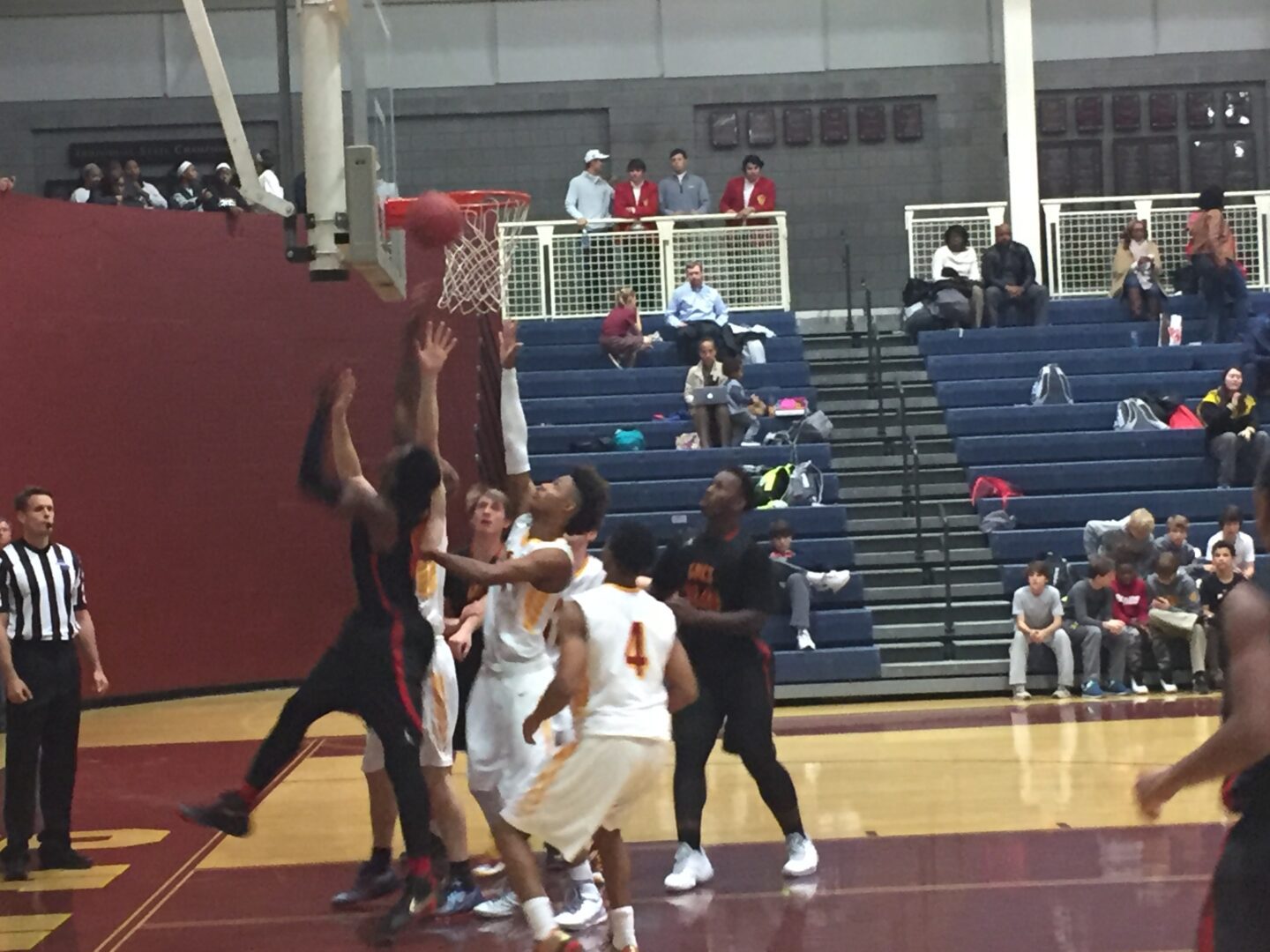 At the 2:05 mark, Duncan hit Harrison Cobb for a jumper to extend the lead to 62-59.
Covington would answer with a steal and a layup making it a one-point game again with 1:36 remaining. Jules Erving was fouled and sank two free throws to go up 64-61 with 48.5 seconds left in regulation.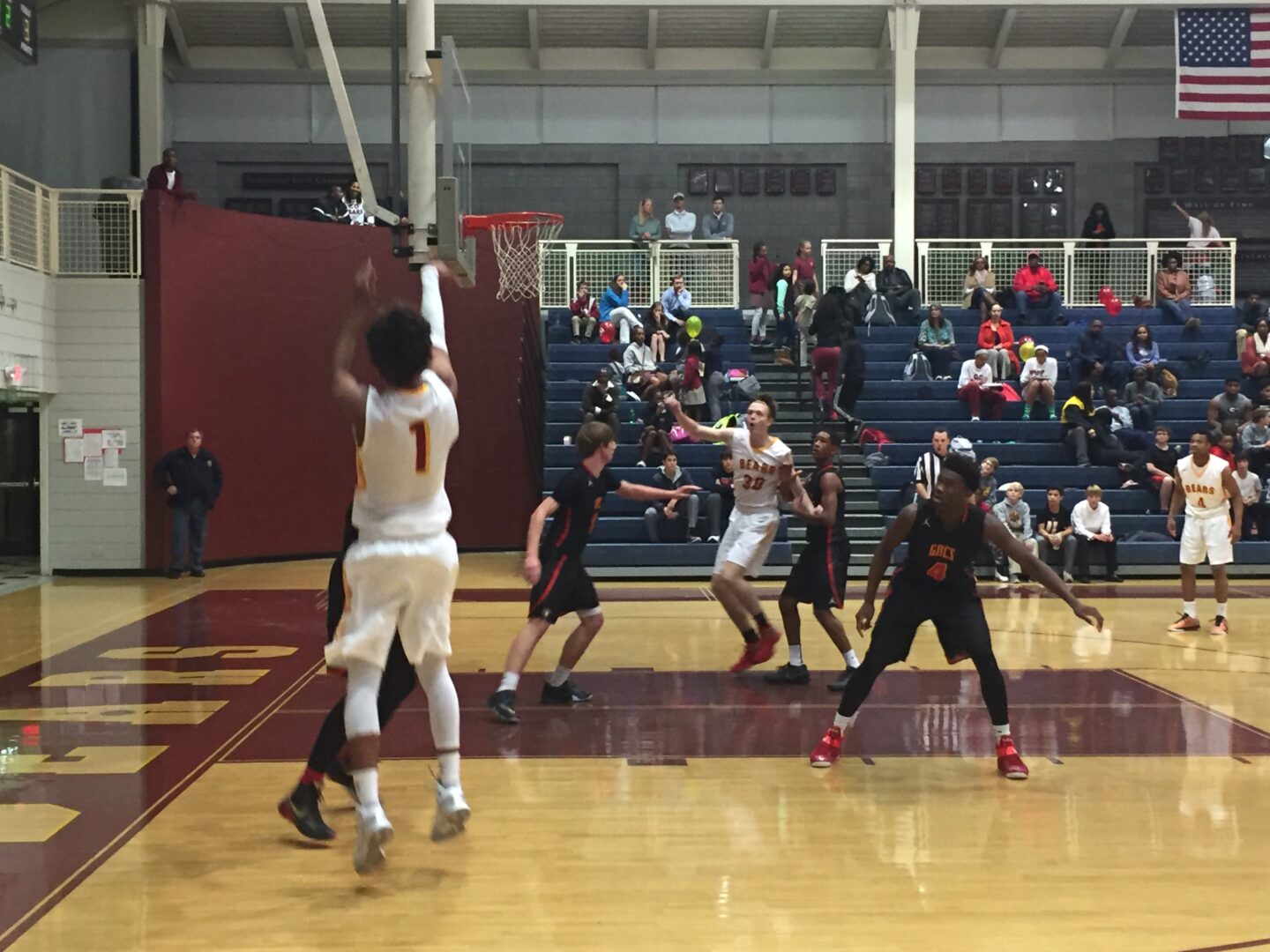 Anthony Carter, who ended up with five points, eight rebounds, two assists and four steals, was fouled with 22.2 seconds left for GAC. Earlier, he had missed a pair of foul shots at the 3:26 mark trailing 58-55. Carter atoned for his misses. He sank his first free throw and missed his second, but for the second time in the fourth quarter, Garrett Covington crashed the offensive glass and batted the ball off the backboard. The ball landed in Carter's hands, who was following his shot, and he was able to lay it in and tie the game with around 15 seconds to play.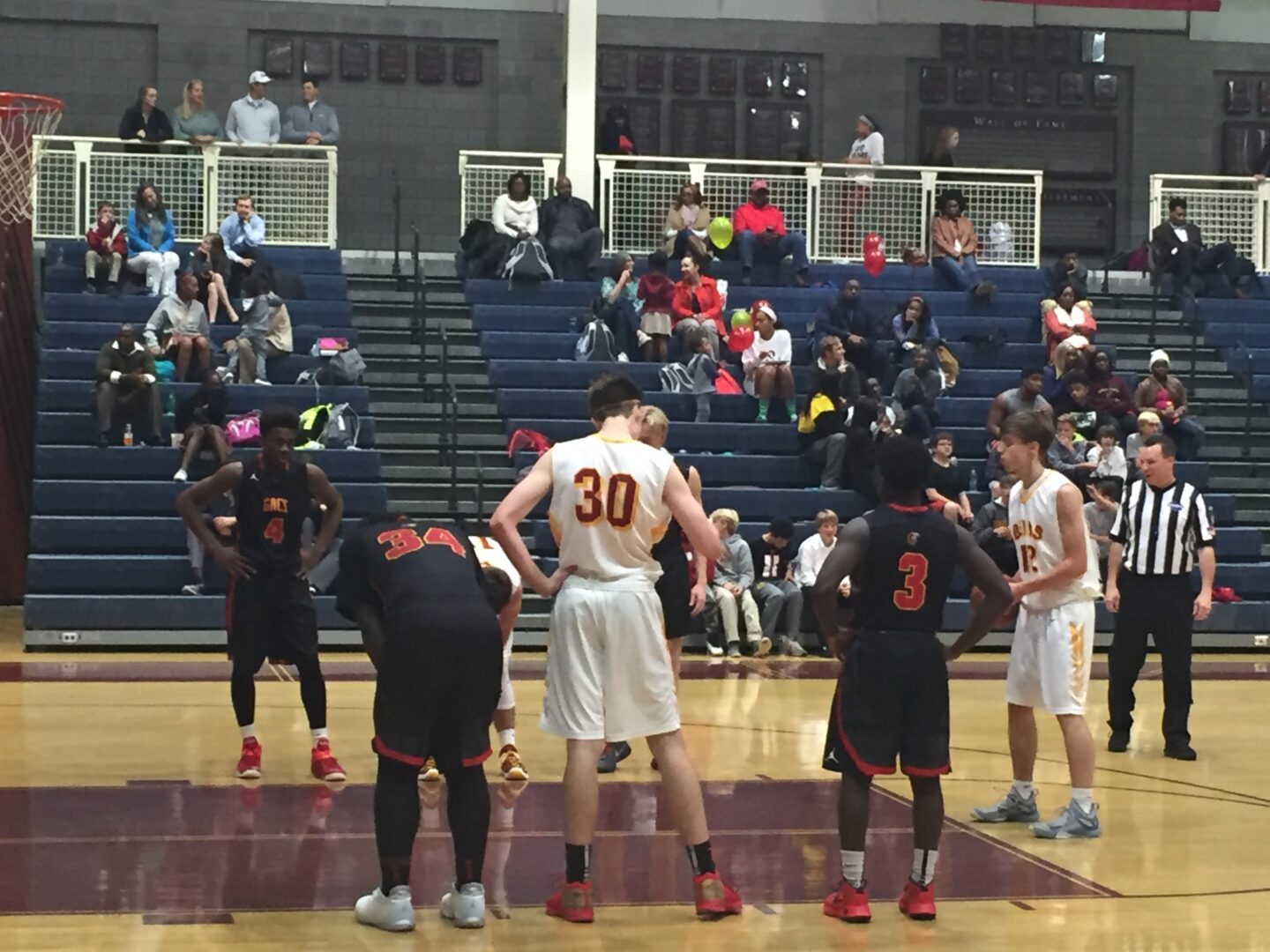 Ibrahim Shabazz had a final look from the top of the key as the clock expired coming out of a timeout seen here, but the shot went awry. We were heading to overtime.
We have OVERTIME @gacsREDZONE 64 @BasketballBears 64 pic.twitter.com/gz8v5GZBIm

— Kyle Sandy (@KyleSandy355) December 4, 2015
In overtime, it was all Spartans. Covington, who finished with 23 points, 11 rebounds and five assists, drove the lane and kicked out a pass over his head that looked wild. That wild pass was right on the mark hitting Jacob Hoffman, who proceeded to bury the triple. Soon after, Covington drove again and found Basil Peterson for the jumper after Hinton spun baseline against Duncan and powered it up for two more on the previous possession. GAC's quick 7-0 spurt in overtime proved to be the dagger as the Golden Bears wouldn't threaten again, giving the shorthanded Spartans a huge 75-67 victory.
My Take: Thursday night basketball is something I can get used to. What a game this was; back and forth the whole way. Every time it looked like either team was going to pull away, the other would respond. To be honest, I had no idea who Hunter McIntosh was before tonight. Now I know. The freshman guard looked as calm and collected as it gets in a hostile environment as he had to take on the lead guard duties with Brian Coffey injured. When I found out he was a freshman, I couldn't believe it. He wasn't making any crazy plays or flashy moves; he was just solid and knocked down every open shot he had. Garrett Covington showed why he is a Gwinnett Daily Post Super Six selection and did everything out there tonight. In overtime alone he had two assists and a handful of rebounds to close it out. Burly Chris Hinton grinded his way to eight big points and did a good job on Brent Duncan down low. Jacob Hoffman splashed home an early three, but after hurting his ankle, he wasn't able to be as explosive. He gutted it out and played with a grimace on his face. His big three in overtime gave the Spartans the separation they needed. After the game, Hoffman was seen limping out of the locker room with his shoe off. Hopefully it's not too serious.
This was my second time seeing Holy Innocents' play. They have three players that can take over a game any given night as they all showed flashes. Cole Smith might as well be called the baby faced assassin. He doesn't look like your prototypical go-to player, but his handles are tight and his stroke is as pure as it gets. Duncan had a slow first half but began to carve up GAC inside during the second half. Jules Erving once again impressed me. He scored 12 points, grabbed nine rebounds, collected seven assists, two steals, two blocks and guarded Covington during most of the night. Talk about a busy night. Harrison Cobb played well. He fouled out with 22.2 seconds left in regulation and his calming presence yet intense play was missed in overtime. He finished with eight points, five rebounds and three assists. It will be fun to watch these two teams duke it out again this year as they jockey for position atop Region 6.
Top Performers
Greater Atlanta Christian
Garrett Covington – 23 points, 11 rebounds, 5 assists, 2 steals
Hunter McIntosh – 27 points, 3 rebounds
Chris Hinton – 8 points, 7 rebounds, 2 blocks
Jacob Hoffman – 8 points
Anthony Carter – 5 points, 8 rebounds, 2 assists, 4 steals
Holy Innocents'
Cole Smith – 29 points, 2 blocks
Jules Erving – 12 points, 9 rebounds, 7 assists, 2 steals, 2 blocks
Brent Duncan – 14 points, 4 rebounds
Harrison Cobb – 8 points, 5 rebounds, 3 assists