Tucker High School was host to DeKalb County Media Day on Oct. 22 for the upcoming GHSA basketball season which officially kicks off in roughly three weeks. Twenty-two programs packed into William S. Venable Gymnasium with optimism aplenty and sights set towards building upon the 2014-15 season.
DeKalb County has become notorious for its annual basketball powers on both the boys and girls side. Combined, 42 state titles have been claimed by the county. It has been 12 years (2003) since a DeKalb County school has not won a state championship in basketball.
Focusing on the boys side, I targeted three teams which I feel could add onto that streak of success. I was able to catch up with Miller Grove's Sharman White, who enters my Preseason Class AAAAA poll ranked No. 1, Lithonia's Wallace Corker, my No. 1 in AAAA and Aaron Parr of St. Pius, my No. 6 ranked team in AAAA to see how they feel about the 2015-16 season.
Miller Grove
The Wolverines re-loaded this offseason and added even more talent to a great backcourt. UConn-commit Alterique Gilbert welcomes in ETSU-commit Aaron Augustin (Peachtree Ridge), Tae Hardy (Southwest DeKalb) and Colin Young (Laney) to form an exciting guard rotation.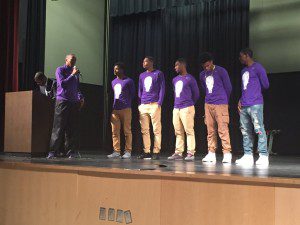 But with so much talent, is it difficult to manage playing time? Coach White doesn't think so.
"It's not really that hard. These are some high character kids. Having Alterique for all four years and adding Aaron Augustin to the mix, another high character kid with a high basketball IQ, it's not hard," explained White. "They played together on an AAU team when they were in eighth grade so they are very accustomed to each other."
As far as what Augustin, Young and Hardy can bring to the table, White is excited about the possibilities. "They are new, but these guys have come right in almost like they've been here since the beginning and they bring a lot. When you talk about Aaron, you talk about a great guy who has a great feel for the game from the point guard position. Colin Young is truly a scorer of the basketball. He can score in so many different ways and then you got Naquante Hardy, who's quietly kept as probably one of the best players in the state with his ability and what he can do with the basketball."
As great as Miller Grove's guard play projects to be, long forwards Raylon Richardson and Aidan Saunders are the night in and night out grinders who can do the dirty work defensively and score when called upon. Richardson was a double-double guy last year and White expects the same this season.
A historic run of six straight championships was brought to an end last year when Warner Robins edged Miller Grove in the quarterfinals 63-57. When asked about how to reach the pinnacle again, White thinks it begins with the type of guys on the team. "You can't win championships without championship people."
Lithonia
Coach Wallace Corker's team saw a vast improvement last season, leaping from a 12-13 record to a powerhouse 27-3 season. A great senior class has me feeling like it could be championship or bust this season for the Bulldogs.
As good as Lithonia projects to be on offense, Corker understands that it all begins on the defensive end of the court. "Defense wins championships. If you don't play defense ultimately you're going to feel it. Shots may fall, and that's ultimately what happened to us last year in the Elite Eight, we didn't finish the game playing defense, but I think we got a good group of kids. Seniors that understand what is expected and are going to work hard," He went on to say, "We have a tough schedule. Not so much worried about my record as a coach, but just getting better so we can compete for the state championship."
The senior class of Rodney Chatman, Tyleen Patterson, Tyheem Freeman, Derious Wimberly and new addition Jacara Cross from Cedar Grove, will ultimately be the group that decides how far the Bulldogs go. Corker noted that Chatman has had a great summer and has seen his recruitment pick up. The 6-foot-2 guard is also one of the biggest leaders on the team.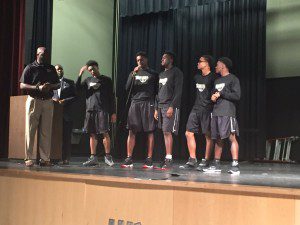 The Bulldogs will look to push the tempo with their guard play but also dump it inside to Cross whenever they get the chance. The 6-foot-7 Cross gives Lithonia a true weapon that can score inside and out.
Lithonia will have no easy games on the schedule playing in the extremely difficult Region 6-AAAA.
"Oh my God it's amazing," exclaimed Corker before listing off a slew of competitive teams.
"Every game is going to be tough and if we don't prepare ourselves and don't come ready to play, we can be subject to lose a game. I think it's all going to boil down to region play, so I'm really excited about this year," Corker added, "I think it will be a good year for us. We just have to come in and compete every game, not just show up and expect to win because we have Lithonia on our chest."
After a great season and expectations sky high for 2015-16, I questioned Corker on how he will be able to keep his team focused with a new target on their back.
The key is: "Getting in the gym working hard and understanding that you're coming in 10 points down with that bullseye on your back. That's what our thought process is: that you're 10 points down because a team is going to come with so much energy at the beginning."
A second round exit to Cairo has left a bad taste in the Bulldogs' mouth, but Coach Corker understands that it can be used as a learning tool and can help Lithonia this season.
"Players have recognized what they've done wrong and me as a coach; I've recognized what I've done wrong. So what we do is we talk about it and reflect on it, put it behind us and move forward," Corker explained. "But every now and then we bring those games back up to understand what we're trying to accomplish and get over that hump."
St. Pius
One of Lithonia's biggest competitors for the Region 6 crown will be the Golden Lions of St. Pius. Coach Aaron Parr's team battled tooth and nail with the Bulldogs to garner a regular season split before falling 51-49 in the region championship.
After a 25-5 season, expectations are rightfully high for St. Pius. To win the region and make a deep run at state, Parr believes in taking things day-by-day.
"I think the biggest thing for us is trying to take it game-by-game, practice-by-practice, focus on the process of getting better."
Much like Coach Corker of Lithonia, the Golden Lions are focused on doing as well as possible in region as their region alone is a strong litmus test for how strong the team is heading into state. "It's an incredible region," noted Parr.
Seniors Kerney Lane and Christian Merrill will be the centerpieces to Parr's offense but a nice blend of youth is also expected to see playing time. Merrill has started since he was a sophomore and Parr describes him as the "heart and soul" of the team with his character and leadership.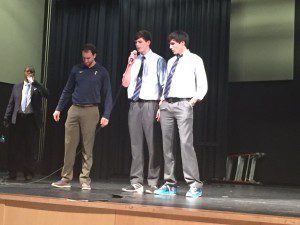 "We talk about trying to be a winner and he [Merrill] does all the things: he's a winner on the court, in the classroom, he's a student ambassador, he's a leader among his peers and he's somebody that you want to be teammates with. You want to be in a foxhole with Christian."
Lane was characterized as, "A workhorse. He's an absolute gym-rat. I've never quite been around somebody who loves the game as much as him. He loves it, he lives it, sleeps it, breathes it and he's somebody that when the lights turn on and when the crowds big, his game rises."
Coach Parr believes after an excellent offseason that 6-foot-7 senior Jakob Spitzer can take the next step into becoming a consistent low post threat.
"Jakob has had a great offseason. He has worked hard in the weight room, hard on his game. He has now become much stronger and confident and we're hoping for a breakout year from him from the center position."
A second round exit to eventual state champion Jonesboro, 67-57, was not enough for the Lions and Parr knows that this year they can go farther. I asked how they can reach the promise land and coach left me with this: "We've got to treat every single possession like it's critical."
Staying mentally locked in and focused will be the key for St. Pius. By eliminating wasted possessions, Parr thinks that the close games they lost last year can transform into victories in 2015-16.