Contributed by Joe Chapman (@Joe_Chapman3)
The most anticipated night in the 3-year history of the Holiday Hoopsgiving did not disappoint as four of the top-50 high school basketball teams in the country showed out for the standing room only crowd at Holy Innocents' Episcopal School. This night had been hyped up since the September 30th schedule release and it clearly lived up to the anticipation, as there was not an empty seat in the arena and 3+ rows of people standing courtside as well as on the upstairs track. The post-Thanksgiving entrée was obviously the dream-matchup between the top two point guards in the country, Collin Sexton and Trevon Duval, but the appetizer of Georgia powers, Norcross and Greenforest, was not one to miss.
No. 5 Norcross 57, No. 1 Greenforest 46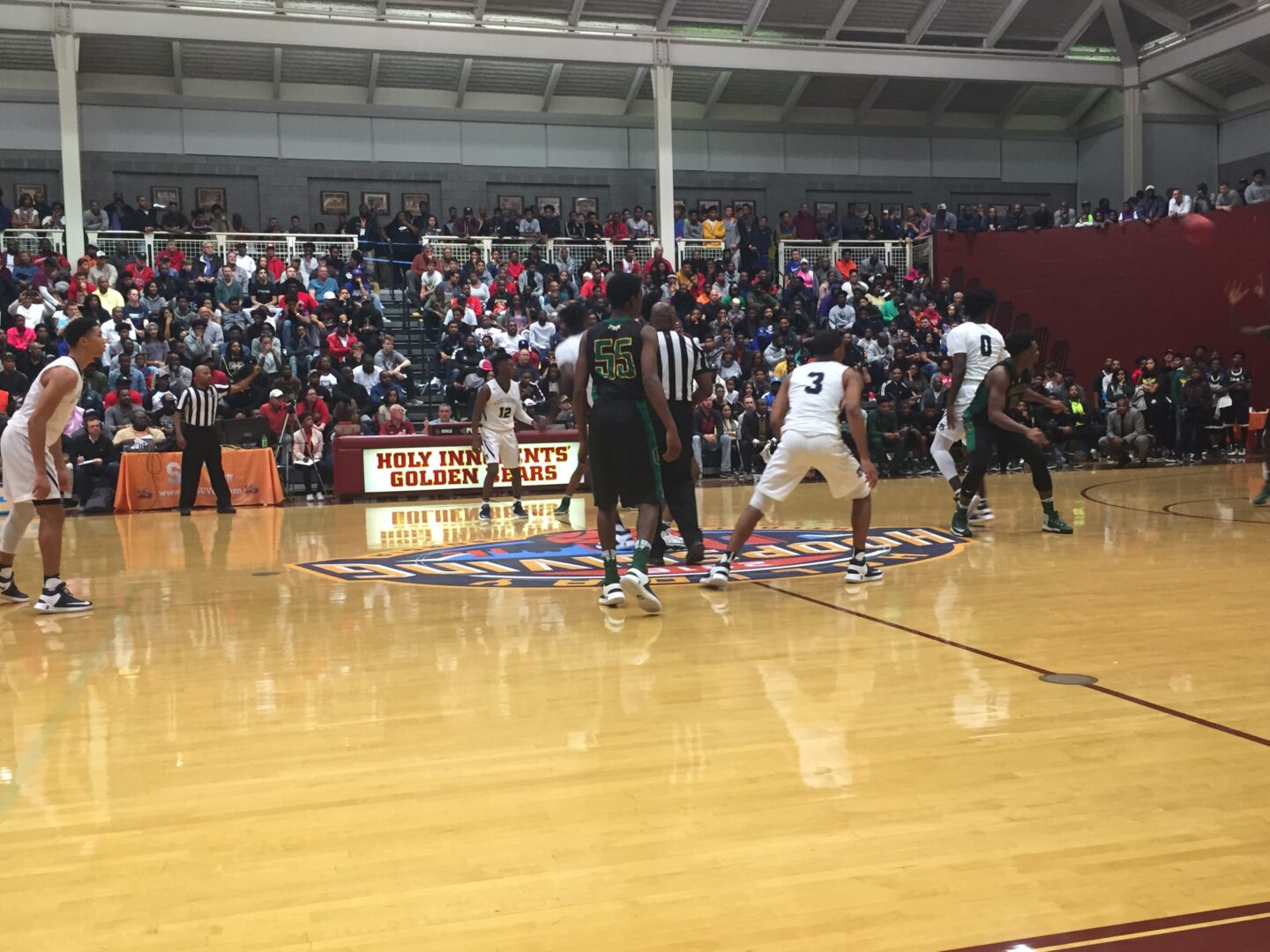 Friday night provided us with a rematch from last year's Hoopsgiving, where Greenforest dominated Norcross, 77-48. The Blue Devils were determined to garner revenge as they led from start to finish in a low scoring, grind-it-out 57-46 affair. Neither team shot the ball very well (both at 30.5%) but Norcross gained the edge at the free throw line, going 17-21 from the stripe. Norcross capitalized all night by catching Greenforest off guard with the fast break. Their lightning quick guards, Jordan Goldwire and Kyle Sturdivant, were getting past the giants of Greenforest and attacked the rim all night. Four Blue Devils scored in double figures and were led by Goldwire with 13 points. The 6'2 senior guard shot 5-13 from the field (1-3 3pt, 2-2 FT) and added 5 rebounds and 2 assists. Goldwire not only produced on the offensive end but was also very stingy on defense as he led the team with 4 steals.
5'10 junior guard, Dalvin White, followed up with an 11 point performance of his own on 3-8 shooting (2-5 3pt, 3-3 FT) while also adding an assist and 2 steals. Rayshaun Hammonds and Lance Thomas each tallied 10 points and were crucial as always for the Blue Devils. The UGA commit Hammonds, also added a huge 9 rebounds in the win. Hammonds and Thomas were integral on the defensive end for Norcross as they made it difficult for the Greenforest guards to feed their big men inside. They didn't put up huge numbers offensively, but were the X-factors in the win on the defensive end. Look for Norcross to make some noise this season in the new AAAAAAA classification and don't be surprised if you see the Blue Devils crash the Final Four as they certainly have the talent to do so.
Greenforest was shorthanded in this game as senior point guard Justin Forrest was out due to a foot injury. Leading the way offensively for the Eagles in his place was senior combo guard, David Quimby. Quimby put up 15 in the loss, shooting 6-18 from the field (3-12 3pt). The power trio of Ikey Obiagu, Victor Enoh and Abayomi Iyiola only combined for 11 points on 10 shots. None of the three got enough touches, but credit Hammonds and Thomas of Norcross for helping prevent any easy entry passes to the post. Clearly Greenforest is not the same team without Forrest as they are with him. When he returns, expect this team to return to its dominant ways in Class A-Private as he provides a significant spark that's just lacking right now. 
IMG Academy 99, No. 2 Pebblebrook 94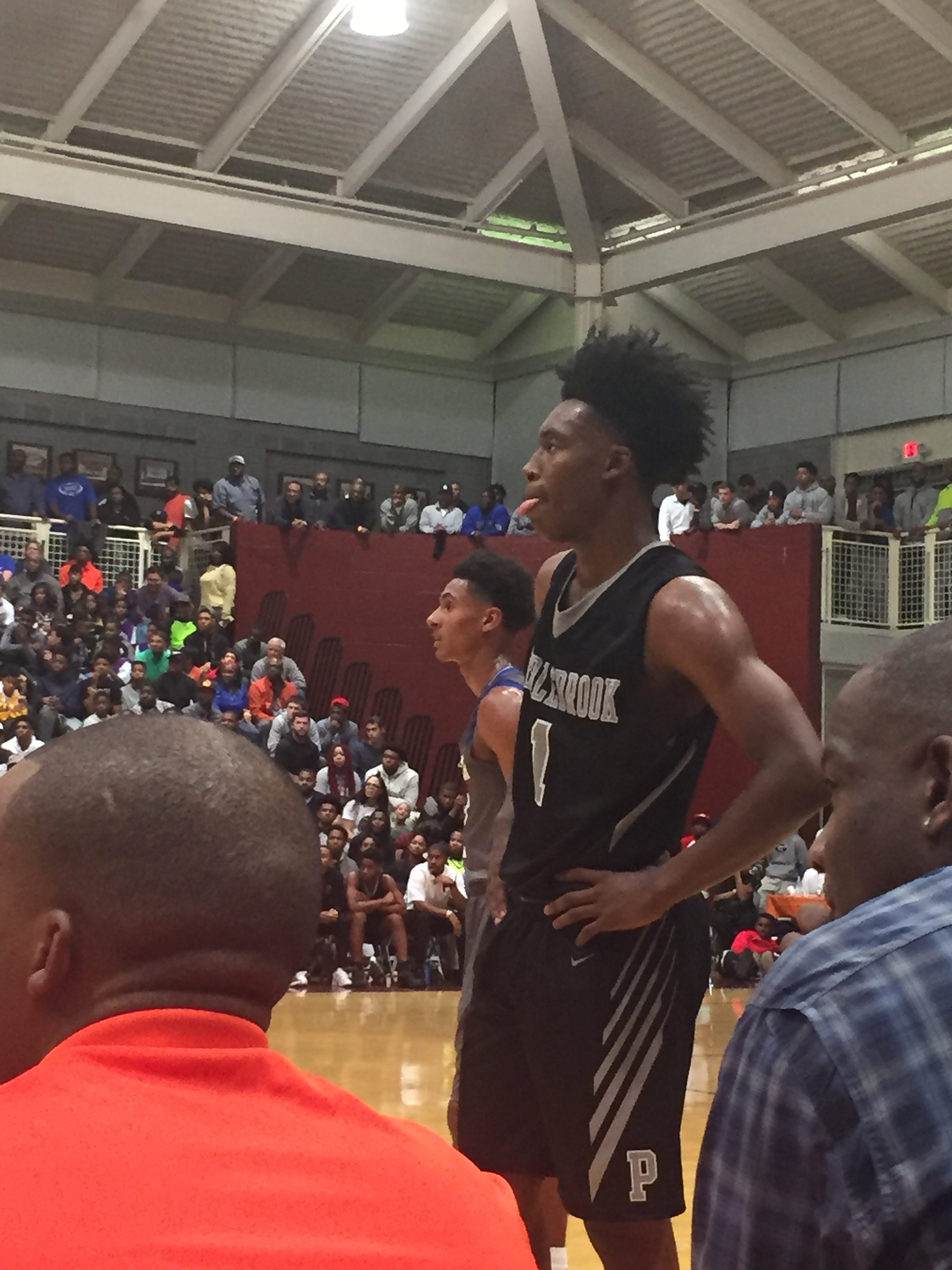 Friday night closed with a bang as the top two point guards in the country, Trevon Duval and Collin Sexton, put on a show for the max-capacity crowd in the main gym at Holy Innocents'. This high scoring affair saw highlight plays on almost every possession as there were explosive dunks, deep 3's and powerful blocks all night. The crowd "Ooohed and Awed" all night as some of the nation's top talent proved why this was one of the most anticipated games of the high school season. Both teams shot extremely well (IMG – 61.5%, Pebblebrook – 51.6%) which led to such a high scoring affair.
Duval finished with 24 points on 10-20 shooting (1-4 3pt, 3-7 FT) while adding 6 assists and 5 steals in the win. On the other end, Sexton, deemed by many as "the best scorer in the country", lived up to this title as he exploded for 39 points (23 in the first half) on 11-18 shooting (5-9 3pt, 12-13 FT). Duval didn't put up the numbers that Sexton did, but that's in large part due to his uber-talented supporting cast. Duval controlled the offense all night and kept everything under control. He didn't make the highlight plays that people are used to seeing but he's such a smooth basketball player and really makes everyone around him better. He'll go up and challenge anyone he faces at the rim, while also having the ability to step out and knock down the three. It is no wonder that he is arguably the top high school player in the country and whoever lands his services will be getting a bona fide baller.
The man that brought everyone to their feet the entire night was mega-bouncy, 6'8 junior forward, Emmitt Williams. Williams can fly and he was arguably the most athletic player that stepped in the gym all day. It was dunk after dunk that made everyone shake their heads in amazement as he threw down some of the most powerful rim-rockers that I have ever seen. He finished the night with 21 points on a ridiculously efficient 8-9 shooting (5-5 FT) while also totaling 9 rebounds. While Williams was outstanding on the offensive end, he was just as dominant on the defensive end. He altered shots all night while also totaling 5 blocks. His athleticism made Pebblebrook change their shots all night while also thinking twice about attacking the rim. Williams definitely showed out on one of the country's biggest stages.
The combination of Williams with 6'9 junior Silvio de Sousa and 6'8, 285-pound Isaiah Stokes pummeled Pebblebrook inside all night. They just bullied their way in the post, getting layups, and snagging rebounds, all while causing the Falcons to foul them multiple times down low. As good as the guard play was for IMG, the difference maker in this game that put them over the top was the size and skill down low. de Sousa added 14 points and 7 rebounds while Stokes tallied another 12 points and 4 rebounds. The 30-14 rebounding advantage for IMG showed that Pebblebrook just doesn't have the size down low right now to challenge IMG in the paint.
The final big performer for the Ascenders was DeAndre Osuigwe. The senior guard tallied 16 points on 5-10 shooting (4-6 3pt, 2-2 FT) while also adding 4 steals and 2 assists. Osuigwe quieted the crowd all night as he knocked down huge 3-pointers every time Pebblebrook started to make a run. He was a great defender as he battled with Sexton and Drue Drinnon all night while also helping facilitate the offense smoothly. He was very key in the Ascenders victory.
For Pebblebrook, aforementioned Collin Sexton obviously led the way with 39 points and 5 rebounds. He continued to do what he does best by attacking the rim and getting to the line a whopping 13 times. He started off the game ridiculously hot, knocking down three after three to give Pebblebrook the early lead. From the games that I've watched during the high school season and travel ball circuits throughout this past year, Sexton is without a doubt the most entertaining player to watch. There's so much that has already been said about him but his high-energy and high-enthusiasm style of play is just so fun to watch. Avery Johnson and Alabama are getting a downright stud that can easily help turn around a program next year.
Following Sexton in the scoring category was Elias Harden with 16 points on 6-14 shooting (4-10 3pt). Harden can stroke it from just about anywhere on the court and every time he pulls up, you expect it to go in. He hit big shots all night, including a 3-pointer to tie the game at 89 late in the fourth quarter. This kid can definitely make a big impact at Xavier next year as his shooting ability fits in perfectly with their system.
Drue Drinnon also made a solid impact for the Falcons with 13 points on 4-11 shooting (5-6 FT). The 6'0 junior made some big shots all night and fearlessly attacked the rim. He added 5 assists and 2 rebounds in a losing effort but definitely had flashes of brilliance that showed why he is such a highly sought-after recruit.
All in all, this night was just a special evening for all who attended. The enthusiasm the crowd showed all night made the atmosphere that much more entertaining. Even teams like Wheeler and Milton, who had games at different locations earlier in the day, showed up at Holy Innocents' for the night session to witness some of the best basketball that the state had to offer. Now, Saturday night's slate features some of the top teams in the state and country in Wheeler and Westlake. If it is anything like the Friday night session, then we are all in for a treat.