15U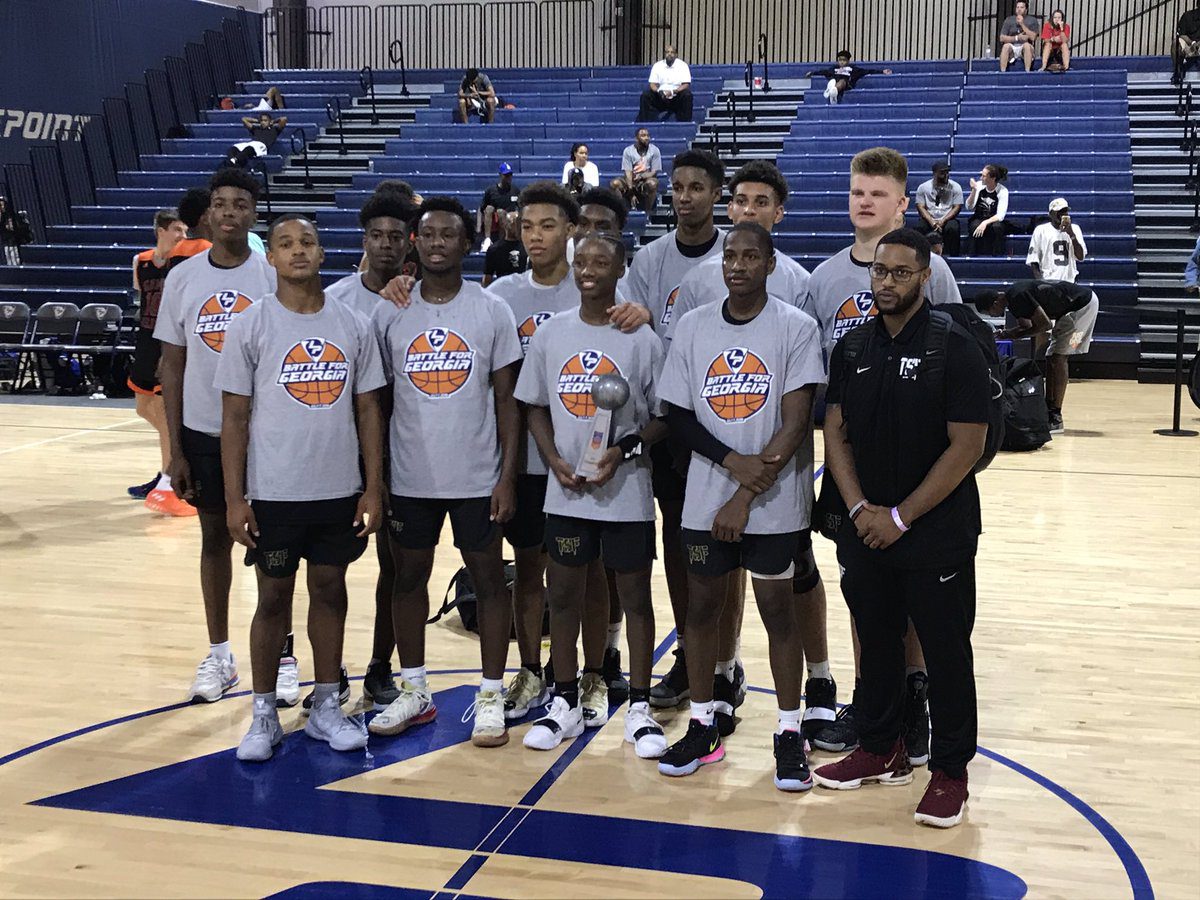 TSF Mack (Champions)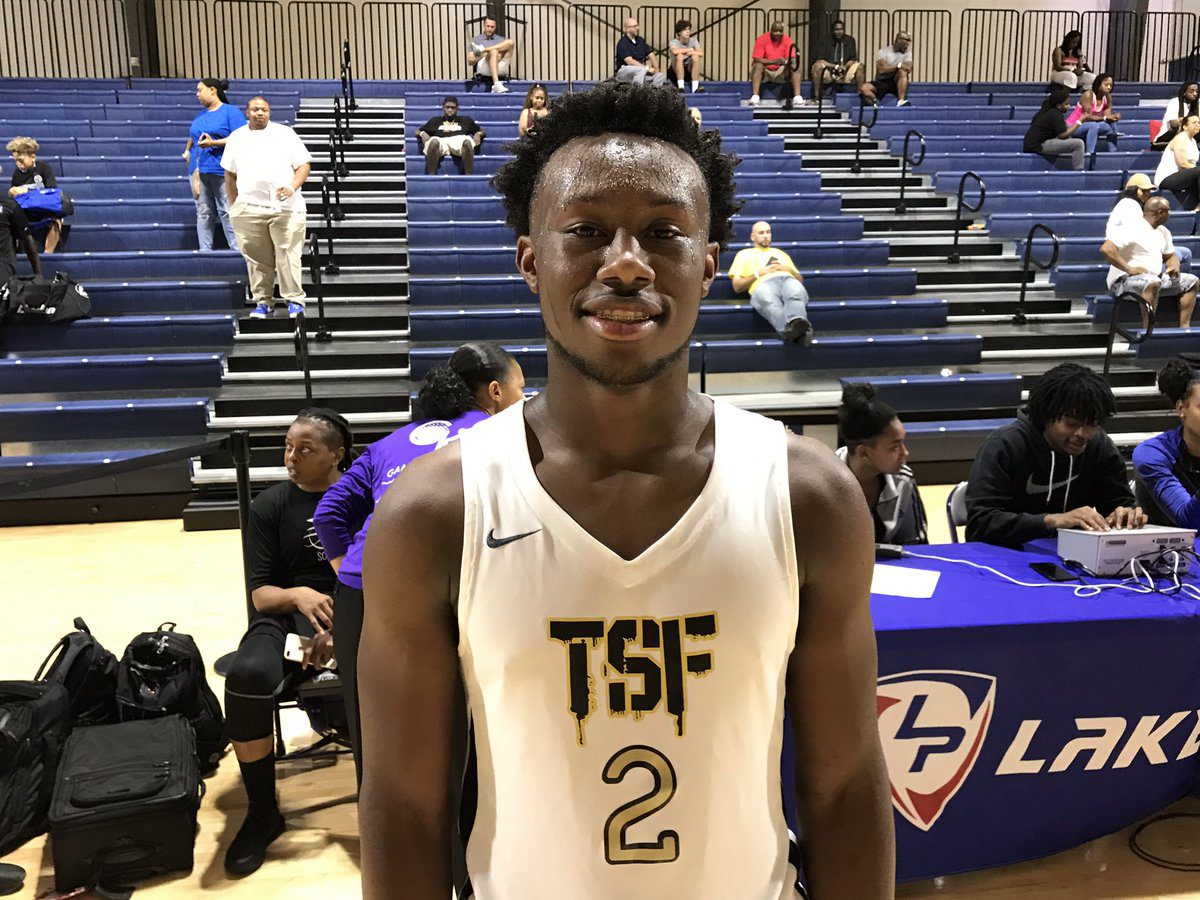 2022 6-2 PG Bruce Thornton Jr. (Milton): Bruce Thornton Jr. made his case for No. 1 point guard in the 2022 class in a big way. With the stage set to battle the likes of Scooter Henderson and USA Basketball's Dillon Hunter, it was Thornton who reigned supreme and seized the moment. The powerful point led TSF to an 85-71 championship win over Game Elite Big 5, pouring in 25 points, 8 rebounds, 6 assists and 4 steals against Henderson, highlighted by three straight threes in the second half to blow the game open after going for 21 points, 11 rebounds and 4 assists in a 64-55 semifinal victory against Hunter's Georgia Stars. What separates Thornton from other guards in the state is his constant influence on the game. He has a true stranglehold on the game from the moment he steps on the floor. You always know Thornton is on the court with how he controls the flow and doesn't waste any possessions. While his star-studded opposition had strong moments sprinkled throughout their matchups, they never could impose their will like Thornton was able to. The future All-State guard never forces the issue and is always looking to set up his teammates. His physical strength allows him to rebound at a high level and his lateral quickness helps him stay in front of speedy guards that like to get downhill. The Class 7A Freshman of the Year is ready to take off.
2022 6-8 F Chauncey Wiggins (Eastside): Going up against already established star Joyful Hawkins in the 15U championship, Chauncey Wiggins set the tone early in the first half to help TSF take a double-digit lead into halftime. Wiggins turned heads with his soft stroke from the outside. At 6-foot-8, the lanky stretch forward buried jumper after jumper to loosen the defense. He hit two threes en route to 16 points, 3 rebounds, 1 assist and 1 block. Wiggins' favorite move was a fadeaway jumper out of the post, an unblockable shot. He loved taking Dirk Nowitzki-esque one-footed turn-around's from the mid-range. Wiggins' ceiling is among the highest in the 2022 class. Adding more weight on his frame will help him become a better rebounder. Wiggins projects to be a High Major recruit.
2022 6-1 PG Kobe Davis (Langston Hughes): In the two games I saw, Kobe Davis played the best I've ever seen him play, averaging 12 points, 7.5 rebounds and 2 assists. Davis was more aggressive finding his shot than he usually is with Langston Hughes and had his outside shot locked in, hitting two threes apiece in each of his games. Davis benefited from playing off the ball with Bruce Thornton and Devin Farrell, two other guards that do a great job of swinging the ball around until an open shot is found. Davis excelled with his willingness to rebound and helped start fastbreaks.
2022 6-0 PG Devin Farrell (Milton): Sometimes an unsung hero due to his willingness to share the ball, Devin Farrell is quickly emerging as one of my favorite guards in the 2022 class. A well-built football player, Farrell is a quarterback on the court with his vision. He averaged 5 points, 4.5 rebounds and 3.5 assists and showed the ability to knock down the open three. Farrell won't put up the offensive numbers that some of his teammates will, but he's a reliable pass-first guard that will only improve as he gets older.
Game Elite Big 5 (Runner-Up)
2022 6-2 PG Scooter Henderson (Kell): Scooter Henderson blew up over the NCAA Live Period and continued his strong play at Battle For Georgia. He went toe-to-toe with Bruce Thornton and had 18 points, 8 rebounds, 4 assists and 3 steals. Henderson is aggressive getting to the rim. In his matchup against Thornton, he looked more explosive and bouncier than Thornton whereas Thornton seemed stronger. Either way, both guards were effective in their own styles of play. Henderson has a toughness about his game and competes on both ends.
2022 6-8 F Joyful Hawkins (Brunswick): Put in pick-and-roll situations, Joyful Hawkins is one of Georgia's elite when it comes to diving to the basket, catching and finishing. He carried the Big 5 with 23 points, 11 rebounds, 1 assist and 2 blocks in the championship game. The majority of his points came at the rim but Hawkins is a capable mid-range shooter as well. His length and strength and ability to finish with authority makes him a tough matchup at the 15U level.
2022 6-2 SG Cameron Johnson (Harrison): Gifted with a physical frame, the bowling ball off-guard showed his scoring touch as the third option for the Big 5. He had 15 points and made three threes in the process. Johnson got into the lane and hit some tough shots in traffic as well.
Georgia Stars
2022 6-6 W TJ Grant (Veterans): I liked what I saw out of TJ Grant in his first impression as he collected 18 points, 9 rebounds, 2 assists and 1 block in a loss to TSF. Grant is a big wing that is shifty when getting to the basket using euro-steps. He can pluck rebounds and start his own fastbreak with his ball handling. Overall, I liked his aggressiveness and effort. I'd like to see more of him.
2022 6-4 W Robert Cowherd (Denmark): The thing that stood out to me most about Robert Cowherd was his motor and constant effort, even when the Stars weren't going to complete a comeback. Cowherd played hard and his stat line reflected it, posting 18 points, 11 rebounds, 2 assists and 2 steals. He hit two threes to balance his offensive attack.
2022 6-5 PG Dillon Hunter (Westlake): Dillon Hunter was on double duty, splitting time with the 16U and 15U Georgia Stars. Against Bruce Thornton and TSF, Hunter had 8 points, 5 rebounds, 2 assists, 4 steals and 1 block. Hunter has a good future ahead of him and the natural tools to become a star, but he isn't quite as polished as Thornton and faded in and out of the game at times. Hunter's first instinct is to get to the lane where he had some success in traffic. As he develops a three-point shot, he will become even better. He could become a defensive standout with his length in due time.
Team YRN
2023 6-2 CG David Thomas (Eagle's Landing): David Thomas has long been a burgeoning star just waiting to get to the high school ranks and the GHSA. As an eight grader, he led New Creation Christian Academy in scoring and now shifts over to Eagle's Landing to embark on his GHSA career. Thomas is a strong and smooth guard that knows how to score. He had 9 points, 2 rebounds and 1 assist in a 70-47 blowout of Atlanta Xpress. Thomas has a high release point on his jumper and gets his shots off in a variety of ways. He will be an impactful piece at Eagle's Landing.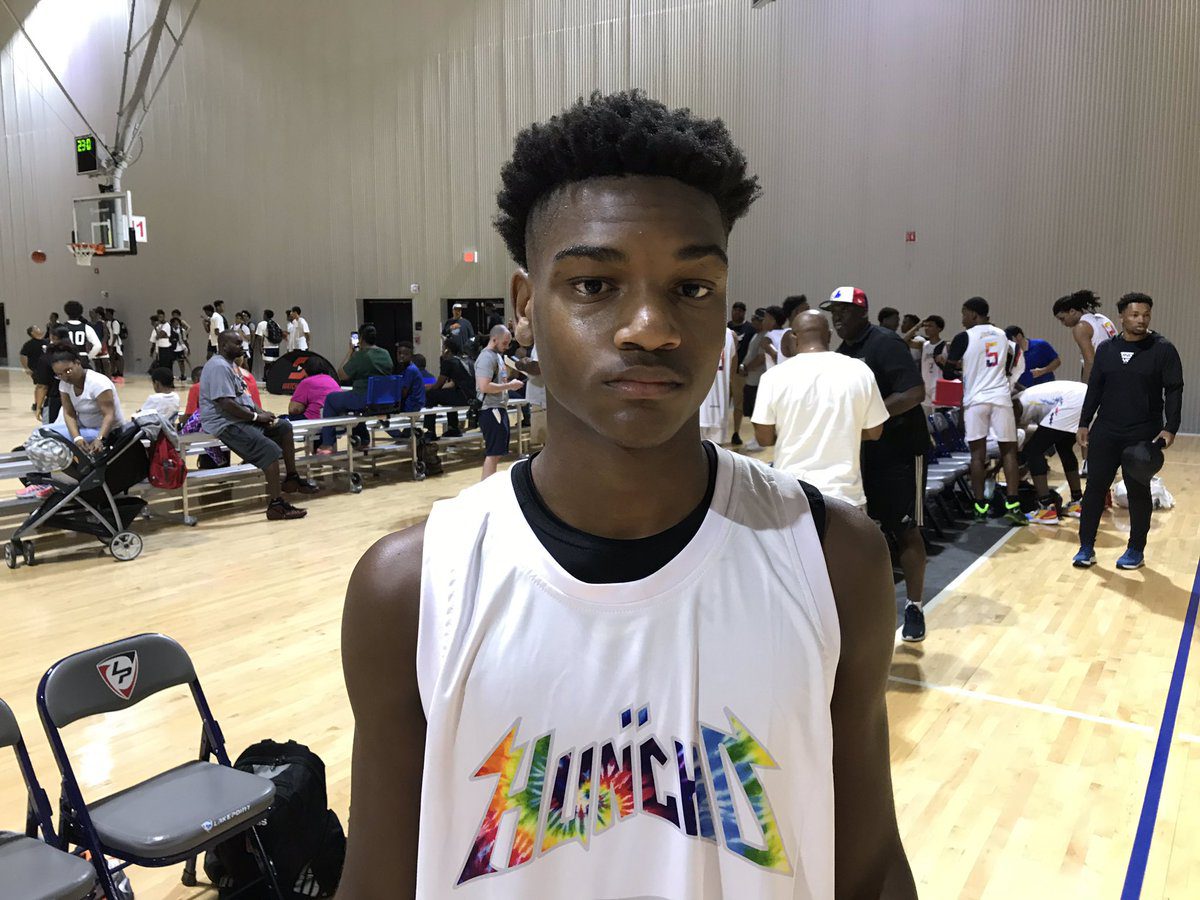 2022 6-3 G Jermarhi Hill (Berkmar): A wiry guard that transferred in from Alabama, Jermarhi Hill was instant offense off the bench for YRN. He had 11 points, 6 rebounds, 3 assists, 1 steal and 1 block. He brought energy on both sides of the ball. Hill is good at snaking into the paint and has good vision when dumping off to open teammates. His feel for the game looked advanced.
ATL Xpress
2022 6-0 CG Kami Young (North Cobb Christian): A compact strong combo guard, Kami Young is a strong shooter that can open the floor. He came out hot with eight of his 13 points coming in the first few minutes of the first half. He tacked on 5 rebounds, 1 assist and 3 steals in an ugly loss to Team YRN. Young is a good scorer but he had opportunities to showcase his calmness as a ballhandler against a relentless YRN press that turned the Xpress over countless times. Next time against a team like that, I'd like to see him help stabilize the offense with the ball in his hands.
16U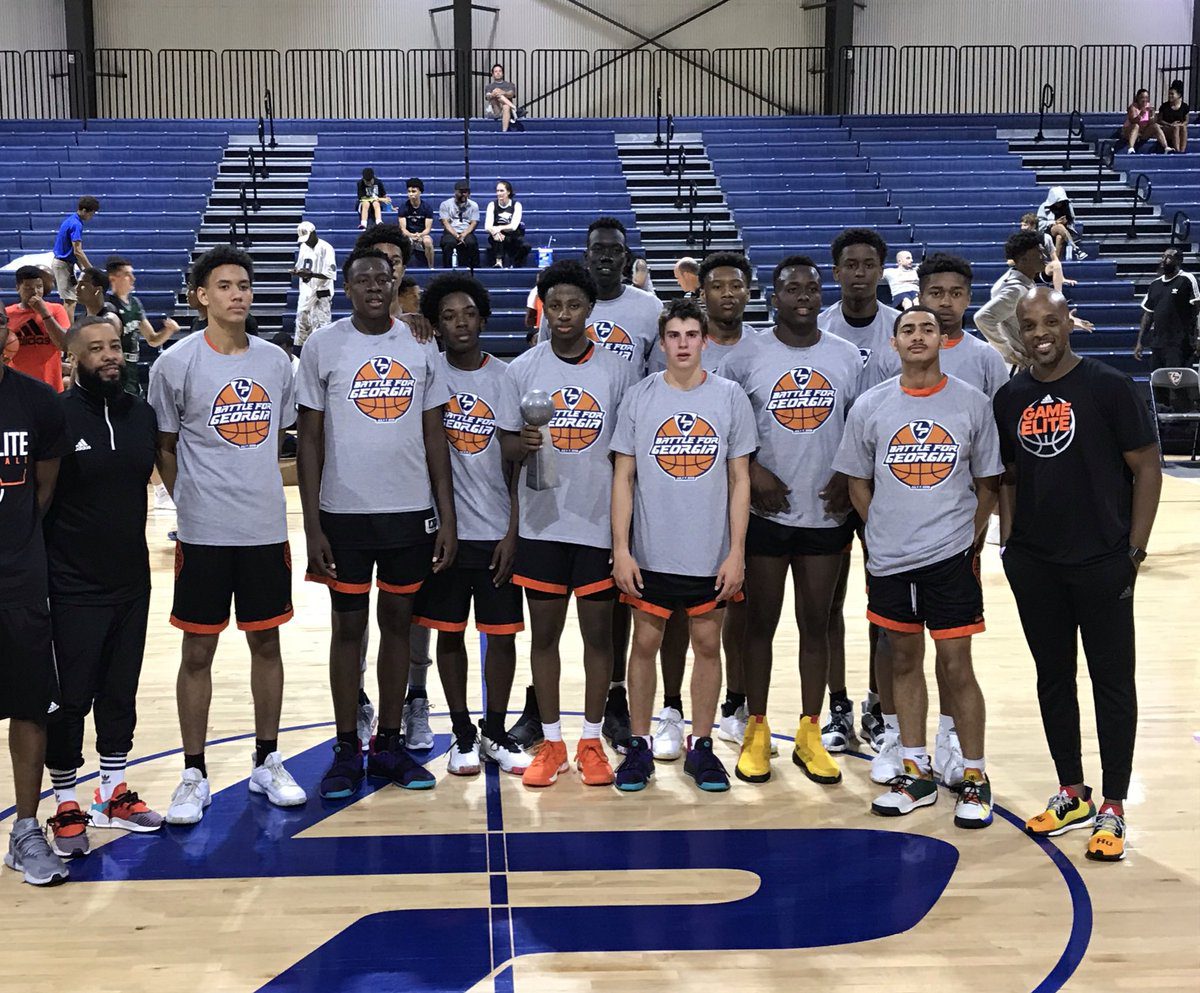 Game Elite (Champions)
2021 6-7 PF Ja'Heim Hudson (South Gwinnett): Every time I watch Ja'Heim Hudson play, I fall more and more in love with his game. Hudson was outstanding in Game Elite's comeback win over the Georgia Stars for the 16U Championship. Game Elite trailed 33-22 at the half before Hudson took over down the stretch and helped propel them to a 72-64 win. The big fella scored 13 of his team-high 19 points in the second half to pair with his 8 rebounds, 2 assists, 2 steals and 3 blocks. Hudson is ambidextrous on the low block, able to score with both hands. He is a savvy passer out of the post and a stronger rebounder. He plays above the rim with his finishes and defensively, is a strong rim protector. Hudson even went 3-for-3 from the foul line. The great thing about Hudson is that he knows what he's good at and sticks to it. He doesn't stray away from his strengths and provides production night in and night out. Mid-Major schools should start the recruitment process.
2021 6-5 PF Robbie Armbrester (Therrell): After somewhat of a slow start, Robbie Armbrester got back to playing bully ball and helped ignite the comeback. Armbrester feeds off of intensity and emotion and once he got the juices flowing, there was no taming him. He pounded away for 12 points, 13 rebounds, 2 assists and 1 block. By now you should know what to expect with Armbrester. All effort, all energy, all in the paint.
Georgia Stars (Runner-Up)
2021 5-10 PG AJ White (Chattahoochee): The undersized scoring dynamo averaged 11 points, 2.5 rebounds and 2.5 assists in his two final games of the day. In the semifinals, he caught fire with three straight threes to spark a 17-0 run which erased an 11-point halftime deficit against the Atlanta Celtics and pushed them to a 70-68 victory. White is an elite shooter with microwave tendencies. Continuing to improve his point guard skills and his ability to get in the lane and finish through contact will help round out his game. Defensively he provides some scrappiness and fights over screens well.
2020 6-6 W Quincy Ademokoya (Dacula): Playing down a grade and with rumors swirling that he will be transferring across Gwinnett County and eventually reclassifiying, Quincy Ademokoya looked much more decisive and crisper with the Georgia Stars. He had 10 points, 5 rebounds and 3 blocks in the championship game and knocked down two threes.
Atlanta Celtics
2021 6-2 G Myles Rice (Eastside): Myles Rice put together a strong game against the Georgia Stars with 15 points, 7 rebounds, 2 assists and 1 steal. Rice has good size and can play either guard position. He has a scorer's mentality and can get points at all three levels. He knocked down two threes and scored off the dribble.
2021 6-1 PG Danny Stubbs (Pebblebrook): Danny Stubbs has a mature feel to his game as a lead guard that scores when needed but excels at getting his teammates easy buckets. He had 9 points, 2 rebounds, 6 assists and 1 steal vs. the Georgia Stars. Stubbs is good at probing the defense and knowing when to pull back for a jumper.
HYPE Hawks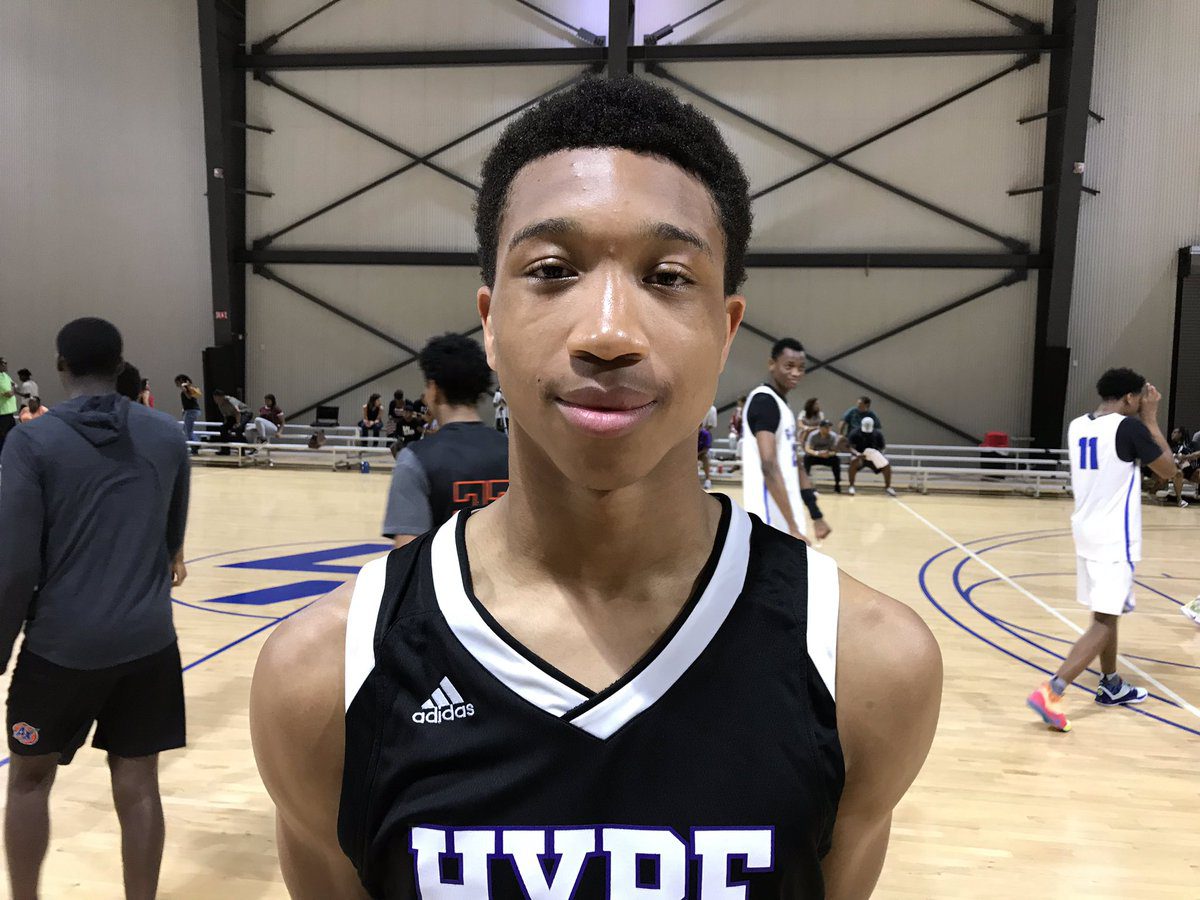 2021 6-6 W Matt Cleveland (Pace Academy): Fresh off an invite to the USA Basketball Minicamp later this month, Matt Cleveland was masterful in an 85-41 destruction of Team EAT. Cleveland scored 24 of his game-high 29 points in the first half and added 5 rebounds, 1 assist and 4 steals to boot. Cleveland was electric in transition, living above the rim and throwing down a handful of poster dunks throughout the day. He covers so much ground when attacking the basket in such a short amount of time, defenders aren't able to wall up and cut him off. Cleveland looks ready to assert himself for a full 32 minutes for a full season at his new home at Pace Academy. Cleveland should have the Knights as a favorite to win the Class 3A state championship with his silky-smooth play.
2021 6-7 PF Devin McGlockton (South Forsyth): The more I see Devin McGlockton play, the more I see a future D-I player. McGlockton has made the most out of his opportunities with the HYPE Hawks, especially when Cole Middleton went down with another injury. Now that Middleton is back, McGlockton still looks like a blossoming big in the 2021 class. He reminds me a of current Mercer freshman James Glisson – a strong bodied forward that can score in the paint, rebound, alter shots and step outside to the three-point line. McGlockton might not be as good on the perimeter as Glisson was, but the other traits are starting to shine through. He had 12 points, 9 rebounds, 1 assist, 1 steal and 1 block against Team EAT. Low Majors and strong D-II programs should keep an eye on him.
Team EAT
2021 6-4 F Christian Sadler (Druid Hills): Christian Sadler played bigger than his size and provided a toughness and mean streak for Team EAT. Sadler had 4 points, 8 rebounds, 1 steal and 7 blocks in his lone game. Sadler has long arms and good defensive timing.
17U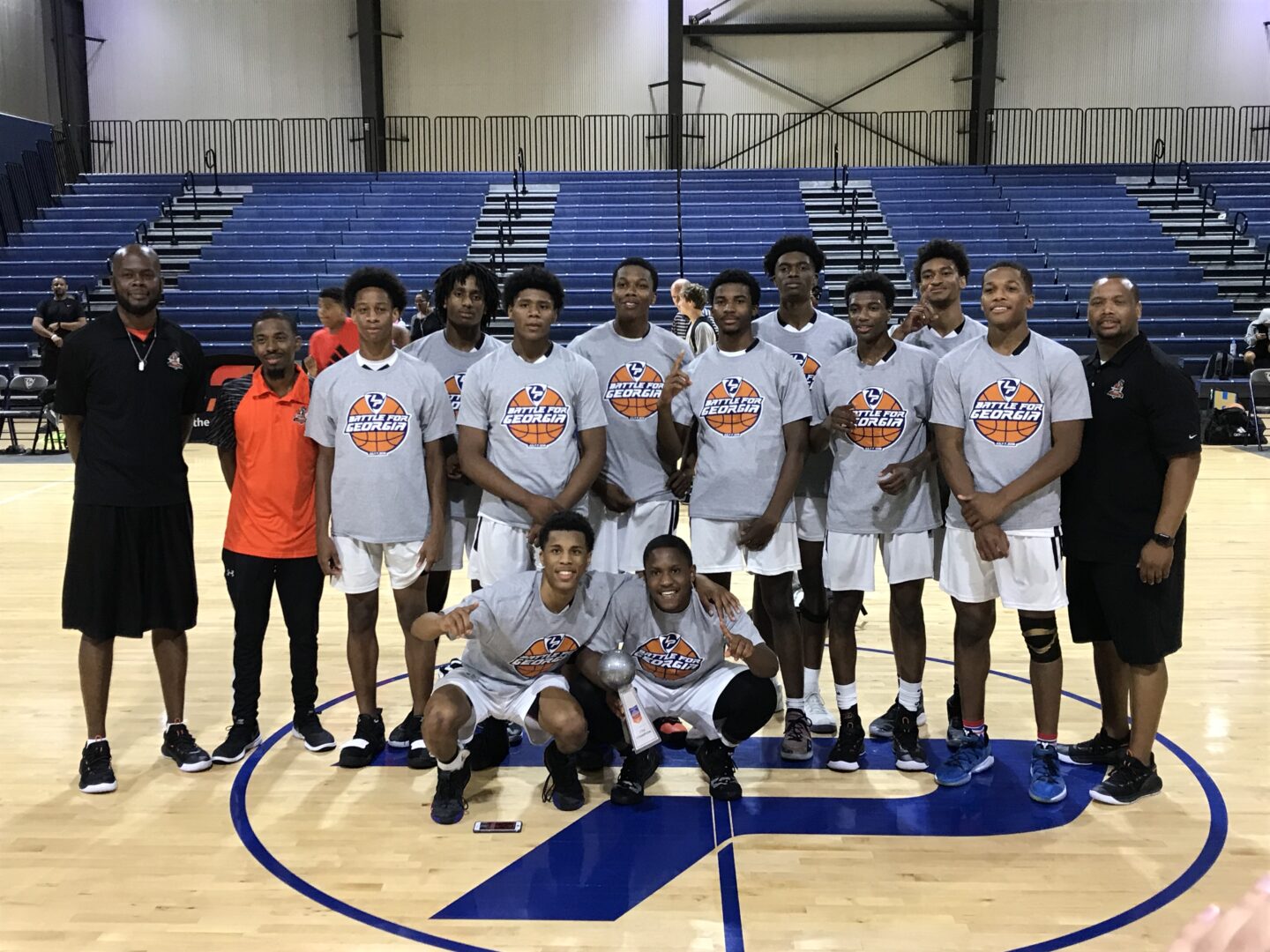 Georgia Knights (Champions)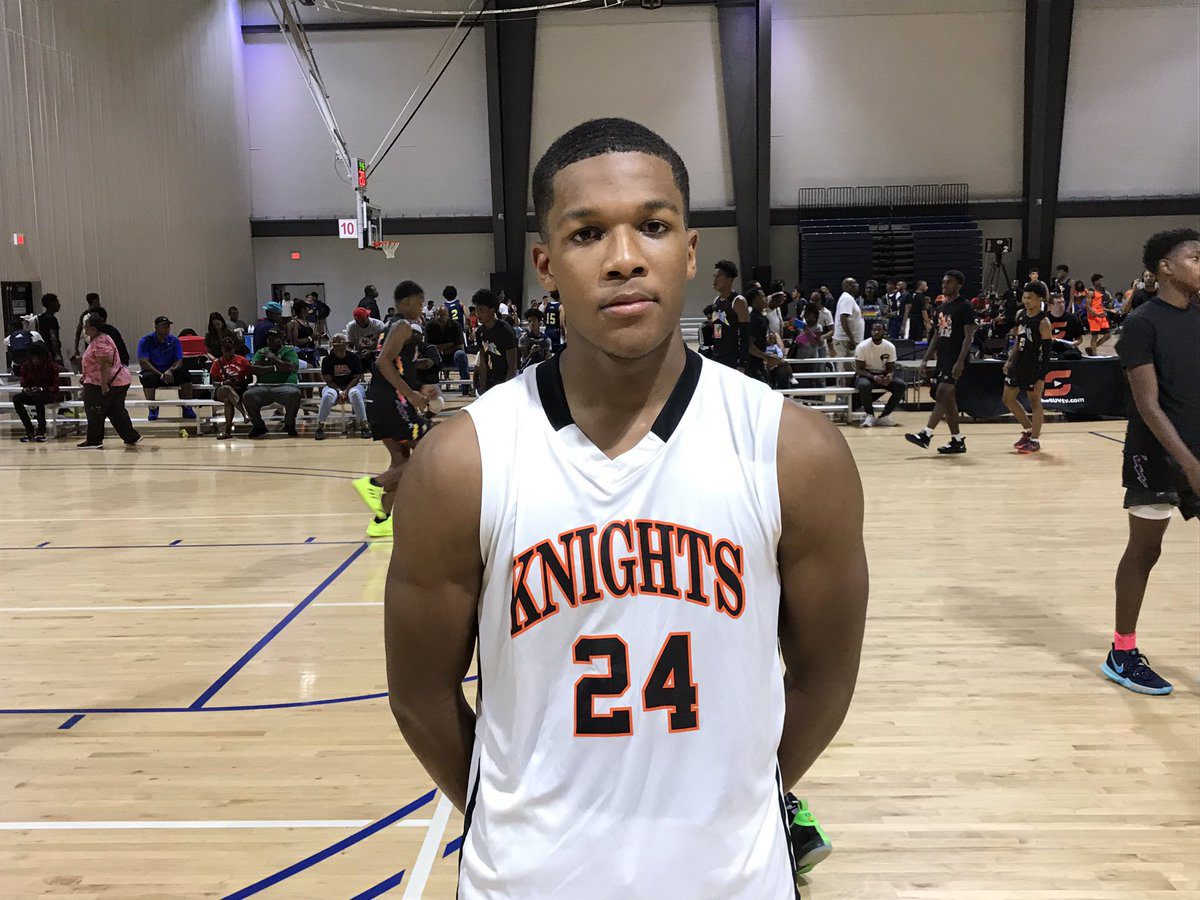 2020 6-4 SG Chris Youngblood (East Coweta): Just when you think you've said everything that's been needed to say about Chris Youngblood, you find yourself scrambling for more words to describe just how good he is and how meteoric his rise has been. The 17U MVP was the best player in the gym the entire event. Youngblood was unstoppable, averaging 25.6 points, 7.3 rebounds, 1.6 assists and 1.3 steals over his three-game stretch, hitting 6 threes and going 9-of-15 from the line. The Kennesaw State-commit has firmly asserted himself as one of Georgia's elite scorers and possibly its best shooting guard. His mixture of physicality and finesse makes him the complete package. Against nationally ranked blue-chip prospects of the Atlanta Celtics, Youngblood had 32 points, 10 rebounds, 3 assists and 1 steal in the 17U Championship as the Knights held on 80-79 after Youngblood fouled out with 48.1 seconds left. Out of his 32 points, 30 came via inside the arc. Youngblood was locked in all day with pull-ups from the mid-range, strong finishes in the paint and from the three-point line. Youngblood is a program changing player at Kennesaw State, a school which may mirror East Coweta. Youngblood didn't step into a perfect situation in Sharpsburg but has seen his win totals increase from 5 before he was a freshman to 14 to 13 to last season's 24-win campaign. Youngblood could provide a similar impact at Kennesaw State and cultivate a winning culture.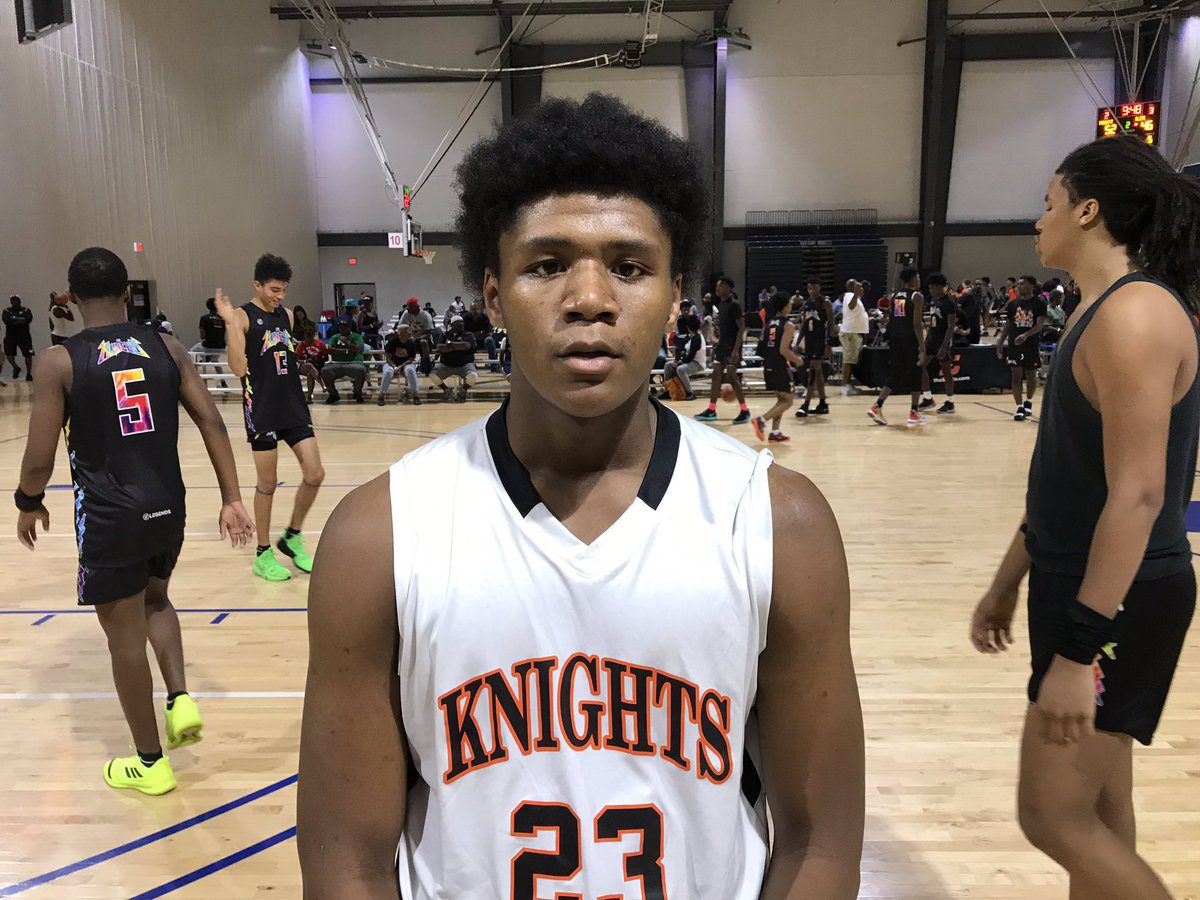 2020 6-4 G Kirshon Thrash (Eagle's Landing): As good as Chris Youngblood was, Kirshon Thrash was equally impressive and rose his stock through the roof, solidifying him as a future D-I player in my eyes. I've been intrigued with Thrash for a while now but that intrigue has grown into love for what he is as a player. Thrash is a grown man at guard or whatever position you'd like to classify him as. He is truly positionless; he is a producer. Thrash is the state's best rebounding guard bar none and is probably in the discussion for best rebounder regardless of position. Thrash can play every position at the high school level. In the championship against the Atlanta Celtics, he spent time at point guard on offense while defending 6-foot-9 Mississippi State-commit Bayron Matos on the low block and holding him to 2 points and 1 rebound. Thrash is the ultimate stat sheet stuffer and jack-of-all-trades. Thrash kicked off the event by bullying Team Georgia Magic for 24 points, 18 rebounds, 3 assists and 2 blocks. In a blowout of Team Forrest he had a modest 3 points, 3 rebounds and 5 assists, but ramped it back up in the title game, going for 13 points, 14 rebounds, 5 assists, 2 steals and 1 block. Thrash uses his body so well in every facet of the game whether it be angling for rebounds, defending the post or using his shoulders to drive by defenders. Thrash is a bulldog on the offensive glass, recording a countless amount of put-backs. On offense, Thrash is a capable three-point shooter but prefers the mid-range and in. He hit some tough pull ups off the dribble throughout the day. Thrash will be a super glue guy at the next level. He can affect games without pouring in points. Presbyterian was the first to offer the bowling ball guard. I think it would behoove more Low Majors to start evaluating Thrash ASAP.
Atlanta Celtics (Runner-Up)
2020 6-5 W Toneari Lane (Grayson): Steady as a rock. That is what you get out of Toneari Lane. While Deivon Smith and Dwon Odom might garner more of the headlines and be the highlight stars of the team, Lane is the hard-hat lunch pail guy that goes to work every day. Lane had 13 points, 5 rebounds, 3 steals and 1 block in the championship. Lane is an efficient three-point shooter, hitting two in the title game. He has a nice jump shot but still the toughness to get a bucket when he puts his head down. Lane's best moment for me however was when he consoled a teammate after a crucial mistake down the stretch. Instead of yelling at him like another player did, Lane calmly patted him on the chest to let him know that he was ok. Small little moments of maturity and leadership like that are part of what makes Lane such a strong player and person.
Team Forrest
2020 6-6 W Melvin Edwards (Carrollton): When no one else could buy a basket in a 76-52 loss to the Georgia Knights, Melvin Edwards was the lone player that showed up in the semifinals. The big wing had 15 points, 9 rebounds, 1 assist, 1 steal and 2 blocks. Edwards has evolved into a reliably productive commodity. Great target for Low to Mid Majors.
Team Georgia Magic
2021 6-7 PF Quay Primas (Central-Macon): Anchoring a young group playing up, Quay Primas was great in the second half but couldn't dig the Magic out of a 41-17 halftime hole, eventually losing 71-53 to the Georgia Knights. Primas scores in a variety of ways. He knocks down baseline jumpers, attacks from the high post and of course scores with his back to the basket. The big lefty has range out to the three-point line as well. He posted 18 points, 7 rebounds, 1 assist and 1 steal in his second Battle For Georgia.
2021 6-5 W Kowacie Reeves Jr. (Westside-Macon): All arms and legs, the spindly wing has blown up over a year's time with a handful of Power 5 offers. He had 13 points, 3 rebounds, 4 steals and 1 block against the grown man backcourt of the Georgia Knights – a tough assignment. Reeves didn't hit any trademark threes, but that's a good thing for his development. Formerly just a three-point specialist, Reeves has begun rounding into a more versatile scorer. He had a beautifully smooth reverse layup – maybe the prettiest finish of the event – and showed more than just finesse when he threw down a wicked And-1 dunk. His activity on defense was a positive sign as well. Putting more of an effort into rebounding the ball will help provide value in the future.