No. 7 Franklin County 71, Jefferson 63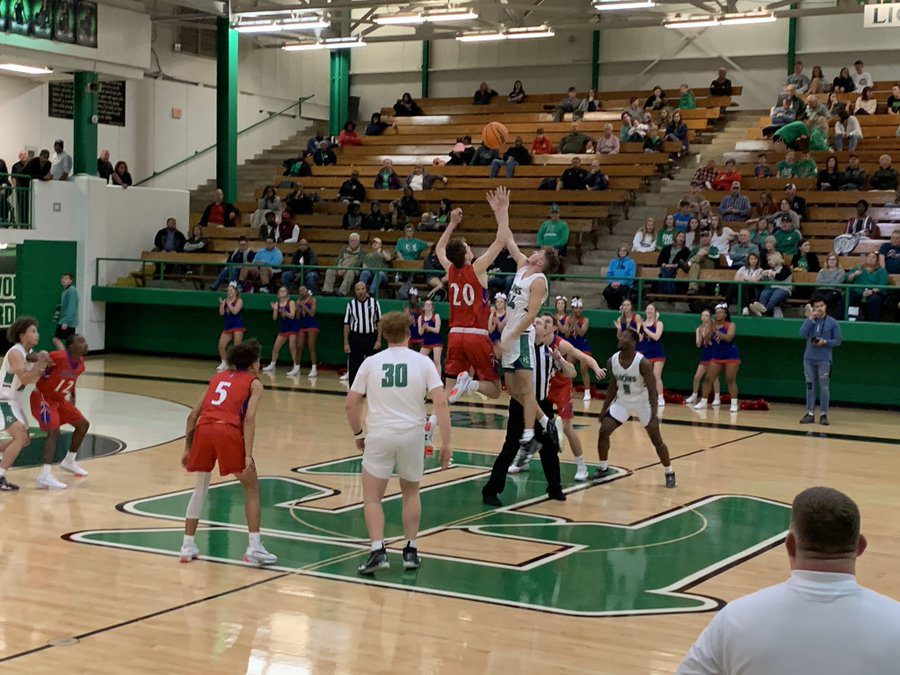 What difference a year makes.
Tuesday night's Region 8-AAA bout between Jefferson (4-5, 0-2) and No. 7 Franklin County (9-1, 3-0) pitted two teams with realistic goals of making noise in the state tournament. Last year's postseason went in different directions as the Dragons finished 17-11 and lost in the first round to Westminster 53-50 while the Lions, ousted in the region tournament, had to rely on the power ratings system to sneak into the postseason where they had a Cinderella run, finishing just 15-14 but taking a trip to the Elite Eight before falling 60-58 at Dawson County. Fast forward 10 months later and Franklin County is far from being labeled an underdog anymore, off to their best start in over a decade and now regarded as one of the favorites to win Region 8.
Still getting used to playing with a target on their back, the Lions would have their hands full with 6-foot-8 Navy-signee Jacob Radaker. All-State senior guard Titus Brown got Franklin County off to a hot start, scoring seven of his team-high 21 points in the first quarter including a three-ball off an assist from running mate Micah Roebuck that made it 10-4 in favor of the Lions.
1Q; 3:13
No. 7 @FC_Buckets 10@jhsmbb 4

The dynamic duo of @MicahRoebuck14 and @Titus2x hook up for 3. pic.twitter.com/GMKp6XW33V

— Kyle Sandy (@KyleSandy355) December 11, 2019
Minutes later, Brown returned the favor helping Roebuck get a clean look at a three in the corner to give the Lions a 14-8 lead after one period of play.
1Q; :35
No. 7 @FC_Buckets 14@jhsmbb 8@titus2x hits @MicahRoebuck14 for three. pic.twitter.com/CGdZPzi2tv

— Kyle Sandy (@KyleSandy355) December 11, 2019
Owen Parker provided the Dragons with a lift in the first quarter and his energy around the basket became infectious as 5-foot-7 water bug Kam Robinson began to squirt into the lane and cause problems for Franklin County's perimeter defense. His layup cut the lead to 19-18, but the Lions responded with an 8-1 run as the defense tightened the screws and found points in transition off a Roebuck layup and eventually pushed the lead to 27-19.
2Q; 3:25
No. 7 @FC_Buckets 23@jhsmbb 19

Defense turning into offense for @FCHS_STUSECTION. @MicahRoebuck14 on the bucket. pic.twitter.com/BWgoc2TjgE

— Kyle Sandy (@KyleSandy355) December 11, 2019
Spencer Darby ended the Jefferson drought with an offensive rebound and pull-up jumper.
2Q; 1:36
No. 7 @FC_Buckets 27@jhsmbb 21

Important hoop from @SpencerDarby4 after keeping the play alive. pic.twitter.com/Aqk8x5pQFA

— Kyle Sandy (@KyleSandy355) December 11, 2019
Roebuck swooped in for a tough layup with 35 seconds left and on their final possession, the Lions dug out an offensive rebound off a loose ball scramble which led to a Qua Jones three at the buzzer to build the lead to 33-24 at the half.
2Q; :35
No. 7 @FC_Buckets 30@jhsmbb 21

Tough hoop from @MicahRoebuck14 pic.twitter.com/FObeE7ttoD

— Kyle Sandy (@KyleSandy355) December 11, 2019
Franklin County extended their lead to 40-27 at the 6:15 mark of the third quarter on a Brown three from the top of the key before Radaker finally awoke and started to dominate around the basket. The D-I big man sparked a 10-2 run which brought the score to 42-37 with 4:06 remaining and finished with 11 of his game-high 24 points in the frame, but it was 6-foot-3 sophomore post Keylan Rutledge who played neutralizer for the Lions.
The nimble wide bodied red-head scored nine points of his own in the quarter to give Franklin County a 54-46 lead after three. As Robinson and Radaker continued to attack the paint and draw the Dragons closer and closer, Rutledge provided body blows to stymy the comeback.
Jefferson had the lead cut to five on numerous occasions but Rutledge's tough play kept them at arm's reach as a crafty face up step-through, two of Rutledge's 20 points, gave the Lions a 63-56 lead at the 4-minute mark.
4Q; 4:00
No. 7 @fc_buckets 63@jhsmbb 56

2022 6-3 F @keylan301 has been simply fantastic tonight against a 6-8 D-I signee. Stock UP. pic.twitter.com/aORXbtFKRu

— Kyle Sandy (@KyleSandy355) December 11, 2019
The two teams traded stops and buckets down the stretch as free throws loomed large. Franklin County shot 20-of-34 from the line but made them when they needed to as Brown went 6-of-8 in the fourth quarter to ice the game as the Lions closed out a 71-63 victory, leading wire-to-wire.
My Take
Having a target on your back isn't for everyone. Following a season-opening 67-58 loss to Class 7A Mill Creek, I wasn't sure how the Lions would respond. Was last year's deep playoff run simply a case of getting hot at the right time? Or was this senior-laden group seriously ready to handle the pressures of being one of Georgia's best teams in Class 3A? Nine-straight wins answers that question pretty quickly. Winning the Bearden Border Wars Championship over Byrnes, SC has helped springboard the Lions into continued success against Georgia's stiff competition. With Morgan County still figuring out its young pieces, moving to 3-0 in Region 8-AAA is crucial as the Lions keep pace with No. 5 Hart County. The backcourt of seniors 6-foot Titus Brown and 6-foot-1 Micah Roebuck is one of 3A's best. Brown is a great finisher in the lane and is aggressive when getting to the basket, not giving up his dribble when he first meets resistance and instead able to back down and maneuver his way to the cup after checking all angles. He finished with a team-high 21 points and came up big in the fourth quarter by coolly knocking down free throws. Roebuck chipped in with 18 points as a jump shot first combo guard that has enough physicality to finish at the rim. Titlan Wells, the third key senior guard, isn't as polished offensively as Roebuck or Brown but makes up for it with his hustle and defensive mindset. He finished with 4 points, 6 rebounds, 4 assists and 5 steals. The X-Factor for Franklin County was none other than 6-foot-3 sophomore post Keylan Rutledge. When I first saw Rutledge last year, he was an interesting looking player, not sure what to expect out of him but as a freshman you could tell he knew how to play the game and had quick feet for a man his size. On Tuesday night, Rutledge was nothing short of tremendous, especially considering his matchup with 6-foot-8 Navy-signee Jacob Radaker. Rutledge was patient on the low block and displayed great footwork. He hit baby hooks, turnaround jumpers and showcased great touch on his passes. Rutledge has an advanced feel for how to play on the low block and use his body. If Rutledge can consistently play like he did on Tuesday, he is what can help Franklin County play at a championship level. That third scorer is paramount to the Lions' success. Franklin County as a team runs tremendous sets that get clean looks. They love back cutting from the baseline and Coach Jason Shaver is a wiz with his ATO play calling.
Jefferson has played a tough schedule thus far that will prepare them for the rigors of the middle of the season and beyond. They have gone 2-1 vs. 7A schools and 1-1 vs. 6A schools but find themselves 0-2 in the region. Now that football players have returned, the Dragons should round into form over the next couple weeks. Jacob Radaker was quiet in the first half but showed why he's going to Navy in the second, posting 24 points and 14 rebounds. He is long and has a soft touch inside. He didn't float out to the three-point line much and anchored himself in the paint where he knew he had an advantage. The Dragons were held to just 4 threes as Franklin County clogged the lane on any drive and kick opportunities. 5-foot-7 junior Kam Robinson is lightning quick with the ball and excels at getting into the teeth of the defense. He had 11 points, 4 rebounds, 3 assists and 3 steals. If he can knock down threes on a regular basis it will open up even more driving lanes. Owen Parker gave a nice spark in the first quarter and finished with 9 points and 5 rebounds. His activity inside the paint led to second chance opportunities for the Dragons. Jefferson's most interesting player was 6-foot-3 sophomore Malaki Starks. Recruited as an athlete on the football field that plays quarterback, running back and corner back with offers from Florida, UGA, Georgia Tech, LSU, Tennessee and South Carolina, Starks didn't resemble anything of a sophomore. Starks has a college body already and is physical specimen. He didn't show much offensively with 4 points, but he had 7 rebounds, 4 assists and 1 steal and can cause havoc with his athleticism especially on defense.
Top Performers
Franklin County
Titus Brown – 21 points, 3 rebounds, 3 assists, 1 steal
Keylan Rutledge – 20 points, 8 rebounds, 1 assist, 1 steal
Micah Roebuck – 18 points, 1 rebound, 2 assists, 1 steal
Titlan Wells – 4 points, 6 rebounds, 4 assists, 5 steals
Jefferson
Jacob Radaker – 24 points, 14 rebounds, 1 assist, 1 steal, 1 block
Kam Robinson – 11 points, 4 rebounds, 3 assists, 3 steals
Owen Parker – 9 points, 5 rebounds
Malaki Starks – 4 points, 7 rebounds, 4 assists, 1 steal