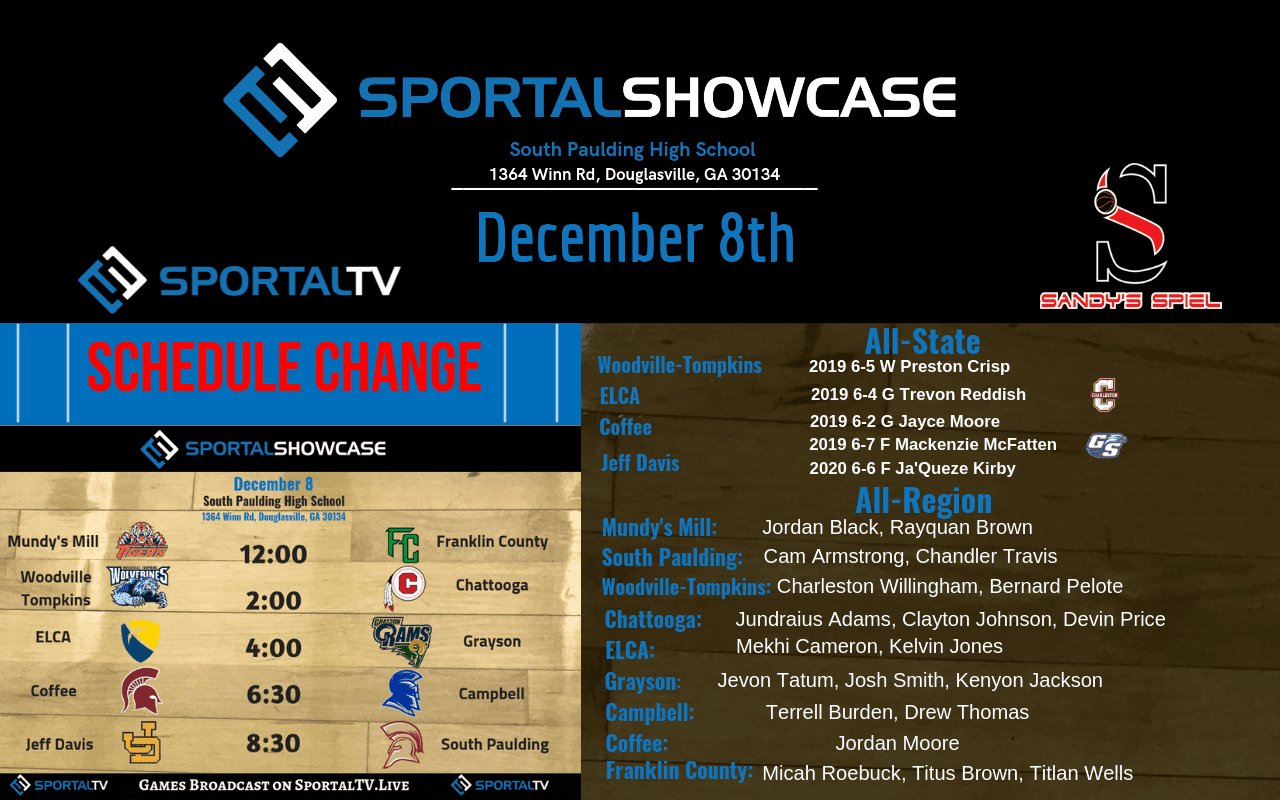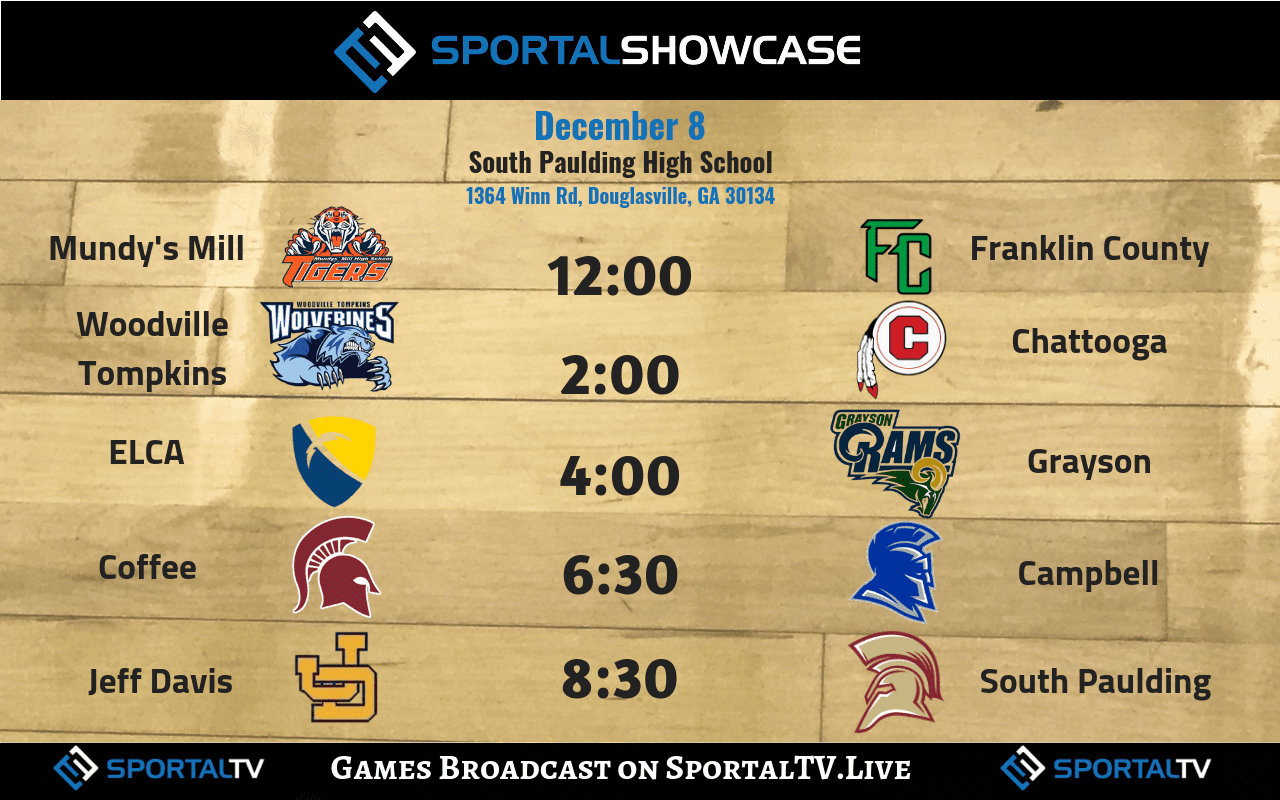 Ten teams from across the state of Georgia will descend on South Paulding High School on Saturday, December 8th for the inaugural SportalShowcase. Join us in the gym or watch online at www.SportalTV.live
12:00PM: Mundy's Mill vs. Franklin County
Mundy's Mill enters the season with momentum behind 6-foot-5 Rayquan Brown and 6-foot-7 Jordan Black. The dynamic duo along with 6-foot-5 center DeMarcus Fannin power a Tiger team that loves to play fast. Franklin County has patiently taken their lumps in Region 8-AAA and now are prepared to fight for a state playoff berth behind a talented 2020 trio. 6-foot combo guard Micah Roebuck was an All-Region selection and Coach Jason Shaver's top scoring option. Titlan Wells and Titus Brown round out a solid core that plays together year round.
2:00PM: Woodville-Tompkins vs. Chattooga
Woodville-Tompkins reached new heights in Year 1 under Coach Lenny Williams, earning an Elite Eight berth in Class A-Public. No longer the best kept secret down on the coast, the Wolverines will get everyone's best shot now that they move up to Class AA and open the season ranked No. 2. All-State 6-foot-5 senior guard Preston Crisp averaged 17 points per game a year ago and sees running mates 6-foot-6 junior Benard Pelote and Region Player of the Year Charleston Willingham back for one last ride. Chattooga has gone 72-11 over the past three seasons in north Georgia and has proven to be a pest when overlooked. Just two years ago the Indians upset future McDonald's All-American Reggie Perry and Thomasville and were three points away from securing a Final Four trip. Chattooga, who opened the season ranked No. 9 in Class AA, returns nearly everyone from last year's 23-4 team that lost in the First Round of the tournament. 5-foot-6 Jundraius "Nuk" Adams is one of the most exciting players in the state. The Indians focus on their defense and fast pace play to make up for their lack of size.
We preview the final three games of the day.
4:00PM: ELCA vs. Grayson
The transfer bug bit Class A-Private Preseason No. 4 Eagle's Landing Christian Academy hard, but Coach Derrick Mason still has more than enough to rival last year's 27-4 Final Four team. College of Charleston signee Trevon Reddish is a Preseason First Team All-State pick while Mekhi Cameron and KJ Jones are big wings that can shoot. Inside, Felix Uadiale has blossomed into a double-double threat while 6-foot-7 Jordan Smalls can play multiple positions. Grayson has appeared in back-to-back Class AAAAAAA Final Fours. Highlight maker Deivon Smith moves into the lead guard role full-time while 6-foot-5 Reco Hallmon will be asked to score more. Jevon Tatum led DeKalb County in scoring last year at 18.3 points per game and is one of a handful of transfers that will help make Grayson one of the deepest teams in the state.
6:30PM: Coffee vs. Campbell
Two Elite Eight teams in their respective classifications clash in an evenly matched bout. Coffee opens the season ranked No. 4 in Class AAAAAA after running out of gas against two-time defending state champion Langston Hughes 71-67 in the third round. Coach Pernell Smith has a pair of Preseason All-State Second Team selections in physical 6-foot-2 slasher Jayce Moore who averaged 19.6 points and 11.6 rebounds and 6-foot-7 Georgia Southern signee Mackenzie McFatten. The Trojans bring their south Georgia toughness to Douglasville where the Spartans will be waiting. Campbell lost to eventual state champion Meadowcreek 67-57 to end their season. 5-foot-9 point guard Terrell Burden is lightning quick and one of the best point guards in Georgia. 6-foot-5 Brandon Deravine is a versatile forward and 6-foot-6 Drew Thomas, new to the program, is a long forward that provides great help on the glass and defensively.
8:30PM: Jeff Davis vs. South Paulding
For the first time in school history a swarm of Yellow Jackets from Jeff Davis will be migrating to the Metro Atlanta area. Coming off their first region championship in school history, Jeff Davis must build around 2020 Top 100 recruit 6-foot-6 Ja'Queze Kirby, a two-time All-State selection. The junior is must-see TV and will try to improve upon his average of 19.5 points, 14.4 rebounds, 3.2 assists, 3.2 steals and 3.6 blocks. Freshman CJ Parker could crack the rotation as an outside shooter to pair with Kirby. The host Spartans are a battle-tested group led by seniors. Coming out of Region 5-AAAAAA, South Paulding relies on defense to frustrate opponents. Cam Armstrong is Coach Gil Davis' top option after averaging 17 points per game as a junior. Seniors Shane Gibson, Chandler Travis and ultimate hustle-guy Sha'mi Shields round out the Spartans' core.