16U Hype Hawks
2021 6-5 PF Devin McGlockton (South Forsyth): Playing alongside stars Matt Cleveland, Logan Turner and Sutton Smith, Devin McGlockton had a chance to show what he could do with Cole Middleton injured. The physical post presence rebounded and scored the ball inside. He provides a stability on the block with his ability to score with his back to the basket, but most impressive was his rim protecting. McGlockton finished with 11 points, 11 rebounds and 5 blocks in a 72-60 loss to AOT.
16U Game Elite
2021 6-0 PG Broc Bidwell (West Forsyth): Broc Bidwell shined in Game Elite's 71-61 win over the Atlanta Celtics and continued to rise his stock as one of the best point guards in Georgia's 2021 class. Slick with the ball, Bidwell can make all the passes and position his teammates for success. Bidwell is more than just a pass-first floor general – he can call his own number and deliver. He drilled four threes and finished with 14 points and 5 assists. Bidwell looks like a legitimate D-I prospect.
2021 6-4 PF Omarion Smith (Douglas County): Game Elite's one-two post punch of Robbie Armbrester and Omarion Smith is one of the most enjoyable frontcourts in Georgia. Armbrester is a household name and Smith should be one as well if he's not already. Smith's lack of size and go-to moves may limit his ceiling, but he is the state's best pound-for-pound shot blocker and an energetic rebounder. He had a stretch in the second half when he took over inside and helped put Game Elite ahead for good, finishing with 9 points, 5 rebounds and 1 block.
16U Atlanta Celtics
2022 6-1 G Chase Cormier (St. Pius X): Playing up a grade, Chase Cormier looked like the best player on the floor for the 16U Atlanta Celtics. Cormier scorched the nets with five threes, finishing with a game-high 19 points, 3 rebounds and 3 assists against Game Elite. The lefty has a quick trigger with range but his ball handling was equally impressive, battling aggressive on-ball defense to free himself to run the offense. He sliced into the lane to hit a pair of floaters to complement his outside stroke. Cormier should be one of Georgia's most highly sought-after targets for D-I schools over the next few years.
2021 6-6 F Jusaun Holt (St. Francis): Following his breakout performance in the Class A-Private state championship, Jusaun Holt's value was on display in tough 71-61 loss to Game Elite. Holt provided the Atlanta Celtics with 9 points, 14 rebounds and 3 blocks. Holt is able to guard multiple positions with his length and quickness. Offensively, he can attack from all three levels. As his confidence grows, as will his game. Holt is trending in the right direction.
17U Hype Hawks
2020 6-6 F AJ Hopkins (Whitefield Academy): AJ Hopkins left a good first impression with 11 points and 10 rebounds in a 63-61 loss to Infinite Skillz. Hopkins is a long combo-forward that has a nice motor and a willingness to compete on the glass. He turned in a Class A-Private All-State Honorable Mention campaign this season after increasing his scoring output by 10 points to average 19.7 points and 8.2 rebounds. Hopkins is worth tracking his senior season.
17U Infinite Skillz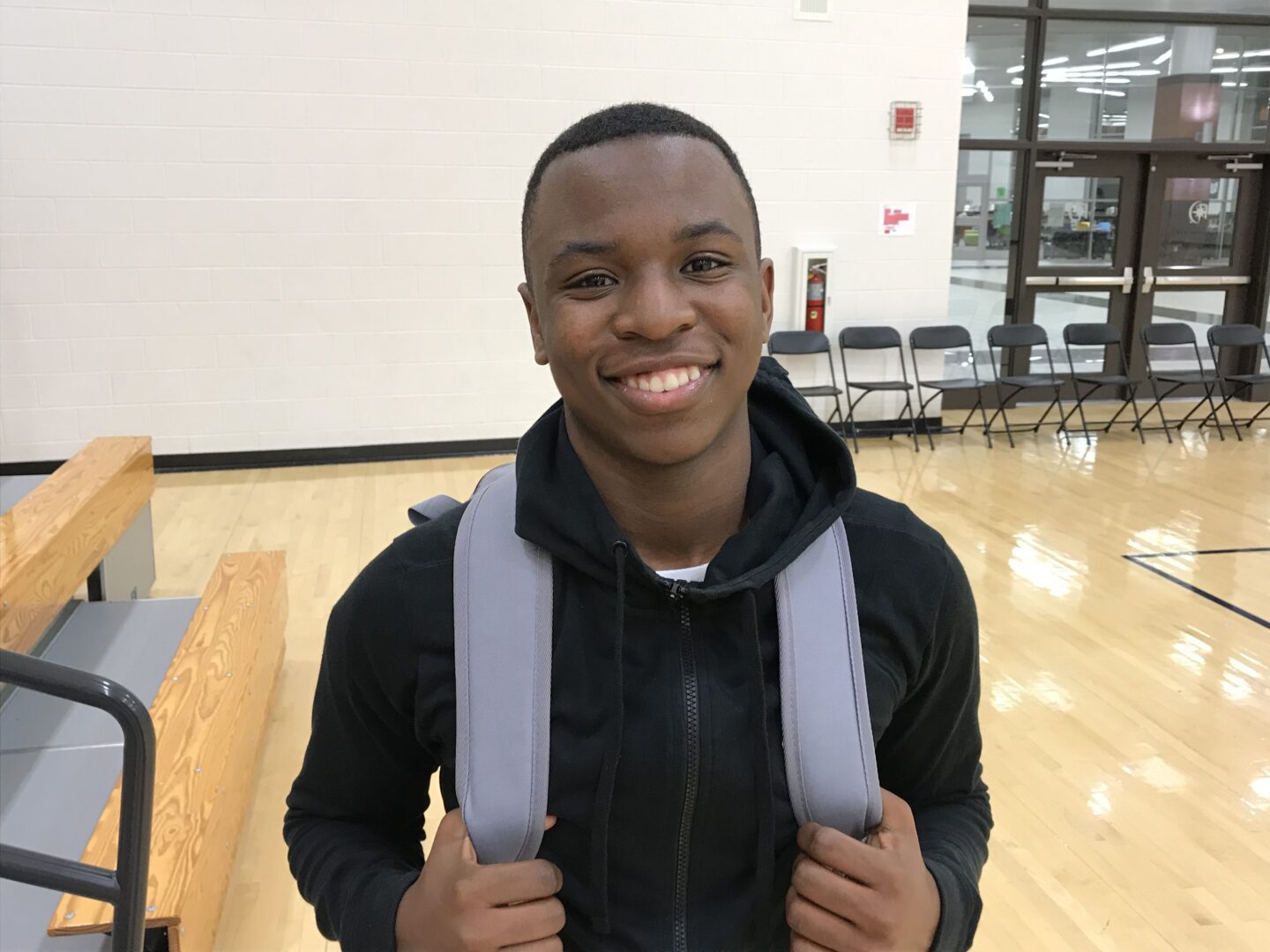 2020 5-9 PG DJ Wright (Greene County): The All-State guard has a flair for the dramatic. DJ Wright drilled a three with seconds left to complete a comeback from down 16 points to stun the Hype Hawks 63-61. Wright turned it on, scoring 10 of his 15 points in the second half. Wright lets the game come to him. During the varsity season he could probably stand to be a little more aggressive but especially on the travel circuit, Wright is content with getting his shots in the flow of the offense. He hit three three-pointers in the win and also scored from the mid-range and in. For him to succeed at the next level as an undersized guard, Wright will have to have a bulldog mentality – something that he has shown he already possesses.
2019 6-4 W Dakota Leffew (Jonesboro): The unsigned senior stepped up for Jonesboro and emerged as the Cardinals' leading scorer, averaging 14.1 points per game after averaging 4 points as a junior. Leffew is a smooth lanky wing that resembles Belmont-signee Ben Sheppard. Leffew is a slasher on offense. He finished with 9 points, 4 rebounds and most impressively, 3 blocks. Coming from Jonesboro, its easy to see the importance of defense that was instilled in him over the course of his high school career. He should be a valued addition for the right program.
17U Georgia Knights
2020 6-4 SG Chris Youngblood (East Coweta): Chris Youngblood did it again. The sturdy wide-chested two-guard continued to cement his status as a D-I prospect, dumping in 26 points, 13 rebounds, 1 assist, 2 steals and 1 block in a 68-61 OT win over Stackhouse Elite United. Youngblood played bully ball against Stackhouse's less physically gifted guards and barreled his way to the basket, finishing 9-of-11 from the foul line and hitting just one three in his outburst. Youngblood gets the job done night in and night out on both ends of the floor. His defense and ability to cover multiple positions all over the floor makes him a complete player. Mid Majors across the country should familiarize themselves with Youngblood.
2020 6-6 W Brandon Stroud (East Coweta): The second head of the dynamic East Coweta duo had a scoreless first half before exploding for 20 in the second half/overtime to power the Knights past Stackhouse Elite. Stroud collected 12 rebounds, 2 steals and a block as well. Stroud took a couple bad jump shots during his first half struggles but found his groove in the second when he started to attack the rim and work his way closer to the paint. Even when his shot was off, he still battled on the offensive glass and won his team second chance opportunities.
2020 6-3 G Kirshon Thrash (Eagle's Landing): One of the state's best stat sheet stuffers, Kirshon Thrash did it again with 8 points, 13 rebounds, 4 assists and 1 steal. Thrash's uniqueness has been well-documented. He affects the game in every facet imaginable. He is a player that D-2 schools should start pursuing.
17U Stackhouse Elite United
2020 6-6 F Quincy Canty (Cedar Shoals): One of Georgia's best bigs, Quincy Canty was sharp against the Georgia Knights with 14 points and 7 rebounds. Canty has a strong physical frame that can punish smaller defenders on the block, but he also has one of the best mid-range jumpers in the state from the forward position. Canty has extended that range to beyond the three-point line, knocking down three threes in the loss.
17U Warner Robins All-Stars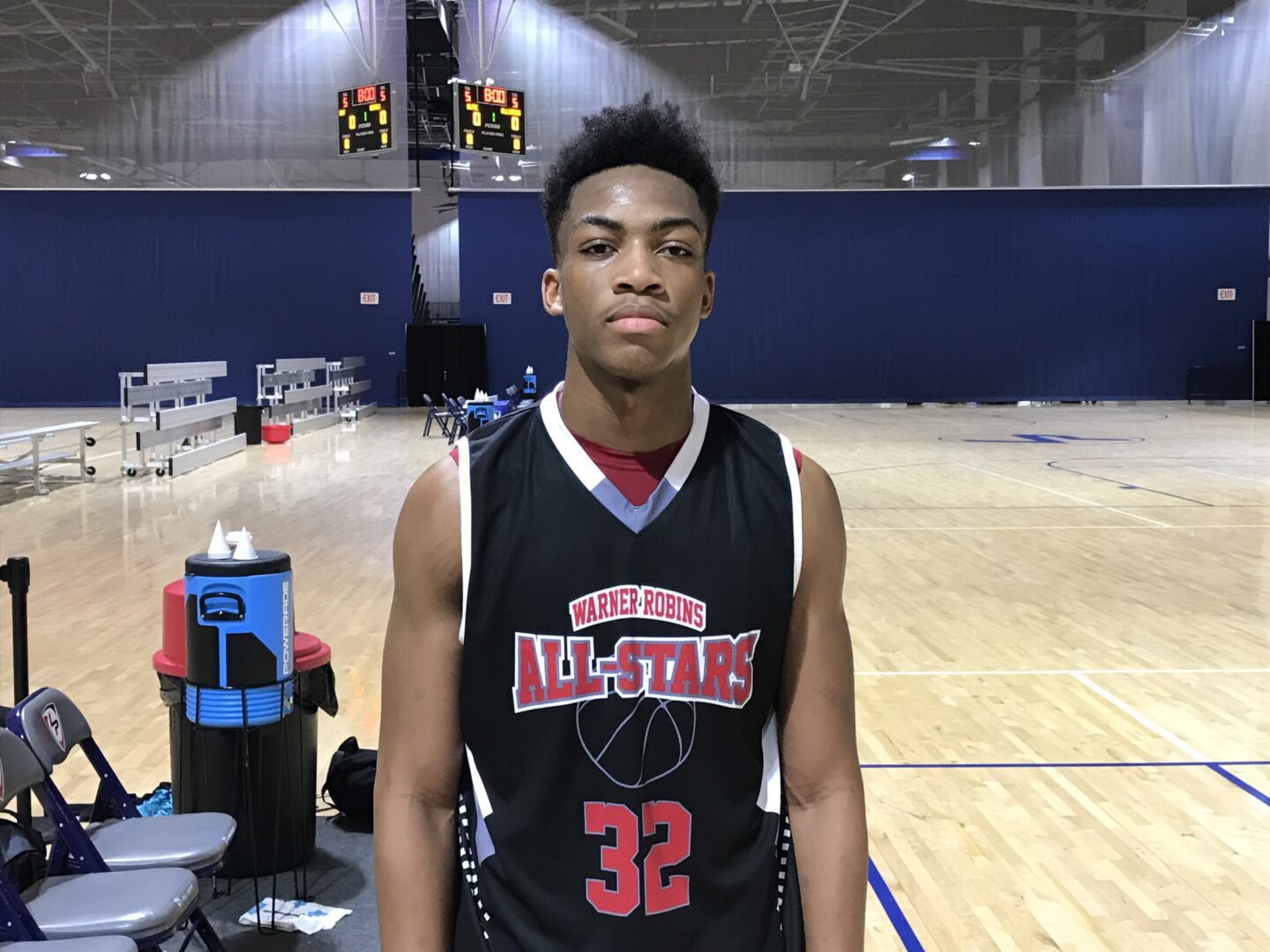 2019 6-5 PF Shamar Rouse (Warner Robins): The unsinged senior had a monster game in the Battle For Georgia Qualifier Championship, posting 22 points, 11 rebounds, 1 assist and 3 blocks. Rouse played above the rim with his sneakily explosive bounce. He used that athleticism to clean the glass, rock the rim and protect the paint. Rouse showed some rough and tumble inside to score in traffic and win loose balls. It was a great performance for the big man looking for a late home.
2020 6-1 CG Keshun Houser (Warner Robins): A poor man's Jacolbey Owens, Houser has all the physical tools that former state champ and All-State performer Owens had back in 2018. Houser is an elite athlete that makes highlight plays when attacking the cup. He will need to further enhance his point guard skills and get reps in running an offense. Add in a three-point shot and you have a dynamic sleeper coming out of middle Georgia. He had 12 points, 5 rebounds, 3 assists, 2 steals and 1 block.
17U God's Property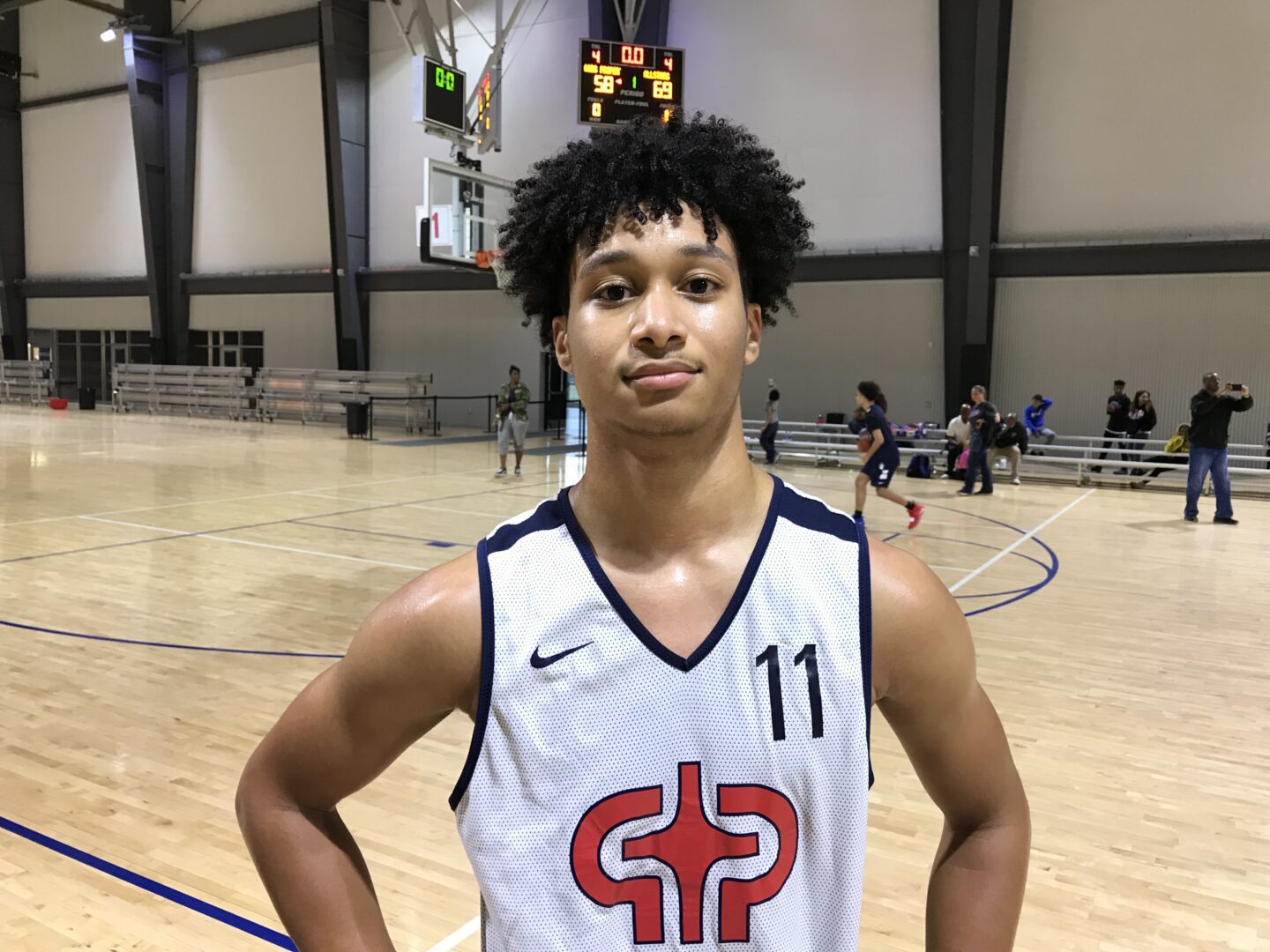 2020 6-5 F Josh Spencer (Alpharetta): Josh Spencer had an excellent first half and carried God's Property. The strong combo-forward finished with 18 points and 8 rebounds while drilling three threes. Spencer had a handful of early injuries and setbacks during the high school season before rounding into shape. Spencer should be a featured option with Alpharetta this season which will help his development. He has improved with putting the ball on the floor and creating his own shot.  With increased confidence and experience, Spencer should be in a good position to have a college destination this time next year.