*Guest contribution from Colin Hubbard (@__Chubs__)
No. 1 Morgan County 75, East Jackson 56
The Morgan County Bulldogs (15-3, 7-0) have been a powerhouse in AAA high school basketball for quite some time now, but their 2015-16 squad could be their best team yet. After knocking off the No.1 ranked Laney Wildcats last week, the Bulldogs moved into the No.1 spot and hosted an up-and-coming East Jackson (9-8, 4-3) team on Friday that was hungry for a statement win. Morgan County and East Jackson have been the class of Region 8 for the past two seasons but the Eagles had never beaten them in that time span.
The Bulldogs are led by Florida Atlantic signees Jailyn Ingram and DeVorious Brown while the Eagles are powered by the sophomore trio of Drue Drinnon, Travis Anderson and Jalen Morgan.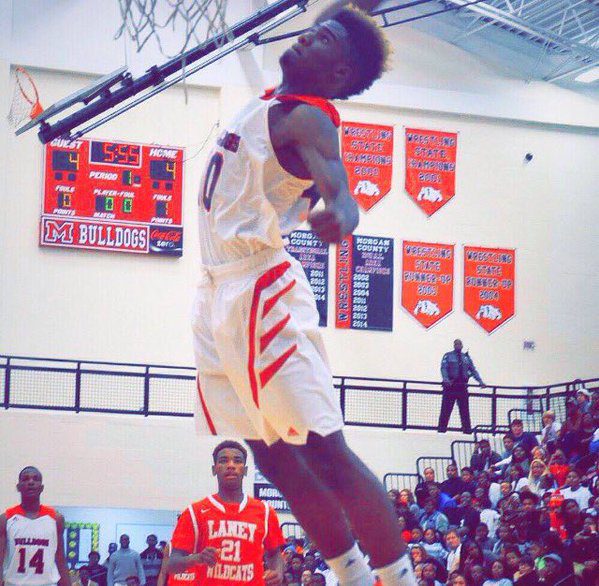 Ingram, who is also a tremendous football player, elected to take his talents to Boca Raton to continue his basketball career and his decision to do so seems to be playing dividends.
Drinnon on the other hand is the Class of 2018's No.1 ranked combo guard according to Future 150 and has already eclipsed the 1,000-point mark in less than two seasons. In East Jackson's 81-58 win over rival Jefferson last week, all three of the Eagles' trio scored 20 or more points before heading into a much-anticipated rematch with the Bulldogs.
Despite a strong effort to start the game, Morgan County was the better team on the night and picked up a 75-56 win to remain undefeated in Region 8.
"We knew coming in that they (East Jackson) were going to come out with a lot of energy so we knew what to expect," Morgan County Head Coach Jamond Sims said. "We had our hands full with Drinnon in the first half but in the second half we were able to keep him in front of us and that helped us close out the game."
"The team goes as Jailyn goes and when he wants to assert himself and be the best player on the floor, the rest of our team's confidence goes up," Sims said. "Whenever he catches the ball within 18 feet of the basket, he can pretty much shoot over anyone out there so he's a big part of our success."
The start couldn't have been better for the Eagles after jumping out to a 12-4 lead but costly turnovers gave the Bulldogs a 1-point lead after the first quarter, 16-15.
Drinnon and Anderson combined to score 10 of the Eagles' 15 while the Bulldogs got nine from Jordan Ford.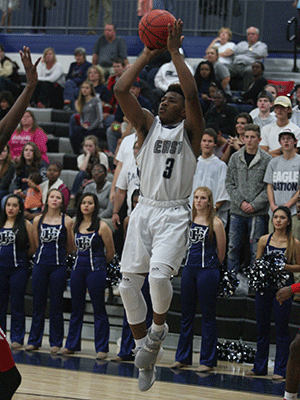 The second quarter did not start out the way East Jackson would have liked and quickly the Eagles found themselves in an 10-point hole midway through the quarter. However, hot shooting from Drinnon cut the Bulldogs' lead to 41-35 at the half.
So @_dabdaddy10 nearly killed me tonight… Lmao @KyleSandy355 pic.twitter.com/cxfWE19iRd

— Colin Hubbard (@__Chubs__) January 16, 2016
Drinnon scored 15 of the Eagles' 20 points in the second quarter and led all contestants with 20 points at the half on 8-of-8 shooting while Ford added two more to lead the Bulldogs with 11 points.
The Bulldogs found their rhythm in the third quarter and dominated in all facets of the game. Ingram netted eight points in the period and helped build Morgan County's lead to 61-46 heading into the fourth.
The Eagles managed to cut the Bulldogs' lead to 10 points midway through the fourth quarter but that was the closest they could get. Ingram proved to be too big for the smaller East Jackson frontline and finished with 20 points on the night.
Drinnon poured in a game-high 28 points on 11-of-13 shooting, dished out seven assists and collected four steals.
"We were doing fine at the start but they (Morgan County) started pressing us and that caused us to have a lot of stupid turnovers," Drinnon said.
"We didn't rebound the ball. They out rebounded us just like every other team we play so we need to work on rebounding and be safer with the ball going forward."
Ingram on the other hand was very pleased with the way they played and is excited to see where the Bulldogs are headed.
"We have a lot of experience in playing in tough games so we knew that we would be ready for this one," Ingram said. "We use all of our games as a learning experience and playing a team like East Jackson helps us going forward."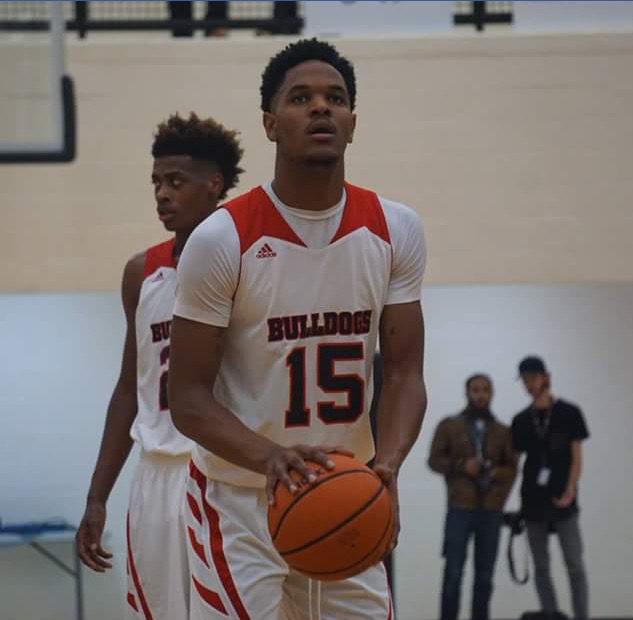 East Jackson head coach David Boyd has spent a lot of time trying to figure out how to beat what has become the Eagles' biggest thorn in their side but has yet to find an answer.
"They are hard to beat and I haven't figured it out yet," Boyd said. "I think they have the best team in AAA right now with the amount of length they have. Some of our newer guys that came out for the second semester got introduced to high-level basketball for the first time but we will keep fighting and hopefully get to play them again in the region tournament."
Colin's Take: East Jackson arguably has the best young backcourt in all of AAA but their inability to rebound has really held them back. Jalen Morgan, who has played in just three games after transferring from New Hope Christian Academy (NC), gives them the best option down low to rebound the ball but still needs time to get acclimated to East Jackson's system. While they might not find a rebounding answer this season, they are well on their way to becoming a well-known AAA powerhouse next season and have a great shot at competing for a state championship in the very near future.
Morgan County doesn't have a weakness. They have three players over 6-foot-6, they run the floor as good as anyone and they can shoot the basketball with ease. Their size and strength wear teams down late in games which gives them a great chance at getting back to the state championship game later this year. If you haven't watched Morgan County play, then you're missing out. They play like a Class AAAAAA team and could easily contend in a division of that magnitude.