3ANo. 2 GAC 85, 4ANo. 2 St. Pius X 64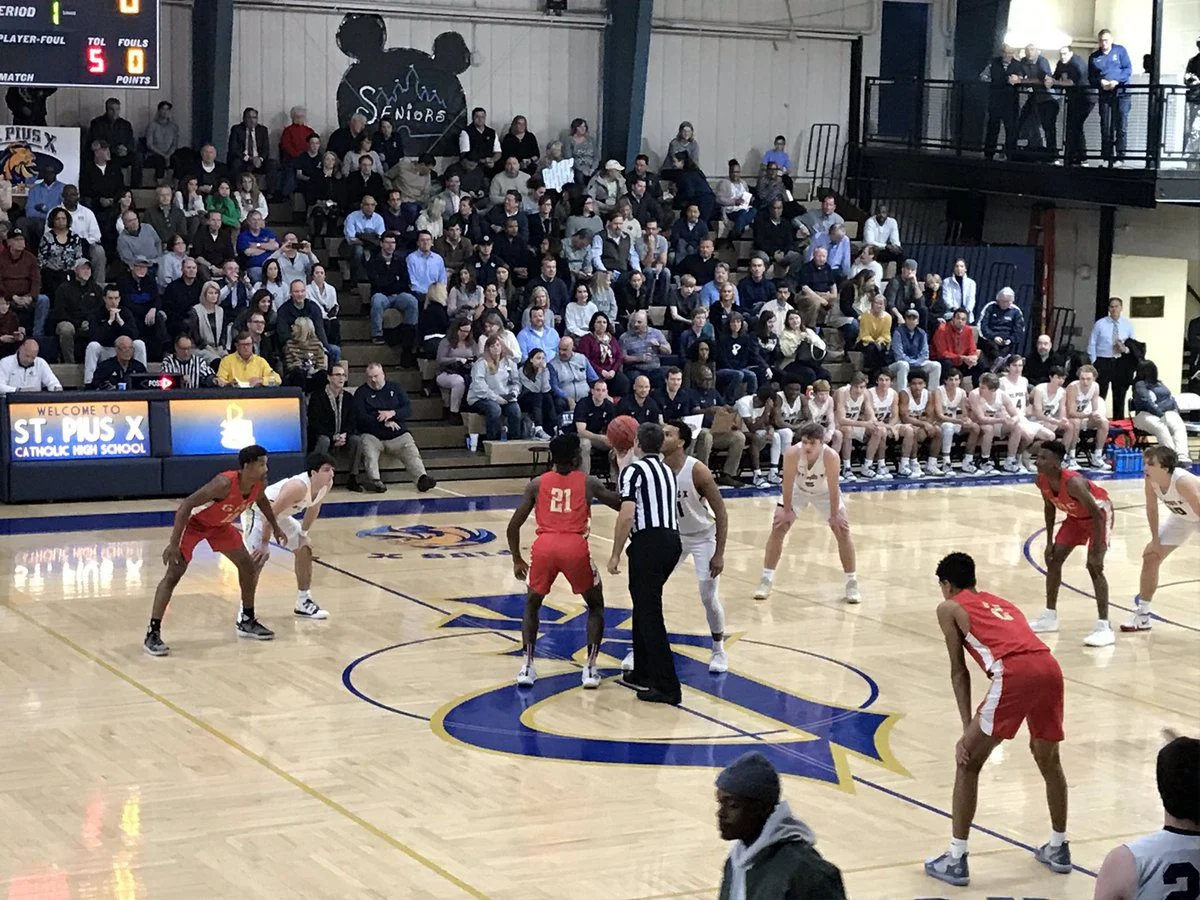 Two of Georgia's best private school programs clashed at the X-Dome for No. 2 St. Pius X's home opener. It was a game of runs, but ultimately the No. 2 ranked Spartans (1-3) unleashed a barrage of threes to notch their first win of the season, drilling 14 to race past the Golden Lions (2-2) in convincing fashion 85-64.
GAC got on the board first and led 4-0 as Ben Sheppard swooped in for a layup. The Golden Lions answered quickly with a 7-0 run using backdoor cuts. The three-headed backcourt of Hunter McIntosh, Belmont-signee Ben Sheppard and Roy Dixon quickly turned the tables using a frantic defense pressuring the passing lanes to turnover a usually efficient St. Pius.
A 13-0 run rapidly ballooned the Spartan lead to 17-7 with 1:30 remaining in the first period. Sheppard found McIntosh for a three-pointer at the buzzer to give GAC a 20-12 lead after one, a foreboding sign for how the rest of the night would play out.
At the 4:24 mark of the second quarter, GAC held a 27-15 lead and looked to land the knock out punch but St. Pius' experienced seniors, Brian Gonzalo in particular, would have none of it. Freshman Chase Cormier nailed a corner three to help spark the Golden Lions before Gonzalo picked up a steal and completed an And-1 to cut the lead to 29-23 with 3:32 remaining.
The freshman three-point specialist @chase1cormier drills a corner three to get @spxbasketball back in the game. Brian Gonzalo then gets a steal And 1 to cut it to 29-23 with 3:32 lefr pic.twitter.com/hzEgaV7MhW

— SportalTV (@sportalspace) November 28, 2018
St. Pius' trademark full court press began to swarm the Spartans as Gonzalo fueled the comeback, scoring all 12 of his points in the frame and trimming the GAC lead to 31-29 with 1:52 left following a pair of Matt Gonzalo free throws.
The Spartans landed a counter punch as McIntosh and Baskerville combined for 12 points in the quarter to extend the lead to 38-31 before Matt Gonzalo hit a pullup jumper at the horn to head into the half down 38-33.
HALF
No. 2 @gachoops 38
No. 2 @spxbasketball 33

The two heavyweights have been trading body blows. @1mattgonzo hits a big pull up at the buzzer. pic.twitter.com/6kQIwxTr0K

— SportalTV (@sportalspace) November 28, 2018
Over the next 16 minutes, the Spartans left no doubt that last year's state title run wasn't a fluke and that their 0-3 start to this season was. McIntosh and Sheppard traded three balls to quickly spark a 6-0 run that left the score at 44-33 at the 6:44 mark.
Sheppard, who played set-up man in the first half with six assists, began to hunt his shot in the third quarter and drilled a deep straight away three to push the lead back to eight after the Golden Lions dug in. Cormier answered from deep minutes later, once again cutting the Spartan lead to five, but again Sheppard dialed up a triple to make it a 55-47 game at the 2:25 mark.
Cole Perusek got in on the action and knocked down a three off a McIntosh assist to make it an 11-point game, the junior stepping up big with 13 points on the night off the bench.
3Q; 1:08
No. 2 @gachoops 58
No. 2 @spxbasketball 47

Cole Perusek nails a three ball pic.twitter.com/kMAq3BSHSE

— SportalTV (@sportalspace) November 28, 2018
In the quarter the Spartans buried six three-pointers led by Sheppard's three and McIntosh's pair, putting the game nearly out of reach with a 63-49 advantage heading into the fourth.
In a game of counter punches between heavyweights, Sheppard and the Spartans finally landed the knockout blow in the fourth quarter, hitting four more threes to finish with 10 over the final 16 minutes of the game. Sheppard's fourth trifecta ran the score up to 68-49 with 6:28 remaining, another quick start to open a quarter with a 5-0 spurt.
Sheppard recorded a double-double in fitting fashion with 5:06 left to play, flipping to McIntosh for another three, Sheppard finishing the night with 21 points, 4 rebounds, 10 assists and 4 steals while McIntosh poured in a game-high 25 points to go with his team-best 7 rebounds.
4Q; 5:06
No. 2 @gachoops 73
No. 2 @spxbasketball 53@shepben2 picks up a double-double with the assist to @callmehunt_.@GAC_Athletics has sank 12 threes, 8 in the second half. pic.twitter.com/BpixIjbxPI

— SportalTV (@sportalspace) November 28, 2018
My Take
It's not often that St. Pius X gets ran out of their own gym, in fact it was the Golden Lions' largest home loss since losing to Lithonia 55-44 in 2015. St. Pius showed flashes of their championship contending pedigree but 14 threes were just too much to overcome. With the question looming of who will replace Everett Lane's scoring, the Gonzalo brothers answered the bell early on. Matt looked more aggressive over the first three quarters scoring 14 points, but was shutout in the fourth. Brian provided a massive lift in the second quarter and carried the Golden Lions with 12 points and outstanding defensive effort but was unable to sustain his production in the second half. The Golden Lions were a bit sloppy with the ball to open the game, GAC a half step quicker and playing the passing lanes which led to run outs. The Golden Lions eventually settled in but their early missteps helped the Spartans grow a 17-7 lead. St. Pius had few open looks but cashed in when available, freshman Chase Cormier logging important minutes with a pair of threes.
GAC will tell anyone that listens that they have the best three-guard backcourt in the state. They are definitely in the discussion especially when they are knocking down shots. The Spartans won't lose too many games when they drill 14 threes. The season debut of Chris Hinton was a major lift. The All-American defensive lineman heading to Michigan has sweet feet, pouncing around the court like a nimble cat but with the frame of a bulldozer. He is still working his way into basketball shape but his presence immediately demands attention and his low post passing is a crucial element to brings another dynamic to Coach David Eaton's offense. With all the attention on Hunter McIntosh, Ben Sheppard and Roy Dixon – rightfully so – it was the Spartan role players that really provided a lift. Production wise, GAC is about seven deep right now but that's all they'll need if Cole Perusek and Clifton Baskersville continue to play well. Perusek, a 6-foot-4 junior, provides energy on the glass and a versatile piece that can stretch the floor. He finished with 13 points off the bench while Baskerville, a junior guard, sank three threes en route to 13 points. Dixon had a quiet game offensively but played solid defense and helped the offense flow. McIntosh has a knack for being in the right place at the right time, credit his elite IQ for that. The recent Tulane-offeree is a jump shooting guard with size and a nose for rebounding. He plays well off of Sheppard who stole the show. After tallying six assists in the first quarter alone, the Belmont-signee decided to lead the charge from deep with his five second half triples. His 6-foot-5 size and length allows him to glide to the basket when attack the rim and shoot over smaller defenders on the perimeter. Now nearing full strength, GAC has the pieces in place to defend their state title and will continue to play one of the toughest schedules in the state to prepare themselves for March.
Top Performers
GAC
Hunter McIntosh – 25 points (5 threes), 7 rebounds, 1 assist, 2 steals
Ben Sheppard – 21 points (5 threes), 4 rebounds, 10 assists, 4 steals
Clifton Baskerville – 13 points, 2 rebounds, 3 assists, 1 steal
Cole Perusek – 13 points, 3 rebounds, 1 steal, 1 block
Roy Dixon – 6 points, 2 rebounds, 3 assists, 1 steal, 1 block
Chris Hinton – 4 points, 7 rebounds, 3 assists, 1 steal
St. Pius X
Matt Gonzalo – 14 points, 2 rebounds, 3 assists, 1 block
Brian Gonzalo – 12 points, 2 rebounds, 2 assists, 3 steals
Riley Costas – 7 points, 4 rebounds, 1 block
Niko Broadway – 7 points, 3 assists
Patrick Snipes – 6 points, 1 rebound, 1 assist
Zach Ranson – 4 points, 4 rebounds, 2 assists, 1 steal, 3 blocks (Ejected 4Q)