DAY 1 — Wednesday, March 4th
A-Private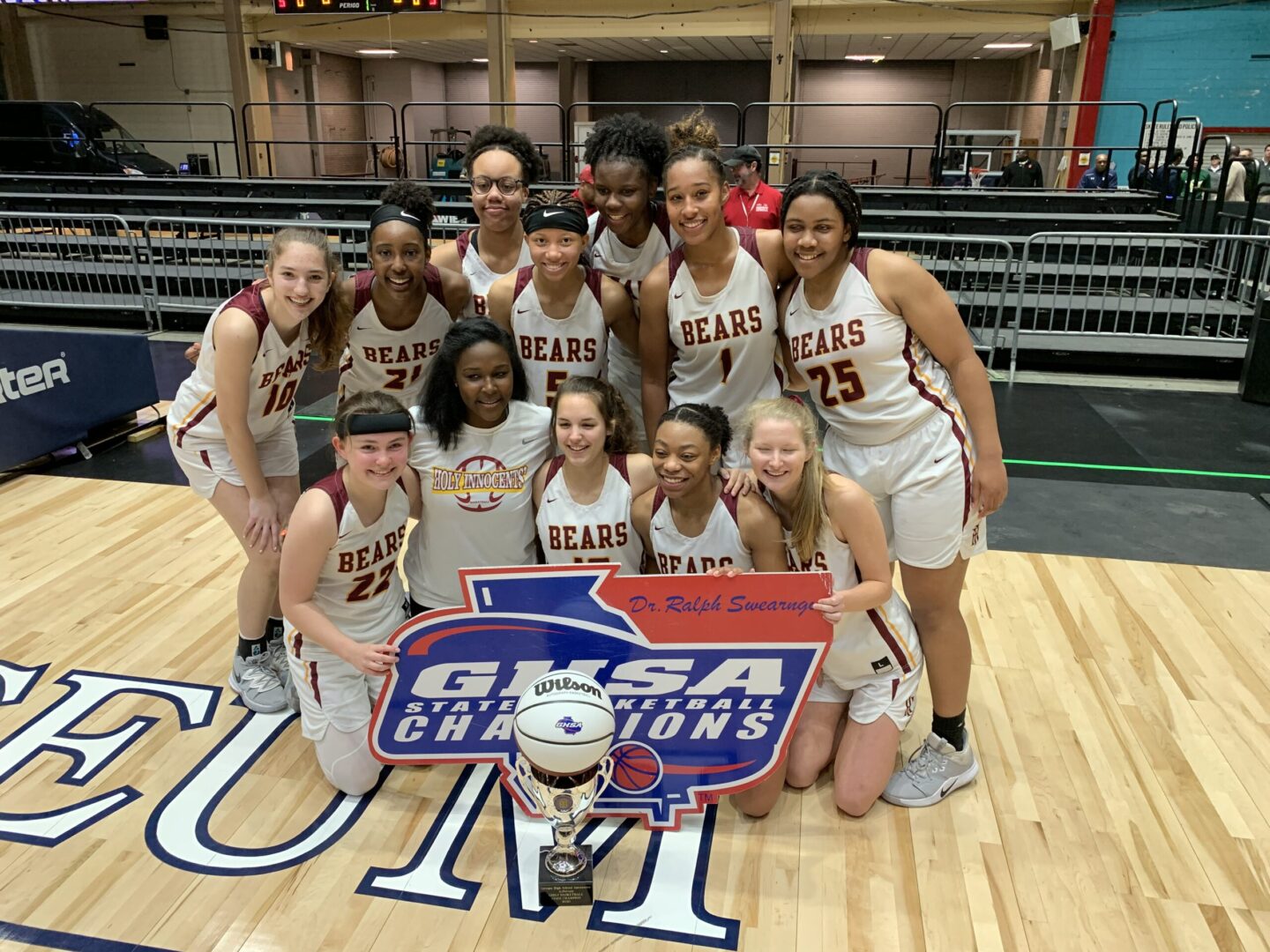 [GIRLS] #2 No. 3 Holy Innocents' 66, #1 No. 1 St. Francis 53: Holy Innocents' (26-5) repeated as state champions behind two first half runs that gave the Golden Bears enough separation to hold off St. Francis (27-4). Trailing 16-15 after the first quarter, Holy Innocents' ripped off a 10-0 run to take a 25-16 lead as Jada Farrell scored 14 of her game-high 21 points in the opening half. St. Francis found its footing mid-way through the quarter and got big minutes from freshman post Trynce Taylor who came off the bench to chip in 8 points and 5 rebounds for the game. The Knights went into halftime down 31-27 before the Golden Bears used a 12-0 spurt to take a commanding 43-27 lead. After digging themselves a deep hole, St. Francis tried to fight back .The Knights trailed 48-40 after three quarters and trimmed the lead to 48-44 at the 6:52 mark following a jumper from Oregon State-signee Savannah Samuel but from that point on it was all Golden Bears. Holy Innocents' pieced together an 11-3 run to regain control keyed by a Jill Hollingshead corner three with 5:20 remaining to push the lead to 53-44. Hollingshead was held in check for most of the game, finishing with 11 points, 14 rebounds and 1 steal. Rachel Suttle erupted in the second half for the Golden Bears, scoring 16 of her 19 points to go along with 9 rebounds, 2 assists and 3 steals. While the Knights played tough defense on the 6-foot-5 forward, they continued to leave points at the line. St. Francis finished the game 13-23 from the stripe, hindering their attempts at a comeback.  Samuel, who led the Knights with 11 points and 4 rebounds and 3 blocks, fouled out with 2:16 remaining with the Knights down 11. Mia Moore added 11 points, 5 rebounds and 3 assists before also fouling out. Notre Dame-signee Amirah Abdur-Rahim had 9 points, 4 rebounds and 2 blocks.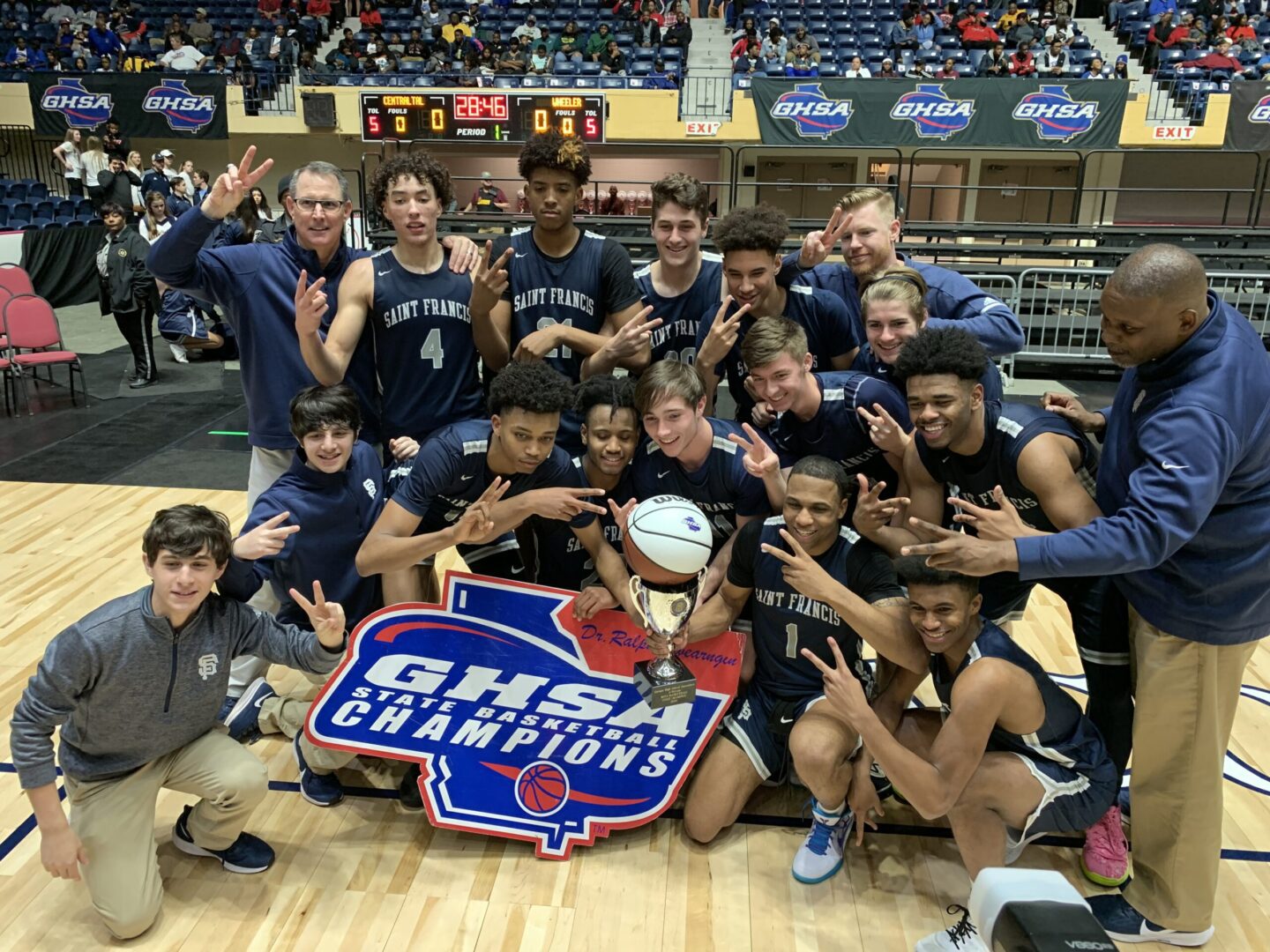 [BOYS]  #1 No. 1 St. Francis 76, #2 No. 2 Greenforest 55: St. Francis (30-3) led wire-to-wire in a dominating effort to capture their fourth state title and second in a row. The Knights led 12-0 out of the gate as Xavier-signee Dwon Odom was off and running. St. Francis held a 17-9 lead after one and took a 34-20 lead into the half as Greenforest (21-10) struggled to use their size to their advantage. Drexel-signee Lamar Oden scored 9 of his 21 points in the first half but was held to 4-14 shooting over the opening 16 minutes and 9-25 for the game before fouling out with 56.5 seconds left. St. Francis broke the game open with a 7-0 run to make it 41-20 at the 5:06 mark. The Eagles turned to a press and showed signs of life making it 50-36 after Oden and MTSU-signee Christian Fussell hit threes, but quickly after the Knights stepped on the gas to take a 56-37 lead into the fourth. Odom powered St. Francis with 27 points, 9 rebounds, 4 assists and 1 steal. Chase Ellis contributed 14 points and 7 rebounds while Seth Hubbard tacked on 12 points, 6 rebounds, 2 assists and 2 steals. Jusuan Holt finished with 11 points, 7 rebounds, 2 assists and 2 blocks. The larger Eagles were held to 33.9 percent shooting while St. Francis connected at a 65.9 clip. In the loss, Fussell finished with 10 points, 8 rebounds and 3 steals.
A-Public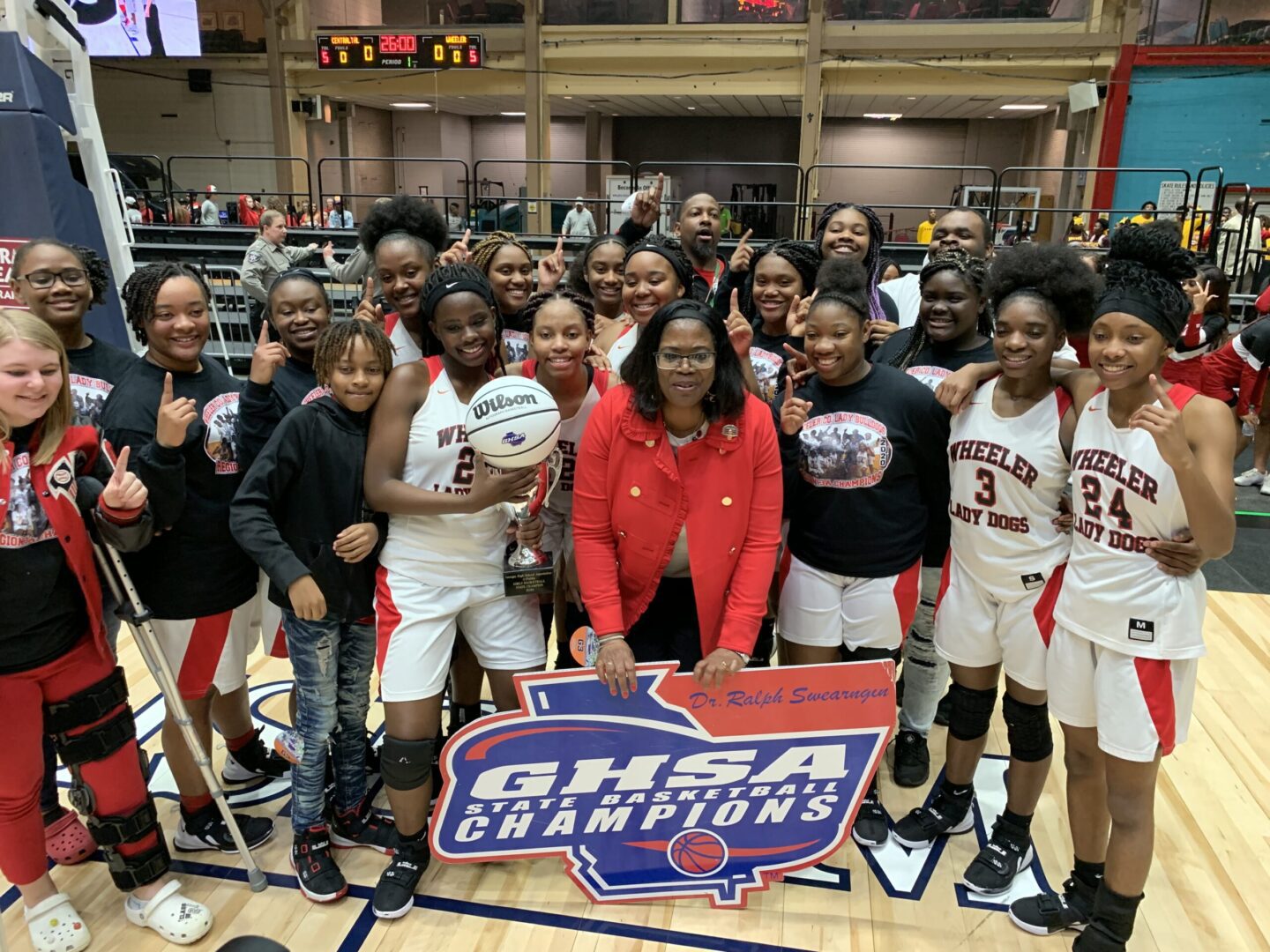 [GIRLS] #3 No. 2 Wheeler County 55, #1 No. 1 Central-Talbotton  50: Wheeler County (31-1) won their first state title behind the experience of their senior class, namely guards Samerria Bryant and Keonya Mincey. The duo made big play after big play down the stretch to hold off Central-Talbotton (27-2). Wheeler County led 10-8 after one but trailed 24-22 at the half as Bernyla Sparks scored 14 of her game-high 24 points and 13 rebounds in the first half to pace the Central-Talbotton. The Hawks looked ready to grab their first title since 1986, leading 33-22 with 3:41 left in the third quarter, but Sparks picked up her fourth foul and was banished to the bench. The Bulldogs made their move. Wheeler County closed the quarter on a 13-3 run to trim the deficit to 36-35 after three quarters. Sparks re-entered to start the fourth but from that point on the Hawks found themselves locked in a dogfight. Wheeler County edged ahead 51-44 with 1:30 remaining, but the Hawks came roaring back, trimming the lead to 51-50. With 15.1 seconds left, Mincey was sent to the foul line where she sank both attempts. On the ensuing possession, Bryant poked away a steal from behind, sending the ball into Lela Wright's hands. She would sink both free throws to ice the game. Mincey, who scored a team-high 23 points, scored 10 in the fourth quarter including going 7-10 from the foul line. Bryant finished with 16 points and 10 rebounds as the Wheeler County senior class put a capper on their 98-16 career. In the loss, Shakemia Marshall added 10 points, 12 rebounds and 4 assists.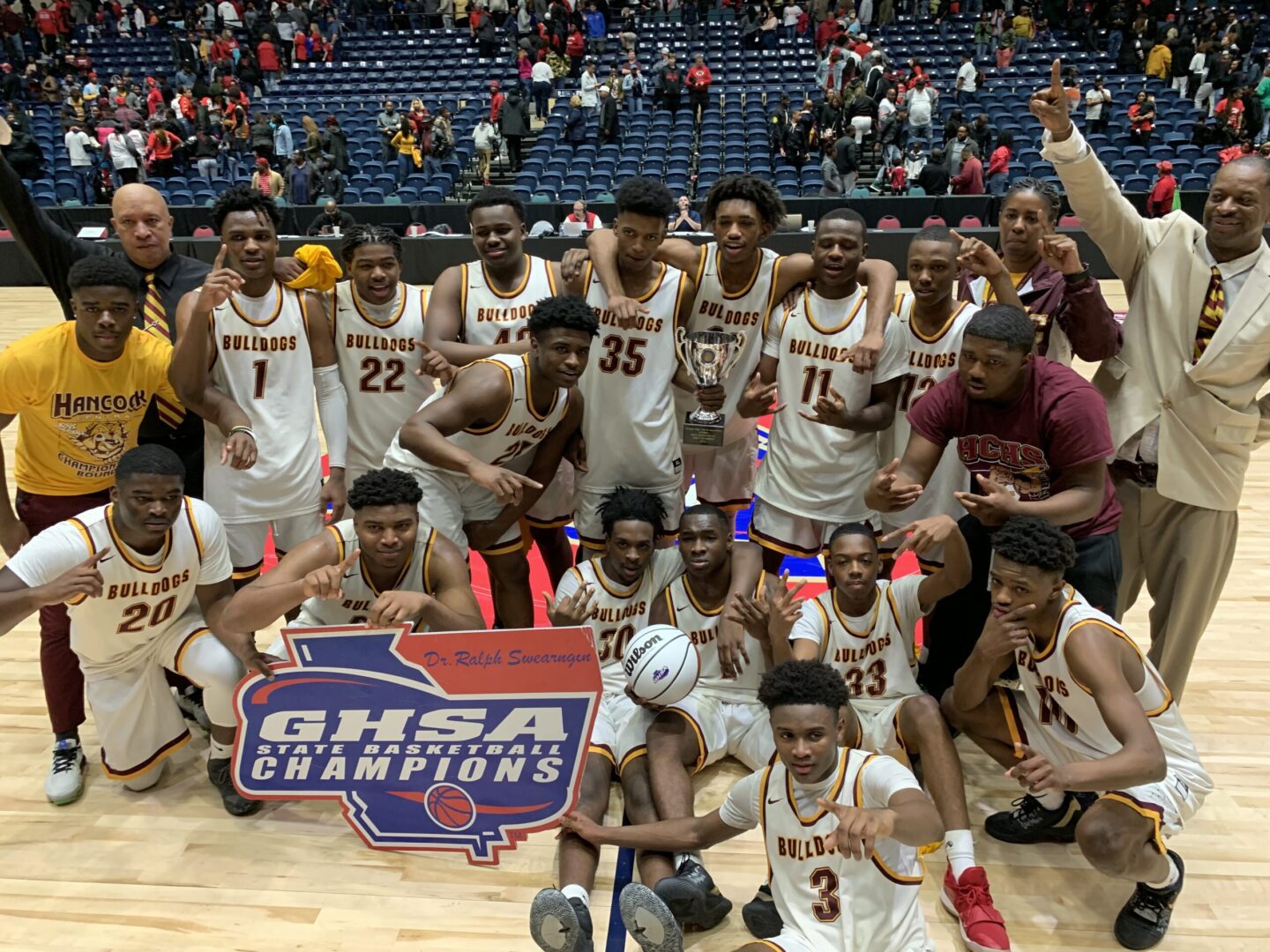 [BOYS]  #3 No. 3 Hancock Central 61, #1 No. 1 Treutlen 58 OT: In improbable fashion, Treutlen (30-1) fell in heartbreaking fashion for the second year in a row. Hancock Central (28-3) led 18-10 after the first quarter and nursed a 29-23 lead into the half as turnovers plagued Treutlen. The Vikings would finish with 28 turnovers compared to 14 from the Bulldogs. In the third quarter, Hancock Central gained separation and led 37-26, their largest lead at the 5:26 mark of the third quarter but Treutlen would cut into the lead and head to the fourth down 42-35 as Chris Floyd scored 9 of his game-high 22 points in the third quarter to draw the Vikings near. However, at the 5:36 mark of the fourth with Treutlen now down just 46-43, Floyd would foul out. Momentum wouldn't waiver for the Vikings however as they kept chipping away as Hancock Central kept missing from the foul line. The Bulldogs would go 2-10 from the line in the fourth quarter and a woeful 9-26 (34.6%) for the game, giving Treutlen plenty of opportunities to get back in it. With 1:31 left in regulation, Kamron Jordan knotted the game up at 49. A Quentez Jordan free throw at the 1:09 mark gave the Vikings their first lead since 8-7 back at 3:43 in the first quarter. Hancock Central regained the lead with 30 seconds to play when Treyvion Crayton hit a pull-up from the foul line. With 17 seconds, Leroy Wilson was sent to the line and split a pair. Kasabian Mitchell drew a foul shooting a three with 8.8 seconds and hit his first two free throws before missing his third, sending the game into overtime tied at 52.  In overtime, it looked like Treutlen's first-ever title was in reach as 6-foot-8 Cartavious Terry scored on a putback to give the Vikings a 58-55 advantage at the 1:43 mark. With the score the same, Quentez Jordan had an opportunity to extend the lead but missed both free throws badly as the Vikings would finish 10-24 (41.7%) from the stripe. Those two misses would prove costly as Jamal Taylor slashed to the lane for the game-winning layup with 11 seconds left to go ahead 59-58 before Mitchell would turn the ball over in traffic and Marquavious Lawrence, who came up big off the bench with 12 points and 7 rebounds, pitched ahead to Jamarcus Morris for the layup at the buzzer.  Hancock Central saw Taylor lead the Dogs with 13 points, 8 rebounds and 4 steals while Leroy Wilson added 12 points, 8 rebounds and 5 steals. The Bulldogs, who went 0-16 from deep and were out-rebounded 51-44, captured their first title since their first back in 2008. In the loss, Kamron Jordan had 8 points and 12 rebounds. Terry posted 13 points, 13 rebounds, 2 steals and 5 blocks. Mitchell had 11 points and 6 rebounds.
#GHSA Class A-Public State Champ
OT
No. 3 Hancock Central 61
No. 1 @TreutlenVikings 58

What a FINISH!

Bulldogs score 4 points in final 11 seconds to stun the Vikings.

Jamarcus Morris WINS IT!@OfficialGHSA pic.twitter.com/amVJYPaA93

— Kyle Sandy (@KyleSandy355) March 5, 2020
DAY 2 — Thursday, March 5th
2A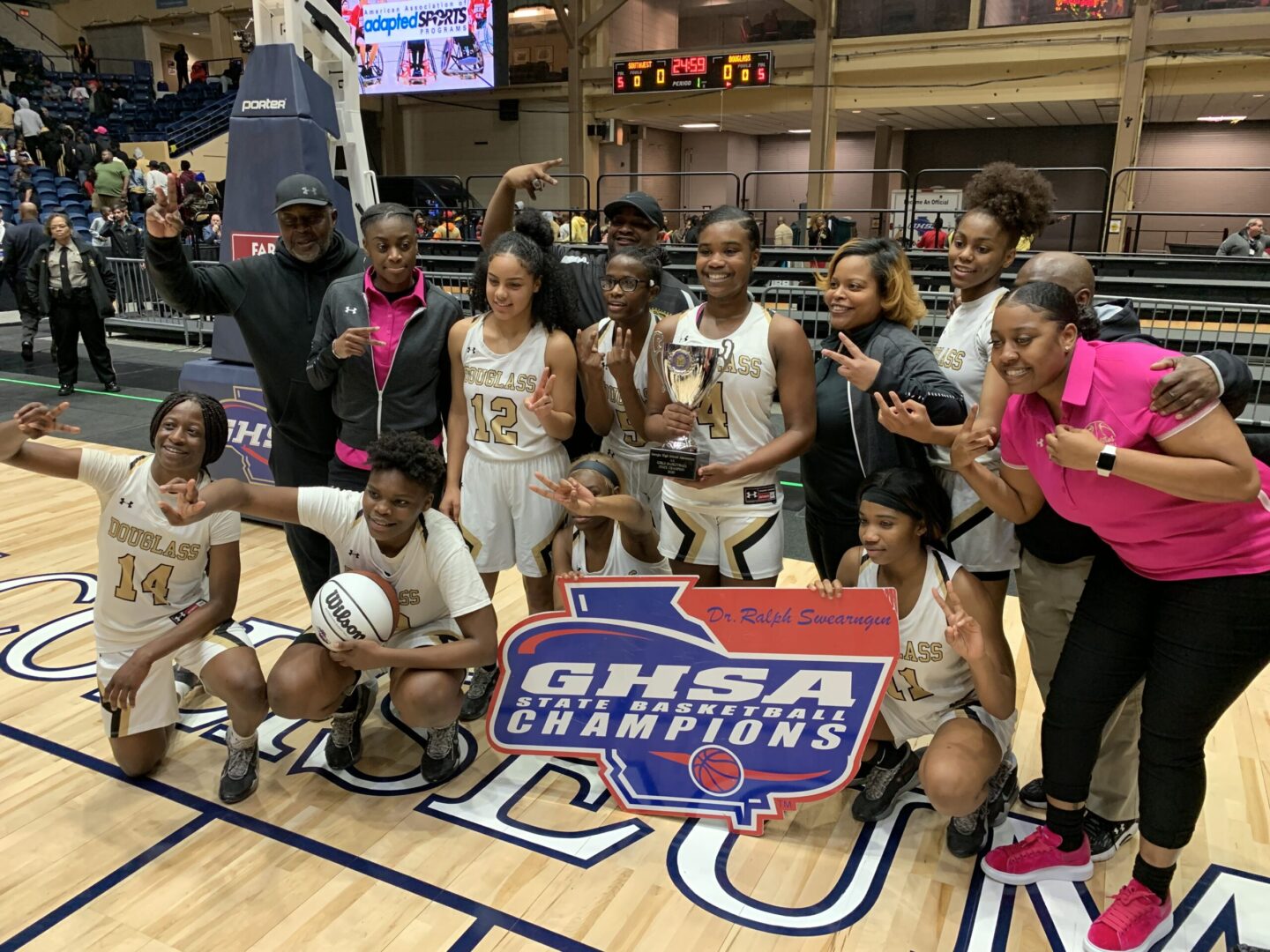 [GIRLS]  R6 #1 No. 1 Douglass 56, R3 #2 No. 6 Southwest-Macon 46: A second miraculous comeback wasn't in the cards for the hometown Southwest-Macon Patriots (25-4) as Douglass (26-5) was able to repeat as state champs behind Kayla Sesberry's sharpshooting and a dominant team effort on the glass, holding off another furious late Patriot comeback. Stantagious Alford and Avrie Grayer combined for 38 points and 38 rebounds in their wild rally to beat Rockmart in the Final 4, but their effectiveness on the glass was limited by Ikenya King and company. The Astros out-rebounded the Patriots 51-30 and gobbled up 24 offensive rebounds. King finished with 13 points and 16 rebounds, but it was Sesberry who set the tone early with her perimeter play. She scored 18 of her game-high 25 points in the first half and shot 10-17 for the game. The Astros trailed 13-12 at the end of one but held a 27-21 lead at the half before a 14-9 third quarter helped extend the lead. Alford went to the bench with her fourth foul at the 3:12 mark and the Patriots trailing 33-26. She would finish with 14 points, 8 rebounds and 4 steals. Southwest-Macon put a scare into the Astros as it looked like a repeat of last week's spectacular finish could happen again as the the Patriots cut the lead to 44-42 with 3:12 left and trailed by just four at 50-46 with 1:55 remaining but a 6-0 run powered by Sesberry and Ashuntee Weems would put the game away. Weems, who started 0-11 from the field, came on strong in the fourth quarter and finished with 10 points, 8 rebounds, 4 assists, 5 steals and 1 block.  In the loss, Ja'Khyla Johnson tallied 14 points, 6 rebounds, 5 assists, 6 steals and 1 block. After hitting 7 threes in the semifinals, the Astros came back to earth going 1-12 from deep, but hit 13-23 free throws to help preserve the win.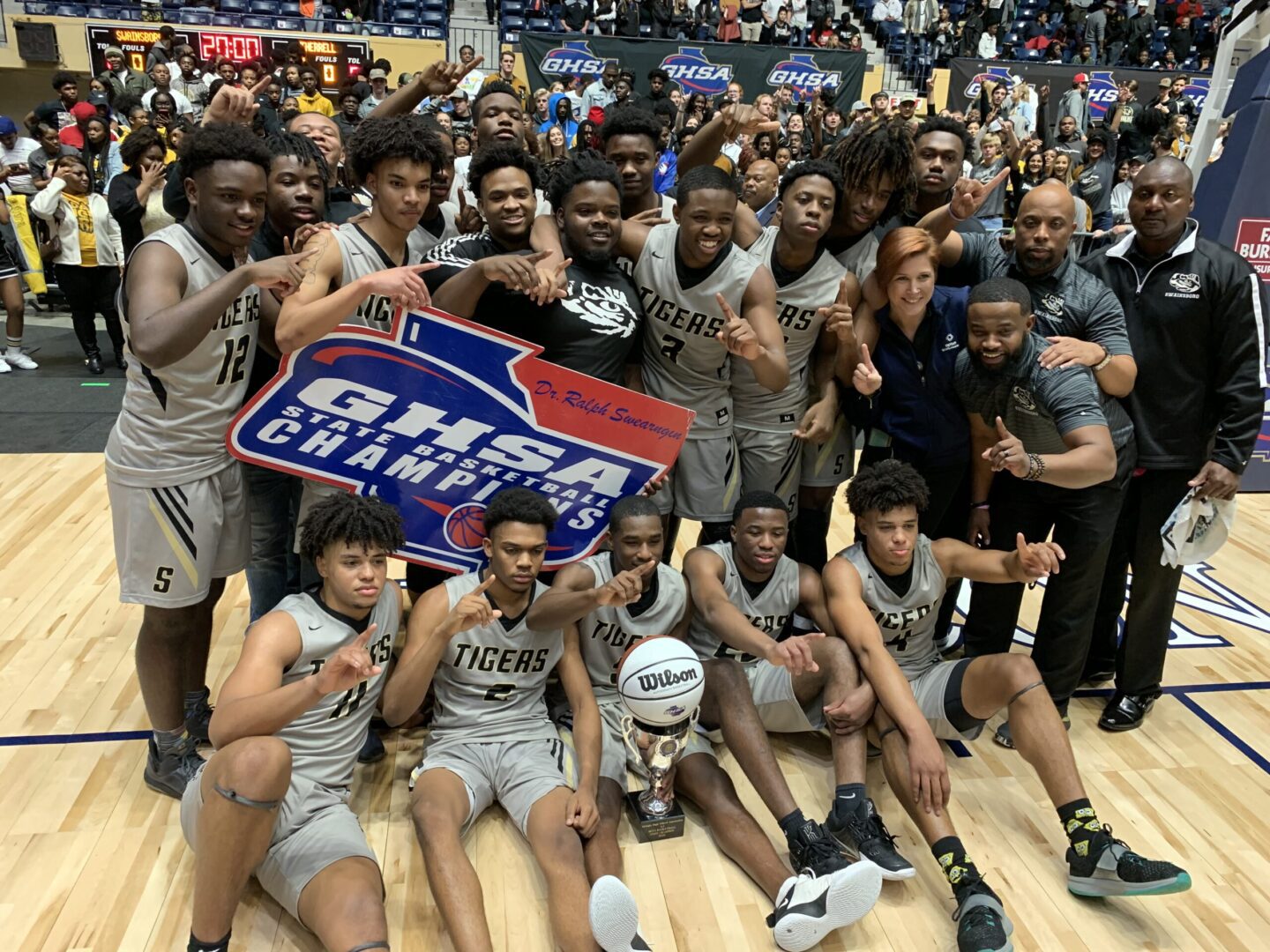 [BOYS]  R2 #1 No. 1 Swainsboro 69, R6 #1 No. 3 Therrell 65: It wasn't easy, but nobody said it would be. Swainsboro (30-2) held off the defending state champion Therrell (25-8) in a thriller to capture the school's first title since 1996. The Tigers came out guns a' blazin', firing away from deep and led 10-4 early after back-to-back Immanuel Hackett threes. Therrell countered with Ra'Sean Frederick who was equally as hot, scoring 10 of his game-high 23 points and 9 rebounds in the first quarter to enter the second deadlocked at 14. Swainsboro continued to bomb from deep and grew a 35-23 lead with 1:04 remaining as they used a 12-0 run and held Therrell scoreless for 3:26 before Cameron Fortson hit a pair of free throws and the Panthers answered with a 6-0 run of their own to make it 35-29 at halftime. The Tigers shot 6-20 from three in the opening half but cooled off considerably, finishing 7-25. As shots stopped falling, Therrell clawed back into the game and cut the deficit to 45-43 with 2:41 left as Calvin Miller scored eight of his 16 points in the quarter. Therrell grabbed their first lead of the game on a Justin Worrill three with 38.6 seconds left but Swainsboro went into the fourth quarter tied at 50 as Fredrick Seabrough punched in nine of his team-high 18 points and 8 rebounds in the quarter as the Tigers started working the ball in the paint instead of relying on threes.  At the 7:02 mark, Frederick picked up his fourth foul and was sent to the bench with Therrell down 52-50. The Panthers charged on without their primary source of offense and pushed ahead to take a 57-53 lead with 5:02 left before Frederick checked back in at 4:03 with Therrell nursing a 57-55 lead. Swainsboro had already regained momentum however and took the lead for good when AJ Kingsbury came up with a steal and And-1 to go ahead 60-59 with 3:01 left.
4Q; 3:26
No. 1 @SwainsboroTiger 60
No. 3 @TherrellBasket1 59

AJ Kingsbury with the steal and converts the And-1 to take the lead. @SwainsboroSport pic.twitter.com/QBJL5PFR62

— Kyle Sandy (@KyleSandy355) March 5, 2020
With 1:44 left, Frederick, who finished 9-24 from the floor, couldn't convert at the rim and consequently fouled out fighting for a loose ball with the Panthers down 62-61.
4Q; 1:44
No. 1 @SwainsboroTiger 62
No. 3 @TherrellBasket1 61

Wow. @SeanF_2 can't convert and now he fouls out with 23 points. pic.twitter.com/TO2r4eczO1

— Kyle Sandy (@KyleSandy355) March 5, 2020
Knowing that pressure and fouling was coming, Coach Brice Hobbs put the ball in the hands of junior Derrick Jones. He would reward him by going 7-10 from the line in the quarter and finishing with 10 points. Therrell had a golden opportunity to cut into the lead with 1:29 remaining but Roman Son badly missed a pair of free throws. Son struggled in his final game with 8 points, 6 rebounds, 6 assists and 5 steals, but missed seven layups against Swainsboro's rim-protectors. 
3A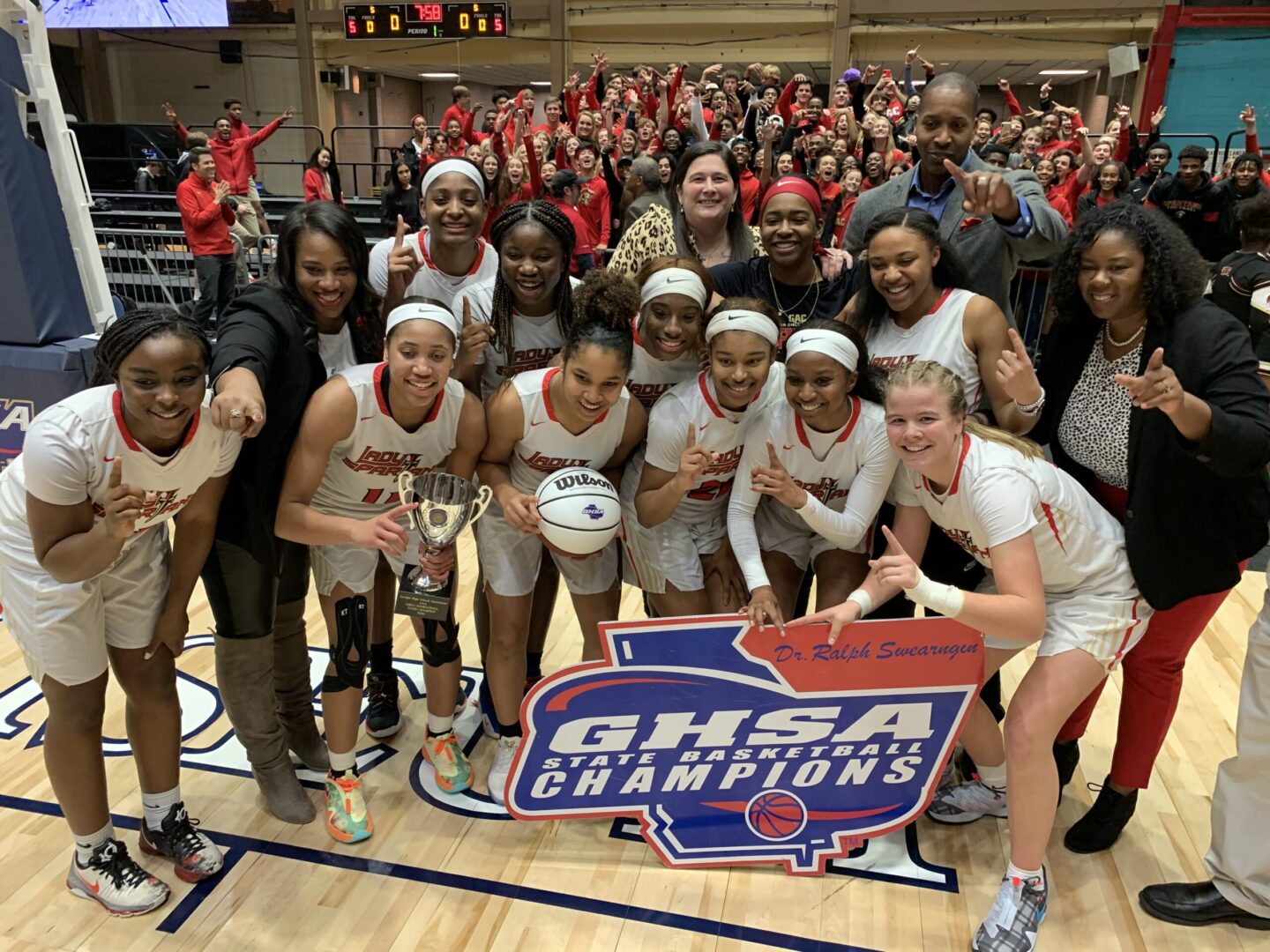 [GIRLS]  R7 #2 No. 4 GAC 54, R3 #2 No. 3 Beach 44: After beating the defending two-time state champions Johnson-Savannah, GAC (20-12) had more work to do against another one of Savannah's best programs. The Spartans pulled away late to edge Beach (22-10) for the school's ninth title and first since 2007 behind Kaleigh Addie's 28 points, 5 rebounds and 3 steals. The Spartans and Bulldogs were locked up in a back and forth game that saw neither team gain momentum in the first half. The two were tied 11-11 after one before GAC took a slim 24-22 lead into the half behind Addie's 16 points. Beach rode the play of star junior Kaila Rougier, who scored 11 of her team-high 20 points and 8 rebounds in the first half.  In the third quarter the Bulldogs face-guarded Addie and denied her the ball. It worked. GAC scored just six points but Beach only managed 10 but it was still enough to take a 32-30 lead into the deciding 8 minutes. Beach took their largest lead of the game at the 6:01 mark following a Madison Evans And-1 at 37-34. Things looked grim with 5:36 to play as Addie picked up her fourth foul with the Spartans down 37-36 but the star stayed on the court and took over, sparking a personal 6-0 run to take a 42-37 lead. Before Jaci Bolden's hoop with 2:22 to play, Addie had scored the last eight points for GAC and would net 12 points in the frame to carry the Spartans after being held to one shot in the third quarter. GAC put the game away from the line going 10-12 and 19-31 for the game. In support of Addie, senior Ava Irvin went 11-13 from the line to finish her career with 13 points and 5 rebounds. Beach out-rebounded the Spartans 40-33 but went 1-15 from deep. Region 3 Co-Player of the Year Madison Evans never found a groove going 5-21 for 11 points and 5 rebounds.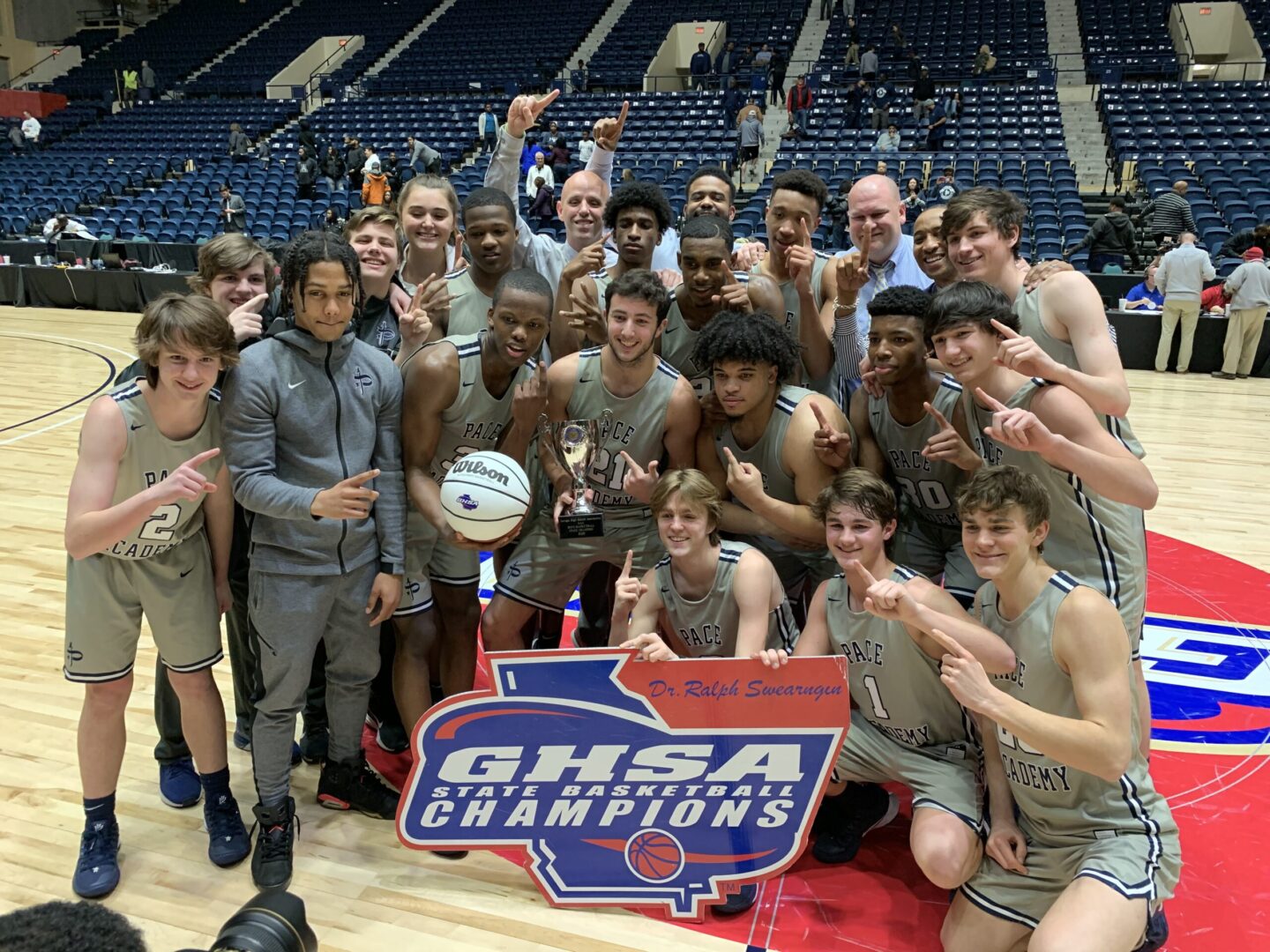 [BOYS]  R5 #1 No. 1 Pace Academy 48, R8 #1 No. 6 Jefferson 35: It wasn't pretty but Pace Academy (28-4) grinded out a low-scoring win over an upset-minded Jefferson (22-8) to win their third title in school history. The Dragons controlled the tempo and gave the high-powered Knights their best shot, leading 14-3 to open the game. After trailing 13-3 following the first quarter, Cole Middleton sparked a personal 6-0 run to make it 14-9 but Jefferson would maintain momentum and take a 20-13 lead into the half after shooting 50 percent while holding Pace to just 4-21 shooting (19%). Only Middleton and Matthew Cleveland scored in the first half while Jefferson saw six players enter the scoring column. In the third quarter, Pace Academy's press began to speed up the Dragons and turn them over but it wasn't until the 47.3 mark when the Knights would impose their will and take their first lead of the game. Senior George Adams came off the bench and changed the game, going on a personal 9-0 run ignited by his And-1 three-pointer that gave the Knights the lead 29-28. The Knights held their one-point lead into the fourth quarter but Adams was just getting started. He hit a jumper and another three before dishing off an assist to Middleton to cap an 11-0 run that put the Knights ahead 36-28 with 4:46 remaining. From that point on, the Dragons were stuck playing catch up.  Roles reversed in the second half. The Knights would shoot 62 percent while the Dragons connected on just 26 percent of their shots. Middleton finished with 15 points to lead Pace Academy while Cleveland scored 10. Madison Durr came to life in the second half and finished with 9 points and 8 rebounds. Jefferson got 11 points and 6 rebounds from Owen Parker but also 7 turnovers. Malaki Starks chipped in 8 points and 7 rebounds while Navy-signee Jacob Radaker was held to 5 points and 2 rebounds attempting just four shots on the night. 
DAY 3 — Friday, March 6th
4A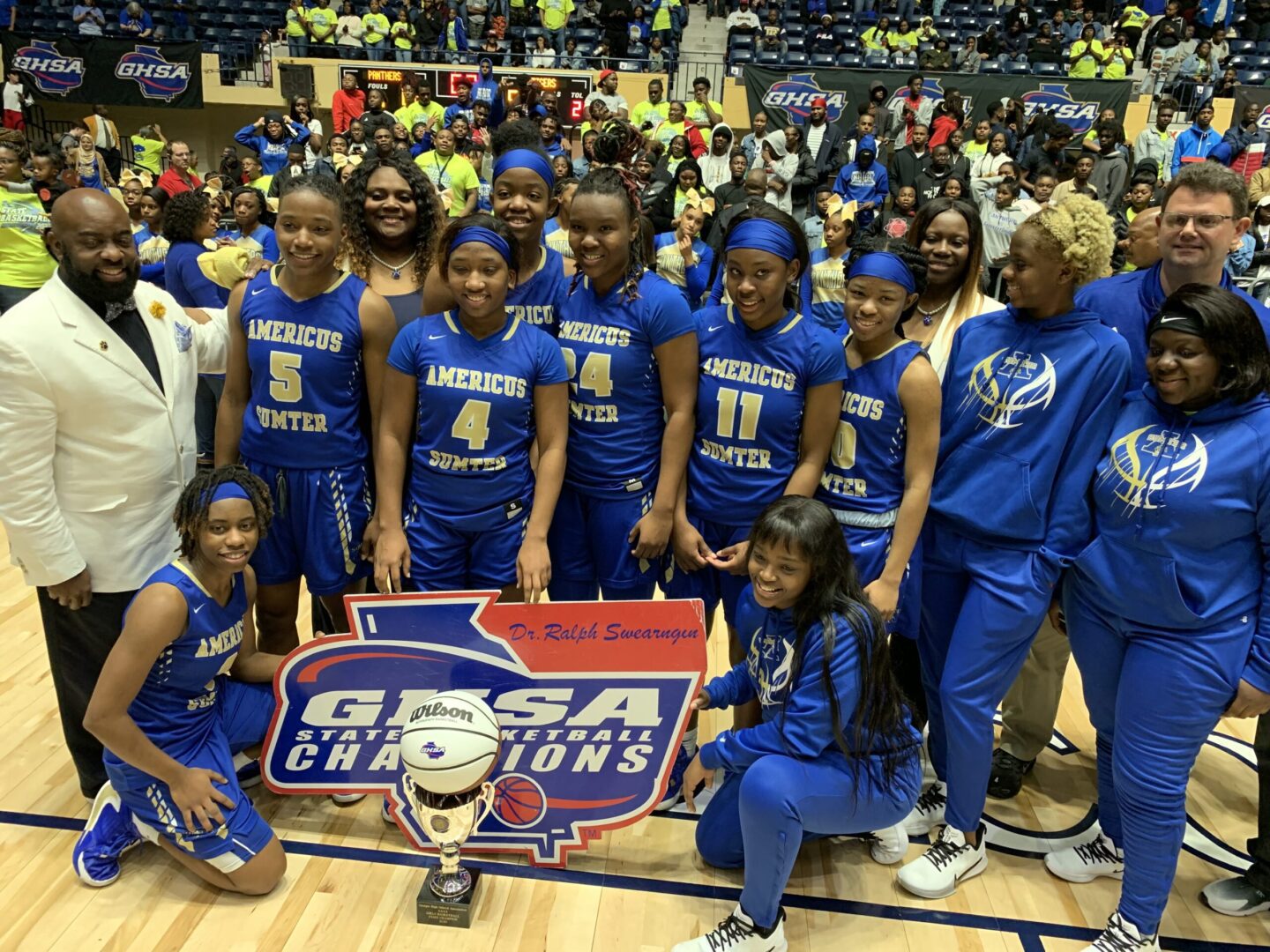 [GIRLS] R1 #2 No. 2 Americus-Sumter 66, R5 #2 No. 7 Troup County 52: An early deficit was too much to overcome as Troup County (27-2) could never quite catch Americus-Sumter (29-2) who captured their third title and first since 2016. Foul trouble plagued the Tigers as star sophomore Aniya Palmer picked up three fouls in the first quarter as Americus-Sumter grew a 17-9 lead after one as Troy-signee Jelissa Reese scored 7 of her 19 points. She would finish with 9 rebounds, 3 assists and 4 steals, anchoring the Panthers' hard-nosed defense and even drew the assignment of guarding Palmer. The Panthers led 27-16 before settling for a 31-23 lead at the half. The Panthers out-rebounded the Tigers 45-27 for the game and out-scored them in the paint 32-20. A 6-0 run coming via layups from Trinity Jackson, Tiffani Goodman and Trinity Jones pushed the lead to 46-34 with 1:47 to play before taking a 46-38 lead into the fourth. The Panthers were too much in the fourth quarter as Troup slowly lost ground. Jones finished with 21 points for Americus-Sumter while Goodman added 6. Troup County saw Palmer finish with 13 points, 10 rebounds and 2 steals. Ambert Gilbert finished her career with 15 points.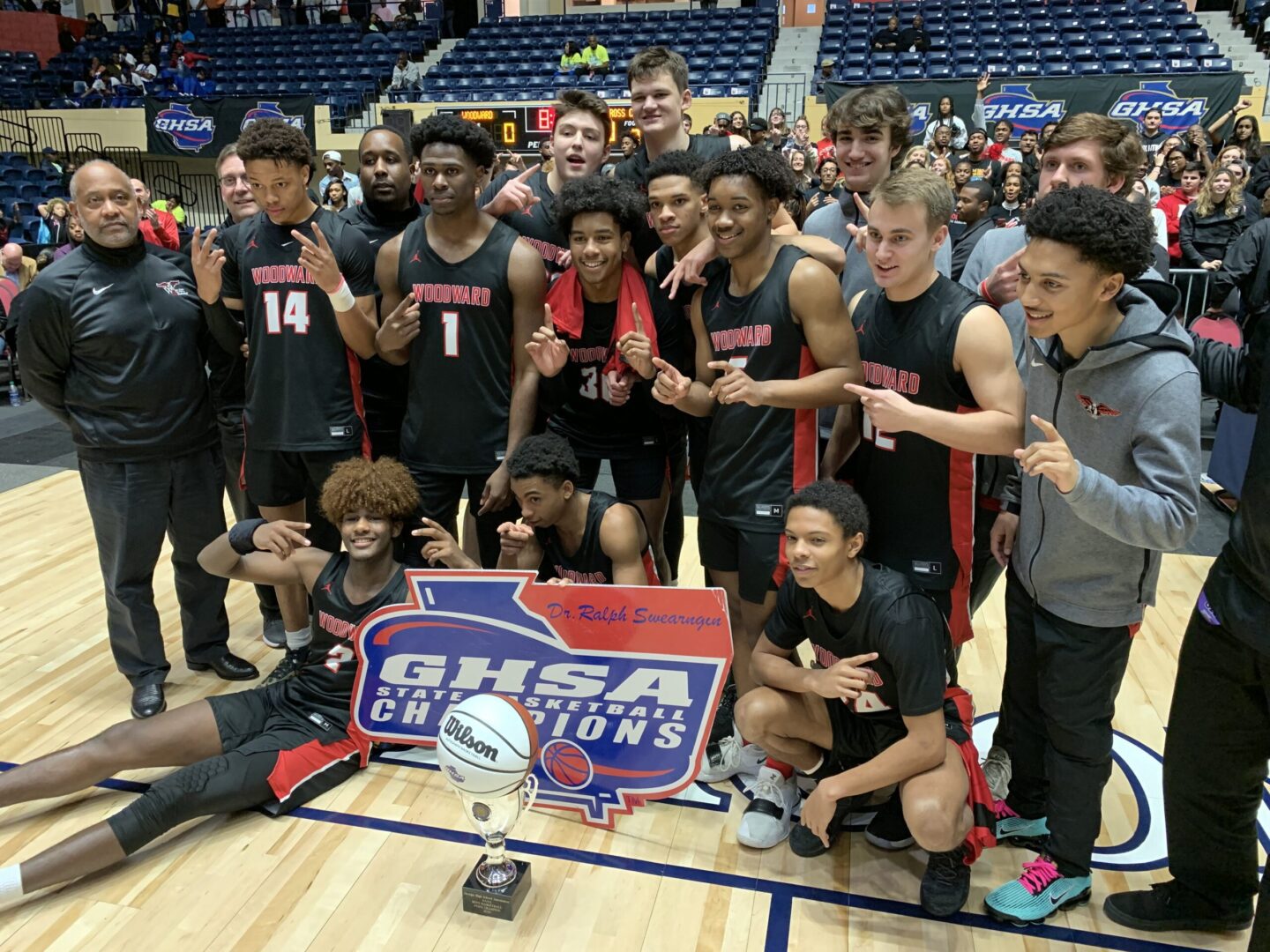 [BOYS]  R4 #1 No. 1 Woodward Academy 75, R3 #1 No. 6 Cross Creek 56: Just like they did in the second half of the Final 4, Woodward Academy (30-2) blew open a competitive game to race their way to their first state title, sending McDonald's All-American Walker Kessler off to Chapel Hill with some hardware. Kessler was held in check, but Woodward's balance was more than enough to lift the War Eagles. Woodward Academy never trailed. Floor general Michael Whitmore set the tone with his defense ending his career with 13 points, 6 rebounds, 4 assists and 5 steals. Woodward Academy led 12-8 at the conclusion of the first quarter and slowly pushed their lead to 27-21 at the half. The War Eagles led wire-to-wire and saw a 9-0 spurt in the third quarter garner all the separation they would need as they pulled ahead 36-23 at the 4:36 mark of the third quarter.  Kessler finished with 17 points, 8 rebounds, 3 assists and 5 blocks. Will Richard went for 15 points, 8 rebounds, 2 assists and 2 steals. Jacorrei Turner added 12 points and 5 rebounds while Davidson-signee Emory Lanier pitched in 11 points. Cross Creek (25-7) was led by Presbyterian-signee Kobe Stewart who had 18 points and 6 rebounds, 2 assists, 1 steal and 1 block. Corey Trotter had 8 points and 6 rebounds while Markell Ware and Josh Dorsey added 8 and 10 points, respectively.
— Girls Three-Point Contest–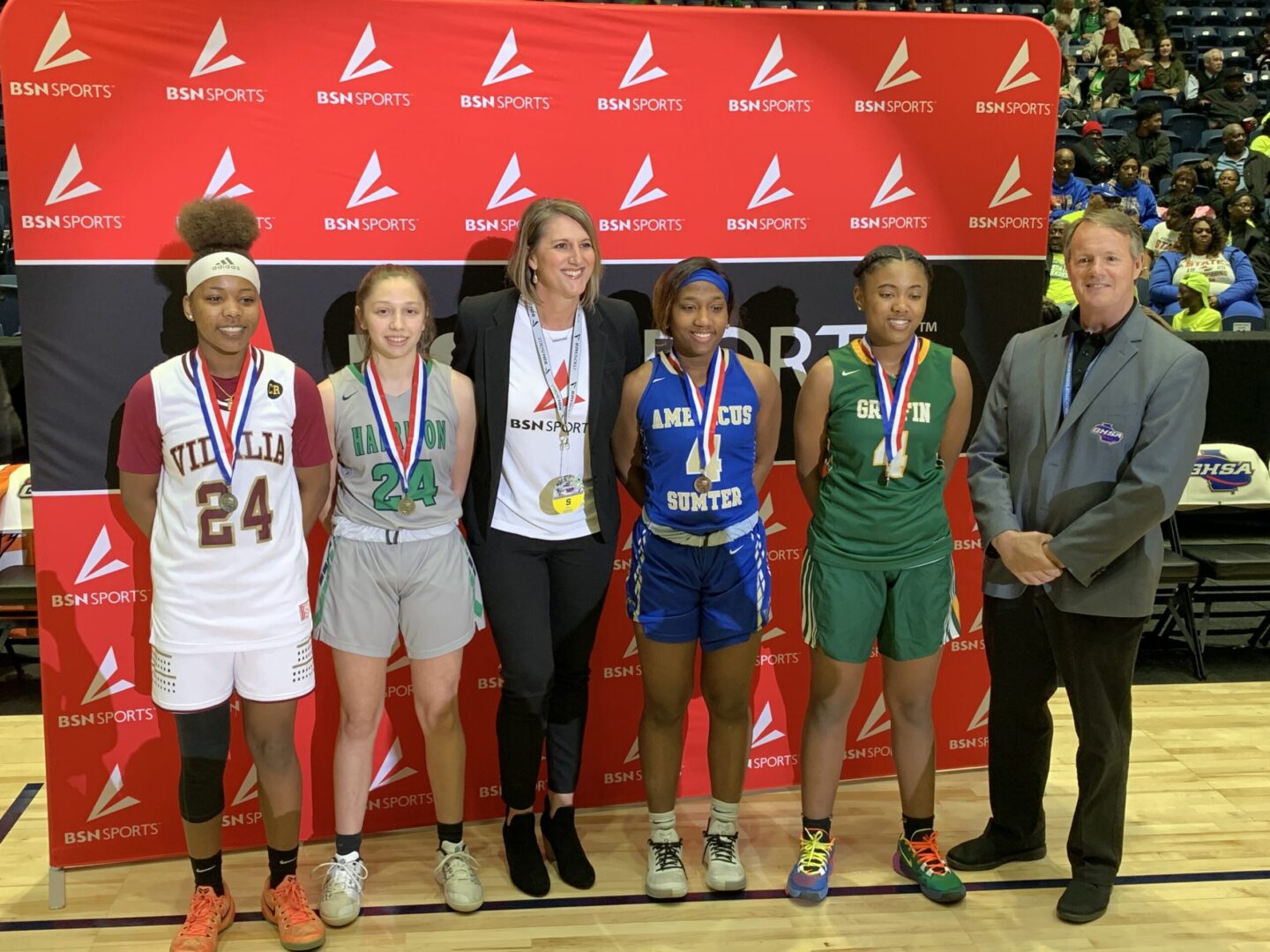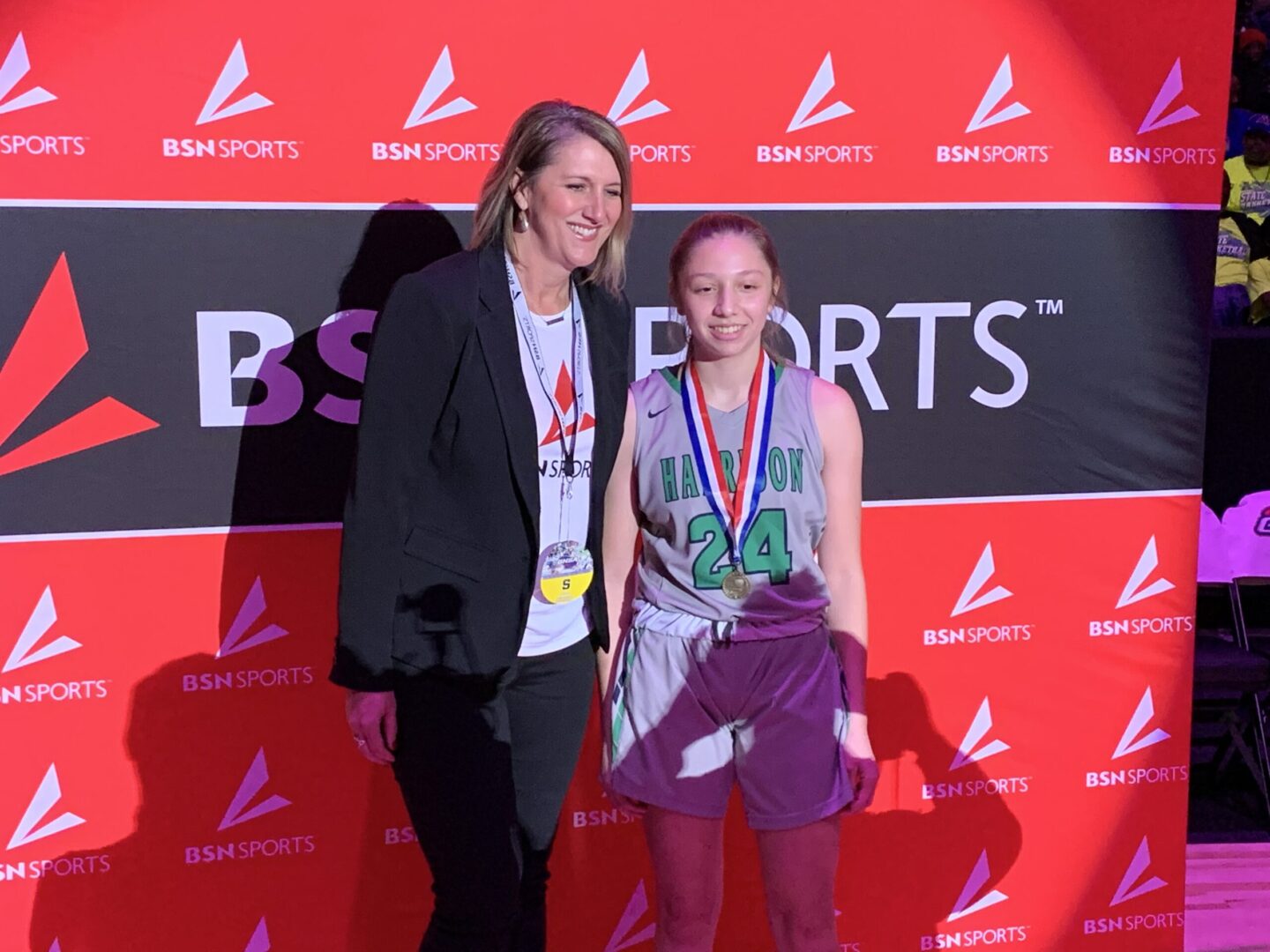 Emily Acampora (Harrison)
 Jashiyah Jones (Vidalia)
Trinity Jones (Americus-Sumter)
Leah Turner (Griffin)
5A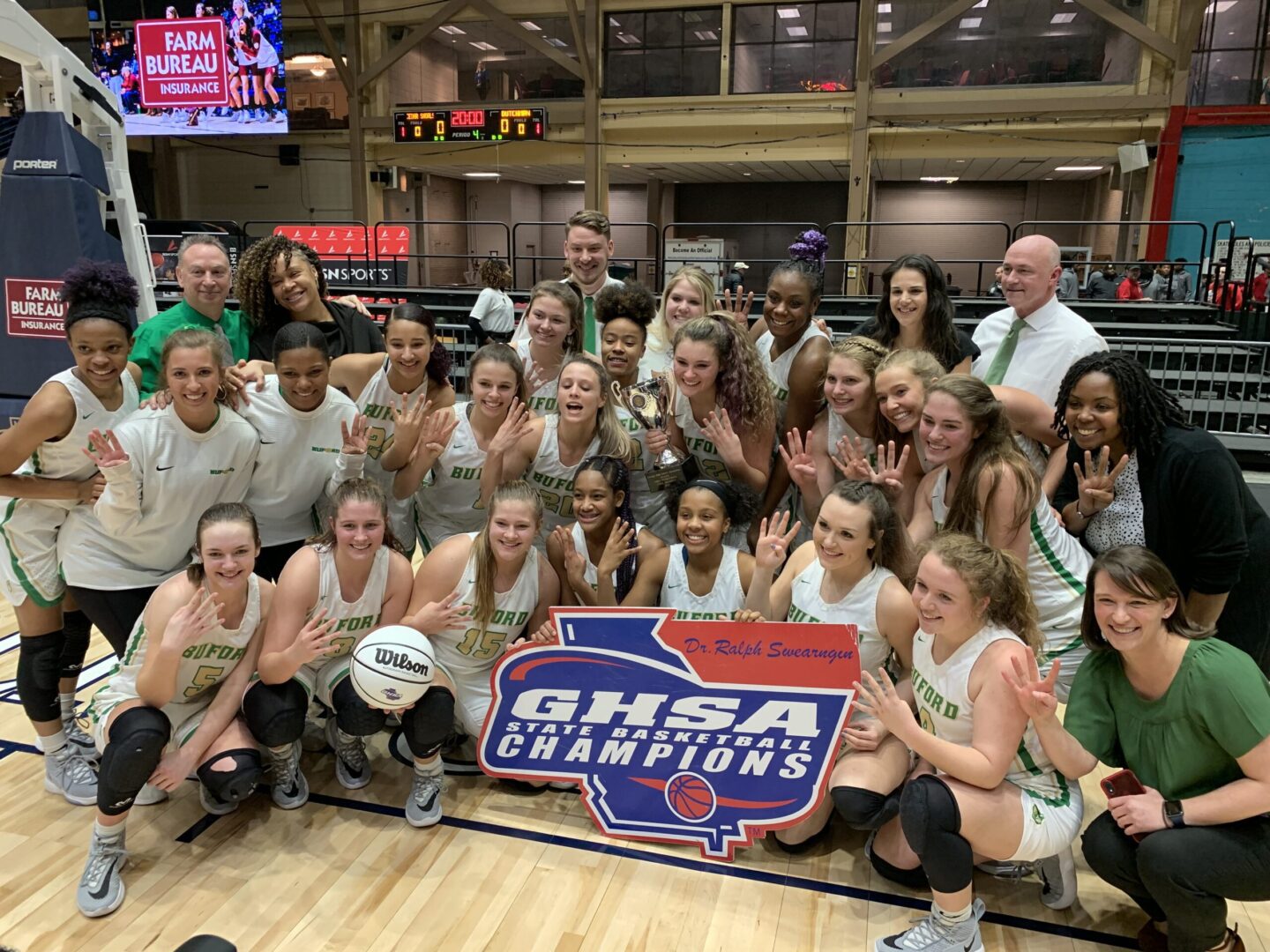 [GIRLS]  R8 #1 No. 1 Buford 66, R7 #1 No. 2 Kell 63: Experienced prevailed over youth in an instant classic as Buford (31-1) completed a four-peat, surviving freshman phenom Crystal Henderson's 26-point outburst — 14 coming in the fourth as the Wolves ended the Longhorns (32-1) perfect season, the second year in a row Buford has defeated an undefeated team in the championship game. Getting title No. 8 was difficult as the game went back and forth. Buford opened up leading 10-3, but Kell tied it up and 10 before Buford finished with a 6-0 run to take a 16-10 lead behind Furman-signee Tate Walter's seven points. In the second quarter momentum swung as the Longhorns ignited a 16-0 run to take a 26-18 lead as Makyah Favors came off the bench and scored all 10 of her points including hitting two threes. Buford regrouped however, closing on an 11-3 run to head into the half tied at 29. The Wolves forced 17 turnovers in the half and 24 for the game but Kell shot 52.9 percent as the Wolves managed just 26.5 percent. Walters gave Buford their largest lead of the second half with 3:28 to play in the third at 47-39 but Kell would storm back and trail 50-48 after three. Buford once again threatened to pull away in the fourth as Blair Wallis knocked down her fourth three of the game to make it 59-52 with 2:58 left but Kell would not fade, namely Henderson. She would score the final 11 points of the game for the Longhorns including hitting three free throws with 33.5 seconds left down 63-57 and then a contested three with 10.5 seconds left to make it 65-63. Walters had a chance to ice it from the line with 7.6 seconds remaining, making the first but missing the second. Henderson raced down and got quality look from deep but it was off the mark. She would tack on 4 rebounds, 4 assists and 2 steals in her first championship game. Amaya Moss had 14 points and 5 rebounds. Buford was led by Walters' 18 points, 5 rebounds, 2 assists and 2 steals. Ashyia Willis added 13 points and Wallis finished with 12. Katelyn Klein picked up 7 of Buford's 16 steals. The Wolves netted 34 points off turnovers compared to 9 from Kell. Buford took 62 shot attempts to Kell's 40 and finished 35.5 percent from the field while Kell shot 47.5.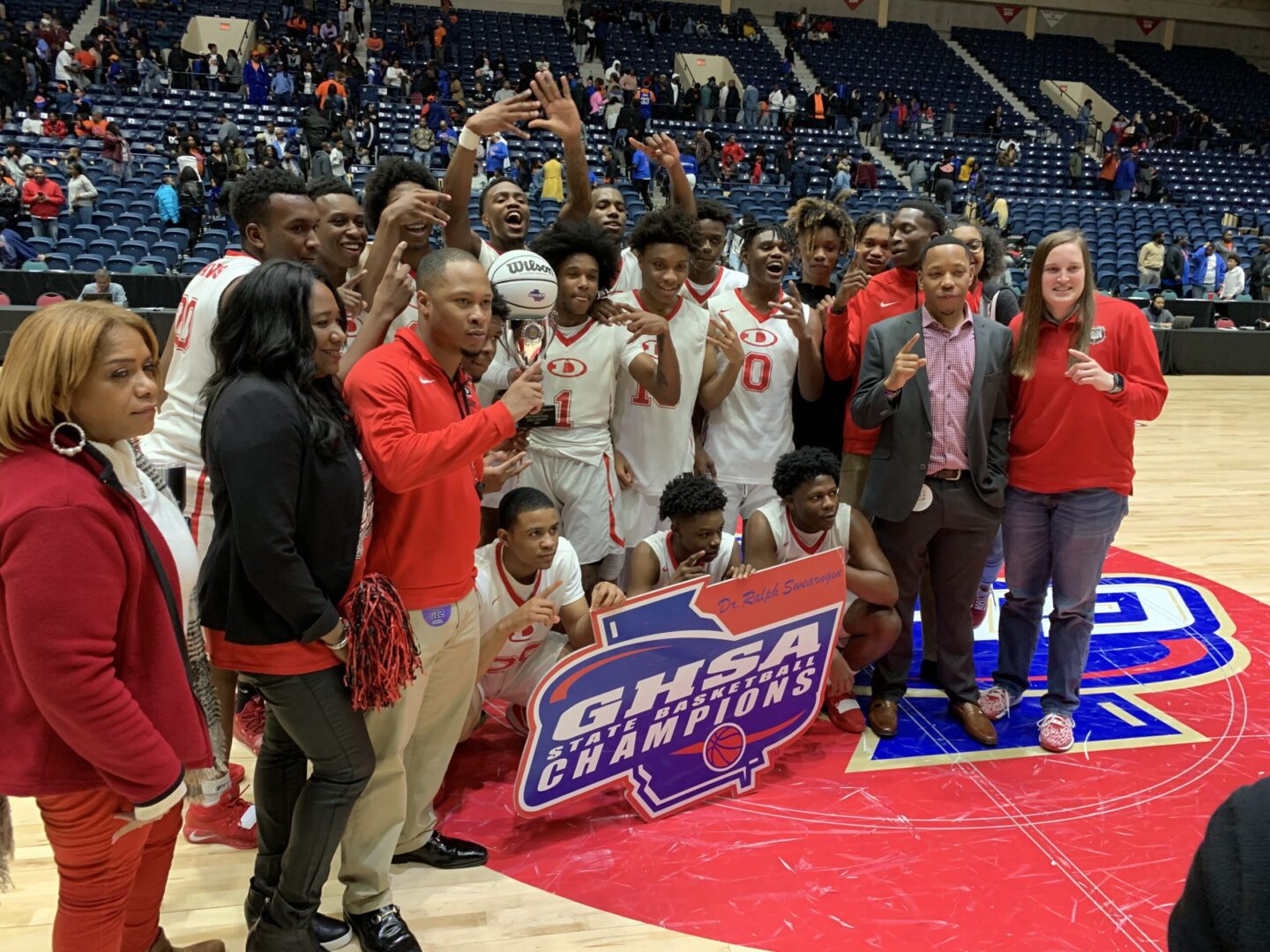 [BOYS]  R4 #2 No. 2 Dutchtown 57, R8 #2 No. 8 Cedar Shoals 44: Dutchtown (28-4) reached the pinnacle in Coach Jordan Griffin's first season on the job. Riding senior forwards Gardner-Webb-signee Jamaine Mann and Cam Bryant, the Bulldogs overpowered the smaller Jaguars (28-4) in the second half, pulling away after holding a 29-21 lead at halftime. The Bulldogs contained USC-Aiken-commit Tyler Johnson after he scored six points in the opening frame, holding him scoreless the rest of the game. Quincy Canty, another USC-Aiken-commit, did everything he could to lead the Jaguars. The 6-foot-6 forward scored 17 points but it wasn't enough. Mann finished with 20 points, 12 rebounds and 2 assists while Bryant tallied 18 points and 4 rebounds. 
DAY 4 — Saturday, March 7th
6A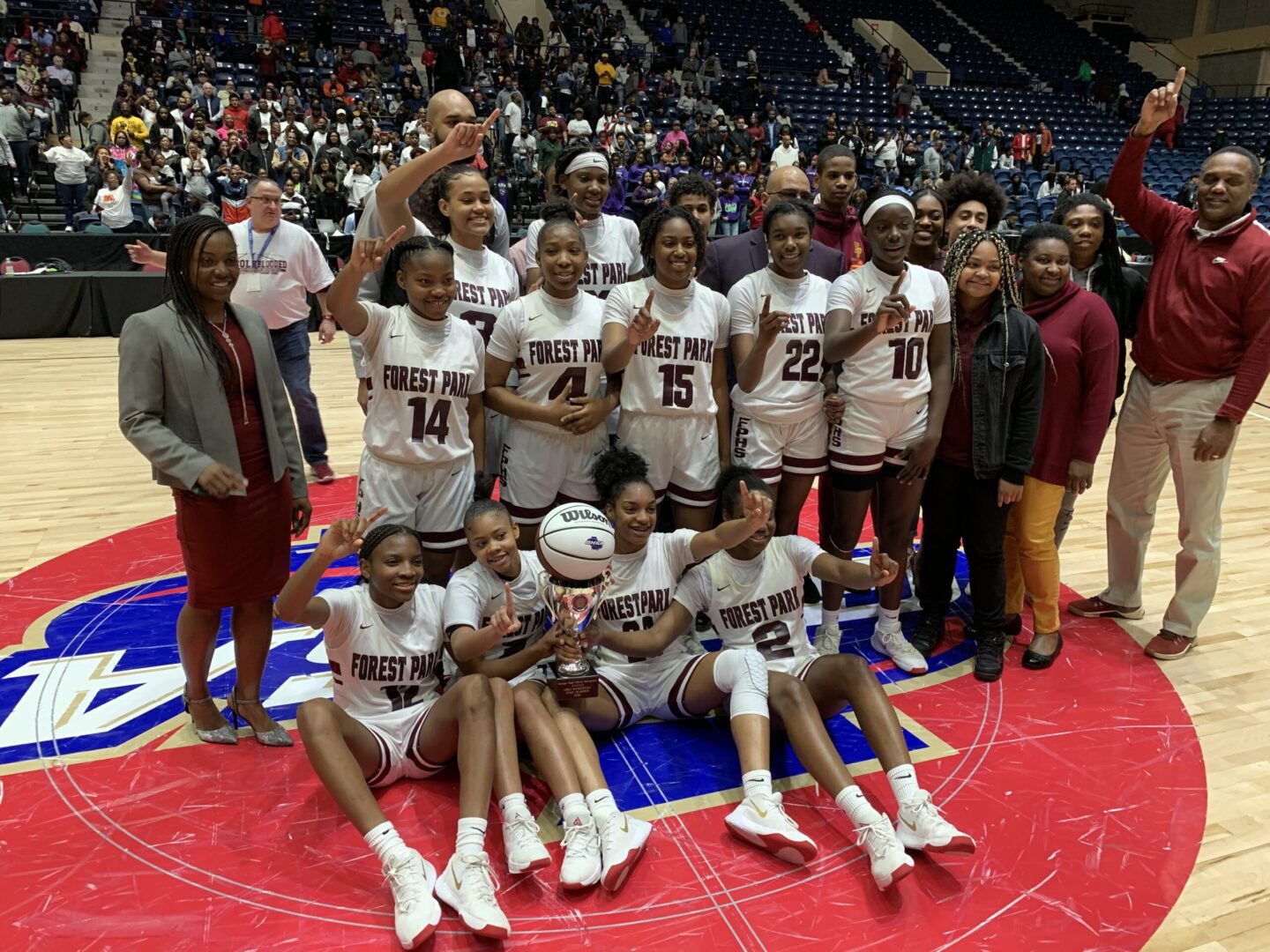 [GIRLS]  R4 #2 No. 2 Forest Park  46, R2 #1 No. 4 Glynn Academy 30: Forest Park (27-6) won its first title in 50 years using a relentless defense and a cutting motion offense that Glynn Academy (26-5) could never slow down.  The Panthers, who led wire-to-wire, held Glynn Academy to 0-11 shooting in the first quarter and 10-45 for the game (22.7%).  The Red Terrors trailed 13-2 after one and were down just 21-13 at the half in a first 16 minutes thoroughly dominated by the Panthers. In the third quarter the Terrors cut the lead to 21-15 but Forest Park responded with back-to-back Jasmine Jacob And-1s to regain control, sparking an 11-3 run that put the score at 32-18 with 2:18 remaining. As a team, the Panthers would live at the foul line going 17-33. Forest Park would take a 34-22 lead into the fourth quarter and slowly grow their advantage. UGA-signee Zoesha Smith finished her career with 15 points, 14 rebounds, 2 steals and 1 block but didn't get enough help from her supporting cast as Francis Marion-signee La'Trinity Best and Talia Hamilton combined to shoot 1-14 for 6 points. As a team, outside of Smith's 6-18 shooting, the Terrors went 4-27 from the field (14%). Forest Park used a balanced attack seeing Western Carolina-signee Joi Reid (11), Janaya Jones (9), Jasmine Jacob (8) and Jayda Brown (7) fill the scoring column. Gatorade Player of the Year Sania Feagin finished with 10 points, 5 rebounds, 3 steals and 3 blocks.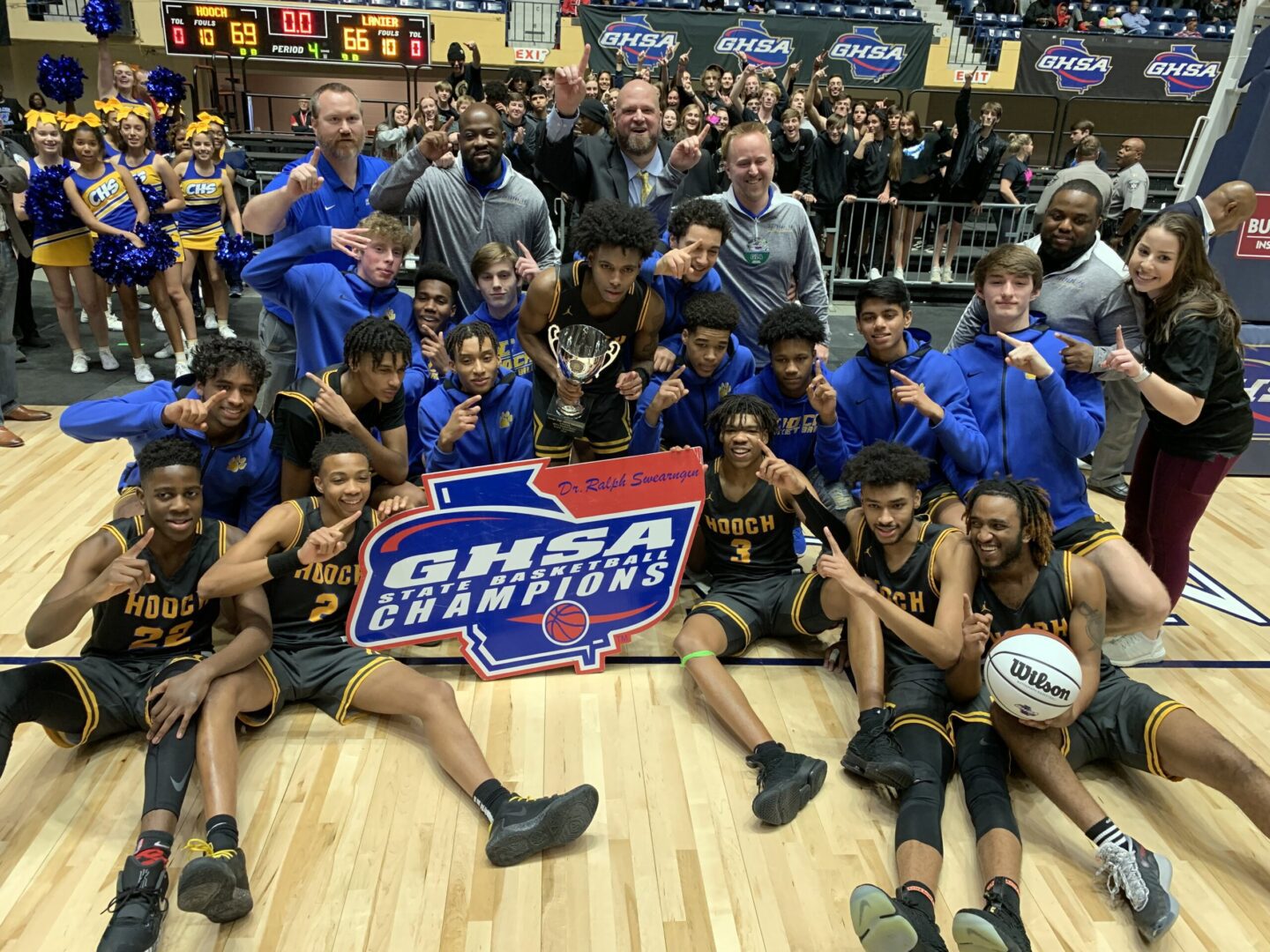 [BOYS]  R7 #1 No. 5 Chattahoochee 69, R8 #1 No. 3 Lanier 66 OT: In their fourth consecutive overtime game, Lanier (26-6) just short of completing a magical journey to the top, instead it was Chattahoochee (25-7) who claimed their first title is school history, surviving a nearly heroic performance from Tulane-signee Sion James. Chattahoochee and Lanier traded blows in the first half as the Cougars led 15-12 after one and 34-31 at the half as AJ White scored 15 of his 22 points in the opening 16 minutes, missing just one shot from the field. Andrew McConnell led Lanier with 11 of his 13 points. In the third quarter, Lanier switched defenses and played zone, stifling the Cougar flow and leading to a 16-6 quarter that put the Longhorns ahead 47-40 going into the final period. A scoreless quarter for White put pressure on Rice-signee Cam Sheffield to respond and he did just that, scoring seven points in the fourth to help the Cougars go ahead 56-53 with 1:56 remaining. Lanier left points at the line in the fourth quarter but James came through with two late free throws to tie the game at 56. Chattahoochee had two final looks, but Franklin Bailey couldn't connect on two threes. In overtime, Sheffield powered the Cougars scoring the first seven points of the frame for Chattahoochee as the moved ahead 63-58 before James' onslaught began. The future Green Wave scored all 10 points in overtime for Lanier and finished his career with 27 points, 11 rebounds, 2 assists and 2 steals. With the Cougars down 65-61 with 35.5 seconds left, James hit two free throws before getting a steal and a layup to tighten the gap at 66-65 with 20.3 to play. Follow two White free throws, James was sent back to the line where he hit his first but his second shot was waived off due to a lane violation on Goran Uzunov with just 7.8 ticks left. Sheffield would be sent to the line to ice the game with 1.7 seconds left, finishing his career with 31 points, 8 rebounds, 2 assists and 1 block.  Bailey added 10 points while David McDaniel contributed 6 points, 14 rebounds and 2 blocks. In the loss, Lanier who was out-rebounded 40-29 but outscored the Cougars in the paint 32-20, got 12 points from Iajah Phillips.
— Boys Slam Dunk Contest —
Ja'Queze Kirby — Jeff Davis
7A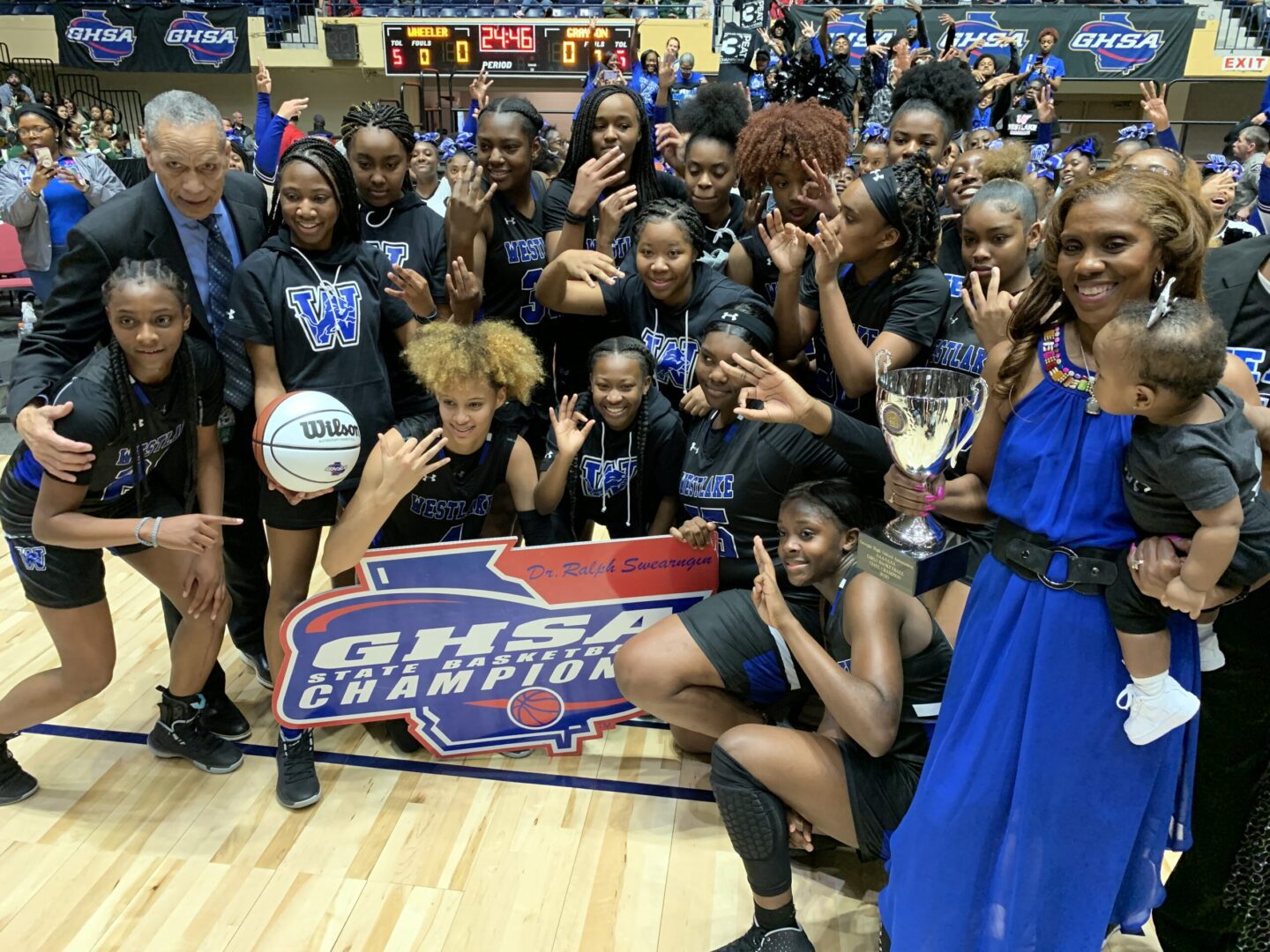 [GIRLS]  R2 #1 No. 1 Westlake 72, R6 #1 No. 2 Collins Hill 53: Adding nearly an entire new roster in the offseason didn't help Collins Hill (31-1) as Westlake  (30-2) three-peated and accepted an invite to the Geico Nationals.  The Eagles kept close in the first quarter after trailing 8-0 early, using a 7-0 spurt to get back in the game and enter the second down 11-9. The backcourt of Raven Johnson and TaNiya Latson paced the Lions as 6-foot-5 Georgia Southern-signee Lydia Freeman and Carlyse Hooks sat on the bench with two fouls. The Johnson-Latson duo combined for 22 of the Lions' 28 points as the carried a comfortable 10-point lead into the break. Like they did the first quarter, Westlake came out of the gates hot with a 7-0 run to make it 35-18 at the 6:15 mark and would never look back. Johnson finished with 23 points, 6 rebounds, 4 assists, 1 steal and 1 block while Latson poured in  23 points, 3 rebounds, 3 assists and 2 steals. The Lions scored 25 points off 17 turnovers and shot 63.4 percent from the field while holding Collins Hill to 33.9 percent. Purdue-commit Sacha Washington led Collins Hill with 16 points, 11 rebounds, 1 assists and 2 steals.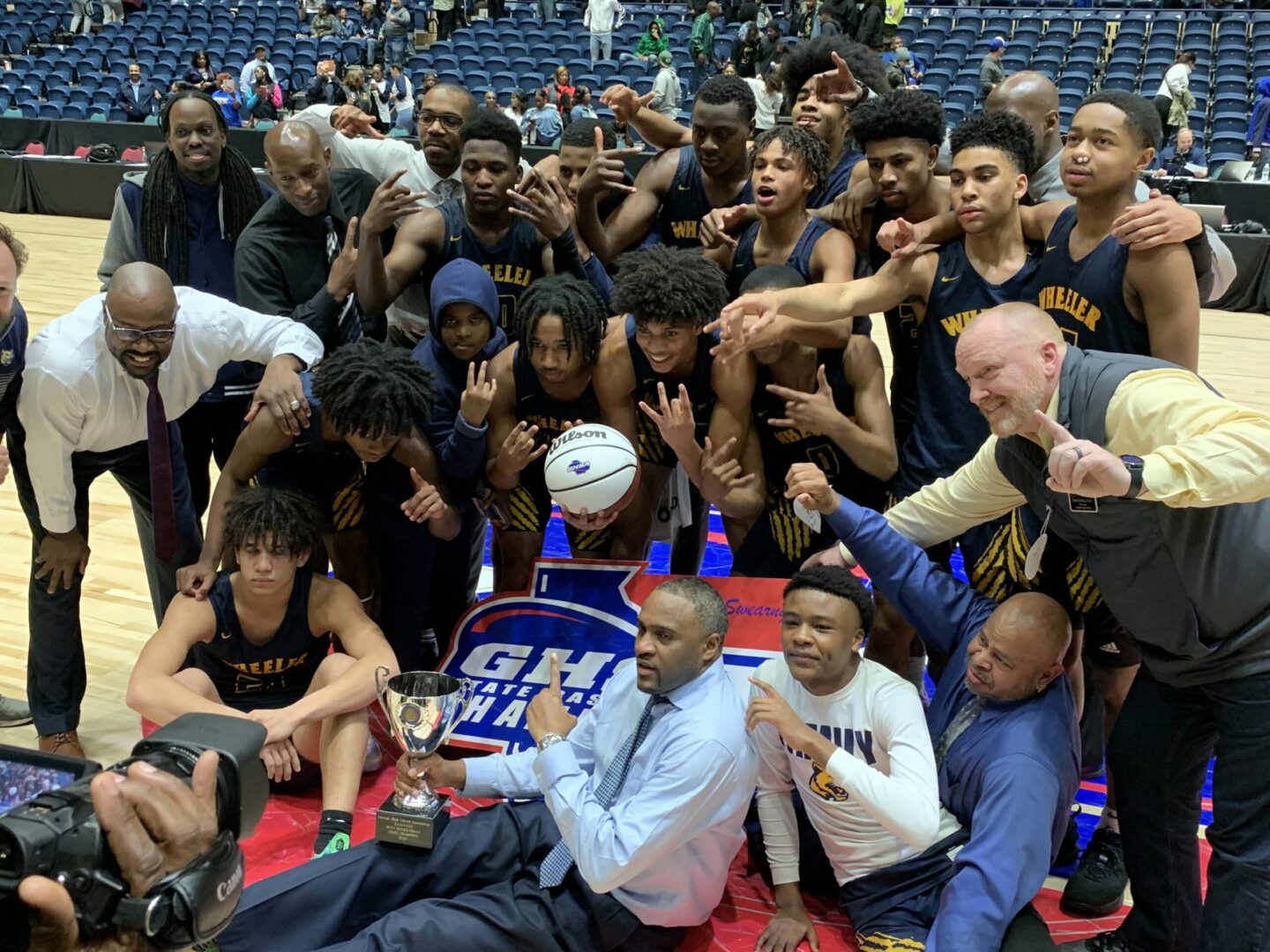 [BOYS]  R2 #1 No. 4 Wheeler 60, R8 #1 No. 1 Grayson 59:  A dream ending for Grayson (30-2) wasn't in the cards as a resilient gritty Wheeler (24-7) shocked the nation with a 14-5 run after taking the Rams' best punch early in the fourth quarter. The Wildcats were anchored by Denver-signee Sam Hines throughout the night. The forward was nearly perfect, going 11-12 from the field and 6-8 from the line finishing his career with 28 points, 9 rebounds and 2 steals. He and Ja'Hiem Hudson set the tone early on, drawing two fouls on Ian Schieffelin just 56 seconds into game, forcing him to sit the entire first half. Wheeler led 10-4 but Grayson closed in before entering the second period down 14-11. The Rams would battle foul trouble for much of the night but got big minutes off the bench from three-point specialist Quinones Corpman who hit two threes in the second quarter to keep Grayson close. Wheeler would take a 31-25 lead into the half as Hines went a perfect 5-5 from the field. Grayson looked to change momentum in the second half as Schieffelin made and immediate impact with a putback but Wheeler would steadily grow their lead throughout. The Wildcats took a 42-31 lead at the 2:34 mark following a Hines layup but Grayson would answer in a big way. Mississippi State-signee Deivon Smith who hurt his ankle in the first half and looked less than 100% seen grimacing throughout the game, drilled two threes in a to ignite a 15-2 run that saw an 11-0 stretch that gave Grayson their first lead of the game with 1.2 seconds left in the quarter following a Caleb Murphy And-1 layup.
3Q; 1.2
No. 1 @graysonhoops 46
No. 4 @WheelerHoops 44

What a swing. Now @thecalebmurphy1 gets the And-1. Misses FT pic.twitter.com/58ipVXpvnZ

— Kyle Sandy (@KyleSandy355) March 8, 2020
With the Loganville faithful in full throat, Grayson's onslaught continued.  The Rams took their largest lead of the game at the 5:30 mark up 54-46 following a Toneari Lane three, capping a massive 23-4 run. For most teams, it would be the knockout punch but for Wheeler it was just a wake up call. The Wildcats clawed back with a 7-0 run as Hines continued to pound away inside and hit mid-range jumpers. The Wildcats outscored Grayson 32-26 in the paint and had 15 second-chance points to the Rams' 7. Coming down the stretch, free throws loomed large. Wheeler went 14-18 including 8-9 in the fourth quarter while the Rams shot 10-19 and 5-11 in the final stanza. Murphy split a pair at the line as Grayson edged ahead 56-55 with 1:41 left. At the 1:08 mark, Schieffelin stepped to the line but missed both attempts before Nash Kelly, who was pressed into a bigger role after freshman Isaiah Collier broke his shoulder midway through the season, sank a pair of free throws to give Wheeler a 57-56 lead with under a minute to go. Wheeler went ahead 59-56 after two Hines free throws but Lane would answer with a corner three with 14 seconds left to knot the game up at 59. Wheeler would push the ball in transition where Kelly missed a layup but Hines swooped in for the offensive rebound and was fouled by Lane with 1.1 seconds left.
4Q; 1.1
No. 1 @graysonhoops 59
No. 4 @WheelerHoops 59@toneari_lane22 ties it but now @iamshj18 is at the line for two pic.twitter.com/XMNms68N9u

— Kyle Sandy (@KyleSandy355) March 8, 2020
Hines hit his first free throw but missed the second on purpose but it was ruled that the shot didn't hit the rim, giving Grayson an opportunity to inbounds underneath their own basket with the length of the floor to go. Murphy heaved a prayer from 3/4 court and hit the backboard, ending Grayson's title hopes.
Class 7A @OfficialGHSA State Championship
R2 #1 No. 4 @WheelerHoops 60
R8 #1 No. 1 @graysonhoops 59@Wheeler_High stuns @GraysonHSSports. What a game. pic.twitter.com/Uraz66z25n

— Kyle Sandy (@KyleSandy355) March 8, 2020
Max Harris was second in scoring for the Wildcats, adding 10 points and 4 rebounds. Prince Davies and Hudson scored 8 apiece while Kelly had 6 points, 5 rebounds and 5 assists as the Wheeler bench was held scoreless. Grayson saw Lane, a Winthrop-signee, post 18 points, 4 rebounds and 3 steals. Murphy, heading to USF, scored 13 points while Smith finished his career with 11 points, 3 rebounds, 7 assists and 2 steals.