No. 5 Woodland-Stockbridge 65, Jones County 58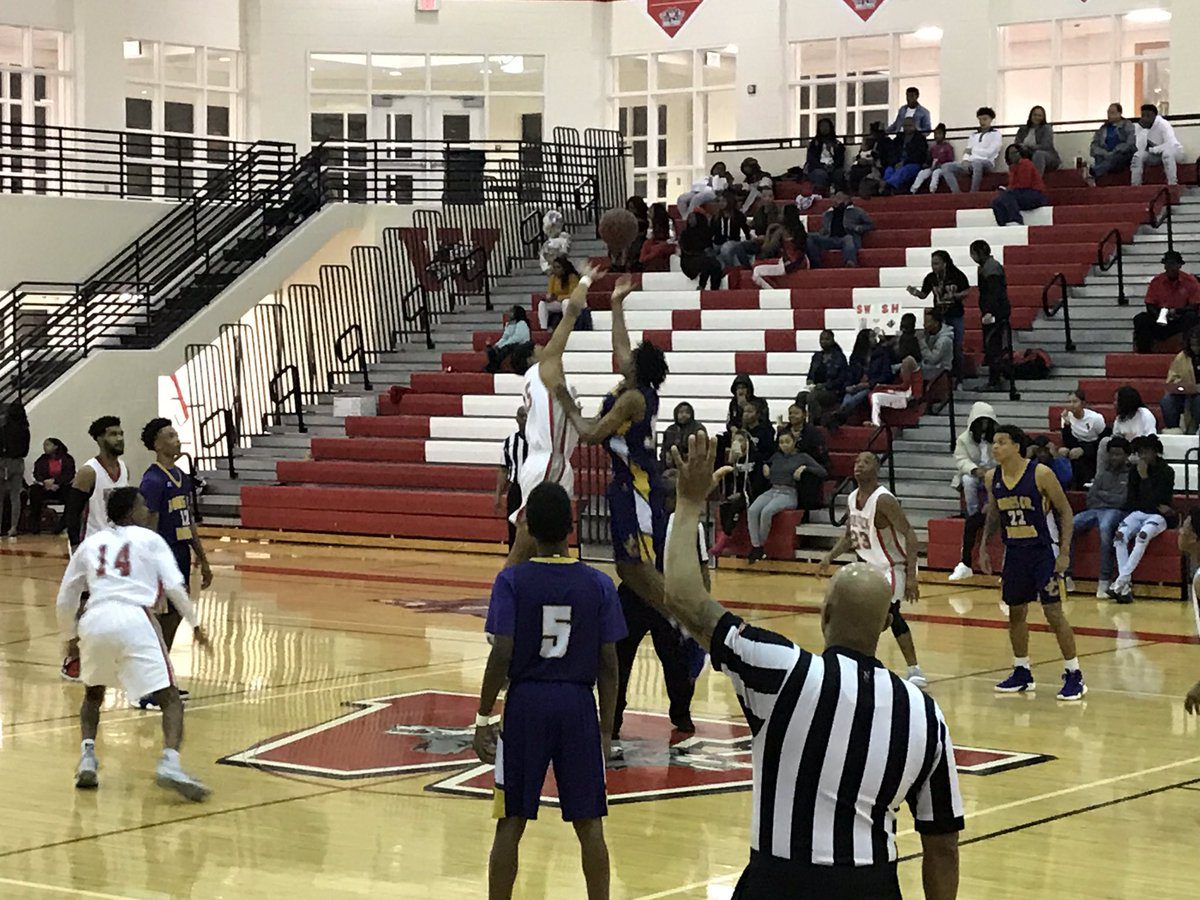 Rescheduled due to a phantom snow storm, No. 5 Woodland-Stockbridge (20-4, 11-2) held Senior Night on Thursday as the Wolfpack welcomed in Region 4-AAAAA foe Jones County (16-8, 8-5). Having their 17-game winning streak snapped on Monday against No. 2 Eagle's Landing, Woodland looked for a season sweep of the Greyhounds and in the process, ignite a new streak.
A slow pace set the tone early as both teams looked to be patient when finding their offense. Woodland took a 4-0 lead before Jameson Bryant attacked the basket and got Jones County on the board.
1Q; 5:07
No. 5 @HoopsWhs 4@county_jones 2

Jameson Bryant cleans up his own miss pic.twitter.com/gcLe9Dvmdt

— Kyle Sandy (@KyleSandy355) February 1, 2019
Jalen Mason helped the Wolfpack to a 9-2 lead, hitting a three then assisting to Curtis Perdue on a fast break. Woodland finished the quarter with a flurry, scoring seven points in a minute with Jalen Crawl hitting a three, Dewayne Chester a layup and Perdue a tip-in to push Woodland ahead 19-7 at the end of the first quarter.
End 1Q
No. 5 @HoopsWhs 19@county_jones 7@WHS_HCS finishes the quarter with a flurry. Jalen Crawl nails a three here and then @Mr_shift_T3am gets a steal and Dewayne Chester the layup. Then a Curtis Perdue putback. Perdue has 9p pic.twitter.com/sTSwlbLSxU

— Kyle Sandy (@KyleSandy355) February 1, 2019
Trying to weather Woodland's storm, Bryant continued to assault the paint and scored six of his team-high 14 points in the quarter but the Wolfpack still maintained control.
Unsigned 6-foot-8 senior Rahim "Sincere" Whitehead dominated the paint and cleaned up misses inside as one of his numerous put-backs gave Woodland a 21-14 lead at the 4:41 mark.
2Q; 4:41
No. 5 @HoopsWhs 21@county_jones 14

2019 6-8 C Rahim "Sincere" Whitehead has been productive inside.

Gets the putback here. He's got 5 rebounds and 3 blocks. pic.twitter.com/tlUvEmScqb

— Kyle Sandy (@KyleSandy355) February 1, 2019
Off the bench, Joe Jackson sparked Jones County with 10 of his 14 points coming in the second quarter as he knocked down two threes and was active on the offensive glass.
2Q; 2:33
No. 5 @HoopsWhs 25@county_jones 20

Joe Jackson has had a big quarter off the bench. He's got 7 points. Gets the bucket off the offensive glass after a Rashun Burney steal. pic.twitter.com/c7qUlwiEiR

— Kyle Sandy (@KyleSandy355) February 1, 2019
Woodland closed the half up 31-27 as Mason's defensive prowess caused issues for the Greyhounds, picking up four steals over the first 16 minutes including a late pilfer and assist to Tyrek Washington.
2Q; :10
No. 5 @HoopsWhs 30@county_jones 27@Mr_shift_T3am making plays defensively. Gets the assist to @TyrekWash pic.twitter.com/h46qnHXysY

— Kyle Sandy (@KyleSandy355) February 1, 2019
Eager to make his mark, DeArco Pitts carried Jones County during the third quarter with his ability to create his own shot off the dribble. Pitts knocked down two mid-range jumpers and Bryant finished inside to give the Greyhounds a 33-31 advantage at the 6:49 mark.
Minutes later, Marquis Jackson collected a rejected shot and wriggled around the baseline for a jumper to make it 35-34 with 3:50 remaining in the third quarter.
3Q; 3:50@county_jones 35
No. 5 @HoopsWhs 34

Marquis Jackson sticks with it after Rahim Whitehead gets his fourth block pic.twitter.com/e5PXhpB0vt

— Kyle Sandy (@KyleSandy355) February 1, 2019
Pitts struck with his playmaking ability and hit Jackson for a bucket to extend Jones County's lead to 40-36 with 2:30 left to play and saw the lead grow to 44-38 but Mason nailed a pull-up three at the buzzer to bring Woodland to within 44-41 at the end of three.
End 3Q@county_jones 44
No. 5 @HoopsWhs 41@Mr_shift_T3am hits a 3 at the horn

Joe Jackson 14p 8r
Jameson Bryant 12p 8r
DeArco Pitts 10p

Curtis Perdue 15p 3r
Jalen Mason 9p 3r 2a 4s@HDHSports @HCAthletics_HCS @HypesouthMedia @SuperJCSS @jcgreyhounds @WHS_HCS @athletics_whs_ pic.twitter.com/xoxuRawPQY

— Kyle Sandy (@KyleSandy355) February 1, 2019
Back-and-forth the Wolfpack and Greyhounds went in the fourth quarter as Jackson stopped on a dime at the 5:23 mark to give Jones County a narrow 50-48 lead.
4Q; 5:23@county_jones 50
No. 5 @HoopsWhs 48

Marquis Jackson with the pull up pic.twitter.com/BJmEtUUeWK

— Kyle Sandy (@KyleSandy355) February 1, 2019
But from that point on, Whitehead took over the game. Finishing with a triple-double of 10 points, 16 rebounds and 10 blocks, Whitehead scored inside to make it 54-50 then scored on a put-back, blocked a shot and advanced the ball to Chester for a spinning layup to cap a 12-0 run that surged the Wolfpack ahead 60-50 with 2:33 remaining.
Down but not out, Coach Dennis Woolfolk's group responded.
Chavis Mathis found Tre Dean for a three to make it 60-55 with 2 minutes left before Jackson cashed in from deep to cut the lead to 60-58 with 1:19 remaining on the clock.
4Q; 2:00
No. 5 @HoopsWhs 60@county_jones 55

Chavis Mathis hits @TreDean2 for a huge three to keep @jcgreyhounds alive. pic.twitter.com/jWmGvpkOqr

— Kyle Sandy (@KyleSandy355) February 1, 2019
In the midst of an 8-0 run, Perdue answered the bell on his Senior Night to put a close to Jones County's comeback bid, canning a three in the corner with 61 seconds left to make it 63-58, giving Perdue a game-high 20 points as Woodland closed it out 65-58 after a Chester bucket.
My Take
Region 4-AAAAA has proven to be one of the deepest and most competitive regions in the state over the past few years. Both teams chase No. 2 Eagle's Landing (19-3, 13-0) in the standings but both teams will be dangerous come state tournament time. Woodland-Stockbridge has quick guards that have some explosion to the hoop. Jalen Mason did some of his best work defensively and showed he could knock down the long-range shot by hitting two threes. Dewayne Chester was lightning quick with the ball in his hands and finished with 4 assists. Curtis Perdue netted nine points in the first quarter and was steady throughout. He's a solid shooter that has some quick twitch when getting to the rim. The most impressive player however was 6-foot-8 unsigned senior Rahim "Sincere" Whitehead. Though it might sound crazy to say, Whitehead played every inch of his frame and let his size and presence impact the game. While some posts can play smaller than listed, Whitehead had no problem attacking rebounds and defending the rim. He isn't a high-flying athlete but Whitehead has a sturdy build and moves well. He knows what he is best at and does everything you want out of a big man. He posted up well with a strong base and had his hands on every rebound in his area. With 10 points, 16 rebounds and 10 blocks, Whitehead was dominant. He didn't have to display a ton of offense on the block as the majority of his points came on put-backs or dump offs though he had one strong move from the left block heading into the lane. Whitehead should be viewed as a valid D-II option for programs looking for a hardnosed throwback low post presence.
A lack of size hurt Jones County tonight along with Bryson Wooten still recovering from a foot fracture. I loved how hard 6-foot-2 senior Jameson Bryant played for the Greyhounds. It was to no surprise that I found out he was a football player. He had a tenacity when putting his head down and getting to the rim and when attacking rebounds. He's got an explosion to the basket and can finish amongst the trees. Bryant tallied 14 points, 8 rebounds and 1 block while Joe Jackson had 14 points, 9 rebounds and 1 block off the bench. Jackson shined in the second and third quarter by being at the right place at the right time while knocking down shots and helping on the glass. Senior guard DeArco Pitts really flashed in the third quarter with his ability to create space and hit the mid-range. He also made plays for his teammates and finished with 5 assists. He's a quality guard that is a winning piece.
Top Performers
Woodland-Stockbridge
Curtis Perdue – 20 points, 4 rebounds, 2 steals
Jalen Mason – 11 points, 6 rebounds, 2 assists, 4 steals
Dewayne Chester – 11 points, 3 rebounds, 4 assists, 2 steals
Sincere Whitehead – 10 points, 16 rebounds, 1 assist, 1 steal, 10 blocks
Jones County
Jameson Bryant – 14 points, 8 rebounds, 1 assist, 1 steal, 1 block
Joe Jackson – 14 points, 9 rebounds, 1 block
DeArco Pitts – 12 points, 2 rebounds, 5 assists
Marquis Jackson – 12 points, 3 rebounds