5ANo. 2 Fayette County 72, 4ANo. 2 Sandy Creek 71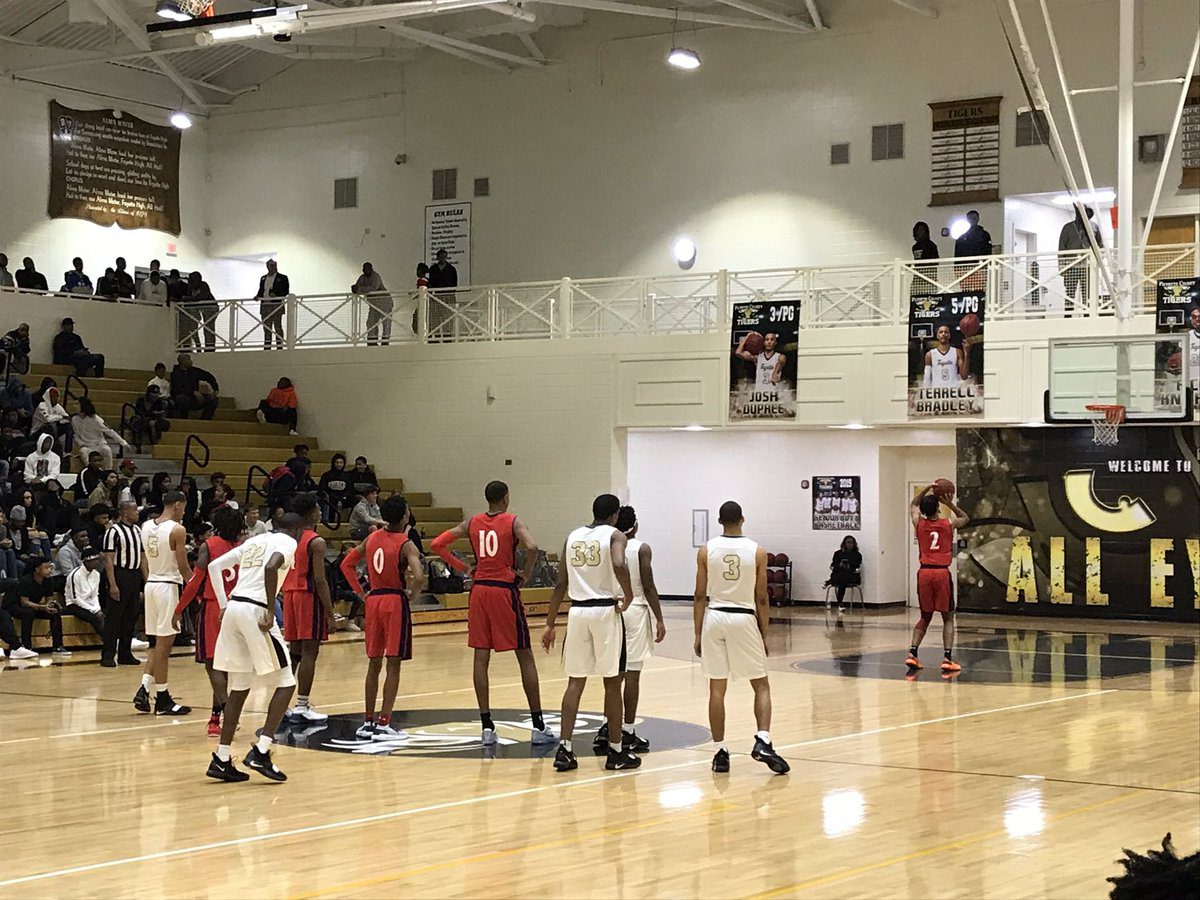 Since picking up their first win of the year back on November 13th at Sandy Creek 74-66, road bumps have been few and far between for Class 5A No. 2 Fayette County (14-2). On Friday night, the Tigers had a chance to earn a season sweep of their cross-town rival Class 4A No. 2 Sandy Creek (10-3) in front of a nearly packed house. The game started and ended with star forward TJ Bickerstaff at the foul line.
The Patriots got off to a quick start, leading before a second even ticked off the clock as Drexel-signee TJ Bickerstaff sank two technical free throws after Fayette County was T'd up during warmups. The Patriots led 8-1 with 6-foot-8 sophomore Jabari Smith using a soft jump hook around the rim, but Fayette County regained their composure with 6-foot-4 senior point guard Terrell Bradley – back from an early season suspension – getting into the paint and finishing.
1Q; 5:34
No. 2 @SCHS_Patriots 8
No. 2 @FayetteBball 5

Nice finish from @_5rell pic.twitter.com/8x5pNHe22m

— Kyle Sandy (@KyleSandy355) January 5, 2019
Coach Jon-Michael Nickerson turned to his bench early and inserted 6-foot-5 sophomore Deshon Proctor into the game, who paid dividends right away with six first quarter points including a slam off a Bickerstaff assist with 1:40 left to play to give Sandy Creek a 16-13 edge.
Twenty seconds later however, Bickerstaff would pick up his second foul and head to the bench.
At the end of one, Sandy Creek led 18-16 after Kingston Calhoun knocked down a three with 37 seconds left from Bradley to slice into the lead.
End 1Q
No. 2 @SCHS_Patriots 18
No. 2 @FayetteBball 16@_5rell hits Kingston Calhoun for 3 with 37 seconds left.@new_j23 picked up his second foul at the 1:20 mark pic.twitter.com/MiYhAYzN21

— Kyle Sandy (@KyleSandy355) January 5, 2019
Bickerstaff checked back into the game at the 6:38 mark before picking up his third foul just 17 seconds later and he would check out with 5:55 on the clock and sit the rest of the half with his Patriots leading 20-19.
Fayette County went on a 5-0 spurt with Bickerstaff benched, JeKobe Coleman drilling his third three of the game as the Tigers picked apart the Patriot zone.
2Q; 5:10
No. 2 @FayetteBball 24
No. 2 @SCHS_Patriots 20@JeKobeColeman hits his third three. @FCHSTIGERSPORTS has five already against the Patriot 3-2 zone. pic.twitter.com/K2PfkZMNt3

— Kyle Sandy (@KyleSandy355) January 5, 2019
The Tigers had another 6-0 mini-run sparked by Joshua Dupree, who chased down a layup attempt on the fast break to pin it on the backboard then trailed the play heading the other way as Bradley found him open for a transition three to make it 29-25 before Ricky Knight Jr. cashed in on his own three to push the lead to 32-25 with 1:43 left in the second quarter.
Like a game of tug of war, it was Sandy Creek's turn to pull on the rope as Julian Alexander and Smith scored late to trim the deficit to 34-32 heading into halftime.
The Patriots scored the first four points of the second half to nudge ahead 36-34, but at the 6:23 mark Bickerstaff was whistled for his fourth foul on a charge and was banished back to the bench.
The depth and the well-rounded play of Sandy Creek shined in Bickerstaff's absence as Proctor continued to pose a problem for the guard-oriented lineup of Fayette County, receiving a dish from Alexander and powering home a two-handed flush to give the Patriots some cushion with 5 minutes to play in the third quarter now up 42-36.
3Q; 5:00
No. 2 @SCHS_Patriots 42
No. 2 @FayetteBball 36

Deshon Proctor has been HUGE off the bench for @JMac_Nickerson. @jualexander5 spoon feeds him a slam. @FayetteSports pic.twitter.com/6C1EkVhRav

— Kyle Sandy (@KyleSandy355) January 5, 2019
Just when it looked like Sandy Creek would gain separation, Fayette County's three-point barrage started to bomb from deep. The Tigers went on an 8-0 run with Knight hitting back-to-back threes in the right corner to give Fayette County a 44-42 lead at the 3:34 mark.
With the Patriot zone now concerned about the outside shooting of Fayette County – the Tigers hitting 14 threes on the night – the middle of the zone was wide open for 6-foot-4 sophomore William Richard to score two of his 16 second half points up close.
3Q; 2:45
No. 2 @FayetteBball 46
No. 2 @schspatriotnews 44

Too easy for William Richard pic.twitter.com/TwCrNZT5wm

— Kyle Sandy (@KyleSandy355) January 5, 2019
Sandy Creek responded on offense with Alexander scoring six of his 12 points in the quarter and Keith Williams III breaking loose for eight points, nailing two threes. The Patriots finished with a flurry as Proctor banked in a three-pointer at the buzzer to give Sandy Creek a 57-52 lead after three quarters with their star player having played less than 10 minutes.
End 3Q
No. 2 @SCHS_Patriots 57
No. 2 @FayetteBball 52

Have I mentioned 2021 6-5 F Deshon Proctor has been HUGE off the bench? He banks in a three at the buzzer. He's got 13 points. pic.twitter.com/iDfKQedkL9

— Kyle Sandy (@KyleSandy355) January 5, 2019
Bickerstaff re-entered the game at the 6:50 mark and immediately demanded the ball on a post-up and went to the line where he split a pair of free throws.
Following a scoreless first half, Richard netted eight points including two threes as Fayette County regained the lead with 5:05 to play, 65-63.
Back and forth the two rivals went over the final five minutes.
Sandy Creek got a third dunk from Proctor as the Patriots moved ahead 69-68 at the 3:05 mark.
4Q; 3:05
No. 2 @schspatriotnews 69
No. 2 @FayetteBball 68

More Deshon Proctor inside gives @JMac_Nickerson the lead back. Sophomore really growing up tonight. pic.twitter.com/fZ2Sou6YIW

— Kyle Sandy (@KyleSandy355) January 5, 2019
Trying to nurse a one-point lead with less than two minutes to play, Alexander's cross court pass was intercepted by Knight and finished on the other end to give the Tigers a 70-69 lead with 1:33 to play.
4Q; 1:33
No. 2 @FayetteBball 70
No. 2 @SCHS_Patriots 69@RKJ_22_ plays the passing lanes and gets a steal and layup to give @FCHSTIGERSPORTS the lead. pic.twitter.com/lYKzvRTiT8

— Kyle Sandy (@KyleSandy355) January 5, 2019
The Patriots responded by dumping it down low to Bickerstaff who made a strong move toward the middle of the paint to take back a 71-70 lead with 1:12 remaining.
4Q; 1:12
No. 2 @schspatriotnews 71
No. 2 @FayetteBball 70@New_J23 inside pic.twitter.com/1HHcWfyCil

— Kyle Sandy (@KyleSandy355) January 5, 2019
On the other end, Richard scored his 16th and final point off the bench to give Fayette County the lead for good with less than a minute to play.
The Patriots got a bad look at the basket with 28.1 seconds left and had to foul twice to send Coleman to the line. The three-point sniper missed the front end of the one-and-one and gave the ball back to Sandy Creek now with 17.5 left on the clock.
Sandy Creek drove and dropped off to Proctor who was body-checked but no whistle came. The ball squirted loose and in a wild scramble the Patriots temporarily regained possession before a kickball was called and Sandy Creek had the ball out of bounds with 5.6 seconds remaining.
4Q; 5.6@SCHSPatriots 72@FayetteBball 71

No foul??

Either way it's Pats ball pic.twitter.com/LJd67NIpIH

— Kyle Sandy (@KyleSandy355) January 5, 2019
Coach Nickerson got the ball into the hands of Bickerstaff who drew a foul and was sent to the line for two free throws with 1.8 seconds left on the clock. Bickerstaff missed the first and after a timeout, missed the second as the Tigers held on in dramatic fashion to sweep the season series.
4Q; 1.8
No. 2 @FayetteBball 72
No. 2 @SCHSPatriots 71@new_j23 is fouled going to the hole but misses his first FT…. this is it. pic.twitter.com/tFggqshq7r

— Kyle Sandy (@KyleSandy355) January 5, 2019
FINAL
No. 2 @FayetteBball 72
No. 2 @SCHS_Patriots 71

Bickerstaff misses two FT with 1.8 left. @FCHSTIGERSPORTS hit 14 threes@RKJ_22_ 22p (5 3s) 2a 2s@JeKobeColeman 17p (5 3s) 3r 2a@the_wtr12 16p (all 2H) 8r

Deshon Proctor 15p 12r@HooperJabari 15p 9r 5b@keiththe3rd_ 12p 5r pic.twitter.com/M8dtiPCNN3

— Kyle Sandy (@KyleSandy355) January 5, 2019
My Take
Friday night was one of the best games of the season. The largest lead of the game was seven points for both teams while there were too many lead changes to keep up with. Fayette County is the real deal in Class 5A and a legitimate state title contender with how they shoot the three. They banged in 14 threes and destroyed the Patriots zone. Fayette County's guards are interchangeable with everyone standing between 6-foot-0 and 6-foot-4 and all able to stroke the deep ball as five players connected from distance. 6-foot-4 senior point guard Terrell Bradley has found his groove after serving his suspension. He's got great size for the lead guard position and has a nice touch when whipping the ball inside. His length even led to three blocked shots. Fayette County might not have one sure-fire D-I prospect but they have a ton of mouth-watering D-II and JUCO options that can help programs quickly. 6-foot-3 senior Josh Dupree is a bouncy glue guy that can affect the game on both ends, 6-foot junior JeKobe Coleman is a lethal three-point shooter along with 6-foot-2 senior Ricky Knights Jr., both canning five three-pointers. The biggest difference maker however was 6-foot-4 sophomore William Richard who came off the bench and scored all 16 of his points in the second half. Richard doesn't really have a position, but he plays anywhere from three through five for Coach Andre Flynn. His activity on the glass, his soft touch inside and his ability to step outside and hit the three makes him the perfect compliment in the Tigers' guard-oriented lineup. Fayette County has the talent to run the table the rest of the regular season and position themselves for a deep run in Class 5A.
In the loss, there were good takeaways for Sandy Creek. Their depth was key with 6-foot-5 sophomore Deshon Proctor leading the way with 15 points and 12 rebounds off the bench. He is a man-child inside with his strength and he looked a lot more comfortable playing around the basket than he did in the summer. Similar to Proctor is 6-foot-8 sophomore Jabari Smith who looked like a completely different player than when I last saw him at Carrollton over the summer months. Smith showed toughness with his slender frame, playing with his back to the basket. He scored on a pretty baby hook to ignite his night and showed that he could put the ball on the floor and hit the three. His five blocked shots around the rim were key as well. Smith has a high ceiling with his skillset and it was nice to see him not fall in love with his guard skills and stand on the three-point line. 6-foot-3 senior Julian Alexander had a nice spurt in the third quarter but went scoreless in the fourth. He's a solid all-around scorer that should be in the mix for D-II schools. Junior guard Keith Williams III had a quiet first half but he had an important eight-point stretch in the third quarter. It was a nightmarish night for Drexel-signee TJ Bickerstaff who could never find a flow in the game. With foul trouble hampering his play, he had a chance to save the day at the end but it wasn't in the cards. I was surprised with how much zone Sandy Creek played against such a potent outside shooting team. The Patriots had some weak close outs and a few mental breakdowns on rotations which hurt them.
Top Performers
Fayette County
Ricky Knight Jr. – 22 points (5 threes), 1 rebound, 2 assists, 2 steals, 1 block
JeKobe Coleman – 17 points (5 threes), 3 rebounds, 2 assists, 1 steal
William Richard – 16 points, 8 rebounds, 2 assists, 1 steal, 1 block
Terrell Bradley – 8 points, 4 rebounds, 6 assists, 3 blocks
Sandy Creek
Deshon Proctor – 15 points, 12 rebounds, 1 assist, 1 steal, 1 block
Jabari Smith – 15 points, 9 rebounds, 2 assists, 5 block
Julian Alexander – 12 points, 4 rebounds, 3 assists, 1 steal
Keith Williams III – 12 points, 5 rebounds, 1 assist, 1 block
TJ Bickerstaff – 9 points, 3 rebounds, 2 assists, 1 steal