No. 5 Chattahoochee 98, Cambridge 84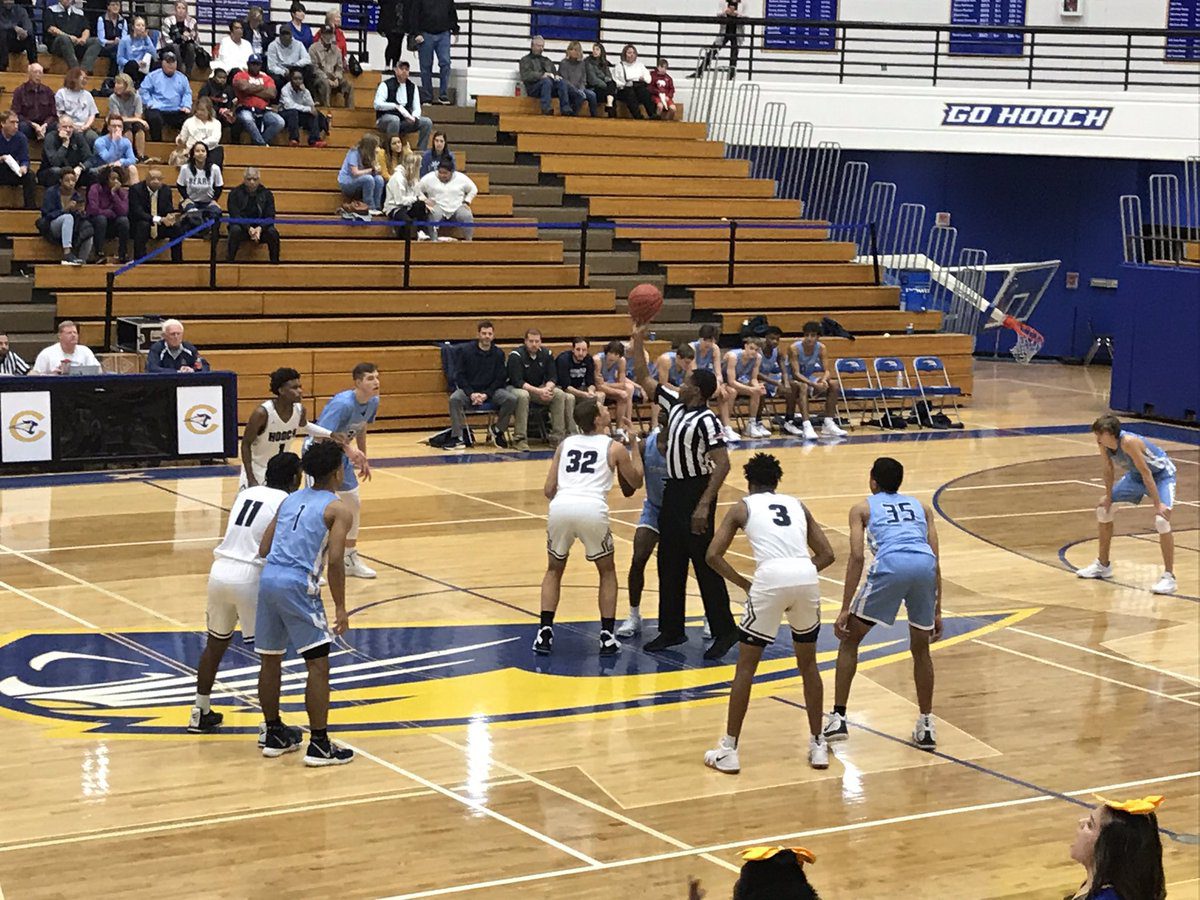 Winners of five-straight heading into Thursday's crucial Region 7-AAAAAA showdown, No. 5 Chattahoochee (13-3, 5-2) entered play as possibly Class 6A's hottest team, debuting in the Top 10 after clawing their way to a Blue Bracket Championship at the Tournament of Champions last week. Cambridge (10-6, 6-2) made the 9-mile drive from Milton to Alpharetta with something to prove after getting ran out of the gym and the state rankings two weeks ago by No. 7 Sequoyah 109-80.
In an up-for-grabs region, both teams came out hot trading blows to start with UGA Head Coach Tom Crean in attendance. There were hardly any whistles or stoppages in play as the game fluidly saw Chattahoochee hold a slim 13-12 lead to start before the Cougars embarked on a historic night.
AJ White hit one of his seven threes to give Chattahoochee a 19-14 lead.
1Q; 2:40
No. 5 @HoochHoops 19@CambridgeBaske1 14

AJ White rains in his second three for @cshort1522 @joeparkerga pic.twitter.com/hBans5l14i

— Kyle Sandy (@KyleSandy355) January 4, 2019
Cam Sheffield followed up with a three of his own before Grant Van Beveren scored inside for Chattahoochee's final hoop of the quarter as the Cougars led 24-19 after one.
1Q; :40
No. 5 @HoochHoops 24@CambridgeBaske1 17

Nice footwork inside for @grantvanbeveren pic.twitter.com/MPFqGs5rFy

— Kyle Sandy (@KyleSandy355) January 4, 2019
In the first quarter alone, the Cougars nailed six threes – a foreboding sign as Chattahoochee would burry a school-record 18 threes on the night.
Cambridge tried to play a 1-3-1 zone to start the second quarter but poor rotations led to even more open shooters as Chattahoochee grew their lead to 32-22.
Star sophomore Matt Cleveland glided his way to the basket for two of his 12 first half points, but the Cougars still led 35-26.
2Q; 5:05
No. 5 @HoochHoops 35@CambridgeBaske1 26@MCleveland35 glides in for two pic.twitter.com/nZ7wjlNJGT

— Kyle Sandy (@KyleSandy355) January 4, 2019
The onslaught continued as the Cougars pulled away.
White and Franklin Bailey went back-to-back from deep to make it a 43-26 game at the 3:26 mark. At the half Chattahoochee held a commanding 53-36 lead, knocking down 13 threes as Sheffield (18), White (17) and Bailey (12) all reached double figures and combined for all 13 trifectas.
Tired of peppering the Bears from beyond the arc, Coach Chris Short began to pound it inside to Van Beveren where Cambridge had no defensive answers either. The 6-foot-6 senior scored eight quick points and pushed the lead to 70-44 with 2:43 left in the third. Heading into the fourth quarter, the Cougars led 74-52 behind 16 three-pointers.
Bryce Boutelle tried to spark Cambridge with consecutive threes, scoring 11 of his 21 points in the final frame but the hole was too deep to climb out of. The Bears turned over the Cougars with their press and trimmed the lead to 80-66 with 4:28 remaining, but Chattahoochee would answer as Van Beveren closed the door on a comeback with nine points down the stretch.
Bailey hit Chattahoochee's final three-ball of the night to extend the lead to 91-72 before coasting to a dominant 98-84 rout at home.
My Take
I got to witness Chattahoochee at their absolute best. When they are hitting threes like they did last night they are tough to beat, but even with 18 made threes they did only win by 14 points. The Cougars are heavily reliant on the perimeter shot. AJ White has to be in the discussion for best pound-for-pound scoring point guard in the 2021 class. He never shies away from an open look and he was nearly automatic tonight, nailing 7 threes and scoring 25 points. Just like a lot of great guards around the state, his biggest deterrent come recruitment time will be his 5-foot-8 height. Someone who doesn't have a problem with size is 6-foot-6 junior wing Cam Sheffield. He's a good-looking D-I prospect that can hit the long ball (5 threes) but also put the ball on the deck and get to the hoop. He had 26 points, 5 rebounds and 6 assists. I highlighted junior shooting guard Franklin Bailey back in May at SportalSlam and he has carried his sharpshooting momentum into the high school season. Bailey is a one-dimensional player right now, but he is dang good at that dimension, sinking 6 threes to finish with 18 points. Bailey is a lethal floor stretcher that has burned opponents that have decided to key in on slowing down White and Sheffield and have neglected to find Bailey on the three-point line. Bailey can be a streaky shooter however and if he is cold that is when Grant Van Beveren is possibly the most important piece for the Cougars. With the amount of three-pointers attempted and made by the Cougars, it's amazing to realize the 6-foot-6 senior was still able to dominate when he touched the ball, posting an efficient 23 points and 11 rebounds. Van Beveren is a workhorse that does the dirty work inside for Chattahoochee. His ability to score with his back to the basket and rebound at a high clip is what makes the Cougars more than just a jump shot loving team. My concern with Chattahoochee is their extreme lack of depth. Out of their 98 points scored, 92 of them came from Sheffield (26), White (25), Van Beveren (23) and Bailey (18). Outside of those four, there are no offensive threats and only six players played in the first half. If White, Sheffield or Van Beveren sustain an injury or get in serious foul trouble, the Cougars could be in trouble against a team that has depth, athletes and can defend full court.
Cambridge was very disappointing tonight with their lack of defensive effort. Even with Kamar Robertson back, the Bears just didn't have enough to dig in and get stops. Allowing a team to hit 18 threes – many not contested very well – is inexcusable. They will need to go back to the drawing board after allowing 207 points in their last two games against Top 10 opponents. Matthew Cleveland put together a nice game in front of UGA Head Coach Tom Crean, posting 23 points, 4 rebounds, 3 assists, 3 steals and 1 block. He was steady throughout. Unsigned senior Kamar Robertson scored 22 points with eight coming in the fourth quarter. He added 4 rebounds, 9 assists and 2 steals. Bryce Boutelle like Robertson, got hot in the fourth quarter with 11 points. He's a nice scorer that should garner D-III interest. 6-foot-6 junior center Sola Adebisi is long and athletic. He showed that he could knock down the 15-footer from the elbow and blocked three shots. He did not rebound all that well, but most of the time the Bears were getting the ball out of the net.
Top Performers
Chattahoochee
Cam Sheffield – 26 points (5 threes), 5 rebounds, 6 assists, 1 block
AJ White – 25 points (7 threes), 4 rebounds, 5 assists
Grant Van Beveren – 23 points, 11 rebounds, 1 assist, 1 steal, 1 block
Franklin Bailey – 18 points (6 threes), 1 rebound, 4 assists, 1 block
David McDaniel – 6 points, 1 rebound
Cambridge
Matthew Cleveland – 23 points, 4 rebounds, 3 assists, 3 steals, 1 block
Kamar Robertson – 22 points, 4 rebounds, 9 assists, 2 steals
Bryce Boutelle – 21 points, 3 rebounds, 1 assist, 1 steal
Sola Adebisi – 8 points, 3 rebounds, 3 blocks