Carrollton
2020 6-6 F Melvin Edwards: Every time there was a rim being rocked on another court, I'd turn my head and see that it was Edwards doing the damage. The high-rising combo forward continued his blow-up summer by dunking everything possible and running the floor in transition. I identified Edwards as a possible D-I recruit at the HoopSeen Tip-Off back in March and college coaches have wisely agreed with Kennesaw State, Georgia Southern and Presbyterian all offering. Edwards is a match-up problem with his versatility scoring inside and out. He has the feel of becoming a special player once he gets to college.
2020 6-3 CG Marcellious Lockett: In an early morning bout with Grayson, Lockett shined with his play on both sides of the ball. He turned defense into offense by playing the passing lanes and getting after it with his on-ball defense. When he had the ball in his hands, he created offense for himself and others, riffling in some no look passes for easy buckets when he wasn't hunting his own shot. Lockett scored from all three levels and completed some tough finishes at the rim. Lockett hasn't garnered the D-I offers that Edwards has gotten yet, but if he is patient, I wouldn't be surprised if some schools start his recruitment if he puts together a strong showing at the NCAA Georgia Live Period Event this weekend.
Grayson
2020 6-4 SG Caleb Murphy: In a 68-53 win over Tri-Cities, the Norcross transfer looked like he was more than capable of being a number one option on a top team, posting 15 points, 5 rebounds, 3 assists and 1 steal with Deivon Smith out of town. Murphy operated in tight spaces with the ball on a string as he wriggled his way out of traps to find freedom. He's got a quick first step that helps him get into the paint and finish at the rim. He had a nice day with Georgia State's staff attentively watching.
2021 6-7 PF Ian Schieffelin: Often lost in the shuffle with the great high-flying backcourt of Grayson, since Day 1 when he first dawned the Green and Gold, Ian Schieffelin has been a hard-nosed lunch pail type of post willing to do the dirty work inside. In their win over Tri-Cities, he contributed 5 points, 5 rebounds, 1 steal and 3 blocks. Schieffelin snatched down some grown-man rebounds that not even the peskiest of guards would consider swiping at once he controlled it. The former quarterback has a soft touch with the ball and can extend his range to the three-point line when asked to stretch the floor. Schieffelin understands his role and flourishes in it. He was rewarded with an offer from James Madison last weekend; his first scholarship offer.
Tri-Cities
2020 6-4 W Demetrius Rives: One of Fulton's counties premier fearless slashers, Demetrius Rives, battled Grayson's high-profile front court and came away with 16 points, 6 rebounds, 1 steal and 1 block. Rives is a strong well-built athlete that's primary goal on offense is to get to the rim. He attacks the basket with bad intentions. He is a strong rebounder for his wing position, using his strength to stay on the glass. Being able to consistently knock down jump shots is an area he will need to improve upon his senior year.
2021 6-2 CG Peyton Daniels: Though he didn't have his strongest game, Peyton Daniels still hit three threes and finished with 13 points, 2 rebounds and 2 assists vs. Grayson. Daniels has a smooth stroke that he can get off the dribble. With DaMarcus Johnson graduating, the team officially belongs to Daniels now. He will be relied upon to score but also create for teammates as well.
Douglass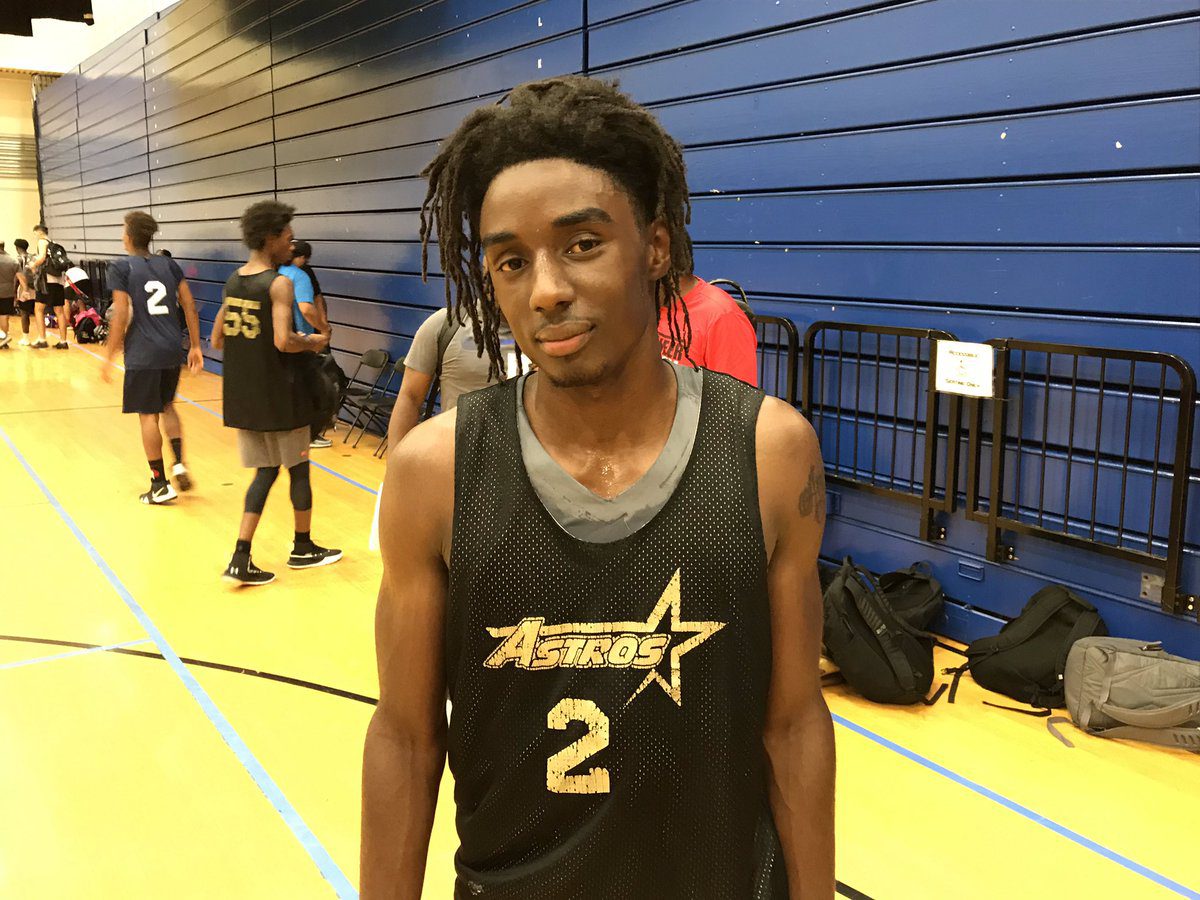 2020 6-1 PG Angelo Grimes: A solid athlete with a calm floor general demeanor, Angelo Grimes averaged 11.5 points over two games and stuffed the stat sheet in a 64-57 win over Johns Creek with 11 points, 4 rebounds, 6 assists, 3 steals and 1 block. Grimes did a good job of getting into the paint and kicking out to teammates. He is a pass-first point guard who does his scoring at the rim.
2021 6-2 W JaCorye Favors: The lefty was one of Georgia State Team Camp's best discoveries on the day. Against Johns Creek he tallied 15 points, 7 rebounds, 2 assists, 1 steal and 1 block and vs. Mt. Pisgah added 17 points, 6 rebounds and 2 assists. Favors is an active guard that crashes the glass and plays bigger than his size. He can knock down the open three but did most of his damage slashing to the basket and on the offensive glass. He is transferring in from Maynard Jackson and should be able to give Douglass an immediate lift in Region 6-AA.
Johns Creek
2021 6-3 G Steven Lyles: Just looking at Steven Lyles, the upside he possesses is apparent. Lyles is a gifted athlete with a tremendous frame for a guard. He had 11 points, 6 rebounds, 1 assist, 2 steals and 1 block in a loss to Douglass. He drained two threes but his most eye-opening play was his acrobatic 360 layup on a defender. Lyles is a name to keep in the back of your mind for the next two years.
Mt. Pisgah
2021 5-11 G Chase Tucker: No one was more impressive with their jump shot than Chase Tucker was. The three-point specialist was dialed in, banging in eight threes for 24 points in a 53-41 win over Douglass. Tucker was in a special zone, sinking nearly every attempt he fired up. He carried the load without JoJo Peterson available.
2021 6-7 PF Nate Gordon: Nate Gordon put up 6 points, 7 rebounds, 1 assist, 1 steal and 1 block against Douglass. At times Gordon still looks a little raw around the basket but he had a few strong finishes when powering up for dunks. Improving his footwork with his back to the basket will open up more scoring opportunities.
Chapel Hill
2021 6-2 G Micah Bell: I'd heard good things about Micah Bell over the past year and the wiry guard did not disappoint, albeit vs. a JV Lovejoy team. Bell is excellent in transition and gets downhill when attacking the basket. He is a bit slight of frame, but takes contact extremely well and finishes through defenders. Bell has some wiggle and bounce to his game and has a knack for scoring. He knocked down two threes in his 25-point outburst to go along with his 3 rebounds and 2 assists. Bell reminds me just a little bit of 2020 Lithonia PG Eric Gaines.
2020 6-1 G Mike Bell: The older brother of Micah, Mike Bell is a stout guard with a three-point stroke. He hit three en route to 15 points, 1 rebound, 2 assists and 3 steals. He showed good instincts with his on-ball defense and turned over his opponents. Mike might not be as electric athletically as Micah, but he's still a reliable guard that helps the offense flow.
Peachtree Ridge
2021 6-4 F Navaughn Maise: Defensively is where Navaughn Maise made his strongest impact against Parkview. The strong framed forward contributed 10 points, 9 rebounds and 4 blocks. He plays bigger than his size and has good hands in traffic. Maise is the type of player that coaches can trust to battle in the trenches.
Parkview
2021 6-3 W Miles Kelly: Miles Kelly heated up in the second half, scoring 11 of his game-high 15 points to lead Parkview past Peachtree Ridge 49-46. He hit two threes before going 5-of-6 from the line to close the game. Kelly has nice length on the perimeter and a good future ahead.
2020 6-2 G Allen Terrell: Allen Terrell kept constant pressure on opposing ball handlers and played a key role in Parkview's comeback. Terrell had 8 points, 3 rebounds, 1 assist, 6 steals and 1 block. His willingness to defend sparked the Panthers and his energy was contagious in the second half.
South Gwinnett
2021 6-7 PF Ja'Heim Hudson: Already known as a double-double threat, Ja'Heim Hudson could be on his way to becoming a D-I recruit. Hudson looked good in a 55-25 win over Marietta, scoring 8 points to go with his 8 rebounds, 4 assists and 2 blocks. Hudson showed off a baby hook with both hands and had a strong drop step to square his shoulders and finish with authority. Hudson plays above the rim with powerful finishes and has nice court awareness when passing out of the post. By this time next year, expect Hudson to have a handful of offers.
Marietta
2021 6-0 PG Travis Burrus: Six seniors graduate from last year's surprise Sweet 16 team, meaning it's Travis Burrus' time to take over the reins as a leader and go-to player. Burrus scored 8 points in a shorthanded loss to South Gwinnett. Burrus got into the paint with his quickness but also showed the ability to hit the three, drilling two. The lefty will need to balance finding his own offense with setting up teammates his junior season.