Kyrie Irving, a budding star. Kevin Love, the most consistent double-double machine in the league. Designated scorer Dion Waiters and of course, the King himself, LeBron James. Lets just give them the title right? A young core with a successful international coach and the best player in the world. It is easy for the Cavs to be this year's sexy pick just like Houston was last season to a lesser extent. The problem that lies in these predictions is that games aren't won on paper. Chemistry cannot be determined and measured by players' names and career stats, there is much more that needs to be accounted.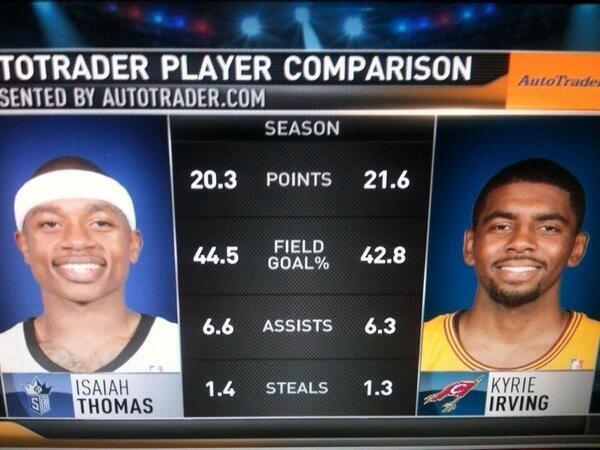 Three games into the season is a minuscule sample size and a team with so many new faces can't nearly have all the kinks ironed out. I'm not worried about the chemistry or anything like that. It is not the main reason I don't see this team winning a title. The Curse of Cleveland plays a huge factor but I'm not going to give a history lesson about how this town can't win. The main reason I don't see this team winning is the lack of  team defense.
Kevin Love is a great offensive player that stuffs stat sheets every night but what else can he do? He is a sieve defensively and has never led his team to a .500 record, let alone make the postseason. I understand the West is loaded, but a super-star of his caliber needs to at least crack .500 in his six years in the league. Love has not won since his days at UCLA and it seems like he might be forgetting that winning swagger.
Former number one pick Kyrie Irving has shown flashes of greatness but has overall been a bit of a disappointment. Don't believe me? Check out this damning graphic which compares the number one pick of the draft to the last pick of the draft. Has Cleveland really gotten what they paid for? Irving is still young and talented, but I question how he will be able to handle the addition of LeBron James. Who will handle the ball? Both players need the ball in their hands to be at their best. That also leads me to Kyrie's passing. Irving has averaged a paltry 1.95 assist/turnover in his career which pails in comparison to Thomas' 2.28. Will Kyrie take a back seat to LeBron and Love and focus on sacrificing his scoring to improve his assist numbers? Or will he continue to focus on getting his stats while putting the team's should-be leading scorers on the back burners. LeBron has come back to Cleveland saying it is still Kyrie's team. He wants the young guard to understand what it takes to win and how to sacrifice when you have to, but it is up to Irving to decide whether he wants to listen and mature or if he wants to keep playing the way he has been.
There are plenty of nice pieces on this team. Mike Miller is in LeBron's back pocket and will try to go wherever he does and brings a tough veteran grit with him. Dion Waiters is nothing but a shot-chucker in my eyes and I do not see anything in him more than trade fodder and a poor man's Jamal Crawford. The bigs are solid up front with Varejao and Thompson. I think they are both solid defenders that will have to constantly clean up Kevin Love's deficiencies. Shawn Marion can still play and will play a big role down the stretch for the Cavs.
It's time to turn our focus back to the King. He has struggled mightily in the team's two losses posting 17 points and 8 turnovers in the season opener and then just 11 points in a blowout loss at Portland. LeBron looks a lot skinnier… does it have anything to do with the move from Miami? South Beach has been linked to the Bio-Genesis scandal and though you may not hear it in major outlets, there have been whispers that LeBron has been linked to the clinic. Take that with a grain of salt, who knows. What I do know is that LeBron has to bring this young group together and get them to buy into Coach Blatt's system. Kyrie Irving and Kevin Love have no postseason experience and don't understand what it takes to win. They will have to take some lumps in the postseason before they win it all. Soon the duo will understand that when the spot light is on, things change in the Spring months. The Cavs of course have a great shot of winning the East, but this team is not ready to win a title.
RESULT: Cavs lost in the NBA Finals in 6 games to Golden State