In Class AA, No. 4 Greater Atlanta Christian has seven state titles to its name. After a 19-10 season and a second round exit a year ago, former two-time region champion as a player, David Eaton, steps in to try and capture the school's eighth championship. Coach Eaton replaces Eddie Martin, the maestro behind numerous state championships, most recently during his tenures at GAC and Norcross.
With a new head coach in place, leading scorer Garrett Covington, Jacob Hoffman, Charlie O'Briant and Brian Coffey Jr. all return. Coffey, a junior, holds offers from North Florida, UNC-Asheville and Presbyterian already. When asked about becoming an upperclassman and playing for a new coach, Coffey said that learning how to play for Eaton has been an easy transition.
"So far everything has been running smooth. He definitely trusts me with the ball, so our relationship can only grow from there," explained Coffey. "He puts his trust in me and I trust his system so as the year goes on we'll be fine."
Going from a veteran coach to a younger coach who has seen success himself while at Wando High School in South Carolina winning a state championship in 2013-14,  there have been some changes in coaching style and philosophy.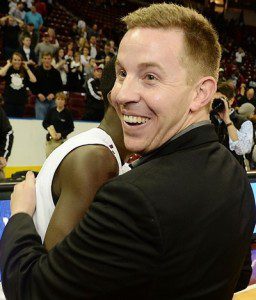 "It's not necessarily a big transition but it's definitely not the same. Last year I usually ran the offense and looked for the open man first. But this season coach wants me to make some of the calls and make some of the decisions on the fly when I'm out there on the court…It's basically having a lot more freedom to lead the team and have a say."
With Coffey's expanded role as a floor general, he feels like his leadership is ready to take the next step.
"They encourage me to talk a lot and I can sense guys looking up to me and turning to me for calls. I feel like they accept me as a leader on the team."
No Days Off
Coffey and the rest of the Spartans will be challenged each and every night playing in the tough Region 6-AA which features the likes of No. 2 Pace Academy, No. 6 Holy Innocents' and Lovett. Going up against some of the best talent the classification has to offer brings out the best in the competitive Coffey's game.
"It's definitely fun. You want to play against the best, not only to measure yourself against the best but just for the simple fact that it's fun," said the point guard who averaged 12.9 points and 5.0 assists per game as a sophomore.
Coffey received an early season litmus test against the defending Class A-Private state champions, St. Francis, on Saturday. The Knights boast five-star senior guard Kobi Simmons and Duluth transfer Anthony Showell, who together form one of the most potent backcourts in the state. In the end, the Spartans rallied from a three point halftime deficit to upend St. Francis 77-69. Covington led GAC with 22 points while Coffey added 21. For the Knights, Simmons poured in 23 and Showell paced all scorers with 24.
Does playing against highly touted prospects motivate Coffey?
"It gives me an extra drive. It should be a personal challenge to everybody because you're measuring how you are against top competition. You should stand up to the challenge and not be afraid to play," stated Coffey. "I like playing against top competition. It's just a chance to make me more focused and more ready to play the game."
When asked if there is one player that he enjoyed playing against or has his sights on for the upcoming season, Coffey mentioned two players.
"We played McIntosh last year. It got me going playing against [Furman-commit] Jordan Lyons. …This year I have to say Pace and Wendell Carter. We lost to them three times last year and I want to at least get a couple wins under my belt."
This Is Sparta
Brian Coffey might be the lead ball handler for the Spartans, but he doesn't power the offense alone. Garrett Covington a 2015-16 Gwinnett Daily Post Super-Six selection (16.5 ppg, 8.9 rpg) and Jacob Hoffman (12.1 ppg) are two of the team's leading scorers and two guys he loves playing with.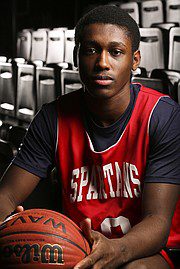 "All of them are great. We are all closer from last year. We all trust each other; we have fun with each other and have a great relationship on and off the court. We are all the leaders of the team. We get practice going and pick up the intensity in practice," explained Coffey. "It's never about one person. I can count on Garrett to score if he needs to score or Jacob to hit a big three. We have a lot of people we can depend on so it's fun playing with those guys."
Coffey touched on some of the Spartans' key pieces further in depth.
"Jacob is someone who can knock down the open three whenever you need him. He doesn't shy away from big shots when we need it. We can depend on him.
"G [Covington], he's our toughest player on the team. He brings a lot of toughness and intensity in rebounding and on defense. He brings out our competitive spirit.
"Charlie [O'Briant] competes too. He's going to bring us a lot of rebounds and he's going to set good screens. On defense he is going to play hard; everyone plays hard."
After finding out what three of GAC's biggest pieces bring to the table, I asked Brian to assess himself and let fans know what to expect out of the talented junior.
"I don't want a main emphasis on one certain thing, I want to able to do all things," he explained. "I want to be able to facilitate with my guys and score when I need to. But I really want to bring leadership and confidence to the team."
Learning From Last Year
Crawford County, the defending state runner-up, downed the Spartans 88-81 in overtime to end GAC's season in the second round. This year, Coffey feels that the Spartans are ready to take a step further and challenge for another state championship.
"This year it's not just about one person. I feel like just our comradery alone can help us get over that hump, because when you play for each other and not for yourself you tend to play harder."
Brian's unselfish play has not only gained respect from his coaches and teammates, but has also piqued the interest of college scouts. His recruiting has heated up and with a few offers already in hand, I wanted to find out exactly what the recruiting process of a high school basketball player is like. I asked Brian whether the process was what he imagined growing up or a whole different animal.
"It's definitely different. I remember when I was a kid I was just hoping to get a letter, but now I know that letters don't really mean anything," explained Coffey.
"The recruiting process is something cool to go through but it can be stressful sometimes. At the end of the day you do enjoy it. I never knew it would end up like this but I'm happy with my progress so far and so far it seems to be picking up a lot and I just hope to continue to get better and earn more looks."
As a player with realistic goals of playing Division-I basketball, does it ever get overwhelming or add an extra pressure to perform? Coffey doesn't think so.
"When I play in the games I don't think about colleges or anything like that. I just focus on playing for my team and getting the W. That's all I care about: winning and playing for my teammates. It's never just about me, it's about the team."
Speaking about winning, Coffey thinks the Spartans have as good a chance as anyone to make a deep run into the postseason and challenge for a Region 6 title.
"We are capable of doing it this year. If we win our region it's going to motivate us and start us going towards the playoffs. I think we have a good shot."
Feature Photo By Ty Freeman