Contributed by Rob Grubbs   (@RCGJr226070)
Sponsored by:   @sportalspace
In a generation of excess, many today are defined by what they don't have instead of the things they do. While the destination is important, the journey is richer and more rewarding. Apalachee senior 6-foot-7 forward Derek Miller is on a journey as he nears his graduation from high school. Derek is a star for the Wildcat basketball team, but to define him by that fact comes up woefully short, he is so much more. While basketball is a big part and figures to provide the avenue for his journey in the near future, it is just one component of this young man who is extremely comfortable being himself, a trait that can never be taken for granted and refreshing in today's athletes.
His senior year has been interesting to say the least. Gone is the only high school head coach he knew, Kevin Morris, who moved on to Jefferson High School and in his place, first-year head coach Spencer Bernstein. Add to that he is returning from a season ending injury last year and there were a lot of unknowns coming into the year. While the record is not as strong as they would like (8-10), all of their losses have been by seven points or less including three in overtime; they could easily be 12-6 or better with a few breaks here and there. But there is still a lot of that story to write, as Derek and the Wildcats have improved throughout the season and look to jell at the right time when the Region 8-AAAAAA tournament starts. But again, Derek is so much more than just the leader of an improving basketball team.
A Special Bond
Derek was born in Peoria, Illinois, he says he still prefers the cold and misses it with his easy smile.  He moved here when he was six, his father passed away when he was a youngster and the family moved south. His mom, Tiana and older sister, Saboyce, settled in Winder, Georgia. When talking to Derek and his mom, you can sense the closeness; they finish each other's sentences at times and even communicate with an unspoken eye language. Tiana works the night shift and does not get to see him play usually. She keeps up with his games via text messages afterwards and even then, "He forgets to tell me, so I have to text him to see how it went," she said while cutting her eyes towards him.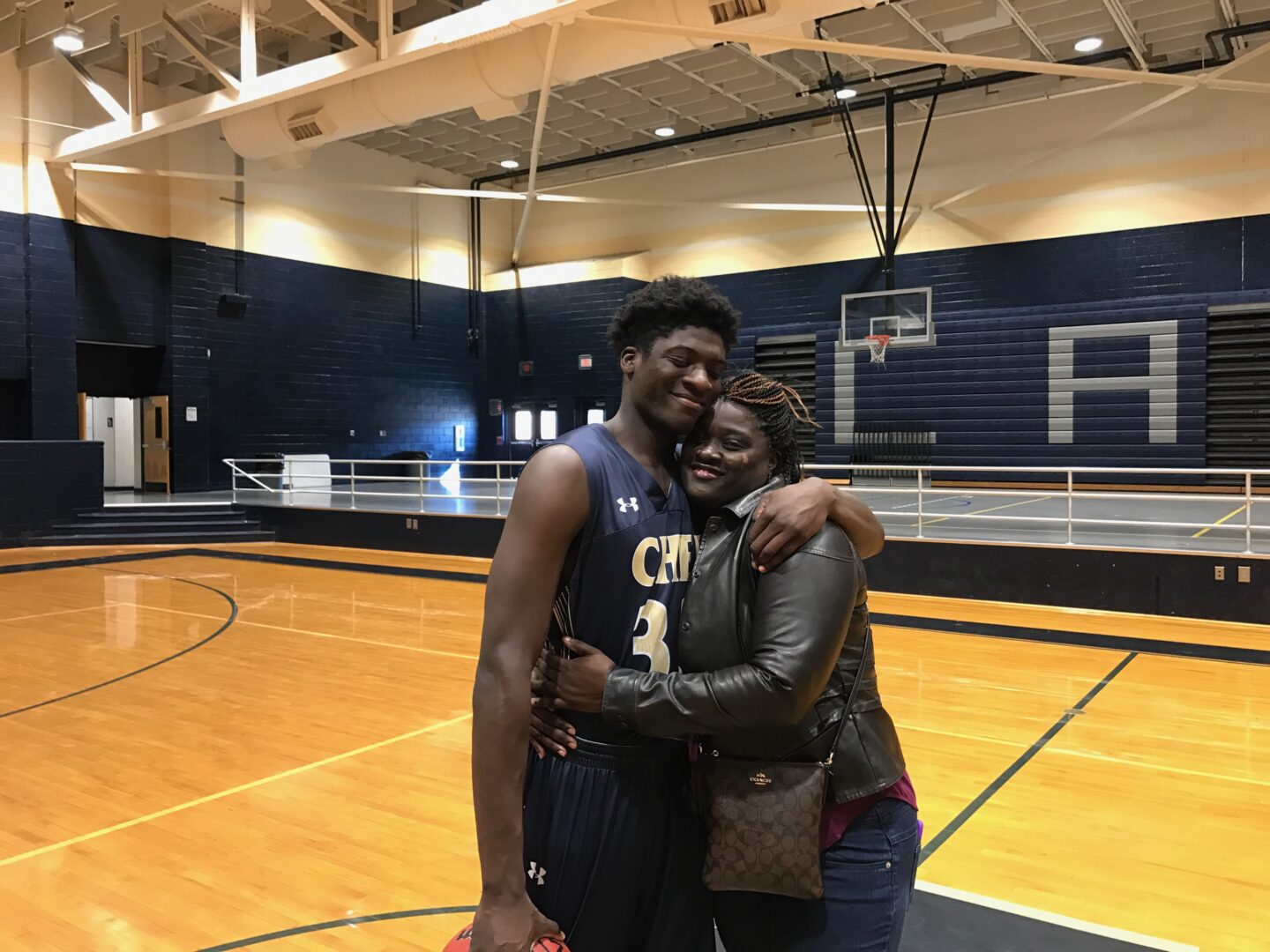 The special times for them are on her off days, when Derek cooks breakfast for her and they enjoy the opportunity to share the moment. His specialty is waffles, they are good he said.  Tiana almost glows when she talks about Derek, but not just about his athletic prowess, but because of who he is and how he is becoming a man right before her eyes. If success in life for a man is predicated on the amount of love and prayer invested in him by his mother, then Derek is in good shape.
And Derek is there for her as well. When she faced major health scares in the past two years, Derek became the son/nurse, they are family and they stick close, which is all they know. Success is born in the tight knit fabric of family and Tiana and Derek are a testimony to that.
A Legacy at Apalachee  
Derek's sister, Saboyce, five years his senior, left a great legacy at Apalachee. Quite the basketball player herself, she reached the 1,000-point threshold in her career and signed a scholarship to play college ball at Emanuel College in Franklin Springs, Georgia after she graduated in 2012.  She held the Apalachee High School girls shot-put record with a throw of 34-2.5 until 2016 when current junior Nakia Hooks, another basketball player, took the honors. Derek's conversation was light-hearted as we talked, but when it came to his sisters' influence, he suddenly got serious.  "I remember – I was in middle school and was not playing basketball and she would go outside to play and I would go with her. Even though she was with her older friends, she treated me with respect, she treated me like I was someone. That changed me. Her attitude towards me changed how I saw myself. I wanted to be like her."
Saboyce lives in Illinois now and the gym she starred in is now under her brother's watch, but as a player who scored often – she once took 50 shots in a game against Clarke Central – her biggest current contribution is the assist she provided by helping the in development of Derek.
Late Bloomer
In today's microwave environment of developing the basketball talents of youngsters, the norm is for players to enter to the competitive grind of club basketball around age 9 or 10. For those who want to go big time, the prevalent thought is you play year-round at the highest level. From this, skills are honed but more importantly, players become known to the college recruiters before ever entering high school.  While the current stars of the Class of 2018 were spending their summers traveling to gyms all around the state, Derek took a different path; he developed his music. Before Saboyce drug him outside to play hoops, he was at home with his drum set.  Music was his oasis and playing in the praise band at his church was his arena to be seen.
To this day, he still plays the drums at Grace Missionary Baptist Church. The Pastor there, Robert Ballard has been his mentor since he was in the fourth grade. Coincidently, Rev. Ballard is also the PA announcer for Apalachee basketball, so he gets to see both sides of Derek, the music and the basketball.  Ballard shared, "Derek is really an exceptional young man. Whether it is his athletic or musical abilities, it is clear to see he is truly gifted. But his greatest gifts are his ability to connect with people regardless of age, interests or skin color. Everyone loves him and sees him as their own.  The school cafeteria workers adore him because he is one of the few students that give them hugs and tells them thank you."
Tiana said it best, "He is a well-rounded young man, he has a love for people and people are drawn to him. He lost his father at an early age and I think that is a big reason for him loving people." It doesn't take long to be around Derek to sense that about him.
Revisiting a Scare
Last season, the Apalachee Wildcats, led by two senior All-Region guards, were holding onto third-place in the region. On January 20, 2017, Derek scored 21 points as the Wildcats held off rival Winder-Barrow.  In early February, with the tournament coming up, Derek suffered a season-ending knee injury. While there was physical pain for the injury, the mental strain was tough too. His jovial, whimsical demeanor turned very serious during the conversation. He shared, "While I was hurting, it was tough because I felt like I let my teammates down. It took a long time for me to get over that."
The Wildcats lost their final four games of the 2016-17 season, including twice against Winder-Barrow and came up short in their goal to make the state tournament. It is easy to see that experience left mixed emotions on Derek and he has wrestled with those feelings a lot over the past 12 months.  While the pain is gone, the desire to move past the experience mentally is evident.
Game Day
A tour of the Apalachee High School student parking lot is like many of the affluent schools in the metro-Atlanta area, big trucks and nice cars. But for Derek, game day starts on the school bus. Tiana gets off work around 3:15 a.m. and is asleep when it's time for him to head to school. But as in all the other aspects of his life, Derek uses the time on the bus to begin preparation for the game, "I start the day with my music," he offered, "I listen to different things, it always starts my routine and gets me ready."
After school, when the JV and 9th grade games start, you will find the star forward in the concession stand making fries and hot dogs, he loves serving and being around people, it is where he is most comfortable.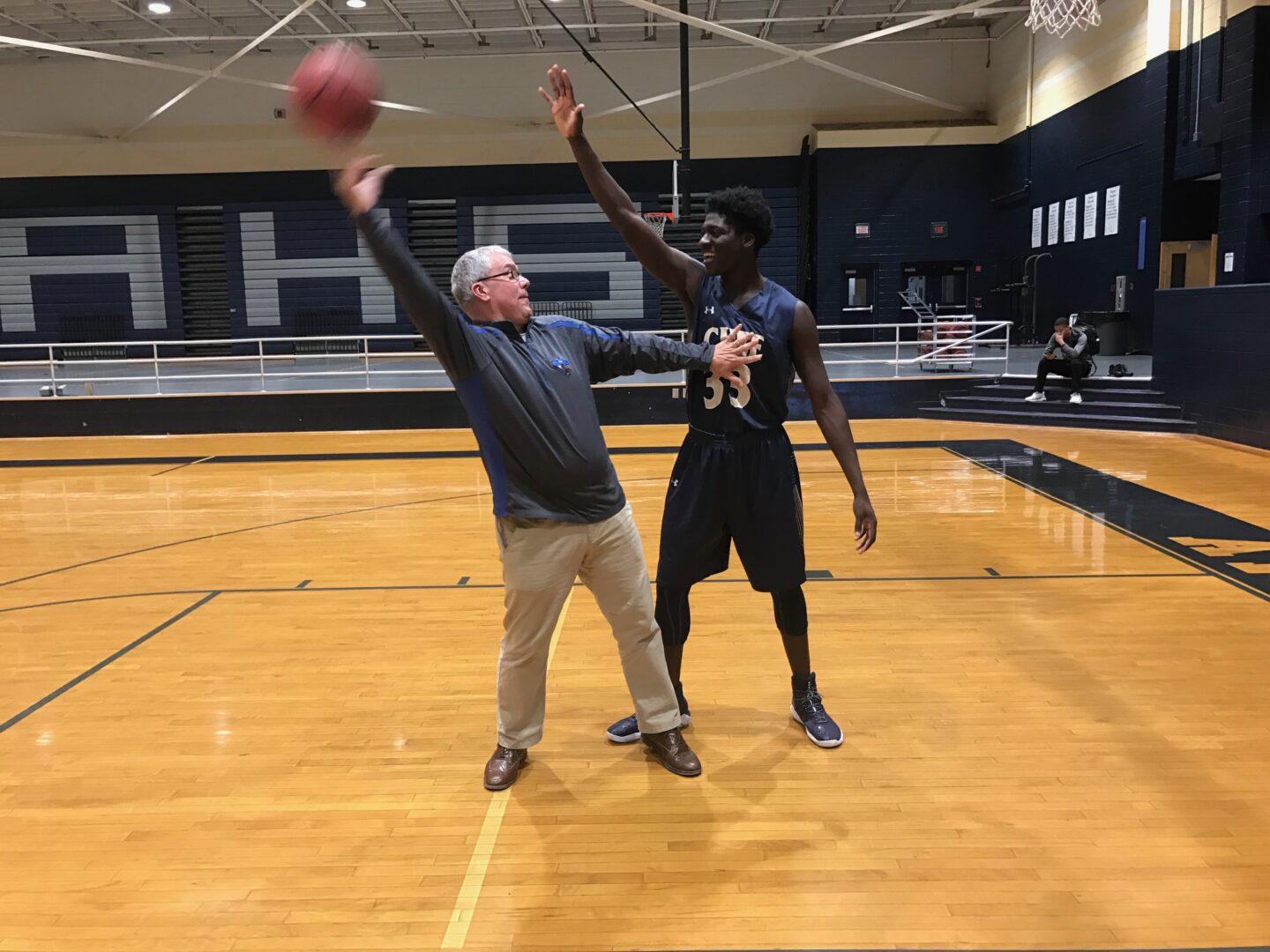 Once it's game-time, Derek is mentally at peace, no moment is too big for him. Coach Bernstein says of Derek, "He is a physical specimen, he has unbelievable stamina and he is fast and never shows fatigue on the court." When asked what he thinks when he gets the ball, he dead-panned, "Four things, in this order; dunk, hook shot, pass or get fouled."  His dunks are what the fans wants to see.  Against Banks County earlier this season, Derek had an exceptional flush that jolted the crowd. He said, "I could feel the rush of energy from the crowd, it was an exciting moment." While he may be a late bloomer to the game, he has no problem thinking like a big man.
In terms of the professional game, his favorite player is Russell Westbrook, "I admire the way he runs the floor, but I really like the way he hypes up his teammates. I want to be like that. Everyone on the team is my teammate and I want to make them better. "
Wrapping up a Career
Derek has come back strong from the injury, he is currently averaging 15.1 points, 12.3 rebounds and 2.7 blocks per game. His career field goal percentage sits at 55%, he is a three-year starter and has improved each year. While he may have gotten a late start, his passion for the game burns hotter that any five-star. His immediate goal is to push the Wildcats to the state tournament and finish high, but then the curtain on his high school career will close.
But that will not be the ending, it will just be a new chapter. Derek just wants a chance to play at the next level, he and his coaching staff are working towards that goal. Coach Bernstein summed it up, "I wish I had a team full of Dereks, he is that special. If I am a college coach, I want Derek on my team. I know he can play at the next level, there is no doubt in my mind. We just need to get him the looks, we need coaches to come out and experience Derek's game firsthand."
When that goal becomes a reality in Derek's life, there will be a new chapter to write in this story, but for now, Derek is just happy to be Derek, to spend a few more mornings making waffles for Tiana and being a great friend to those at Apalachee High School.  While many want to move on to the next level, Derek has the unique ability to just enjoy the moment and soak it all in. It's a lesson that Derek can teach us all.