No. 8 Maynard Jackson 69, No. 9 Lithia Springs 64 OT
Region 6-AAAAA has statewide implications. No. 9 @Itsthemanething hosts No. 8 @BballMaynard. Both teams undefeated.

It's Lithia's first time in the Top 10 this week. Do they belong? Let's find out! pic.twitter.com/JUNKnHMD7X

— Kyle Sandy (@KyleSandy355) December 14, 2017
We need more Wednesday night games. Thanks to the snow storm of last week, No. 8 Maynard Jackson (9-0) vs. No. 9 Lithia Springs (7-1) was pushed back and thank goodness it was. With undefeated records and first-place in Region 6-AAAAA on the line, both teams left everything on the floor after a sluggish start, but in the end, it was the Jaguars finding a way to survive in overtime in front of a hostile home crowd.
There were no high-flying offensive spectacles on display at Lithia Springs, instead it was a throwback hard-nosed ugly game to start. Both teams struggled to score, especially Maynard Jackson with 6-foot-7 senior forward TJ Boykin coming off the bench with a bad back. Lithia Springs took a quick lead behind a Terrence Ashford three-ball.
1Q; 5:15
No. 9 @Itsthemanething 6
No. 8 @BballMaynard 2

Terrence Ashford drills the three pic.twitter.com/CsS3EDky15

— Kyle Sandy (@KyleSandy355) December 14, 2017
Both teams pressed each other, with the Lions forcing some early turnovers while making it a point to keep the ball out of Marquavis Carter's hands, likely the Region's best player entering the night averaging 23.8 points. The Lions held Carter scoreless in the first quarter and took a gritty 10-8 lead into the second quarter.
Maynard Jackson got their footing and started to turn the tables with their 2-2-1 press but couldn't quite take control of the game as a quick 4-0 spurt, which felt like much more at the time, forced a Coach Travis Williams timeout with his Jaguars trailing 16-10 at the 3:42 mark of the second quarter.
The pace quickened and the home crowd started to make its presence felt as the Lions finished the quarter on a 7-3 run sparked by 6-foot-5 freshman post Omarion Smith's defense, helping Lithia Springs take a 25-17 lead into the half. Smith, who came in averaging over six blocks per game, started flying around, turning his defense into Lions offense, blocking four shots in the half while Ashford and Anthony Hardy traded buckets to grow the lead.
Down eight points, halftime couldn't have come at a better time for Maynard Jackson. Carter was held to three points while Boykin entered off the bench with three quick turnovers and zero offensive production. The saving grace for the Jaguars was the play of Damari "DJ" Johnson. With Carter and Boykin held to nearly nothing, it was the 5-foot-8 senior who decided to step up. Johnson steadied the Jags with six first half points, three rebounds and three assists, but if Maynard Jackson was to remain undefeated, they would need major contributions from their horses in the second half and that is exactly what they got.
As if a switch was flipped, the Jaguars became the aggressor in the third quarter. Maynard Jackson cut the Lithia Springs to 27-26 at the 5:11 mark behind a 7-0 run sparked by Johnson, who made a layup followed by a Boykin three and a Timipa Ogoun bucket inside.
With the Jaguars pulling close, Ashford answered back with an old-fashioned three-point play to ease the lead back to four.
3Q; 3:59
No. 9 @Itsthemanething 32
No. 8 @BballMaynard 28

Terrence Ashford completes a huge And1. He has 13 points. @mahone_derrick pic.twitter.com/3pEALhQhSV

— Kyle Sandy (@KyleSandy355) December 14, 2017
But from there, Maynard Jackson surged ahead, closing the third quarter on a 9-2 run and outscoring the Lions 20-9 in the frame for a 37-34 advantage. Ashford scored seven of Lithia's nine points in the quarter but Maynard Jackson began to see their stars break free, Johnson scoring six points, followed by Carter and Boykin's five apiece.
Back and forth the two teams traded leads throughout the fourth quarter. Senior Christian Horton, who scored all four of his points in the fourth quarter, finally saw the ball drop through with a tough hook shot in the lane as Lithia Springs regained a 42-41 lead at the 5:25 mark.
4Q, 5:25
No. 9 @Itsthemanething 42
No. 8 @BballMaynard 41

Christian Horton has been quiet tonight but hits a big one in the lane. pic.twitter.com/nrZxGc26PH

— Kyle Sandy (@KyleSandy355) December 14, 2017
But in a foreboding sign, Carter got to the line on what looked like a bad call and sank both free throws. Carter finished the night with a game-high 22 points but only made three field goals, the rest coming on 15-of-19 shooting from the foul line including going 14-of-17 in the fourth quarter and overtime.
4Q; 4:20@BballMaynard 45@Itsthemanething 42

Refs give it back to @mjjaguars. Bad foul call, Marquavis Carter hits both FT pic.twitter.com/4lGsCqFO1S

— Kyle Sandy (@KyleSandy355) December 14, 2017
The Lions held a 46-45 lead with 2:37 on the clock and sent Hardy to the line with a chance to extend it, but instead Hardy went 0-for-2 and Johnson raced down the floor and handed out one of his game-high six assists to Marquis Colzie to give Maynard Jackson a 47-46 advantage.
Johnson struck yet again with a scoop shot in the lane with just over a minute to play giving the Jaguars a 50-48 edge. After a missed jumper, Maynard Jackson controlled the rebound and Boykin was fouled with 36.9 seconds remaining, where he would split a pair of free throws. Hardy attacked in transition off the miss but went 1-of-2 from the line putting the score at 51-49. Colzie grabbed the rebound and was immediately fouled. He missed the front-end of the one-and-one, allowing Lithia Springs to advance the ball with 18 seconds left before Coach JW Cantrell called timeout.
FINISH between No. 8 Maynard Jackson & No. 9 Lithia Springs https://t.co/DT3iWTzPj1

— Kyle Sandy (@KyleSandy355) December 14, 2017
Ogoun swatted a drive attempt out of bounds, putting the Lions in the corner with 10.4 seconds remaining in regulation. Lithia Springs turned it over with 6.8 seconds left and Ogoun was sent to the line with a chance to ice it with two free throws. He hit his first, making it a three-point game and the Lions seemingly in need of a miracle. Ogoun missed his second free throw and the Lions' prayers were answered. Chance Ellison grabbed the rebound and quickly tossed it to junior guard Karee Anderson, who quickly advanced it up the left sideline. The lefty pulled-up on a dime and drilled a three at the buzzer in front of a defender to send the game to overtime time at 52-52 and the crowd into a frenzy.
Final 10 seconds. No. 9 Lithia Springs down 2 to No. 8 Maynard Jackson https://t.co/m9gTo880Ky

— Kyle Sandy (@KyleSandy355) December 14, 2017
In overtime, Lithia Springs held a 57-56 lead with 1:05 left, but Carter drew a foul curling from the left of the arc to the top of the perimeter where he was able to exaggerate the contact and baited the refs into calling a foul. Carter buried all three free throws to take a 59-57 lead that the Jags would never lose. The Lions cut the score to 64-62 with 12.8 seconds left and 66-64 with 4.7 remaining but the Jaguars were money from the line going 15-of-19 in overtime, Carter sinking 9-of-11 and Johnson 4-of-4 to ice the game.
My Take
After an ugly start to the game, No. 8 Maynard Jackson at No.9 Lithia Springs ended up being one of the best games I have seen this year. The house was loud and the place was packed in the lower bowl section. I didn't see enough for either team to be considered legit state title contenders, especially with No. 1 Warner Robins, No. 2 Buford and the deadly Region 5 group that this Region 6 has to pair up with in the first round, but I did see two well-coached teams that had their kids playing hard. Both teams have some tricky guards that can give opponents trouble in the state playoffs and could advance a few rounds in.
Marquavis Carter was held in check the entire game, but the fact that he could score 22 points on three made field goals is impressive. The 6-foot-1 lefty off-guard has a pretty stroke that is often lethal when given space to fire. Credit Lithia Springs' high energy defense for knowing where Carter was at all times, but like all great players can, Carter still found a way to beat the Lions by getting to the line. I was most impressed by little DJ Johnson. He didn't look like much, the smallest player on the floor with a vibrant red-mouth piece, but Johnson was great. So pesky, he kept finding ways to score in the paint and even come away with offensive rebounds at 5-foot-8. Without his consistent play throughout, there is no way Maynard Jackson wins this game. 6-foot-7 senior TJ Boykin has been a highly touted prospect his entire career at Columbia then transferred into Maynard Jackson for his final season. I was told that he had a bad back, but I came away unimpressed. His motor was in hibernation mode for much of the game and he didn't play with much energy. The potential is still there, but I'm not sure we will ever see him dominate at the high school level like we might have thought he could a few years back. He's still a super intriguing player at the next level. We might be able to chalk up his lackluster performance to his back, but we will have to see; the clock is ticking. 6-foot-5 sophomore post Timipa Ogoun kind of reminds me of 2017 River Ridge graduate Destin Exinor with his body type and athleticism. You can tell Ogoun is young and a little raw, but he has a quick leap and came up big with some late rebounds and blocks.
Lithia Springs has a stable of steady players, no real stars. They can nickel and dime you for 10 points apiece and make defending them a real headache. Senior Terrence Ashford came up big for the Lions and was fearless attacking the basket as was sophomore leading scorer Anthony Hardy. Hands down I was most impressed by 6-foot-5 freshman Omarion Smith. He is an elite shot-blocker in the class of 2021 and considering his size, he might be the best rim protector in the state for his grade right now. He gets to nearly every single ball that is shot his way (8 blocks) and rebounds his area effectively. He even showed off a 15-footer, but his offense is still improving and he doesn't see many post touches. He will be a player to track over the next few years, especially if he can squeeze out a few more inches to his frame.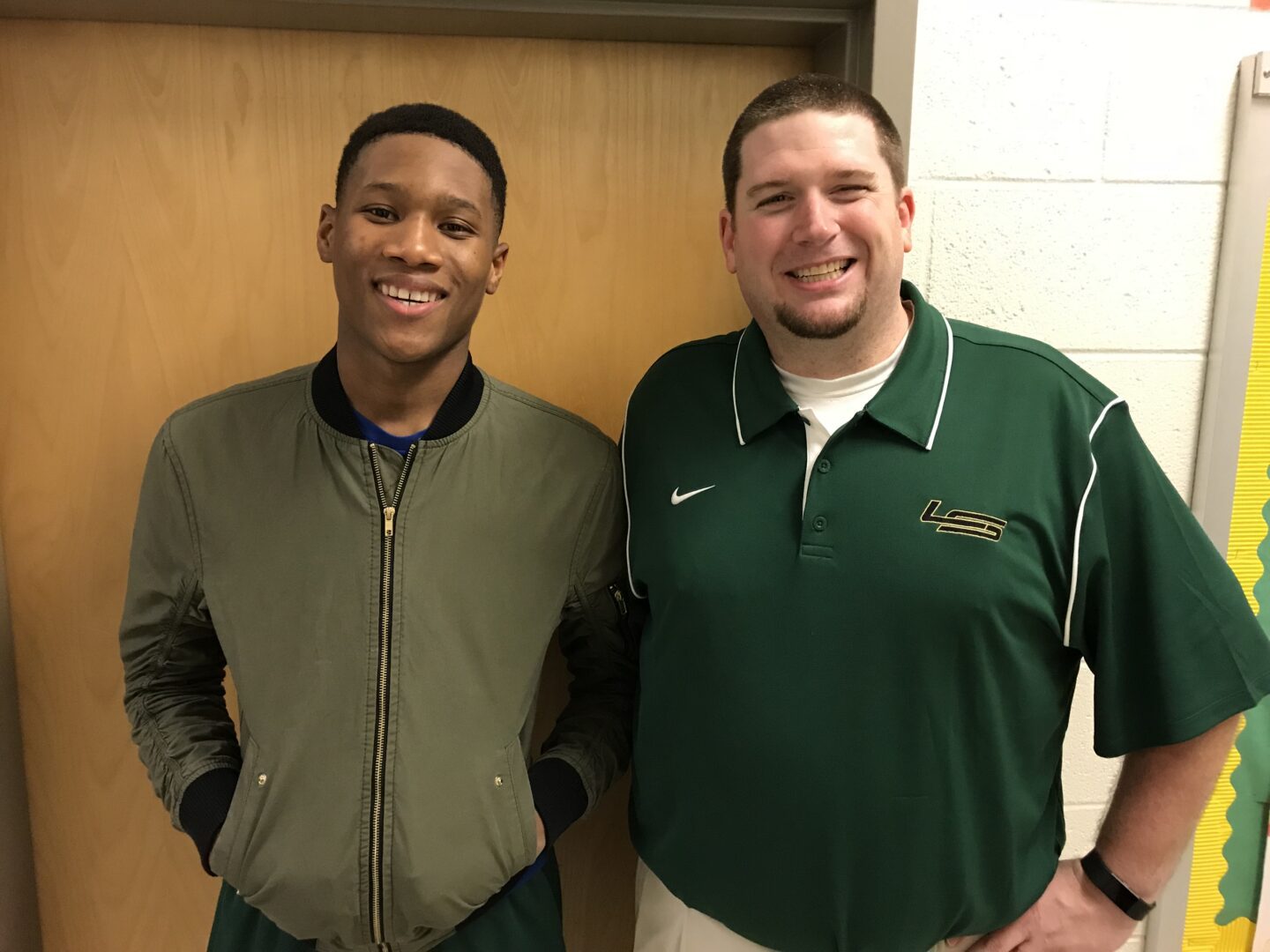 Top Performers
Maynard Jackson
Marquavis Carter – 22 points (15-of-19 FT), 7 rebounds, 1 assist, 1 steal
DJ Johnson – 18 points, 7 rebounds, 6 assists, 1 steal, 1 block
TJ Boykin – 9 points, 10 rebounds, 1 assist, 1 steal, 1 block
Marquis Colzie – 9 points, 7 rebounds, 1 assist, 3 blocks
Timpia Ogoun – 5 points, 7 rebounds, 1 steal, 2 blocks
Lithia Springs
Terrence Ashford – 17 points, 6 rebounds, 1 assist, 1 steal
Anthony Hardy – 17 points, 3 rebounds, 2 steals
Omarion Smith – 9 points, 10 rebounds, 8 blocks
Karee Anderson – 7 points, 4 rebounds, 4 assists, 2 steals