People always ask me, "What's the best game in town this week?"
Peach State Stops of the Week will highlight some of the best basketball being played in Georgia for the current week. Whether it's a tournament/showcase, a region rivalry, a Top 10 showdown, or a seldom heard sleeper, Peach State Stops of the Week will let you know what gym you need to get into
TUESDAY
No. 6 Fellowship Christian at No. 4 Our Lady of Mercy

[Girls]
Looking for two elite High Major All-State players that carry their teams? You will want to take a trip down Evander Holyfield Highway to watch reigning Class A-Private Player of the Year Morgan Jones (Florida State) trade buckets with future Colorado Buffalo Cameron Swartz in this heavyweight bout. Jones is the state's most unstoppable force, pouring in 36.2 points and 11.7 rebounds per game as a 6-foot-2 forward. She has led the Lady Bobcats to a 5-1 start including a 59-48 upset of No. 5 Landmark Christian last week to propel Our Lady of Mercy into the Top 10. Jones dumped in 47 points and 20 rebounds and has her Bobcats making noise statewide after finishing 13-13 a year ago. If Jones is the state's most unstoppable player, Swartz is one of Class A-Private's most explosive athletes and versatile scorers. The 5-foot-11 guard makes plays all over the floor for Fellowship Christian (2-2), averaging 33.5 points, 6 rebounds, 2 assists and 3.7 steals. She is a threat to score once she steps over half-court and isn't afraid to fire away from all angles. Expect fireworks tonight.
No. 5 Grayson at No. 4 Newton
Two juggernauts collide for early season supremacy in Region 8-AAAAAAA. Ashton Hagans has been unstoppable for Newton (7-0), collecting five consecutive triple-doubles. The Rams have not missed a step from last year's 28-2 team that fell in the Elite Eight, even after graduating JD Notae (Jacksonville) and Isaiah Miller (UNCG). Tyrease Brown has emerged as one of the state's most lethal shooters while Hagans has toys inside with Dre Butler and Armani Harris to finish around the rim. The Rams have much more inside-outside balance than they had a year ago, giving teams headaches trying to figure out how to slow down the high-flying offense that averages 86.8 points per game – tops in Class AAAAAAA. Something will have to give as Grayson (4-1) enters with defense being their calling card, allowing just 52.6 points per game, their highest point total allowed coming in a 67-64 loss to Class AAAAA No. 1 Warner Robins. The Rams can get a bucket when they need it from their deep backcourt headlined by Charleston Southern-signee Travis Anderson. Fellow senior Nick Edwards is one of the state's better unsigned guards while DJ Williams, Reco Hallmon and Justin Fleming all provide their own unique dynamic. Luol Solomon, Orvel Graham and Deivon Smith have provided sparks throughout the season while the post is anchored by double-double man 6-foot-6 Kenyon Jackson and 6-foot-7 senior Terrence Porter. You can watch LIVE on SUVtv.
WEDNESDAY
No. 8 Maynard Jackson at No. 9 Lithia Springs
Last week's snow storm affords us a full week of high school basketball with Region 6-AAAAA front runners locking up for sole possession of first place on a rare Wednesday-nighter. Head Coach Travis Williams has breathed new life into the Maynard Jackson (8-0) program and has the Jaguars off to their best start in over a decade in just Year 2 at the helm. Senior Marquavis Carter has been lights out from deep, averaging 23.8 points while connecting on 20-of-47 three-pointers. The addition of 6-foot-7 senior TJ Boykin has provided a versatile piece that can do a little bit of everything while 6-foot-5 sophomore Timpia Ogoun has developed into a sturdy post presence that averages 9.8 points, 10.5 rebounds and 2.1 blocks. Lithia Springs (7-0) just cracked the Top 10 this week behind a balance of youth and veterans. Sophomore guard Anthony Hardy has led a balanced scoring attack with over 14 points per game. 6-foot-5 freshman post Omarion Smith has dominated defensively around the rim, blocking 6.2 shots per game to go with his 9.8 points and 5.6 rebounds. Seniors Christian Horton, KeyShawn Phillips and Terrence Ashford have all contributed consistently this season.
FRIDAY
No. 7 Swainsboro at No. 4 Jeff Davis
Hazlehurst, GA might be considered "the middle of nowhere" to us city slickers up north, but that doesn't mean the area isn't a hotbed for good basketball. Jeff Davis (6-0) is home to possibly the best 2020 player you haven't heard of, but you should have by now: Ja'Queze Kirby. The hyper-athletic and high-motor forward is a 6-foot-5 energizer bunny that does everything for the Yellow Jackets. The 2016-17 Class AA Freshman of the Year led Jeff Davis in nearly every category, posting 14.8 points, 11.7 rebounds, 3.3 assists, 2.1 steals, 3.2 blocks and is improving across the board this season. Seniors Kirese Manley and Chandler Davenport are big shot makers while Tae Thomas is the sparkplug at point guard. They will have a chance to prove themselves a worthy state title contender as they host Preseason No. 1 Swainsboro, who looks motivated after taking a 71-36 beating to Statesboro 10 days ago. The core of All-State First Teamer Jaylan McKinney, Jamil Watkins and Eddie Roberts is still to be feared in Class AA. The Yellow Jackets will have to find a way to slow down McKinney, a binge scorer that averaged over 28 points per game last year, if they want to continue climbing up the rankings.
SATURDAY
2017 SEBA Atlanta Hoop Festival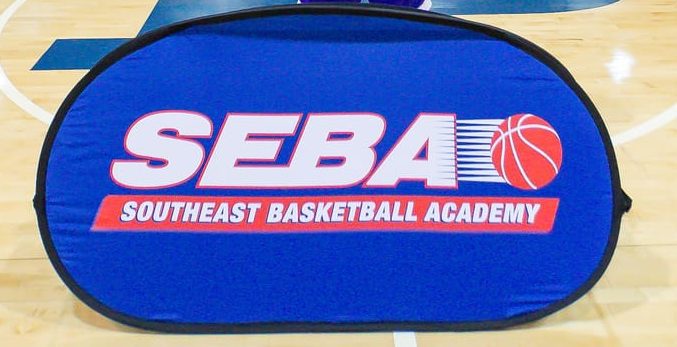 A true favorite, the SEBA Atlanta Hoop Festival held by William LoPresti is back at Pope High School marking its 10th annual edition. A loaded field features a bevy of talent.
2 PM: Blessed Trinity vs. Hillgrove
3:30 PM: Berkmar vs. Mt. Bethel Christian
5 PM: Hoover (AL) vs. Kennesaw Mountain
6:30 PM: No. 8 Duluth vs. No. 1 McEachern
8 PM: No. 2 Dacula vs. Pope
For an excellent preview of each team, visit SEBA's Preview Page.
Gwinnett Daily Post Metro Atlanta Challenge
Gwinnett County is slam packed with basketball this Saturday as 15 different in-county schools are in action across three different gymnasiums. Matchups are provided courtesy of the Sandy's Spiel graphics department.