People always ask me, "What's the best game in town this week?"
Peach State Stops of the Week will highlight some of the best basketball being played in Georgia for the current week. Whether it's a tournament/showcase, a region rivalry, a Top 10 showdown, or a seldom heard sleeper, Peach State Stops of the Week will let you know what gym you need to get into
WEDNESDAY
No. 3 Calhoun County at No. 4 Montgomery County
Coming off an upset loss to No. 6 Manchester 53-49, No. 3 Calhoun County (8-1) has no time to wallow in self-pity. They turn around and face a tough No. 4 Montgomery County (7-1) team with a star scorer of their own. Senior guard Daveaun Coglin piles in buckets at a high rate and will be asked to carry the Eagles past an angry group of Cougars led by South Florida-signee Rashun Williams.
Campbell at No. 9 Pebblebrook
At 6-2, Pebblebrook has seen a plethora of high level talent before entering Region 2-AAAAAAA play. They kicked off their region schedule with a come from behind 71-68 win to stun No. 6 Wheeler. The backcourt of Dwight Murray, Grant Howard, Jalen Harper and Khalil Hawkins has powered the Falcons offense, with Canisius-signee Mervin James and Josh Graham doing the dirty work in the front court. As potent as the Falcons are when they are clicking, they will have their hands full with Campbell. Without all the D-1 stars that he usually coaches against night in and night out in Region 2, Coach James Gwyn always gets the most out of his players and seemingly always pushes his high-profile opponents to the limit. Junior point guard Terrell Burden is flourishing this year, the 5-foot-9 playmaker averaging 17.2 points, 6.6 assists and 3.2 steals. 6-foot-5 junior wing Donovan Grant is a knock-down shooter averaging 15 points and 5.6 rebounds while Kiya Randolph (12.1 ppg, 5.4 rpg) and Brandon Deravine (11.3 ppg, 10.3 rpg, 2.6 bpg) are also tough covers.
FRIDAY
No. 7 Greenforest at No. 3 ELCA
To reestablish themselves as a true title contender in Class A-Private, the two-time defending state champion Eagles (3-4) will have to play well against ELCA (8-1). The Chargers have hit their stride and have left no doubt against their opponents. Greenforest is the start of a challenging stretch of games. 6-foot-8 Malachi Rhodes will need to stay out of foul trouble to keep ELCA playing to their potential. He is averaging 14.3 points and 10.9 rebounds. Power forward Jamaine Mann is a physical and explosive sophomore posting 9.8 points and 8.7 rebounds. A balanced backcourt consists of Trevon Reddish, KJ Jones, Kamari Smith and Mekhi Cameron. Greenforest will have to handle the Charger press. Turnovers have crippled the Eagles against top competition. With a completely new team full of transfers, chemistry has lacked early in the season and may still take some time to jell. Jaylyn Clark leads the team at 18 points per game while Christian Jackson pitches in 16.1 a night. The Eagles have raw size inside. It will be interesting to see if 6-foot-8, 215-pound Ibrahim Jarjou and 6-foot-10, 260-pound Bright Okongwu can slow down Rhodes around the rim.
THURSDAY-SATURDAY
Hawks-Naismith Holiday Classic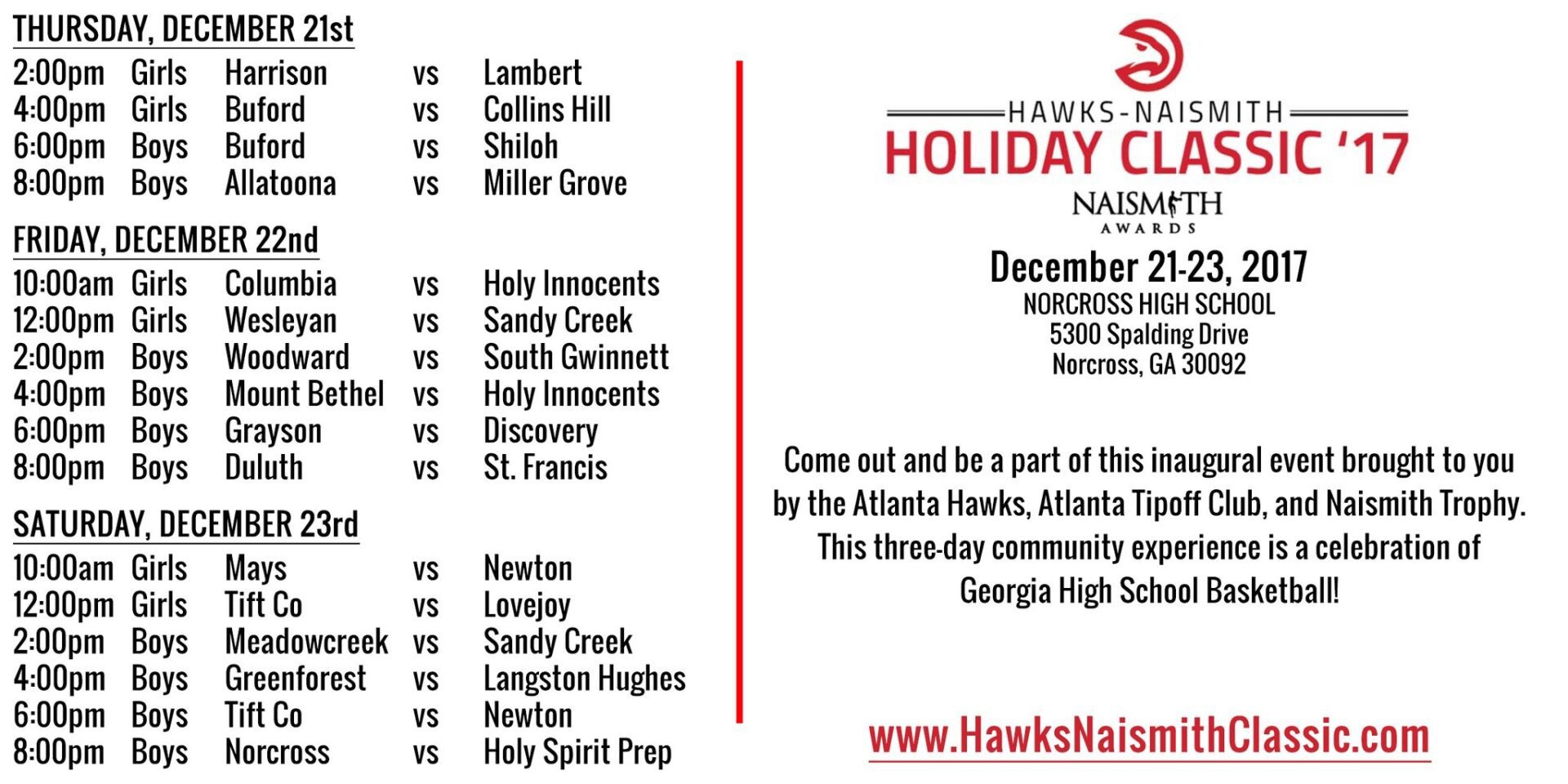 The first annual Hawks-Naismith Holiday Classic at Norcross has good games galore. There are a couple grudge matches on the docket that provide the best storylines, if not the best games. On Thursday, Allatoona gets a 2015-16 state championship rematch with No. 4 Miller Grove, Coach Sharman White's final high school game, beating the Bucs 50-48 during the Macon Centreplex debacle. The night cap on Friday features No. 10 Duluth vs. No. 1 St. Francis. Coach Cabral Huff brought a 2014 state championship to St. Francis before leaving for the college ranks and returning last year to take over the reins at Duluth. Saturday night at 6 PM pits Tift County against No. 7 Newton. The Blue Devils ended the Rams' season last year in the Elite 8, stunning the home crowd at Newton. The defending Class AAAAAAA state champions don't have the fire power they had last year, but still are a thorn in opponents' sides. Expect Ashton Hagans' Rams to come out uber-motivated for revenge.