No. 5 Sequoyah 67, No. 1 South Cobb 56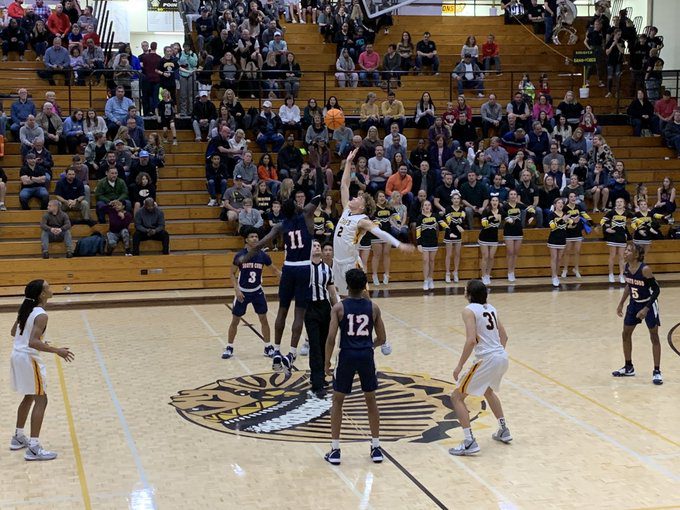 It's not often in Sequoyah basketball history that the Chiefs could go toe-to-toe and match fire power with the elites in the state. From Adam Benton to Tyler Deihl to Sean Tate, the Chiefs have seen high scoring guards pour through the doors. Mercer-signee Jacksen Greco tops them all, recently surpassing the historic trio for the all-time scoring record in Chiefs history but aside from his scoring prowess he is the front man for No. 5 Sequoyah (15-4, 9-2) who fields likely their best team in school history and have been knocking on the door of becoming a state contender. On Tuesday night, the Chiefs barged through the door with a 67-56 win over No. 1 South Cobb (18-2, 11-1) snapping the Eagles' 17-game winning streak and pushing Sequoyah's to 10-straight. Greco got his fill, scoring 17 points but it was 6-foot-5 senior Dashaun Robinson, who was showered with MVP chants, that took over in the fourth quarter and lifted the Chiefs past the Eagles to notch Sequoyah's biggest win in school history and give them momentum but more importantly confidence heading into the home stretch of the season that they can beat the best of the best.
Winning 78-68 in their first meeting, South Cobb started the game with star sophomore Zocko Littleton Jr. on the bench. Once he checked in, the sharpshooter immediately drilled a three and sparked a 7-0 run before Arthur Parker hit a baseline jumper for Sequoyah to settle the score at 7-4 in favor of the Eagles.
1Q; 6:14
No. 1 @SouthCobbBball 3
No. 5 @sequoyahBball 2@zj_littleton checks in and is given a wide open three. pic.twitter.com/oz7amgDPGj

— Kyle Sandy (@KyleSandy355) January 15, 2020
1Q; 5:24
No. 1 @SouthCobbBball 7
No. 5 @sequoyahBball 4

Arthur Parker comes off the bench to end a 7-0 run via the @dshipp15 assist. pic.twitter.com/AFELeIAcld

— Kyle Sandy (@KyleSandy355) January 15, 2020
6-foot-7 Illinois State-signee Emon Washington hurt the Chiefs early and often. Attacking from the high post, Washington scored nine points and put the Chiefs in foul trouble. Trailing 12-9 at the 2:49 mark, Greco was sent to the bench with his second foul but Sequoyah's bench highlighted by Parker and sophomore Dylan Wolle combined for eight points to keep the Chiefs tight, ending the first quarter down 17-15.
Back on the floor, Greco sparked a momentum shifting 13-0 run on an off-balance runner.
2Q; 6:10
No. 1 @SouthCobbBball 21
No. 5 @sequoyahBball 19

Tough off balance shot from @jacksengreco pic.twitter.com/JPCaV6F4BQ

— Kyle Sandy (@KyleSandy355) January 15, 2020
A dunk from Ayden Watson and a Robinson bucket inside gave the Chiefs the lead 23-21, their first since 2-0 and a lead they would never relinquish. Donovan Shipp capped the stretch with a layup to make it a 30-21 advantage at the 2:46 mark before Raymond Baka ended the drought.
2Q; 2:46
No. 5 @sequoyahBball 30
No. 1 @SouthCobbBball 21

13-0 run after @dshipp15 slips his way to the basket. Chiefs have not backed down an inch. pic.twitter.com/y30myMJDm8

— Kyle Sandy (@KyleSandy355) January 15, 2020
Sequoyah doubled up the Eagles in the frame, outscoring South Cobb 20-10 to take a 35-27 lead into halftime as the Chiefs held Washington scoreless in the second quarter.
In the third quarter, South Cobb turned up the heat by pressing but sans one ineffective possession, the Chiefs quickly regained their flow and kept their lead in double figures behind a Robinson put-back and Myles McGee kiss off the glass.
3Q; 4:45
No. 5 @sequoyahBball 41
No. 1 @SouthCobbBball 31@DjayRobin11 cleans up inside. pic.twitter.com/07pRX2EZwr

— Kyle Sandy (@KyleSandy355) January 15, 2020
3Q; 2:10
No. 5 @sequoyahBball 47
No. 1 @SouthCobbBball 35@_mylesmcgee_ kisses one off the glass pic.twitter.com/BMOpaCSAVg

— Kyle Sandy (@KyleSandy355) January 15, 2020
South Cobb couldn't gain any ground after falling behind and traded buckets, finding themselves down 49-39 with just eight minutes remaining as a spirited War Lodge crowd made things tough.
The Eagles found life on the shoulders of Washington, who threw down a put-back dunk, two of his game-high 23 points, to cut the lead to 51-45 with 6:19 remaining, but from that point on the Chiefs did just enough to slowly eke the lead out while Washington continued to dominate inside.
4Q; 5:37
No. 5 @sequoyahBball 53
No. 1 @SouthCobbBball 48@emon_washington is starting to assert himself inside. He finishes this And-1. pic.twitter.com/UYpoGRuAob

— Kyle Sandy (@KyleSandy355) January 15, 2020
Negating Washington's impressive play was Robinson. Entering the game averaging 8.1 points, 6.3 rebounds and 2.3 blocks, the long-armed energy giver made every play down the stretch scoring 10 of his team-high 19 points in the fourth quarter and finishing with a double-double of 10 rebounds, 2 assists and 4 blocks.
Robinson put the stamp on his heroic performance as he blocked a dunk attempt off a steal and then forced a South Cobb turnover seconds later, energizing the home crowd and all but dousing the Eagles' hope of a comeback as the clock read 63-54 with just 60 seconds remaining. Robinson, who went 7-of-7 from the foul line including 6-for-6 in the fourth quarter, finished his night to MVP chants in an effort that won't soon be forgotten.
MVP chants for @DjayRobin11

Incredible performance pic.twitter.com/I711ok7RCf

— Kyle Sandy (@KyleSandy355) January 15, 2020
Watson finished with 9 points and 7 rebounds while Shipp joined the collective effort on the glass with 8 points, 8 rebounds, 2 assists and 2 steals.
Littleton was held scoreless in the fourth quarter and finished with 11 points.
F
No. 5 @sequoyahBball 67
No. 1 @SouthCobbBball 56

Chiefs grab biggest win in school history, ending Eagles' 17-game win streak. They can win state with efforts like this.@DjayRobin11 19p (10 in 4Q) 10r 2a 4b@jacksengreco 17p 4r @emon_washington 23p 5r 3b@zj_littleton 11p pic.twitter.com/p0TTsDYs0U

— Kyle Sandy (@KyleSandy355) January 15, 2020
Top Performers
Sequoyah
Dashaun Robinson – 19 points, 10 rebounds, 2 assists, 4 blocks
Jacksen Greco – 17 points, 4 rebounds, 1 assist, 2 steals
Ayden Watson – 9 points, 7 rebounds, 1 assist
Donovan Shipp – 8 points, 8 rebounds, 2 assists, 2 steals
South Cobb
Emon Washington – 23 points, 5 rebounds, 1 assist, 1 steal, 3 blocks
Zocko Littleton – 11 points, 1 rebound, 1 assist, 1 steal
Raymond Baka – 6 points, 5 rebounds
Da'Quan Riggins – 6 points, 2 rebounds