I stopped by Peachtree Ridge High School on Saturday to check out Day 2 of their two day summer league. In attendance were: Peachtree Ridge, Statesboro, East Hall, Dacula, Mill Creek, Strom Thurmond (SC), Grayson and Buford. I caught four games on the day and was able to come away with some solid feedback.
Peachtree Ridge 52, Statesboro 47
Peachtree Ridge led for much of the game and was able to close out Statesboro after a late Blue Devil run put a scare into the Lions. Peachtree Ridge finished 19-11 last season and made a trip to the Class AAAAAA Sweet 16 where they fell to semifinalist Newton 63-61. The Lions lose Milz Tatum and Markel McCollum, but return juniors Devin Vassell and Fred Payton. Vassell, a wiry 6-foot-5 wing, netted a game-high 20 points and collected five rebounds in the win. Vassell's length allows him to play the passing lanes on the perimeter and rebound the ball inside. He will need to add weight to consistently finish inside (which he had no problem doing on Saturday) to get buckets against the state's more physical teams.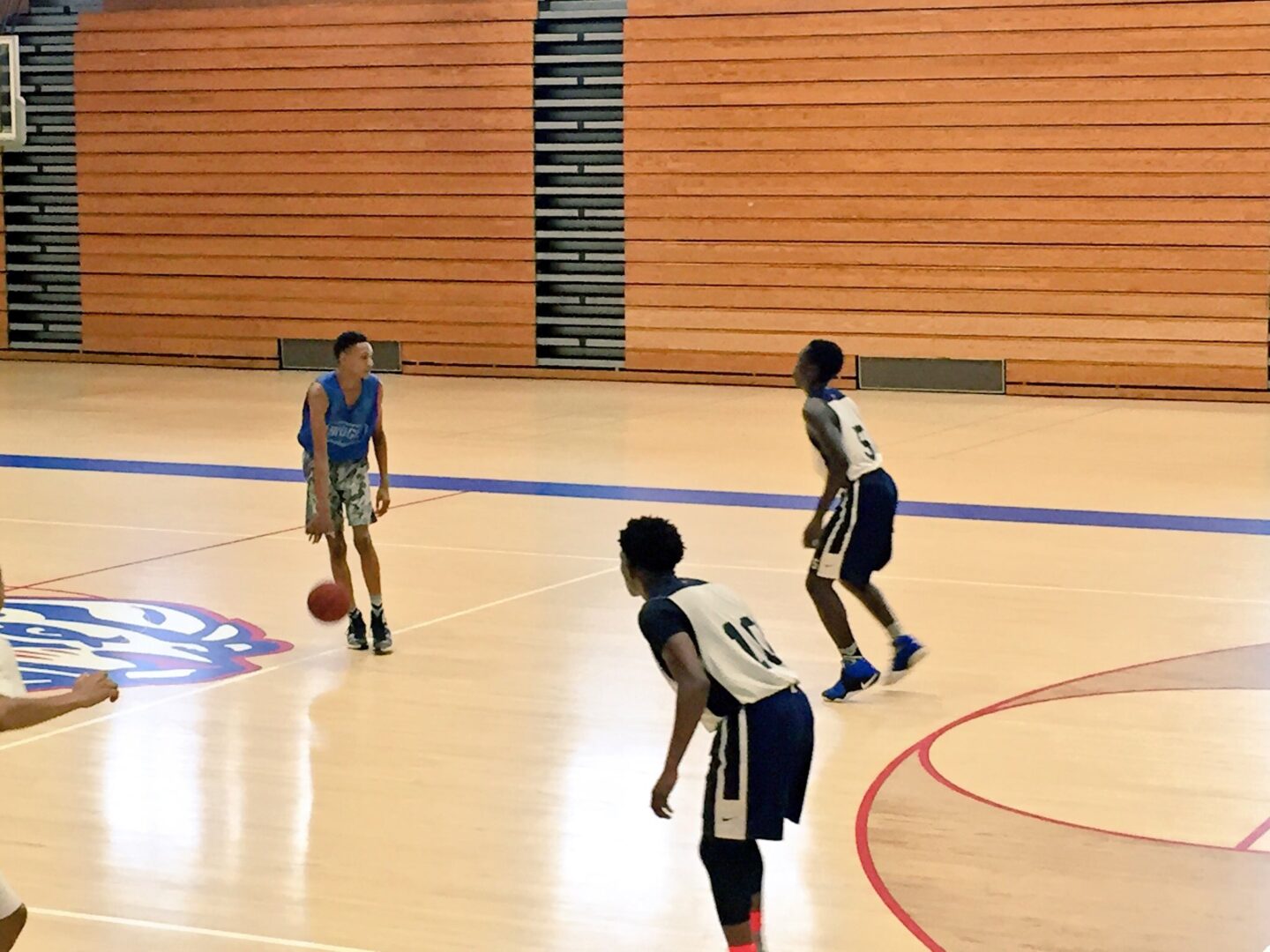 Fred Payton is the quarterback on the football team and a 6-foot-3 scorer on the basketball team. Payton knocked down three three-pointers and finished with 14 points. He is an exceptional athlete that will help on defense and stretch the floor on offense. Another big time football recruit, Connor Heyward, took to the hardwood. Heyward won't wow you with his scoring, but the 6-foot-2 guard is a physical player that likes to mix it up on defense and on the glass. His strength allows him to body up taller players inside which gives him great value on the defensive side of the ball. On offense, he is a willing passer.
Caleb Holifield, a transfer from Pace Academy, didn't have a great game but will bring a scoring knack from the outside. He is a good shooter and has experience playing with and against top level competition.
For Statesboro, a 22-9 team from a year ago that fell to quarterfinalist Riverwood 48-47 in the Class AAAAA Sweet 16, senior guard Marcus Kirkland powered the offense.  Kirkland dropped 15 points and collected two blocks. The 6-foot-2 guard hit three of the Blue Devils' seven threes. Kirkland has a strong build on him. He can get to the basket consistently and should be the leader for Coach Lee Hill's team. Junior guard Tyler Goodman added eight points and is a scrappy 5-foot-9 guard.
Mill Creek 51, Strom Thurmond (SC) 35
Mill Creek has always been known for its balanced offensive attack. The Hawks snuck into the postseason last year and finished the season 14-15 after a 70-62 loss to Lambert. Key contributors Charles Botchway, Miles Riley and Evan Richardson graduate, leaving the offense to run through rising senior Christian Mancillas. Mancillas is excellent in the classroom (4.0 GPA) and steady on the court as a 6-foot-3 forward. He can affect the game in many ways as proved by his stat line: seven points, five rebounds, three assists and two steals.
Sophomore point guard Jayden Marshall saw varsity minutes as a freshman and will be counted on to orchestrate the offense. He scored nine points in Saturday's win. Sophomore Brandon Fletcher, a 6-foot-3 forward, led the Hawks with 12 points. Fletcher played on the ninth grade team last season but could help out the varsity due to their lack of size. Junior Noah Kenney made the most of his varsity stint this past weekend, netting 11 points with nine coming via the long ball.
Strom Thurmond was led by 6-foot-1 guard Onesis Brown. The senior scored a game-high 18 points and added five blocks.
Dacula 46, Grayson 44
Dacula has had one of the best summers from the teams I have seen play so far this offseason, consistently racking up wins. Playing a depleted Grayson team without center Kenyon Jackson and other important pieces, Dacula jumped out to a 25-12 halftime lead. Grayson ramped up its defense with great communication out of a 2-3 zone in the second half. The Rams' intensity ignited a 19-2 run to take a 31-27 lead with 9:33 left. In the end, poor free throw shooting was the difference maker as the Rams ran out of gas.
Communication is the key. @graysonhoops has ramped up their talking and D in second half. Down 25-19. pic.twitter.com/JUKn6Eyu5I

— Kyle Sandy (@KyleSandy355) June 18, 2016
Dacula's balanced backcourt did the damage. Junior Arusha Hunter scored 12 points to pace the Falcons while senior Gary Bishop added 10 and five rebounds. Junior 6-foot-4 post Shayne Buckingham ended with eight points, seven rebounds and two blocks. Super sophomore Mekhail Bethea was quiet in the first half with just one basket, but scored six points in the second half including clutch free throws down the stretch to seal the victory.
Grayson's young backcourt consisted of sophomore Justin Fleming and freshman Deivon Smith, who hope to become as productive as Alphonso Willis and Austin Dukes were over their careers at Grayson. Fleming scored 10 points, grabbed five rebounds and collected two steals, but missed a huge 1-&-1 free throw with 35 seconds left down 42-39. On the day, Fleming was 0-for-4 from the line with a majority of the free throws counting as two-for-one's due to summer league rules.
Smith is a tiny guard around 5-foot-7 that has the ability to sneak past defenders and draw open looks for teammates. He finished with four points, three rebounds and four assists. Senior Joey Chavez scored a team-high 12 points and added five rebounds and a block from his forward position. He's a willing three-point shooter that will have a chance to see important varsity minutes this year. Senior Kyle Butts rebounded the ball well. The 6-foot-4 forward totaled six points and 11 rebounds in the loss.
Buford 62, Strom Thurmond (SC) 41
Coach Eddie Martin has not rested on his laurels at Buford. The veteran head coach still teaches non-stop on the sidelines and has the Buford program in good shape heading into Year 2. He has a coach's dream in rising junior point guard Alex Jones. Jones was named Sandy's Spiel Class AAAA Best Passer and for good reason. He pitched in 12 points, five rebounds and seven assists in their romp of Strom Thurmond. Diminutive in size, Jones has some of the best court vision in the state. Big men Sahil Patel and David Viti carved up the Rebels inside. Patel, a 6-foot-8 senior, and Viti, a 6-foot-5 junior forward from Lambert, should pair nicely this season. Patel went for 10 points, six rebounds and two blocks while Viti added 11 points, four rebounds and two blocks. Senior forward Austin Panks is an athletic energy swingman. He tallied eight points and six rebounds and should be a nice piece whether coming off the bench or earning some starts. Sophomore Ashton Young looked good with the varsity, leading the way with 13 points, six rebounds and two assists. Veteran guard Dawson Wehunt rounded out the attack with seven points.