1ANo. 1 Greenforest 87, 6ANo. 6 Pebblebrook 59
Before the game, Greenforest's size advantage was one major factor as to why Pebblebrook entered as a slight underdog. That size advantage was fully taken advantage of by Coach Larry Thompson's team as the Eagles out-rebounded the Falcons 42-to-18 to blow past Pebblebrook at Holiday Hoopsgiving. At the end of one, the Falcons tried to stay close and trailed 29-19, but the second quarter became a microcosm of the game. Sophomore wide body Mohammed Abdulsalem entered the game and posted seven points and four rebounds before finishing with nine points and nine rebounds. Greenforest pounded the glass all night and came away with second-chance point after second-chance point.
Abdulsalem's work inside was strong, but the astronomical improvement of five-star junior center Ikey Obiagu was one of the main storylines seen. The 7-footer scored 15 points, grabbed seven rebounds and blocked four shots. Pebblebrook was powered by Auburn signee Jared Harper, but the 5-foot-11 guard couldn't find much help outside of Collin Sexton and JJ Smith. Harper scored a game-high 29 points with four threes, while Sexton chipped in 12 points and Smith finished with 11.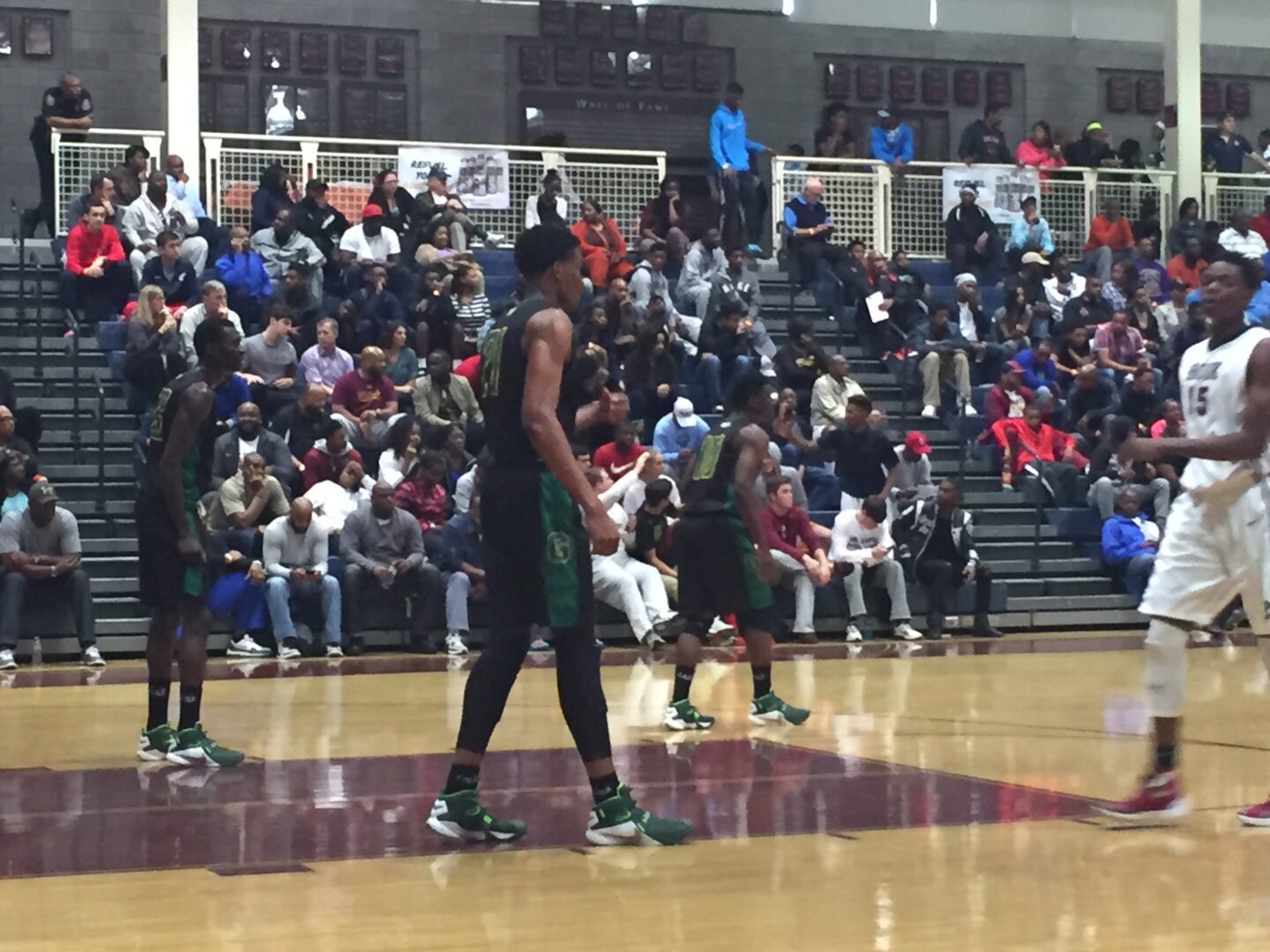 Greenforest's balance was unmatched as nine players scored led by New Hampshire bound guard John Ogwuche's 19. Abayomi Iyiola posted a double-double with 17 points and 12 rebounds. Justin Forrest scored nine and dished out seven assists, Precious Ayah added seven points and nine rebounds and Jaden Duggan chipped in six, all from the line, to round out the Eagles' top scorers.
My Take: Boy, oh boy. Greenforest is a terrifying team when they are clicking. They have frontcourt size that nearly every NCAA Division-One team would covet. Let's start with the biggest of them all, Ikey Obiagu. This was just the second time I have ever seen the 7-footer play. I watched him come off the bench in the state championship a year ago and score two points, grab zero rebounds and foul out. When I heard he was a five-star prospect this summer I laughed. When I saw him tonight I was amazed. He showed a deft touch inside and some nice post moves to go along with advanced footwork for a man of his stature. I can totally see why every high major program in the country is hot after him. Abayomi Iyiola might have been the most impressive outside of Obiagu. His 17 points and 12 rebounds was just pure hustle. Put him alongside Ikey and Mohammed Abdulsalem who is an absolute bull in a china shop down low and you have a team that will massacre others on the glass. John Ogwuche and Justin Forrest did what they had to do from their guard spots and were as solid as it gets, simply making the right decisions on the floor and not trying to do too much. As far as things go for Pebblebrook, I expect them to be extremely dangerous when they aren't playing NBA frontlines. Jared Harper is fun to watch and isn't afraid to challenge in the lane with floaters or pull up for long threes. Against elite teams however, he will need some help. JJ Smith showed some flashes with some tough baskets, but he looks to be far too good of a player to only score 11 points. Collin Sexton will be a nice running mate and the trio should have some fun in the high scoring Region 3-AAAAAA. Productive size inside will be important to find, also a glue guy as well. Trhae Mitchell and Derek Ogbeide are missed, but so is Kevin Murph. The year is young however and I'm confident Coach George Washington will find someone to step up and fill those important roles.
Top Performers: 
Greenforest
Abayomi Iyiola – 17 points, 12 rebounds
John Ogwuche – 19 points, 2 assists, 2 steals
Ikey Obiagu – 15 points, 7 rebounds, 2 assists, 4 blocks
Justin Forrest – 9 points, 7 assists
Mohammed Abdulsalem – 9 points, 9 rebounds, 1 block
Precious Ayah – 7 points, 9 rebounds, 3 assists, 3 blocks
Pebblebrook
Jared Harper – 29 points, 4 rebounds, 3 assists
Collin Sexton – 12 points
JJ Smith – 11 points, 3 rebounds, 2 steals, 2 blocks