No. 1 Westlake 66, Fayette County 42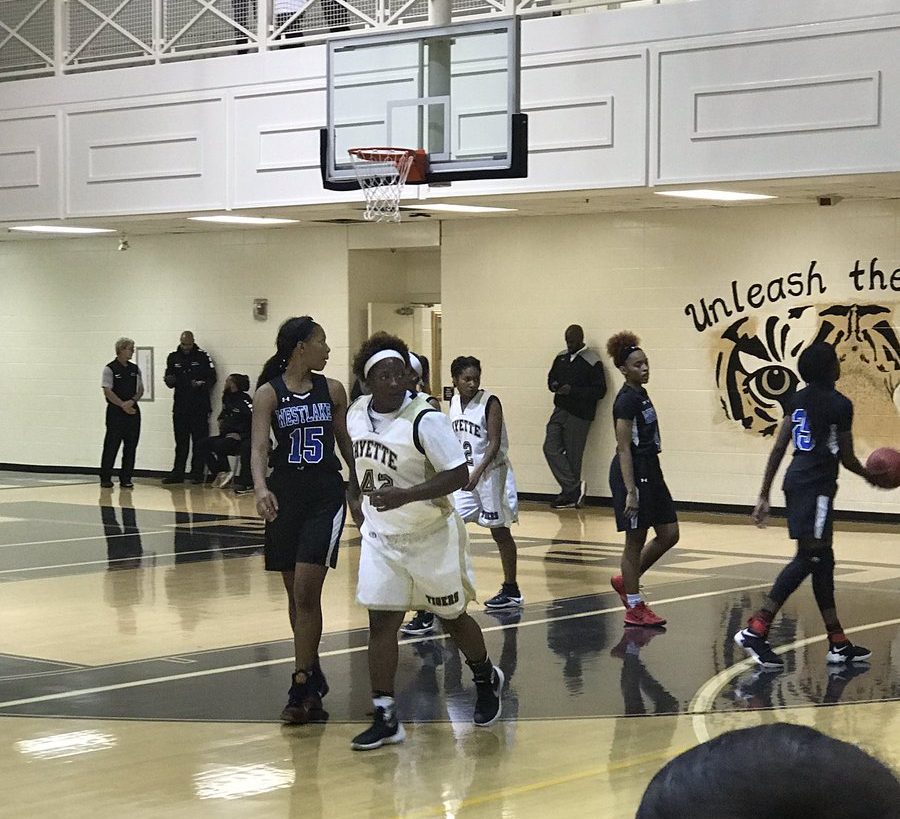 Contributed by Rob Grubbs   (@RCGJr226070)
FAYETTEVILLE, Georgia.  The top-ranked Westlake Lady Lions opened the 2017/2018 basketball season with a scrimmage on the road against the Fayette County Tigers Wednesday night. Westlake has been to the Elite 8 three years in a row, but with the talent, depth and the top ranking, this season they want more. Coach Hilda Hankerson said, "Our ladies are excited about the #1 ranking, they are ready to compete." The Lady Lions took that first step with a convincing 66-42 win over a very good Fayette County team.
Coach Hankerson has a powerhouse lineup with three pre-season Class AAAAAAA All-State players in Texas Tech signee Taylor Hosendove, Simone Lett and Shekinah Howard to go along with All-Region guard Anastasia Warren, Carlyse Hooks and Paris Mullins. To compliment their veteran roster are two impressive freshman as well, Raven Johnson and Brianna Turnage who will be making noise in the seasons ahead.
The game was tied at 6  at the four minute mark when the Lady Lions unleashed a suffocating full court pressure defense and quickly went on a 17-0 that put things away early. It did not help that Lady Tiger leader and three-point sharp shooter Rikkelle Miller got in foul trouble immediately and missed most of the first half. With Warren putting constant pressure on the ball, Fayette County struggled to put together scoring possessions.
The Lady Tigers found some answers after halftime and with Miller connecting on several 3s, the Lady Tigers were much more composed against the constant pressure and held their own. But Coach Hankerson was rolling fresh players constantly into the game. With their depth (Coach Hankerson has 15 players and they all look like they could start), they are equipped for a season that will see fatigue and foul troubles at some point.  Warren led a balanced scoring attack for the Lady Lions with 12 and Hosendove added 11, while Miller lead the Fayette County offense with 10 points.
Afterwards, Hankerson was pleased but saw a lot of work ahead. When asked what they needed to work on after the game, she quipped, "Everything, but especially our rebounding and defensive rotations. Those areas were not where they needed to be. We have a lot of potential, but right now, we have a lot of things to work on."
This is going to be a fun season to watch for Westlake. Leadership and the talent to raise the bar from the past three years and complete something special. The Fayette County Tigers will compete for the Region title in 2-AAAAAAA and will look to once again return to the state playoffs.