Contributed by Rob Grubbs   (@RCGJr226070)
East Coweta Lady Indians
2016-17 Record: 5-19
Head Coach: Karen Frady – 1st Season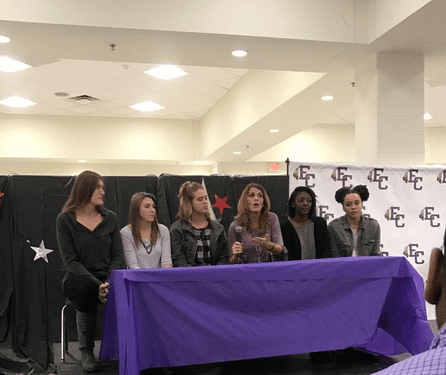 Coach Frady will be the Lady Indians' third head coach in three years. She is an East Coweta alumni with deep ties to the community. She envisions the beginning of a long process, but is excited about the challenge.
"When we first started, the girls did not know how to play man-to-man defense, they are just so used to losing. We are starting the process, we are challenging the girls to get a little better each day. It's all about learning fundamentals. We need to stress fundamentals all day, every day. We will set some small goals for the season and try to achieve those first. Honestly, I'm not that concerned about wins and losses — my main thing is I want the girls to be better than they were at the start of the season, and it begins with getting the fundamentals down."
In terms of this current squad, she said "We have six seniors, we have quickness, and the ladies are quick learners. We are going to focus on defense and on slowing the game down. That will be the best way for us to learn and follow the process."
They are in one of the toughest regions in the state, Region 2, and the lessons are going to be painful, but look for Coach Frady to add some stability and take a few steps forward in the process. Alex Colton, London Fowler, Aja Manning and Haley Davis will be the players Frady will count on.
East Coweta Indians
2016-17 Record: 14-12
Head Coach: Royal Maxwell — 3rd Season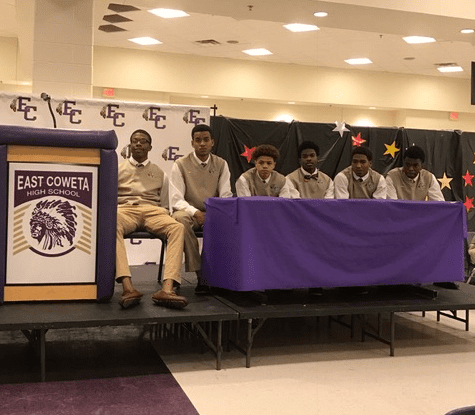 Assistant Coach Ty Townsend introduced the Indians team leaders; Derrick Emory, Brandon Stroud, Jamir Williams, Rhet Reynolds and Isaiah Richardson. The challenge for the upcoming season is to replace their big man that graduated last season, Elafayette Stone. Coach Townsend said it would be "a next man up mentality. There are a lot of returning players and we expect to be more disciplined. There is not a whole lot of tradition here, but we are looking to continue to build on last year and our expectations are higher this year."
With the sting of last year's season ending loss to Campbell in overtime, the players said, "This year, we have broken the season down into chapters, and we intend to read the whole book."
Look for the Indians to improve on last seasons' record and be a factor in the region tournament. They have already started an impressive resume with a solid win against a Fayette County team that made the Final Four last year in their opener.
Starr's Mill Lady Panthers
2016-17 Record: 12-13
Head Coach: Emily Sweeney – 1st Season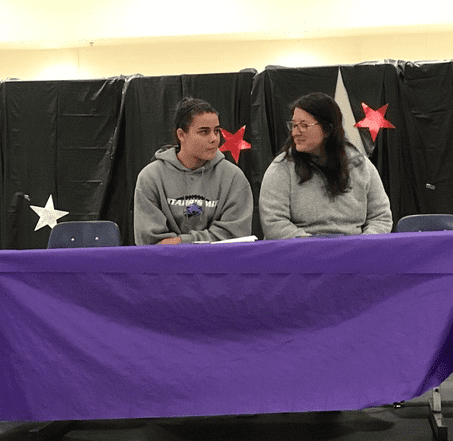 At Starr's Mill, the ladies coach from last season, Shane Ratliff, was promoted and assistant Emily Sweeney has stepped into the top spot; it has been a big year from Sweeney who now has the head coaching job and just got married as well. She has implemented a motion offense and is currently working in more press defense looks. With the graduation of their post player from last season, the team will be built around the guard play of Alyssa Angelo and Alice Anne Hudson. Also key will be senior and returning starter Emily Nieuwstraten and freshman Ali Rumpel, in the middle, who adds height.
Angelo and Nieuwstraten have just made the transfer over from softball and have not missed a beat. Sweeney said, "Alyssa is like having a coach on the floor, she keeps everyone where they are supposed to be, and she is tough as nails."
Their goal is make it back to the state playoffs, which will depend on how quickly the freshman gets up to speed and how the team jells to the new systems.
Starr's Mill Panthers
2016-17 Record: 18-11 (Sweet 16)
Head Coach: Brandon Hutchins — 12th Season
Preseason Class AAAAA No. 10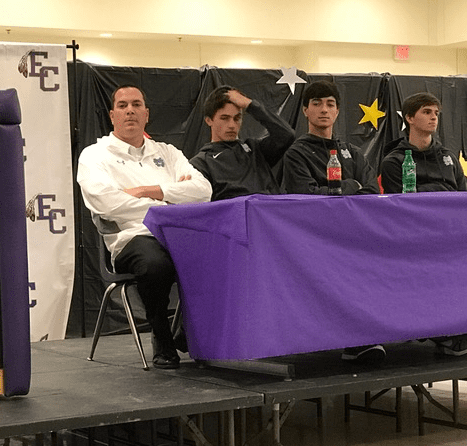 The Panthers return a large portion of the Sweet 16 team from last year that lost to Miller Grove in the playoffs. With a roster that includes eight seniors, Coach Hutchins says, "This is the best group I have ever been around."
One omission from the team unfortunately is three-year starter Zach Pina, who transferred before his senior season to arch-rival McIntosh. Hutchins on the loss, "We miss Zach of course, he was a big part of this program, but we have moved on, it is next man up. Fortunately for us, everyone on the roster can handle the ball." Senior Jake Bishop will take over the point guard duties in the Panther offense.
Starr's Mill has a lot of height up front in 6-foot-7 Nate Allison, 6-foot-5 Drew Hudson and 6-foot-6 Chase Sands and Coach Hutchins indicted that junior Julian Lynch has opened some eyes in the preseason camp. Senior Drew Hudson said, "We went to a couple of college camps this summer and had success, we are excited."
If Bishop can run the offense, look for the Panthers to make a state playoff return.
McIntosh Lady Chiefs
2016-17 Record: 20-9 (Sweet 16)
Head Coach: Jessica Carlyle — 1st Season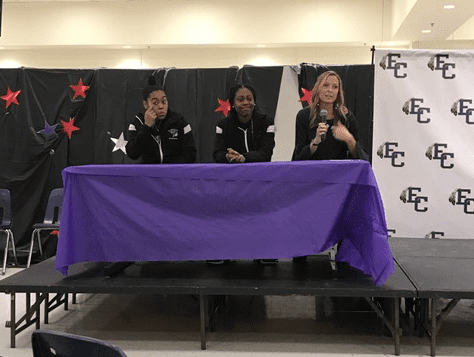 When longtime McIntosh Lady Chief Head Coach David Dowse left after a successful 2016/17 campaign to take the Lumpkin County job, the Chiefs reached out to former Landmark Christian Head Coach Jessica Carlyle. Her first impression of the team was that the core players were serious about basketball. She said "My philosophy is very much different from what the players are used to. We have a very small roster, very short and we are going to play very serious in your face defense."
Her leaders include Junior Kennedy Miller and Rylee Calhoun. Per Carlyle, "Kennedy is a phenomenal point guard and in the past her role was to distribute the ball, we will be asking her to take on more of the scoring responsibility this year. And Rylee, she seems to always have a basketball in her hand. She has a nice shot as well."
At the college summer camps, Miller said "They taught us more about being a leader on the floor."
You can bet that Carlyle's new emphasis on defense will catch hold of her quick athletic team and they will be right in the middle of the playoff chase again.
McIntosh Chiefs
2016-17 Record: 12-13
Head Coach: Jason Eisele  — 16th Season
Preseason Class AAAAA No. 7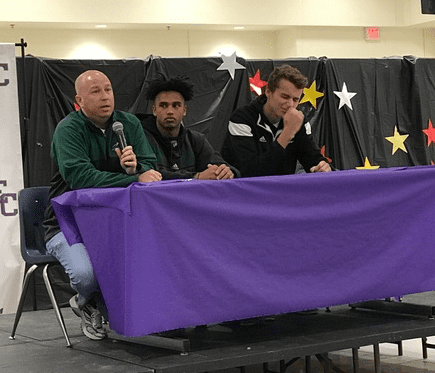 Head Coach Jason Eisele is the dean of the Coweta/Fayette coaches as he embarks on his 16th season. Of his current edition, he said "We will not impress you off the bus, but our entire roster of 13 players are extremely skilled and we will cause match-up problems because of our speed and depth. We will be very flexible and can play a lot of different groups."
A roster that includes six seniors includes two potential stars in transfer guard Zach Pina and 6-foot-7 wing player Cole Guenther. Pina is an efficient scorer who can drive to the rim or hit the outside shot. When asked about the whirlwind of his transfer, he said "It just feels good to be wearing green and black."
Guenther has a deadly outside shot and if he is on, it can be lights out. Eisele said "Cole has worked hard over the summer on his ball handling skills and taking the ball to the rim to compliment his shot." With the versatility and the leadership of Pina and Guenther, this could turn into a special mix. Eisele summed it by saying "we have a lot of selfless players, and we will play a lot faster than we ever have."
Spalding Lady Jaguars
2016-17 Record: 22-7 (Elite Eight)
Head Coach: Tykira Gilbert — 3rd Season
Preseason Class AAAA No. 2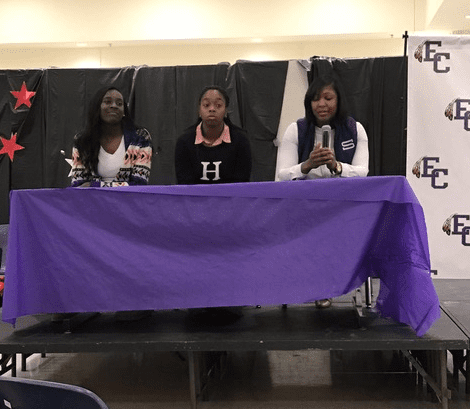 Head Coach Tykira Gilbert and the defending Region 2-AAAA Lady Jaguars are preparing for a special season. Starting her third year, Coach Gilbert said, "We have completely changed the culture of girls basketball here at Spalding in just three years." As for this year's team, Gilbert said "We will play fast, in your face defense, we love to press, that is who we are." A lot of that speed and athleticism comes from Region 2-AAAA player of the year Kiana Banks, who won the state track championship in the 400 meter and just signed a track scholarship with TCU.
Gilbert will look for leadership from the point guard position from senior Kirah Milner. With a deep and talented roster and the star power of Banks and Milner, look for the Lady Jaguars to make a run at the state championship. When asked about the pressure of the high preseason rankings, Gilbert summed it up perfectly, "They don't mean anything, it only matters how you finish." Keep your eye on these ladies this year.
Spalding Jaguars
2016-17 Record: 3-22
Head Coach: Joey Wilder — 1st Season
New Jaguar Head Coach Joey Wilder is no stranger to the court. He has coached at Sandy Creek, Fayette County and Westlake. In 12 years of coaching, he won seven region championships, with one state runner-up and two final fours, and was named the assistant coach of the year. He brings that experience to begin to build the same excitement and energy that Coach Gilbert has with the ladies program.
Even with the poor record from last year, Wilder sees the pieces to begin the process. "We have very talented kids, we are learning and implementing accountability and dealing with our egos, we are slowly growing. But our roster has talent and I have seen improvement in all players. We are going from a slow tempo offense to more movement. We need to learn to trust each other and jell as a team."
Leading the way will be junior leaders G Josh Reddick and 6-foot-8 center Phillip Richards. There are five seniors on the roster for leadership and a very strong junior class, including some incoming freshman and sophomores who will get some playing time. When just starting out, Wilder said, "It is always good to have a big man like PR." Look for the Jaguars to be much improved and blow past last year's win total.
Whitewater Lady Wildcats
2016-17 Record: 13-12
Head Coach: Rashad Muhyee — 5th year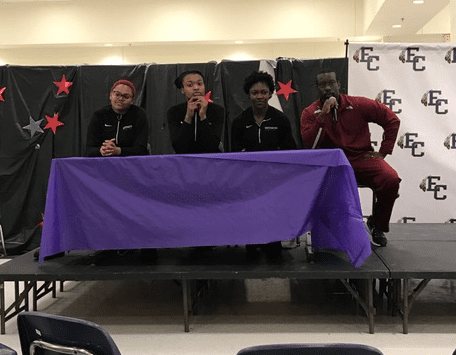 After an injury riddled season last year, the Lady Wildcats are once again healthy and look to get back into the playoff conversation. Coach Muhyee said the team goals this year are to win the region and make it out of the first round. To accomplish, the Lady Wildcats will rely on talented juniors Jada Claude, 6-foot with a strong inside game, Courtney Smith, a scoring guard who is coming back from injury and Maya Bryant who also has the size to play inside.
When asked where they had improved the most during the off season, Smith said, "I have worked really hard on my ball handling," while Claude said "ball handling, it will open up my scoring and passing lanes. In talking about their toughest opponents ahead, Muhyee said, "We don't look at our opponents, we look at ourselves, we look at how we can improve and get better, and we feel like if we continue to work and improve then the wins will take care of themselves."
Whitewater Wildcats
2016-17 Record: 9-15
Head Coach: Fred West — 3rd Season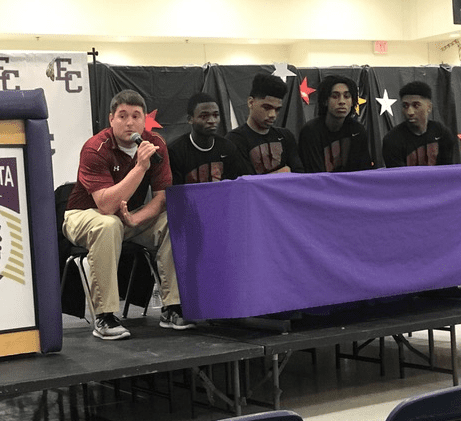 The story of the Wildcats last season was close but not close enough, they played well in a lot of games but couldn't pull them out in the end. They enjoyed a couple of big wins against region rivals and state qualifiers Starr's Mill and McIntosh, but the losses mounted as the season went along. They bring back a strong core in guards CJ Jackson, K'won Bush and Josh Lanier. Unfortunately, their leading scorer from last season Josh Graham has transferred to Pebblebrook.
After a successful summer at a Georgia State camp, the Wildcats look to add big man 6-foot-5 Isaiah Claude and guard Julian Johnson to the rotation. Playing with a smaller line up – the Wildcats will look to play a pesky full court defense and a motion offense that will allow their guards to get open looks. Expect to see a lot of energy and movement on the court. The Wildcats should inch their way back closer to .500 for the season and give a lot of teams match-up problems with their 4-guard sets.
Sandy Creek Lady Patriots
2016-17 Record: 24-7 (Final Four)
Head Coach: Janie Hodges — 2nd Season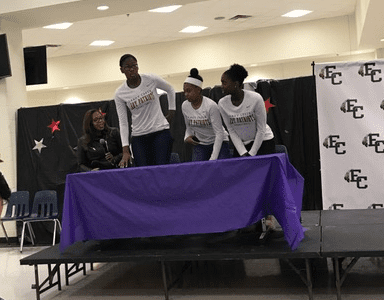 In her first season, Coach Hodges used an excellent senior backcourt to win the Region 5-AAAA Championship and take a run deep into the playoffs that ended against eventual champion Columbus. Graduation hit the Lady Patriots hard and now Coach Hodges is in charge of leading somewhat of a rebuild,  but by no means is the cupboard bare.
While last year's team was centered around the guard play, this team will strong inside. Returning are inside players junior Paris Thompson and sophomore Daija Powell. Both saw extensive playing time in Coach Hodges' rotation last year and will be counted on to step up the production this season. Powell has an incredible post game and had several high scoring games last year.
The job of running the offense falls on junior Nina Lum who played significant minutes as a reserve last season. Hodges said, "Nina has been in the program for three years, she is experienced, and she is ready to lead the team."
The key to the season will be how quickly Coach Hodges can work the new players into the rotations. The Lady Patriots already have a game under their belts against state powerhouse Westlake. Hodges said, "I am glad we played them, it showed us where we are and what we need to work on." In those early season games, you either win or you learn, the Lady Patriots learned they are in transition, but the future is bright. Look for them to make another run to get into the playoffs.
Sandy Creek Patriots
2016-17 Record: 23-8 (Final Four)
Head Coach: Jon-Michael Nickerson — 1st Season
Preseason Class AAAA No. 3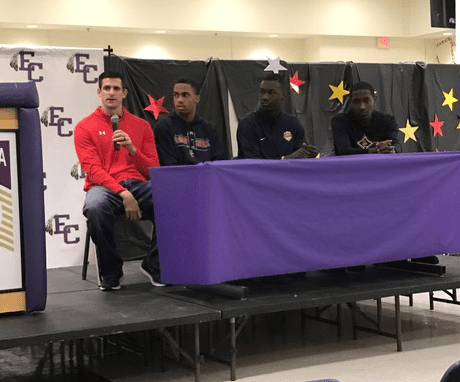 The Patriots caught lightning in a bottle late last season and after a disappointing region tournament loss went on a run that took them to the Final Four where they lost to St. Pius. This started a transition within the program as a leadership change brought in Coach Nickerson who brings an impressive college resume. A lot of talent returns with 6-foot-8 wing TJ Bickerstaff, 6-foot-8 stretch forward Xavier Brewer, 6-foot-4 point guard Jarred Godfrey, Chris Porter and spark plug guard Kameron Miller. Coach Nickerson brings a tenacious defensive intensity to the team that was missing in the past.
When asked about the biggest difference between then and now, Miller said, "The practices are more intense and fast paced, there is purpose to everything we do." Nickerson added, "This was a big change for the players and they bought in, I am proud of where we are, we still have a lot to add in over time, but we are getting there. It takes time to incorporate everything we will do into our game plan, but we are getting there and are ready to play."
For the players that got a taste of post seasons last year, anything less than a championship with be disappointing. Look for the talented Patriots make a run.
Griffin Bears
2016-17 Record: 6-21
Head Coach: Willie Reese — 2nd Season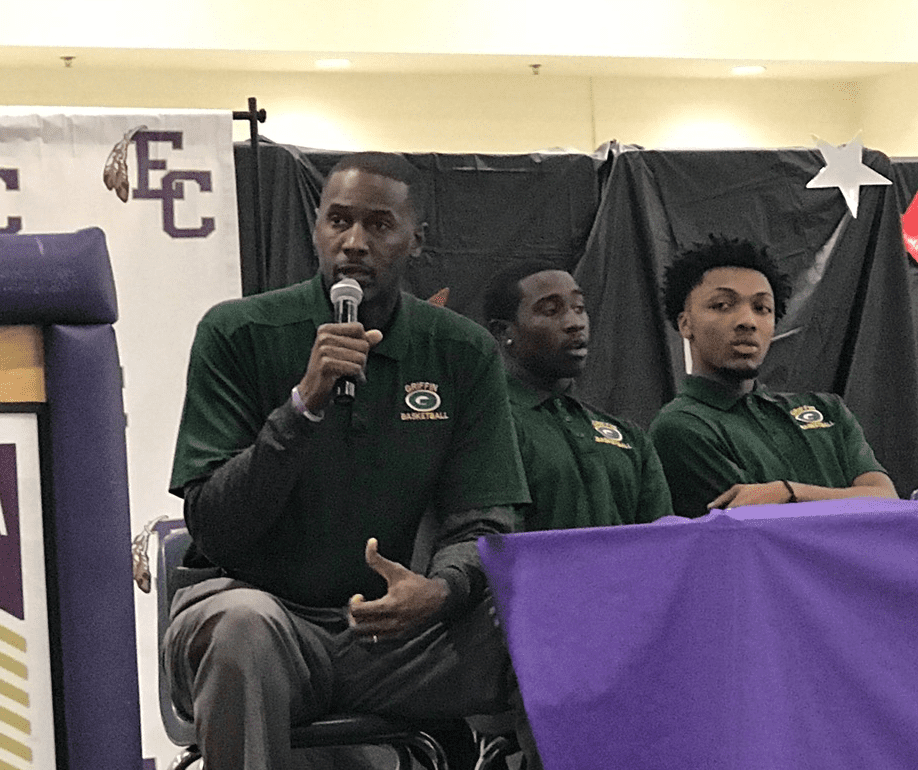 Former Georgia Tech star and assistant coach Willie Reese returns to Griffin for his second season with more reason for optimism. Griffin has a rich heritage in all spots and can boast of multiple state championships in basketball. His philosophy is to build and utilize multi-skill players.
Coach Reese said, "For some reason in the city of Griffin, we have a lot of 6'1 to 6'4 young men which is good because it lets us have interchangeable parts. This year, we will play nine or 10 deep, with six of those players returning from playing time last year. We are looking forward to a good season with steady improvement over last year."
His key returners include two 2nd team all-region players from last year, point guard Jacarlin Dennis and senior guard Darrell Evans Jr. who is a four-year letterman. Coach Reese reminds his players last year when they were up on eventual Class AAAA champion Upson-Lee late in a game by four points only to see it slip away, that the talent is there, they just need to continue to work on the little things and on playing team basketball.
Reese said, "I learned from Coach Cremins and Coach Hewitt at Tech that it was about the little things, working with kids individually to continue to make small steps, that is what we are doing here at Griffin."
The Bears will continue to improve this year and look to move up in the region standings; look for an upset or two as well.
Fayette County Lady Tigers
2016-17 Record: 21-9 (Sweet 16)
Head Coach: John Strickland — 13th Season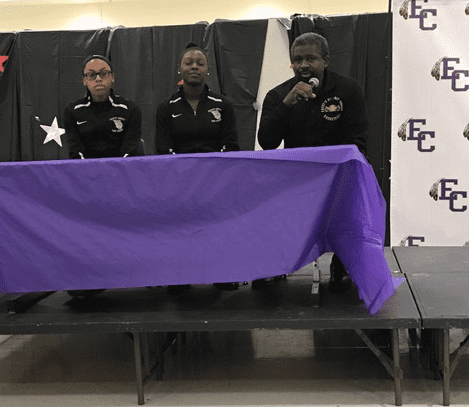 Coach Strickland has been the model of success and consistency at Fayette County as head coach for 12 years and last season was no different. Strickland has gotten to the point of his career that others are envious of, it has now a legacy, not only with wins but with relationships. This is highlighted by one of his former players, Tessa Holt who played at Boston College and later coached in college, returning as an assistant for this season. That consistency builds confidence in his players that success is right there in front of them.
Lost from last year's playoff team was leader Darryl Langford who plays at Navy now, but there is plenty of talent returning and the seniors on the roster have played together since middle school. They include guards Maegan Barkley, Trinity Brown and Rikkelle Miller. There is also height in 6-foot-2 sophomore Naomi Franco and freshman 6-foot-1 Celine Akande, both whom add a post presence. When you factor in junior guard Sidney Sims, the Tigers have a deep roster with multiple rotation possibilities.
Coach Strickland said, "To win in girls basketball, you have to make free throws and layups, it's that simple. We know that and understand that, this team could be really good this year, we have a lot of leaders."
The Lady Tigers will challenge for the region title and be right in the middle of the playoffs again.
Northgate Vikings
2016-17 Record: 7-18
Head Coach: Maurice Smith — 5th season
The Vikings play in one of the toughest regions in the state, where last year both boys and the girls state champions came from, Region 5-AAAAAA. Under Coach Smith – the Vikes have improved their win total over the past three seasons and look to continue that trend this year and attempt to get over the hump and make some noise in the region tournament.
Coach Smith said, "We already know we can win, we just need to start winning those small battles within the game itself. This year's roster is deep with 12 who will see playing time, including seven seniors. Leaders on the team include 6-foot-2 Jermarki Cunningham, 6-foot-5 Cam Ellis, 6-foot Perez McLaughlin and 6-fot-2 Devontae Johnson."
The schedule is tough, Smith said, "from a region standpoint, there are no breaks, every game will be a battle. Our goal is to continue to prove and win two games in the region tournament. I know these guys have it in them. We are 12 deep and all of our players are similar, we have the depth to press and play fast. We don't have a particular game circled on the schedule, we will just take them one game at a time and see where we end up."
Look for the Vikings to ride the wave of their seniors and continue the trend of improving their win totals each season.
Did not show up
Fayette County boys
Our Lady of Mercy boys
Our Lady of Mercy girls
Griffin girls
Northgate girls