Lambert
Mountain View: 55-54 (W)
Peachtree Ridge: 77-49 (L)

2020 6-6 SF Luke Champion was a marksman, hitting nine threes on the night. He hit three in Game 1 for 9 points while sitting in the corner and draining six in Game 2 for 18 points. Champion is a sizeable shooter which bodes well for his future with the current state of how the game is played. He should be a very valuable piece, stepping in for Austin Deckard (GCSU) as the Longhorns' primary floor spacer. Like I say with all great shooters, Champion will have to prove he's more than just a specialist and that he can create his own offense off the dribble.
2020 6-8 PF Colin Granger posted 13 points, 8 rebounds, 2 steals and 2 blocks in Game 1 and had 8 points, 6 rebounds and 1 block in the night cap. Granger struggled to finish around the rim, using some great moves to get to the basket, but failing to convert. He had a few lapses of focus that got him in the doghouse in Game 2. Without Mitch Ganote in attendance, it was Granger's team to carry last night. Even though it wasn't his best day of work, Granger still contributed in the paint. He has a chance to develop into one of the state's best big men with the continued refinement of his game.
2019 6-4 W Thomas Hickey had a nice night, finishing with 15 points and 2 blocks in Lambert's 55-54 win over Mountain View, including the game-winning goaltended layup. Hickey is a steady role player that can get hot and provide good minutes. He has valuable size on the wing and is a hard worker on the floor. Overall it was a good showing for the wing who should see an elevated role his senior season.
2022 6-2 SG Chance Thacker was thrown into the fire as a rising freshman and held his own. His best game came against Mountain View when he posted 4 points, 7 rebounds, 2 assists and 1 steal. Thacker has a good feel for the game. Defenses pressured the youngster when he got the ball, but he did a fine job of keeping his composure, even though his ball handling and overall experience at the varsity level is still in its infancy.
Mountain View
Lambert: 55-54 (L)
St. Francis: 65-47 (L)
2019 6-4 SG Nahiem Alleyne was mightily impressive now that the offense runs through him. Quick and shifty with the ball, Alleyne was able to free himself consistently with a tight crossover. The lefty can score at all levels with a nice jumper, hitting six three-pointers on the night. In Game 1 he finished with 19 points, 7 rebounds, 5 assists and 2 steals. Game 2 saw Alleyne tally 17 points, 4 rebounds and 1 steal. Alleyne will serve the role of playmaker with the ball in his hands, something Coach BJ Roy must feel good about after seeing his play on Tuesday night. Alleyne plans on reclassing to 2020, something to keep an eye on.
2019 6-4 SG Elijah "Malik" Wilson showed flashes of breakout potential at his new home. Coming in from Collins Hill, Wilson may mold into being the No. 2 option behind Alleyne. The two are similar in the fact that they love the outside jumper, but both must make sure they don't fall in love with it to the point that it takes away from their opportunities to get to the rim. Wilson finished with 13 points and 5 rebounds against Lambert, knocking down 3 threes. In Game 2, his shot wasn't on, ending with 6 points. Defensively, Wilson has the length to defend multiple positions on the perimeter and could fit a "3 & D" type niche with the Bears.
2019 6-5 F Eric Jones was effective against Lambert's frontline of 6-8 Colin Granger and 6-6 Kedric Barrett. Jones collected 10 points, 12 rebounds, 1 steal and 4 blocks. In Game 2, he had 5 points, 3 rebounds and 1 block. Jones isn't an elite athlete or have the most non-stop motor, but he has a nose for the ball and effects plays. He has a quality outside shot which netted him three deep balls on the day. He might have a little more value at the small forward position, but his ball handling isn't tight enough to consistently play on the wing. Jones broke his hand last season which put his development on hold. Jones has a chance to be an important player that can steal time at positions 3-5 for the Bears.
St. Francis
Mountain View: 65-47 (W)
Peachtree Ridge: 59-49 (W)
2020 6-1 PG Dwon Odom did what Dwon Odom does: Win. He had 14 points, 2 rebounds, 5 assists and 2 steals in Game 1 followed by 24 points, 6 rebounds, 4 assists, 4 steals and 1 block in the nightcap. Odom's three-point shot wasn't that accurate, but he managed to sink three of them over the course of the day. I never seem to come away disappointed with Odom. He always finds a way to fill the stat sheet, even when he's not at his best.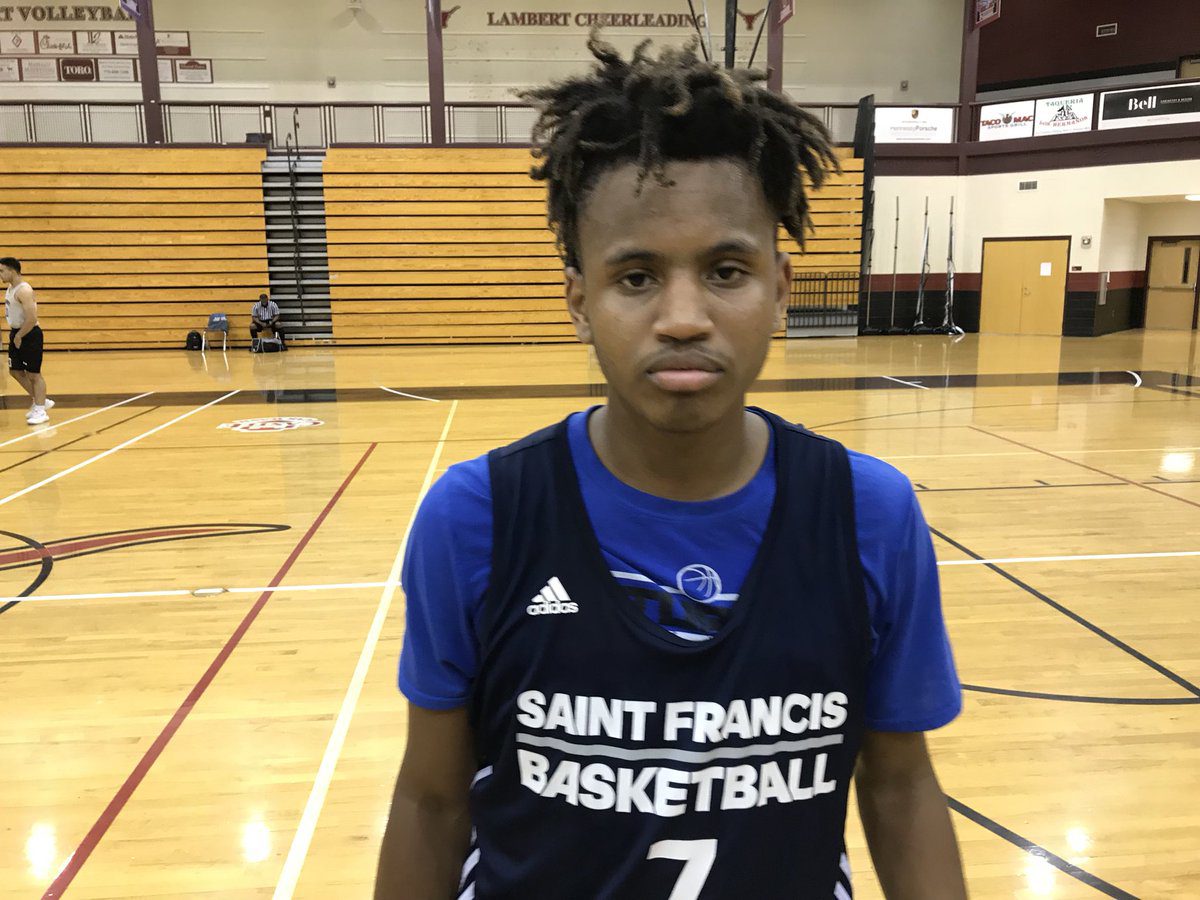 2022 6-0 CG Jordan Brown will play a huge role in the success of St. Francis this upcoming season. While the Knights still lack a true game-changing big man, another steady guard can't hurt. The younger brother of former Northview standout Justin Brown, the baby Brown has big time skills for a freshman. He is like a right-handed version of 2019 sharpshooter CJ Riley, who had 18 and 7 points in his two games. Brown has a good looking outside shot like Riley, but he's more of a point guard and more assertive attacking defenses. Brown hit from the three-point line (3 total), mid-range and finished all the way at the rim. In Game 1 he had 11 points, 2 rebounds, 1 assist and 1 steal. In Game 2 he went for 10 points and 1 steal. Brown logged good minutes last weekend at Georgia Tech as well, proving he's here to stay. He may be next in the long line of talented young guards to come out of St. Francis.
Peachtree Ridge
St. Francis: 59-49 (L)
Lambert: 77-49 (W)
2019 6-11 C Richard Rivers is a big boy. He weighs in over 250 pounds and is the epitome of a space-eater. Rivers has an extremely soft touch which is important for a player that plays below the rim. His mobility is still an issue, but he gets up and down the floor. On the low block, Rivers is extremely methodical. His first instinct is to look to pass. Rivers has great court vision and uses his size to dump off assists to open cutters. When he does make a move to score, he has a gentle hook shot that should rarely get blocked, even though he doesn't have much lift off the ground. He is a threat to knock down the three from the top of the key. Rivers' limitations come from his lack of athleticism, but the skill is most definitely there offensively. Defensively, he is a stationary post defender that isn't going to collect any weak side blocks, but if you go straight into him, he will have his hands up to alter any looks. In Game 1 Rivers finished with 8 points and 9 rebounds, while in Game 2 he put up 8 points (2 threes), 2 rebounds and 3 assists.  Rivers should find himself on a college roster as long as both player and coach understand the role he best serves.
2019 5-11 PG Kamerron Oyala is a spunky lead guard that plays with pace. He will be asked to run the offense and provide a spark on both sides of the ball. Oyala had 10 points, 3 rebounds, 2 assists, 1 steal and 2 blocks in Game 1 before going for 6 points, 2 rebounds, 2 assists and 3 steals in a rout.
2020 6-3 SG Christian Williams drilled three three-pointers and finished with 15 points against Lambert. The lefty showed he could knock down shots and could provide some offense for a Lions team searching for a new leader after the graduation of Devin Vassell (FSU).