Entering the 2015-16 high school basketball season, there are many teams with dreams and aspirations of capturing a title. But there is one school that seems to be on a mission and has a hunger that has been growing since an unfortunate early ending a year ago after an unblemished 28-0 regular season.
The McIntosh Chiefs were in cruise control entering the second round of the Class AAAAA state playoffs before starting point guard Will Washington (12.7 ppg, 9.3 apg) went down with a broken wrist on a layup attempt against M.L. King. The Chiefs would fall 66-65, ending their shot at the dream season.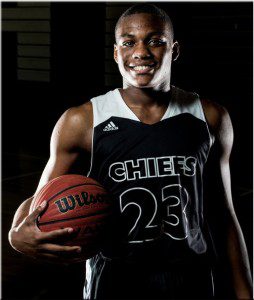 With a loaded senior class returning, the Chiefs have one last shot at making history. Jordan Lyons (24.7 ppg) is one of the stars on this balanced team. The guard has committed to Furman and thinks that fun things are in store for McIntosh fans and fans of basketball in general.
"This year fans can definitely expect to see a very mature and organized team, a team that executes well. A team that can get up and down but can also run plays in the half court. Very exciting. A team that is going to play good defense; a veteran team," explained Lyons.
And Lyons ain't lyin'. Eight seniors are all expected to contribute heavily and have the experience to do so. Lyons described Washington as "one of the best true point guards in the state." He continued on to say, "He's always looking to make the right pass. …He's our floor general."
A missing piece to last year's puzzle might have been found in Isaac Kellum (13.8 ppg), a 6-foot-4 swingman who transferred over from Fayette County this summer.
"Isaac brings us the length and athleticism at the three spot that we never really had," said Lyons.
Kellum will also help out rebounding on the interior alongside the likes of recent Wofford-commit Dishon Lowery (10.5 ppg, 11.5 rpg, 3.3 bpg) and Chase Walter (10.6 ppg, 8.9 rpg, 1.8 bpg).
"They are both going to rebound. They both love contact, they both bang, they both block shots and alter shots and do things out of bigs that we need."
As balanced as the starting five is, Lyons is quick to remind us not to forget about the depth on the bench. Braxton Shaw, who finished second on the team in three-pointers made last season as a junior, is back to bring a lethal deep threat. Lyons tabbed him as "one of the best sharpshooters out there."
Ulysses Brown brings sticky defense on the perimeter and Brendon Rowan is the consummate glue-guy that helps Coach Jason Eisele's team out in a plethora of different ways.
The Lead Lyon
With all the perfect components in place, there still has to be a centerpiece to complete the work of art that is the McIntosh Chiefs. That centerpiece is none other than Mr. Jordan Lyons himself. Efficiency is the name of the game for Lyons with his astronomical shooting numbers (66% 2PT, 87% FT, 45% 3PT). But by being the top-scoring option on one of the best teams in the state, does that bring an extra burden or pressure applied to Lyons' shoulders? He doesn't think so.
"I wouldn't say that it's pressure on me. Scoring is really just what I do. It's my big time role and the team needs me to score points. I've been the leading scorer on the team since my freshman year so I think Coach Eisele has put a lot of confidence in me over these past four years which has really helped my play on the court because I know he believes in me."
Even though Lyons might fill up the box score nightly, he knows he can't do it alone.
"I can't do it by myself. I need the help of my great teammates and I know I'll get the help from them."
Lyons mentioned Coach Eisele and the confidence he has instilled in him and touched on it further.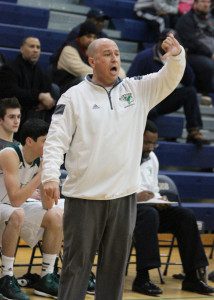 "I have a lot of respect for Coach Eisele, I love him to death. He brought me into the varsity program as a 14-year-old," explained the senior shooting guard who has scored 1,737 points over his career and is now chasing Gabby Seiler's all-time record of 2,003. "He gave me the confidence to be a very good player at the varsity level at 14 years old…He's always believed in me. He's stuck with me through everything."
Steady Growth
It's not only an exciting time for the players and fans, but for the coaching staff as well. Eisele has a loaded group and him and his staff have matured through the years along with the Class of 2016. Attention to detail has been more and more pronounced and a tight and clean style of play has been the result. Before this year's senior class arrived at McIntosh, the Chiefs had been a middle of the road team, going 12-11, 16-12 and 12-12 before the program and culture changing class arrived for the 2012-13 season.
Year-one saw the Chiefs finish 17-8. Year-two, 19-10 before nearly putting it all together last season at 29-1. It has been a constant growing process and the fruits of McIntosh's labor are finally ready to come to fruition, but for that to happen, there is only one fitting ending to this storybook tale: a state championship.
"The ring is really the most important thing to all of us," stated Lyons. "Last year we won the first region championship in our school's history. Our whole year that was our goal."
McIntosh, Lyons, Lowery, Washington, Coach Eisele, the entire group, understands that it's now or never.
"This year, there's no second chance. We all understand there is no next year, no tomorrow. This is the last time, the last opportunity. We really got to go get it," said Lyons. "We got to be focused day in and day out. We got to be on a straight line and eliminate everyone else that's not in a straight line, so we can get to where we want to be. We just got to focus on what we have to do every day and just get better every day and we'll know that we'll be okay."
Extra motivation to accomplish the dream of winning a state title stems from last year's heartbreaking loss after the injury to Washington.
"It's personal to him and it's personal to all of us. We've been waiting for this for four years. We know this is our year; we got to go do it. We know we can. We all know we can."
Final Destination
It is no doubt it's state championship or bust, but when asked what this group of seniors and he personally would like to leave as a lasting legacy, Lyons said, "I definitely want people to remember that I always wanted to be a good teammate. I always wanted to lift my teammates up."
"I just wanted to put McIntosh on the map. McIntosh has never been known for basketball and I know when Will, myself and Dishon came into the varsity program, especially when we told ourselves we wanted to make an impact on this program, we wanted to take this program to heights and levels that they've never seen before and we've just been doing great things since our freshmen year. We've been blessed with many opportunities, records broken, we've done many things in our career at McIntosh and we are very blessed and fortunate to have those opportunities. …We want to be known as great humble players that never took anything for granted."
With one solitary goal in mind and a group of men with a respected leader in charge, Jordan Lyons and McIntosh should not have to worry about ever taking things for granted.
Featured Image Photo By Michael Clifton / www.kombatkamera.com